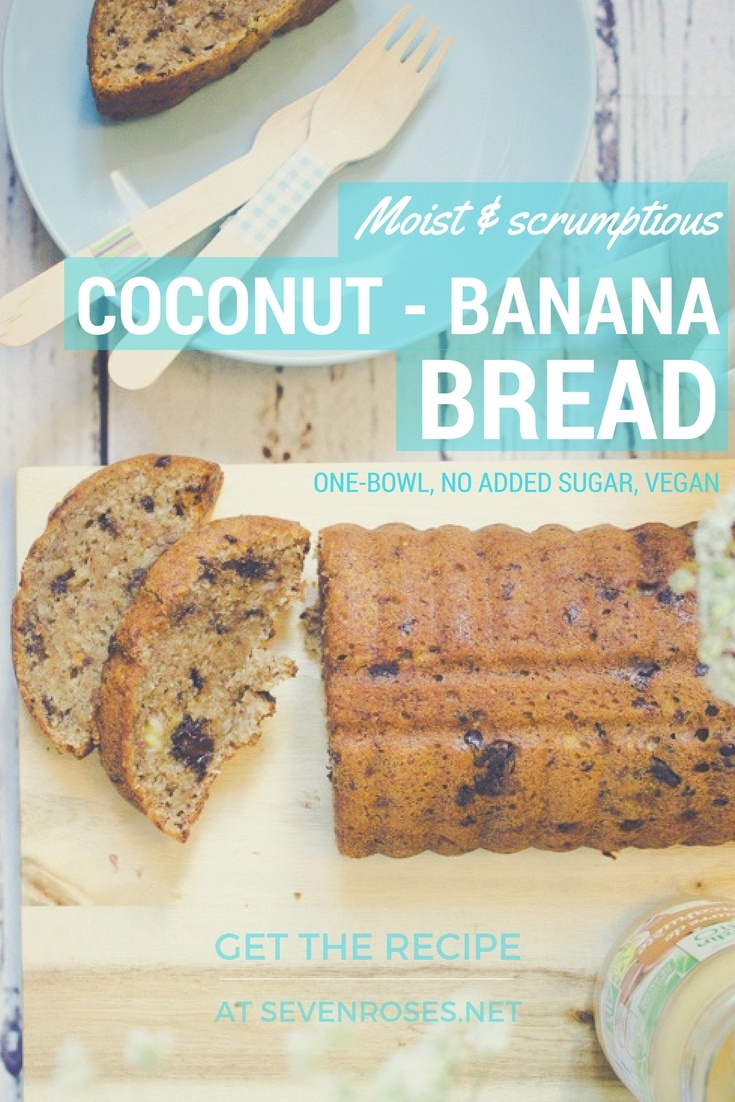 I have a confession to make. I'm not too crazy about banana bread. No please don't leave just yet! :-)
You must be thinking, I came here for the banana bread and she doesn't even like it?! Well, the fact that it's not on top of my favorites' list doesn't mean that I don't get to bake a good banana bread as often as I can. See, it's one of my husband's favorite cakes instead – ah, the things we do for love ;D
But this is not a simple Vegan banana bread – I'm sure you have pinned and saved many of such recipes already. This is the perfect combination of coconut AND banana, for an exotic balance of flavors that comes to life in only one bowl. Now that's almost perfection, even I like it!
Plus there's chocolate chips, and dark chocolate chips make everything better, don't they?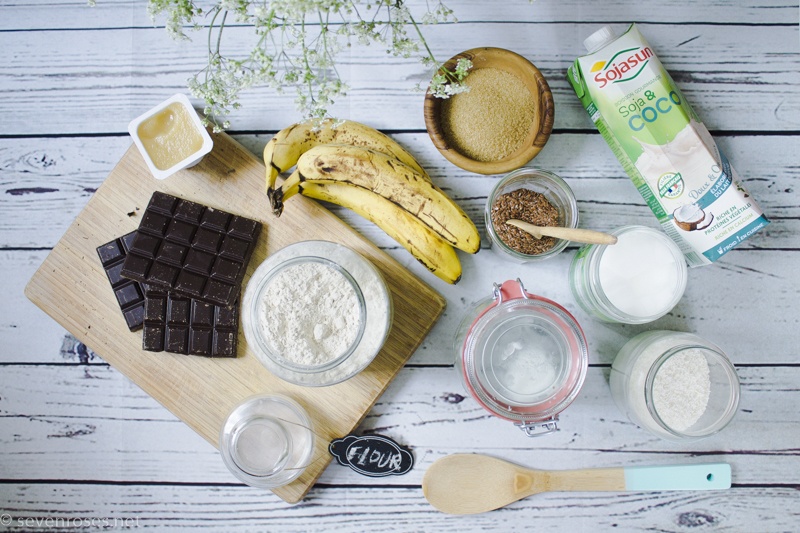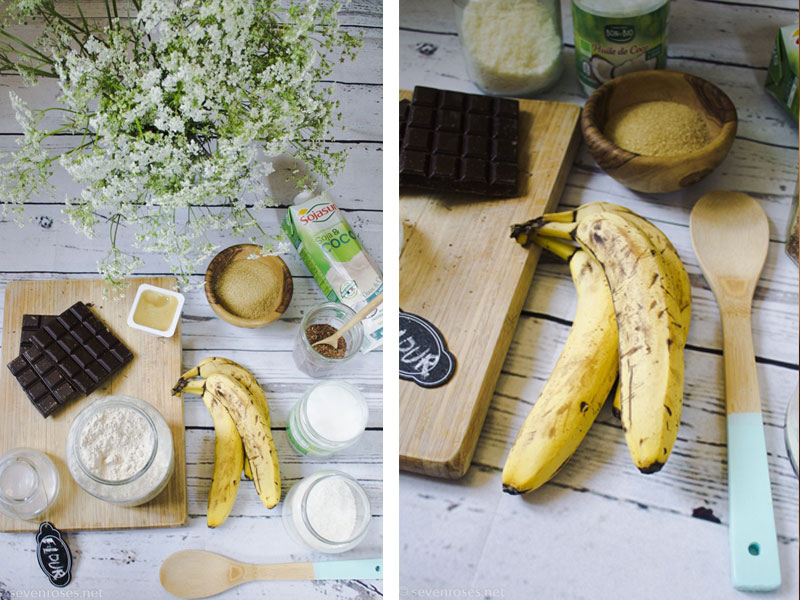 So what makes this banana bread a coconut-banana bread, you ask? I wanted to try and substitute a part of the flour with coconut flour, and use coconut oil and/or coconut milk if the need of a liquid may come. That's how a subtle but irresistible combination of flavors came to life. I should also mention that using very ripe bananas and apple sauce, this coconut-banana bread doesn't need any added sugar: it's sweet enough as it is.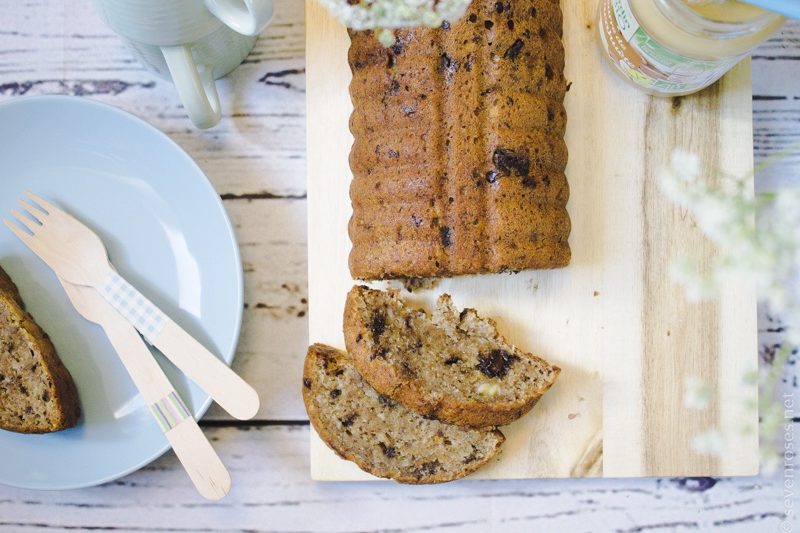 But I guess you came here to find out how to make a mouth-watering Coconut-banana bread, so let's jump right into it :-)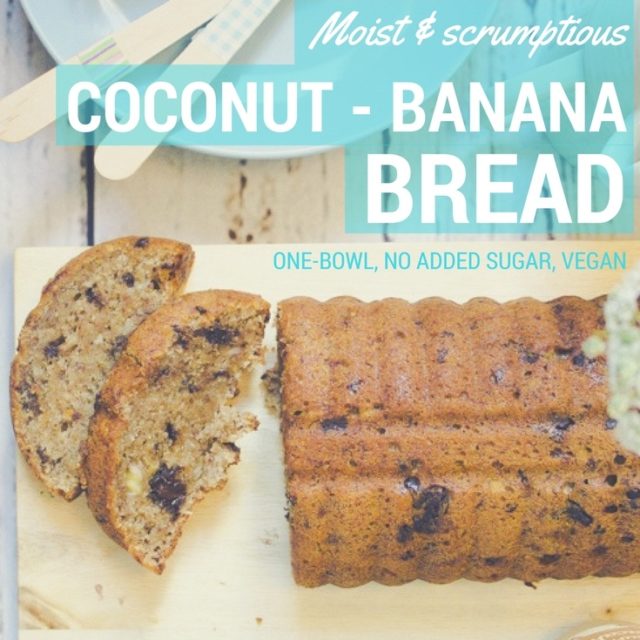 Coconut-Banana bread (one-bowl, Vegan)
This one-bowl moist banana bread is infused with a slight coconut flavor. The two mix so well! Serve it as is for breakfast, or with a chocolate/peanut sauce to turn it into a scrumptious dessert :-)
Ingredients
Dry ingredients
200

gr

flour

I used Semi-Whole Wheat flour but white works too

60

gr

coconut flour

9

gr

baking powder

150

gr

dark chocolate

or Vegan chocolate chips
Flax eggs (egg replacement)
2

tbsp

ground flax seed

I grind my flax seed just before using

6

tbsp

water
Wet ingredients
3

ripe bananas

60

gr

apple sauce

1/4

cup

coconut oil

1/4

cup

coconut milk

optional, if you feel you need to add liquid
Instructions
Prepare your flax eggs by grinding the flax seeds or use flax meal. Add the water to a big bowl and let rest for 5/10 minutes.

In the meantime turn on your oven at 180°C. Grease with a little coconut oil a loaf pan. Cut up your dark chocolate into little pieces if you're using a bar and not chips.

When the flax and water mixture has become gelatinous, it's time to add the bananas to the big bowl and mash them very well with a fork. Add the other wet ingredients: apple sauce and slightly warm coconut oil. Reserve the coconut milk only if you feel you need it once the dry ingredients have been added.

Gently add one third of the flour, mix well, then keep on adding the rest. Do the same with the coconut flour. Add the baking soda.

Fold in the chocolate chips and mix only until well combined, do not overmix!

Now pour the mixture into the oiled pan. Bake until you see the bread becoming golden. Around the 40th minute start inserting a wooden toothpick and remove once it comes out dry. I tend to undercook and then let the bread/cake rest in the oven once it's turned off.

Allow to cool down before serving. Then slice up and serve as is, or with a chocolate sauce, peanut butter or plant-based vanilla ice-cream. The possibilities are endless!
Do you like banana bread? Do you have a favorite combination? I'd love to know! Leave a comment below so we can talk about it some more together
♥
Did you enjoy this post? I would love for you to pin it or share it on your social media to spread the good vibes! Thank you! #sevenroses