This creamy, easy, one-pot, no-fuss Vegan endive risotto makes humble endive the star of the meal paired with rice & veggies for a colorful, tasty and filling dish.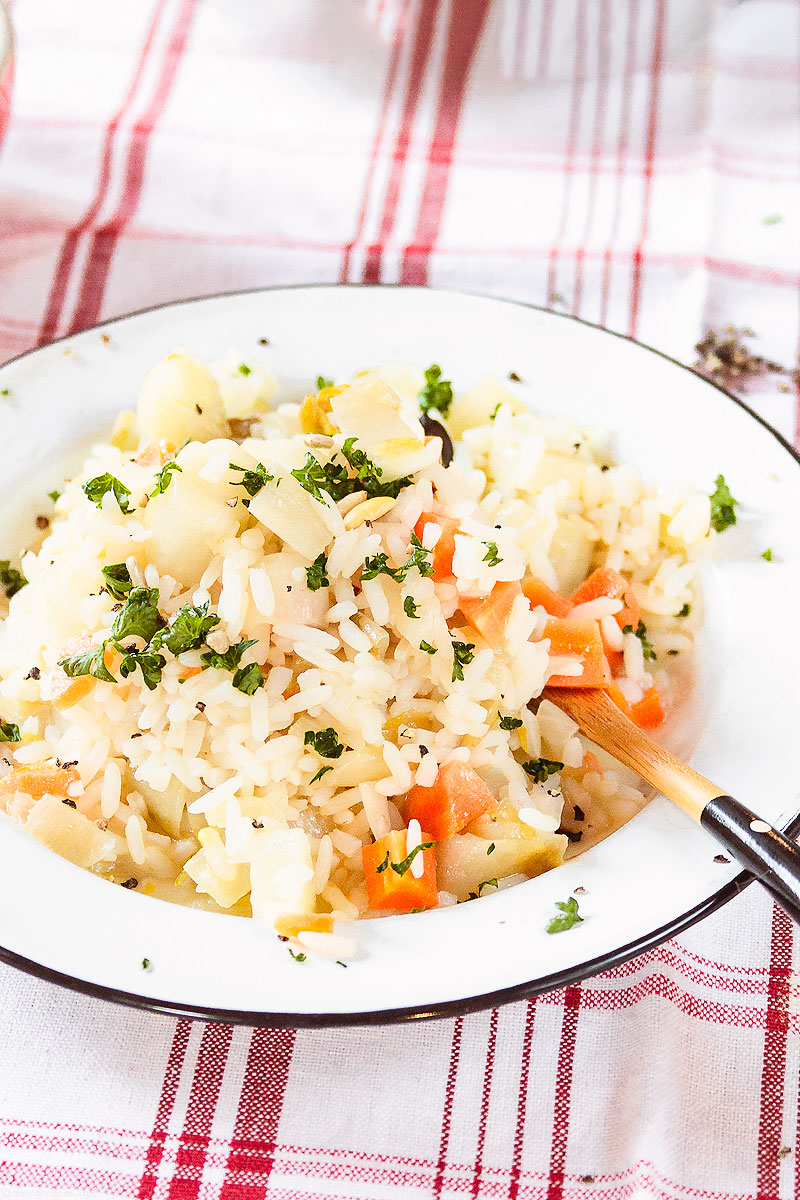 Hello my beautiful friends!
Today's recipe is the meeting of 2 ingredients we love a lot here at the Windy Burrow: rice (well who doesn't love rice?!) and the humble endive – which is one of Fabien's favorite vegetables. This feels like the perfect recipe to slowly move from winter to spring, as Belgian Endive is available all through Winter and up to April/May. This pale-looking root veggie is loaded with precious vitamins and diuretic properties, the right choice to detoxify after the long winter months.
This risotto is actually inspired by a typically Roman dish. There's a traditional soup that grandmothers from Rome  used to make combining rice and endive, and I've altered it to make this simple and fresh risotto, where endive's bitter taste takes on a gentler and more delicate taste while simmering along with the rice. It also imparts a unique creaminess to the risotto.
But pay attention to the choice of your rice. As I'm originally from the North of Italy – the so.called "land of risotto" – nothing less than a good Arborio will suffice.
This is the type of Riso Superfino Arborio Carnaroli I swear by :)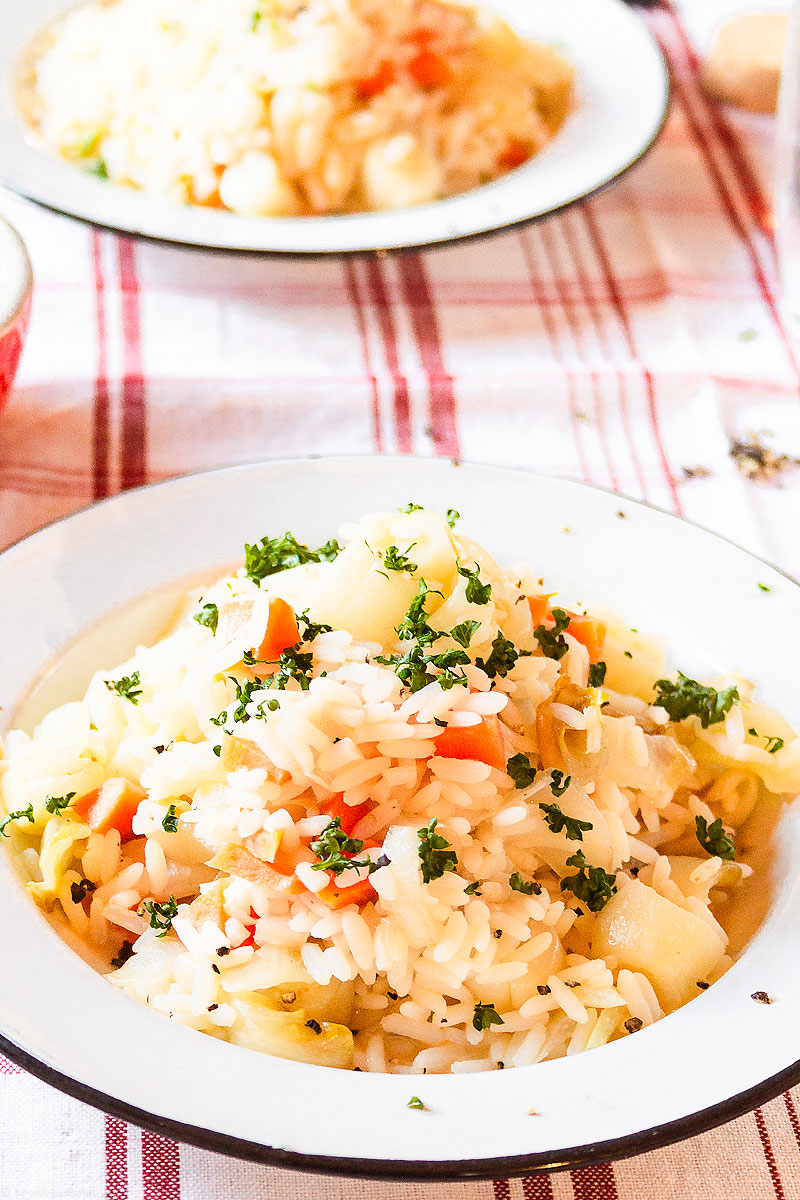 Did you know… It was a "happy accident" that brought endive into existance: in 1850 the Belgian gardener Bréziers forgot some wild chicory roots in the dark for several weeks, and when he went back to tend them he found these pale-looking buds. Since then, their culture has hardly changed.
Endive is a low-calorie, nutrient-dense vegetable. It improves digestion thanks to its fibers, it lowers bad cholesterol, improves bone mass, protects the eyes and the brain, and it also helps women during their pregnancy.
Composed of no less than 94% water and with only 18 calories per 100 grams, endive is rich in vitamins and antioxidant minerals: calcium, potassium, zinc, manganese, selenium and vitamins B9 and C, all elements that help to reduce fatigue – therefore crucial when entering spring after a long winter.
One large endive corresponds to 1 daily portion of vegetables, and it's easy to prepare, as you will see in this recipe.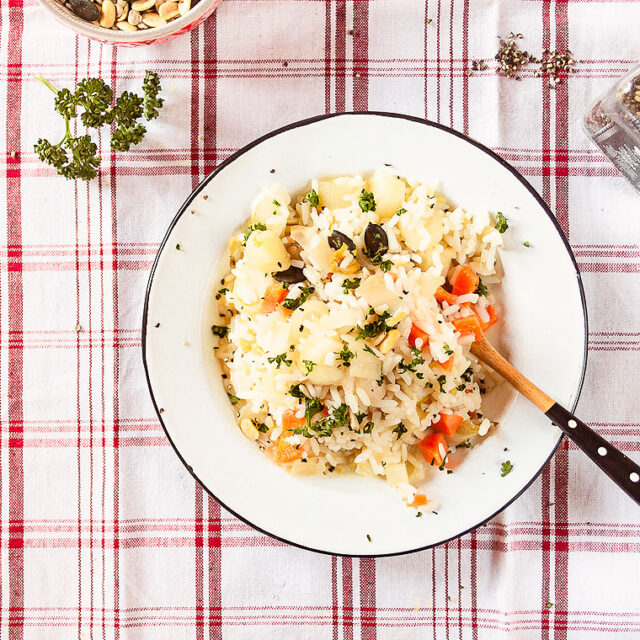 Vegan endive risotto
I love this easy, one-pot, no-fuss Vegan endive risotto: the humble endive is paired with rice & veggies to make a colorful, tasty and filling dish the whole family will enjoy.
Ingredients
1

tbsp

olive oil

or water, for an oil-free version

1

yellow onion

small

2

cloves

garlic

1

carrots

500

gr

endive

350

gr

rice

choose a "Risotto" type like Arborio

1

litre

water

1

bouillon cube

1

pinch

salt and pepper

1

tbsp

soy cream
Instructions
Start by cleaning the endives, rinse them well and drain them to remove most of the water. Cut in thin slices.

Prep the veggies for the base of the risotto: finely chop the onion, the garlic and the carrot and cook them in a large pan with a drizzle of oil (or water for an oil-free version) for a couple of minutes. The add the endives and sauté them for 5 minutes.

Add the rice, mix well until the rice is golden, then because this is a simplified version of the classic risotto, add 1 liter of water and crumble a bouillon cube. Bring to a boil, then lower and keep stirring with a wooden spoon to break down the starch and make the rice really creamy.

After around 15 minutes, the rice should still be "al dente" (slightly crunchy) but it should also have absorbed all of the liquid. Remove from the heat, taste, add a pinch of salt and pepper if needed, then 1 tablespoon of soy cream and gently mix.

Let rest 2 minutes before serving (see Notes for serving suggestions). Enjoy!
Notes
Serving suggestions:
before plating, you can add one more tablespoon of soy cream and sprinkle some chopped fresh parsley and/or nutritional yeast for a last savory touch.

I hope you enjoyed this recipe of  Vegan endive risotto…Do you like endive? Is it something you buy, when in season?
if you're going to try this recipe, make sure to let me know down below, I look forward to reading your comments.
And by the way, if you're looking for the perfect dessert to pair with this risotto, what about this Vegan Gluten-Free Caprese Chocolate Cake? It's my favorite cake, ever!
And don't forget to pin this post to share the love ♥
I wish you a love-filled day, stay safe xoxo