Disclosure: This post may contain affiliate links. As an Amazon Associate I earn from qualifying purchases. Thank you for your support!
This Low-Fat Buffalo Cauliflower recipe from The Essential Vegan Air Fryer cookbook is a fun and healthier meatless alternative to a classic American dish, Buffalo wings. Fully loaded with awesome flavors, it's quick and easy to prepare in the air fryer. It even comes with a special spicy buffalo sauce made with aquafaba! I'm sure it will become a hit in your house, too!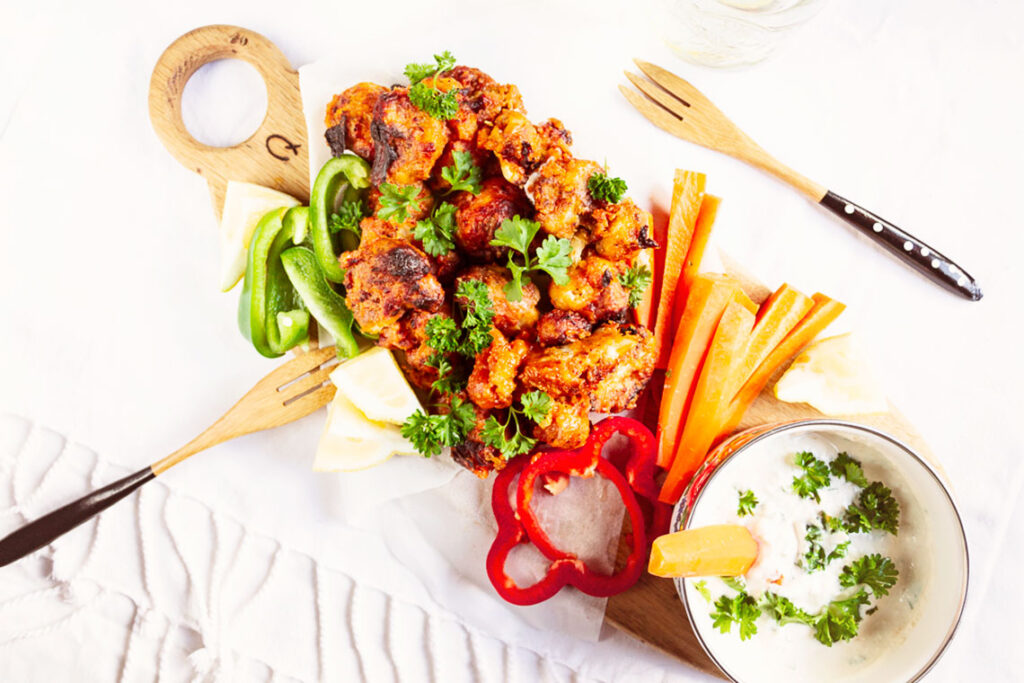 Hello my beautiful friends!
Today I'm excited to present you a recipe from Tess Challis' new cookbook that gets out today!
If you don't know Tess already, she's a Vegan chef, author, speaker, coach, and super mom. She's a truly inspiring woman, and I'm so glad to have the pleasure to tell you about her latest book: The Essential Vegan Air Fryer Cookbook.
Tess has been teaching healthy cooking classes since 1997. She helps people how to create healthy, delicious Vegan meals including Thai, Mexican, raw foods, Ethiopian, Indian, healthy desserts, & healthy food prep.
Tess became Vegan for health reasons, and after some struggles, her plant-based diet reversed severe health conditions all while learning to create flavorful, satisfying, delicious and healthy foods.
Since then she has been sharing her knowledge and empowered many people to "go from where you are now to where you reallllly want to be, via highly effective (yet small and stick-with-able) "one degree" steps".
I just love Tess, her positive outlook on life and her contagious enthusiasm, traits that you perfectly find while browsing the pages of her latest cookbook.
I've only recently acquired an air fryer (you can see the cute, simple one I got here, it was less than 40$ on sale), because I never, ever, deep fry, and I've read so many people raving about the wonderful things you can do to tofu (and not only that!) with an air fryer.
So when I first heard that Tess was releasing a cookbook centered around the use of an air fryer, I jumped at the opportunity to be part of her virtual book tour, together with a few other lucky bloggers.
If you're serious about eating a healthy, plant-based diet but still have cravings for the crispy crunch of fried foods ― this book is for you! The Essential Vegan Air Fryer Cookbook serves up the most comprehensive collection of good-for-you vegan recipes that pack deep-fried taste―without all the guilt.
From Sweet Miso-Glazed Brussels Sprouts to BBQ Jackfruit Nachos to Cinnamon Crisps, these yummy recipes use the healthiest real food ingredients without ever compromising flavor. But this air fryer cookbook book doesn't just give you healthy recipes―you'll also learn the ins and outs of air frying with expert advice and a handy troubleshooting guide.
And yes, you CAN have French fries.
The Essential Vegan Air Fryer Cookbook includes:
❥ Air frying 101 ― Learn the benefits of air frying, plus how to choose and use the right model for you with this air fryer cookbook.
❥ Good food that's GOOD for you ― Forget about fake substitutes. This air fryer cookbook embraces the rich and varied ingredients of the vegan diet so that you never compromise your health for great tasting food.
❥ 75 Whole health recipes ― Get all the best recipes for breakfasts and breads, sides and snacks, main dishes, desserts, and must-have staples.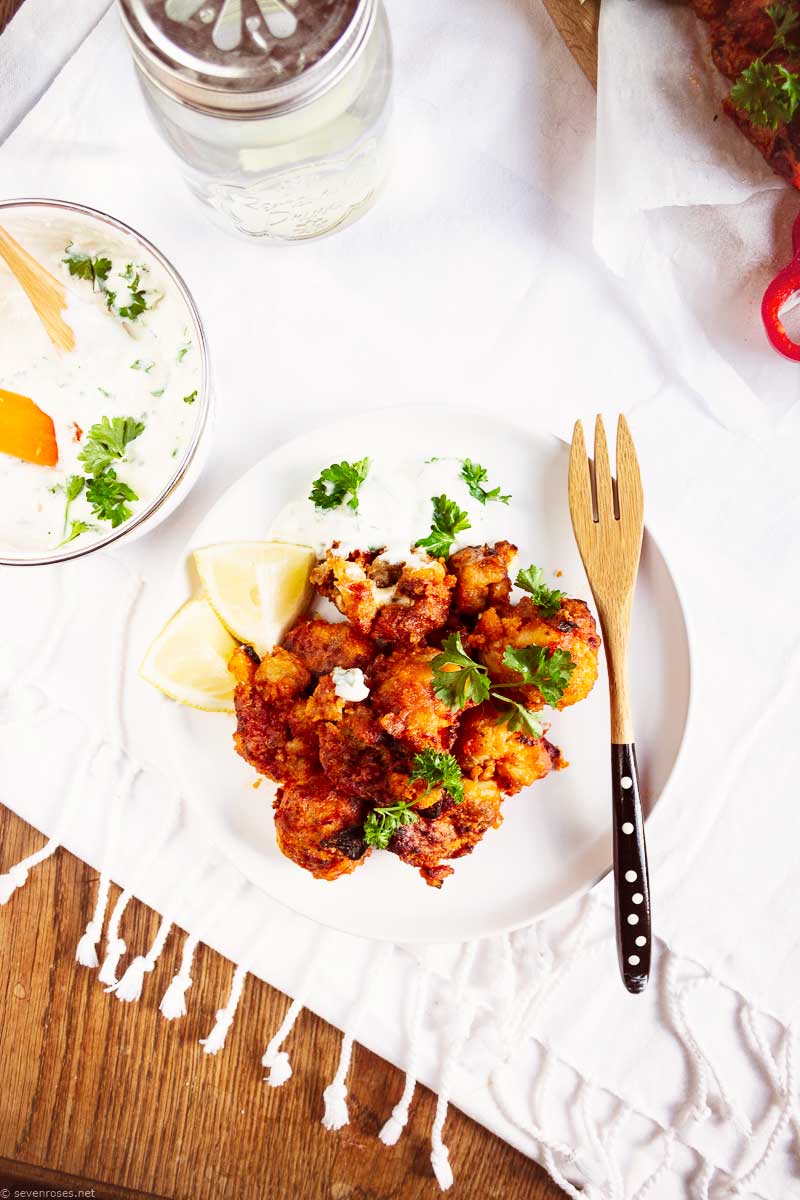 The book is divided in 6 intuitive chapters and include 75 amazing recipes you can make in your air fryer:
❥ Air Fryer Basics
❥ Breakfast & Breads
❥ Sides & Snacks
❥ Main Dishes
❥ Desserts
❥ Staples
and today's yummy Low-Fat, High-Flavor Buffalo Cauliflower comes from the Sides & Snacks' chapter, as the tradition wants. But to be honest, I now make a big batch of this totally addictive recipe and serve it as a main dish, along with a big salad, carrot sticks and lots of raw veggies. It also comes with its own low-fat heavenly No-Dairy Ranch Dressing… You have to give this recipe a try: it's SO good!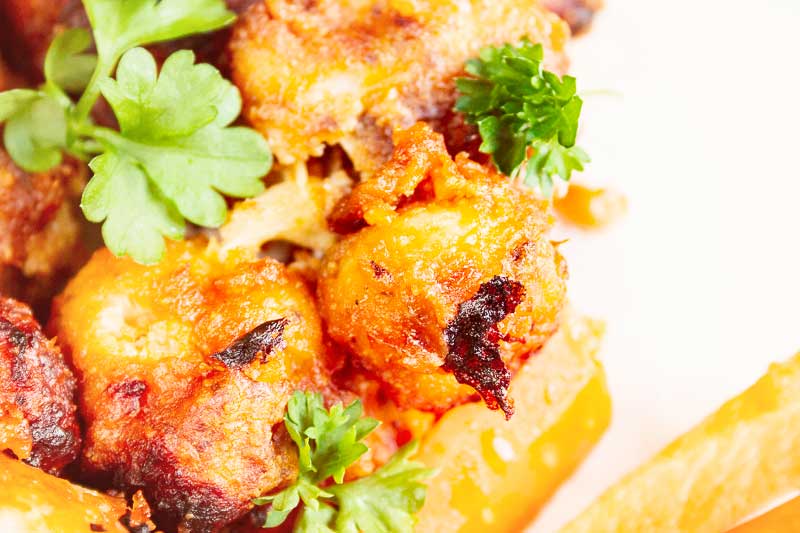 First, it's low in fat and high in fiber thanks to the cauliflower itself. Second, it's budget friendly: you can get a whole big cauliflower for anything between .99c to 3$/€ depending on the season and the store you shop at. Third, it's full of good-for-you ingredients! According to Dr. Greger cauliflower, garlic powder, onion powder and ground flaxseed should be eaten as often as possible. I'd add a pinch of turmeric and black pepper to the Buffalo sauce just to make it extra healthy.
But frankly, that's not the reason why this dish has quickly become a staple in our house. The truth is: it's a simply so-good-it's-addictive kind of recipe. Each bite is so satisfying! Make sure to whip up a batch to serve at your next super bowl party for a totally unique appetizer.
So how do you go from a humble, pale, plain cauliflower to a crispy, saucy, flavorful comfort food / yummy appetizer or game day snack that got the stamp of approval from Vegans, omnivores and self-proclaimed carnivores alike? …Keep on reading ;-)
In Tess' words:
I absolutely live for a good Buffalo cauliflower, and have tried many versions in restaurants. While delicious, it's a dish that can often be overly salty and greasy. Sometimes it's just a bunch of steamed cauliflower topped with buffalo sauce!
Brilliant cookbook author and chef Brian Patton of "The Sexy Vegan Cookbook: Extraordinary Food from an Ordinary Dude" graciously allowed me to use his sauce idea here, which uses chickpea liquid (aka aquafaba) and arrowroot for a lower-fat profile with all the flavor still intact. Grab plenty of napkins and get your Buffalo on!
The following recipe is an excerpt from The Essential Vegan Air Fryer Cookbook, by Tess Challis, published by Rockridge Press. Copyright © 2019 by Callisto Media, Inc. All rights reserved.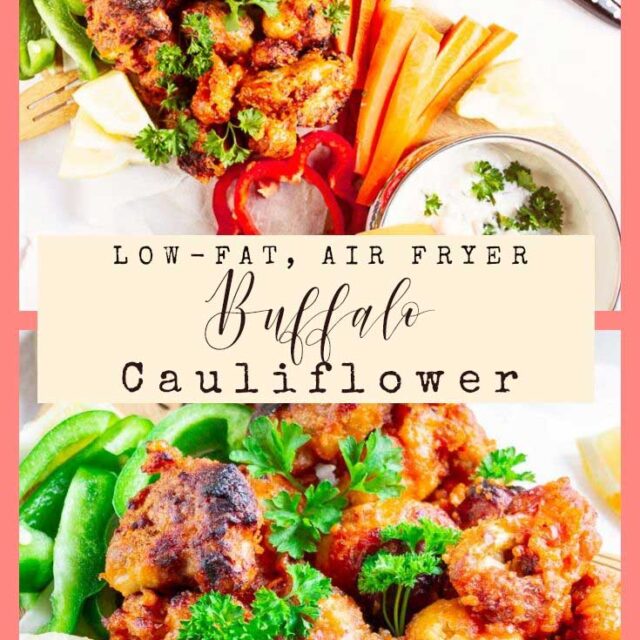 Low-Fat, High-Flavor Buffalo Cauliflower (The Essential Vegan Air Fryer Cookbook)
Author: Tess Challis / The Essential Vegan Air Fryer Cookbook. This Low-Fat Buffalo Cauliflower recipe from The Essential Vegan Air Fryer cookbook is a fun and healthier meatless alternative to a classic American dish, Buffalo wings. Fully loaded with awesome flavors, it's quick and easy to prepare in the air fryer. It even comes with a special spicy buffalo sauce made with aquafaba! Grab plenty of napkins and get your Buffalo on! Game day has never been so easy and soooo good
Ingredients
For the cauliflower
2

cups

cauliflower

cut into bite-size florets

4

tbsp

plant-based milk

plain and unsweetened

1

tbsp

Ground flaxseeds

½

cup

chickpea flour

1

tbsp

arrowroot

or cornstarch

½

tsp

garlic granules

½

tsp

onion granules

⅛

tsp

baking soda

Cooking oil spray

sunflower, safflower, or refined coconut
For the Buffalo sauce
½

tsp

arrowroot

or cornstarch

¼

cup

aquafaba

chickpea liquid, divided

¼

cup

hot sauce

see recipe notes

2

large cloves garlic

minced or pressed

2

tsp

Vegan butter/margarine
For dipping
No-Dairy Ranch Dressing

or bottled vegan ranch
Instructions
To make the cauliflower:
In a small bowl, toss the cauliflower with 2 tablespoons of the milk and the flaxseed. Stir and set aside for 5 to 10 minutes.

In a medium bowl, bowl, combine the flour, arrowroot, garlic, onion, and baking soda, and stir until well combined.

Spray the air fryer basket with oil and set aside. Remove the flaxy cauliflower pieces (but reserve the milk-flax bowl) and add the cauliflower to the flour mixture. With a rubber spatula or large spoon, stir well (but gently) to coat the cauliflower evenly.

Be a double-dipper! Add the remaining 2 tablespoons of milk to the small bowl and stir. Place the floured cauliflower back in the liquid and toss well. Then, place the cauliflower back in the flour mixture. Stir well to give the cauliflower a nice, even coating of the batter.

Place the cauliflower in the air fryer basket. Spray with oil. Fry for 6 minutes.

Remove the air fryer basket, shake or stir (so the cauliflower cooks evenly on all sides), spray with oil again, and fry for another 6 minutes.
To make the Buffalo sauce
In a small bowl, combine the arrowroot with a tablespoon of the chickpea liquid and stir until dissolved.

In a medium-size pot over medium-high heat, add the hot sauce, arrowroot mixture, remaining chickpea liquid, garlic, and vegan margarine. Cook, stirring or whisking often, for 1 or 2 minutes, until slightly thicker in texture. Set aside.

Add the cauliflower to the buffalo sauce and toss gently to coat. Place the coated cauliflower (extra sauce and all) into the 6-inch round, 2-inch deep baking pan. Fry for 3 minutes. Remove the baking pan, stir well, and fry another 3 to 5 minutes, until a little saucy and a little crispy. Place in a bowl, drizzle any remaining sauce on top, and serve hot with No-Dairy Ranch Dressing.
Notes
If you're wondering what kind of hot sauce to use here, any inexpensive standard cayenne pepper sauce (such as Frank's
RedHot) will do! Full-fat vegan margarine will work best (such as Earth Balance non-whipped or Miyoko's vegan butter).
For the aquafaba, use the liquid from your can of chickpeas, or reserve some cooking liquid if you're cooking your beans from scratch.
Per Serving:
Calories: 92;
Total fat: 4g;
Saturated fat: 1g;
Cholesterol: 0mg;
Sodium: 474mg;
Carbohydrates: 11g;
Fiber: 3g;
Protein: 4g
>> Get Tess' book on Amazon:
The Essential Vegan Air Fryer Cookbook: 75 Whole Food Recipes to Fry, Bake, and Roast <<
Did you enjoy this recipe? Then don't hesitate to leave a message down below or visit Tess' website to find out easy ways to make your life and health truly phenomenal :)
Also don't forget to pin this post to share the love! ♥
I wish you a love-filled day xoxo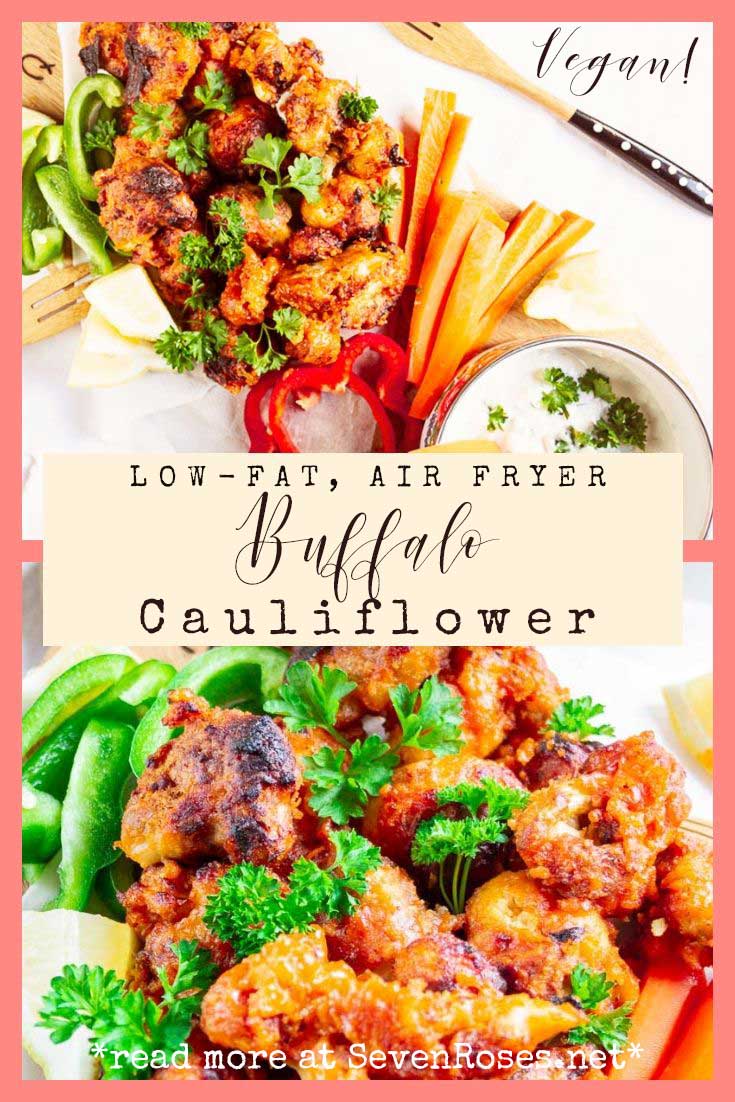 Styling:
❥ Oak Wood serving platter by Brad Quarless Furniture
❥ White 100% Cotton Turkish Towel/Table Cloth from Bersuse
Disclaimer: I got a free copy of the book to be reviewed, but all opinions are my own. Some of the above links may be affiliate links.