This gorgeous Vegan Cherry Clafoutis is a revised traditional French dessert, usually served still lukewarm. It contains no egg, no butter and yet it delivers a soft flan that melts in your mouth with a handful of juicy cherries.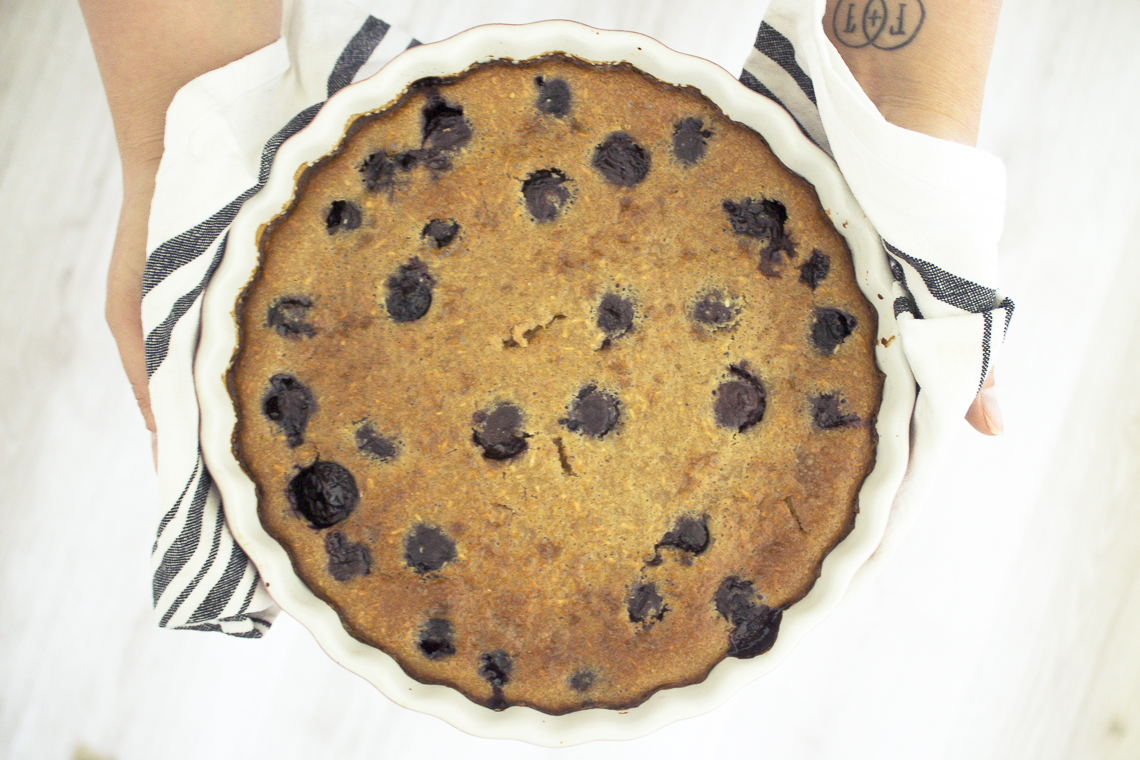 Which are your first childhood culinary memories?
You know, those foods that just like Proust's Madeleines, take you back to another time and another place with just one bite. Perhaps in your mother's kitchen, or at your grandparent's house, foods that are familiar yet so distant in time. To me it's always fascinating how flavors and smells can trigger so many memories, even things we thought were long forgotten.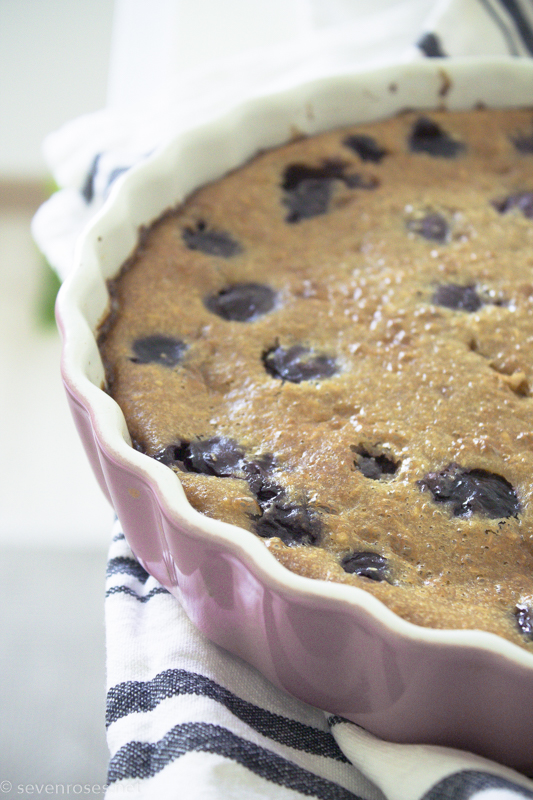 Many times I ask this same question to my husband, as coming from different countries we didn't get to experience the same types of food as children, and every now and then I try to recreate his favorite foods but Vegan, of course.
And it's during one of these conversations that the Cherry Clafoutis made its first appearance.
The Clafoutis is a bizarre food, if you ask me. The first time I've been told you put whole cherries in a flan, I wondered who thought that biting into a soft slice of flan, only to find the hard, inedible pit would be a pleasurable experience… Not to mention you have to delicately get rid of the pit (aka spit it somewhere) and the whole thing becomes even weirder. Not the kind of cake you'd want to eat during a posh High Tea I guess :D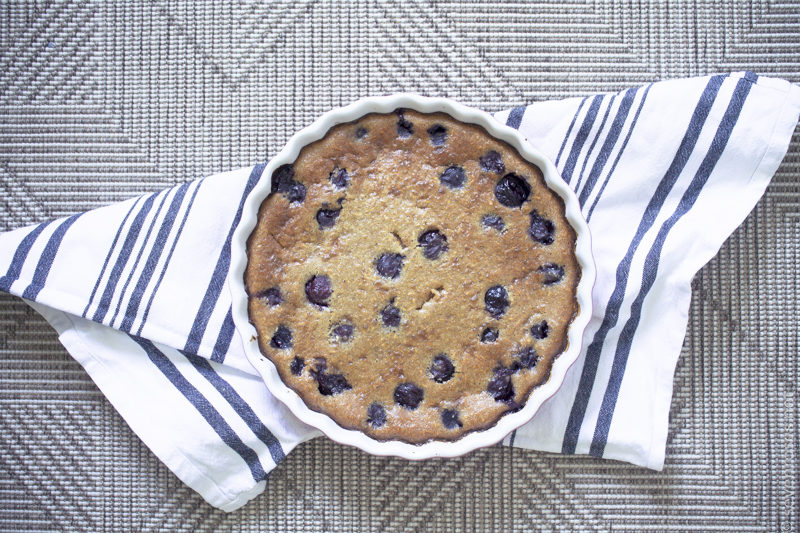 Apparently, the reason why the cherries are left whole and not pitted is partly because "the pits contain amygdalin, the active chemical in almond extract, so during baking a small amount of amygdalin from the pits is released into the clafoutis, adding a complementary note to its flavor" (Wikipedia says) but also because in this way they retain all their juices (a French woman told me).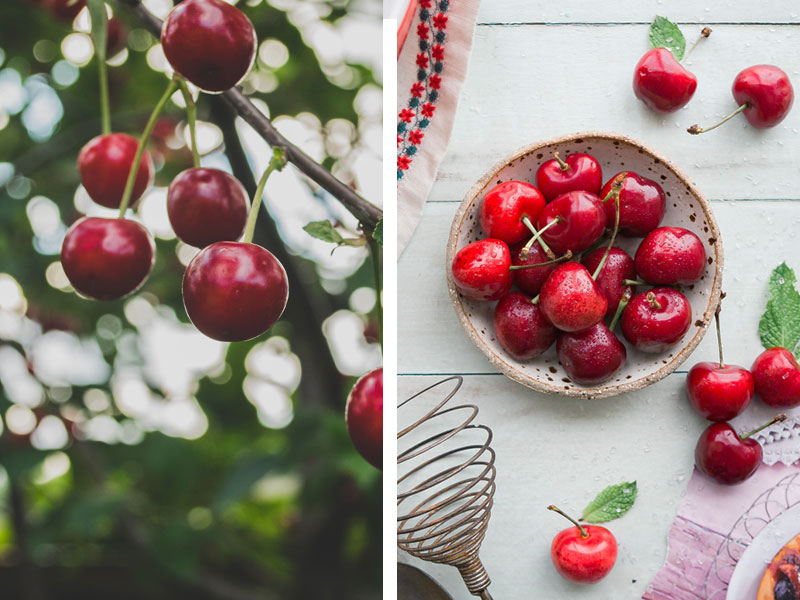 Anyway, the whole "ok I'll attempt to recreate a Vegan Cherry Clafoutis" thing started when we stumbled upon an abandoned cherry orchard a few weeks ago. We had a lovely impromptu picnic under the shade of these enormous, uncared-for trees, that generously keep on giving new fruits year after year. There were thousands of cherries, many already fallen, and so we took a few – well quite a few! – partaking on the beautiful mystery that nature is: food that comes directly from the earth, naturally, without man's intervention and without the need for any creature to suffer or die to feed us. Oh man, it felt just right! And with so many cherries, we snacked on them as dessert for many evenings, but it was the perfect opportunity to finally attempt a Vegan Cherry Clafoutis.
So, do you want to find out how to make a light and cruelty-free version of this typical French dessert? Read on then: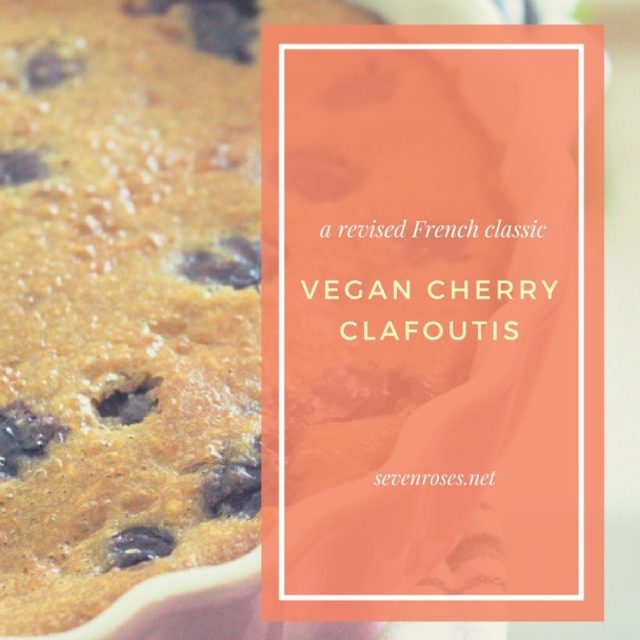 Vegan Cherry Clafoutis
This gorgeous Vegan Clafoutis is a revised traditional French dessert, usually served still lukewarm. It contains no egg, no butter and yet it delivers a soft flan that melts in your mouth with a handful of juicy cherries.
Ingredients
Dry Ingredients
250/500

gr

dark cherries

the quantity depends on how many you want!

120

gr

flour

70

gr

brown sugar

7

gr

vanilla sugar

2

tbsp

almond flour
Wet Ingredients
35

cl

plant-based milk

10

cl

plant-based cream
Instructions
Wash, dry and destem the cherries.

Add the rest of the dry ingredients - flour, brown sugar, vanilla sugar and almond meal - to a big bowl. Mix them together with a whisk.

Create a hole in the middle and pour half of the plant-based milk and cream. Fold them in gently, then add the rest of the liquids. Let rest for 15 minutes.

In the meantime, turn on your over at 200°C (392°F).

Place the cherries in your round baking dish and slowly pour the batter without moving the cherries too much. Let cook for about 45 minutes (start checking around the 40' mark) and then let rest outside the oven.

Serve while still lukewarm! Serving options: you could add a ball of vanilla ice cream or sprinkle some powdered sugar.
Notes
You might want to use as mush as 500gr of cherries, but I used much less as per request of my husband, who wanted a big bite of flan with a small quantity of cherries rather than the other way around. It really depends on your liking.
So let me know, what is a food that reminds you of childhood? I'd love to know! Leave a comment below so we can talk about it some more together
♥
Did you enjoy this post? I would love for you to pin it or share it on your social media to spread the good vibes! Thank you! #sevenroses