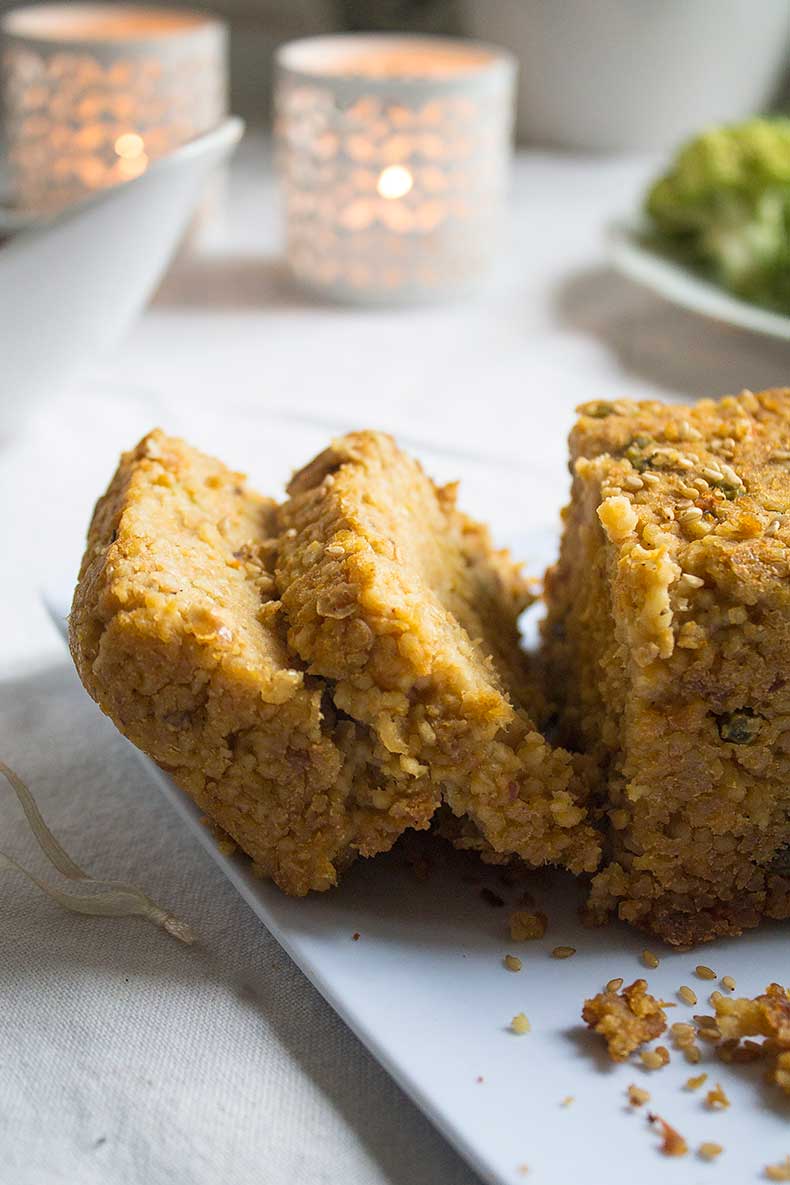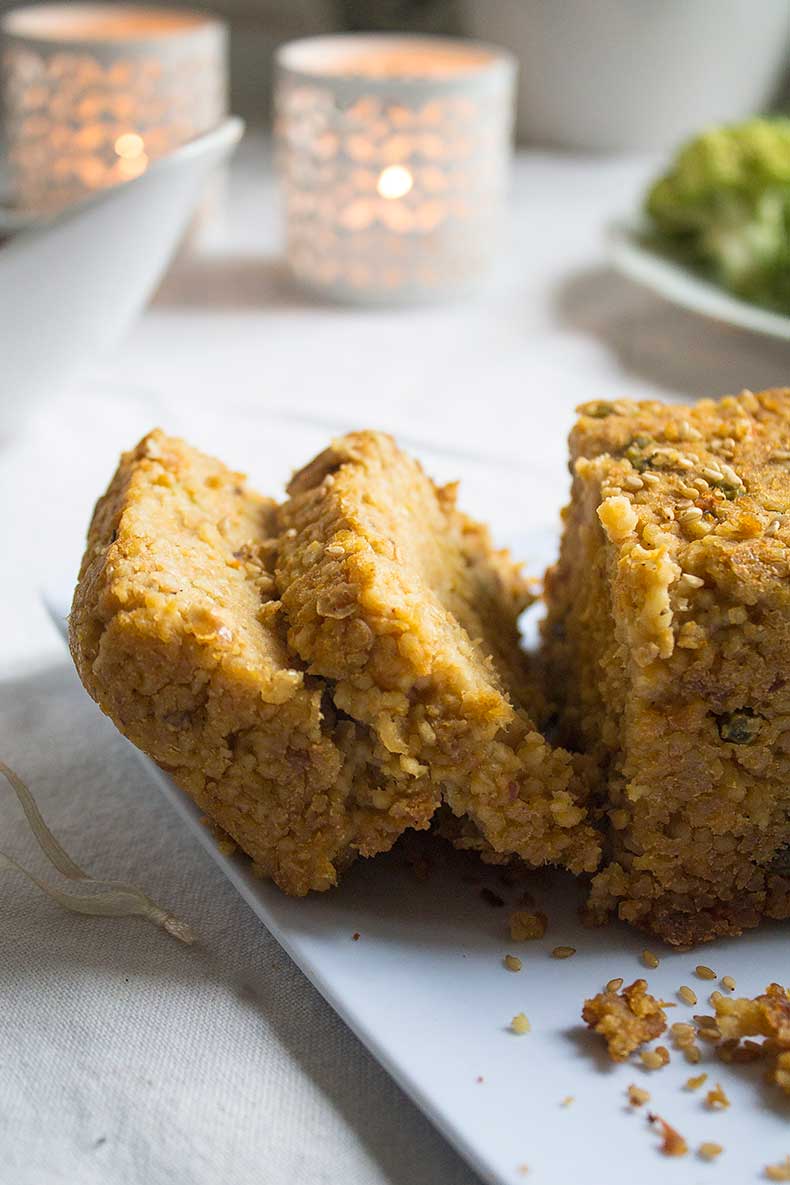 It's still early November, and for the second year in a row we're having snowfalls already! I can't believe I've longed for snow most of my adult life, and now I finally get to experience the magical beauty of seasons in the perfect place. Yay for changing seasons!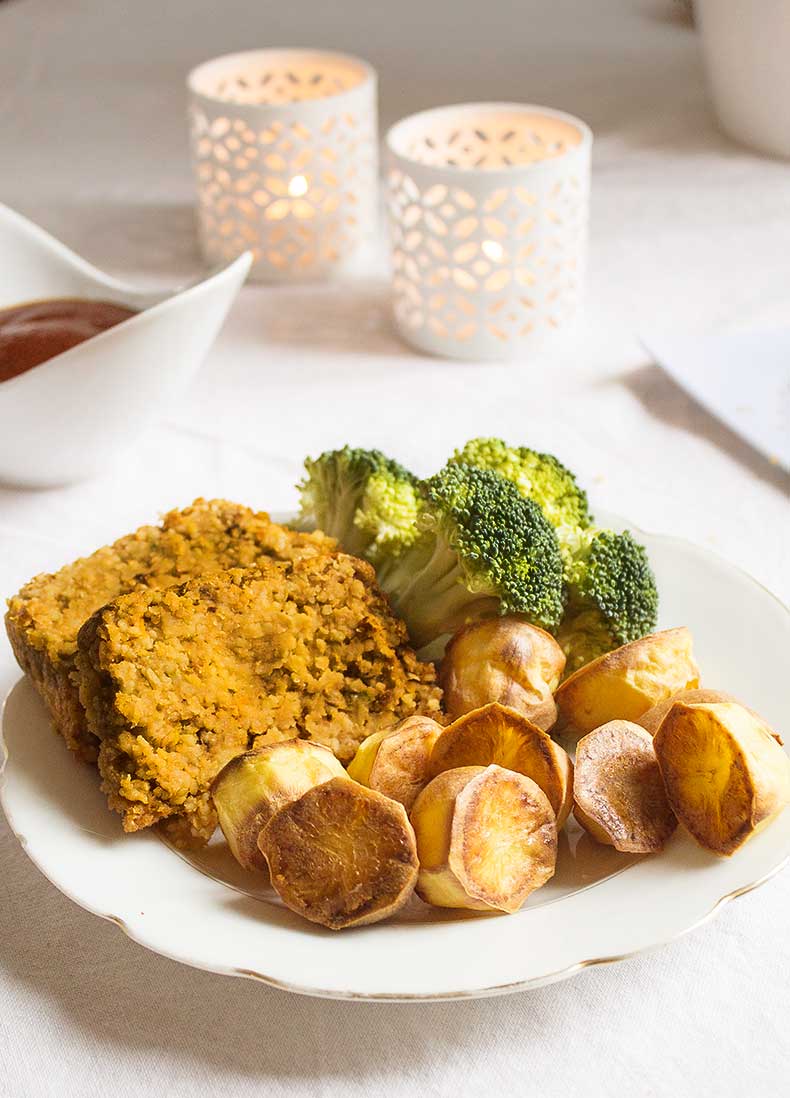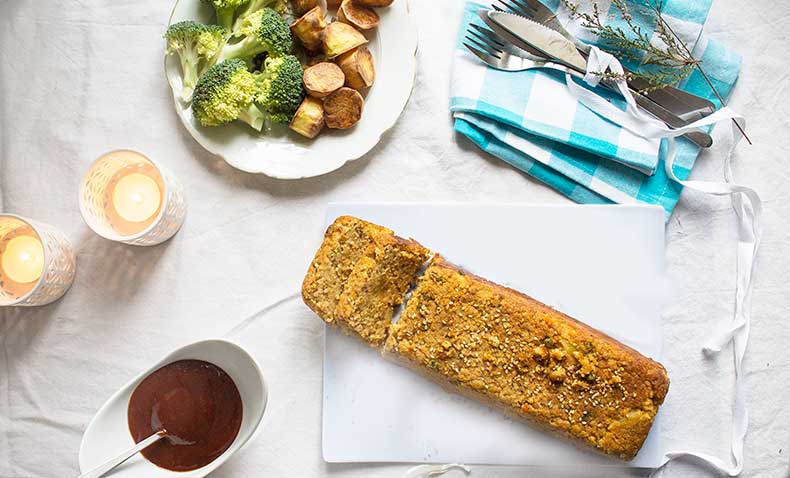 So, while October was all about comfy Autumnal treats, come this cold temperatures and I'm already thinking of the Holiday season, gift giving and gatherings around the table. Whether you're Vegan like me or you want to include a meatless dish for your friends and family this holiday season, welcome!
Take a look around and make yourself at home. I've prepared for you a perfect holiday lentil loaf that tastes great, is easy to make (that's a staple in my kitchen) and that is actually multi-purpose as it's an excellent sandwich filler the next day (IF there's any leftovers, that is) with some crunchy lettuce and vegan mayo. Just serve it with roasted potatoes, lots of veggies and your favorite gravy (I've shared my go-to easy gravy in last year's top Thanksgiving recipe roundup) and let the feast begin.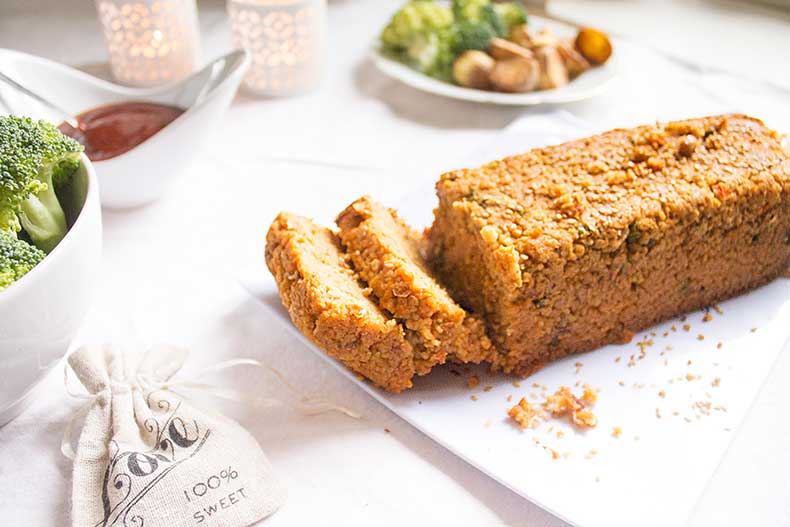 This lentil meatless loaf also happens to have loads of proteins thanks to… lentils (duh!), chia seeds and oats. So if you want to make a low-cholesterol, oil-free, soy-free, nut-free meatless roast that will be devoured by children and grown-ups, let's get right into the recipe because I can't stand recipe posts where you have to scroll down for hours before getting to the interesting part ;-)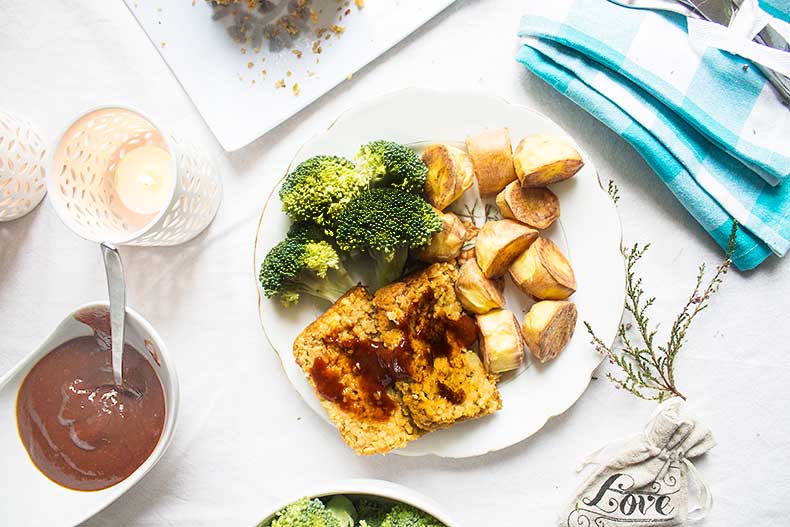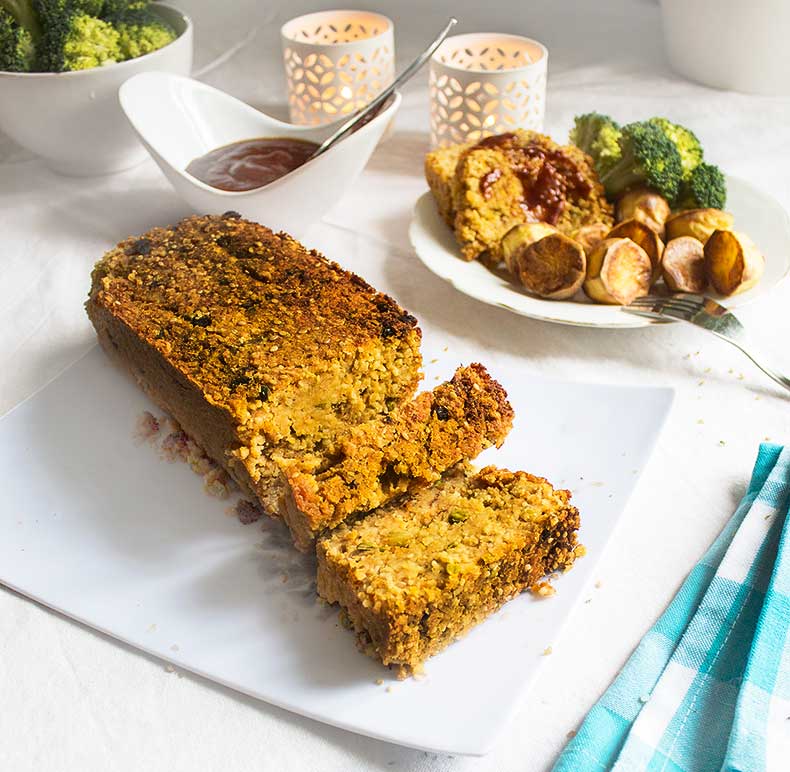 Also check out my festive Vegan Holiday roast! =)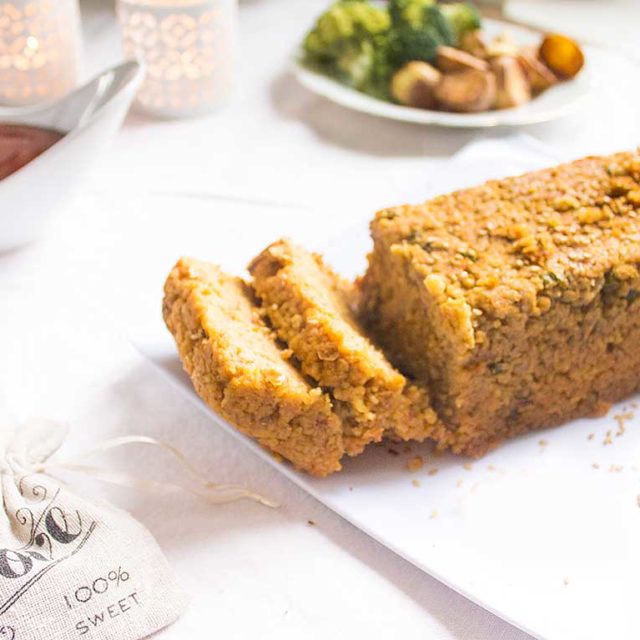 Lentil loaf
This loaf could become your meatless holiday staple! Easily adjust seasonings according to your family taste and serve with roasted potatoes, green veggies and your favorite gravy or sauce.
Ingredients
Loaf
1

cup

dry lentils

1

cup

couscous

1/3

cup

oats

1

tablespoon

chia seeds

herbs + spices

I used garlic poweder, paprika and pepper

1

teaspoon

liquid smoke

1

teaspoon

tabasco

1

tablespoon

BBQ sauce

sesame seeds

optional
Broth
4

cups

warm water

1

onion

3

cloves

garlic

1/2

cup

mixed veggies

fresh or frozen
Instructions
Start by making a broth: heat 4 cups of water, chop your onion (any color will do, just go with the one you love the most, I used yellow), finely chop the garlic cloves. Add everything to a big pot of water, pour in the (frozen) veggies (I used a frozen mix of baby potatoes, green peas and baby carrots) and any spices you might want.

After 10 minutes or so pour your lentils and let cook for the time needed (usually around 20/25 minutes).

When the lentils are done, you should still have some liquid left in the pot. If not, heat up 1 more cup of water and pour in. Add the couscous, mix well and let rest. Heat your over at 220°C and set a plumcake mold on the side.

Now the fun part begins: add the oats to the pot, mix well. Add the chia seeds and mix well. Add the tabasco, the liquid smoke, the BBQ sauce, the herbs and spices you love and mix - you guessed it - very well. (You might want to add some salt at this point, I didn't)

If the mixture is too wet, add a few more oats. If it's too dry add a tablespoon or two of water. Then, gently fold the mixture in the mold and press evenly, making sure the mixture reaches well into the corners. If you want, drizzle a little bit of olive oil on top (I didn't) and sprinkle some sesame seeds. Put in the oven and let it cook for 55 minutes.

When the top is golden and an inserted toothpick comes out clean, you know it's ready! Cool for 15 minutes in order for the loaf to set before cutting it... and enjoy!
Notes
If you wish, you can personalize this basic recipe in many ways: add mushrooms or whole nuts to the mixture. Cover with a layer of BBQ sauce before putting the loaf into the oven. Substitute chickpeas for the lentils and brown rice or quinoa for the couscous... the possibilities are endless! This can also be the perfect way to use up left over lentils ;-)
Did you enjoy this post? I would love for you to pin it! Thank you! ♥
Also, do let me know in the comments which is your favorite holiday staple and did you veganize it? Or shall I veganize it for you? :)