This quick, easy Vegan lasagna is the perfect meatless comfort food that you were looking for.
So effortless and yet so indulgent, I have no doubt it will become a new family-favorite of yours!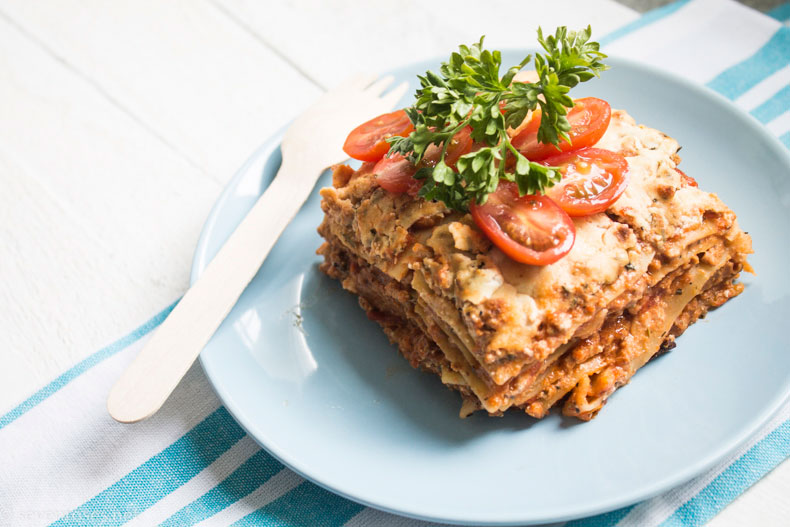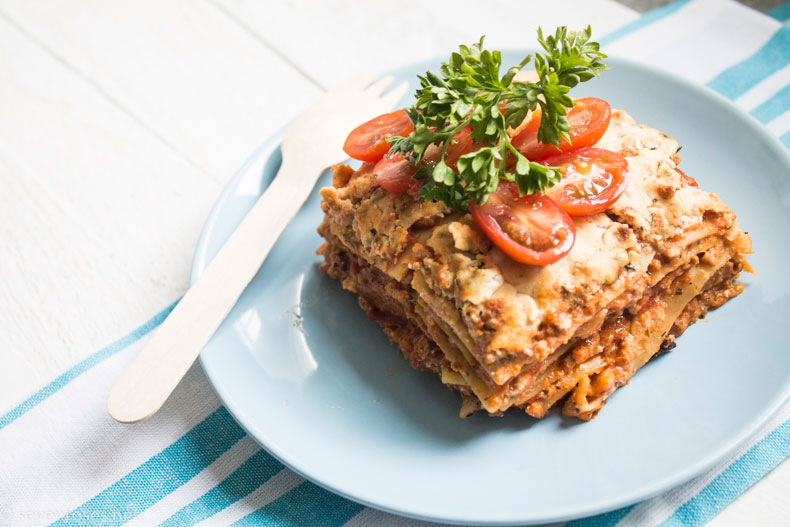 Hello my beautiful friends!
Raise your hand if you don't love lasagna… ah, just as I thought ;-)
Lasagna is such a festive dish to me, perfect for family gatherings, holiday meals, lazy Sunday lunches and so on. All Italian foods bring back fond memories, such as these amazing Vegan supplì over at the Fiery Vegetarian!
My mom used to make a big lasagna bake during the holidays, when "pasta al forno" (baked pasta) is always a pleasurable main dish, hearty, yummy, and whenever it was brought to the table you could hear many "ohhh!" "ahhh!" from everyone around the table.
Traditionally, this type of tomato-sauce based lasagna wasn't a meat-less version, but so many versions exist even in the Italian cuisine! For example, zucchini lasagna, or mushroom lasagna are implicitly meat-less. In that case you can just sub the cream/cheese sauce with its plant-based twin.
Anyway, back to this easy vegan lasagna: what makes it easy is a short list of ingredients that is so quick to assemble (so you can have more time to spend with your friends & loved ones)!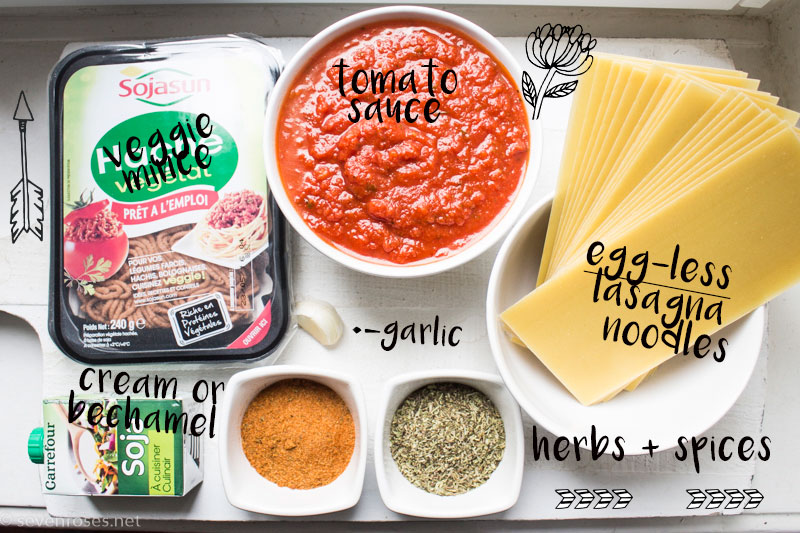 So for my lasagna, you only need to assemble a few simple ingredients (see notes for substitutions)  while your oven is preheating, set the timer, and there you go! Enjoy the rest of your afternoon knowing that the yummiest Vegan lasagna is getting ready for you.
Enough talking, let's get to the point, shall we? :-)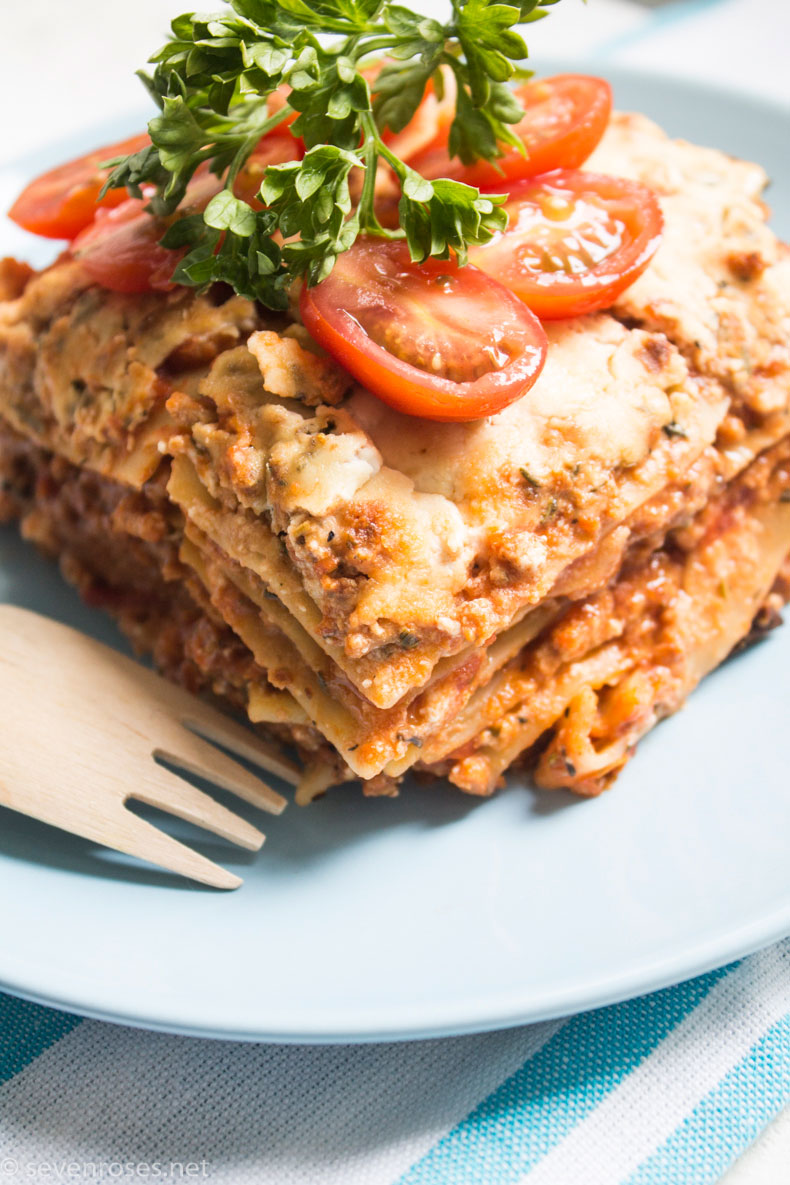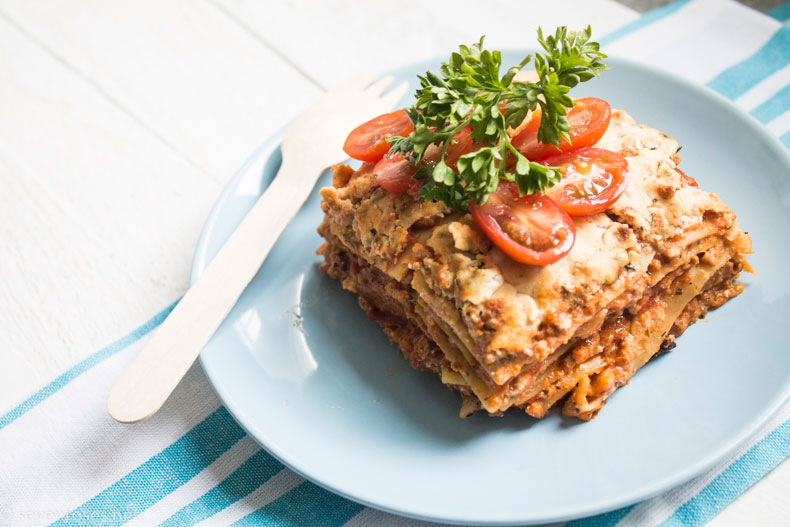 Easy Vegan lasagna
This quick, easy-to-assemble Vegan lasagna is the perfect meatless
comfort food
that you were looking for. So effortless and yet so indulgent, I have no doubt it will become a new family-favorite of yours!
Ingredients
300

gr

egg-less lasagna noodles

700

gr

tomato sauce

home-made or store-bought

1

clove

garlic

crushed

240

gr

veggie mince

(see notes for plenty of substitutions)

250

ml

soy cream

or bechamel

herbs + spices

dried or fresh

nutritional yeast

or vegan parmesan
Instructions
Pre-heat your oven at 410°F/210°C.

Cook your tomato sauce in a pot adding the crushed garlic, the herbs and spices of your choice (either dried or fresh) and salt and pepper. When it comes to herbs I used oregano, and for spices I add a pinch of paprika. But feel free to use what you like! Set aside to cool.

In a large oven proof dish, add enough tomato sauce to cover the bottom. Add enough lasagne noodles to cover the tomato sauce (break some apart if needed). Finally add a layer of soy cream (go well into the corners of the dish), sprinkle some nutritional yeast.

Repeat the previous step until the dish is 3/4 full. The sauce will bubble while cooking so leave some space on top.

Cook at 410°F/210°C for about 40/45 minutes depending on your oven, until the top starts to brown.

Bonus tip: let it cool down for 10 minutes in order to be able to cut perfect slices like you see in these pictures, otherwise it will just be a warm blob onto the plate (still yummy but less appealing to the eye and possibly lava-like hot!)
Notes
I'm using a wonderful veggie mince by Sojasun, but if you don't want to use a prepackaged ingredient or you don't find/have one at hand, there's plenty of ways to substitute it:
- lentils are the perfect substitute for every "minced meat" need - try them for your Vegan bolognese sauce and you won't believe how incredibly good they are;
- crumbled tofu makes for a very good substitute, full of protein, too;
- finely chopped mushrooms have the perfect consistency and a great taste obviously;
- nuts, especially crushed whole nuts add flavor and consistency to every bite.
Did you enjoy this post? I would love for you to pin it! Thank you! ♥
Also, do let me know in the comments which is your favorite pasta bake recipe and/or fave mince substitute :)