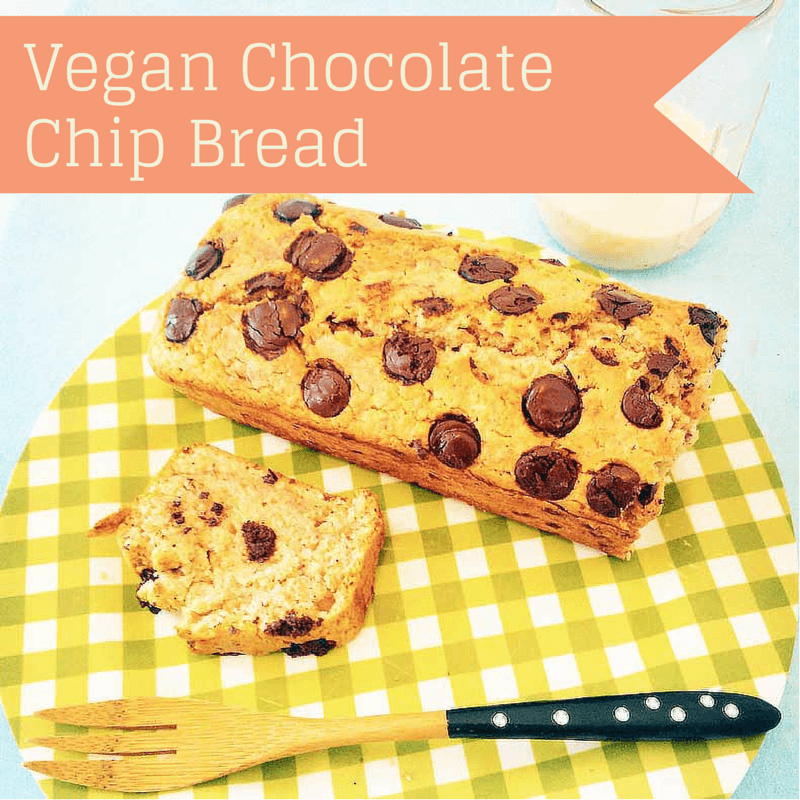 Here's the first of our "insta recipes" – recipes that are born out of a spur of the moment, when we remember to take a picture before devouring the whole thing and then post it on Instagram. This amazing Vegan Chocolate Chip Bread needs only a few rather simple ingredients (which should be staples in any Vegan pantry) and not much work at all. That's the type of recipe I prefer: simple and with a great result =)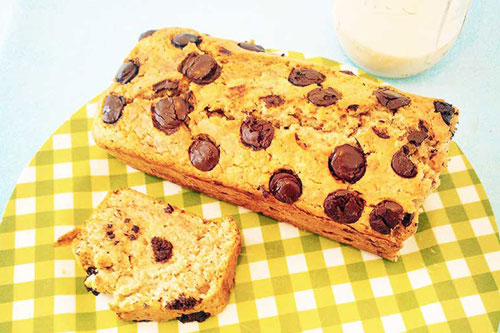 Vegan Chocolate Chip Bread
This is a fluffy, moist, simple bread/cake that can double as a healthy dessert or as a sweet breakfast, if you are so inclined.
Ingredients
Wet Ingredients
1/3

cup

coconut oil

melted

1/2

cup

brown sugar

2

tsp

vanilla essence

1

tbsp

ground flax seed

to make the "flax egg"

1/4

cup

water

to make the "flax egg"

1

cup

plant-based milk

I used soy - to make the Vegan "buttermilk"

1/2

tbsp

apple cider vinegar

aka ACV
Dry Ingredients
2

cups

flour

I used cake flour for a super light, fluffy texture

3

tsp

baking powder

1/2

tsp

sea salt

1/2

tsp

cinnamon

1

tbsp

cocoa powder

to add some depth to the flavour, optional

1

handful

maxi chocolate chips

to sprinkle on top (or regular ones, optional)
Instructions
Before beginning the actual recipe
Pre-heat your oven at 180°C (roughly 350F).

Prepare your flax egg by grinding your flax (or using flax meal) and adding 1/4 of a cup of water to it.

Prepare your Vegan "buttermilk" by stirring the ACV in the cup of plant-based milk.

Oil the loaf pan with a little bit of coconut oil (if needed, depending on the pan you use).
After 5 minutes the flax egg and buttermilk should be ready...
In a medium sized bowl combine all the wet ingredients: the milk/ACV mixture, the vanilla essence, the coconut oil, the brown sugar and the flax egg.

In a large bowl sift all the dry ingredients so they are evenly distributed: the flour, the baking powder, the sea salt and the cinnamon.

Combine the dry ingredients and add the wet ingredients. Stir until the dry and wet ingredients are just incorporated. Don't over-mix the batter because this overdevelops the gluten, resulting in a rubbery cake.

Now pour the delicious batter in the pan, sprinkle the maxi chocolate chips on top and immediately place the pan in the oven.

Let it bake for about 35 minutes, then check with a toothpick: if it comes out clean, get the bread out. Otherwise let it bake for some 2/5 minutes more, but no longer than that.
Notes
This Vegan Chocolate Chip bread recipe is inspired by Ceara's Kitchen, but where she uses apple sauce and other ingredients, I, as always, parted ways with the original recipe to make it my own.
Are you going to give it a try? We'd love to know about it. Let us know in the comments or hook up with us on social media. If you post a picture on Instagram don't forget to use #sevenroses :-)
The result is a fluffy, moist, simple cake that can double as a healthy dessert or as a sweet breakfast, if you are so inclined.
I have been asked to make this as a birthday cake, can you imagine? A humble Vegan sweet bread…. but that's how good it is :)
Don't forget to pin this! ♥