Hello my beautiful friends,
did you know that last week we entered the last moon cycle of Winter? This is undoubtedly a time of awakening, we can see glimpses of it all around in nature, and I'm sure you can feel it, too. So for today's post I thought I'd share with you a DIY Succulent Terrarium, an easy but great looking nature-themed DIY to kick-off this early Spring feeling.
If you visited SevenRoses already, you know I'm all about easy boho DIYs to embellish your home, inspire your daily life and bring the outside in as much as possible.
Succulent Terrariums will look great just about anywhere: on your desk, on a #shelfie type of shelf, on your vanity (if you happen to have one) or on a coffee table. There's so many different places that are going to be delicately enriched by these DIY Succulent Terrariums.
This project is going to be very easy even if you've never done any type of gardening before and it only requires a few items, so are you ready?
Materials you will need for your DIY Succulent Terrarium
(geometric) container or a nice vase/pot
your plant of choice
base layer: rocks / pebbles / activated charcoal
main layer: potting soil
top layer: decorative layer
add-ons and decorations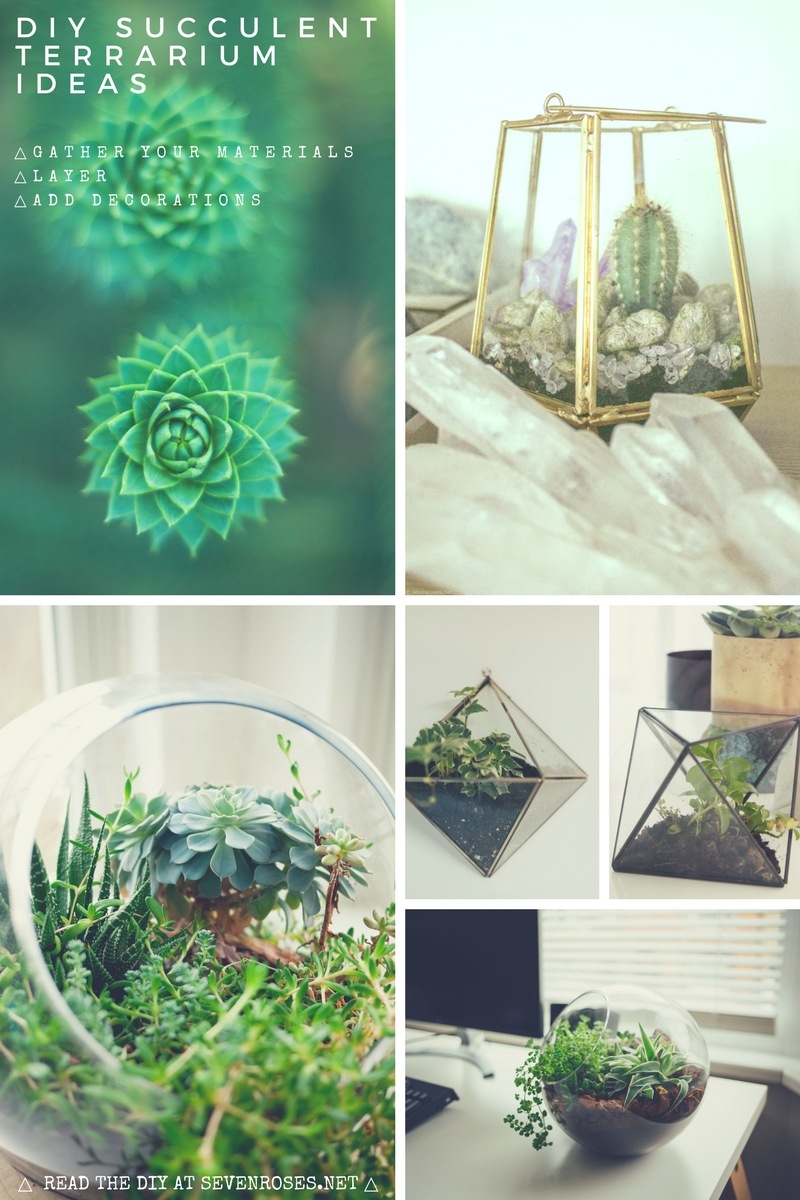 How to make your DIY Succulent Terrarium
The first step is to add a layer of rocks or pebbles on the bottom for drainage, especially if your container doesn't have a hole.
You can use rocks that you can find in nature (or at the dollar store!) or even activated charcoal from the pet store (the ones used to keep aquariums' water fresh).
When it comes to potting soil, you'll need a fast draining cactus and succulent potting soil. You can find it at any gardening store or you can easily make your own porous mix with 2 parts by volume of a potting soil, 1 part perlite, and 1 part small size gravel, e.g., pumice, turface, or crushed granite (read more here: POTTING MIXES FOR SUCCULENT PLANTS).
And now it's time to choose your plant: this will depend on the requirements of the plant, your specific environment and the quantity of light and sunshine you can provide.
So first of all, find one that will do well indoors. Keep in mind that the beautiful Echeverias and Cactii will need a lot of sunshine, while plants like Haworthias and Jade Plants can do well in low-light situations.
For this project, I chose a miniature cactus for my terrarium.
To repot your succulent or cactus, you have to let it dry first. Dry roots are essential to good repotting, as wet thin roots can easily break and rot afterwards. So don't water your plant of choice for days before repotting, and let 1 week pass before watering again.
Also, when it comes time to watering time, as encolosed terrariums don't have drainage holes, be sure to water only the base of the plant, and just enough to keep it moist but not soaked.
Add as much soil as you see fit, pat it down lightly with your hands or a tool.
Now it's time to add your decorative layer – it can be more pebbles, white sand (also from the pet store) or little quartz gems.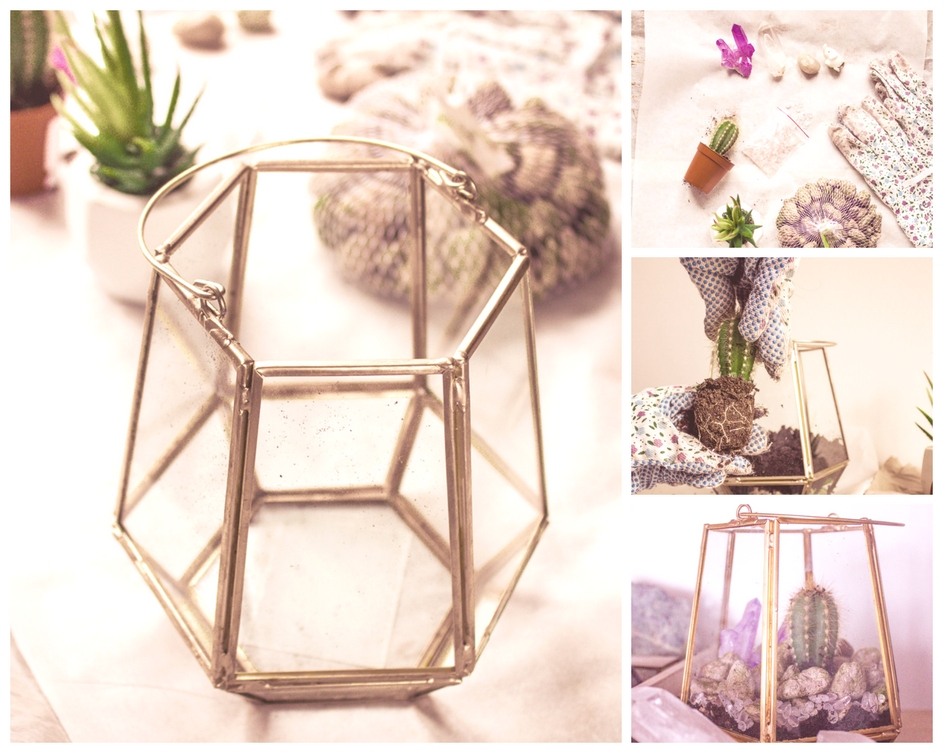 As a very last touch, add a few accent pieces to create a micro-universe of peace and calmness: add a crystal, a natural gemstone a river pebble (I tnhink they compliment the green of succulents and cactii so well), or perhaps other natural elements like little twigs and branches, or instead a mini house/figurine if your prefer.
Other ideas could be a mini message in a bottle, fairy lights or whatever your imagination tells you.
These DIY Succulent Terrarium make wonderful gift ideas too!
Do you have any succulent-related questions? Let me know in the comments and I'll be happy to reply :)
And if you enjoyed this post, don't forget to pin it and share it with others. I'd be so grateful if you did :)
I wish you a love-filled day ♥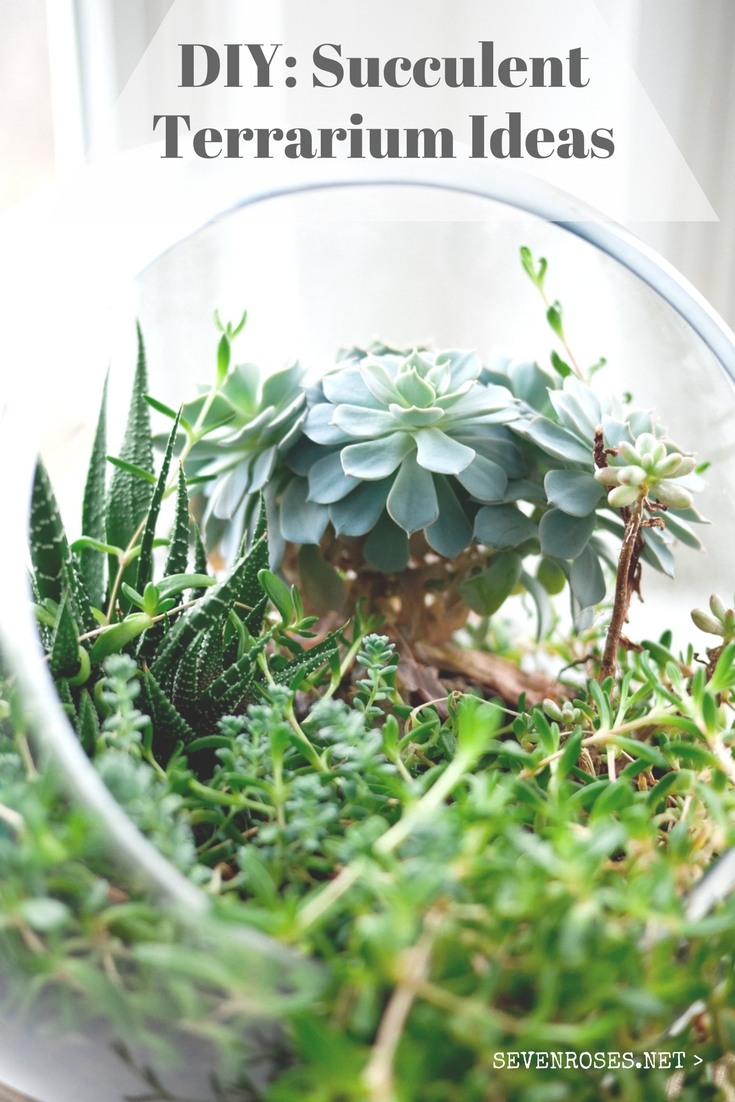 PLEASE NOTE: This post may contain affiliate links, which means I earn a small commission (at no additional cost to you) when you click the link and purchase. If you do, thank you for your support! Learn more.