Disclosure: this post may contain affiliate links, which means we may receive a commission if you click a link and purchase something that we have loved & recommended. While clicking these links won't cost you any extra money, they will help us keep this site up and running! Please check out our disclosure policy for more details. Thank you for your support!
Unbox with me the December 2018 Simply Earth Essential Oil Recipe box, filled with essential oils and all you need to make beauty, health and home DIYs ♥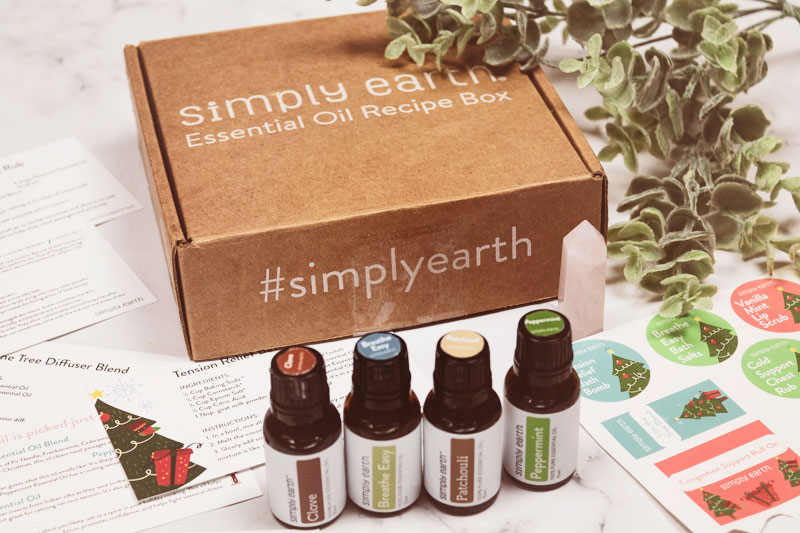 Hello my beautiful friends!
I'm so excited to be sharing with you the unboxing of December's Simply Earth essential oil recipe box. For all of you essential oils' enthusiasts out there, this is a must have!
And this post comes with a very special promo code, read until the end to find out more about it ;)
Why I love Simply Earth Essential Oil Recipe box
First let me tell you why I love the whole concept of the Simply Earth Essential Oil Recipe box.
If you know me, you know I'm obsessed with essential oils.
So what can be better than receiving a monthly box delivered to your door, filled with therapeutic-grade essential oils at the cheapest and fairest price possible, together with all the tools and information you need to implement them in your daily life with beauty, health and home DIY projects?
As a matter of fact, Simply Earth Essential Oil recipe box teaches you how to use essential oils and how to make natural products that you and your family will enjoy. The precious little bottles you will receive and all the DIY recipes that come with them each month, can easily replace countless items in your medicine cabinet, cleaning products, and synthetic fragrances, for a toxic-free home.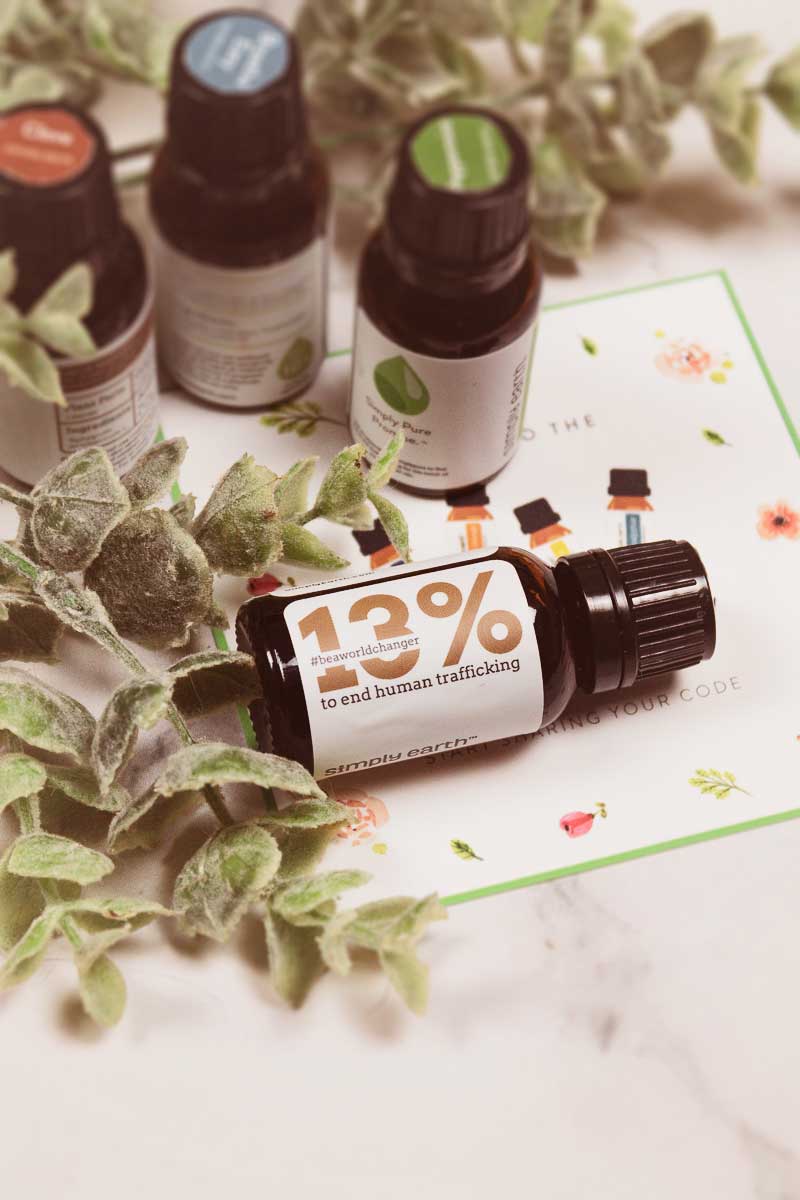 When checking their website, Simply Earth quickly won my heart not only because their oils are 100% pure and therapeutic grade, but also because of their engagement with causes such as "Fighting Human Trafficking" (13% of their profits go to help fight human trafficking #beaworldchanger). I think it's awesome when a brand gives back in such a generous way for an important cause like this. ♥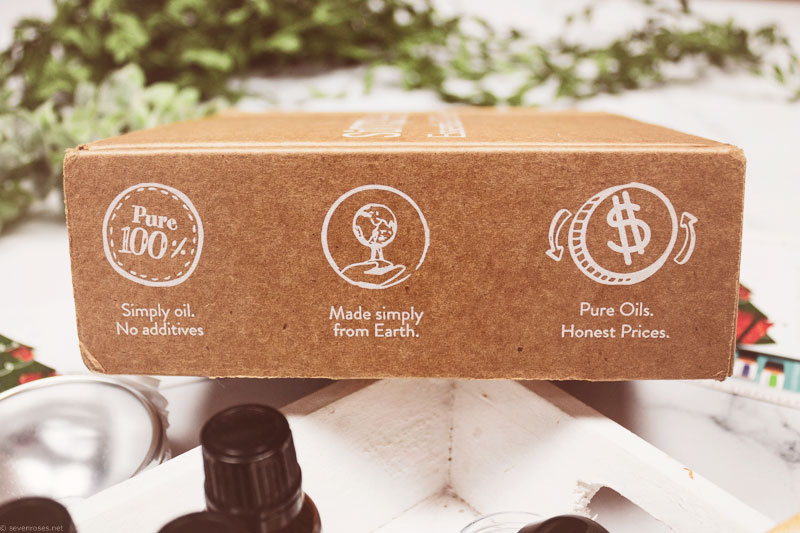 Also, all of their oils are carefully and ethically sourced where each plant will thrive due to soil, altitude, temperature and location, and working directly with farmers they only order enough essential oils as they will need, thus keeping the prices fair for the farmers while still being very convenient for the consumer (no stores, no middlemen, NO MLM!!)…
And I almost forgot to mention that all of their oils are backed with their "365 day Simply Earth Guarantee" and tested to ensure 100% purity.
So of course when they reached out to me asking if I wanted to try one of their essential oil recipe boxes, I jumped at the occasion (and made a little happy dance, too).
What's in the December 2018 Simply Earth Essential Oil recipe box?
The brand new December 2018 Simply Earth essential oil recipe box has just been realised and it's all about staying healthy in the cold while also creating a festive, soothing Christmas atmosphere in your home for you and your guests to enjoy (each box has a theme in tune with the season!)
It arrived here in France super fast, so in case you were wondering, yes they do ship worldwide! Yay!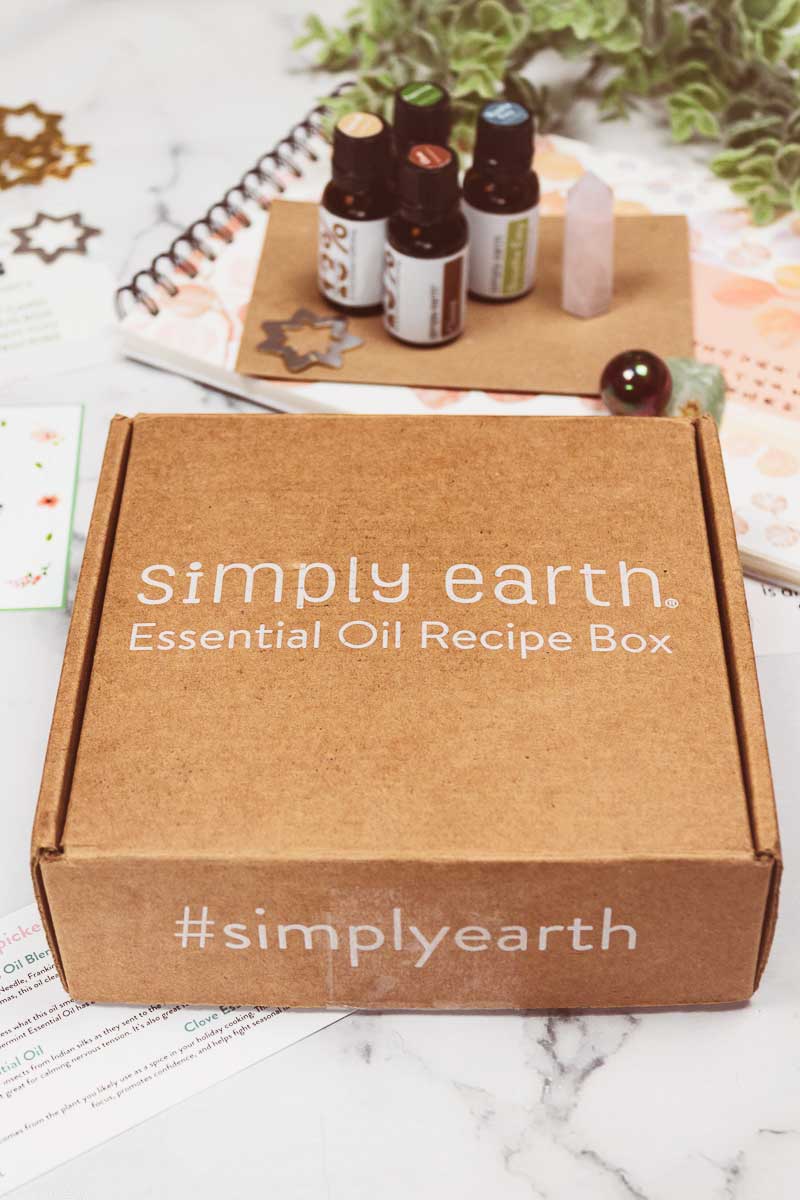 If you're new to Simply Earth, every month you receive a box filled with full-size essential oils, other natural ingredients, little tools and recipe cards: in other words everything you need to make your own safe, 100% natural DIY projects and turn your home into an essential oil sanctuary that not only smells good but is also a safe environment to live in for adults, children and pets.
When you open your Simply Earth Essential Oils December box you will find: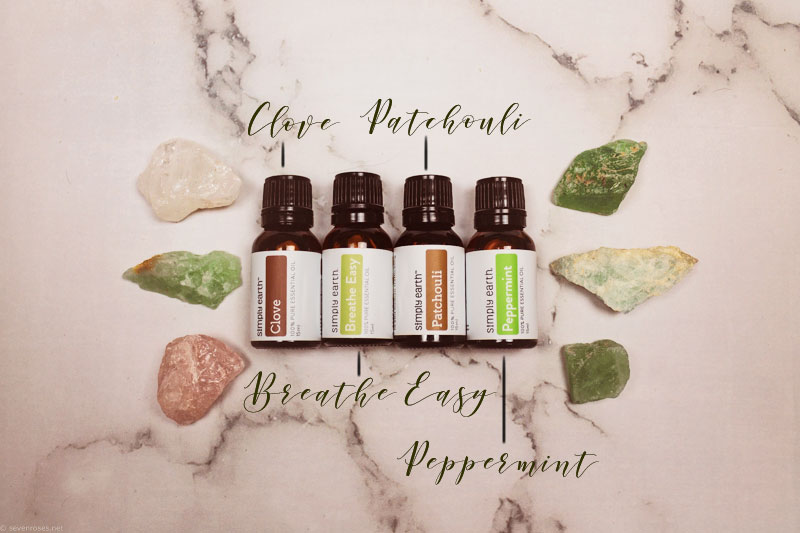 ❥ 4 full-size essential oil bottles (100% pure, no additives, no fillers, just pure natural plant goodness!):
Clove,
Peppermint,
Patchouli and
Breathe Easy blend
(they will quickly become your favorites for this time of the year 🌿🌿🌿🌿)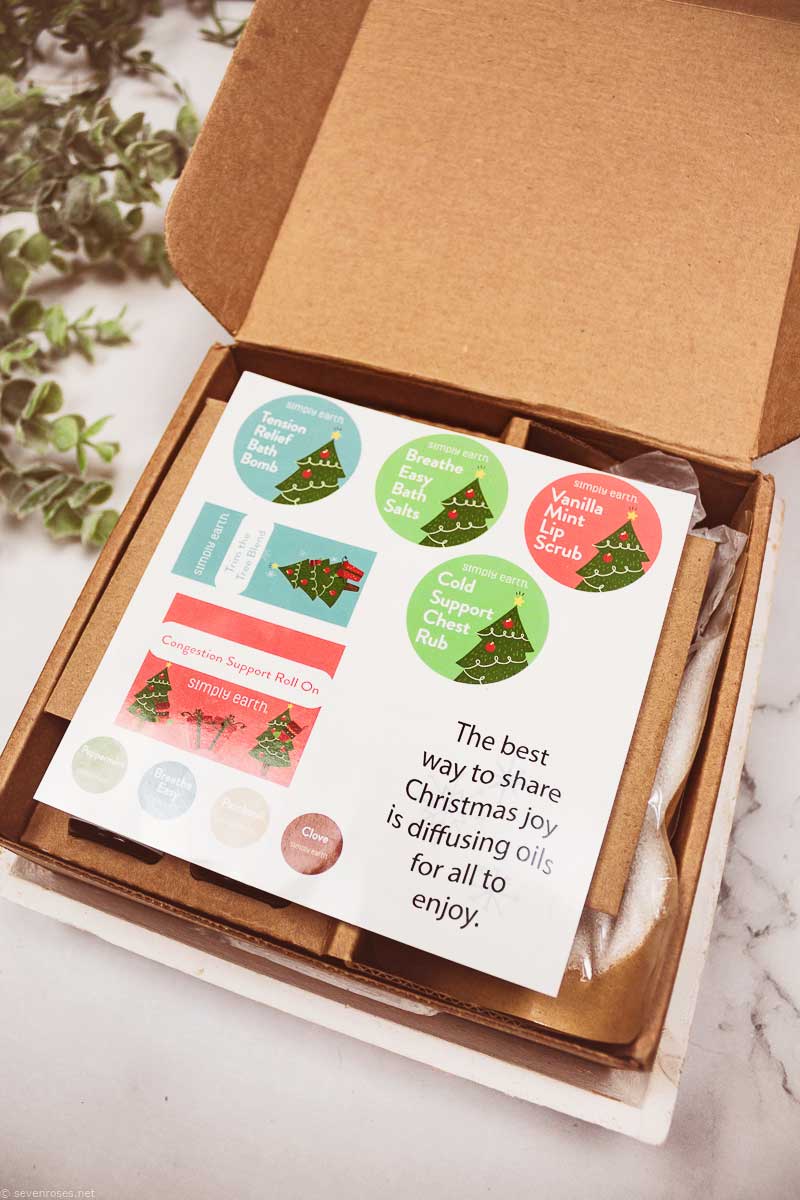 ❥ some lovely sticker labels for both your bottles and your DIY projects and gifts;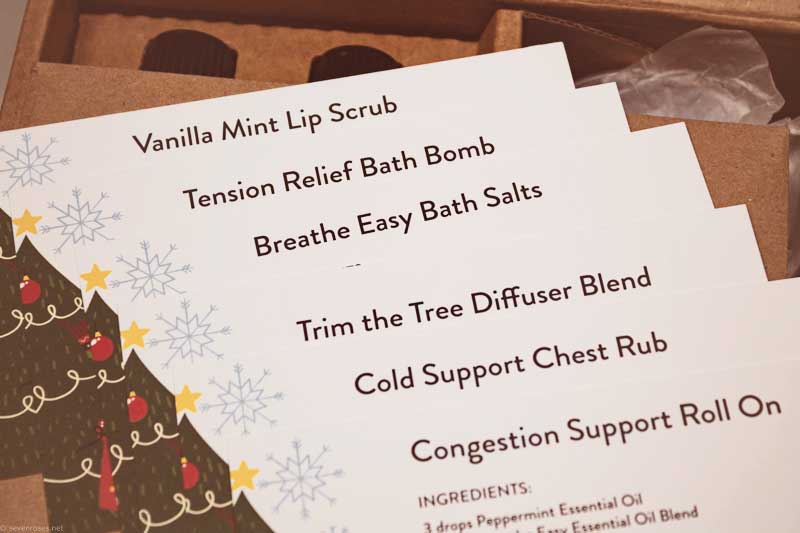 ❥ 6 recipe cards for all the DIYs you can make with the contents of the box, namely:
Congestion Support Roll on;
Vanilla Mint Lip Scrub;
Cold Support Chest Rub;
Trim the Tree Diffuser Blend;
Tension Relief Bath Bomb and
Breathe Easy Bath Salts;
(needless to say, many of these will become fantastic homemade Christmas gifts!)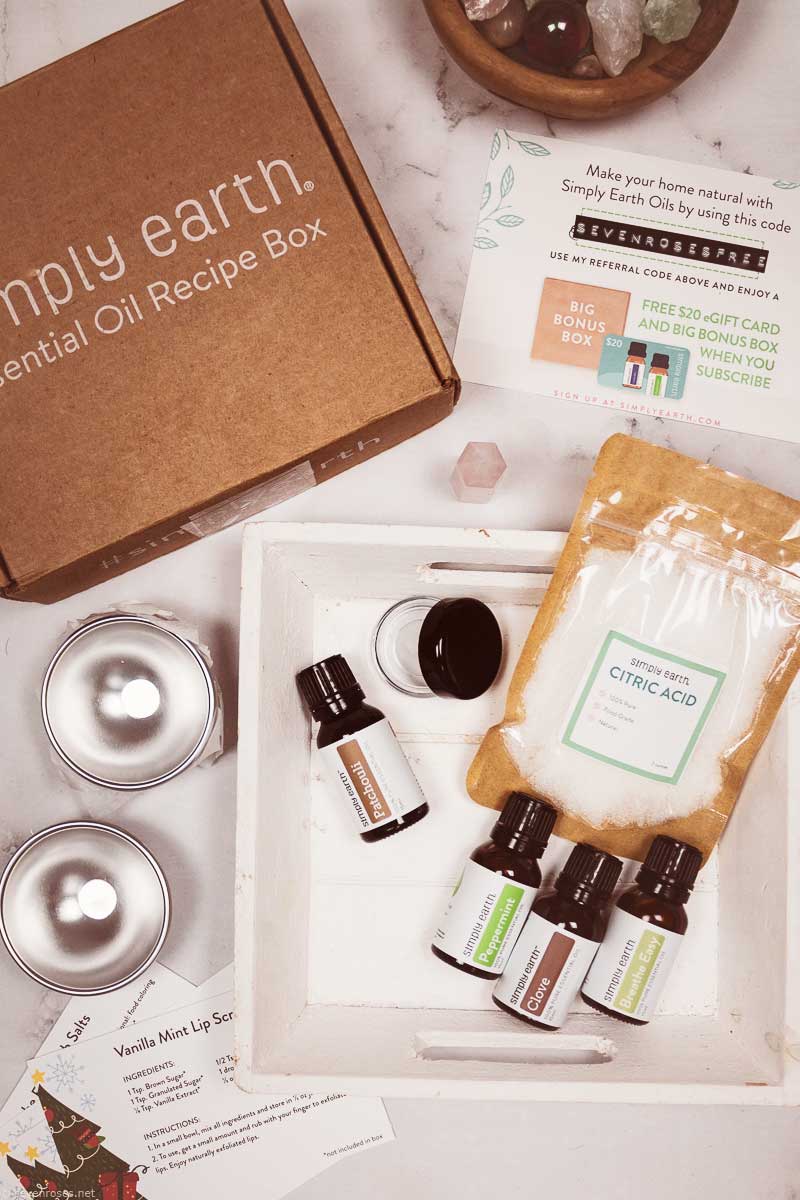 ❥ additional natural ingredients needed for the monthly DIYs (100 pure Citric Acid to make your very own Bath Bombs, how cool is that?)
❥ containers & little tools to make your essential oils' DIY projects (the actual molds to make your bath bombs and a little jar for the lip scrub or the chest rub).
What about that promo code you mentioned at the beginning, you ask?
If you visit Simply Earth and sign up using my code SEVENROSESFREE you will receive a huuuge Big Bonus Box (valued at around 50$), an Essential Oil Recipe box, and a $20 e-gift card towards future purchases.
The $20 e-gift card will be emailed to you after purchasing while the big bonus box will be sent with the first subscription box and can be used to purchase anything you want on the Simply Earth website. 20$ goes a long way on their site seen as their prices are the cheapest in this field (at top quality).
You can also pause or stop your subscription at any time, no reasons needed.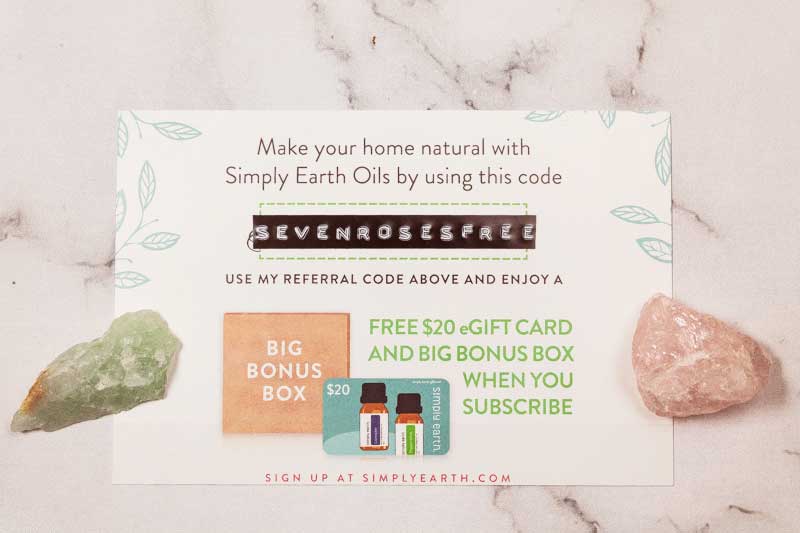 According to me, this monthly subscription box at 39$ is best way to slowly and conveniently grow your essential oil collection, save money, get the tools, recipes and information to use your essential oils in many different ways and therefore enjoying their full potentials.
Instead of going out and buying 20+ essential oils at the same time, only to leave them in a corner of your bathroom cabinet because you forgot what you bought that one for, and why you bought that other one, and end up wasting money.
Click here to check out the Simply Earth Essential Oil Recipe box
If you decide to try them out, please let me know what you think – also I would like to know what are your top oils during winter and the colder months! Let me know in the comments below.
…and don't forget to pin this post to share the love ♥
I wish you a love-filled day xoxo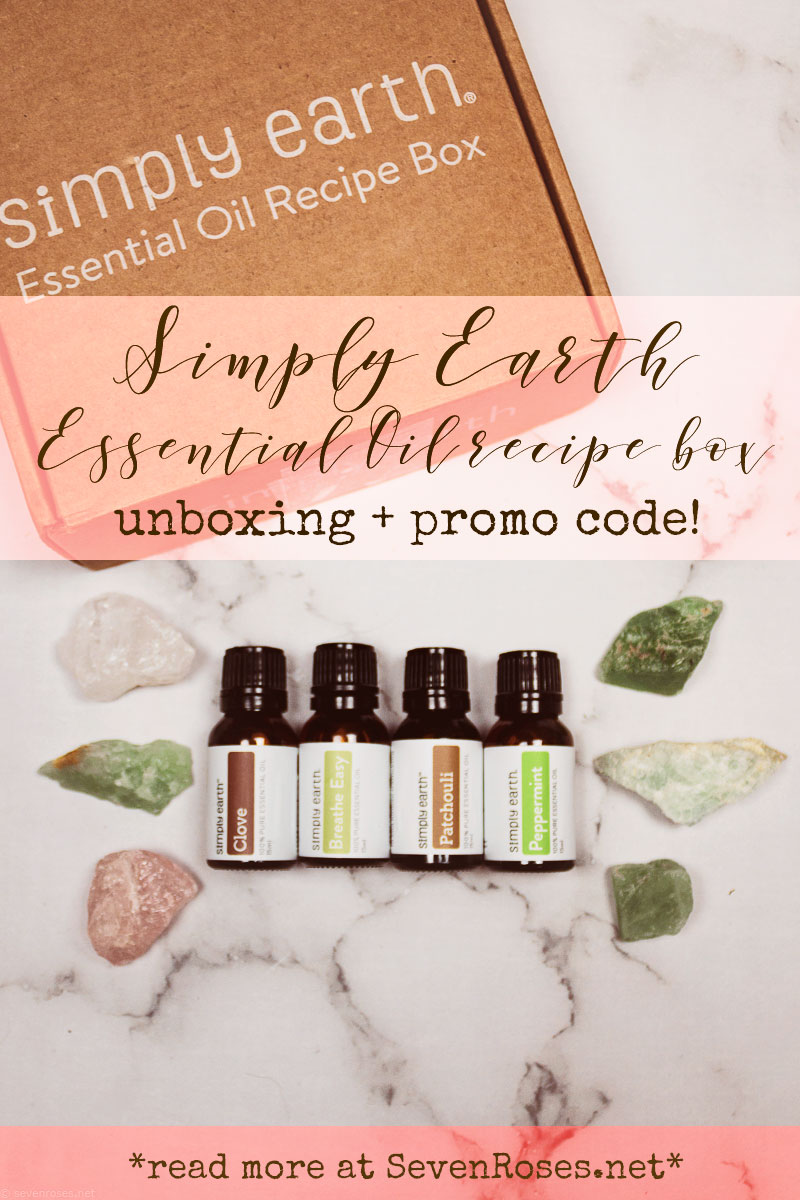 Disclaimer: I've been fortunate enough to receive some of the above mentioned products for free to try, but opinions and the choice to review are 100% my own. This post contains affiliate links.