Craving a hearty dish? Try this 20-minute easy WFPB Vegan chili recipe made with pantry staples you probably already have in your pantry! With a secret ingredient for added body and richness. Perfect for the Starch Solution.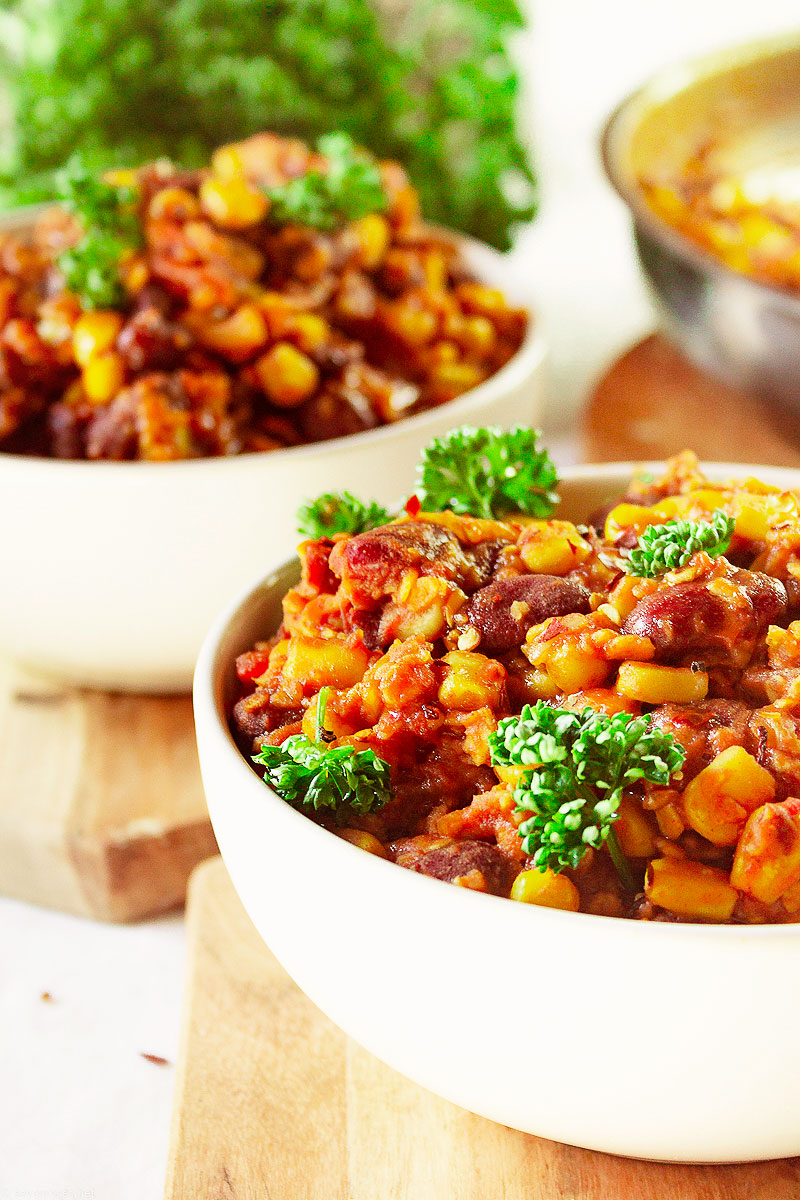 Hello my beautiful friends!
Today I'm back with another soul-satisfying recipe made with canned ingredients you probably already have in your pantry. A couple of pantry staples and a few herbs & spices make this one of the easiest and most satisfying recipes you can cook during a quarantine.
There's 2 weekly dinner staples in our household: no matter the season, one night we'll have a chili and one night we'll have a curry.
If you love curry, check out this totally delicious Thai Tofu Yellow Curry (Kaeng lueang) .
A warm bowl of this easy Vegan chili will feel decadent and homey at the same time. This is the perfect recipe to make when you crave a cozy, hearty dish, but only have about 20 minutes and a handful of ingredients to make it happen.
Pair with a crunchy green salad, steamed broccoli or some rice, for a complete WFPB meal.
Making this simplified alternative chili recipe inspired me to research the history of this dish, and its many legends and stories about where chili originated.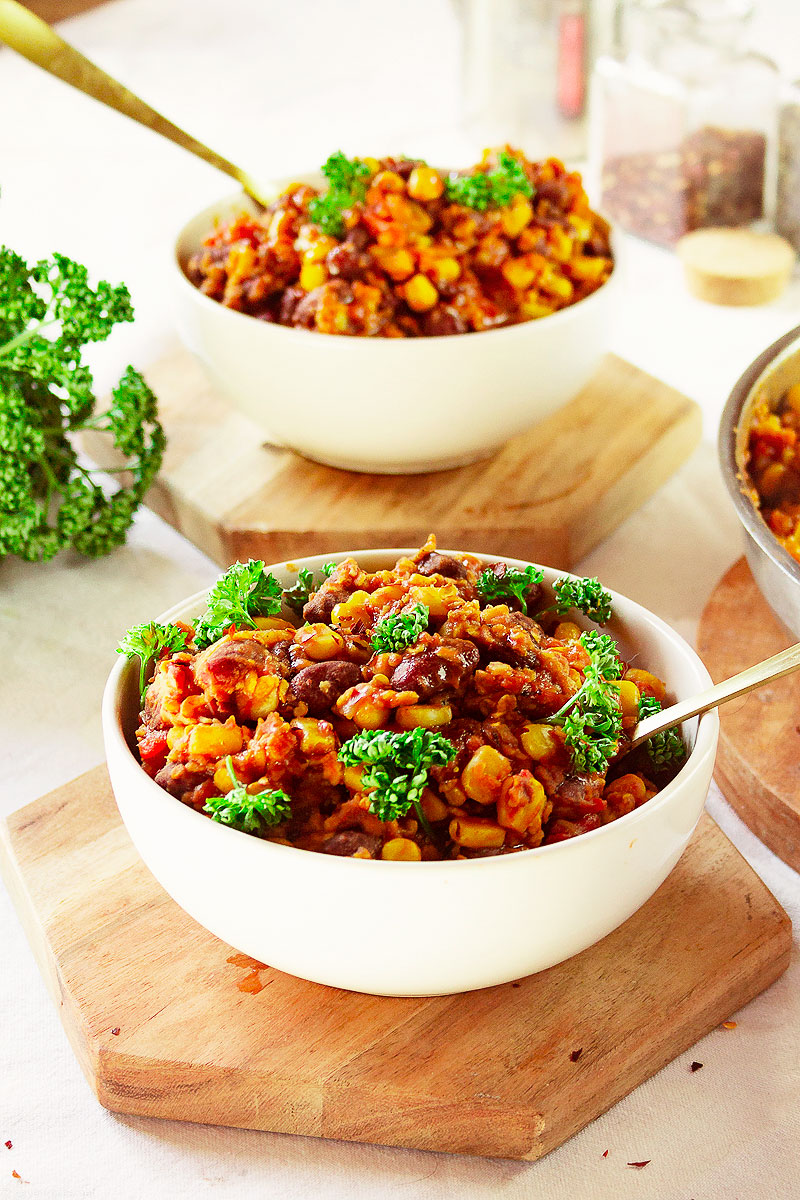 Aren't beans one of those canned foods you always have at hand? Or perhaps dry ones. Especially now that people are stockpiling on easy, non-perishable pantry staples, I'm sure you already have on hand most of these ingredients: a can of beans, a can of diced tomatoes, corn, spices like paprika, turmeric, chili flakes…. See? The ingredient list is super easy.
I've also added turmeric and its BFF black pepper for added nutritional value.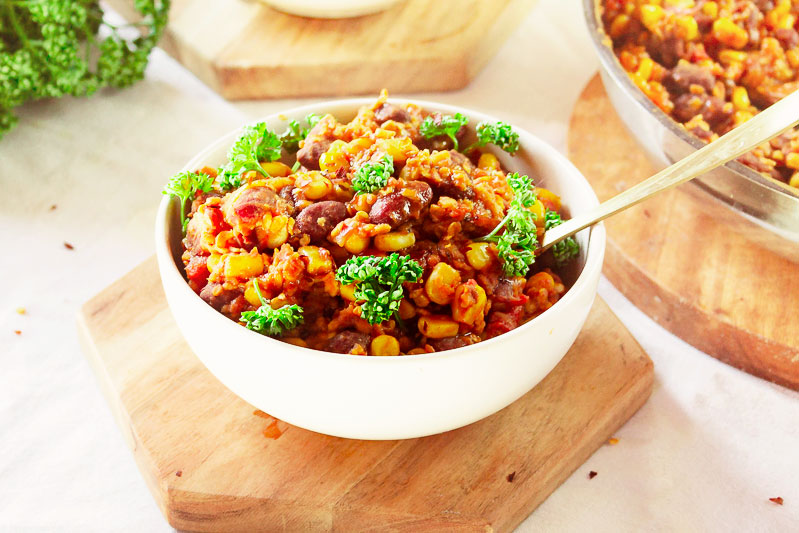 Now come on, let's make this ultimate, hearty, soul-satisfying easy Vegan chili together, probably the easiest and coziest weekday dinner even during the quarantine.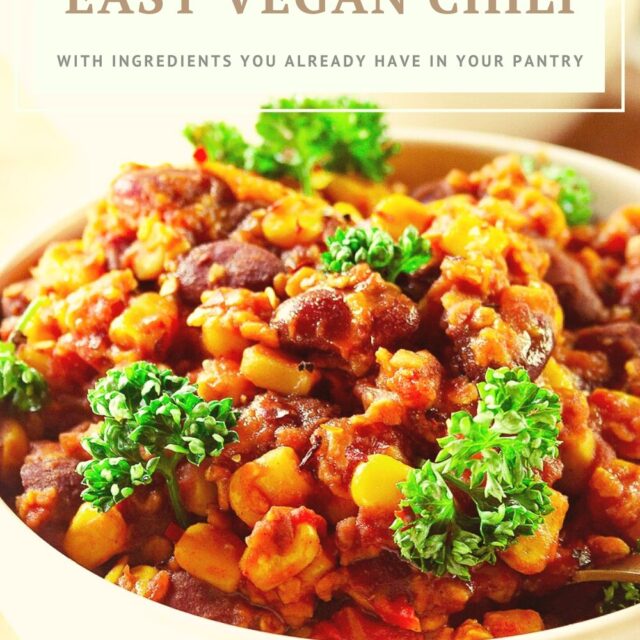 Easy Vegan chili
This soul-satisfying, easy Vegan chili recipe comes together in 20 minutes and is made with
pantry staples
you most probably already have in your pantry! I've also added one "secret" ingredient for added body, richness and "meatiness".
Ingredients
1

onion

large, finely chopped

3

cloves

garlic

finely chopped

1

can

diced tomatoes

1

can

beans

red, black, pinto... use those you have at hand.

1

can

corn

or 1 cup frozen

1

cup

oats
Spices and herbs
1

tsp

cumin powder

1

tsp

chili powder

1

tsp

paprika powder

1

tsp

turmeric

optional

1

pinch

black pepper

optional

1

pinch

hickory powder

optional
Instructions
In a large pot or Dutch oven, heat 1 tablespoon of water (instead of oil, we are.going to water-sautée) until hot. Next, add one large onion, finely chopped, and saute until translucent. Add the 3 cloves of garlic, finely chopped as well. Stir well.

Next, add all your herbs and spices: cumin powder, paprika, and turmeric, black pepper & hickory powder if you're using them. Stir well and let the magical smells fill your kitchen.

Now it's time to add 1 can of diced tomatoes, 1 can of beans, undrained, and 1 small can of corn. Bring the chili to a simmer and then reduce the heat and simmer for 15 minutes. Adjust seasoning according to your taste. You might want to add some salt or stir in a dash of soy sauce.

Finally, here's the one last ingredient that turns an ordinary bowl of Vegan chili into a "revelation": after 15 minutes of simmering, add 1 cup of oats, stir well and turn off the heat. Let the oats soak up any liquid left. They will swell up and impart added body, richness and "meatiness" to your easy Vegan chili like never before.

Enjoy while still warm!
Notes
Additional toppings:
sprinkle some chili flakes or sliced/crushed hot peppers,
freshly ground pepper,
freshly chopped cilantro or parsley if you have some,
pour a teaspoon of olive oil
or sprinkle some nutritional yeast (you can never go wrong with nooch!).
Serving suggestions:
serve with a fresh crunchy salad or brown rice.
Also wonderful to eat reheated the following days: the flavors will have even more time to develop. Keeps up to 4 days in the fridge.

I hope you enjoyed this week of  super easy WFPB Vegan chili… but now, I'd love to know which are some of your comfort foods, so make sure to leave them down below, I look forward to reading your comments.
And by the way, if you're looking for pantry staples to stockpile during an emergency, head on over to the Top 10 must-have non perishable Vegan pantry staples + recipes
And don't forget to pin this post to share the love ♥
I wish you a love-filled day, stay safe xoxo