If you're looking for the best Vegan foods to stockpile for an emergency, here are the top 10 budget-friendly, must-have non perishable Vegan pantry staples with lots of yummy recipe ideas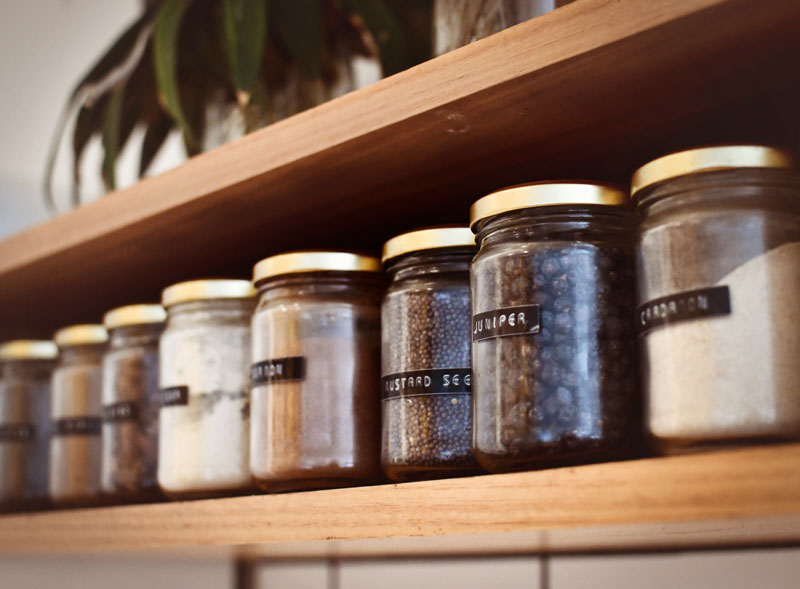 Hello my beautiful friends!
If there's one thing we've learned during the first few months of this year is that emergencies come with no warning. Be it storms, hurricanes or… a pandemic outbreak. Take Coronavirus: we were all happily living our lives until a couple of weeks ago, and now flights are stopped, some countries are putting up frontiers again, the stock market is crushing, everybody is buying way too much toilet paper and confusion reigns.
So if you want to make sure you have good, nutritious, budget-friendly food for at least a couple of weeks, here are the top 10 must-have non perishable Vegan pantry staples, and the recipe ideas to go along, so you know what to make with them. I've only chosen food items that can live in your pantry and don't require refrigeration – because right now you might be facing 2 weeks at home to escape Covid-19, with access to Netflix, internet and power, but if you live in an area at high risk for hurricane season or flooding, you might not always have access to a fully functioning fridge. So no frozen veggies made it to the list!
Also you can buy all of these Vegan pantry staples well in advance, for example when they go on sale, and store them for long periods of time. So you can always be prepared. Plus you can mix and match most of them, in order to have a different meal everyday for at least a couple of weeks.
So whether you're currently facing an emergency or not, these Vegan pantry staples are all great bases to keep at hand in your pantry.
Ready? Let's dive in:
Vegan pantry staple: Chickpeas
Ok hear me out, even on a regular weekly grocery shopping trip, I'm always coming back home with at least 2 cans of chickpeas + 1 bag of dry chickpeas. And not only because they are a great source of fiber, folate, Vitamins C & K, iron, magnesium, zinc and protein: chickpeas are LIFE at the Windy Burrow!
Well ok we're kind of addicted, we actually love chickpeas even just straight out of a can :D (tell me there's more chickpea-freaks out there!)
Either way, they are filling, budget-friendly, versatile and they can be interpreted in a variety of savory and satisfying recipes.
❥ What you can make with chickpeas: hummus or sweet hummus, air fry them for a crunchy treat, Protein-packed pantry staple chickpea and beet burgers, Instant pot Creamy Potato Coconut Stew, Slow cooker Chickpea Cacciatore, Winter Superfood salad and Cozy Winter night Mushrooms & Chickpeas Minestrone just to name a few.
Vegan pantry staple: Beans
Red beans, white beans, black beans, broad beans, navy beans, pinto beans. You name it, all are good! If you buy dry, make sure to soak them for 24 hours before cooking them. And from there, the possibilities are endless! They actually are a kitchen staple in many countries, and they are used in several traditional dishes throughout the world. So chances are, there's at least 1 delicious, budget-friendly meal you already love that you can make with beans.
And did you know that "one serving (½ cup cooked) of beans provides about 7 grams of protein, the same as 1 ounce of meat."? (source) Without all the fat, cholesterol and Animal-cruelty that meat comes with. And they are non perishable. So stock up on those beans, baby!
❥ What you can make with chickpeas: Black Bean Salsa Burgers, Colcannon-inspired Vegan Potato soup, Yummy white bean & garlic dip, Italian Bean Soup and this super easy Vegan chili.
Vegan pantry staple: Lentils
Red, brown, green or blonde… Besides being a great plant-based protein source, lentils are a great legume because you don't have to soak them. Just wash and dump in your pot,and after 20 minutes on the stove you have a great comforting dish. Use them in curries, stews, soups, and add them to a tomato sauce for a very satisfying and filling plant-based, meat substitute.
❥ What you can make with lentils: Vegan rillettes – Lentil and walnut dip, Hungarian red lentil soup, Lentil loaf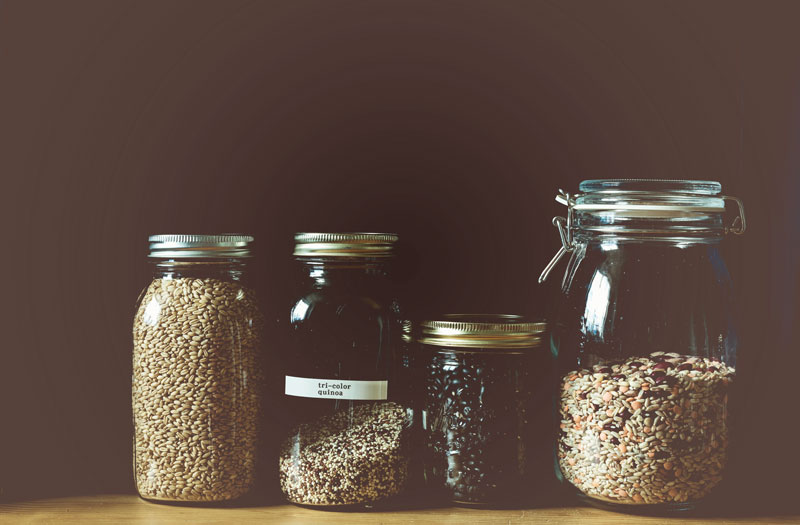 Vegan pantry staple: Quinoa
Quinoa is an excellent plant-based protein source because even if it looks like a sinmple grain, it actually contains all the essential amino-acids our body needs, and is therefore a so-called "complete protein". This is an important food for Vegans and non-vegans alike. Make sure to stockpile on this little gem and you can serve it as you would normally have rice, buckwheat or couscous.
❥ What you can make with quinoa: One Pan Mexican Quinoa, quinoa salad.
Vegan pantry staple: Tofu
Tofu is such a versatile and inexpensive food that can be used in a variety of ways in order to get a good dose of protein for the day. Since it absorbs the flavors it's prepared with, make sure to add spices, herbs and condiments. Many people that declare they don't like tofu, they simple don't know how to prepare it well.
❥ Use firm tofu for stir-fries and scrambled tofu; use silken tofu to make a spread or add it to your smoothies, just to name a few!
Vegan pantry staple: Pasta & Rice (gluten-free if needed)
No need to explain this one I guess: pasta and rice are among the most budget-friendly staples you can add to your pantry. Even if you're not Italian and you didn't grow up eating pasta each and every day like me, adding these to any recipe you'll instantly make it more filling.
Pasta dishes, rice dishes, pasta salads, rice salads, risotto, baked dishes… So many ways you can use these 2 staples and enrich any of your meals. Try to get big packets for a better price per kilo.
Remember that if you opt for brown rice or wholewheat pasta they take longer to cook.
❥ What you can make with pasta and rice: so many things! Including pasta & tomato sauce, rice and beans, a pasta salad with any leftover veggies, or a rice stir-fry, but also this super Easy Vegan lasagna and Vegan Alfredo.
Vegan pantry staple: Canned coconut milk
Generally lasting at least two years in the pantry, canned coconut milk provides a chock-full of healthful fats and is so versatile! Definitely add it to stews to make them even heartier; use in curries (duh) and make sauces.
❥ What you can make with canned coconut milk: : Instant pot Creamy Potato Coconut Stew, Vegan fruity popsicles, homemade Vegan Irish Cream Baileys, but especially this delicious Rich and creamy Vegan coffee ice cream – if you can make this ice cream at home, I'm sure a lock down will feel easier especially if you have kids!
Vegan pantry staple: Oats
Oats are not just a budget-friendly humble staple, but did you know that they are also a good source of quality protein? Plus they lower blood sugar and cholesterol levels. Just by having an oatmeal in the morning you're off to a good day. You can also add some oats to a food processor and make your own oat protein flour. And you can add a couple of tablespoons to a "watery" soup to instantly thicken it and make it more nutritious, too.
❥ What you can make with oats: make your own healthy granola (just toast in a pan and add some almonds), protein bars or these amazing Peanut Butter Snack Squares.
Vegan pantry staple: Flour (gluten-free if needed)
Flour will go a long way. You can use it to make your own bread, bake cake, cookies and all sorts of things, you can use it for Vegan pancakes and Vegan Crepes, you can add it to soups and sauces as a thickening agent, hey you can even use it for microwave cakes in a mug if you're pressed for time and you want a sweet treat asap.
❥ What you can make with flour: Peanut Butter Snack Squares, the ultimate Vegan Chocolate-chip Cookies, Fudgy double chocolate brownies, Easy 4-ingredient Vegan scones,
Vegan pantry staple: little extras that make life easier (nutritional yeast, coffee, tea, nuts, seeds, herbs, spices…)
So at this point, most if not all of your basic needs are covered when it comes to food. If you can, splurge on condiments and little extras that will make your life easier…
I recently read an article mentioning how eating the same bowl of white rice for 2 weeks got quickly boring, and how they were craving for any sauce to add on top to make life much more enjoyable – or at least more bearable.
If your budget allows, I would suggest to choose at least 2 among the following, according to your priorities: coffee, tea and herbal teas, any type of seeds and nuts (which also have incredible nutrition value), herbs and spices (add a pinch of turmeric and pepper to your dishes for an added healthy boost) and condiments (oil but also soy sauce) or sweet treats like dark chocolate and peanut butter.
❥ What you can make with such extras: Chocolate-chia pudding, Walnut flax burgers, Vegan Alfredo with hemp seeds and tomatoes.

I hope you enjoyed this list of Vegan pantry staples to always have on hand… but now, I'd love to know which are some of your pantry staples, so make sure to leave them down below, I look forward to reading your comments.
And by the way, if you're looking for frugal, fun or productive things to do during an emergency, I have an extensive list of 101 things to do at home ;)
And don't forget to pin this post to share the love ♥
I wish you a love-filled day xoxo