This plant-based, dandelion Vegan honey is made with just a few natural ingredients and wild flowers you can pick up while taking a walk this Spring. Gather some Dandelions and Rose buds and make the most amazing homemade Vegan Honey ever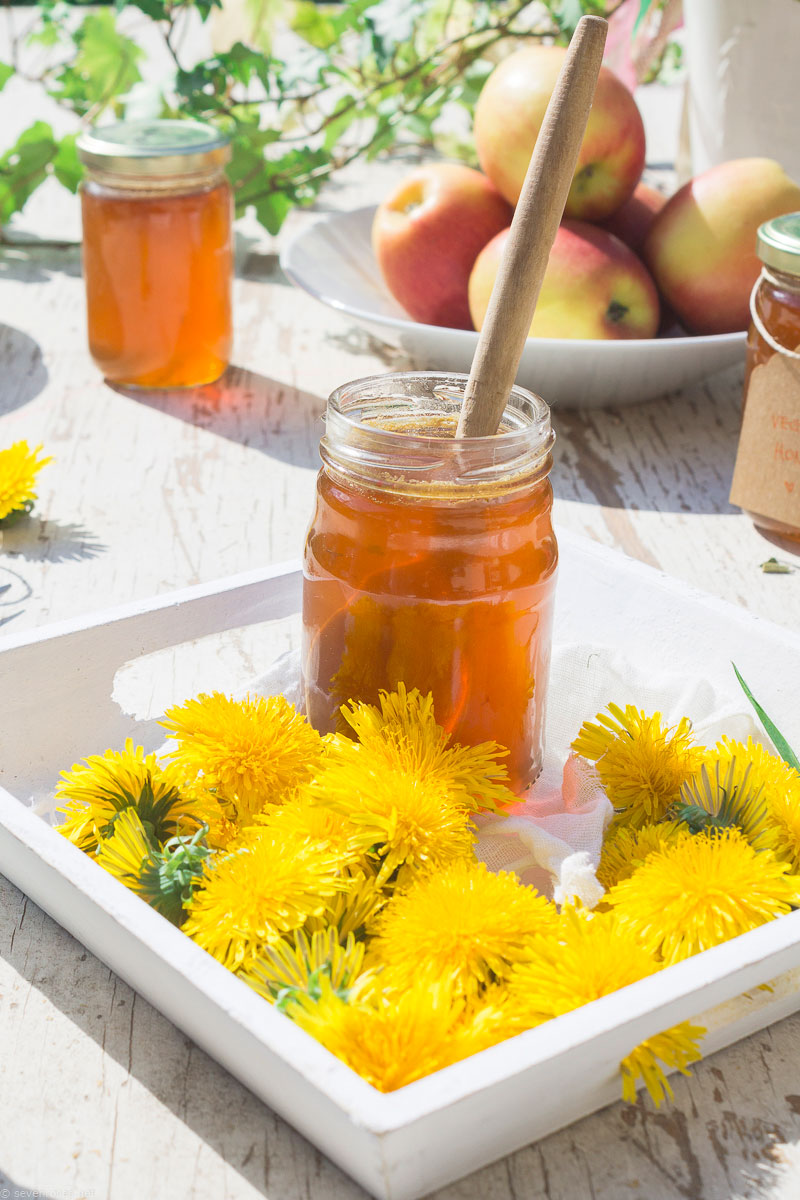 Hello my beautiful friends! Today I want to share with you an easy way to make your own 100% plant-based, Vegan Honey with natural ingredients you can pick up while taking a walk among wild flowers. But don't pick too many! Just enough to make a couple of jars of Vegan honey, and leave the rest to the bees and butterflies ;-)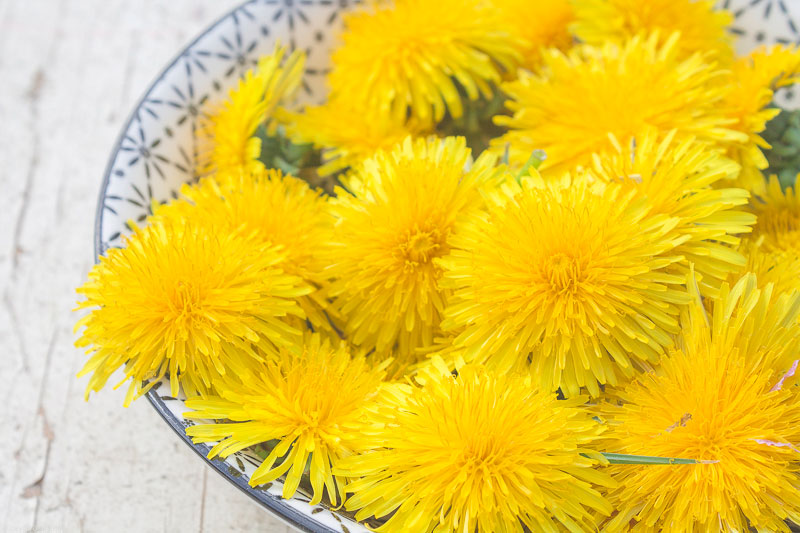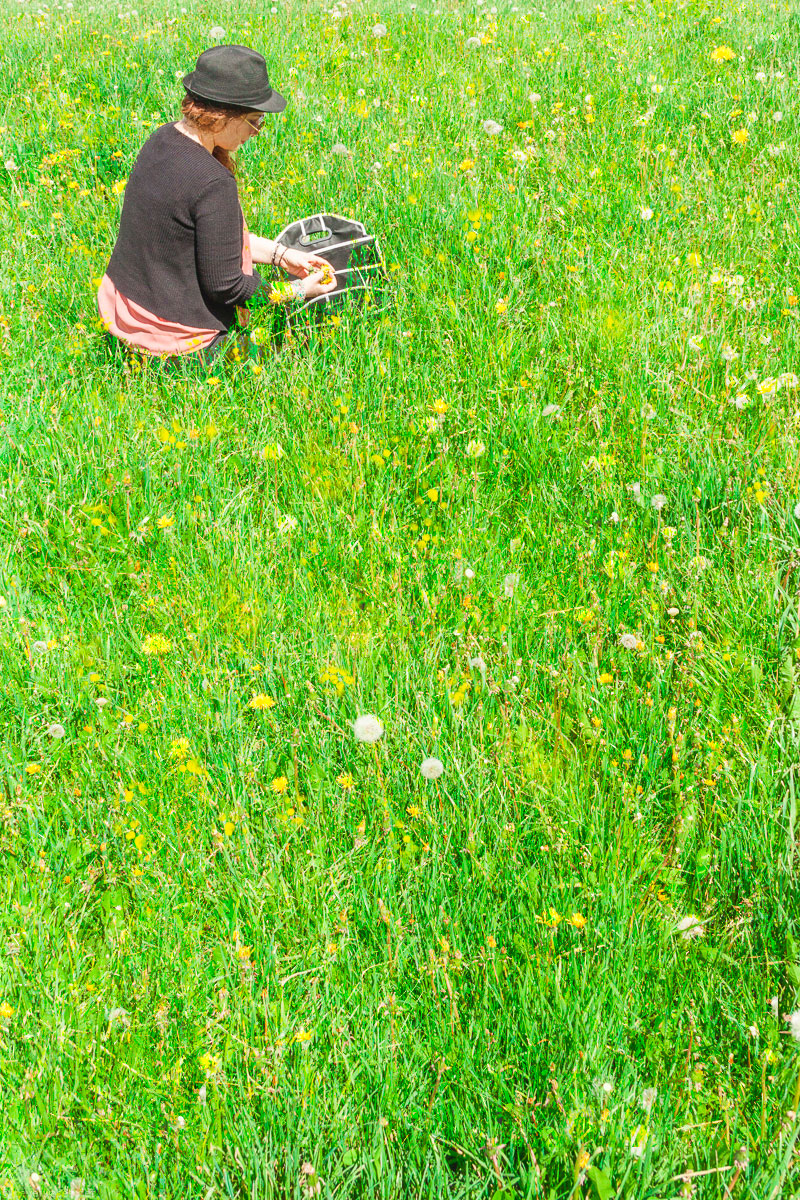 Even if there are quite a few recipes out there, I've first encountered a version of dandelion honey on this Danish website. I've been making my own Vegan honey for 2 years in a row! And to tell the truth, I've never even cared much for honey in my pre-Vegan years, but I've recently come to appreciate its plant-based version for the soothing effect on a sore throat when sipped in a hot tea.
This might not be easiest option to DIY your own Vegan Honey – some call for just apple or pineapple juice! – but I believe this version gives the richest result in terms of flavor. Furthermore, I deem more satisfying picking wildflowers and working with them rather than opening a carton of store-bought juice ;-)
But here some other easy ways to make your own Vegan Honey: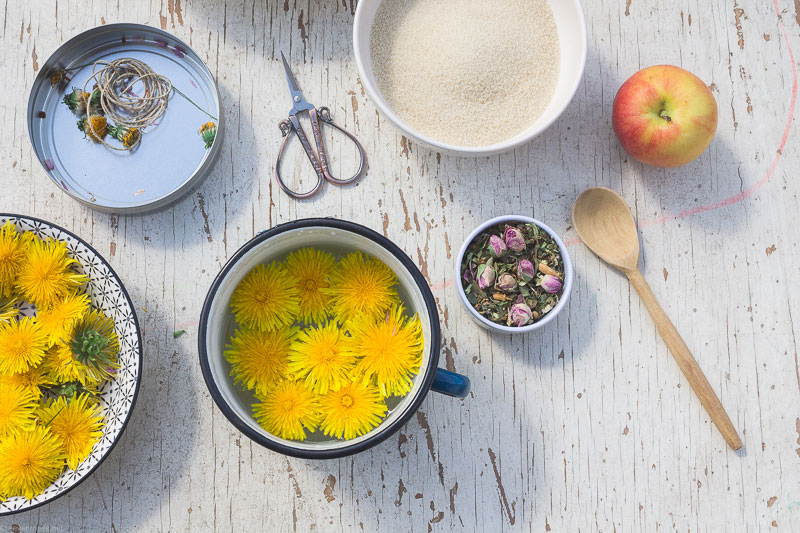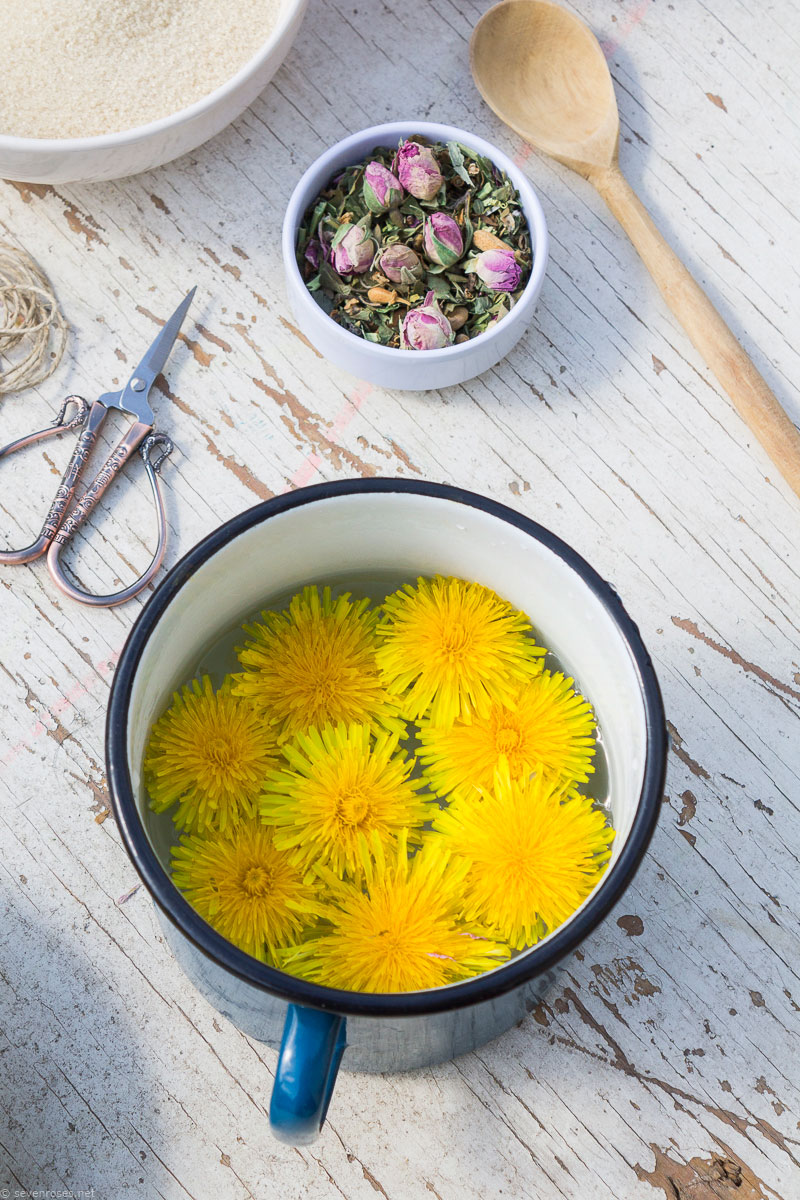 So my own version of Vegan Honey calls for just a few simple ingredients: freshly picked dandelions – choose a field away from roads; a bunch of floral herbal tea buds – I chose dry roses for their subtle, unique, flavor; apples; freshly squeezed lemon juice; brown sugar and finally water. It's not complicated at all, but it will require some patience – the Vegan Honey will get thicker and taste better with time. I make batches during Spring to enjoy when the cold months come!
By then the consistency will be perfect and the flavors will have developed exquisitely.
If you want, you could start enjoying it right away, but in this case you will have more of a "Dandelion Syrup" rather than a Vegan Honey.
I've also prepared some simple "Dandelion & Rose Vegan Honey" labels for you to download and print, so that when you make your own Vegan Honey you can store it or gift it! To download the labels, just click here. Needless to say, a jar of this homemade Dandelion & Rose Vegan Honey would make the perfect gift for Mother's Day – I am planning to make some especially for my Mom ♥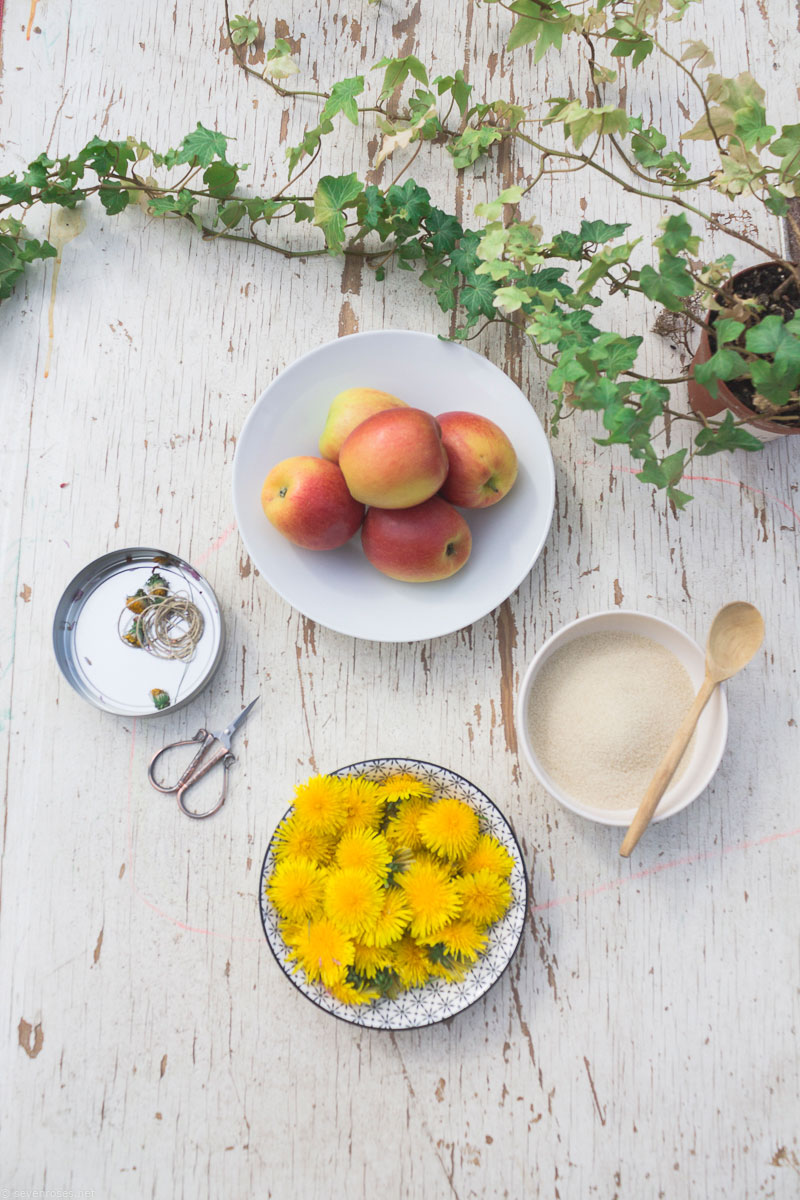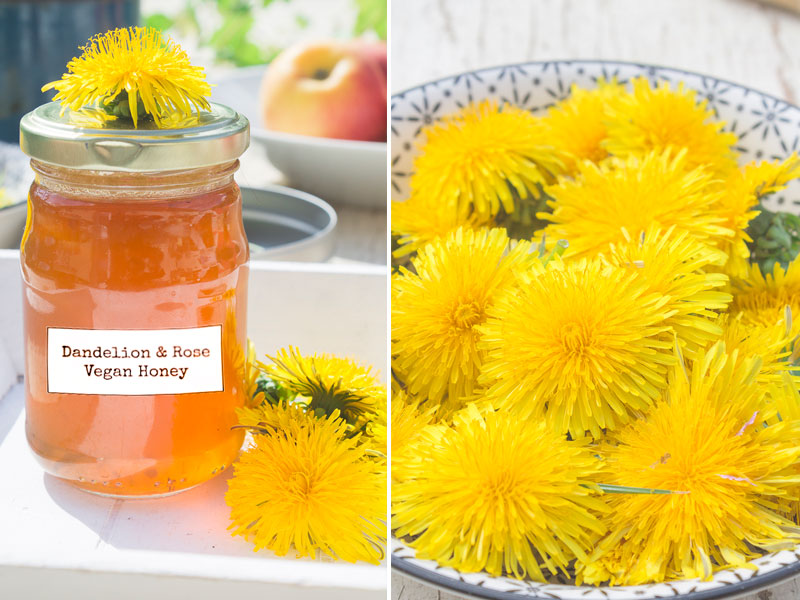 Are you ready to make your very own homemade Vegan Honey with beautiful flowers? Let's begin: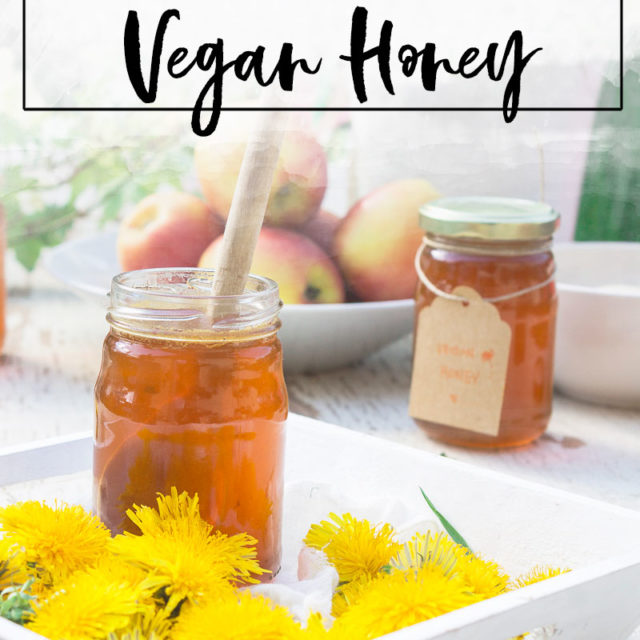 Dandelion Vegan Honey
This plant-based, dandelion Vegan honey is made with just a few natural ingredients and wild flowers you can pick up while taking a walk this Spring. Gather some Dandelions and Rose buds and make the most amazing homemade Vegan Honey ever
Ingredients
200

gr

dandelion flowers

freshly picked

50

gr

dry rose buds

or other herbal tea petals/leaves

2

liters

water

5

apples

chpped (I prefer red-skinned for this recipe)

4

cups

brown sugar
Instructions
Start by checking your dandelions to make sure no little bugs are still among the petals. Gently tap them in order for any insect to know it's time to leave! If you want, quickly drop them in water to remove dust or other particles, knowing that this will also remove quite some pollen. Wash and chop the apples.

Put your freshly picked dandelions, dry rose buds, chopped apples and freshly squeezed lemon juice in a big pot, and pour the water. Put on the lid and let boil gently for 45-60 minutes.

Strain the flowers and apples and save the precious flower-infused liquid that's left in the pot. Add the brown sugar, stir gently, put again on the stove, and let it simmer on low without the lid for a couple of hours until it's reduced in half. Check every hour and try not to stir too much.

After a couple of hours, check the consistency: pour some of the syrup in a bowl, and it should coat the bottom of the bowl without being too thick (see picture). That's when you want to turn off the heat and let it cool down. Don't worry if it seems too runny or too thin, it will thicken tenfold once at room temperature.

In the meantime you might want to sterilize your jars by simply plunging them into a little pot of boiling water (including the lids). Once dry, pour your Vegan Honey into the small containers and the waiting game begins: the longer you wait (as in, months!) the thicker your Honey will be.

Don't close the lids on the jars just yet! Cover with gauze so that more liquid can evaporate and the honey will be reduced and get thicker even faster. Once ready, it will last for over 1 year :-)

Honey is one of those foods that often asked about, when you tell someone you're Vegan: "Ok but… why you don't eat honey?" Truth is – bees make honey for themselves, just like cows produce milk for their own babies, not for grown-up humans. If you'd like to learn more about the ethical issues surrounding honey and other bee-products like pollen, here are some interesting resources:
The Honey Debate – Vegan or Not Vegan?
The Honey Industry & Why Bees Need to Keep Their Honey
Why Honey is Not Vegan
Will We all Die if Honey Bees Disappear?
How to help Pollinators
Is Honey Vegan? Healthy? Humane?

I hope you enjoyed this recipe! If you give this Dandelion & Rose Vegan Honey a try, please let me know in the comments' section below!
You can also find me on social media. Be sure to tag @francesca_sevenroses on Instagram or @sevenrosesblog on Twitter and Facebook, and use #sevenroses so I'm sure to see it.
And don't forget to pin this recipe to spread the love ♥
I wish you a love-filled day!