Hello my beautiful friends!
If you're looking for unique gift ideas for that boho, magical friend of yours, trust me, as a self-proclaimed Moon Child I know a thing or two about what would make that wild moon child on your shopping list happy!
This Moon Child gift guide includes gift ideas in every price range and from different realms of life: beauty, magic, books, home decor. Some really special moon-inspired gift ideas that will make your holiday shopping a breeze ♥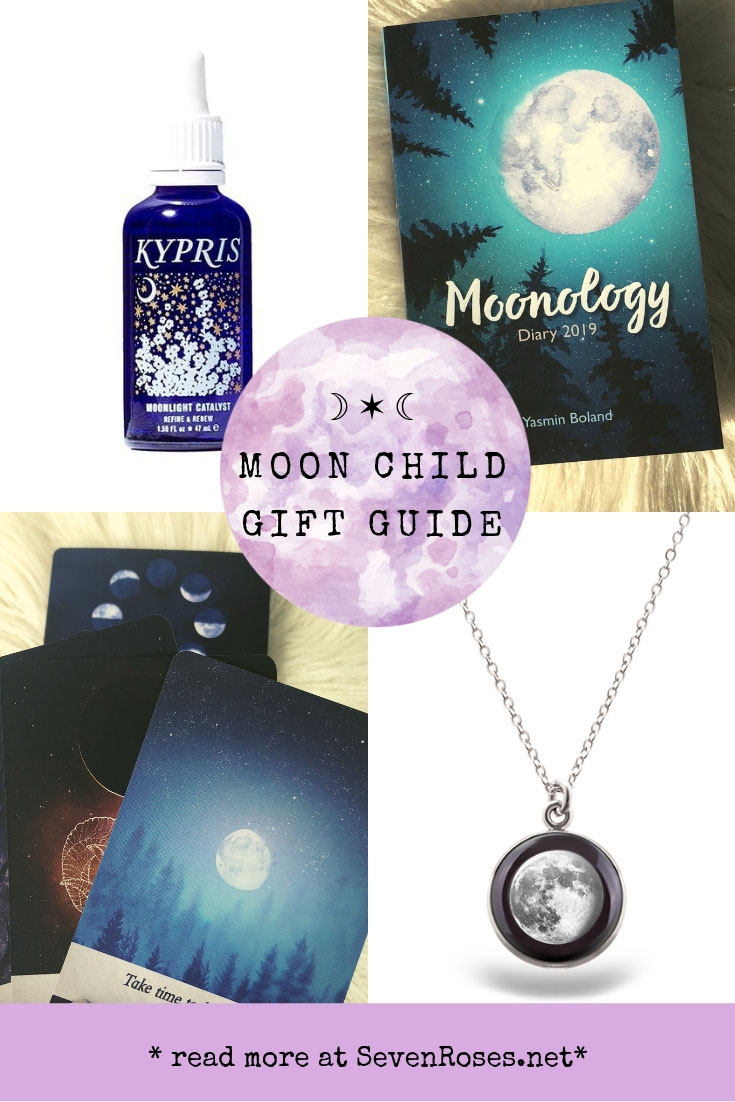 1. Kypris Moonlight Catalyst – $77.00
This herbal alternative to retinoid formulas employs a cocktail of renewing fermented pumpkin enzymes, biomimetic EGF, and hydrating botanical extracts to refine and renew your complexion without irritation or peeling while you sleep.
Benefits: An herbal alternative to retinoid preparations
Enhances cellular renewal
Refines texture
Helps keep pores clear
Evens skin tone
Diminishes evidence of previous blemishes
Calms, soothes, and plumps to a radiant, creamy, glow
2. Moonology Diary 2020
Following the success of her bestselling book Moonology (that you' have seen a few times appear in my Instagram posts), astrologer and moonologer Yasmin Boland has created this diary to help you harness the mystical powers of the Moon and breathe magic into your life all year long.
In this diary you'll discover:
·      the key events of each lunar cycle and how to attune to their energies
·      rituals to perform and questions to ask at each New and Full Moon
·      the importance of New Moon wishing – how to do it and why it works!
With this diary as your guide, you'll move through the year in harmony with the lunar cycle and begin to manifest the life of your dreams.
3. Moonology Oracle Cards 
Named after moon phases and positions in the star signs, the cards in this deck provide the answers to the user's questions about their life and offer teachings on moon phases and moon positions. Each card shows how the energy of a moon position relates to an area of their life, including life goals, love, healing, family, work, money and success, plus an action to take or a question to reflect on.
Presented with magical illustrations, this deck is a beautiful and wise companion for those wishing to harness the moon's power to improve their lives.
4. Your Moon Phase Luna Necklace – $36.00
Choose your special date (a birth? a wedding?), find your moon phase 🌒🌕🌘 and YourMoonPhase will turn it into a unique necklace. As per my birthdate, my moon phase is Waning Crescent II – the Mystic, and it embodies Awareness. Spirituality. Enlightenment. I loved to find this out, and it was easy with their online free "Find your moon phase" tool.
What's even more, the fine detail of this unique 5/8" lunar phase charm captures the moon's vibrant energy, illuminating in the darkness and shimmering by day.
(bracelet, earrings and prints also available)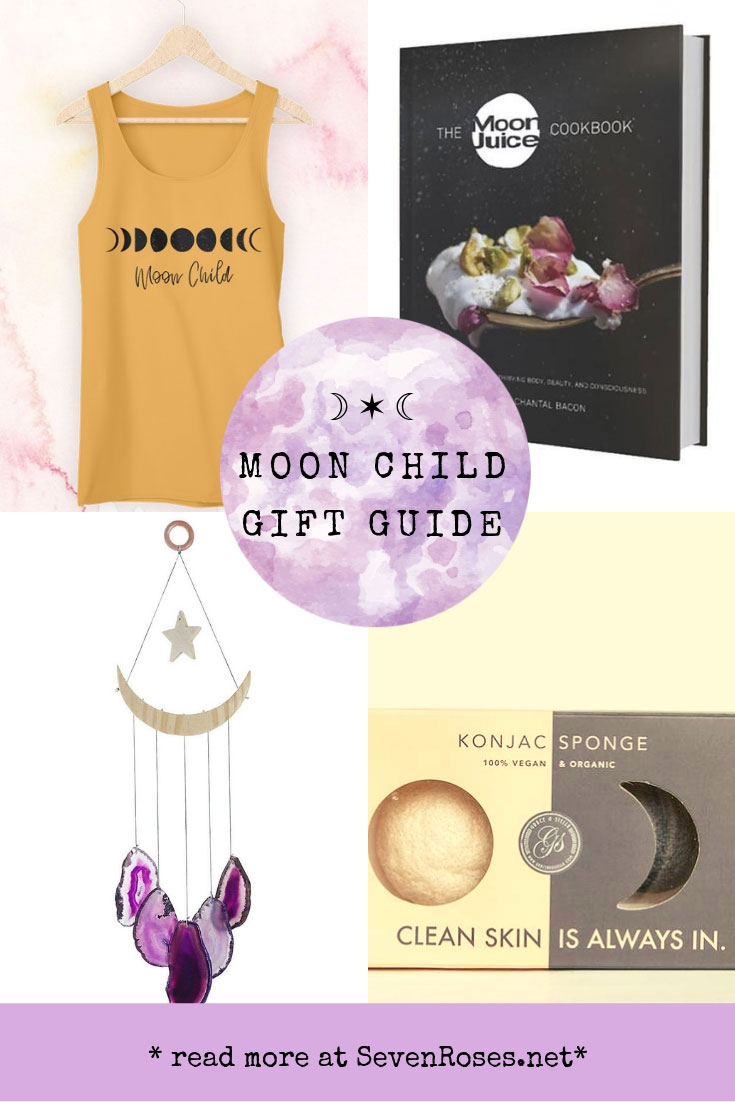 5. Seven Roses (yep, that's me!) Moon Child Unisex Tank Top – $22.99
I designed this top with all the Moon lovers out there in mind. It's a way to connect with the moon even by day.
This 100% fine jersey cotton is combed for softness and comfort and is individually printed and assembled when you order it, so please allow 3-5 days manufacture time for your custom product.
Society6 artists live all over the world, and every purchase puts money right in their pockets. They've been helping artists do what they love since 2009. Also, 10% of all sales of my designs goes to an Animal Charity voted by my buyers ♥
(also available as mug, prints, cards, stickers, pillows and many more items)
6. The Moon Juice Cookbook – $30.00
Over 75 recipes for foodies looking to restore their health the natural way, using functional foods to create seriously healing drinks, snacks, and sweet treats.
7. Moon and Agate Slices Geode Wind Chimes – $20.99
This handmade Wind Chime going to be a Moon Child's favorite gift ever: hanging from a tree in their midnight garden, in a window to enjoy the beautiful colors as the sun shines through, as well hearing the gentle sound as they fall asleep.
This makes a such a beautiful, twinkling and calming sound and would actually be the perfect gift for just about anyone!
8. Konjac Facial Cleansing Sponges (2 units) – $14.95
The Konjac Facial Cleansing Sponge acts as a gentle exfoliator, rubbing off dead skin cells in the most delicate manner, while its natural fibers effectively and simultaneously cling dirt and makeup away from your skin. Includes 2 Konjac Sponges. One for morning and one for night.
9. STAY WILD MOON CHILD Coffee Mug – $15.99
This STAY WILD MOON CHIL premium ceramic Coffee Mugs makes art part of your everyday life. These cool cups also happen to be one of our most popular gifting items – because they're both useful and thoughtful.
Available in 11oz and 15oz options * Premium ceramic construction * Wraparound artwork * Large handles for easy gripping * Dishwasher and microwave safe
10. The Moon or La Lune Gold Edition Wall Hanging – $29.00
This Wall Hanging elevates any space by adding texture, dimension and a natural look and feel. Crafted from yarns in varying textures and patterns, these are a unique and easy-to-hang alternative to the standard tapestry. Available in two sizes.
11. MoonChild II Art Print – $19.99
Make a blank space pop with this rad MoonChild Print. Better yet, start a gallery wall and elevate your space with Moon-related designs. Available in five sizes, from mini to x-large.
Gallery quality Giclée print * Natural white, matte, ultra smooth background * 100% cotton, acid and lignin-free archival paper * Epson K3 archival inks for high-quality print * Custom trimmed with 1" border for framing
12. Stay Wild Moon Child Wall Tapestry – $44.99
This lightweight Moon Child Wall Tapestry features vivid colors and crisp lines, giving you an awesome centerpiece for any space. This tapestry isn't just a wall hanging either – it's durable enough to use as tablecloths or picnic blanket.
Available in three sizes * 100% lightweight polyester with hand-sewn finishes * Suitable for indoor and outdoor use * Easy to hang, fold up and pack away

…. So there you have it, my Ultimate Moon Child Gift List. Stay tuned for more posts about gifts you can make, too!
And what about you, have you done your Christmas shopping yet? Or do you prefer to make your own gifts? Let me know in the comments. Also, if you've enjoyed this post don't forget to pin it and share the love ♥
I wish you a love-filled day xoxo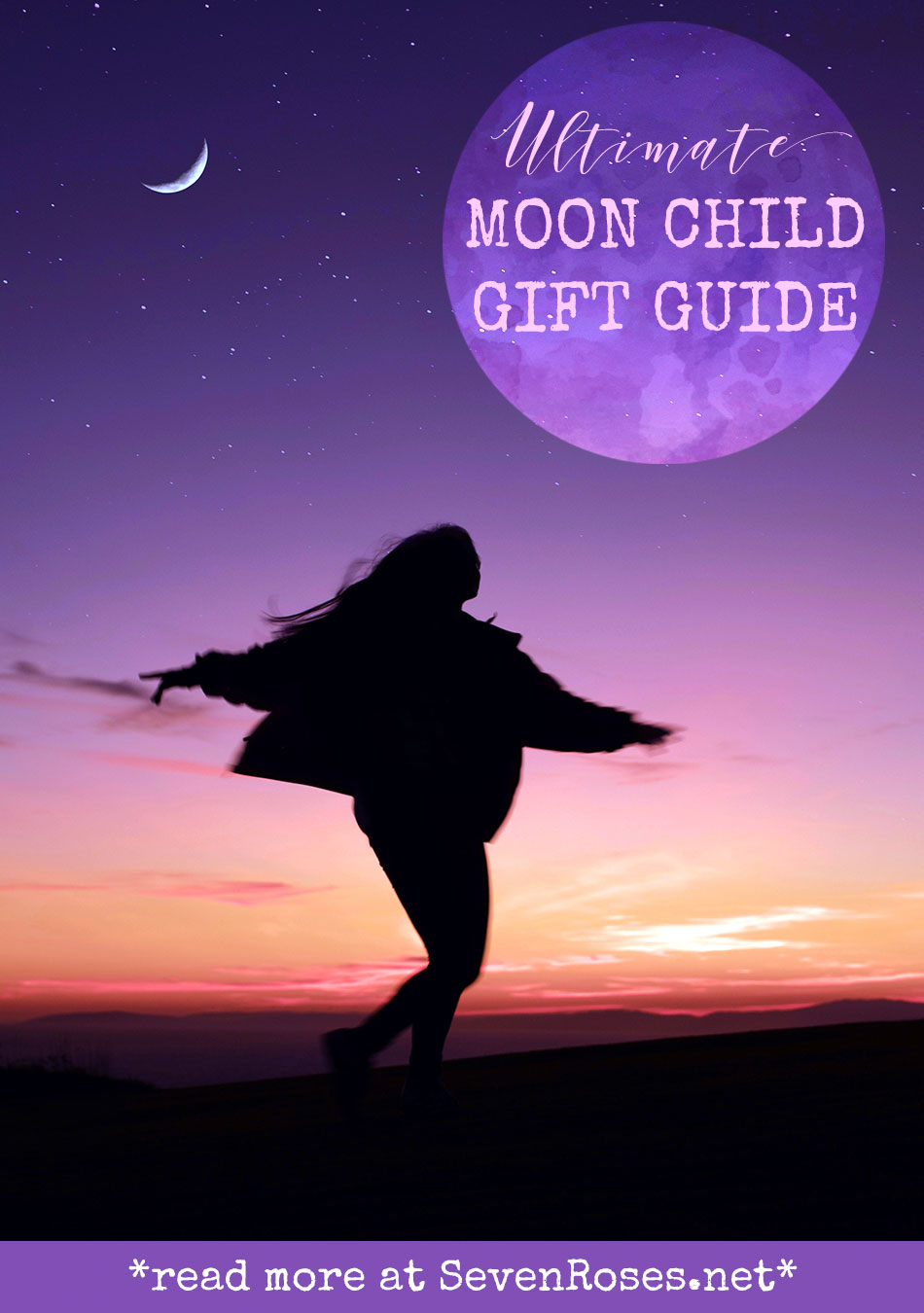 Disclaimer: I've been fortunate enough to receive some of the above mentioned products for free to try, but opinions and the choice to review are 100% my own. This post contains affiliate links.