Fall is finally arriving, and it's time for an eco-friendly, toxic-free, botanically-infused, Vegan and cruelty-free Fall Candle haul for fall lovers ♥ don't you think?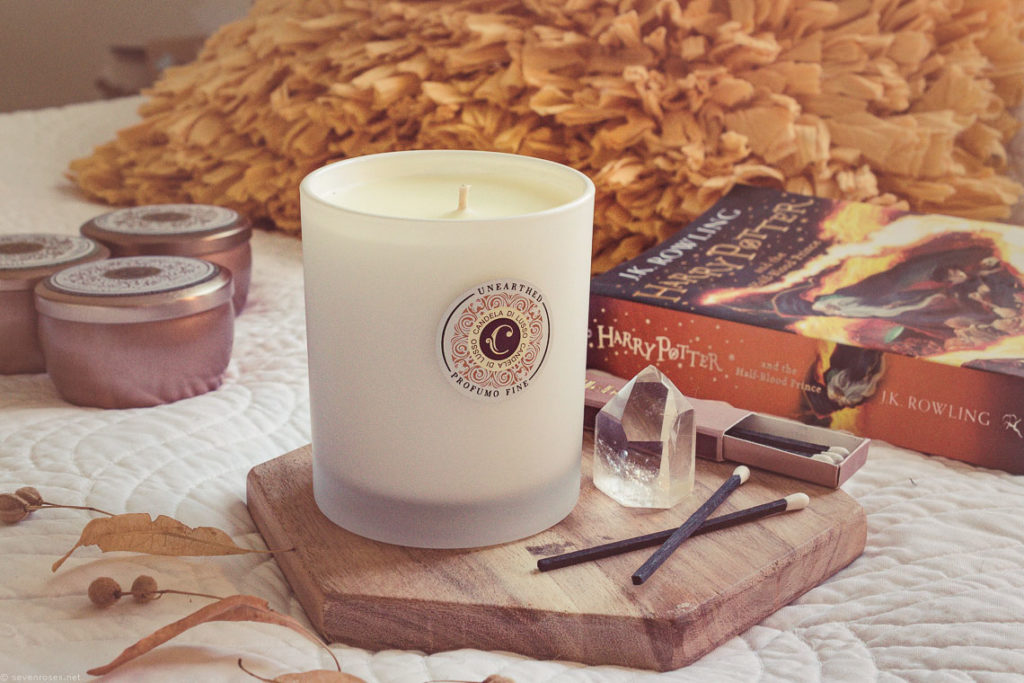 Hello my beautiful friends! It's September, which means it's almost Fall, and if you know me you know I LOVE Fall and everything Fall-related: the changing leaves, sweater weather, pumpkins' galore, fall camping and forest walks, lots of warming soups, and obviously, the golden glow of lots and lots of candles lit around the house!
Can you tell I'm really excited about Summer coming to an end and the beauty of Autumn taking over soon, like, very soon? :-)
So, in order to start off the season, I've changed back my clothing (I'm already wearing my new favorite mustard-colored sweater – that doesn't even look good on me because it's SO bulky and makes me look frumpy rather than boho but oh well, what can I do?) and I went ahead and spread brand new, heavenly-scented candles all over the house.
I have five brand new candles from Unearthed Luxury Candles for this Fall season, so I wanted to do a little Fall candle haul with you guys, as I know that many of you are excited about Autumn just like I am.
But before diving in, you must know by now that most candles on the market are not safe to burn inside your homes and are not eco-friendly.
Some scary facts about most regular scented candles:
not only they are a huge source of indoor air pollution and put off chemicals that are considered just as dangerous as second-hand smoke, but many scented candles also have wicks that contain heavy metals like lead, and just a few hours of burning can already create levels of airborne heavy metals that are much higher than the acceptable limits.
"Many candles also contain artificial scents and dyes, which release additional chemicals when burned." (source)
So please check what you're bringing inside your house from now on especially if you have little ones at home! And if instead you're looking for safe alternatives completely free of dyes and polluting ingredients, I've got you covered. Just read on…
But before reading about the haul, jump to the comment section and let me know what are you most excited about for this coming Fall :-)
[tweetshare tweet="A #Vegan and cruelty-free Fall Candle haul for fall lovers 🍂♥" username="sevenrosesblog"]
Let me start by telling you, these are not the cheesy, obvious smells of Fall-themed candles (apple pie, pumpkin patch, cinnamon swirls etc.) These botanically-infused, eco-friendly, Vegan and cruelty-free formulas are of the highest quality, and perfect for the conscientious candle lover. These are also perfect transitional scents from Summer, breezy candles to heavier, Winter ones.
UnEarthed® ultimate-quality, clean fragrances are meant to put a permanent bookmark in the olfactory senses. It doesn't matter where you are, if fragrance is in the room, the memory will last forever. Our customary method of fragrance development lends itself to the branding of the momentary experience. We formulate and intensify fragrance to it's most pure potential for candles. We then combine it with some of nature's best ingredients, together with ultimate craftsmanship to bring you what we consider to be the finest candles in the world.
These candles are all inspired by nature with notes of oak wood, amber, patchouli, moss and mandarin leaves, among others. The moment the box was delivered on my doorstep, I could already smell its contents! And when I opened the box, it was an explosion of wonderful scents.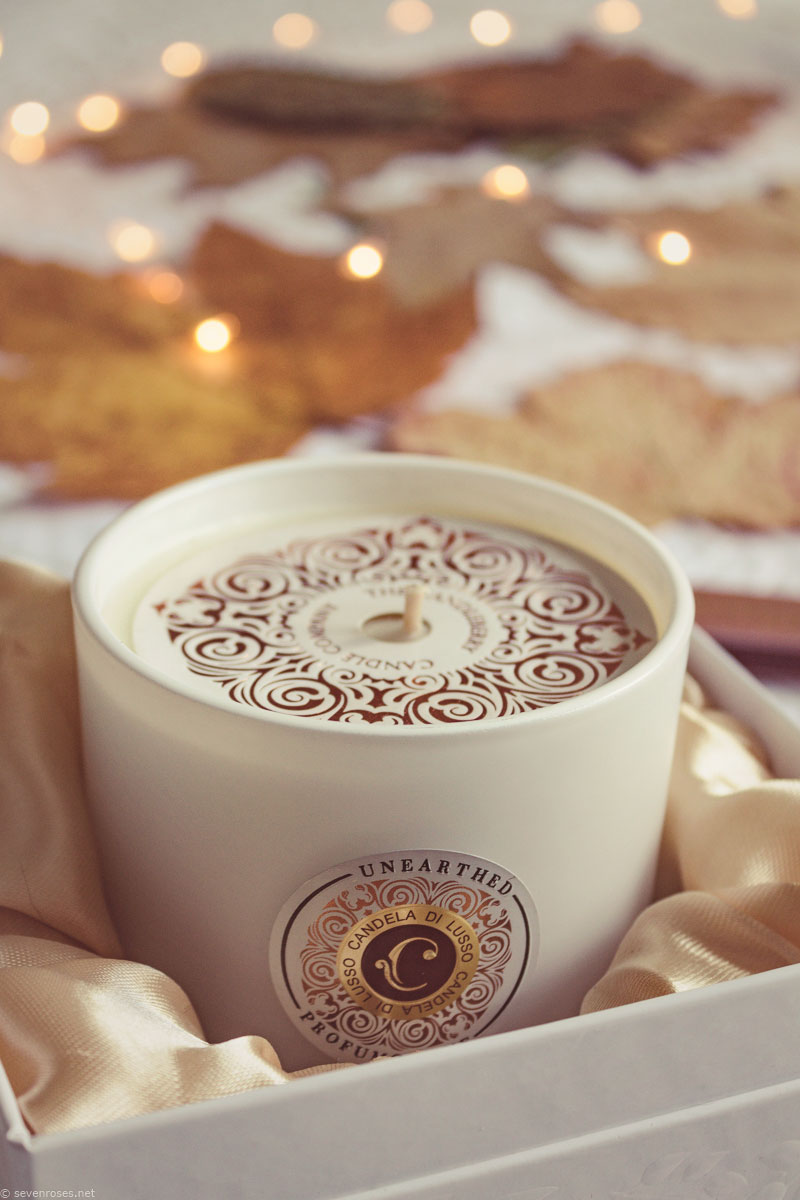 The first one I got is the beautiful, beautiful Vanilla Robusto Lusso Luxury Scented Candle an earthy-sweet captivating blend of tobacco flowers and leaves,  spice and tonka finishing on a note of smooth vanilla bean pod. It's a cozy, calming and soothing smell perfect for brisk Fall days.
Placement suggestions: office, living room, bedroom, gallery, lounge.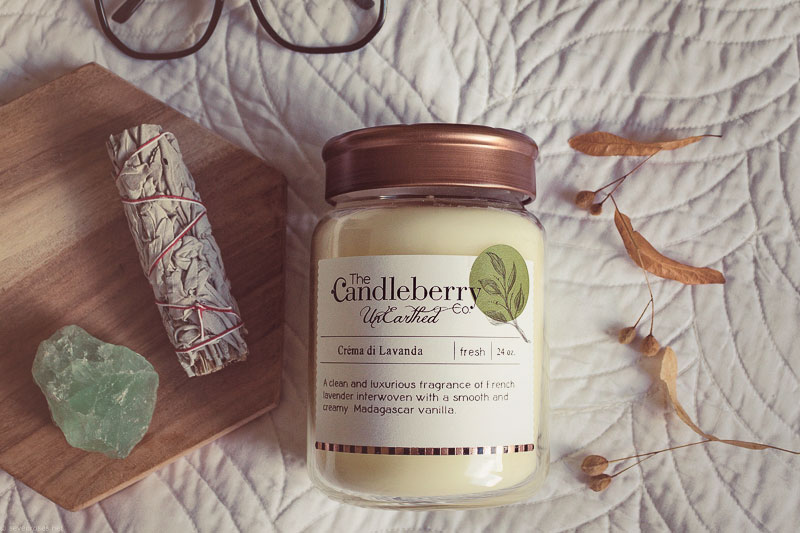 Then we have the massive Crema di Lavanda – Luminare Vitrum, a captivating blend of both French lavender and smooth and creamy Madagascar vanilla. Its sweetness is the perfect companion to a quiet night spent reading under a huge, warm blanket *swoon* (edit: lit this just last night, and OMG the smell you guys, I can't even beging to describe how dreamy it is).
Placement suggestions: sunroom / conservatory, living room, bedroom, den.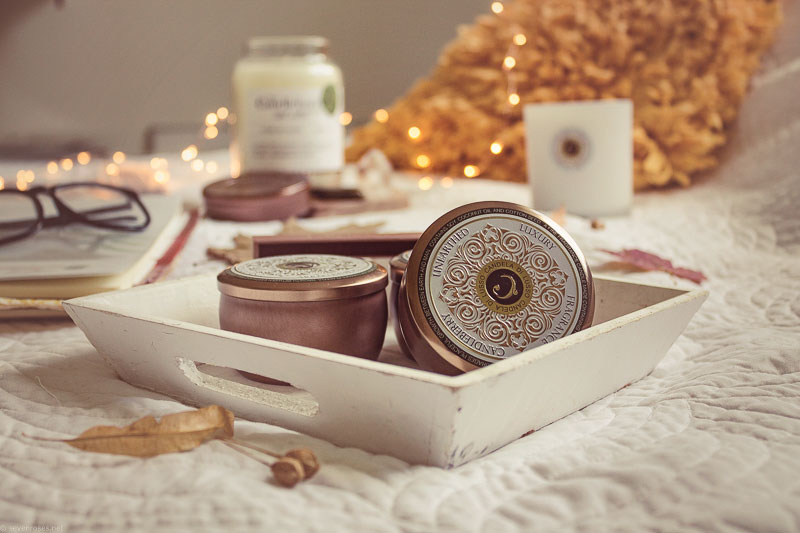 To finish, three beautiful Luxury Travel Tin Scented Candles: Augustus, Lilium and Willow.
Augustus Lusso Latta, Luxury Travel Tin is a powerfully classic symphony of fragrance true to masculine, with hints of oak wood, brushed suede, vetiver and patchouli with bright notes of Bergamot carried by warm tobacco and amber. Its woodsy but fresh tones create a uniquely relaxing atmosphere.
Placement suggestions: bedroom, office, livingroom, cigar lounge, lounge, foyer.
Lilium Lusso Latta, Luxury Travel Tin encapsulates the warm, seductive and complex perfume of the Stargazer Lily and takes it to a luxurious level of fine fragrance. With hints of Tuberose and Orange Blossom, pink pepper, patchouli and clary sage. Perfect for burning at the end of the day as you wind down.
Placement suggestions: bedroom, bathroom, sun room / conservatory, living room, gallery, lounge.
And last but certainly not least, we finish off with my favorite candle of the whole bunch, even though it was really difficult to pick just one: Willow Lusso Latta, Luxury Travel Tin. Weeping Willows are among my favorite trees so this for me was love at first sight/smell.
The dance of the whispering willow, enchanting and mesmerizing, shows great power in its stature. It's majestic foliage plays an indefinite song of soft percussion. Willow, the fragrance, is an emerald green garden of Eden, rich with foliage and an ever so slight sense of exotic botanicals. Absolutely intoxicating.
In this candle you will smell Emerald Water Hyacinth, bamboo and Fig interwoven harmoniously with golden amber and musk. This to me is perfect to burn on those slow, rainy days with a cup of tea or coffee. Ultimate good vibes!
Placement suggestions: bedroom, lounge, bathroom, sunroom / conservatory, living room, lounge, foyer.
Besides loving the wonderful glow and botanically-infused scents, I also love that these candles are cruelty-free, eco-friendly, and free from harmful dyes and ingredients.
I'll leave you with an exclusive coupon code from The Candleberry to enjoy some safe Fall Candle burning this season: use discount code "2XR5VC" for a 10% Gift Discount on any Luxury Candle by UnEarthed!
I hope you guys enjoyed this Fall Candle Haul and that it has also inspired you to check the quality of what candles you burn at home.
Also don't forget to pin this post to share the love ♥
I wish you a love-filled day xoxo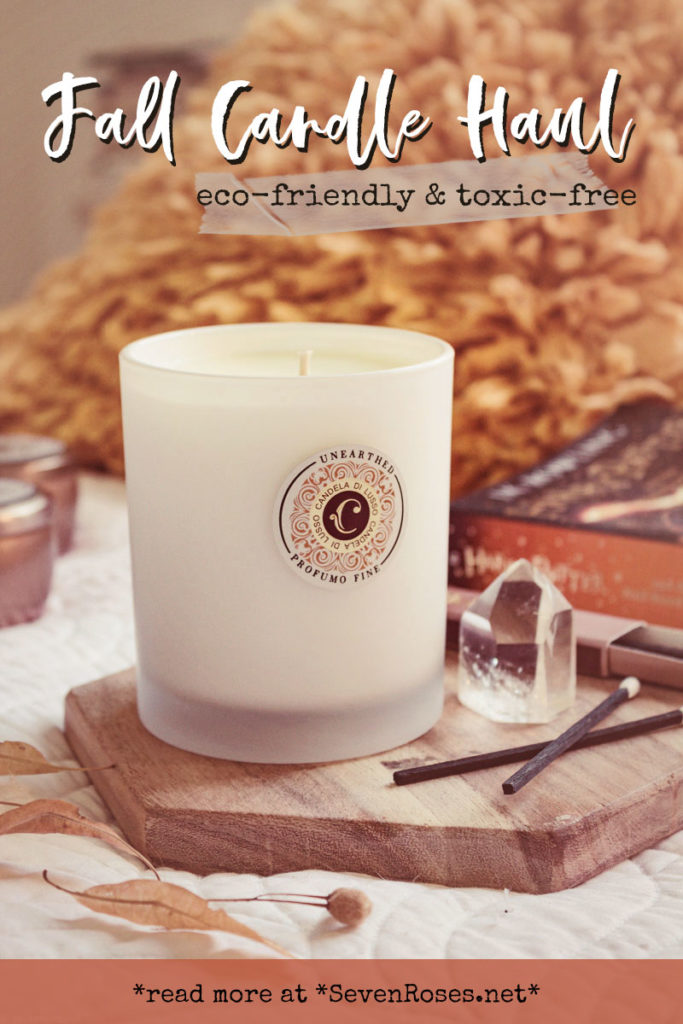 Disclaimer: I've been fortunate enough to receive some of the above mentioned products for free to try, but opinions and the choice to review are 100% my own. This post contains affiliate links.