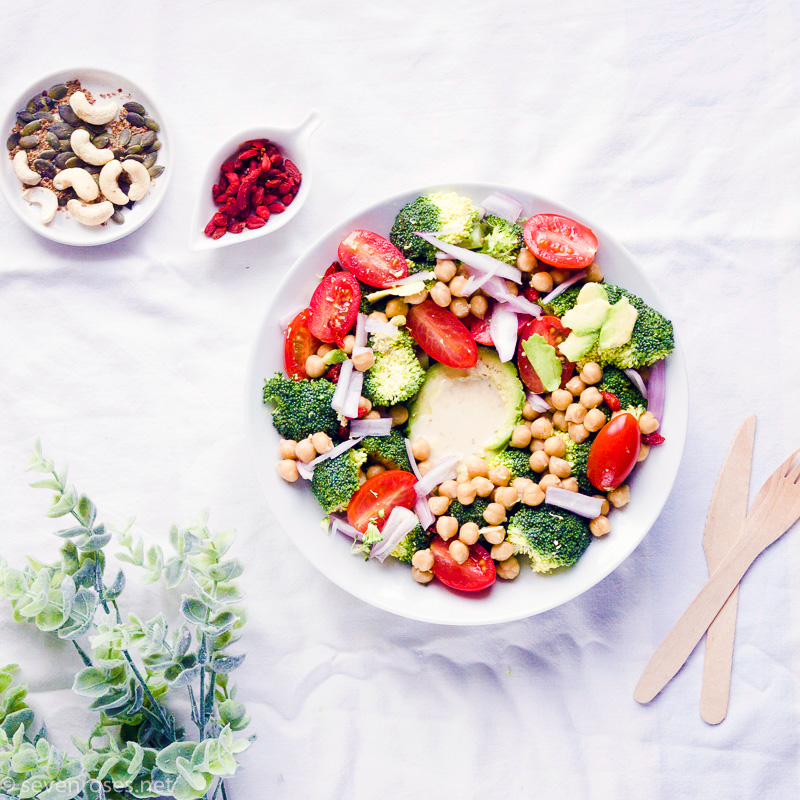 Hello my beautiful friends! How is the new year treating you so far?
Today I wanted to share with you this amazing Vegan Superfood salad recipe – because it's super healthy, delicious, very filling and so easy to prepare with just a few super-ingredients! A perfect quick meal when you want to eat something yummy but healthy at the same time.
Just look at all these vibrant veggies that make the plate come alive ♥
I've especially created this for all those of you who want to start the new year with some healthy foods to boost you after all the holidays cooking or if perhaps you took a new year's resolution to eat more of those hearty, lively foods that are so good for you. Lastly, you could be trying out Veganuary and in need for Vegan recipe ideas.
To make this, simply cut up or slice/dice the ingredients as big or as small as you like (leave the avocado as very last to prevent browning) then add them to your plate: broccoli florets, cherry tomatoes, shallots, chickpeas, lettuce, avocado, and goji berries and mixed seeds on top. I topped this with a simple sauce made with lemon juice, a few chickpeas to make it creamy, freshly ground pepper, and some fresh herbs (dill, parsley or your favorite ones).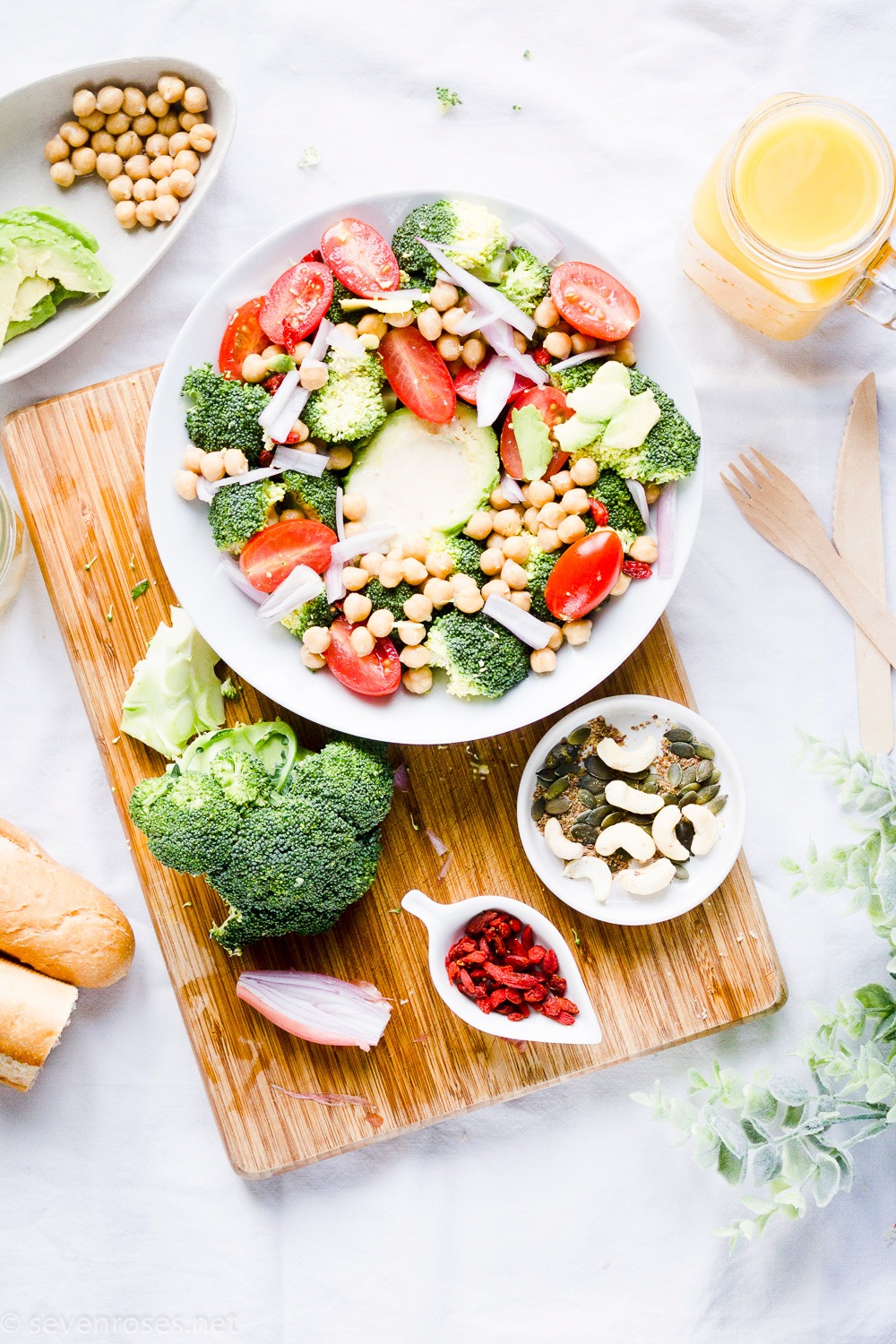 On a side note: while taking pictures I totally forgot to add the pomegranate that I had on the side! I was keeping it especially for this recipe so… even though they are not there, imagine cute little pomegranate seeds sprinkled all over the salad like ruby-red gems #foodbloggersproblems :D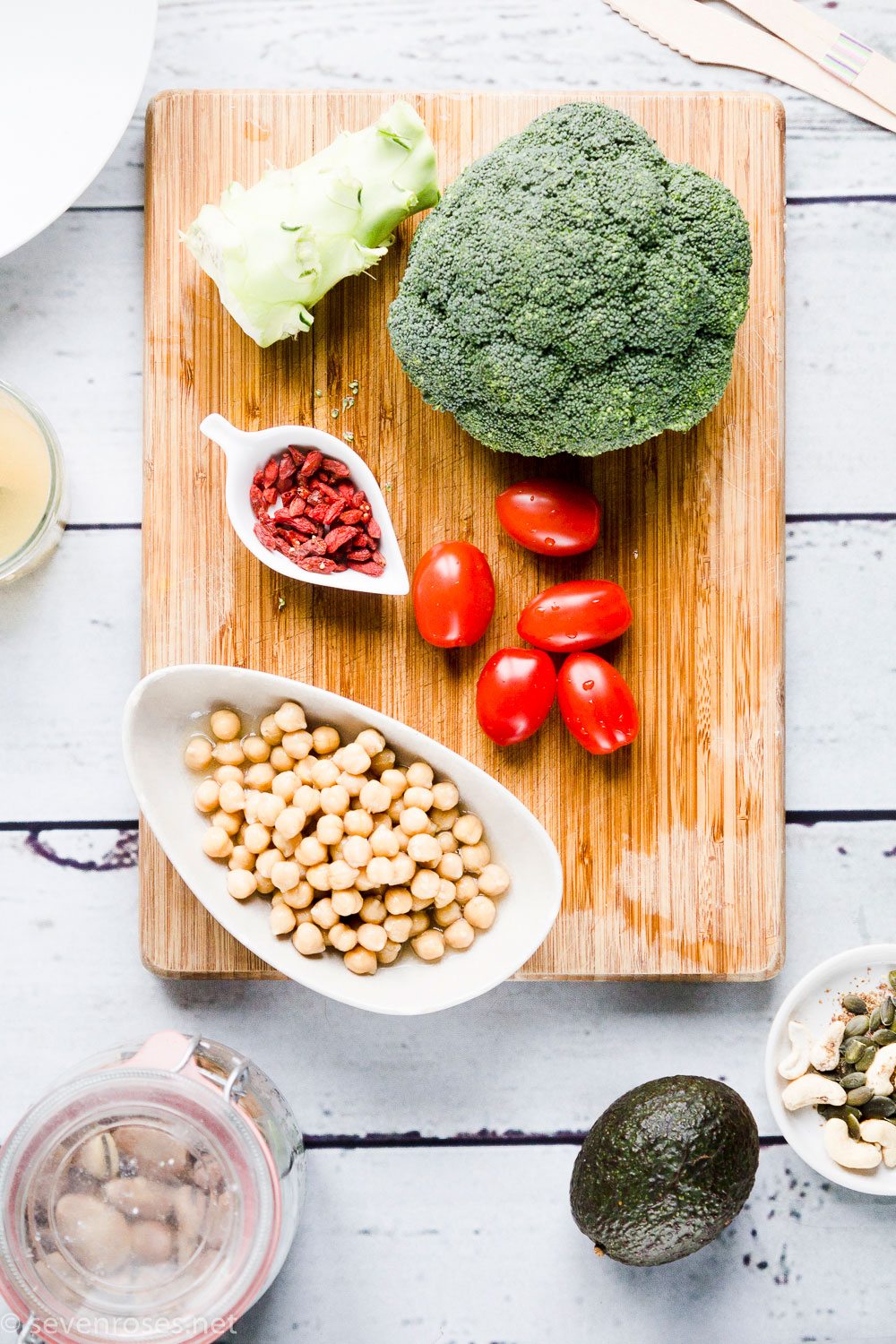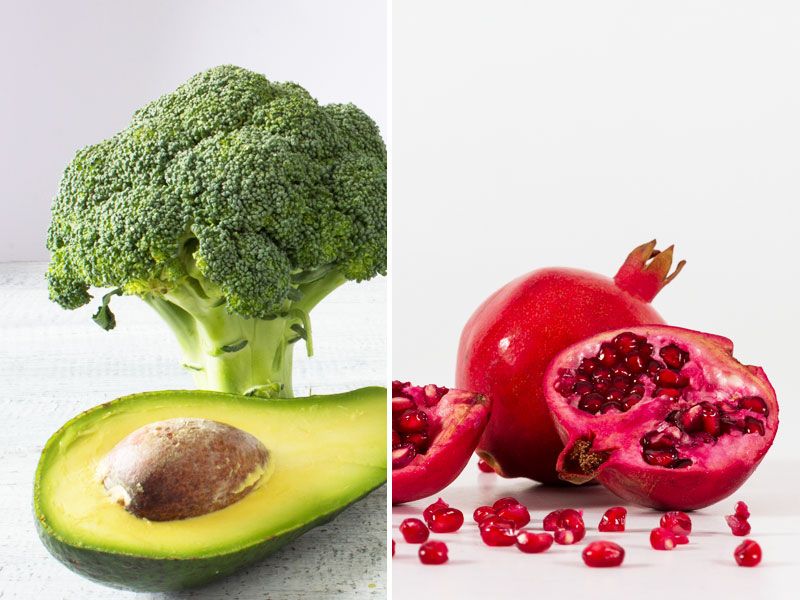 Suoerfoods
What elevates this salad to "superfood salad" level, you ask? Well let me tell you:
❥ Broccoli is high in many nutrients, including fiber, vitamin C, vitamin K, iron and potassium. Broccoli also contains more protein than most other vegetables. Read more about Broccoli here
❥ Goji berries can boost your immune system, and are touted for their antioxidant properties. Thry are a good source of vitamin A, vitamin C, iron and dietary fiber. Read more about Goji berries here
❥ Pomegranates have anti-oxidant, anti-viral, and anti-tumor properties and are said to be a good source of vitamins, especially vitamin A, C, and E, as well as folic acid. Read more about pomegranates here
❥ The iron, phosphate, calcium, magnesium, manganese, zinc, and vitamin K in chickpeas all contribute to building and maintaining bone structure and strength. Chickpeas also contain folate, which plays a role in DNA synthesis and repair, and so helps prevent the formation of cancer cells from mutations in the DNA. Read more about chickpeas here
❥ Lemons are high in vitamin C, minerals like folate and potassium, phytonutrients and antioxidants. Read more about fresh lemon juice here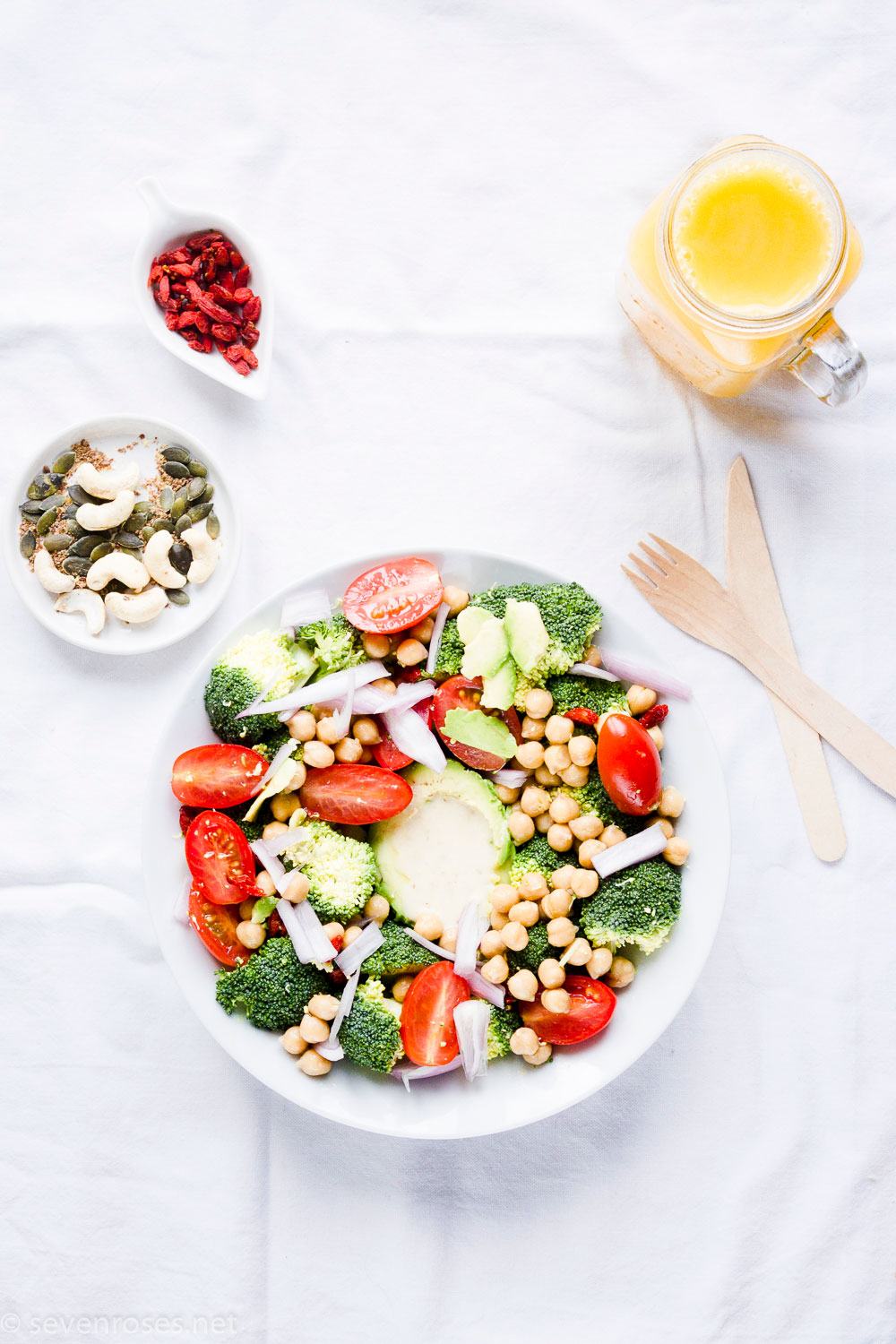 But enough talking, let's get cooking!
Well no, not really, besides the canned chickpeas, this is a raw recipe :)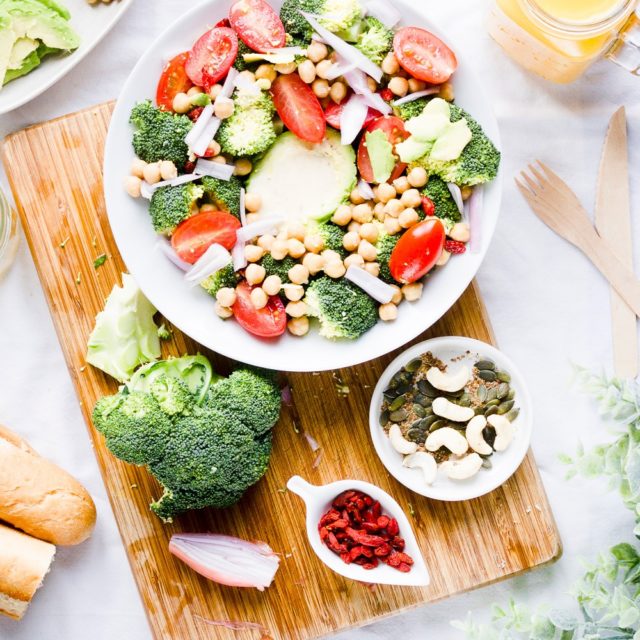 Superfood salad
A hearty, healthy, filling and delicious superfood salad filled with nutritious ingredients that will make you thrive
Ingredients
1

head

broccoli

(I also use the stem)

1

handful

cherry tomatoes

1

shallot

1

can

chickpeas

drained and rinsed

1

tbsp

goji berries

2

tbsp

mixed nuts & seeds

(cashews, sunflower seeds, sesame seeds, etc)

pomegranate seeds

(optional)
Dressing
1

tbsp

chickpeas

drained and rinsed

3

tbsp

fresh lemon juice

1

pinch

sprinkle of fresh ground pepper

1

tbsp

fresh herbs
Instructions
Wash and pat dry the head of broccoli and the stem. Cut the florets in bite-sized bits. Remove the external parts of the stem and slice it thinly. Wash and par dry the cherry tomatoes, and cut them in half. Slice the shallot as thin or as small as you like.

To assemble, lay some lettuce leaves on the bottom of your dish. Then add the broccoli florets, the chickpeas, the cherry tomatoes halves, the slices of shallot.

Cut in half the avocado, remove the skin from one half (keep the half with the seed in the fridge in a closed container) and place it in the middle of your plate.

Sprinkle the nuts, seeds, goji berries and pomegrante seeds all over. Pour the dressing over the salad and a good spoonful inside the avocado half. You can also add some extra fresh lemon juice if you want.

Enjoy! Healthy never tasted so good ;-)
Did you enjoy this post? I would love for you to pin it to share the love! Thank you! ♥
Also, do let me know in the comments which is your new year's resolution :)