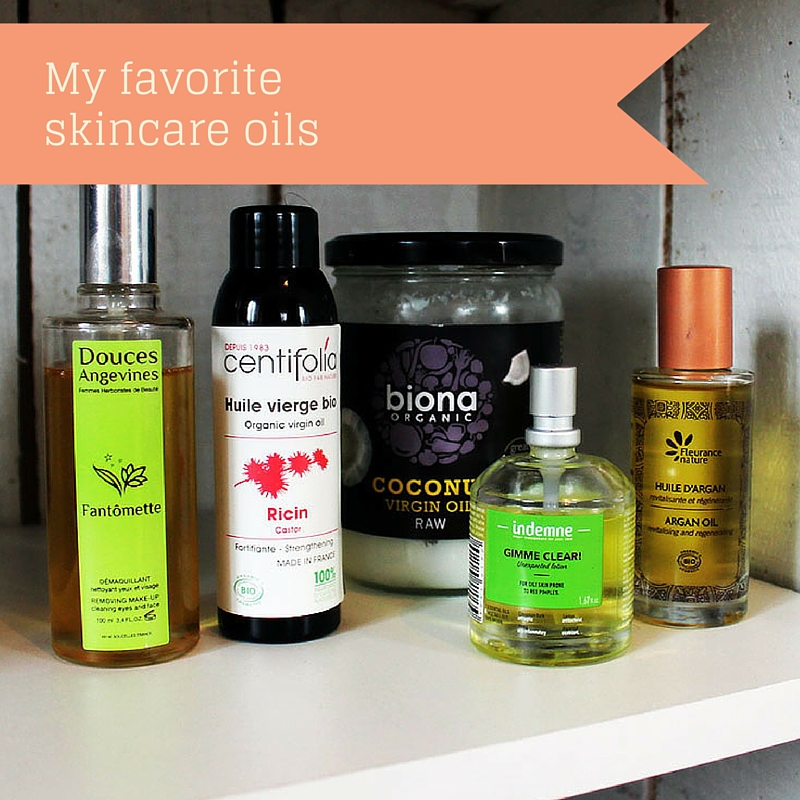 Today I'm very happy to talk to you about something that has been requested many many times: my favorite skincare oils. I've been using oils in my skincare for the past few years, way before the whole "coconut oil frenzy" started, as I've always known that pure, natural oils like olive oil was used in very simple beauty routines by my own grandmothers – extra-virgin olive oil being the jewel of the Mediterranean area. A little dab of olive oil was used to moisturize face and hair already a long time ago, when skincare creams were a luxury. The products I'm going to show you are 100% natural, cruelty-free and organic and most of them come from some amazing French companies that I've discovered thanks to some very much needed, tiny beauty hauls I've treated myself to.
My favorite skincare oils
So let's begin with the 100% pure Argan Oil by Fluerance Nature, that I got as a special winter treatment (we've been having snowy days already!) and also as a little extra pick-me-up for the hair especially now that I've cut my own bangs (and those curly bangs do need some disciplining). For those of you that don't know, Argan Oil is a true cellular regenerator, it helps delay the natural aging process and it can restore the skin's radiance by improving hydration. I use this in my night time routine as a last step, when I don't have any other particular needs, and I leave it on in a quite thick layer as an overnight mask. And in the morning: hello super soft skin!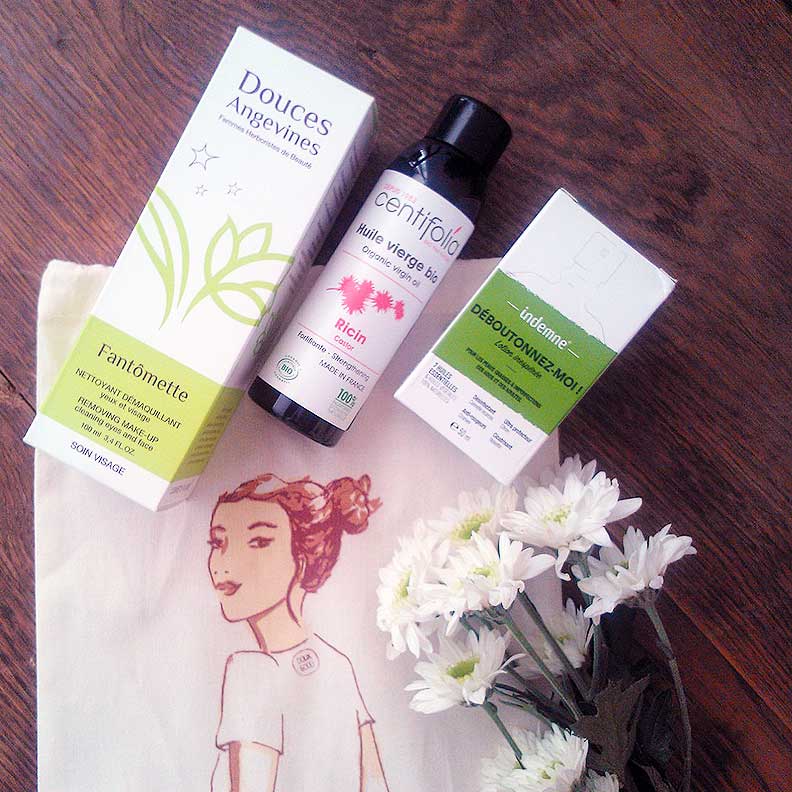 Next, three products that I got from the online boutique Doux-Good. I've been wanting to try castor oil for quite some time, to see if it really improves hair growth. Well, I don't have any scientific results to share with you but I must say I've been impressed with the Huile vierge bio de Ricin by Centifolia. I've used it a few times as a scalp massage and I've noticed an extra fast growth, considering the weather is cold and Autumn/Winter months are not famous for speeding up hair growth! I've also used it a couple of times on my face at night as a hydrating face pack, but I think it's a bit too thick for my skin type, I'd rather stick with Argan oil for this. All in all, I think it does help with hair growth, for both hair and eyelashes.
The Déboutonnez-moi/Gimme Clear! by Indemne is a treatment for spots and pimples but it's so hydrating that it can be applied all over the face (I skip the eye area) and it will noticeably improve the skin texture and the problematic areas. The strange thing is that it dries up those annoying "that time of the month" pimples in a few days but it does not dry out the skin at all, if anything it leaves it hydratated, which I think is great. It contains ingredients such as lemon, carrot seed and hemp oil. I apply it a few times a day on the problem areas and then use it all over the face at night if/when needed. A great product that delivers what it says. Love it!
Fantômette by Les Douces Angevines is a is a cleansing oil. It cleans all types of makeup including mascara without irritating the eyes, and respecting the skin's balance. It contains a mix of sesame, castor, hypericum, sunflower and lavander oil. I use directly on the face in small circular movements, clean up with a wet microfiber cloth and then use a regular cleaner to remove any residues. It has a very… herbacious smell which makes you feel all purified and stuff :)
Love this oil, but I haven't tried it with waterproof makeup though.
Last but not least, coconut oil! In this moment I'm using and loving the Biona one. I use it for both cooking and for skin/haircare: as a super simple lotion, as a deep conditioner, as a face mask, for oil pulling and as a cleansing oil every now and then… If you don't know how to implement coconut oil in your beauty routine, definitely check out my Pinterest board about it: "coconut oil devotee" and you'll learn lots and lots of useful tips in no time.
What are some of your favorite coconut oil uses?
And what are you favorite oils to use in your beauty routine? Let me know in the comments ♥
Save