A Vegan easy, hearty, filling, protein-packed and flavor-filled Italian Bean Soup which requires only a few ingredients, just like my Nonna used to make!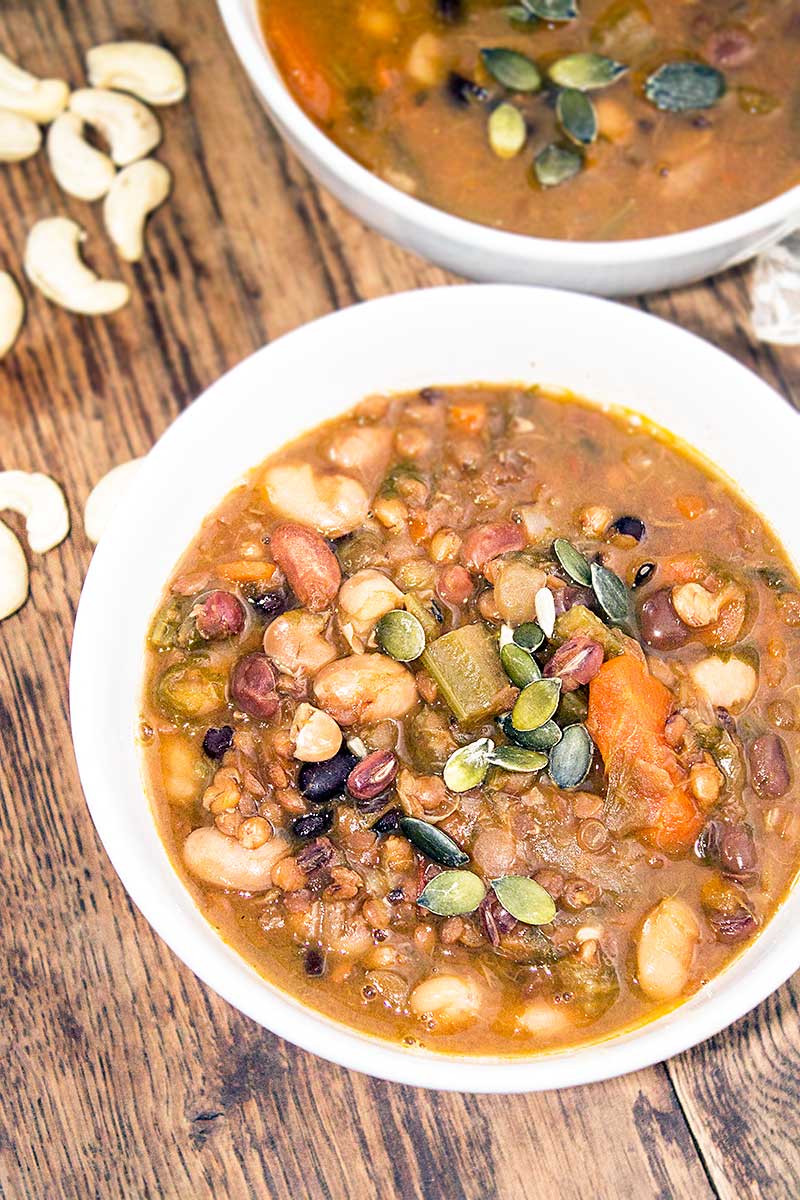 This week, thanks to warmer temperatures, even if we're still one month away from the actual arrival of Spring, I really started feeling vernal. Blame it on the birds just outside our windows that wake up in the morning the same time as me – making me feel like in an old-school Disney movie; blame it on the daylight that starts to linger a little longer before giving in to twilight… Anyway, today I was about to share with you my most colorful, flower-filled, spring-themed smoothie you've ever seen…
And then this happened.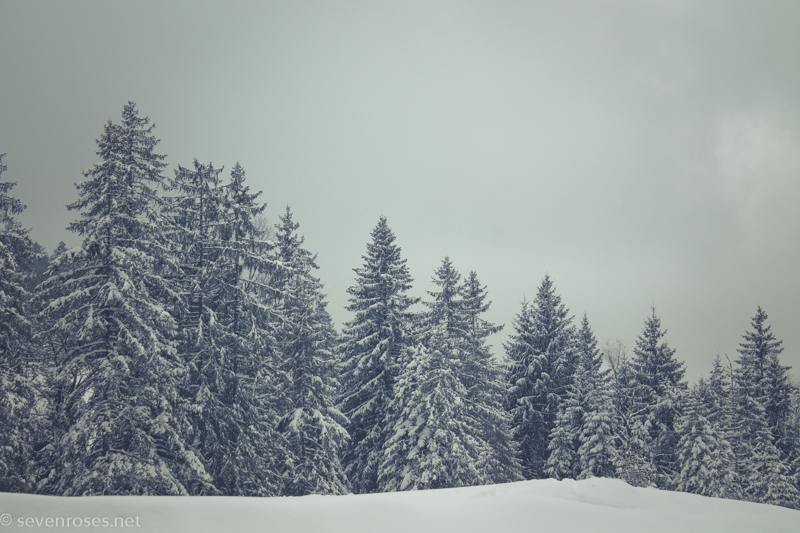 I don't usually share Soup recipes, even though we cook and eat at least one each week (usually Sunday nights are our calm, cozy "Soup nights", to replenish the body for the upcoming week).  The reason why you don't find many soups on SevenRoses is because I make up my recipes as they come.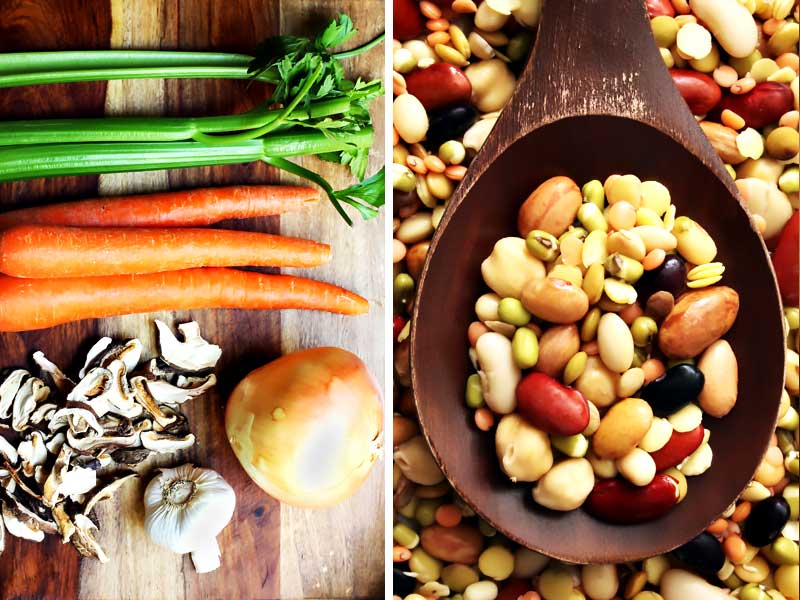 My rule of thumb is that many good, wholesome ingredients thrown together in a pot to simmer for a little (or a long) while, can only make a great Soup, no recipes needed… So that's what I usually do. But in case you do want to learn how to make a hearty, filling, protein-packed (hello beans!) Soup,  today I give you my Italian Bean Soup.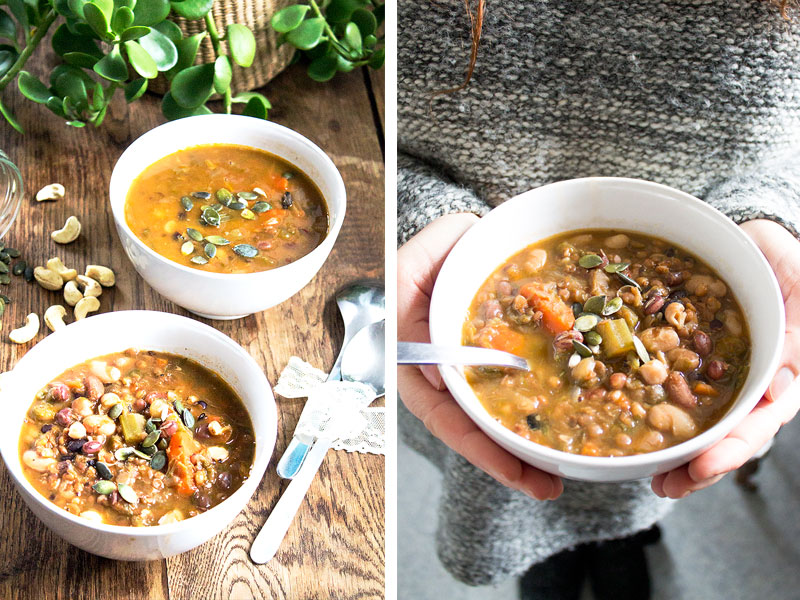 This flavor-filled Soup not only is perfect for these last few weeks of Winter, but it's also 100% Italian, 100% Vegan, 100% healthy. It's a win-win-win-win situation, don't you think? Oh, and it can be enjoyed all year long (just serve it at room temperature!).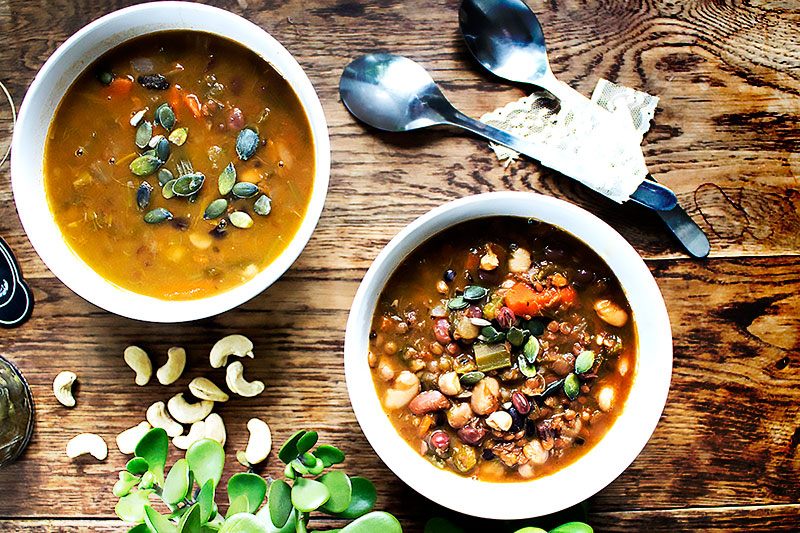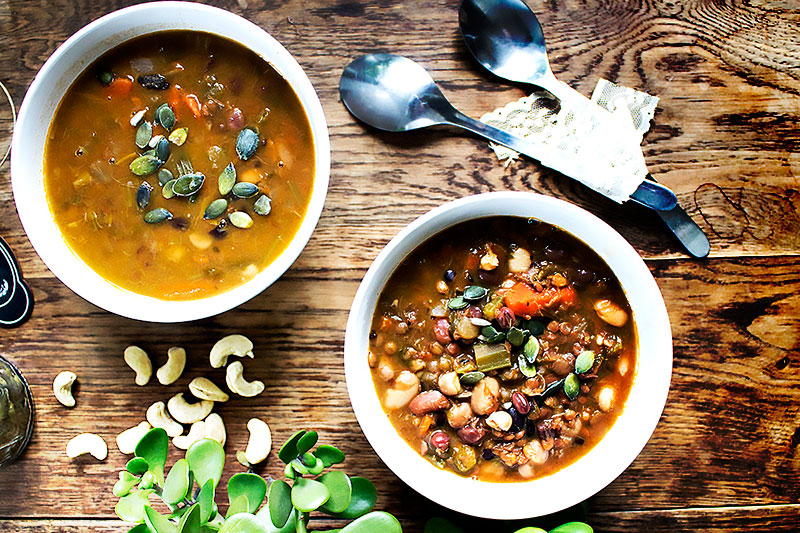 I usually make a big batch of this, and then use the left-overs in some creative way for the following day's lunch – I add some ingredients, some herbs, some spices, and voilà you have a new meal in no time!
Enjoy ♥
(By the way, if you are craving a colorful smoothie after all, be my guest!)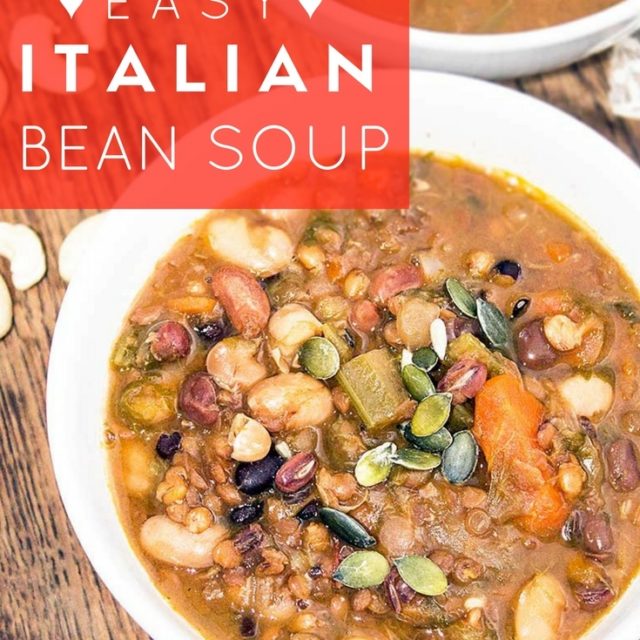 Italian Bean Soup - Vegan, oil-free
An easy, hearty, filling, protein-packed and flavor-filled
Soup
which requires only a few ingredients, and that can become a stew by simply altering the amount of water. Serve it with cashews, a slice of fresh baguette, a drizzle of extra-virgin olive oil, and personalize it to your taste. Make a big batch ahead, and enjoy all week long for a quick, easy meal.
Ingredients
Beans
50

gr

barley

you can sub with rice or pasta of your choice

50

gr

white beans

50

gr

pinto beans

50

gr

black beans

50

gr

red beans

50

gr

azuki beans

50

gr

red lentils

50

gr

yellow lentils
Stock Ingredients
1

yellow onion

chopped

5

cloves

garlic

minced

2

carrots

diced

2

stalks

celery

diced

salt and pepper

to taste

2

tbsps

herbs + spices

(you choose: paprika, garlic powder, dried basil...)

1/4

cup

dried mushrooms

optional, adds texture and nutritional value

2

tbsps

tomato paste

a handful

cashews

or sunflower seeds sprinkled on top
Instructions
Start by washing and soaking all the beans for 12 hours, minus the lentils. I don't advice to add bicarbonate like you read on many sites and books, because it can actually strip the beans of some very valuable nutrients. I prefer to soak for longer (up to 24 hours in the fridge if needed).

After soaking time, it's time to prepare your stock. While you boil 1.5 litre of water in a kettle, put the chopped onion, garlic, carrots and celery in a big pot. Add a little bit of water to water-sauté the veggies.

Now drain the beans, and add them to the pot together with your choice of herbs and spices, the tomato paste, the lentils, the barley and the dried mushrooms if using them. Pour the water from the kettle (you might want to add a little bit more later on, depending on how

Soup

-y you want the end result to be). Now stir well, bring to a boil, cover, and let simmer for 1 hour and 15/20 minutes. Adjust time if you realize that some of the beans are not fully cooked yet.

Serving options: as is, with some chopped cashews or nutritional yeast on top; using a hand-held mixer, mix for just a few seconds in order to have both a smooth and choppy texture; serve with a warm slice of fresh bread; finally, use less water or simply drain some liquid before serving (reserve it for a later use) in order to have a stew-y consistency. Add fresh herbs if desired and a drizzle of EVO oil if you're not strictly oil-free. Happy times!
If you (want to) give this Italian bean Soup recipe a try, please let me know in the comments' section below!
You can also find me on social media. Be sure to tag @francesca_sevenroses on Instagram or @sevenrosesblog on Twitter and Facebook, and use #sevenroses so I'm sure to see it. You might also want to pin this recipe now to spread the joy of cooking a healthy, cruelty-free Soup :-) Enjoy!