Hello my beautiful friends! Spring is the ideal time for fresh starts and embracing new activities and habits, setting new intentions and goals, and dedicating more time to yourself. But it's also the beginning of festival season, going on adventures, spending more time outdoors and enjoying late sunsets. With time I've changed and Spring has become very dear to my heart.
Here's my Spring Moodboard to express how good Spring makes me feel, and a visual bucket list of things I want to do…
Let me know in the comments what's your favorite season, will you?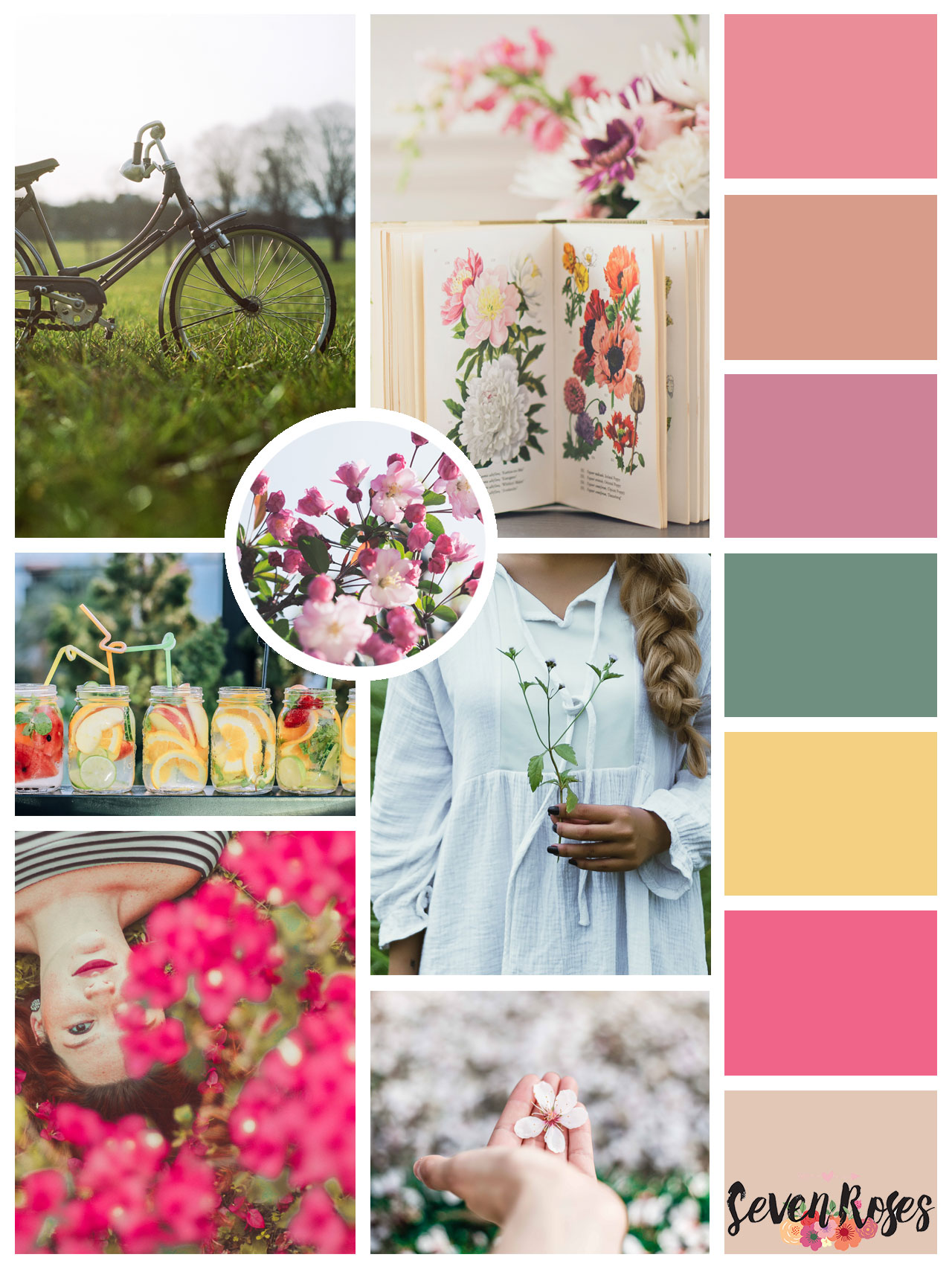 And for all you Spring babes, here's my Spring Lover's essential kit to make the most of these wonderful months ♥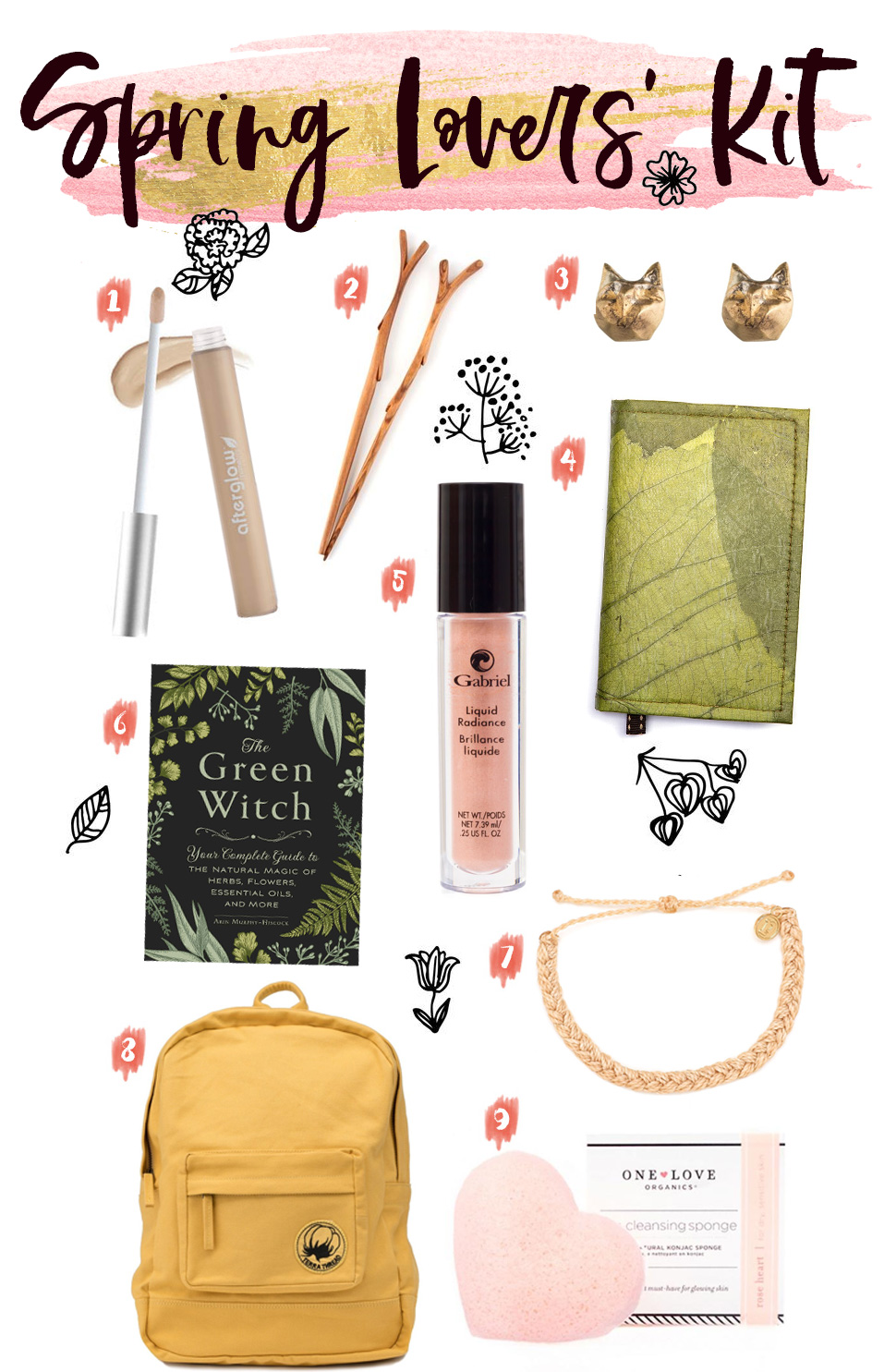 1. As warmer days call for less makeup, I often times skip the foundation altogether and only spot-correct where needed. These Vegan and cruelty-free Organic Infused Aloe Concealer is a nourishing spot treatment that provides opaque coverage to any discoloration, including acne and dark circles. Its lightweight formula soothes and protects the skin.
The PLUS: all products by Afterglow Cosmetics are not only Cruelty-Free but also Vegan ♥ No one needs to suffer for our cute faces
2. Definitely bringing the outside in with these Hand Carved Wild Olive Wood Branch Chopsticks handmade by artisans in Kenya, that I found at Accompany.
The PLUS: each purchase at Accompany has a purpose, supporting local craftspeople means preserving both cultures, and communities.
3. Calling all cat ladies! Everyone needs more cats, right? Add 2 more to your life with these one-of-a-kind adorable Tiny Cat stud Earrings handmade from recycled brass. The PLUS: using recycled and reclaimed metals eliminate a tremendous amount of new pollution and contaminated water.
4. Tree Tribe's innovative Leaf Leather Nature journal is the perfect companion for sketching in nature and traveling. It's a 100% animal free, strong "Non Leather" material that is made from Teak – collected from fallen leaves – and cotton. FREE USA Shipping and Returns on orders $50+
The PLUS: 10 Trees are Planted for every purchase!
5. The Rose Gold Liquid Radiance Highlighter by Gabriel Cosmetics has a unique, lightweight and buildable formula. I love the innovative rollerball applicator that ensures quick and easy application on-the-go, providing a celestial, illuminating highlight to the cheeckbones and cupid's bow.
The PLUS: all Gabriel Cosmetics products are always natural, gluten-free, vegan and cruelty-free.
6. The Green Witch: Your Complete Guide to the Natural Magic of Herbs, Flowers, Essential Oils, and More is a must-have for all of you who, like me, call on nature for guidance and respect every living being no matter how small.
The PLUS: This amazing book will teach you how to embrace the power of nature, draw energy from the Earth and the Universe, rely on natural objects like stones and gems, and use plants, flowers, oils, and herbs for healing.
7. I'm so in love with my carefully handcrafted Cream Braided waterproof bracelet from Pura Vida.
The PLUS: Founded in Costa Rica, Pura Vida Bracelets provides sustainable jobs to artisans worldwide and raises awareness for charities with products that give back.
8. I've been adventuring out with this lovely Sunshine Yellow eco-friendly Fair Trade Certified Backpack by Terra Thread which is beautiful and handy, but at this time that backpack has long been out of stock. For a similar item, in a very similar quality you can check out the excellent Fjallraven – Kanken, Re-Kanken Mini Recycled Backpack for Everyday Use, Heritage and Responsibility Since 1960 in Sunflower Yellow.
9. Such a perfect way to start the day: the One Love Organics Cleansing Sponge is made with the famous Konjac Plant Fiber, which has a unique ability to detoxify pores and smooth skin while buffing away dirt and makeup. This soft yet exfoliating sponge infused with French Pink Clay is ideal for everyday use even if you have sensitive skin like me!
The PLUS: The Detox Market has an extensive list of banned ingredients and even took the safety pledge, and ensures that all their products are always cruelty-free.

There you have it! The Spring lover's essentials kit to help you make the most of this truly inspiring time of the year. Oh but wait! Something fun before you go! :) Download this template for your Instagram Stories (don't forget to follow me!) and and use it in your Insta stories- tag me @francesca_sevenroses so I can see what lovely things you're into this Spring.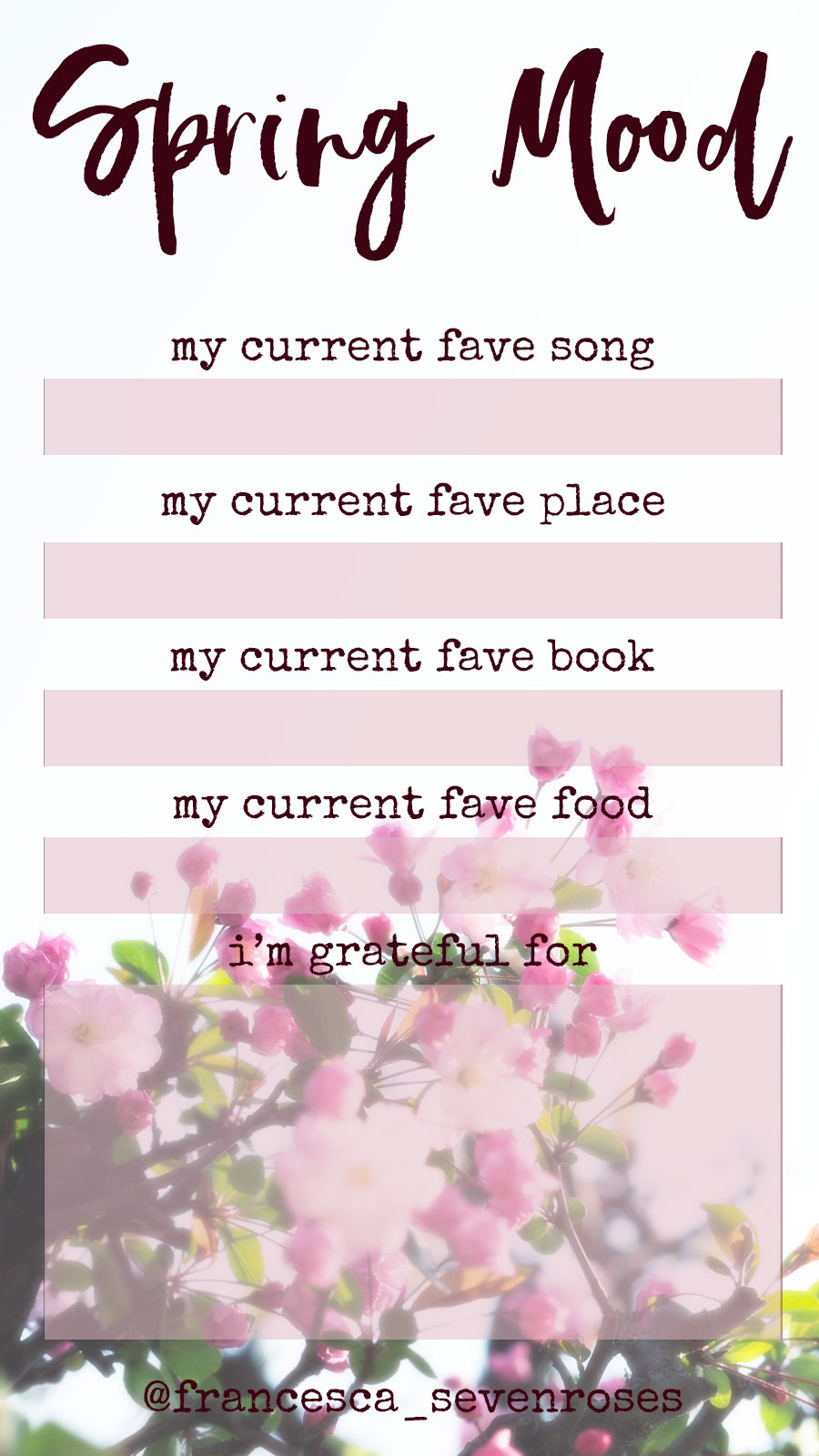 Disclaimer: I've been fortunate enough to receive some of the above mentioned products for free to try, but opinions and the choice to review are 100% my own. This post contains affiliate links.