Disclosure: this post may contain affiliate links, which means we may receive a commission if you click a link and purchase something that we have loved & recommended. While clicking these links won't cost you any extra money, they will help us keep this site up and running! Please check out our disclosure policy for more details. Thank you for your support!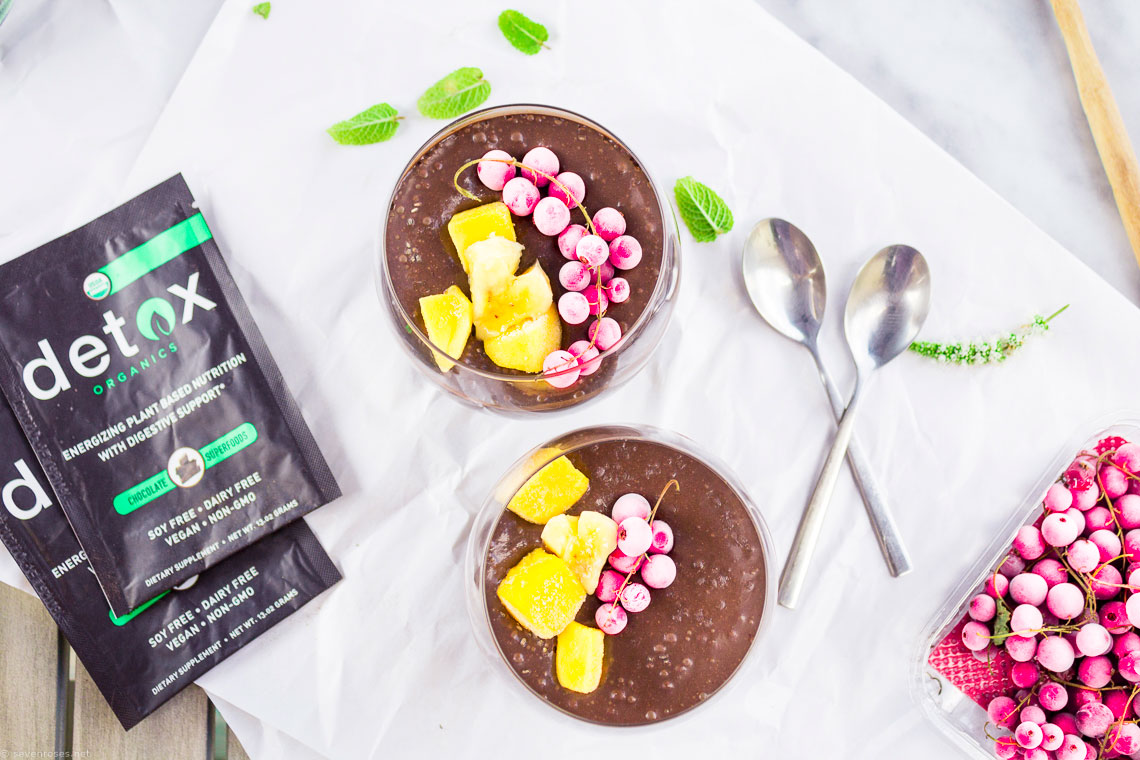 I'm so excited to share this week's recipe with you! What if I told you that this chocolate dessert is not just easy to make and delicious, but also oh! so good for you? Would you believe me?
My Superfood Chocolate-Chia Seed Pudding is a dessert that is not just tasty and nutritious, but it can be eaten for breakfast, as a treat or as a meal substitute.  Raw cacao & chia seeds fill this pudding with fibers and proteins but the special guest and main star of this recipe, Detox Organics Daily Superfoods powder, takes this choco-chia pudding to a whole new level. Soy-free, dairy-free, vegan, non-GMO and raw, Detox Organics supports digestion and is a super immune booster that works to remove harmful toxins while increasing energy and reducing inflammation to support your overall health.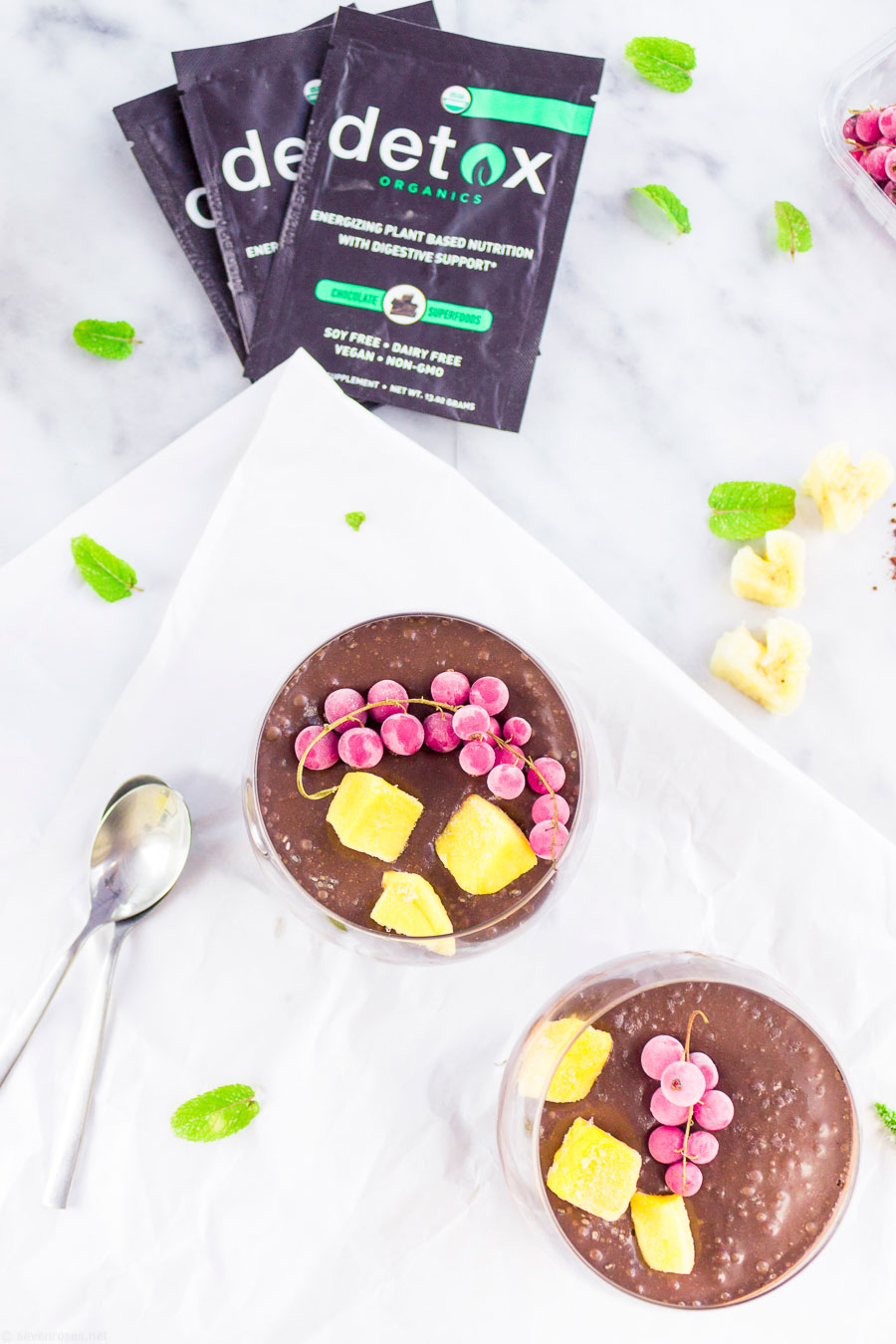 If you've read my last Summer Essentials' post, you'll know that I've been enjoying Detox Organics all through the summer. I've been carrying them with me even while traveling, thanks to their travel-friendly single-dose Travel Packs, to be able to enjoy a daily healthy dose even while on the road. This all-in-one formula is a daily plant based supplement packed with superfoods that alkalize, detoxify, and energize you, which is perfect during all through the year – especially when you need an extra pick-me up.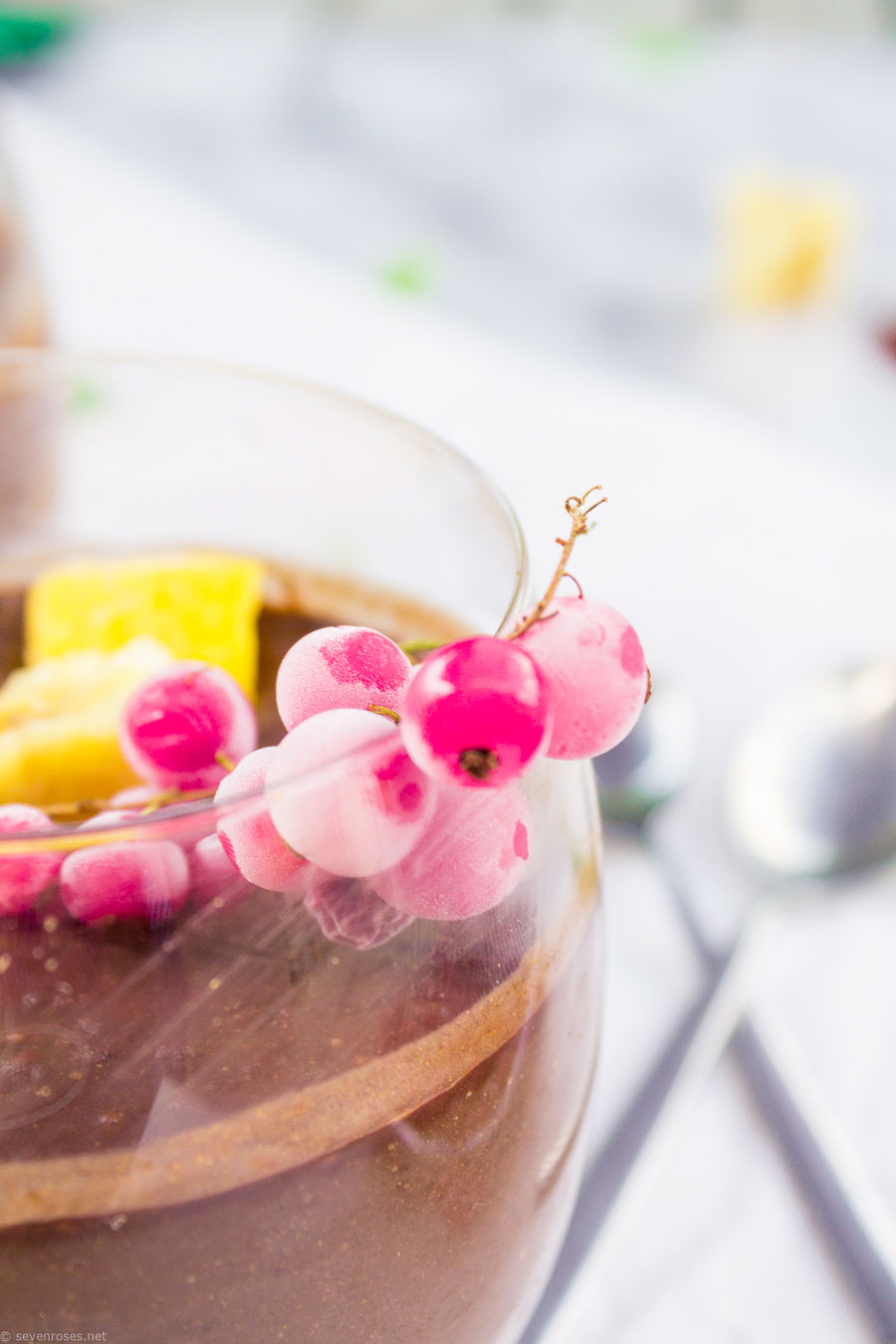 What is Detox Organics Superfood blend?
Detox Organics is high in vitamins and nutrients and has a special 3-phase blend:
1. Detoxifying & Cleansing
Everyday, you're exposed to toxins through the air, water, food — and even the products you consume. Our formula provides daily support for the healthy elimination of these harmful toxins and supports overall wellness and vitality.
SUPPORTING INGREDIENTS:
❥ Organic Wheat Grass, Organic Barley Grass, Organic Alfalfa, Organic Chlorella, Organic Horseradish Tree Leaf, Organic Peppermint Leaf
2. Alkalizing & Energy Support
Unique formula helps your body maintain a natural pH balance. Detox™ replenishes electrolytes with raw organic coconut water leaving you feeling refreshed all day. Uncover a happier, healthier you.
SUPPORTING INGREDIENTS:
❥ Organic Spinach, Organic Spirulina, Organic Kale, Organic Broccoli, Organic Rockweed, Organic Coconut Water, Organic Kelp
3. Digestive Support
Inflammation is a leading predecessor to disease which often starts in your digestive tract and can cause inefficient nutrient uptake. Our superfoods powder combines the power of organic turmeric root + organic ginger root to radically reduce inflammation & support digestive health.
SUPPORTING INGREDIENTS:
❥ Organic Carrot Root, Organic Beet Root, Organic Dandelion Root, Organic Ginger Root, Organic Lemon Balm Leaf, Organic Fennel Seed, Organic Tumeric Root, Organic Pineapple Fruit, Organic Acai Berry, Organic Aloe Vera, Organic Cayenne Pepper and Organic Goji
For a limited time, get 15% Off Your Order with code SEVENROSES at DetoxOrganics.com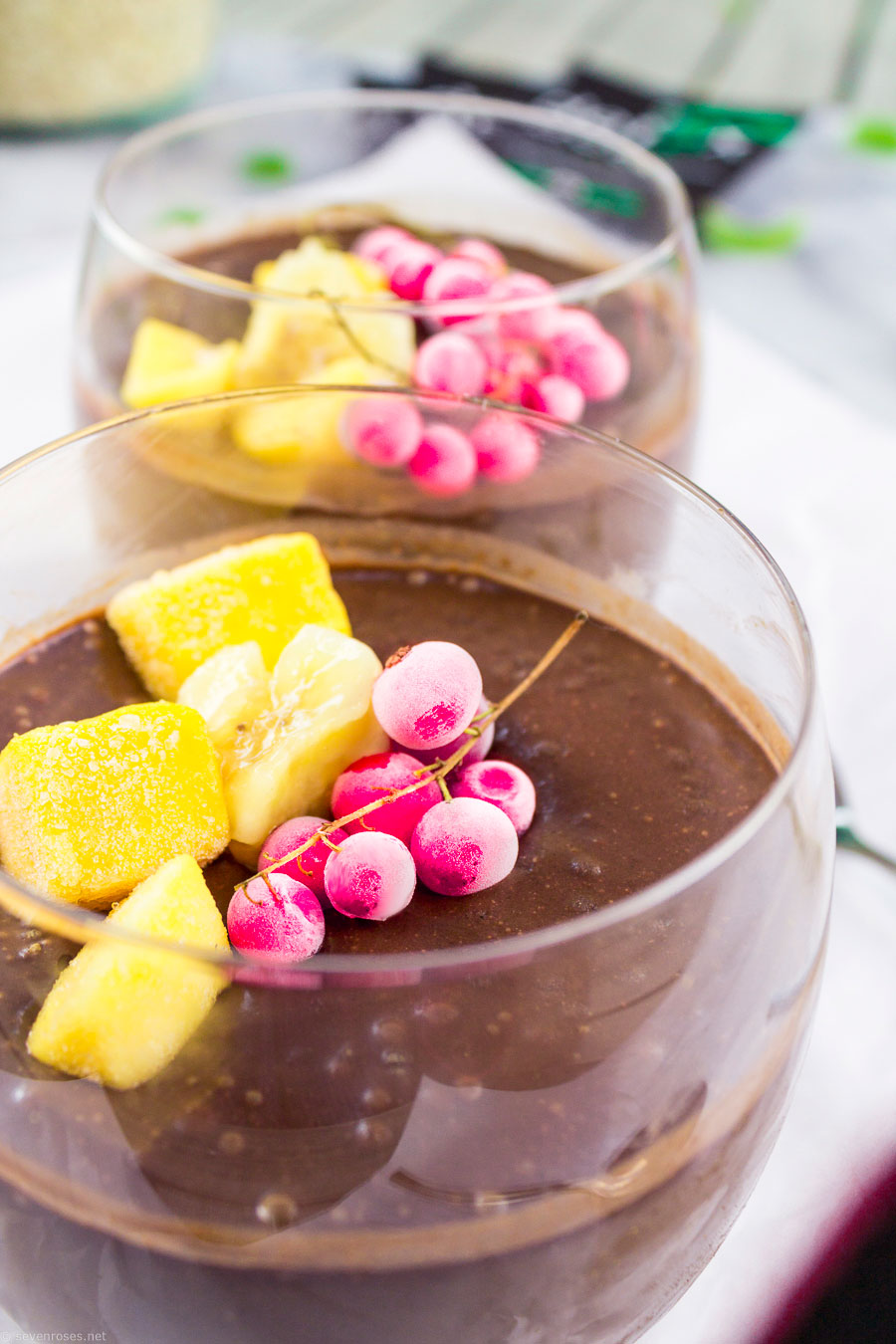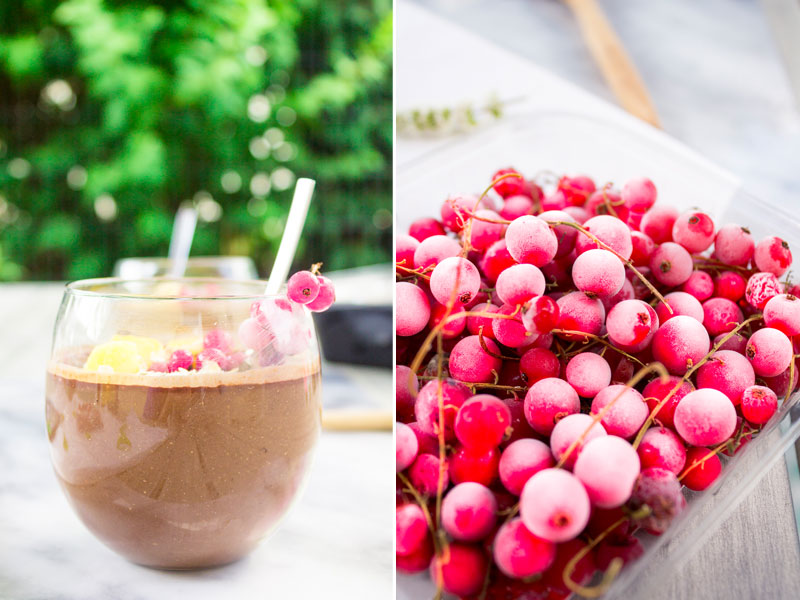 But now back to this pudding: chia puddings are quick to make, by just throwing together a plant-based milk, cacao powder and a few tablespoons of chia seeds. Let them rest in the fridge for at least 25 minutes, until it's compact. It's that easy, and highly nourishing, too.
Chia puddings are the easiest and healthiest dessert you can make at home, right now! But when you add a Superfood powder with antioxidants, chlorophyll and essential minerals, you'll be giving your body everything it needs for a good cleanse first thing in the morning (or last thing at night).
If you're looking for more superfood treats, try this CHOCOLATE ACAI BOWL over at YUM Vegan lunch ideas.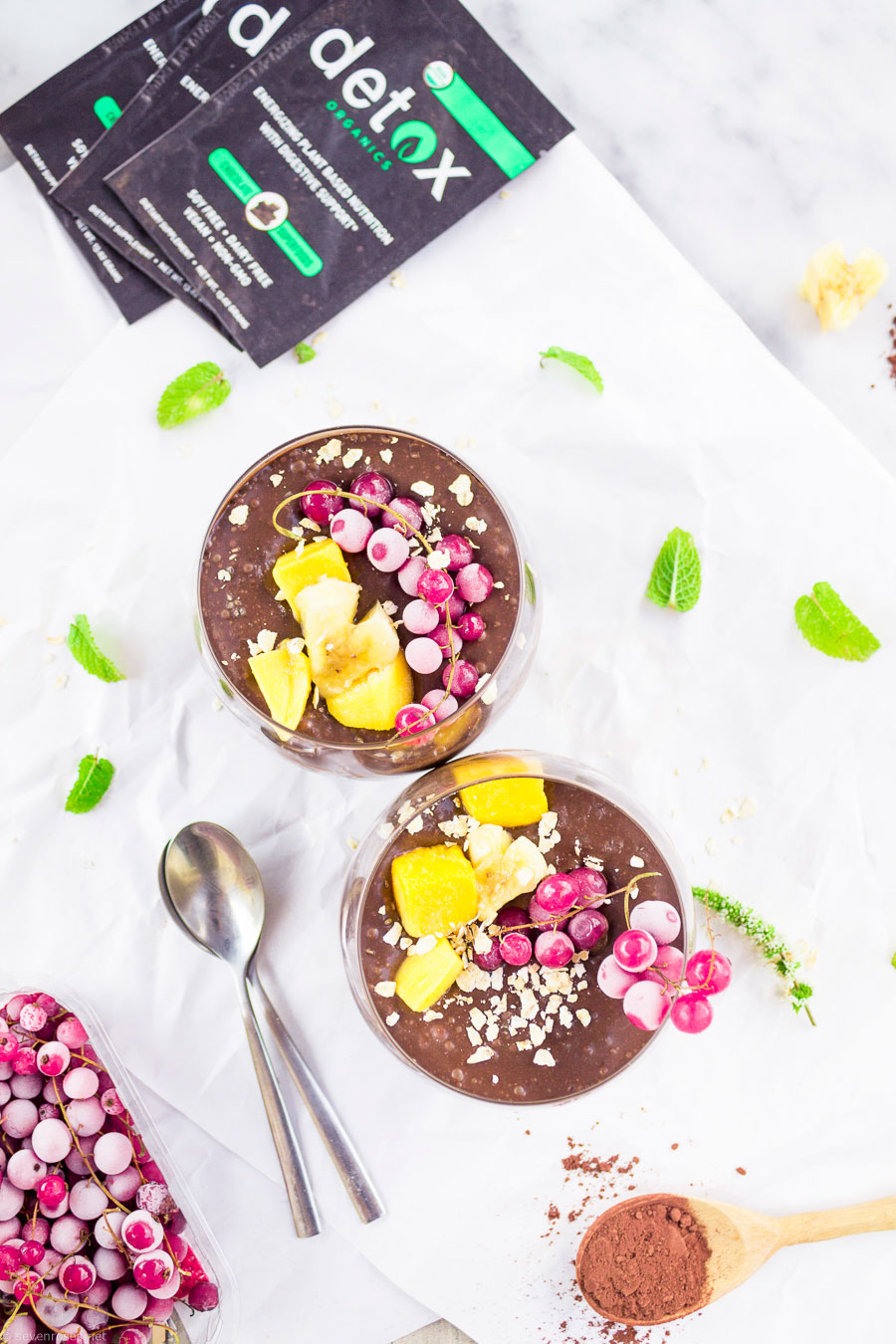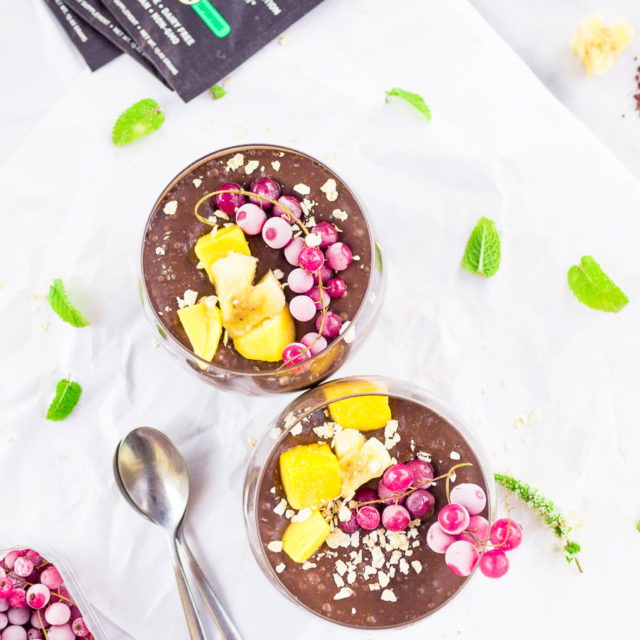 Superfood Chocolate-chia pudding
This satisfying and easy-to-make Superfood Chocolate-chia pudding is filled with proteins, fibers, antioxidants, chlorophyll and essential minerals - everything your body needs, and cacao, too.
Ingredients
2

cups

coconut milk

substitute with soy, hemp, oat or rice milk

2

portions

Detox Organics Daily Superfood

1

frozen bananas

ripe/spotty

1/2

cup

chia seeds

¼

tsp

vanilla extract

¼

tbsp

raw cacao

(optional, for added chocolate taste)
Instructions
Place all the ingredients except the chia seeds in a blender.

Blend until all of the ingredients are mixed well.

In your glass or mason jar, place the chia seeds and pour the mixture over the seeds. Mix well.

Place in the fridge and allow to set from a minimum of 25 minutes for a quick treat, to a couple of hours to help the chia seeds to absorb the coconut milk and increase the flavor.

Top with fresh fruits and enjoy! :3
Notes
Choose your yummy topping variations: berries of choice, cocoa curls, Vegan honey, nuts, pecans, banana slices, peaches, mango, toasted coconut, pineapple, oats, fresh mint leaves, etc.
Did you enjoy this post? Let me know if you will give it a try.
Also don't forget you can save 15% Off Your Order with code SEVENROSES at DetoxOrganics.com ;)
You can also find me on social media. Be sure to tag @francesca_sevenroses on Instagram or @sevenrosesblog on Twitter and Facebook, and use #sevenroses so I'm sure to see it. And don't forget to pin this recipe to spread the love ♥ I wish you a love-filled day!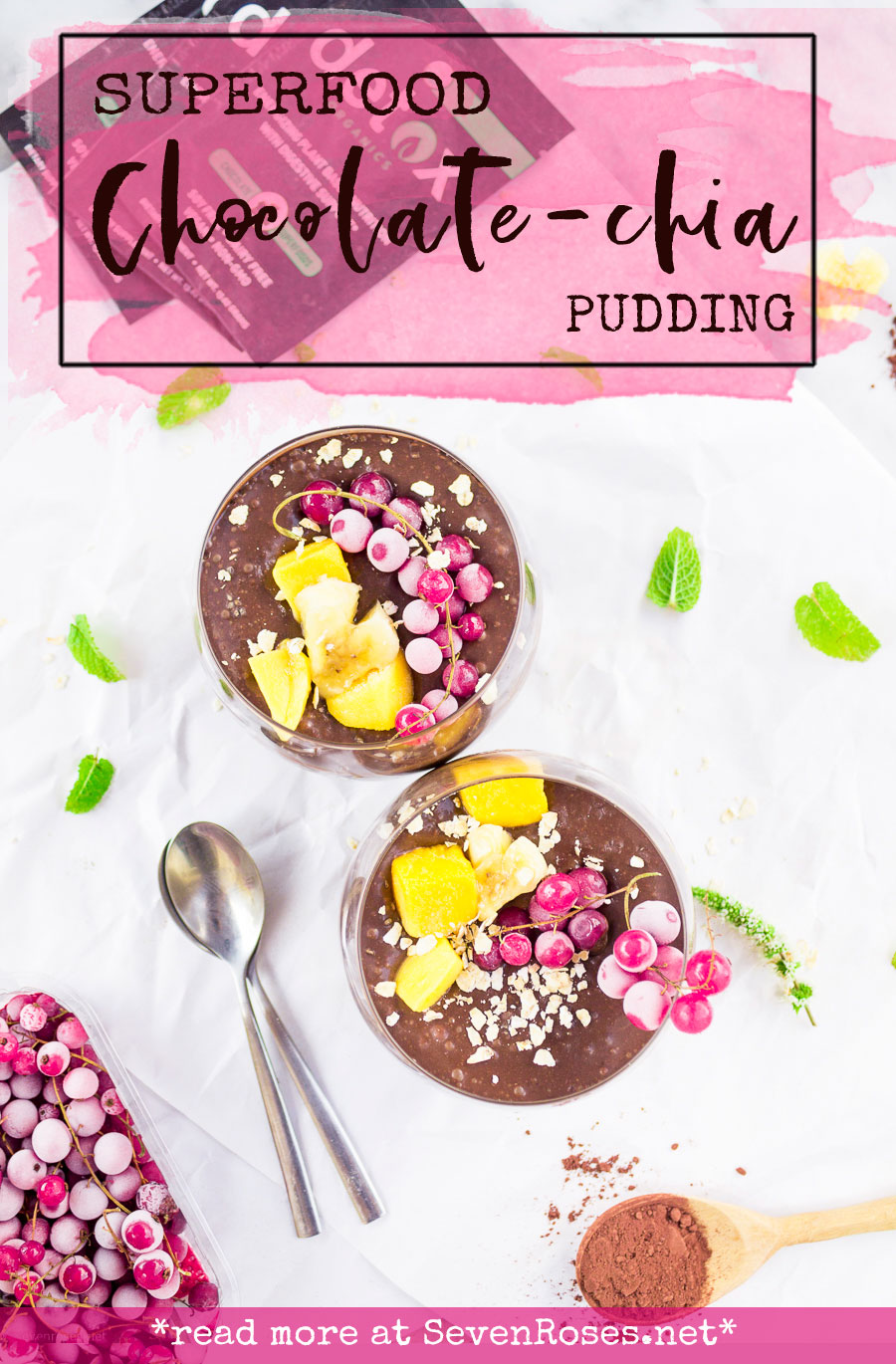 Disclaimer: I've been fortunate enough to receive some of the above mentioned products for free to try, but opinions and the choice to review are 100% my own. This post contains affiliate links.