A curated selection of my Cruelty-free & Vegan Christmas gift guide for your loved ones: all Vegan, cruelty-free for really meaningful gifts this year!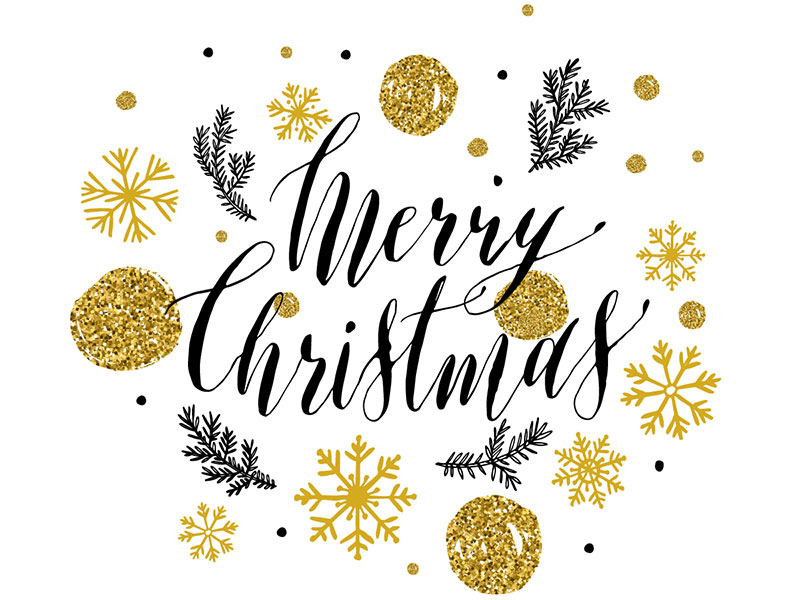 Hello my beautiful friends!
Are you one of those people that love Christmas or just cannot stand it?
I have a love-hate relationship with it, let me explain. I love that "Christmas is coming" feeling: baking Christmas cookies, decking the halls, creating a special candle-lit atmosphere, I love wrapping little gifts, I love the memories of simpler times when the whole family would gather around the Christmas tree at midnight to open carefully-wrapped presents – but I just can't stand the turn that the holidays took these past few years. You see people running around desperately in loud shopping malls, searching for expensive gifts for people they might not like much, who will in turn get gifts that do not satisfy them (because now people have real expectations about gifts, too)… Admit it: in most cases, gift giving has lost its meaning, it's something we have to do not something we want to do.
This is why I have put together a tiny selection of some of my most favorite products to give you some last minute gift ideas for Christmas presents for your loved ones. These are either products I've personally bought during this past year or items that I would love to receive, and they make great gifts for anyone on your list, Vegan or not. Best of all I've purposely kept all gift ideas to under $50 – with stocking fillers as low as $2.99 – because I don't think the bigger the price-tag, the better the gift. Oh no.
But before we begin, I want to share my best tip about gift giving for the holiday season: be intentional about what you shop for. You must know by now that you vote every single day with your money – where do you shop, what do you shop for? So instead of getting in the frenzy of the big shopping mall, I suggest you do your holiday shopping online in order to be able to put some actual thought in each and every purchase, big or small. Get the chance to learn about where the product was made, or its ingredient list. Does it give back by donating to a charity? Does it ship from very (too) far?
This will also leave you with extra-time for other, more deliciously heart-warming activities, like sipping a hot cocoa or reading under a blanket in the warmth your decorated home.
Or, if you prefer not to buy gifts at all, I'll soon be sharing DIY projects for gifts you can make rather than buy (stay tuned for some adorable handmade gifting ideas!).
I know by now you're wondering "Where are the gift ideas?! I need gift ideas!!" So here it comes, my Vegan Christmas gift guide under $50 (fa la la la, la la la)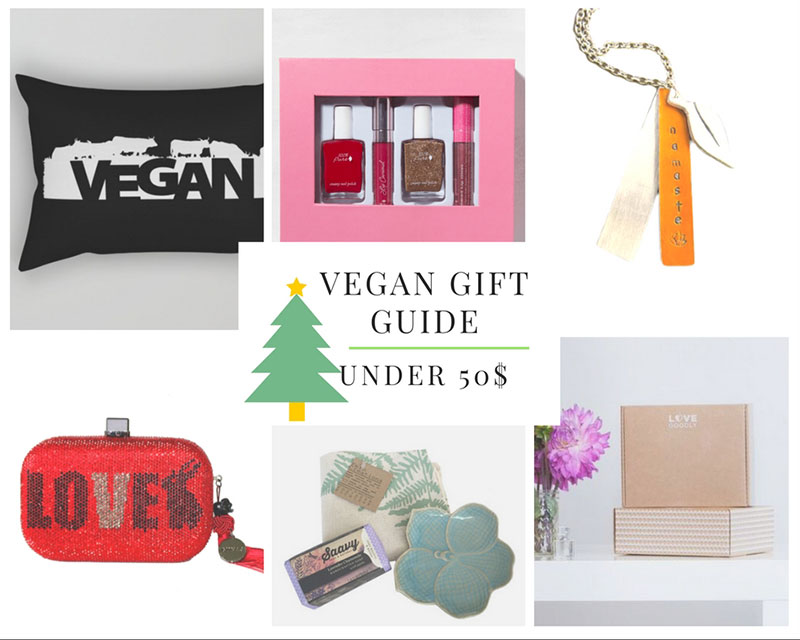 Vegan Christmas gift guide under $50
1. Vegan Herbivores pillow designed by my husband :-) the ultimate decorative accent to any room, available in small, medium, large and x-large. $27 | 2. Lips & Tips – My Favorite Gift by 100% Pure, an enchanting set 100% free of artificial colors, artificial fragrances, synthetic chemical preservatives and all other toxins. $49 |  3. Namaste with Lotus Leaf Necklace by jewelry designer and activist Christy Robinson – Using eco-friendly designs with recycled metals each piece makes a statement on human, animal, environmental issues. PURCHASING THIS ITEM SUPPORTS FARM SANCTUARY.  $30 |  4. Heavenly Gift Set  by NOVICA + LOVE GOODLY – includes an all-natural Lavender and Chamomile soap, an organic cotton handmade tea towel, and a Novica fair trade celadon soap plate by artist Duangkamol. PURCHASING THIS ITEM SUPPORTS curecervicalcancer.org.  $39.95|  6. Love Goodly eco-friendly, vegan, & natural subscription box : Eco-friendly, vegan, & natural products delivered every other month. $85+ Value For Only $29.95.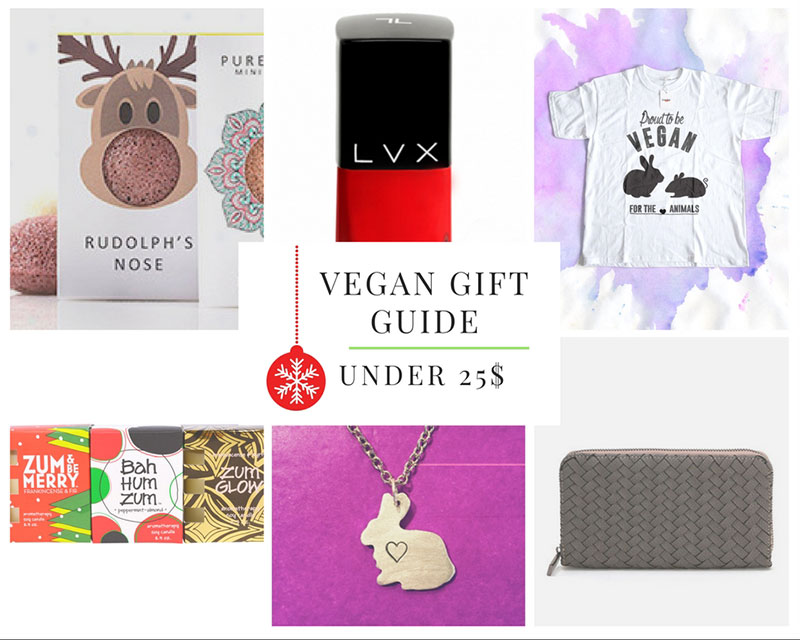 Vegan Christmas gift guide under 25$
1. Konjac Sponges Christmas Konjac Mini Rudolph Sponge
– this festive box contains a mini Konjac Sponge, infused with red clay to deep cleanse, revitalise and refine dehydrated, winter-ravaged skin types. $20 |  2. True LOVE Red Nail Lacquer by Lux. Free of Formaldehyde, Formaldehyde Resin, DBP, Toluene, Camphor, Xylene and Parabens. PURCHASING THIS ITEM SUPPORTS curecervicalcancer.org  $18.00 |  3. Proud to be Vegan t-shirt (available in multiple models) by yours truly, Seven Roses :-) – 10% goes to a Vegan Animal Charity your choice! $24.00  |  4. Indigo Wild, 3 Soy Votive Candle Gift Set – The triple depth of Frankincense & Myrrh, Zum & Be Merry, and Bah Hum Zum votive glass candles knows how to handle the holidays. Soy wax and lead-free wick.  $22.46 |  5. Mini Bunny with Heart necklace by jewelry designer & activitst Christy Robinson – Using eco-friendly designs with recycled metals each piece makes a statement on human, animal, environmental issues.  PURCHASING THIS ITEM SUPPORTS FARM SANCTUARY  $16.00 |  6. Vegan leather Lexington Wallet by Deux Lux. All of Deux Lux designs are animal-friendly, always using vegan materials.  $24.00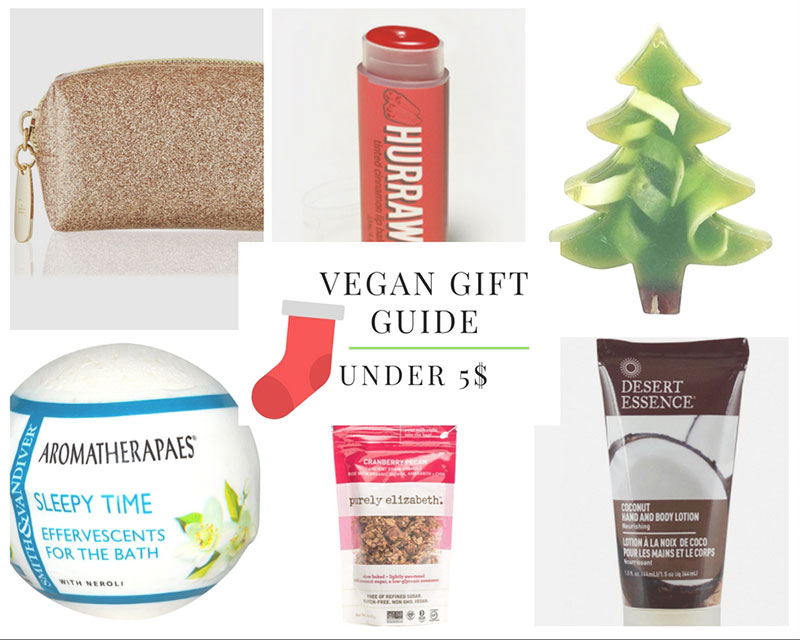 Vegan Christmas gift guide under 5$ (Stocking stuffers)
1. e.l.f. Lipstick Case
– a super cute little bag that can hold about 6 lipsticks. $3.00 |  2. Hurraw! Cinnamon Lip Balm A cinnamon balm that will leave your lips with a fabulous sheer red tint and tingle naturally. $3.79 |  3. Hugo Naturals, Artisan Soap, Bayberry Christmas Tree A super festive, 100% Natural Vegan, Soy Free, Cruelty Free, Gluten Free soap $4.31 |  4. Sleepy Time Effervescents For the Bath by Aromatherapaes, will give you millions of tiny bubbles releasing skin softening conditioners and Neroli essential oil to help you get a good night's sleep. $2.99 |  5. Ancient Grain Granola Mini Cranberry As a member of 1% Percent for The Planet, Purely Elizabeth donates 1% of sales to non-profit organizations striving to preserve the health of our planet and provide for future generations. $2.49 |  6. Coconut Hand and Body Lotion, Travel Size by Desert Essence. A 100% Vegan luscious lotion, rich in tropical extracts, that leaves skin feeling soft and sensuous. $2.99


If you're still looking for some gift ideas, what about…
Experiential gift ideas like
❥concert tickets
❥art museum passes
❥photography classes
❥crafts or cooking workshop
❥national park pass
❥music lessons
❥festival tickets
❥campsite reservations.
Even more ideas:
❥charity donation
❥subscription to an interesting magazine (digital or print)
❥personalized photo book…
So there you have it, my list of gifts you can buy for Christmas and the holiday season. Stay tuned for a post about gifts you can make, too!
And what about you, have you done your Christmas shopping yet? Or do you prefer to make your own gifts? Let me know in the comments. Also, if you've enjoyed this post I would love for you to pin it ♥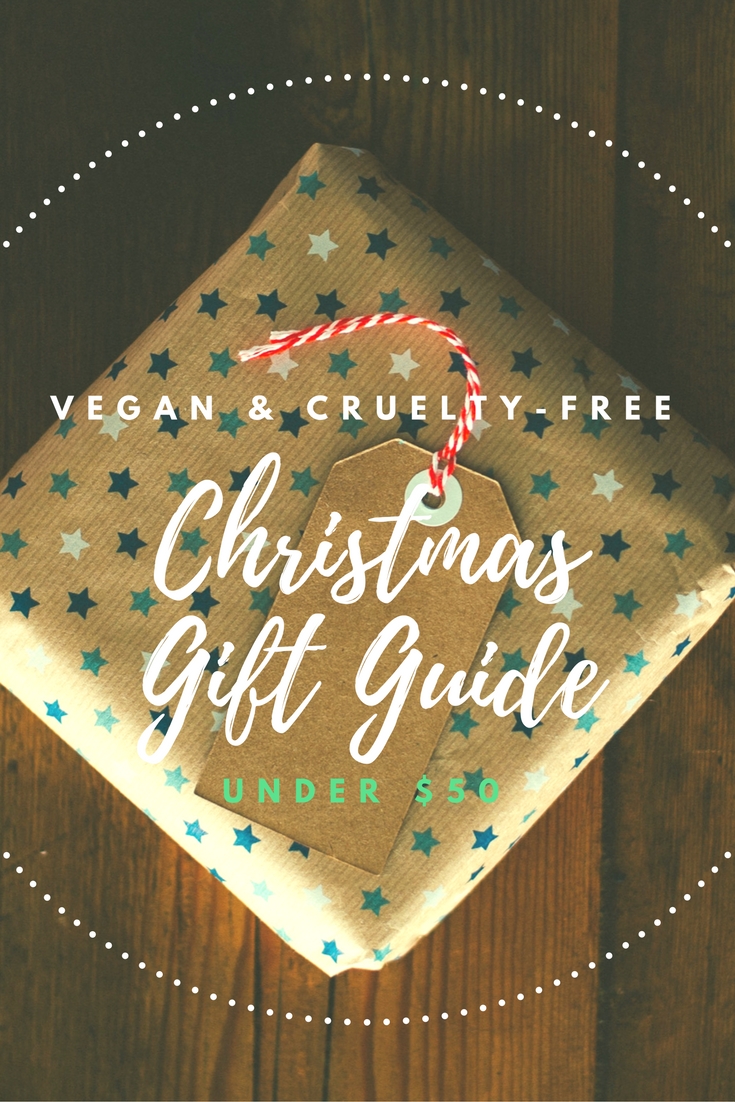 Disclosure: SevenRoses.net is a participant of several affiliate programs. If you click on any of those links, which are known as "affiliate links", and make a purchase within a certain time frame, SevenRoses.net will get a small commission. The commission is paid by the third parties, not by you! By purchasing an item through one of our links you are supporting our efforts here at SevenRoses which we are so grateful for. All opinions and ideas are my own. I am very selective about the brands I promote and endorse. I only promote items that I personally use, genuinely love and want you to know about too! Thank you!