A classic recipe gets a makeover for the holidays: these Almond & Hazelnut Snow Cookies are gluten-free, oil-free, egg-free, dairy-free but oh! so chocolatey & delicious, and perfect for the holidays!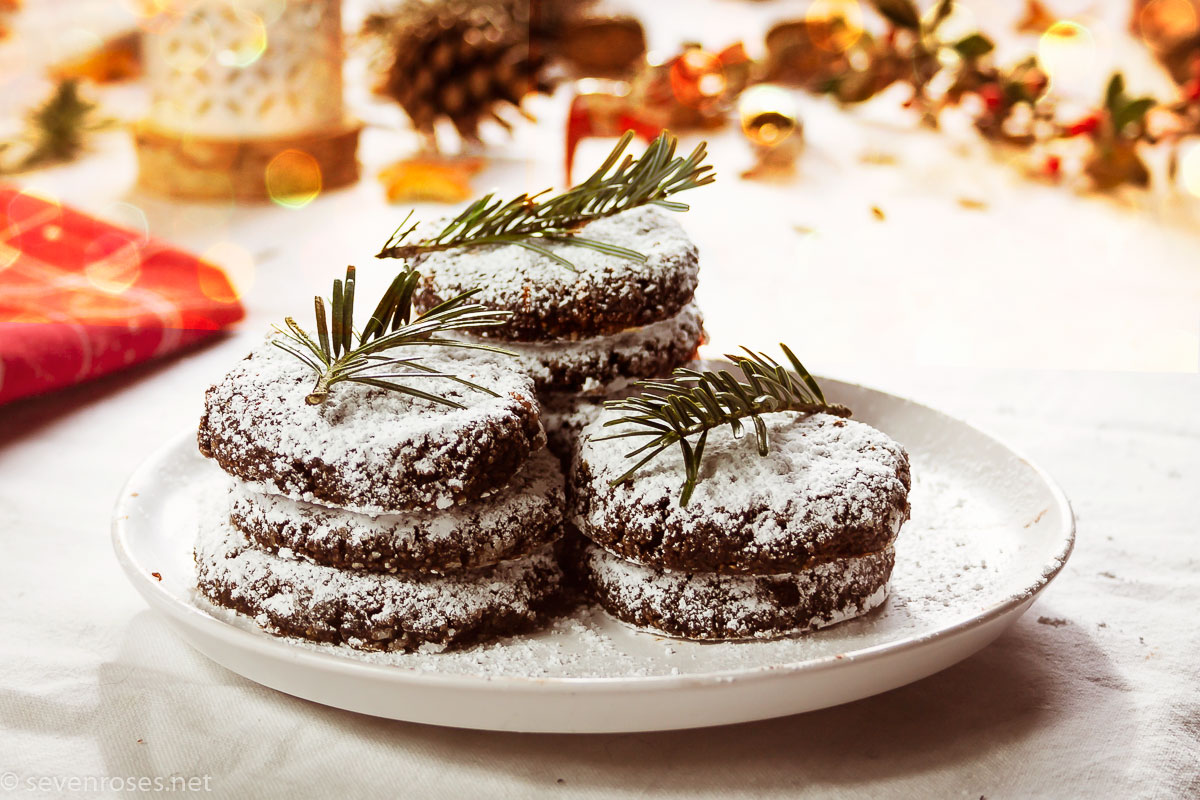 Hello my beautiful friends! Have you been preparing for the Holiday season yet? No decorations are up here, as I'm still hanging on to the last few weeks of Autumn, but the recipe testing has started, in order to bring you some new Christmas & Holiday favorites this year.
Let's start with these Almond & Hazelnut Snow cookies, shall we? These chewy, soft cookies have an an intense cocoa flavor and are gluten-free, oil-free, egg-free, dairy-free. Made with only a few ingredients, including almond and hazelnut flour & cacao powder, these are the perfect treat for a bleak Winter day that anyone can enjoy.
Who else around Christmas time, is all about the cookies? Well, in my case, it's not just at Christmas, I love cookies any time of year, it's probably my favorite treat.
And if you love chocolate, these decadent cookies are definitely for you. These chocolatey snow cookies, however, are really perfect for the holiday season. After all, they are covered in "snow"!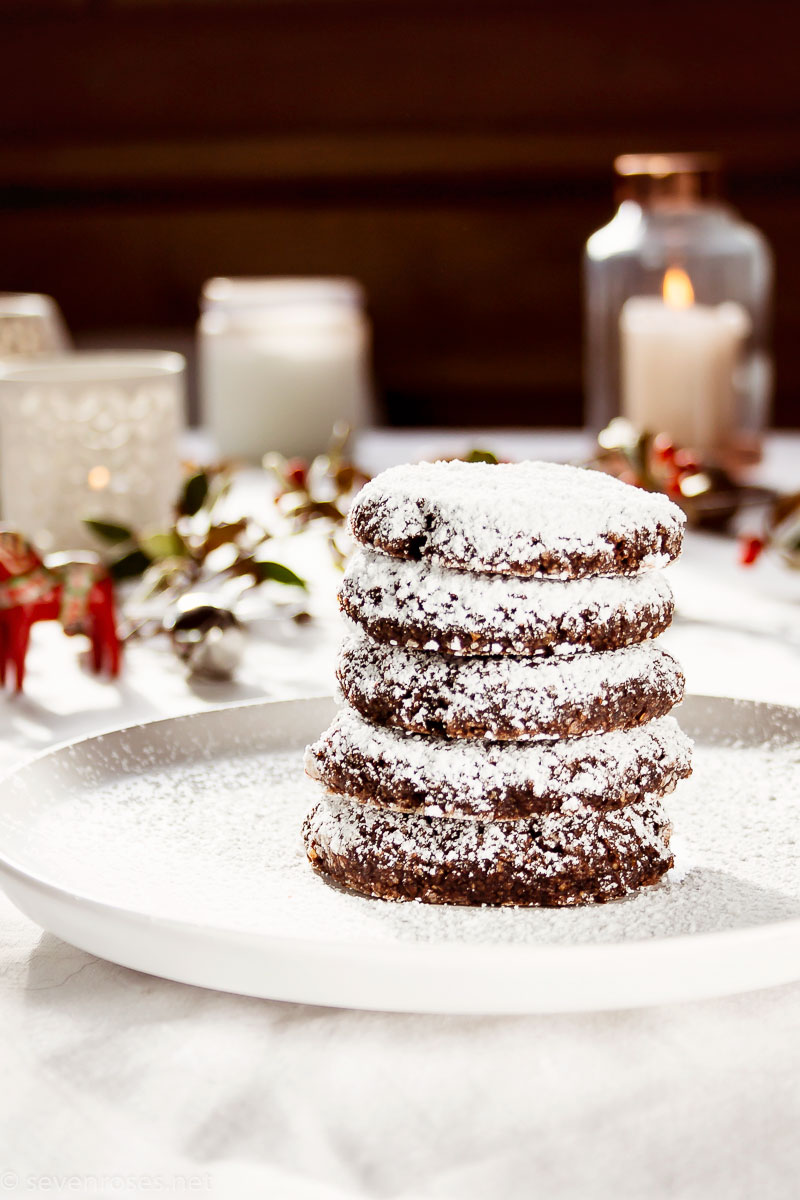 I'll be baking loads of cookies in the next few weeks: next week it'll be my Ultimate Vegan Chocolate-chip Cookies and later in December it will be the perfect time for some Last minute gift idea: rustic Christmas cookie decorations.
How about you? Do you enjoy baking when the weather gets cold?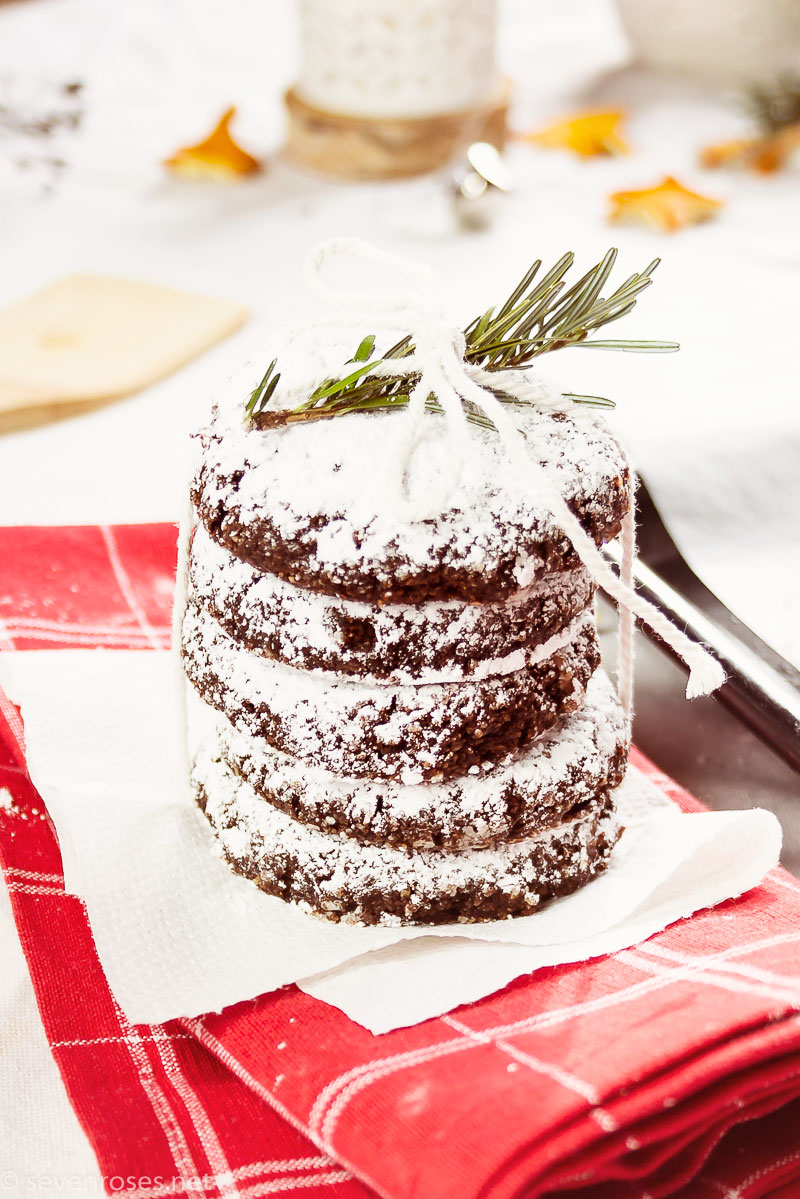 They are also so simple to make & easy to bake: no dough rolling or decorating is required, so that even little helpers' hands will have fun making them.
And if you're baking these to leave them out with a note for Santa & the reindeers ;-) don't forget to download my free printable "Santa's Vegan Cookies and Milk"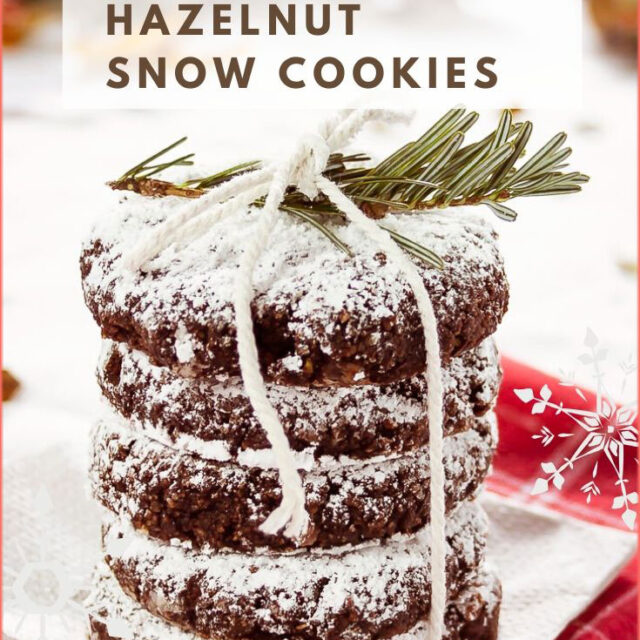 Almond & Hazelnut Snow Cookies
A classic recipe gets a makeover for the holidays: these Almond & Hazelnut Snow Cookies are gluten-free, oil-free, egg-free, dairy-free. So easy to make, delicious and perfect for the holidays!
Ingredients
Wet ingredients
100

grams

apple sauce

2

tbsp

Ground flaxseeds

6

tbsp

water

1

tsp

vanilla extract
Dry ingredients
100

grams

almond flour

100

grams

hazelnut flour

25

grams

cocoa powder

unsweetened

1

tsp

baking powder

1

pinch

salt

6

tbsp

powdered sugar

see notes
Instructions
Preheat the oven at 170°C/340°F. In the meantime, in a small bowl, mix the ground flaxseed with the water and let it rest for 10 minutes, until a thick and gelatinous mixture has formed (this will act as a binding agent in lieu of eggs).

In a big bowl mix the almond flour, hazelnut flour, baking powder, the pinch of salt and sift the cocoa with a sieve.

When the "flaxseed egg" is ready (i.e. it has a gelatinous texture) add it to the dry ingredients and mix well. Add the apple compote and vanilla extract as well, and mix again until you get a smooth dough that can be easily worked with your hands.

Take a portion of dough the size of a big walnut and roll it it into a ball. Place powdered sugar in a bowl and gently roll in each dough ball until well coated. If the dough is a bit sticky, you might want to wet your hands between rolling every other cookie.

Arrange the cookies well spaced from each other, flattening them to get a round shape; cook them at 170°C for 15 minutes and let them cool completely before serving, at least 15 minutes. They will remain soft and chewy. Sift some more powdered sugar on top for extra "snowiness", or leave as is for a "crinkly" effect. So perfect with a tall glass of soy milk, or a big cup of coffee ♥
Notes
To make this recipe not only gluten-free, oil-free, egg-free and dairy-free but also sugar-free, you can substitute the powdered sugar with dessicated coconut powder/flour.
For different variations, next time try adding 1 tsp of cinnamon, ginger or coffee powder!
You can keep these cookies for up to a week in an airtight container but chances are, they won't stay around that long :D

I really hope you enjoyed this recipe, and if you try it don't hesitate to let me know and/or tag me on social media.
What are you planning for this coming Holiday season? Family meal, a trip…? Let me know in the comments below.
Also don't forget to pin this post to share the love! ♥
I wish you a love-filled day xoxo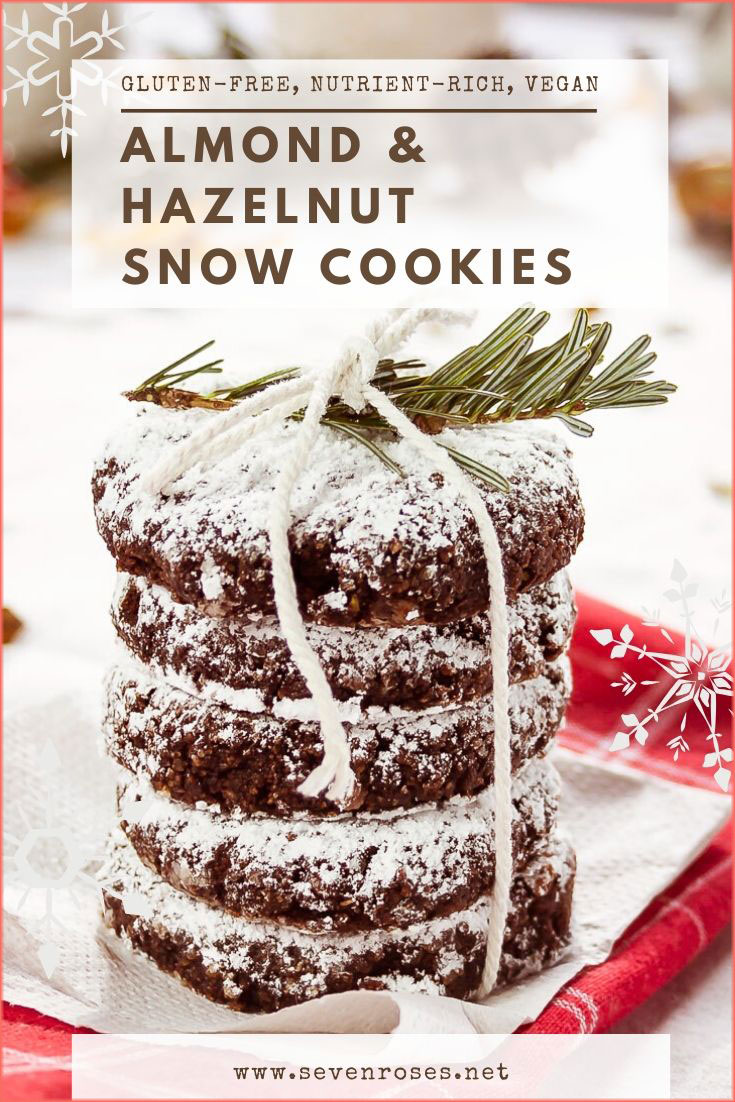 Styling:
❥ Opaque dishes (perfect for food photography!) Harper & Goods – Unbreakable Bamboo Fiber Dish Set
❥ Traditional Swedish horse figurine: it was a gift from my sister Monica ♥ but you can find a similar one here Reoean Hand Painted Swedish Wooden Dala Horse Figurine