Disclosure: this post may contain affiliate links, which means we may receive a commission if you click a link and purchase something that we have loved & recommended. While clicking these links won't cost you any extra money, they will help us keep this site up and running! Please check out our disclosure policy for more details. Thank you for your support!
Learn the easy tips and ingredients to look for to transform your dull Winter skin into Springtime glowing, radiant skin with my new 4-step simple Vegan skincare routine.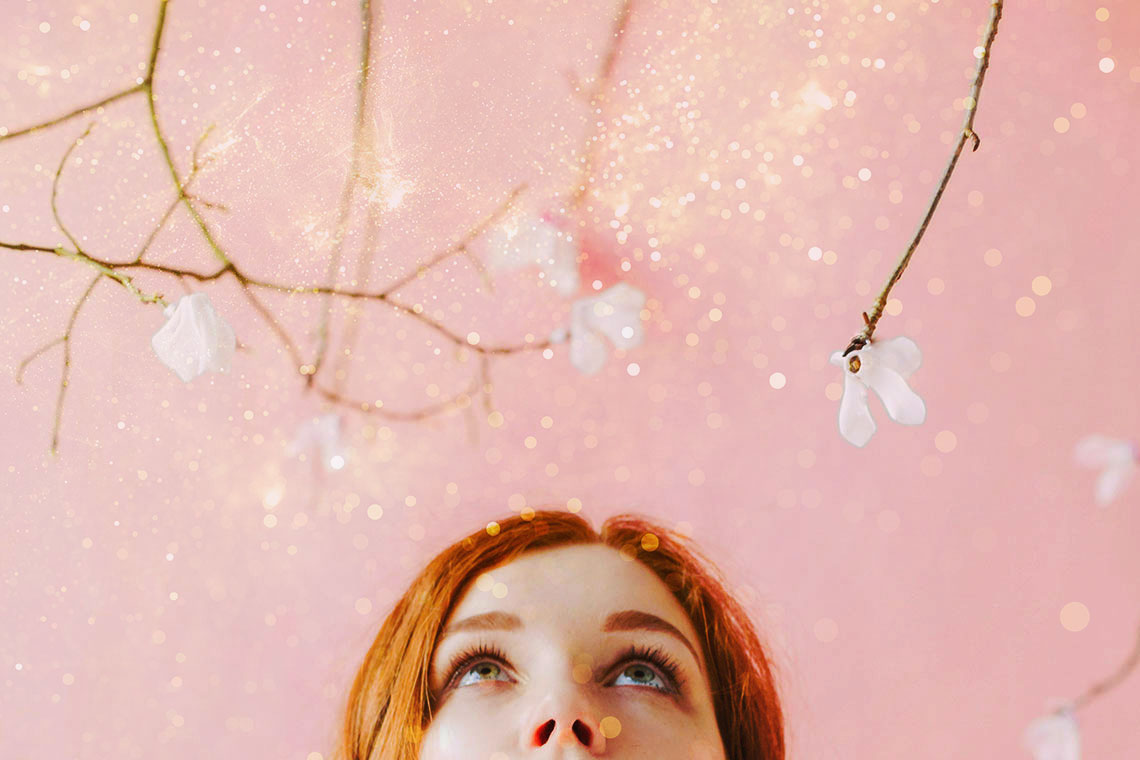 Hello my beautiful friends! ♥ Welcome back to Seven Roses.
Today I'm sharing with you a much requested topic: my current simple Vegan skincare routine. Yes all the signs are there, we're definitely getting close to Spring, but we're still having days in the very low temperatures (it could snow any other day) and we've had a lot of rainy, windy weeks punctuated by sunny, warm days. In other words: the weather is all over the place and so is my skin ;-)
No matter what the season is, I like to have a simple, Vegan skincare routine that includes just a few steps, to have more time for all the fun stuff in life.  My skin needs change with the seasons, just like for many of you. That's why it's important to accommodate your skin's needs during such times. And if you follow me on Instagram you already know by now that for the past 2 months I've been testing, using and loving a pure, natural and completely chemical free brand: Z Natural Life. But I wanted to wait and really test out all the products before writing a post about it, to make sure that it was not just a coincidence/phase that I was having the best skin of my life :) because indeed, it's been years since I've had such a success with a skincare line.
Visualizza questo post su Instagram
For reference: I have dry, fragile, dehydrated skin with a bit of redness around my nose, that can get irritated with the sun, wind and cold and general uneven skin tone. Oh yeah, and let's not forget the hormonal spots around that time of the month :S
My ideal skincare routine includes between 2 and 4 products, and then from time to time I'll throw in an extra one for a special treatment to pamper myself a little bit more. So I'll just go ahead and share with you guys my simple, Vegan skincare routine to keep my skin in its best, healthiest state since as long as I can remember.
⤖⤖ read also: Minimalist Summer Haircare routine – Vegan & Cruelty-free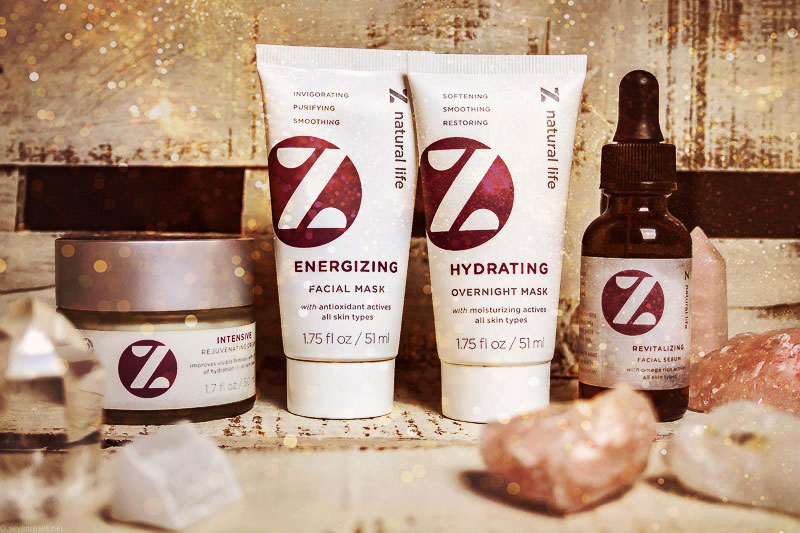 Before I go in the details about which products I'm using, I want to share with you the process I go through when I choose products for my skin. The main thing I look for is, of course, a Vegan, plant-based, cruelty-free brand. No Animals need to suffer for my skincare products.
Then I check out the ingredients: I want a short ingredient list and full of good things (no fillers, artificial or chemical ingredients) and ingredients you can actually read/understand. Bonus points for Latin names: it means they are plant extracts!
Then finally, I try the product and see for myself if it does what it's supposed to do, without making me break out, or giving me dry, irritated skin.
If you're on board with me, keep on reading to find more about my simple Vegan skincare routine from Winter to Spring.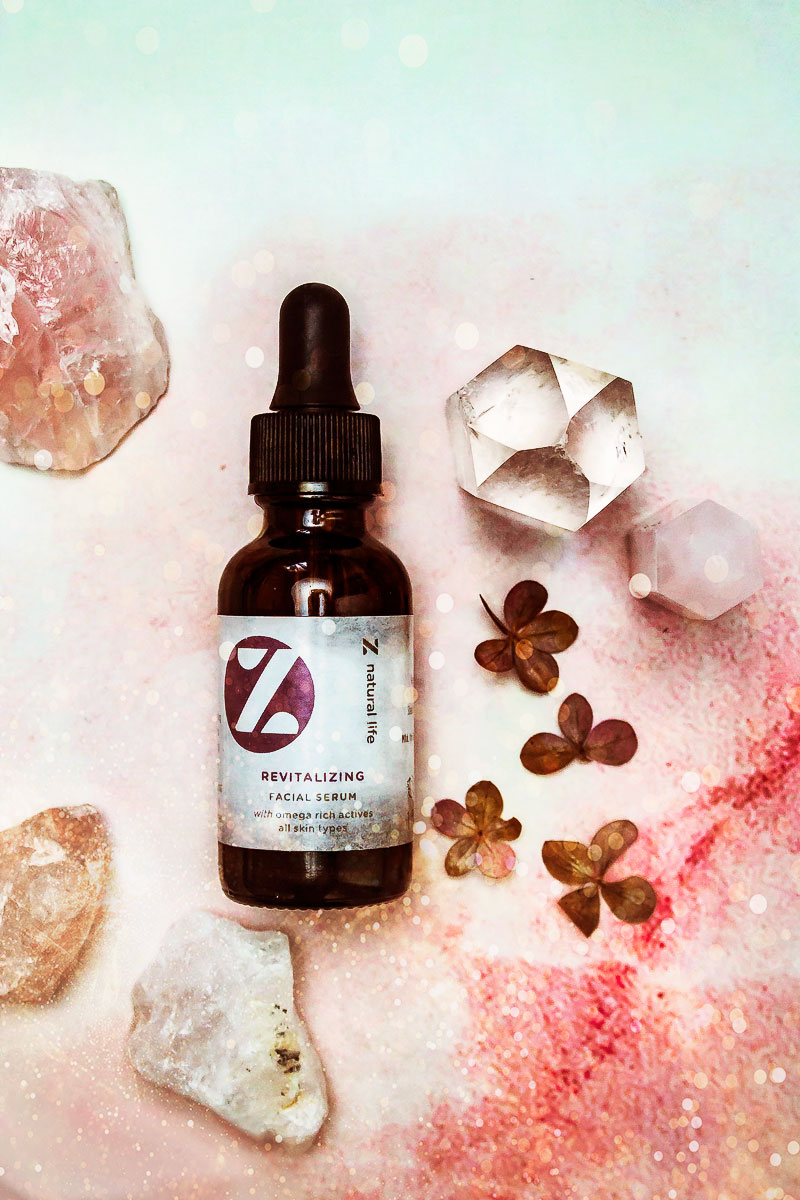 Simple Vegan skincare routine: Face Oil
If you've been here before, you know I'm a huge fan of oils for both my body and my face. Right now I'm using the *amazing* Revitalizing Facial Serum by Z Natural Life. The word "serum" might make you think of a watery product, but this serum is so rich and hydrating, I actually love to use it by itself and it gives me the hydration I need for the whole day.
This oily serum's key ingredients are:
• ORGANIC JOJOBA OIL – promotes healthy, clear skin – hydrates, moisturizes and reduces the signs of aging.
• ORGANIC HEMP SEED – tones, softens and moisturizes the skin.
• OLIVE SQUALANE – leaves the skin feeling silky, soft and smooth.
• ORGANIC ARGAN OIL – naturally moisturizes and smooths fine lines to preserve skins youthful radiance.
• ORGANIC ROSEHIP OIL – moisturizes, hydrates, protects and evens out your skin tone.
• ORGANIC AVOCADO OIL – reduces the appearance of aging – heals, nourishes, hydrates and moisturizes the skin.
You can use it alone, as a first step to your skincare routine, you can mix it into your daily moisturizer or even add 1 drop into your foundation. Either way, you'll love how this facial serum immediately makes your skin feel plumped and glowy.
You can get it directly on Amazon: Z Natural Life Revitalizing Facial Serum, a Hydration Boost, Skin Care for Women/Men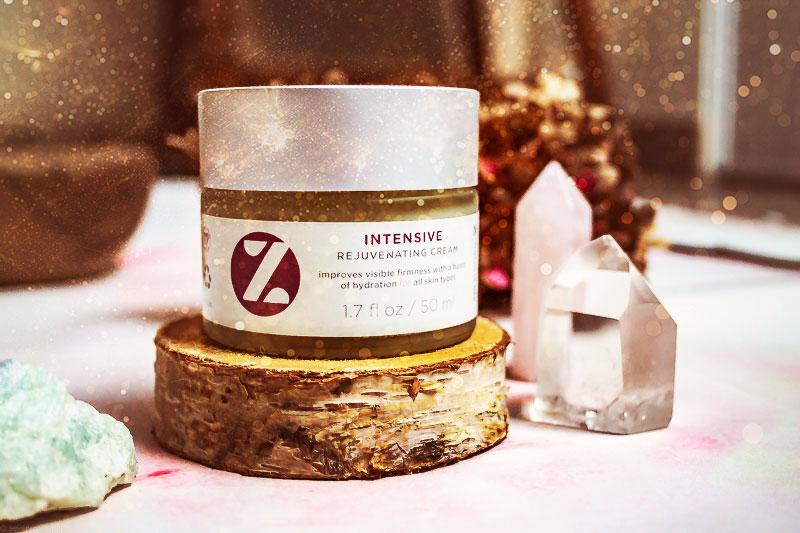 Simple Vegan skincare routine: Moisturize is the word
After the serum, next step is to moisturize and nourish my skin, so I use a cream. For this step I love the Intensive Rejuvenating Cream which feels like total pampering for your skin.
The star ingredients of this rich-yet-perfect for all skin types cream are:
• POLYLIFT® (SWEET ALMOND SEED EXTRACT) – this firming active ingredient reinforces the natural lifting effect of sweet almond proteins, providing a smooth firmness while decreasing the visual appearance of wrinkles and fine lines.
• INSTENSYL® (CASSAVA EXTRACT) – this botanical glucan biopolymer produces an immediate lifting and smoothing effect.
• ARGIRELINE® (ACETYL HEXAPEPTIDE-8) – this peptide compound rebuilds, strengthens and improves the appearance of fine lines and wrinkles for total facial rejuvenation.
• ORGANIC ROSEHIP OIL – moisturizes, hydrates, protects and evens out your skin tone.
• EVENING PRIMROSE OIL – hydrates, moisturizes, nourishes, soothes and heals the skin.
• ORGANIC SEA BERRY (SEA BUCKTHORN) FRUIT OIL – this powerful botanical is known for its healing, nourishing, hydrating and anti-inflammatory effects on the skin. Provides reparative benefits against the visual signs of premature aging. Abundant in Omega 7.
• SODIUM HYALURONATE – most effective hydrating ingredient, moisturizes and creates fullness.
This is an antioxidant powerhouse and it will soothe, moisturize and rejuvenate your skin. In the past I didn't want to use creams on my face because I was afraid that they would make me break out or make it oily (and they did) but this cream does not make me oily nor it makes me break out. The consistency is so light and fresh, I put it all over my face: it makes my skin feel super soft, healed, nourished all day long.
Get it on on Amazon: Z Natural Life Intensive Rejuvenating Facial Cream, Smooth Skin Revitalizer, Skin Care for Women/Men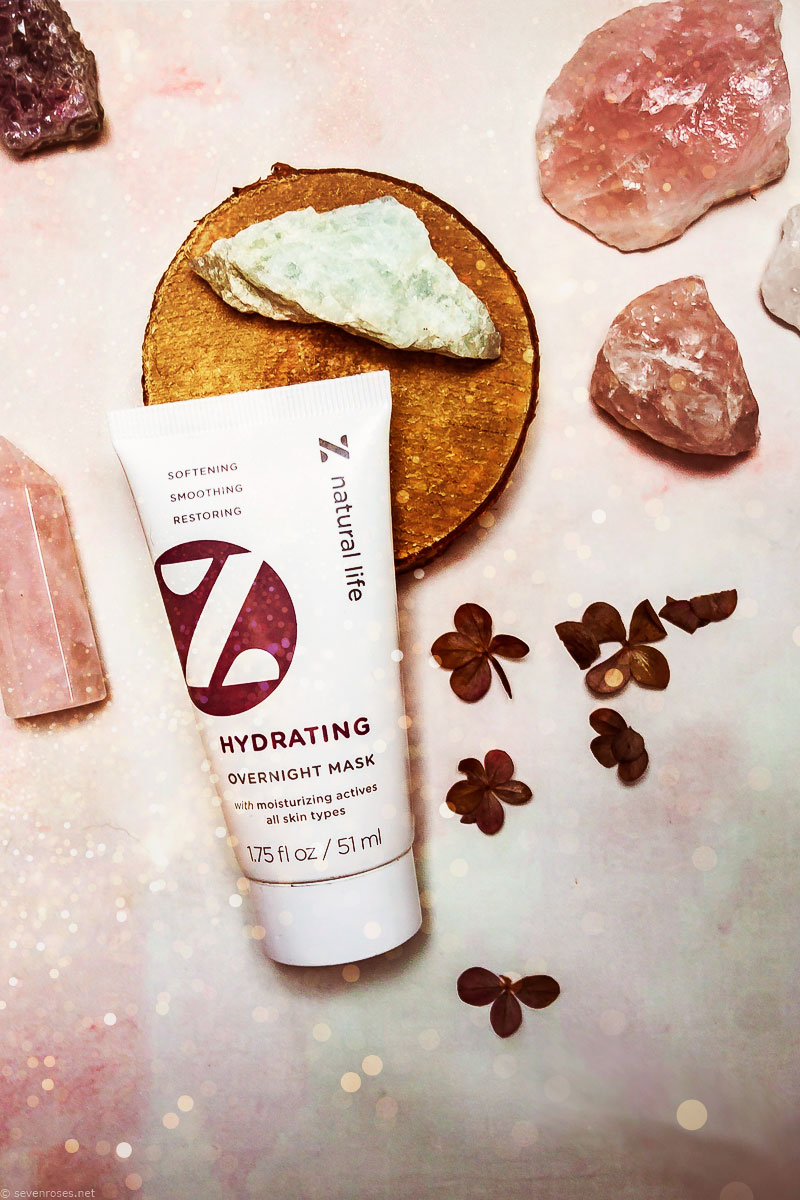 Simple Vegan skincare routine: Hydrating Overnight Mask
I tend to do a face mask once/twice a week all through the year, depending on the time that I have and how my skin feels. I know that sheet masks have been all the rage, but overnight masks are the best when it comes to deeply moisturizing and replenishing your skin.
For so long I steered away from overnight masks, not wanting to mess up my pillow case during the night. But let me tell you this Hydrating Overnight Mask by Z Natural life has changed my opinion about overnight masks. Not only it doesn't mess up your pillow case leaving no trace whatsoever (because the ingredients are so pure that they get absorbed into your skin pretty quickly), but it also guarantees waking up to glowing, radiant skin, each and every time.
I've survived the winter months thanks to this. I've applied it religiously every night after winter sports/winter fun days, hiking, etc. fearing to wake-up to red, dry skin and it has never happened.
Now that the days are getting warmer, I use this mask as a special treat, usually the Sunday night to end the week in the most soothing way, and also make sure that on Monday I can wake up with good, no, great skin.
The star ingredients are:
• OLIVE SQUALANE – leaves the skin feeling silky, soft and smooth – 100% Vegan and cruelty-free  ….did you know that "Squalene (with an E) was traditionally sourced from the livers of sharks, with approximately 3000 required to produce one ton of squalane"?! :-(
• ORGANIC AVOCADO OIL – reduces the appearance of aging – heals, nourishes, hydrates and moisturizes the skin.
• SODIUM HYALURONATE – One of the most effective hydrating ingredients – moisturizes, maintains moisture and creates fullness.
• ECOGEL® – Enhances absorption and bioavailability of active ingredients to get better and faster results.
Get it directly on Amazon if you prefer: Z Natural Life Hydrating Overnight Facial Mask, Hydrate While You Sleep, Skin Care Treatment for Hydration and Nutrition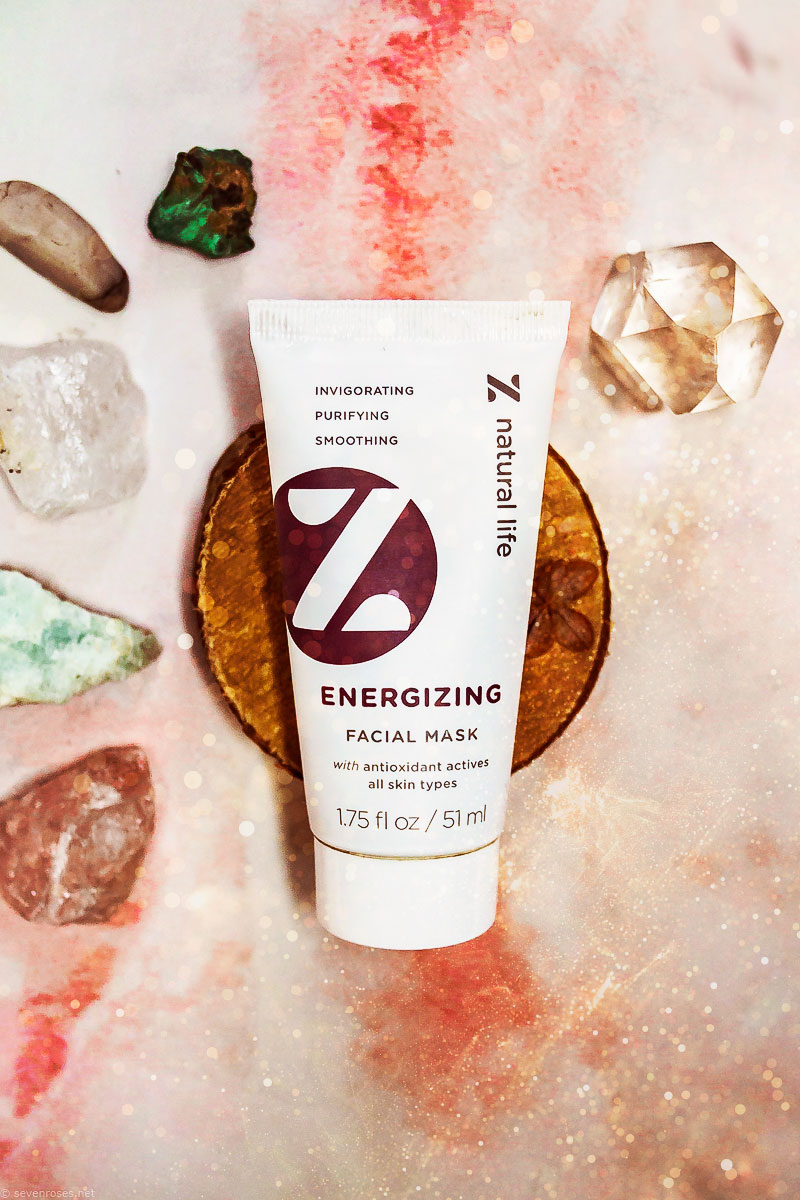 Simple Vegan skincare routine: extra pampering "facial in a tube"
Once every 2 or 3 weeks, when I feel I need some extra pampering, especially when it's around that time of the month, this Energizing Facial Mask is amazing at cleansing your pores and leaves your skin smooth, bright and refreshed. Put it all over your face and neck avoiding the eye area, sit back and relax for anywhere between 5 up to 20 minutes, depending on how much time you have. If you can, apply this mask before getting into the bathtub and let it soak in your skin for a truly facial experience. In this case, they advise to add a few drops of the facial serum just before applying, for more moisturizing benefits.
I also use it and love it as a "that time of the month" spot treatment for blemishes :)
The key ingredients in this mask are:
• PELAVIE BLACK SILT® – detoxes and purifies enhances cell renewal, improves capillary circulation, delivers nutrients.
• KAOLIN and BENTONITE CLAY – removes dead skin cells, purifies and detoxes the skin and revives dullness.
• SHEA BUTTER ETHYL ESTERS – leaves the skin feeling and looking softer.
• VITAMIN C – brightens the appearance of the skin, protects against sun damage, stimulates collagen production.
• GREEN TEA EXTRACT – improves the appearance of sun damaged skin, improves natural tone and glow.
• LICORICE EXTRACT – helps control oil production, calms, heals and soothes the skin.
You can get it on Amazon: Z Natural Life Energizing Facial Mask, a Facial in a Tube, Gentle Rejuvenating/Cleansing Skin Care Treatment
I also love the size of all these products because they are big but still travel-friendly. I can take them with me in my carry-on and make sure I follow my skincare routine wherever I go. Yay!

I hope you all enjoyed my new & improved simple Vegan skincare routine to bring your face from WInter dull to Springtime glowing, radiant bliss in 4 easy steps.
I really love these products and would love for you to try them! I can't wait for you to start nourishing your skin and taking advantage of these pure, plant-based products. Let me know what are some of your Spring skincare essentials in the comments' section below.
And don't forget to pin this post to spread the love ♥
I wish you a love-filled day xoxo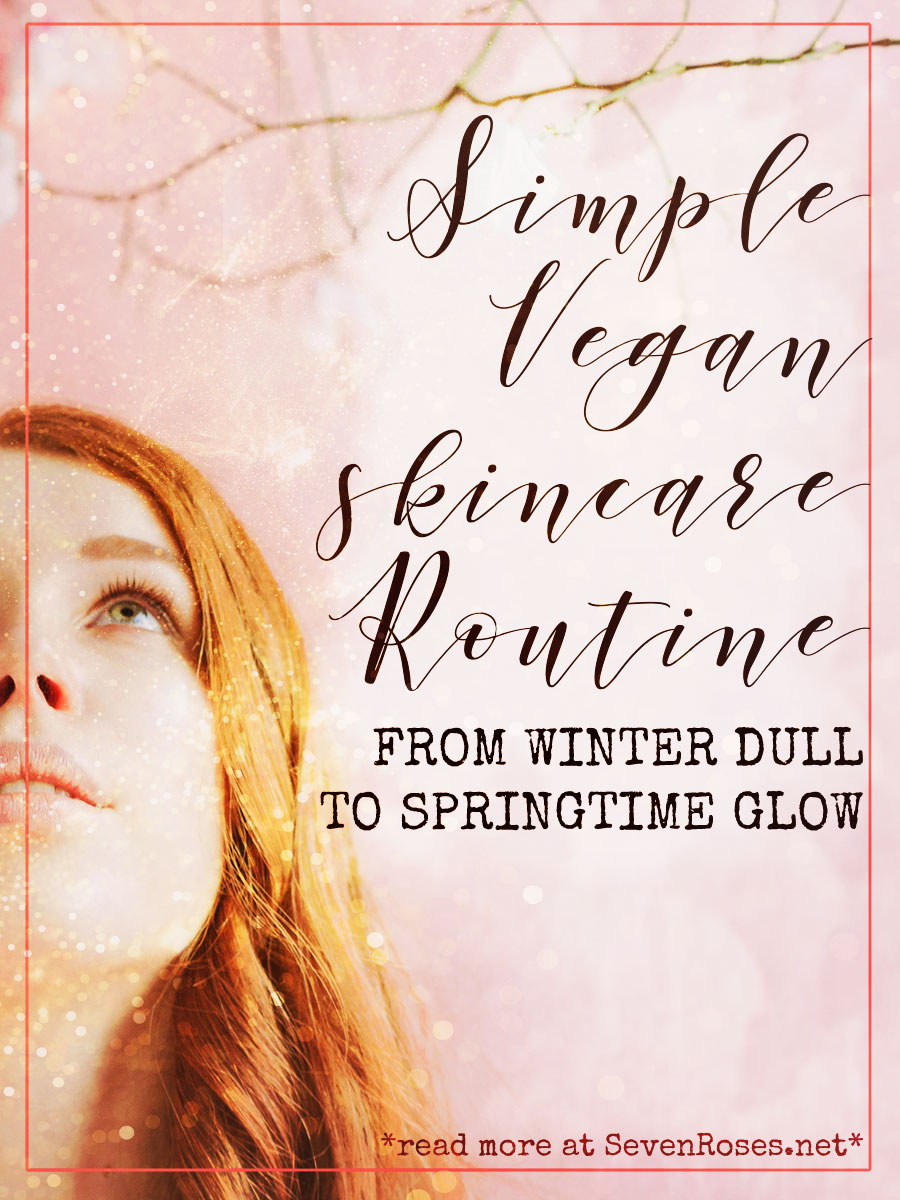 Disclaimer: I've been fortunate enough to receive some of the above mentioned products for free to try, but opinions and the choice to review are 100% my own. This post contains affiliate links.