Disclosure: this post may contain affiliate links, which means we may receive a commission if you click a link and purchase something that we have loved & recommended. While clicking these links won't cost you any extra money, they will help us keep this site up and running! Please check out our disclosure policy for more details. Thank you for your support!
Sustainable and ethical fashion brands are on the rise. These environmentally and ethically conscious fashion brands are SO affordable, you really have no excuse ;-) just in time for your "back to school" or "back to work" shopping.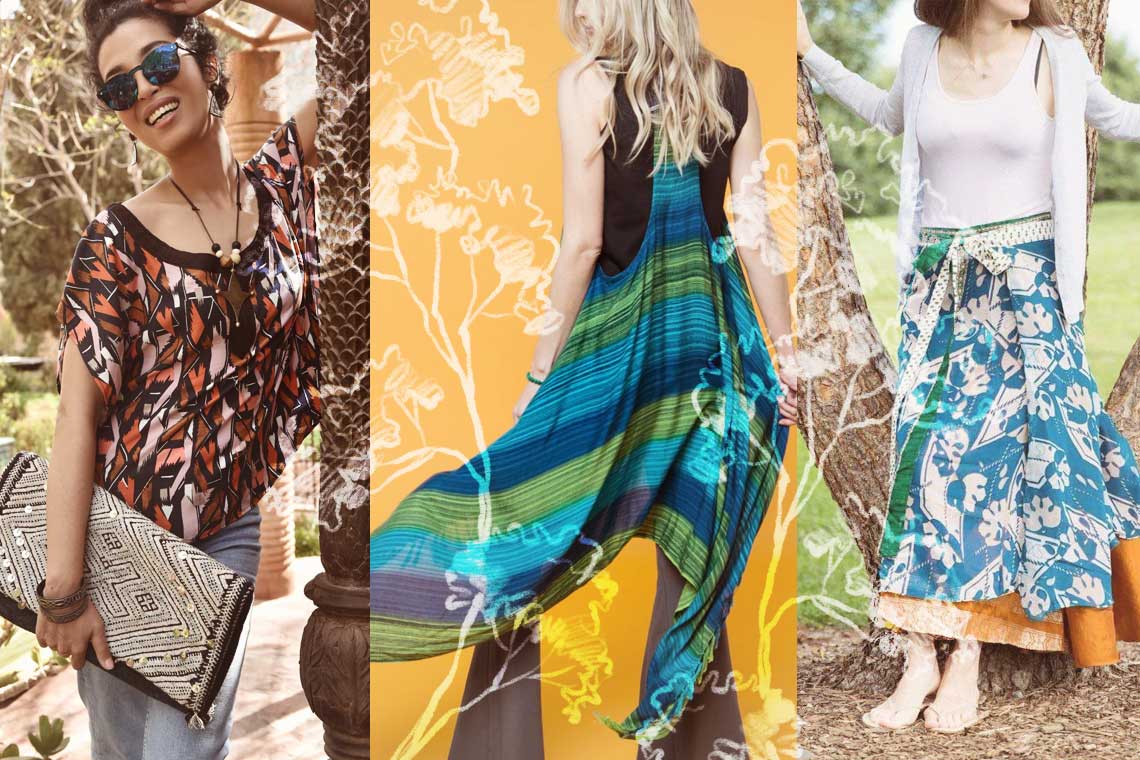 Hello my beautiful friends!
Let's start with some good news: there's more and more ethical fashion brands that are combining the rising need/desire to support sustainable brands and the fact that most people don't have thousands of dollars/euros to spend on clothing.
[tweetshare tweet="Looking for environmentally and ethically conscious fashion brands, that are also affordable? Look no further ♥" username="sevenrosesblog"]
I've selected the top 3 new affordable ethical fashion brands on a budget that you'll want to buy, from now on. Why? Not only their prices are comparable to those of your favorite fast fashion big stores, but these are truly environmentally and ethically conscious brands, that care for the planet, the workers and the material they use.
Remember you can make a difference with what you wear!
Affordable ethical fashion brands: Mushmina
If you follow me on Instagram (and you totally should! :-) ) you know the amazing Mushmina already. I've been living in their kimonos all spring and summer long (proof is here).  Mushmina, Mindful Fashion is a slow, ethical fashion brand born out of a love for unique, custom-designed clothing and accessories, preserving traditional methods of skilled artisans, and a passion for world travel. Created for customers who want to look good and do good, they are committed to the economic empowerment of women and employment of artisans in Morocco.
An embodiment of ethical clothing and timeless style, Mushmina means 'little sister.' Their mission is to create a sisterhood of women around the world who together are designing change and bring a more positive, sustainable future filled with vibrant ethical fashion and accessories right to your door. Enjoy free shipping until 9/30 with the code FREESHIP.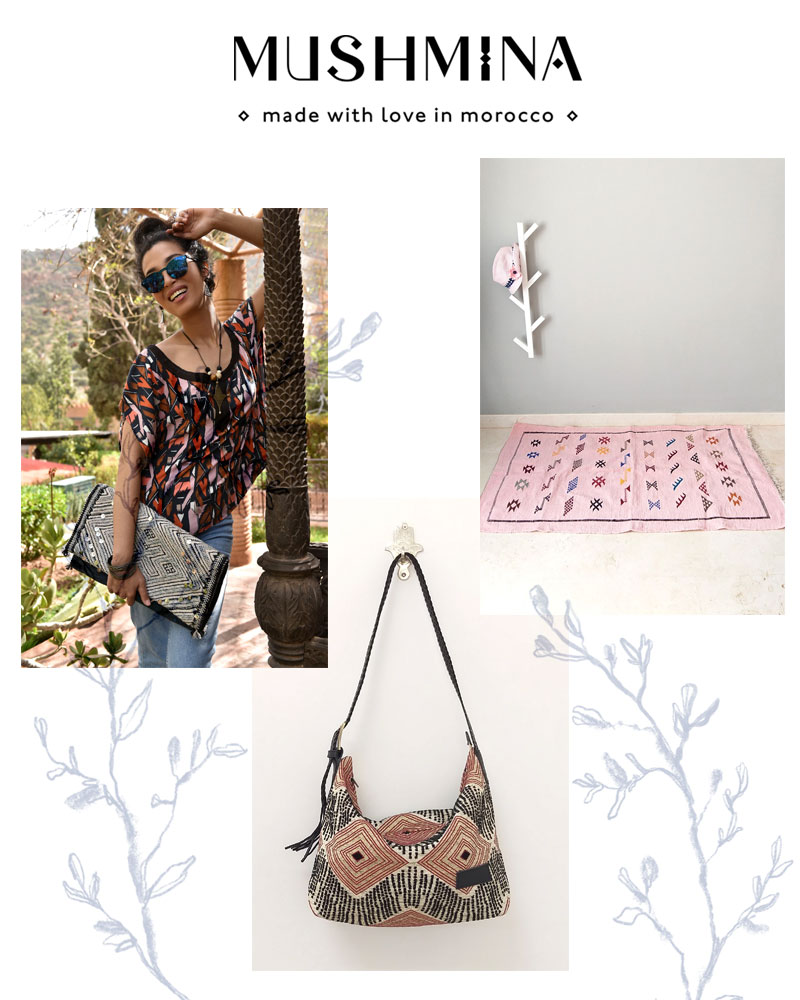 ❥ Jamila Butterfly Top, Autumn $48.00 – a sweet relaxed fit top that is easy to throw on with jeans and booties into the fall. This fab piece is gorgeously made by our talented seamstress Khadija and her team in Khouribga, rural Central Morocco. This top, named 'Jamila', means 'beautiful' in Arabic.
❥ Arazane Mina Crimson $75.00 (was 128.00) – a stunning custom-designed hobo shoulder bag. The vibrant pattern is hand-drawn and inspired by African fabrics from the south of Morocco. This fab everyday bag is super light, has an adjustable hand braided black leather strap, 2 inside open pockets and one zip pocket.The perfect bag for global nomads.
❥ Pretty in Pink Boujadi Chenille Rug for your boho dorm $130.00 – Handloomed by women weavers in Boujad Morocco, each  is one-of-a-kind and incorporates traditional symbols and patterns: diamonds to ward off the evil eye, camels, butterflies, and Berber symbols.

Affordable ethical fashion brands: Soul Flower
Soul Flower is a natural clothing brand for kind souls and free spirits. Mindfully made with natural fibers and heartfelt art, they design their threads with kind vibes from start to finish. They seek inspiration in the simplicity of everyday life – in nature and in music, in free-spirited adventures and in like-minded souls.
Their clothing supports our planet, spreads a positive message, and most importantly — helps us the custemer express ourselves.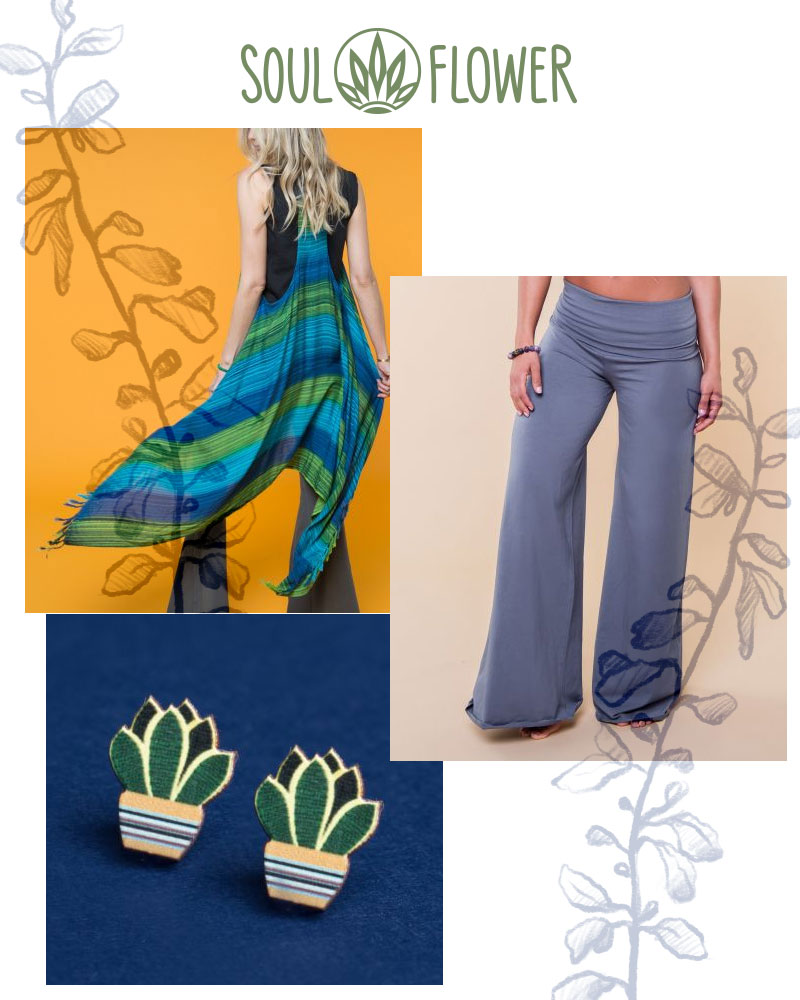 ❥ Ocean Waves Boho Vest $24.00 – Keep the summer flowing with this Ocean Waves Boho Vest. Perfect for those beach vibes with its ocean colors, flowy, lightweight material, and wide arm holes. The fun fringe and blue striped tones will keep you feeling boho beach sunshine, even on a cloudy day. Handmade in Indonesia.
❥ Organic Roll-Top Flowy Pants $58.00 – S-XXXL Life is easier when you go with the flow… With a comfortable, extra long roll-top waist, and made of soft organic cotton fabric, you'll naturally relax each time you wear these amazing flowy pants. Relax and just go with the flow in these boho palazzo pants! Black, Cabernet, Indigo: Fair Trade Certified, made in India. Burgundy, Gray: Ethically Made in Nepal. 95% organic cotton.
❥ Succulent stud earrings $18.00 – Breathe it all in and love it all out when you wear these eco-friendly succulent stud earrings. Composed with sustainable sourced wood and stained with water based dyes, these cute little plants will renew and calm your being. Made in the USA.

Affordable ethical fashion brands: Darn Good Yarn
Here's another one you've most probably seen on my Insta!
Darn Good Yarn commits to doing good in the world by supporting sustainable and fair jobs around the globe through ethical sourcing, and working with producers and organizations that have similar goals;
sourcing products that promote job creation for individuals who are marginalized and under-served so that they can provide food, education and healthcare for their families;
focusing on sourcing products and developing supply chains that benefit disadvantaged populations, including people groups that face issues of gender, caste, racial discrimination;
focusing on sourcing products that have a reclaimed or recycled element integrated into their regular production process, whenever this is commercially feasible.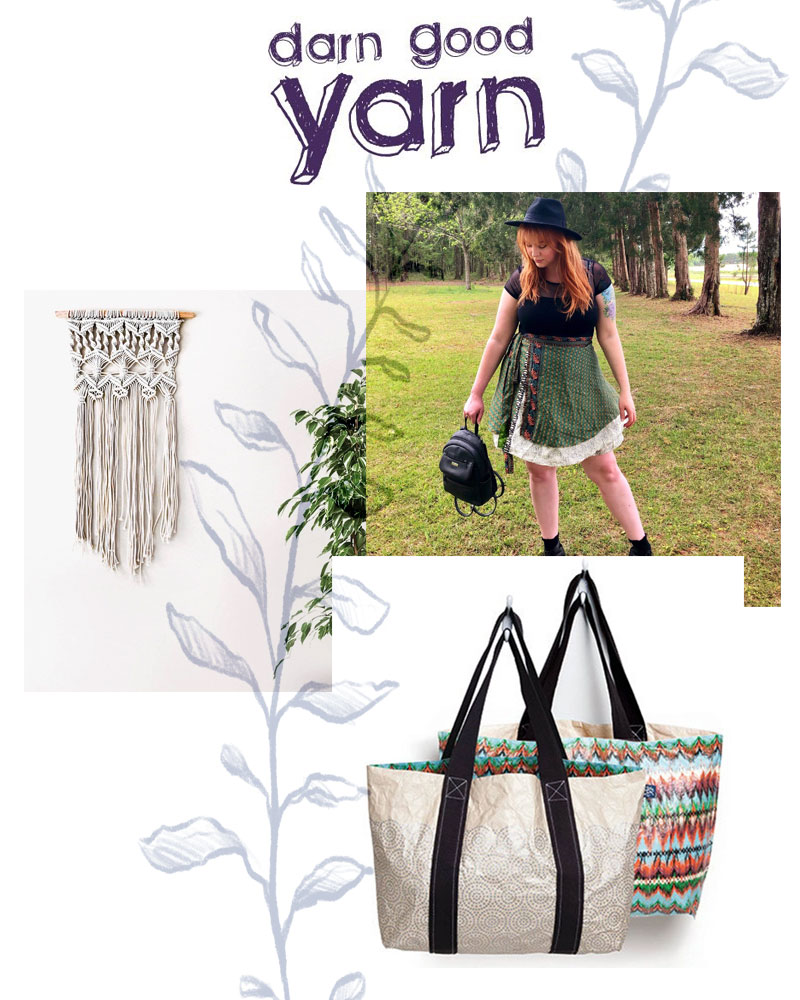 ❥ Recycled Indian Sari Wrap Skirt $69.00 – Each skirt is handmade in India out of recycled saris and turned into a beautiful, one-of-a-kind skirt. With your help, these artisans are able to sustain year-round employment. With global stewardship in mind, manufacturer's remnants and sari seconds that would normally go into landfills are used to make these skirts.
These skirts are wearable, functional, and beautiful! Click here and use code FRANCESCA_SEVENROSES_50 at checkout to get 50% off any #DODARNGOOD SKIRT!
❥ Medium macrame wall hanging for your boho dorm $30.00 (was 74.99) – This macrame wall hanging is the perfect decor for any living space! Indoors or outdoors, this woven wall hanging comes in 3 different sizes, and a variety of colors and stitch patterns. Give your space a bohemian, natural vibe with one of these handcrafted tapestries.
❥ Recycled Eco-Friendly Tote Bag $36.99 – Go green with these Recycled Eco-Friendly Tote Bags! Use them for anything and everything – whether you need a reusable produce bag for the farmer's market, a gym bag, carry-on, baby bag, or commuting bag, this stylish tote is also incredibly durable. Made of highly-recyclable Tyvek, a lightweight, water-friendly substrate, these bags and totes act a lot like fabric with a surprisingly paper-like feel.

Thanks to these affordable ethical fashion brands, by now you should have plenty of ideas on how to make your wardrobe greener and more ethically conscious.
Which are some of your favorite ethically conscious brands? Let me know in the comments' section down below, I love to learn from you guys.
And don't forget to pin this post to spread the love ♥
I wish you a love-filled day xoxo
Disclaimer: I've been fortunate enough to receive some of the above mentioned products for free to try, but opinions and the choice to review are 100% my own. This post contains affiliate links.