These easy DIY coconut body lotion bars are a game-changer if you want to make your own skin-loving, gentle bodycare. And they look so cute, they might just be the perfect gift for Mother's Day, Galentine or any other sweet occasion ♥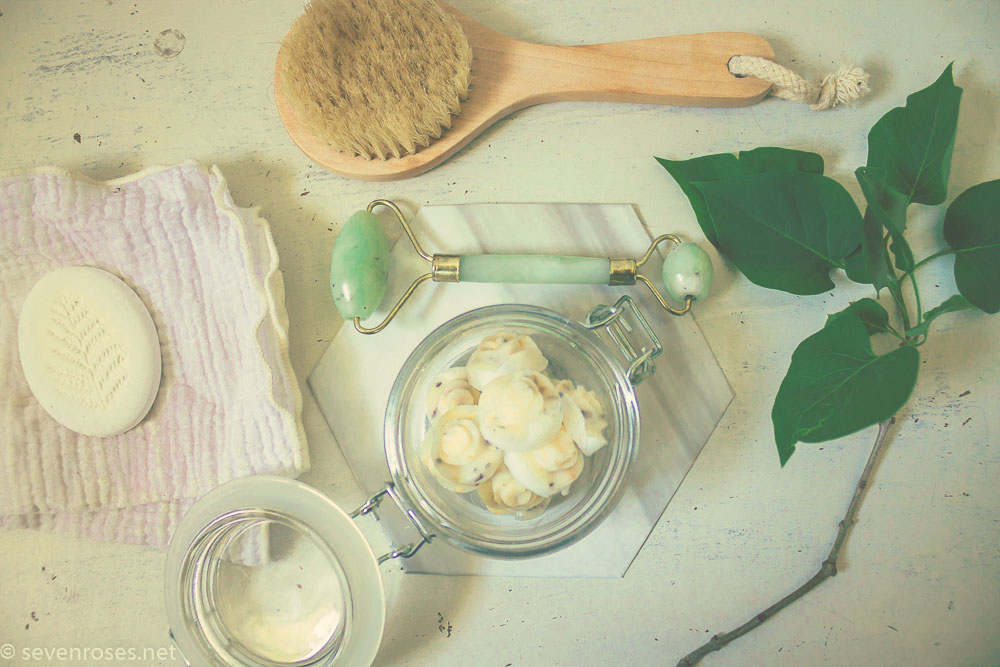 Hello my beautiful friends! Today we're making an easy, cruelty-free, Vegan DIY. Because of its rich ingredients, namely the coconut oil, and the coconut and shea butters, these little coconut body lotion bars can be used both as solid body lotion bars and as bath melts as well! They will melt slowly at the touch of your skin, or in a hot bathtub, spreading colorful and scented flower petals all around.
They smell like dreamy islands far away and make your skin feel so soft and nourished!
I made these with Mother's Day in mind, but you can make them for a friend who needs some extra TLC or, why not, for yourself.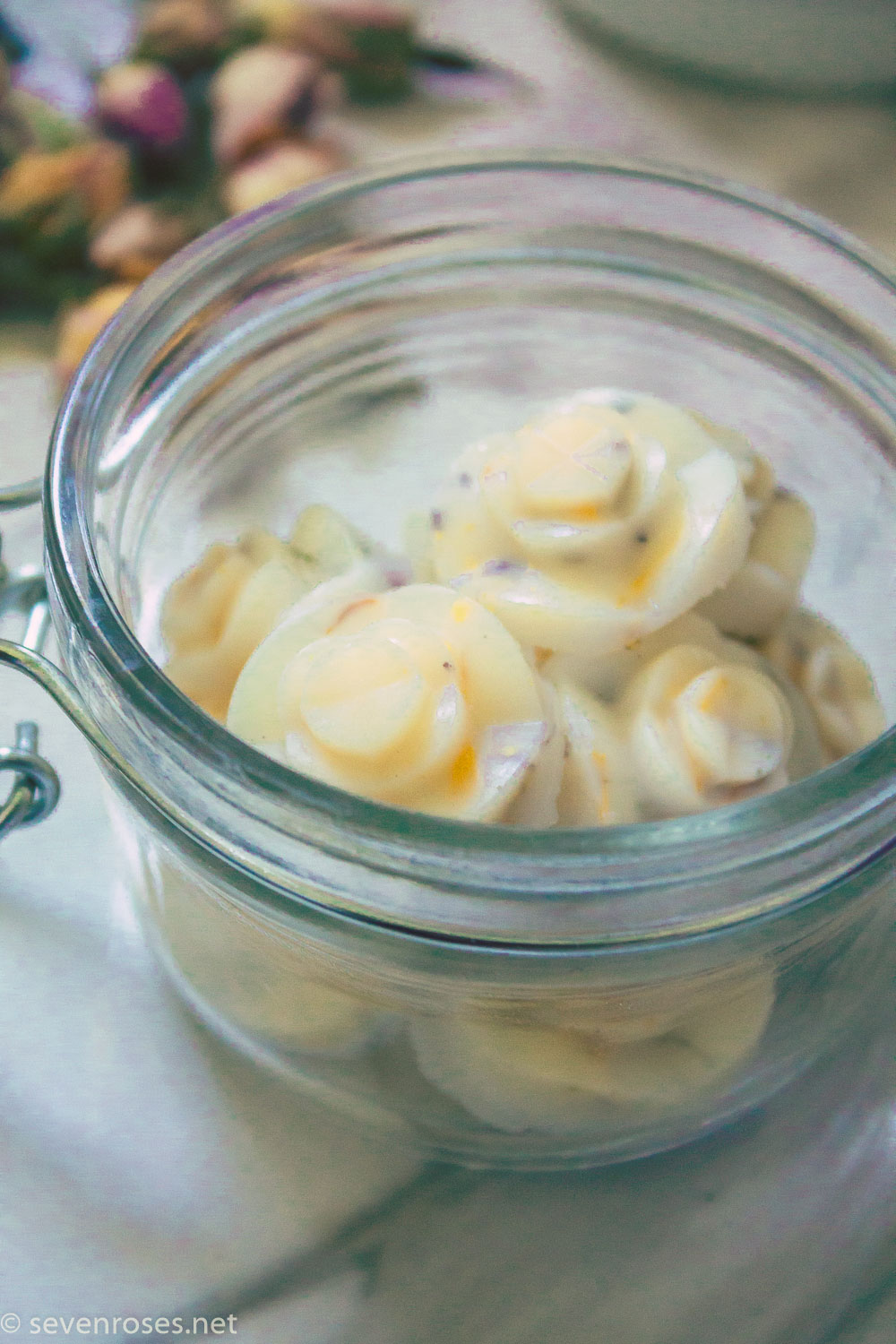 So they smell dreamy (coconut, frangipani & ylang ylang!!!), they make your skin feel extra soft and they are easy to make with just a few natural ingredients. Even first-time beauty DIYers will find this project fun and easy to do. And obvously, they are Vegan, too as I wanted these to be kind to your skin as well as to the environment. No nasty chemicals, no strange ingredients and no beeswax either.
So how to use these little gems?
Use under the shower, just like a famous Lush product: after shower gel, simply massage into the skin. Wash and pat dry!
Use as a body lotion bar on dry skin, it will melt in contact with the warmth of your body. Let is absorb before putting on clothes.
Lastly, drop one into your bathtub and let the soothing scent and nourishing oils do their magic. Just relax!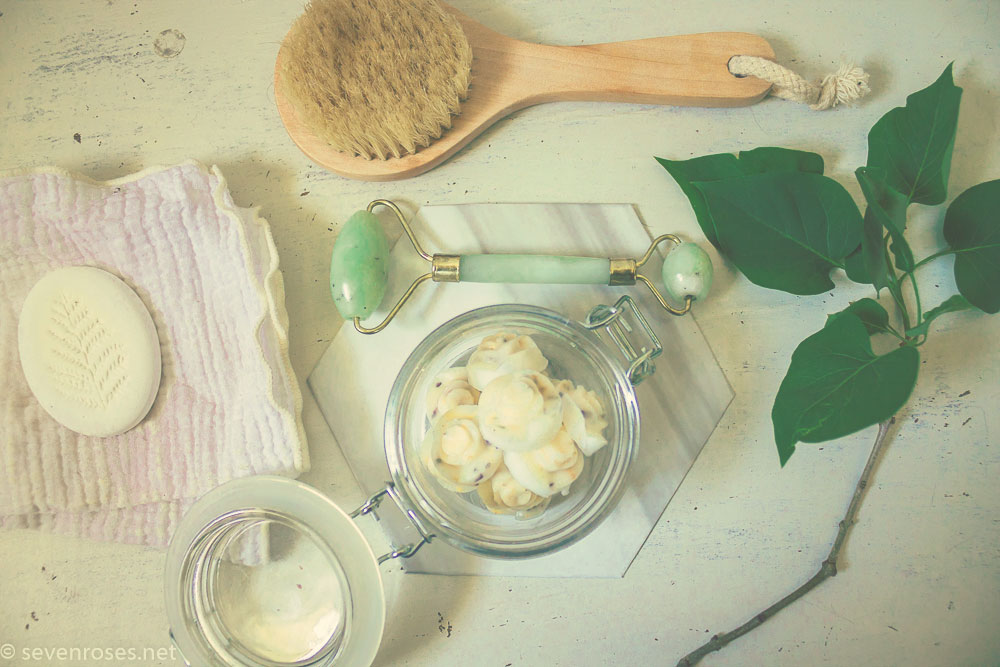 SUPPLIES NEEDED TO MAKE 15 TINY COCONUT BODY LOTION BARS: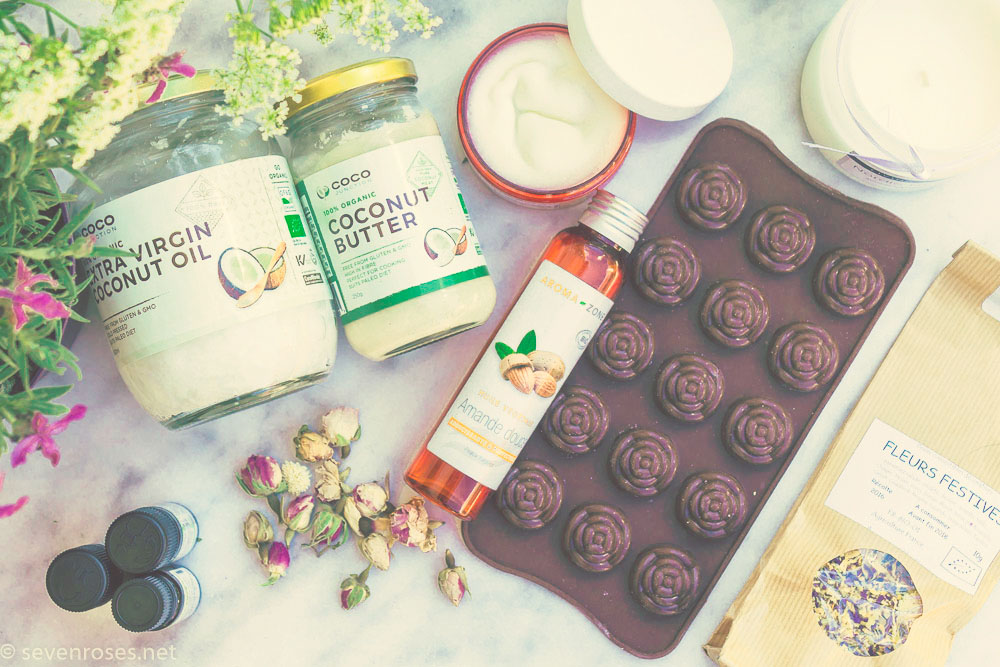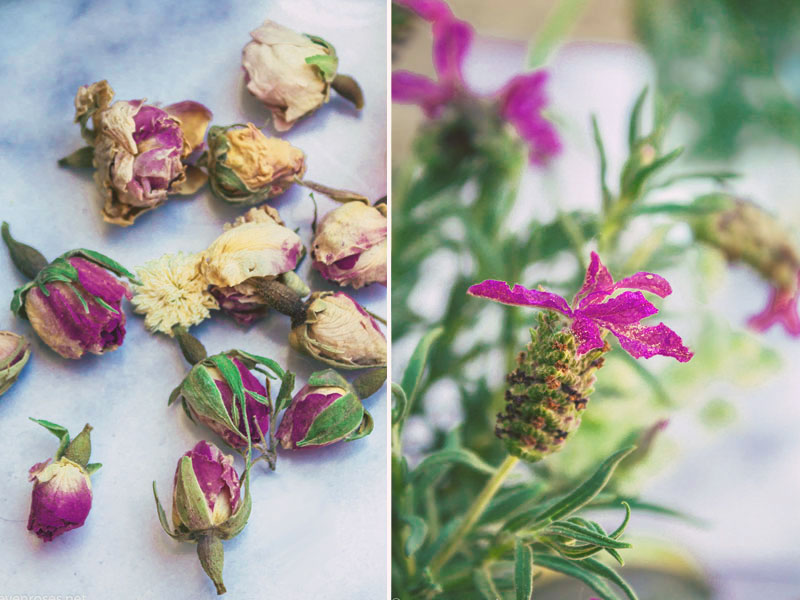 HOW TO MAKE COCONUT BODY LOTION BARS (OR BATH MELTS):
STEP 1
In a double boiler melt together the coconut oil, the coconut butter and shea butter.
STEP 2
Once melted, take the oils off the heat and add in your flower petals. Stir together.
STEP 3
Carefully pour into your silicon mold, add 1 drop of each of your essential oils and let it set in the fridge for a couple of hours.
Store in a cool place, I like to just keep mine in a jar in the fridge!
To gift them, put them in a nice mason jar…
Enjoy!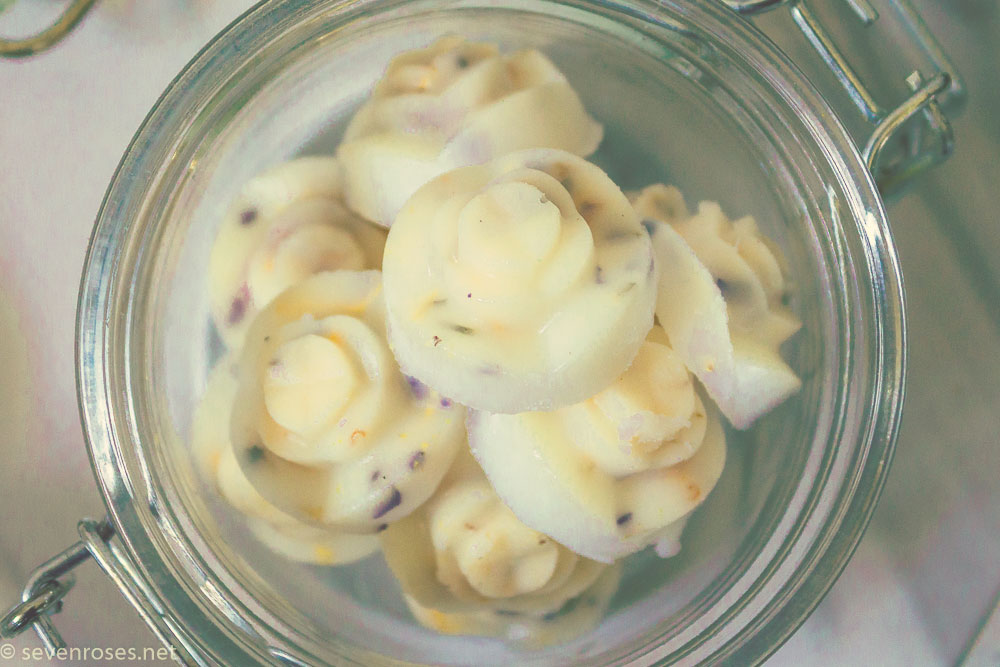 I hope you will love these as much as I do! If you give this DIY coconut body lotion bars a try, please let me know in the comments' section below!
You can also find me on social media. Be sure to tag @francesca_sevenroses on Instagram or @sevenrosesblog on Twitter and Facebook, and use #sevenroses so I'm sure to see it.
And don't forget to pin this recipe to spread the love ♥
I wish you a love-filled day!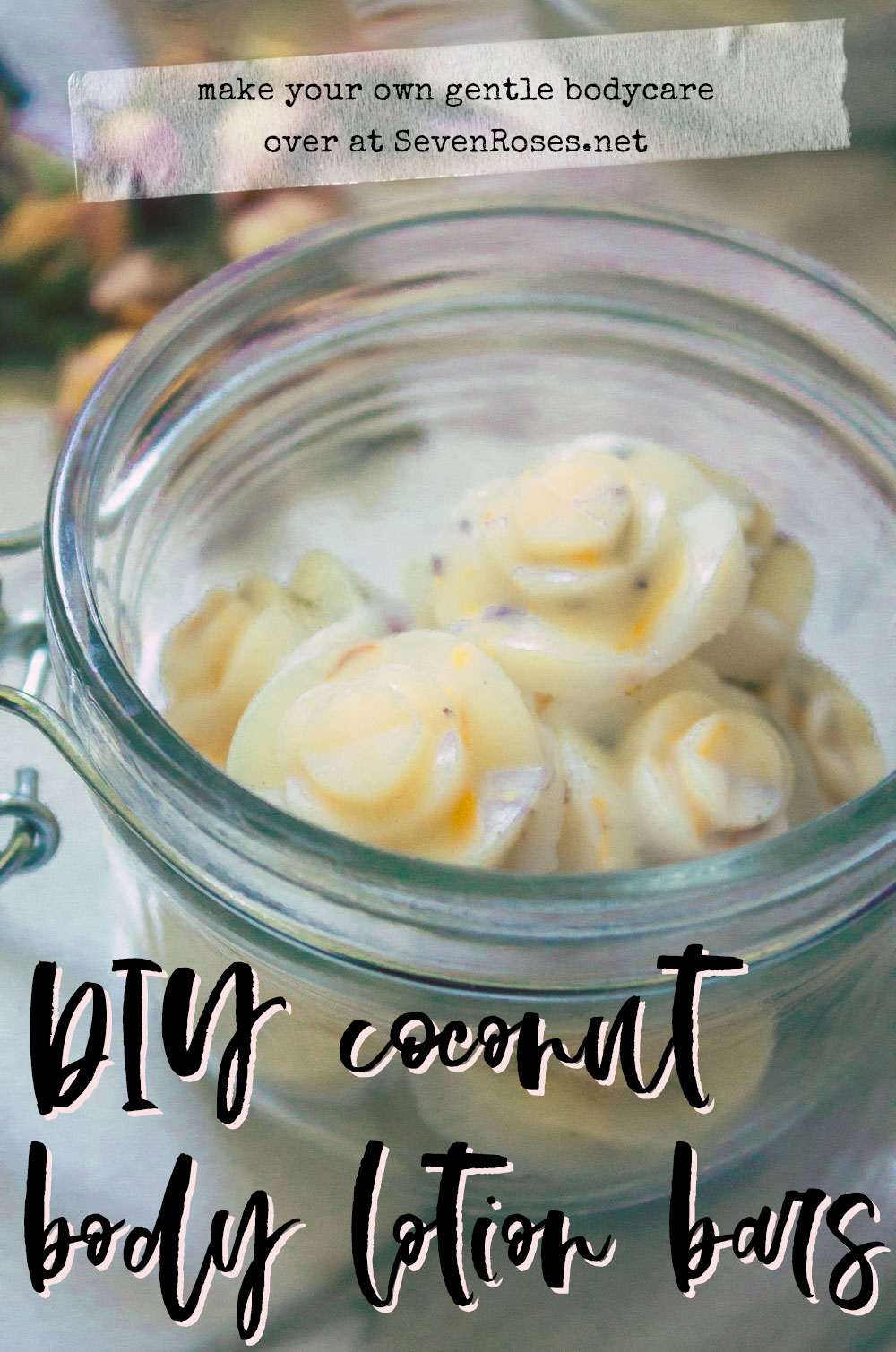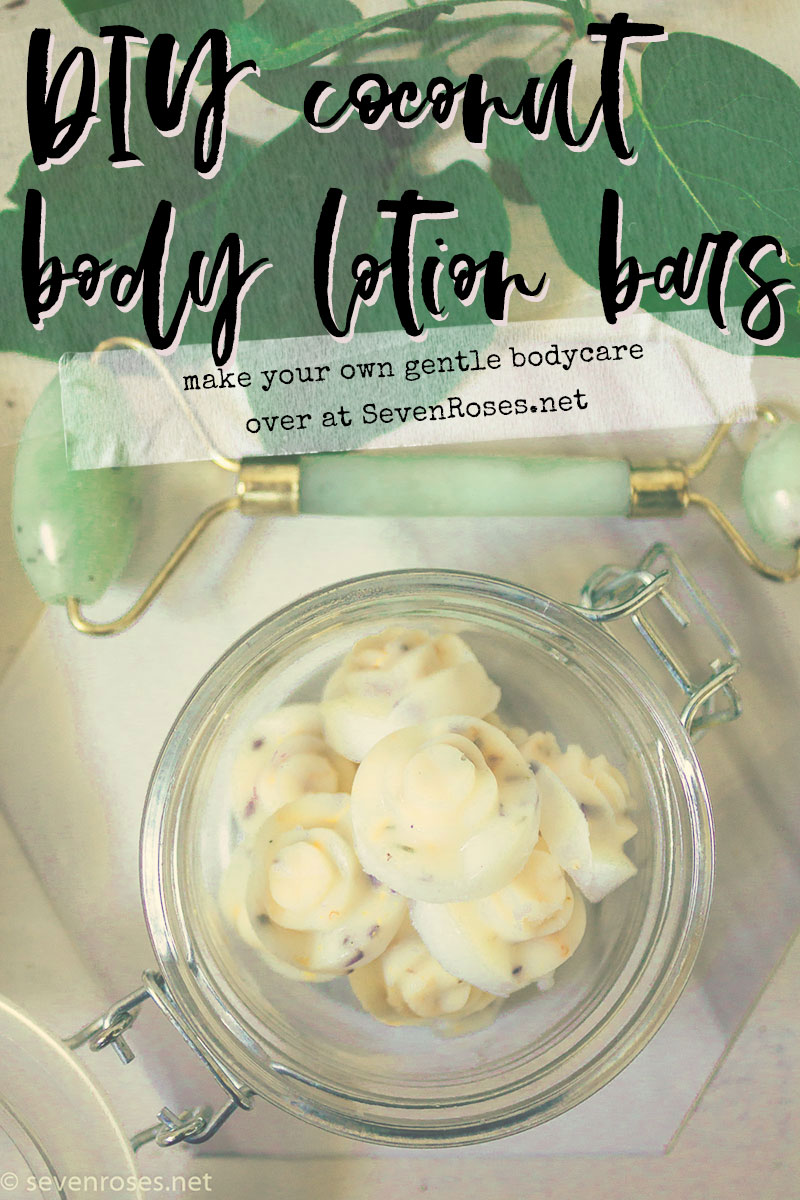 Disclaimer: This post contains affiliate links.