This Mushrooms & Chickpeas Minestrone filled with hearty ingredients is the perfect, easy and quick comfort food for a cozy Winter night. All you need is some chopping and 1 big pot. Make a lot so you can have leftovers for tomorrow night, too.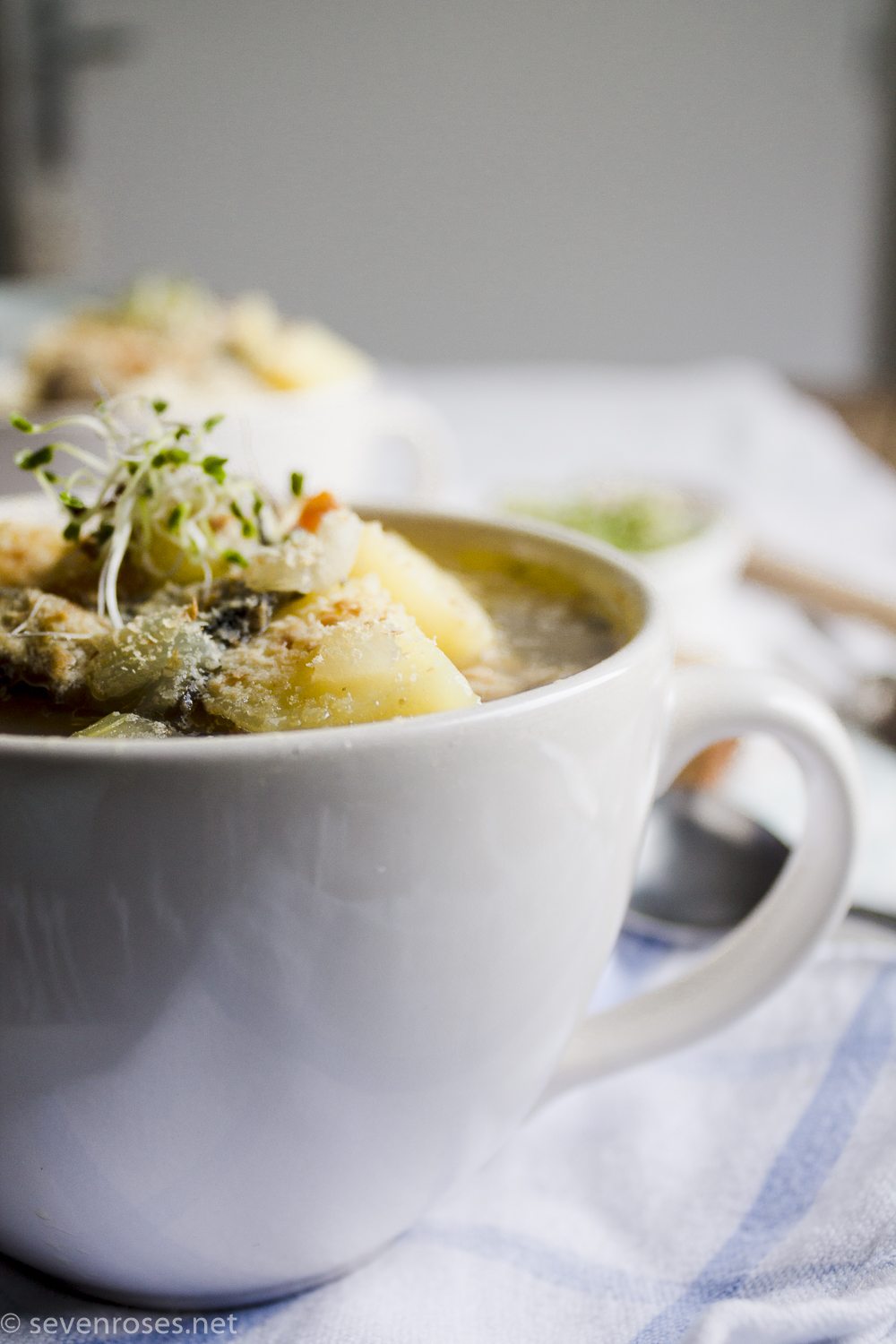 Even though Winter officially kicks in only in a couple of days, we've been having snow for over a month now. Add to that the fact that I've been wearing fluffy socks and my favorite comfy sweaters since last month – and all I've wanted to do is cook up some cozy foods for cold nights. This soup is inspired by a classic Italian dish, the Minestrone – which is a thicker type of vegetable soup, to which you usually add either pasta or rice, to make it a hearty, nutritious, filling, comfort food.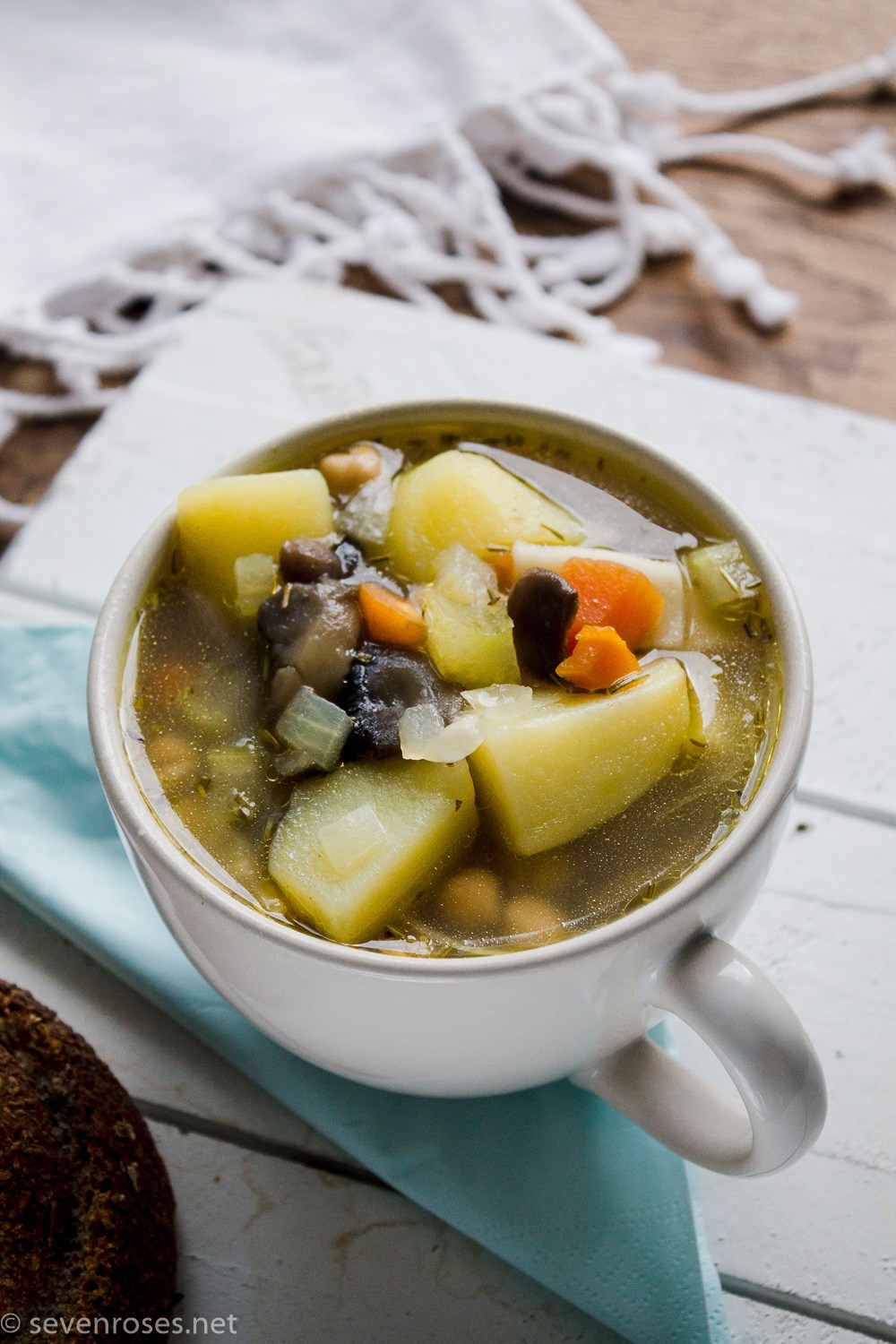 It's a simple type of food, that you can tweak according to the vegetables you have at hand and that are in season. It's also a "frugal" meal born from the need and the habit of not wasting anything, because in the past, it was really made with anything you'd have left in the kitchen. For example, the pasta used in such soups was very often if not always all the broken bits and pieces from other types of pasta: fragments of broken pasta and some leftovers of spaghetti, penne and any other noodle always remained in the bottom of the kitchen drawers. Such broken remains of pasta were then used all together in the soup pot (and even bought at the market for a very cheap price).
That's why instead of choosing a specific type of pasta, I broke apart some lasagna noodles in assorted sizes. Trust me, the overall result will be better like this!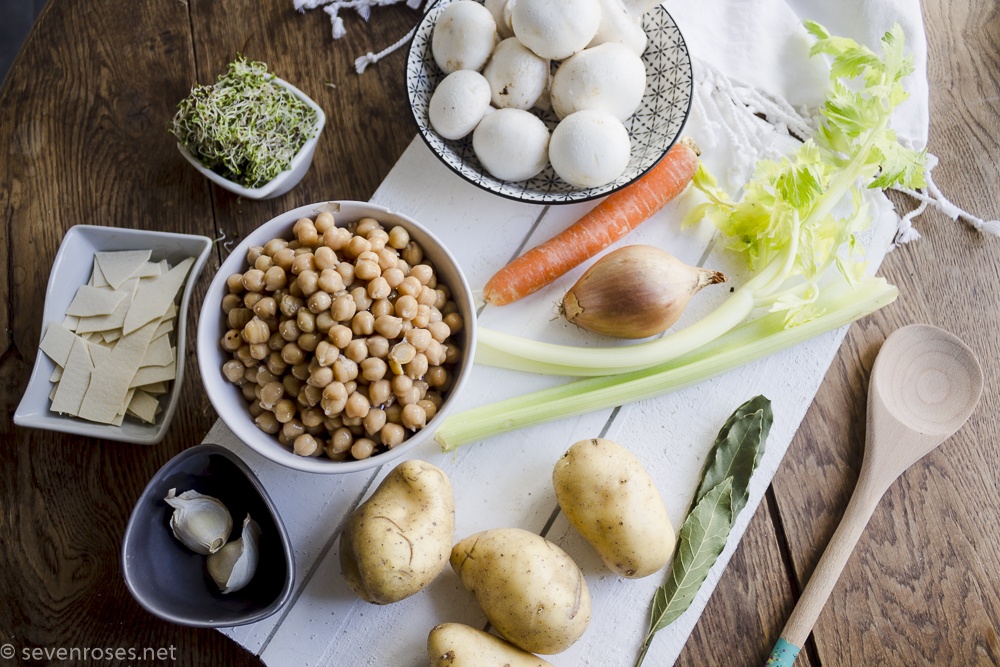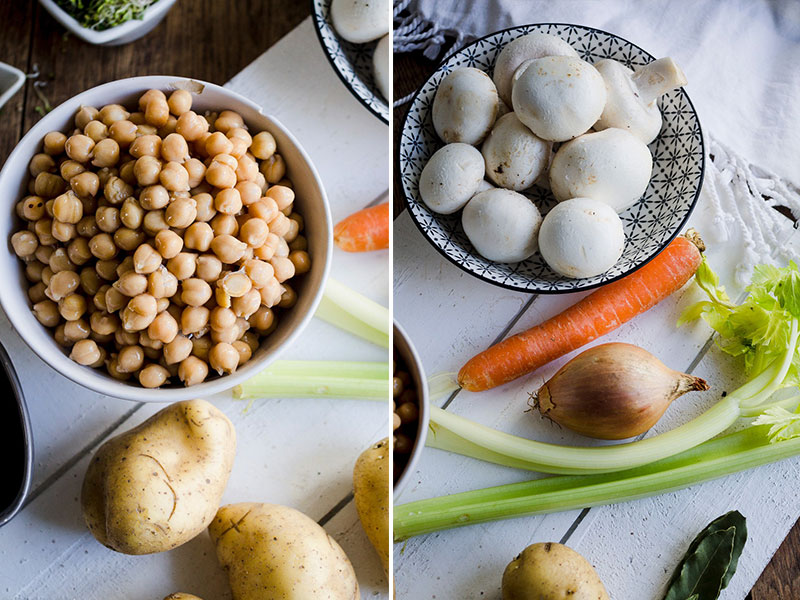 Made with just a few simple ingredients, a warm bowl of this chunky minestrone filled with chickpeas, mushrooms, potatoes and herbs, is the perfect solution to a cold night in. For the sake of making this as easy and accessible as possible, my version is the easy & fast one: I used drained & washed canned chickpeas – but you can go the long route and soak and boil yours. This will only require one more step but you'll have to think about it the day before – chickpeas want a lot of soaking time.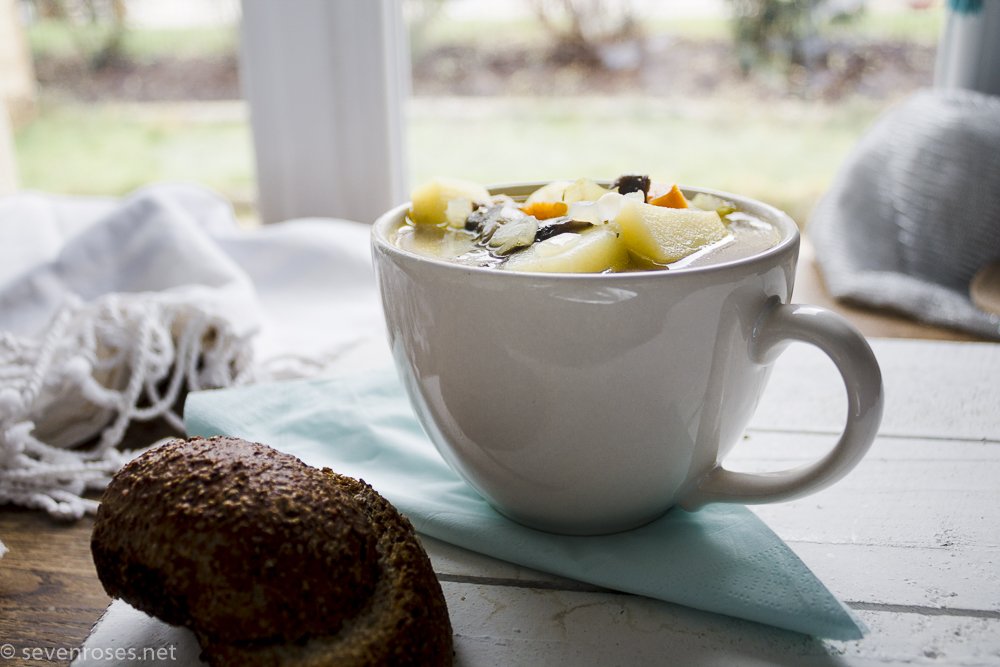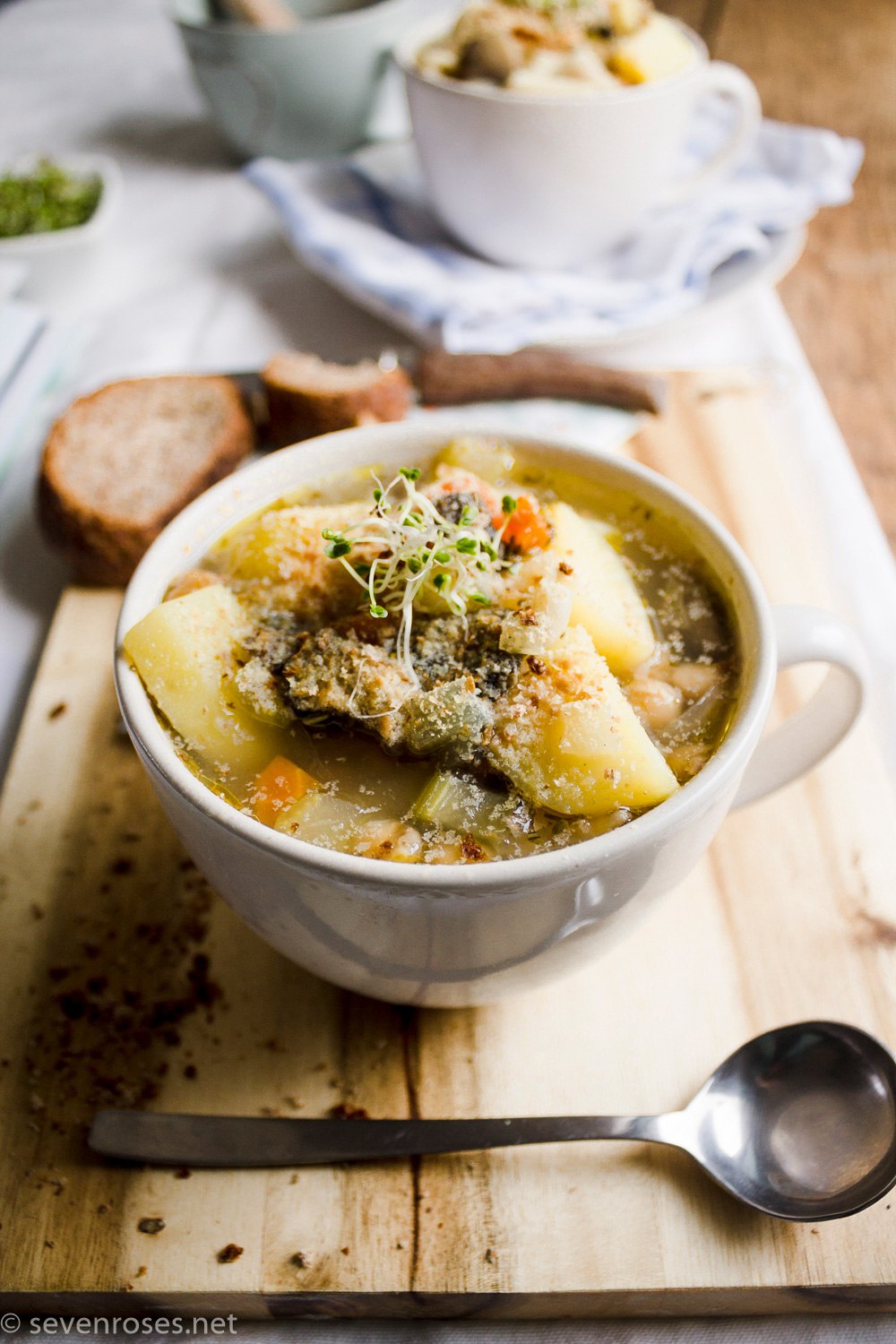 The only crucial element of the Minestrone, is the temperature at which it's served: it must not be either too hot straight out of the pot, nor cold. Once cooked, just leave it 5 minutes in the pot so the flavors have enough time to blend.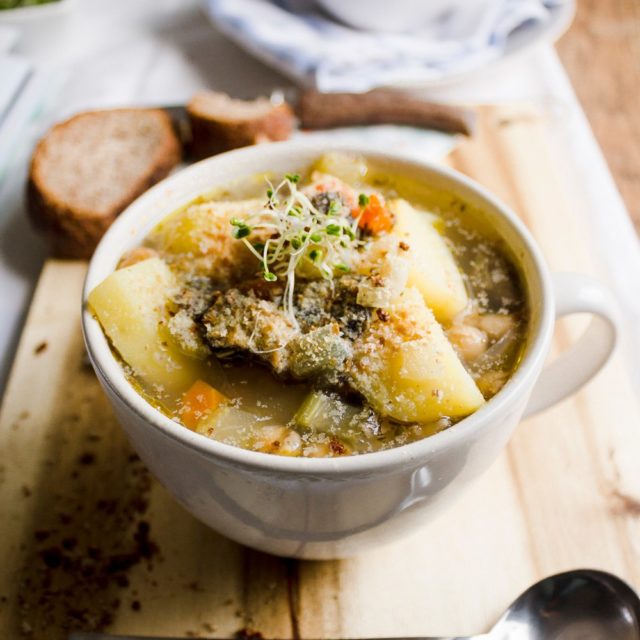 Mushrooms & Chickpeas Minestrone
Made with just a few simple ingredients, a warm bowl of this hearty minestrone filled with chickpeas, mushrooms, potatoes and herbs, is the perfect solution to a cozy Winter night in.
Ingredients
200

gr

chickpeas

from a can, drained and rinsed

12

mushrooms

I used champignons de Paris

1

onion

1

clove

garlic

1

carrots

1

stalk

celery

4

potatoes

2

bay leaves

2

tsp

dried rosemary

1

tsp

garlic powder

1

tsp

salt and pepper

1

bouillon cube

optional

2

litres

water
Instructions
Wash, peel and finely chop the onion, carrot and celery. Finely mince the garlic. Add them to your pot and sauté them in water (or a tbsp of EVO oil if you prefer).

Wash, peel and roughly chop the potatoes in different sizes - some big chunks to bite into, some thin ones that will make the

soup

creamy. Add them to your pot and let cook for 4/5 minutes.

Pour 2 liters of water in your pot, add the bouillon cube (if using), the chickpeas, mushrooms, bay leaves, garlic powder, pepper, and rosemary. To make it extra-healthy, you can add a tsp of turmeric.

Bring to a boil, then tip in the pasta of your choice (it will cook longer than needed).

Turn off the stove around the 25th minute. Let sit for 5 minutes, then remove and discard the bay leaves, season to taste and serve with a slice of wholewheat bread, fresh sprouts, nutritional yeast or more freshly cracked pepper.
If you give this Mushrooms & Chickpeas Minestrone recipe a try, please let me know in the comments' section below!
You can also find me on social media. Be sure to tag @francesca_sevenroses on Instagram or @sevenrosesblog on Twitter and Facebook, and use #sevenroses so I'm sure to see it.
….You might also want to pin this recipe now to spread the joy of cooking an easy, cozy Winter night Minestrone soup :-) Enjoy!