Hello my beautiful friends! Today I'm so excited to share with you a delicious and easy Walnut flax burgers recipe that has blown my mind. It's so quick to make, it requires only 5 ingredients, 5 minutes of your time and a food processor, and it can be eaten raw or cooked for two very different but equally palatable culinary experiences. Have I awakened your curiosity? Then read on!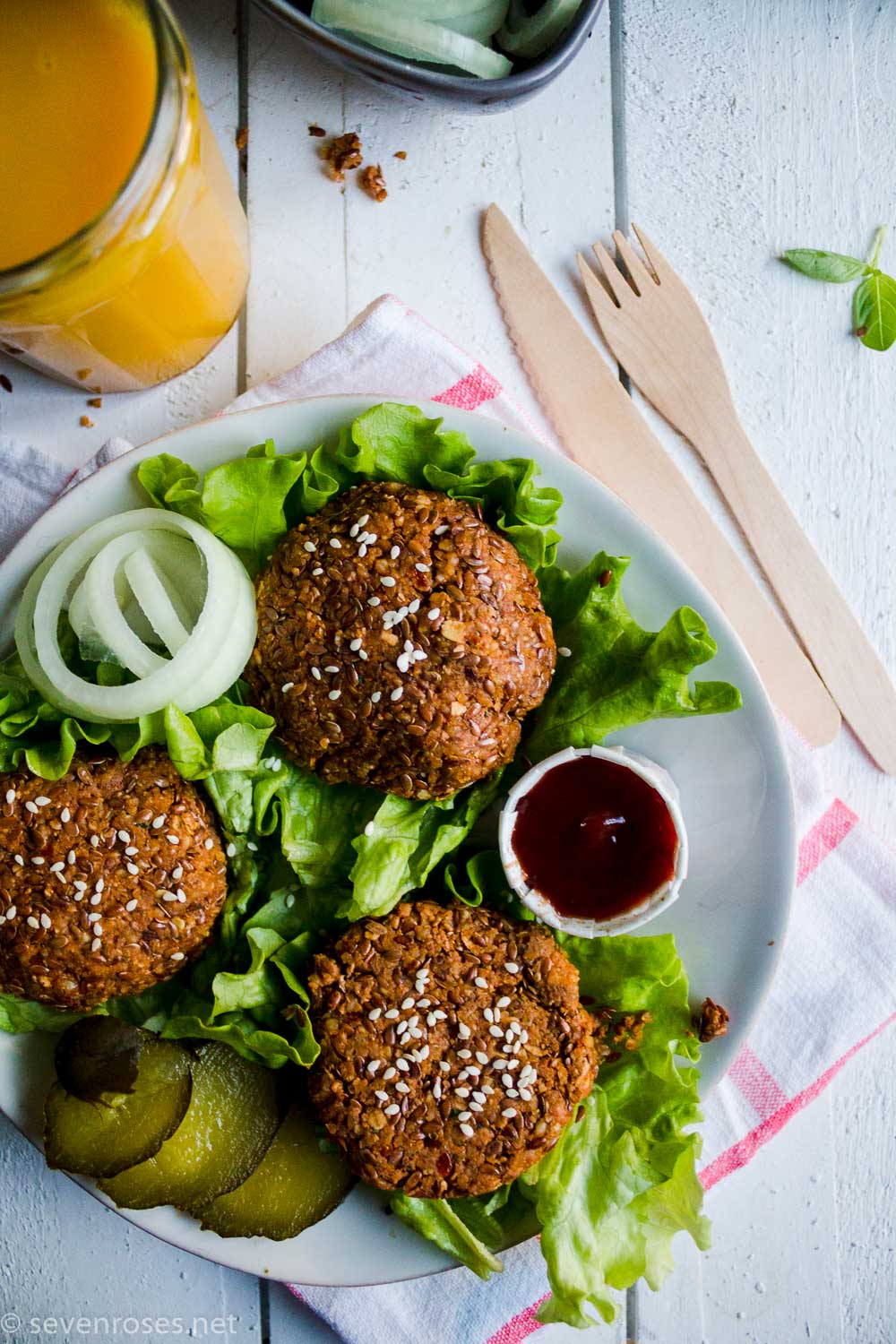 These Walnut flax burgers are my newest burger addiction, and the recipe comes straight from the amazing Vegan Weight Loss Manifesto book by Zuzana Fajkusova and Nikki Lefler. This book is the answer for all those people, Vegan or not, that want to embrace a plant-based lifestyle (also) for its health benefits and for losing weight with a profound lifstyle change.
True story: when I first went Vegan, I lost 10kg (about 22lb) in 1 year without even trying. Alas, the weight has creeped in since and I know many people that faced the same problem. Once you learn how easy it is to bake a weekly big batch of gooey chocolatey Vegan brownies or Vegan lasagna it's difficult to stay away from them.
Going Vegan per se has nothing to do with losing weight, that's why a little (a lot actually) extra help from this book is welcome!
Indeed, Vegan Weight Loss Manifesto isn't just a recipe book, nor is a diet book: as the subtitle suggests it's an 8-Week Plan to Change Your Mindset, Lose Weight and Thrive . Zuzana and Nikki, the authors, are Personal Wellness Coaches and all around lovers of abundance and nourishment based in Vancouver, Canada. Through they blog ActiveVegetarian.com they inspire others to live a healthy, active, plant-based lifestyle and this book explains exactly how.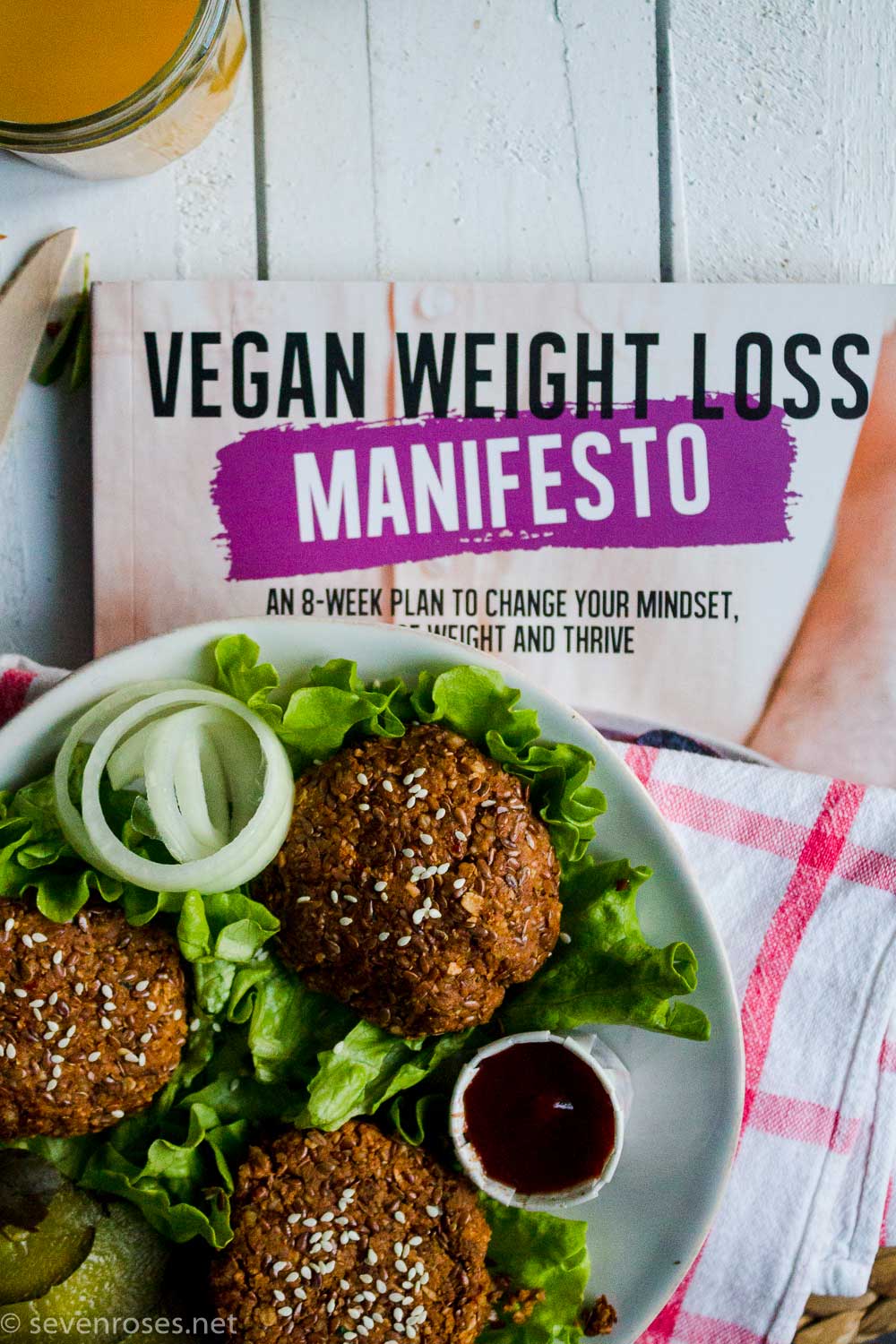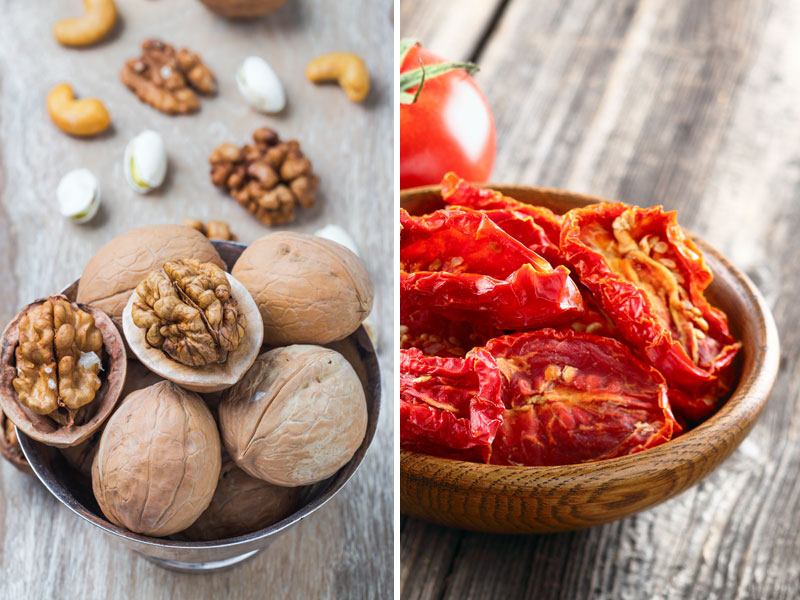 The first part of the book goes in detail explaining all the little lifestyle changes we can make to start living a better, healthier life right now. From foods to eat and avoid to daily fitness activities, from detailed grocery shopping lists to nutrition tips, everything is so well explained and in such an encouraging, empowering way, that anyone will understand how to finally lose the extra weight and all that comes with it (emotional eating, unresolved issues, bad habits, etc.) while improving many aspects of their life.
As the end of the year approaches, I feel this book could be the perfect companion for our New Year's resolutions: who doesn't want to start the new year with a more positive attitude? As we all say we'll do more sports, eat better, sleep more, it's also true that for many of us, those resolutions stick around for a week or two, and then everything goes back to the way it was. But with a guide like this, that also comes with online coaching (!!!) full of meal-plans, podcasts and expert guidance directly from Nikki and Zuzana, there's no excuse not to make it this time. I'm convinced :-) who else is on board?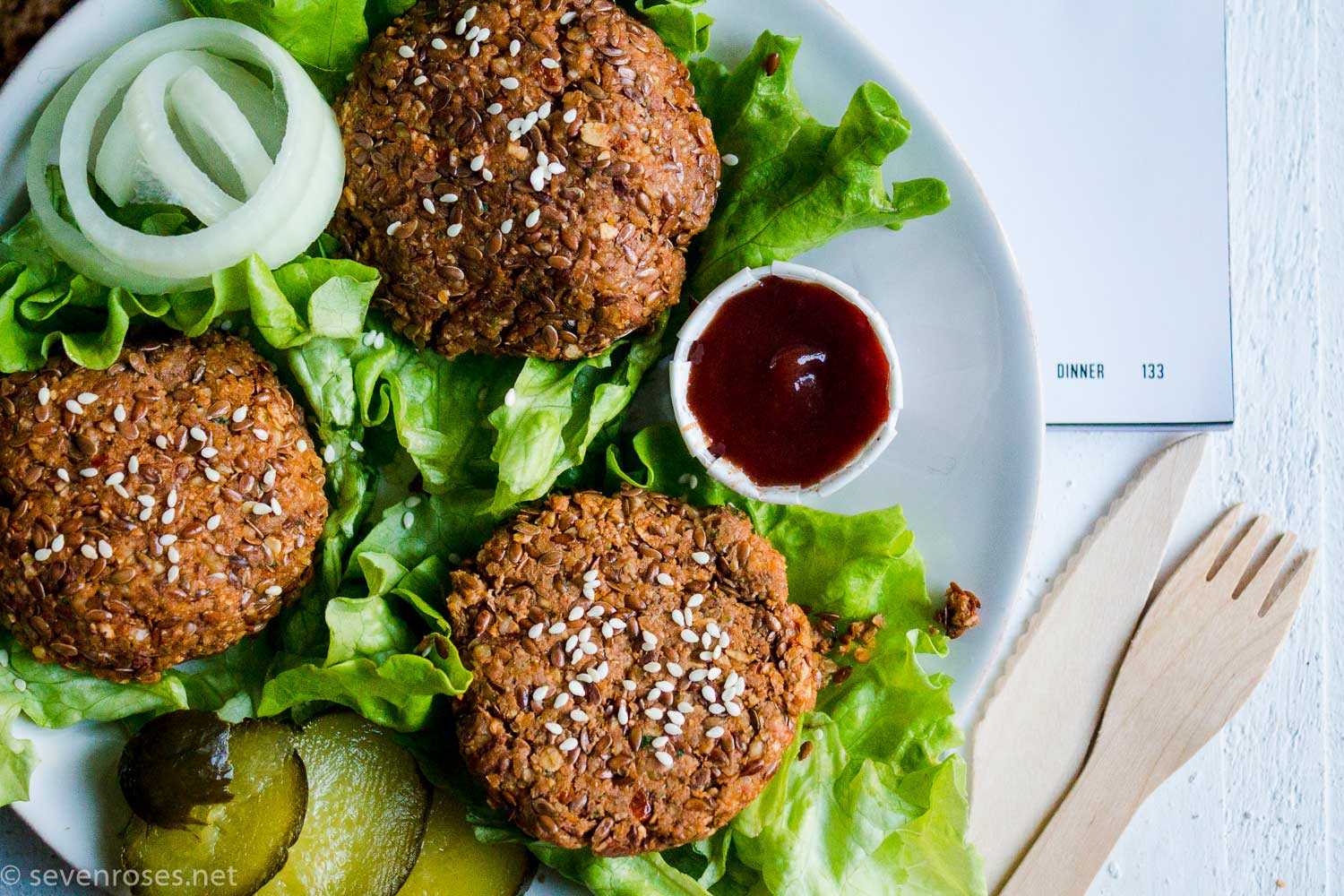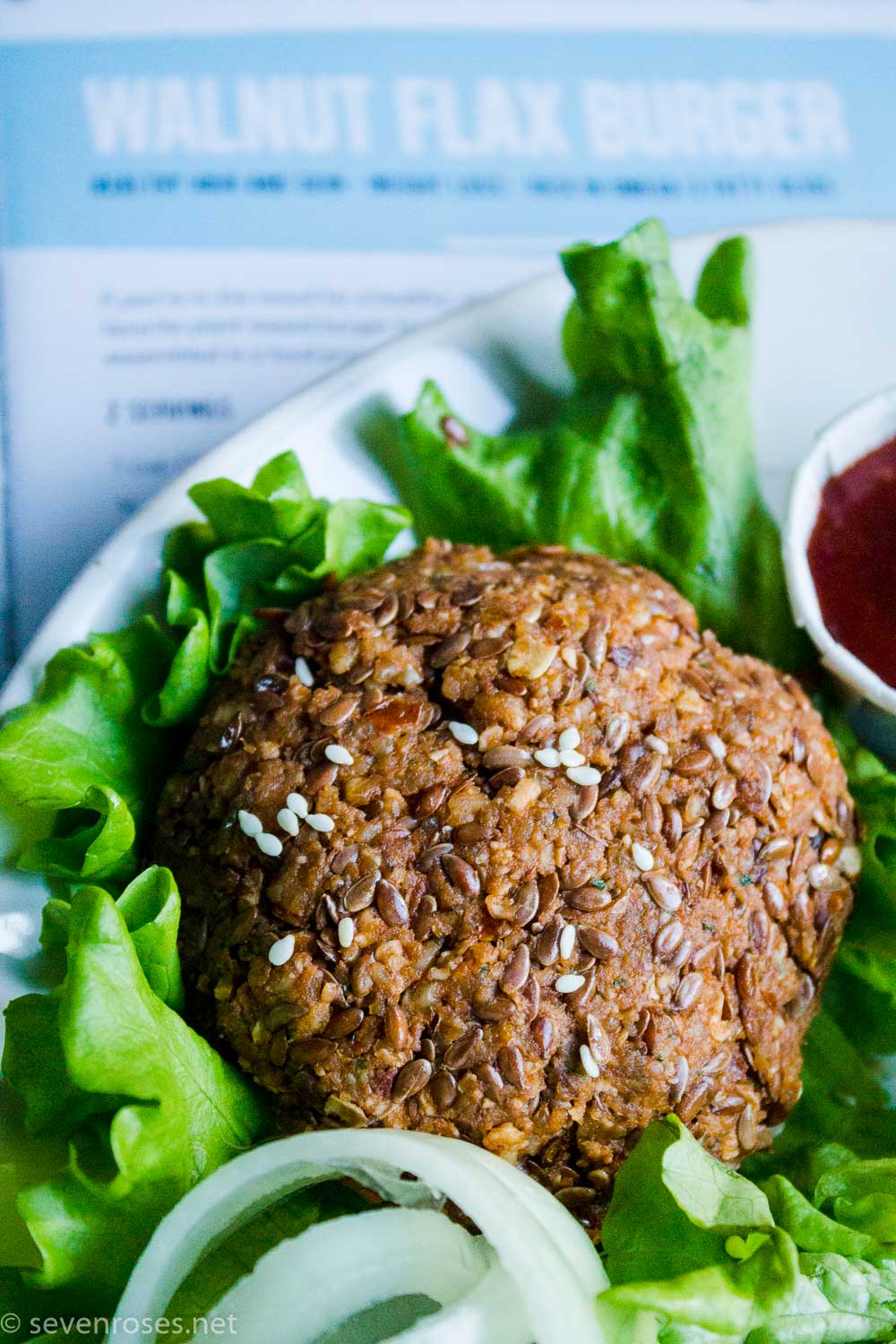 The other part of the book, is filled with delicious and easy-to-make recipes that will show you how effortlessly you can switch from bad to good eating habits. From breakfast to dinner, including "Indulgences" and kitchen tools and helpful tips, I have loved every single page of this book. All the recipes list wholesome, hearty ingredients that will fuel your body and nourish your soul. No deprivation here: The Ultimate Vegan Breakfast Sandwich (p. 87), the Hummus Soup (p. 108) or the Dutch Crumble Apple Pie (p. 165) are just some of the recipe titles that should give you a hint about what's in store for you once you flip through the pages of Vegan Weight Loss Manifesto.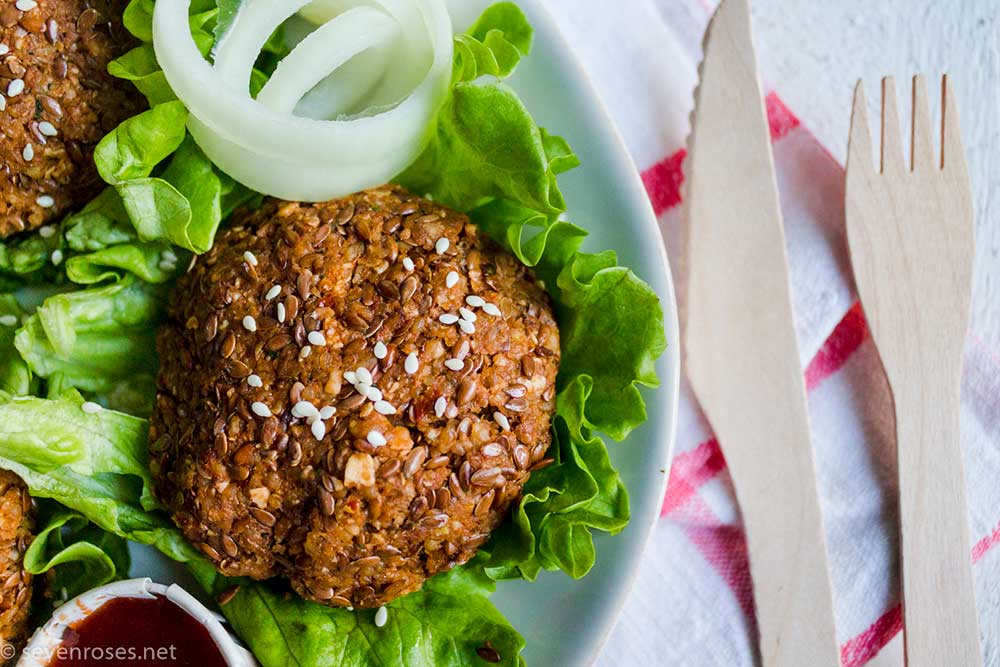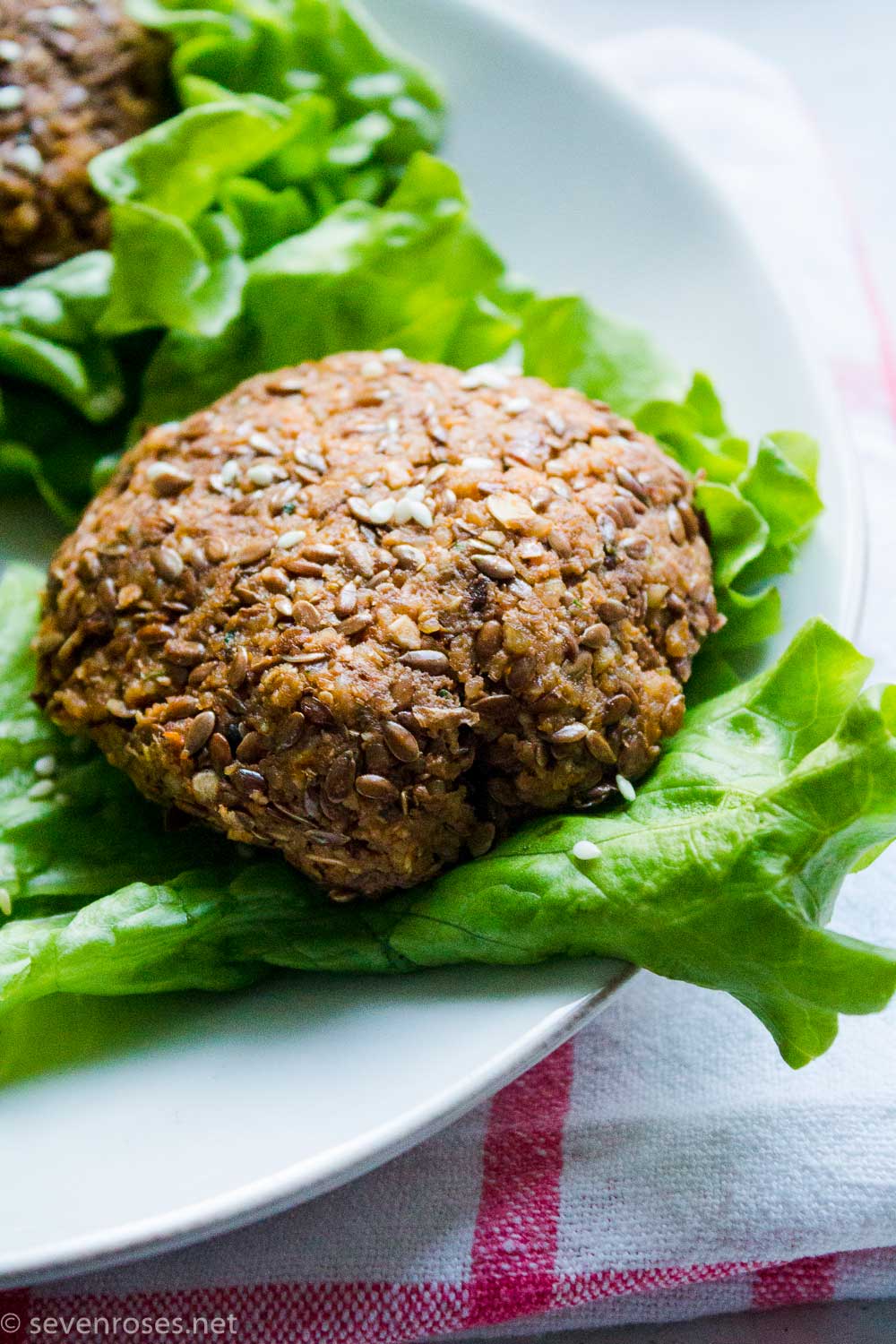 But I imagine you came here for this epic Walnut Flax burger recipe, haven't you? Packed with hearty walnuts and tasty sun-dried tomatoes these veggie burgers hold together well and they are great both raw and baked, with oven-baked fries, on top of a fresh salad, in a buddha bowl, or even enjoyed on their own.
This recipe is from Vegan Weight Loss Manifesto. Reprinted by permission.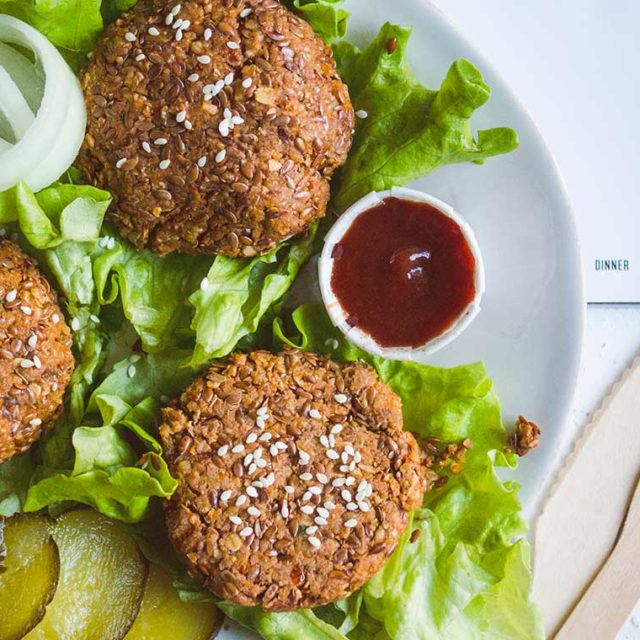 Walnut flax burgers
If you're in the mood for a healthy, wholesome, raw twist on the average burger, look no further. This is by far my favorite plant-based burger made from simple, unprocessed and whole-food ingredients. The best part - it is all assembled in a food processor or blender in a matter of, oh, 3 minutes, and doesn't even need to be cooked afterwards
Ingredients
1

cup

raw walnuts

soaked (116 gr)

1/2

cup

flaxseeds

(80 gr)

1

cup

sun-dried tomatoes

1/4

cup

fresh basil

(10 gr)

2

tbsp

apple cider vinegar

(30 ml)

1

pinch

sea salt

(or to taste)
Instructions
Process alll of the ingredients in a food processor until well blended. Do not overprocess. It's nice to leave a few chunks here and there for some texture.

Form the dough into 2 big patties or 4 small ones.

Personally, I love them raw, but if you prefer to cook them, lighlty cover a small baking pan with coconut oil and bake at 300°F (149°C) for 30 to 35 minutes, flipping once.

Serve on a sprouted grain bun with lettuce, tomato, avocado, sprouts and ketchup (page 171 of the book) or on top of a green salad.

Enjoy your healthy veggie burger!
Notes
I recommend first processing the flaxseeds alone for a couple of seconds , as this will help the burger hold together.
Did you enjoy this recipe? Then don't forget to pin it to share the love ♥
Also don't hesitate to go visit the Active Vegetarian website for tons of recipes, tips and inspiration directly from Nikki and Zuzana ♥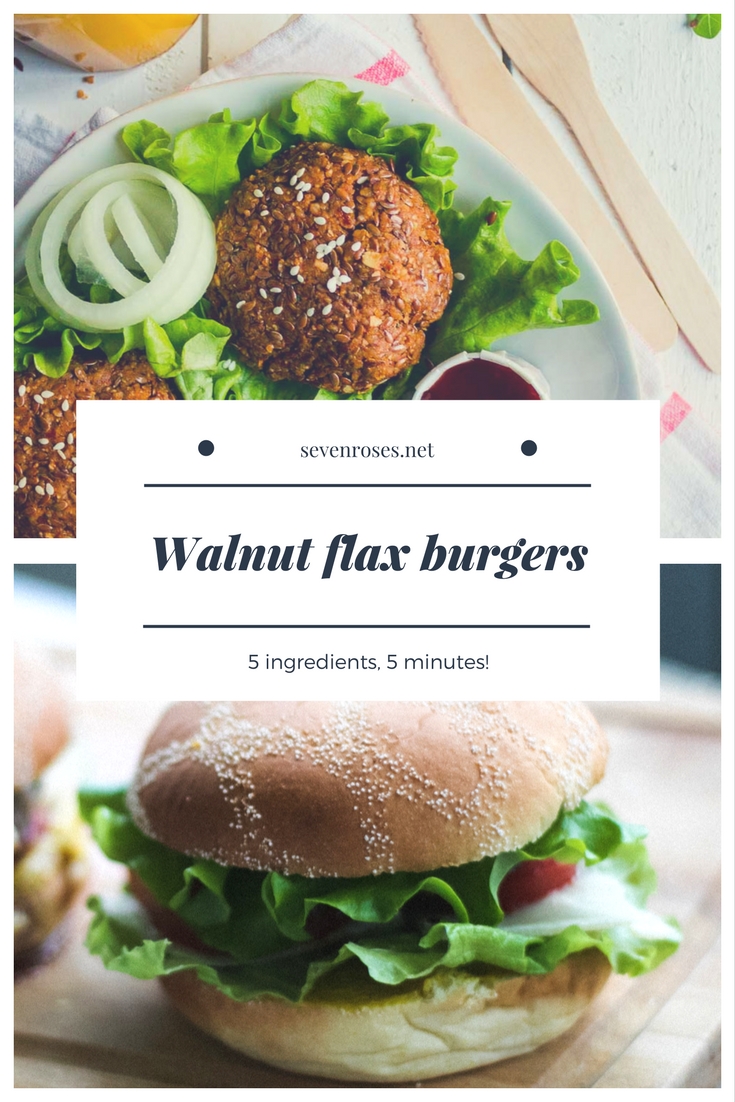 To discover more recipes from the book, don't hesitate to read these: