This delicious-looking Spring Vegetable Tart is so easy to make: fresh or frozen veggies and store-bought puff pastry are doing all the hard work for you.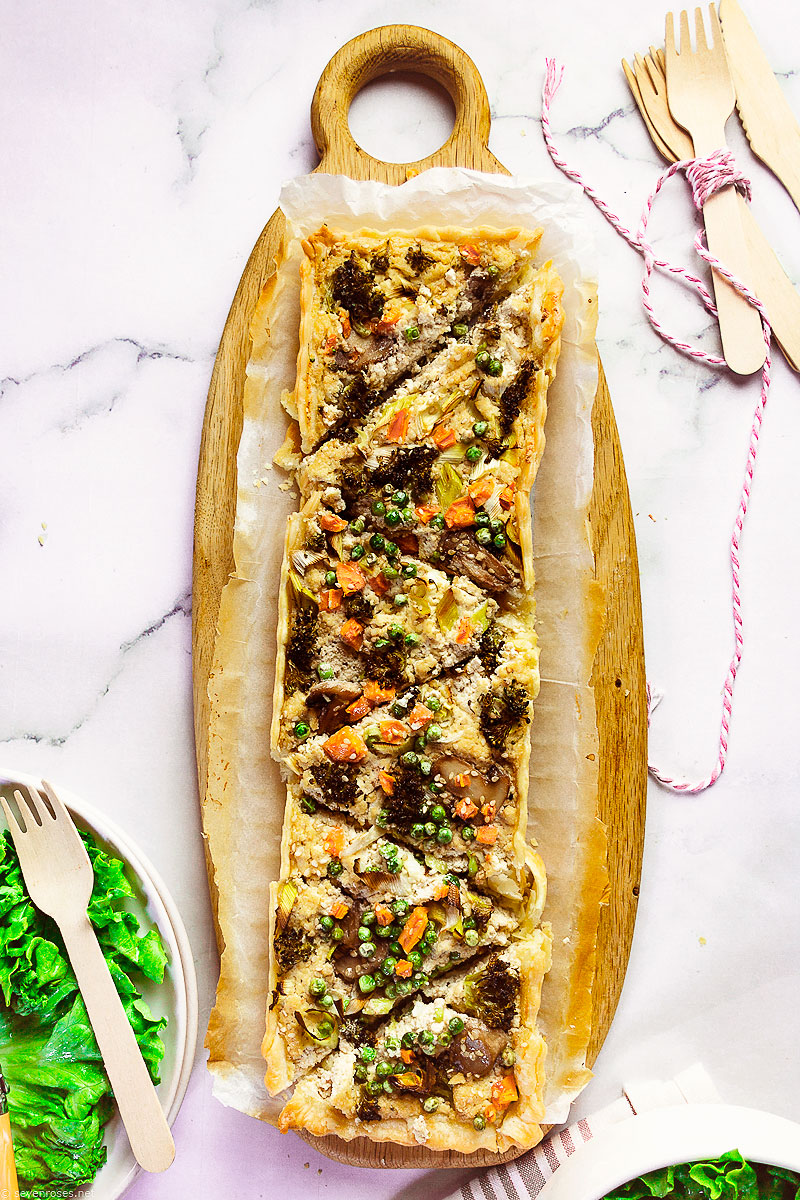 Hello my beautiful friends!
How strange, this would normally be the time of the year when everybody starts getting exctied about all things Spring, from organizing a picnic to baking a Vegan quiche. Well, except this year: this year Spring has arrived with a quarantine lockdown in most countries of the world.
But life still goes on, no matter the circumstances, so we still have families to feed (or ourselves at least!) and spring veggies (or frozen veggies) come in handy in this easy yet festive recipe.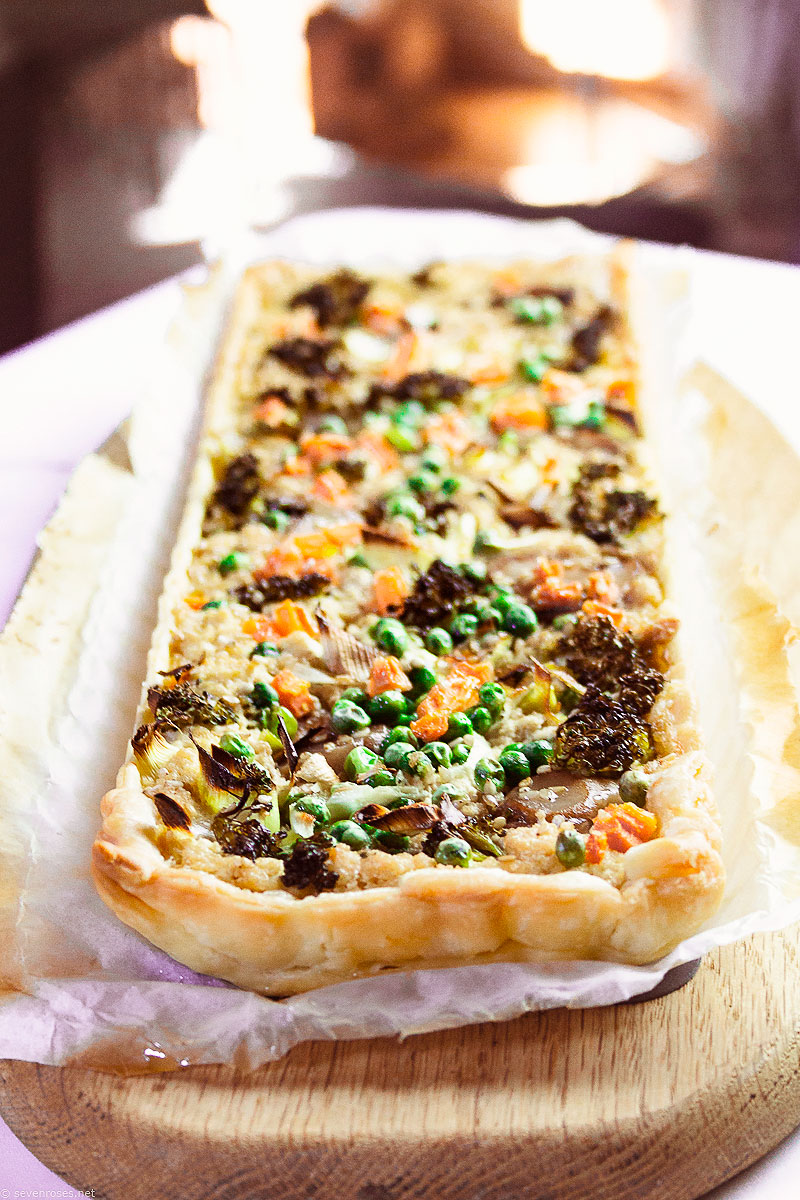 This is one of those recipes that captures all that I love: it's easy and fast to make, but despite of that the results are impressive and each bite delivers a wholesome, silky, savory satisfactory experience.
You could totally make this with veggies out of your freezer, or perhaps canned, but if you can – maybe you grow your own? – definitely make this Spring Vegetable Tart with fresh produce.
For this super easy Spring Vegetable Tart, you'll only need  a couple of veggies, tofu, soy cream, salt and pepper to season and a ready-made Vegan-friendly or "accidentally-Vegan" pie crust; then you are all set. You can also experiment with the toppings, depending on which vegetables you have at hand. Radishes would have been a perfect addition for example, but I didn't have any at the moment of baking this tart.
And in case you haven't noticed, no eggs are required, yay! For the filling I simply mixed together some crumbled tofu (when you add a splash of lemon juice, it's basically vegetable ricotta!) and soy cream with herbs, to create a nice smooth, savory custard.
This savory Spring Vegetable Tart is indeed very similar to a quiche, so call it what you want…. Just make it and enjoy it because it will be the easiest (but also most delicious and visually impressive) dish you will make this spring.  Just remember not to cut into the tart straight out of the oven.  Allow it to set (covered in tinfoil or with a lid).  I usually give it about 20 minutes or so after it's out of the oven, this way the slices will keep their shape and still be warm enough to savor.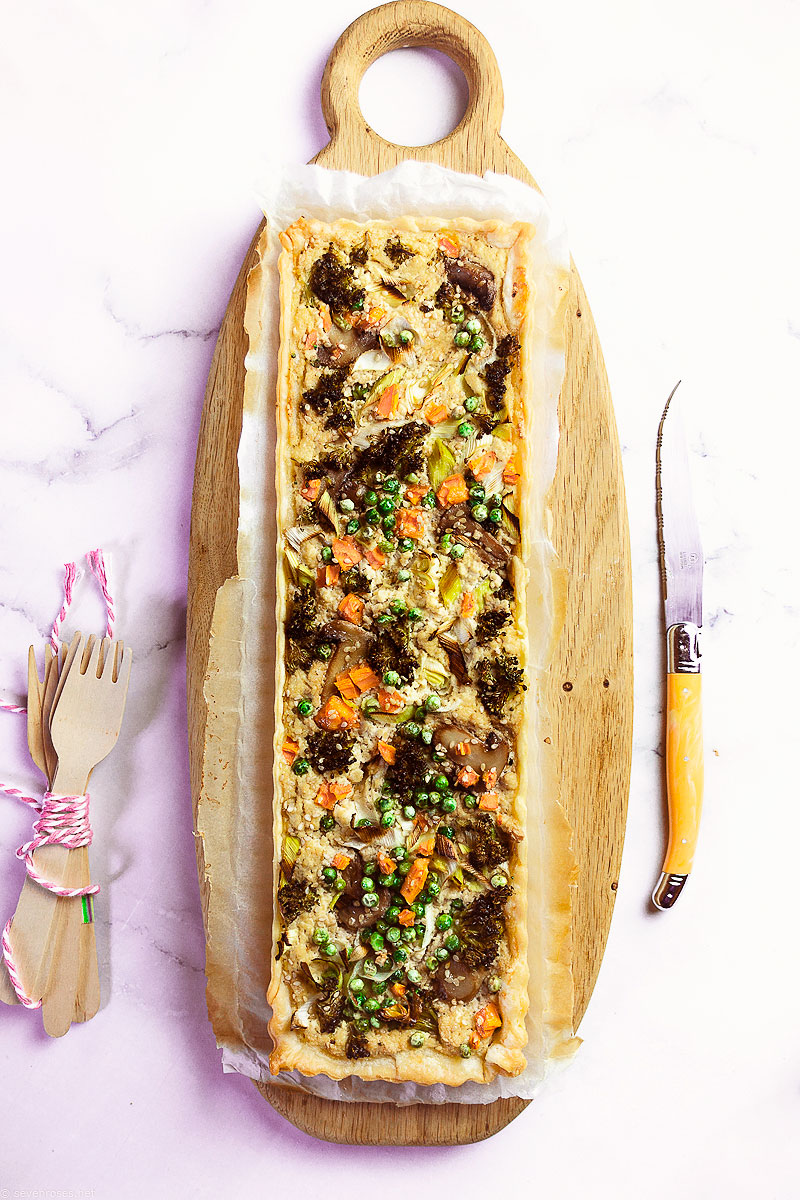 This Vegan Spring Vegetable Tart makes for a great brunch or light lunch with a crunchy side salad.  Serve warm or at room temperature.
And it's up to you wether you want to make it into a more traditional round shape or a rectangular one like I did here. For this one I used a Non-Stick Removable Loose Bottom Quiche Tart Pan and I just love how it looks :)
Come on, have a slice, or two!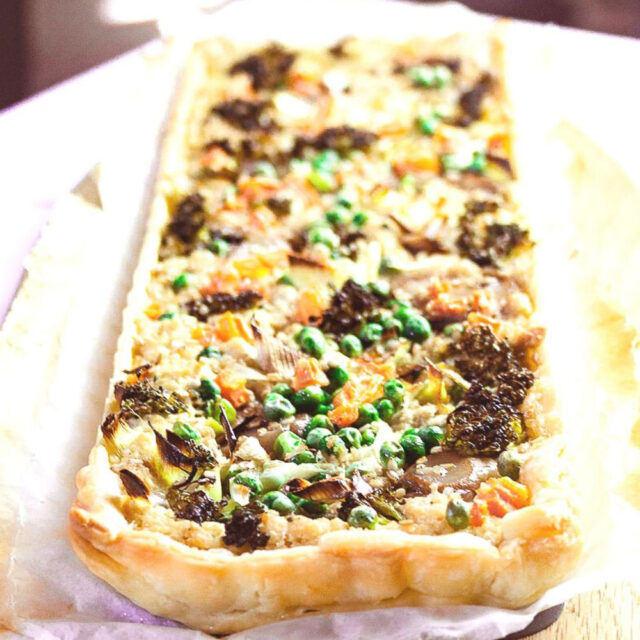 Vegan Spring Vegetable Tart
This delicious-looking Spring Vegetable Tart is so easy to make: fresh or frozen veggies and store-bought pie crust are doing all the hard work for you.
Ingredients
1

disk

puff pastry

store-bought, just make sure it's Vegan

100

gr

green peas

100

gr

broccoli

50

gr

mushrooms

2

carrots

small

2

leeks

150

gr

tofu

1/2

tbsp

lemon juice

20

cl

soy cream

1

pinch

salt and pepper

1

tbsp

nutritional yeast

herbs

fresh or dried (thyme, chives, etc)
Instructions
Pre-heat the oven at 180°C / 350°F. Wash then cut the vegetables in small bite-size pieces. If you're using frozen ones, let them rest on the counter top while you prepare the custard. Roll out the pie dough in your tart mold and prick the base all over with a fork.

In a large bowl, mix together the crumbled tofu, the lemon juice, the soy cream and the herbs. Add a pinch of salt and pepper.

Pour the tofu/cream mixture on the pie dough, then spoon all your veggies on top. Bake for around 40 minutes, or until the filling is set and the tart shell is lightly brown around the edges.

Remove from the oven, let cool, and serve with a crunchy fresh salad.

So there you have it, your easy Vegan Spring Vegetable Tart is ready in no time! I sure hope you will give it a try and love it as much as I do! If you give this recipe, please let me know in the comments' section below!
And don't forget to pin this recipe to spread the love ♥
I wish you a love-filled day xoxo
Styling:
❥ Rectangular tart oan: Non-Stick Removable Loose Bottom Quiche Tart Pan
❥ Oak Wood serving platter: Brad Quarless Furniture