Disclosure: this post may contain affiliate links, which means we may receive a commission if you click a link and purchase something that we have loved & recommended. While clicking these links won't cost you any extra money, they will help us keep this site up and running! Please check out our disclosure policy for more details. Thank you for your support!
The ultimate dairy-free, Vegan Easter Gift Guide perfect for Vegans and food allergy sufferers. No one will feel left out with these fun chocolate gifts.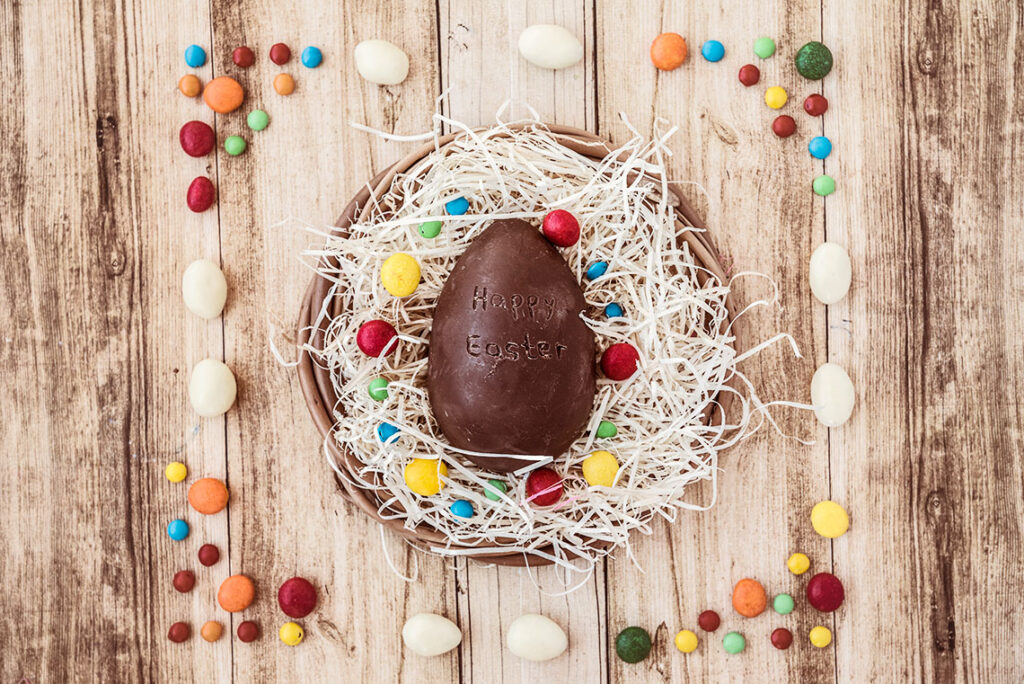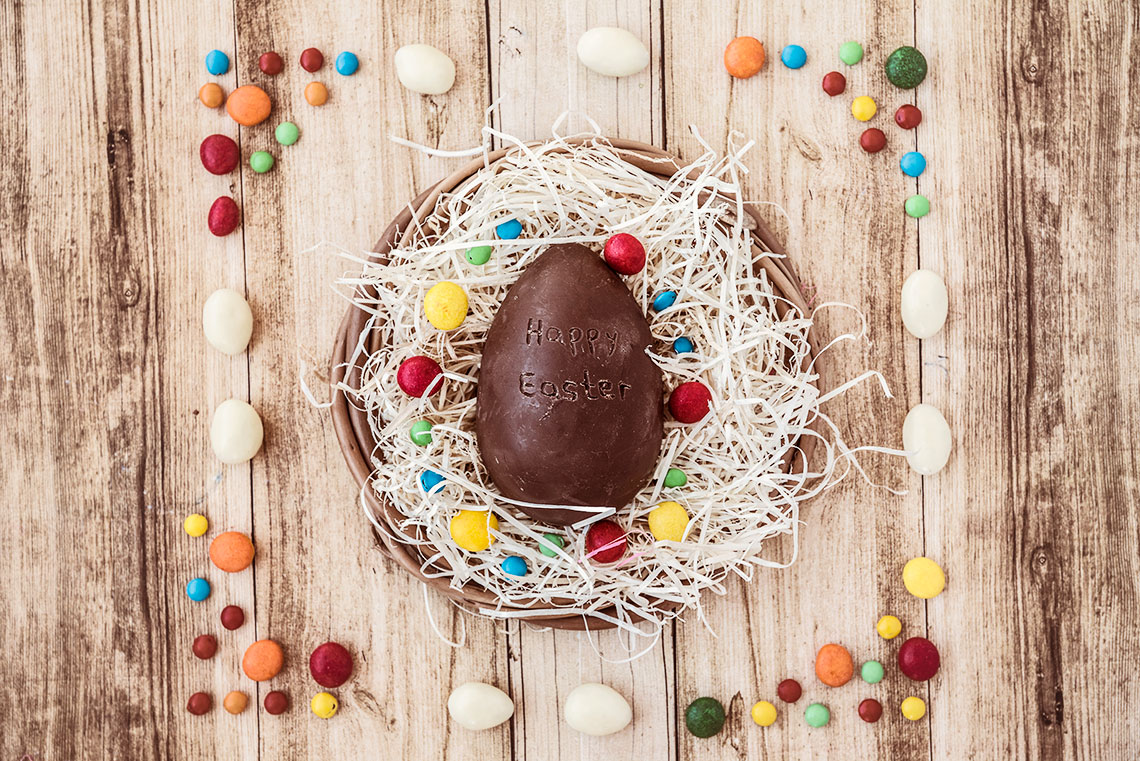 Easter can be a tough time for Vegans and food allergy sufferers alike. Family and friends are exchanging and sharing their favorite chocolate eggs while some people are left out… Does this sound familiar? That's why I created the ultimate dairy-free, Vegan Easter Gift Guide perfect for Vegans and food allergy sufferers.
No one will feel left out with these fun chocolate gifts. Perfect to share with others, to fill gift baskets or to give as gifts.
And don't forget to check out all the amazing Vegan Easter recipes you can prepare ♥
Vegan Easter gift guide under 30$

Divine Dark with Pink Himalayan Salt Chocolate Easter Egg 3.5oz This vegan-friendly pink Himalayan Easter egg from Divine has a truly bold taste that's offset by the delightfully sharp pink Himalayan salt throughout. There are no animal products used for this 70% dark Easter egg, nor is there any palm oil or palm derivatives.

Lake Champlain Organic Vegan Solid Dark Chocolate Easter Bunny, 3.75 Ounces (2 Pack) A pack of 2 solid dark chocolate bunnies for Easter. Crafted from 57% cocoa content organic chocolate, these Hopp'n Bunnies are perfect for chocolate lovers, kids, and adults! Stuff them in Easter baskets, hand them out to friends and family, or enjoy one yourself :) Made with fair trade chocolate. Certified USDA organic by QAI and Star-D Kosher certified.

Moo Free Dairy Free Original Organic Easter Egg with Choccy Drops (Pack of 2)
These dairy free Easter eggs are made using Hammy's multi-award winning organic rice milk chocolate. Each dairy free and gluten free Easter egg is then packed into cute and unique Easter egg boxes that feature Mikey Bunny. These dairy free and vegan Easter eggs are perfect for kids or adults of any age who have food allergies, are vegan or simply enjoy fun, quality chocolate.

Moo Free Bunnycomb Free From Easter Egg – Vegan 120g Moo Free from honeycomb Easter eggs are perfect for kids or adults of any age who can't have dairy products, are vegan or enjoy quality Easter eggs. Made using a combination of natural, organic and ethically sourced ingredients.

Nomo Vegan Free from Creamy Chocolate Easter Egg 148G Vegan and totally free from, yet so creamy. This delicious egg is just waiting to be cracked open. Free from dairy, gluten, egg and nuts. NOMO is for everyone, so no one has to miss out!

Creek House Dark Chocolate Baby Easter Bunny and 1/2 Egg Set, Organic and Vegan Delicious and lovely truffle half egg featuring a beautiful bittersweet chocolate outer shell with a rich and creamy non dairy dark chocolate filling. Packed in festive Easter garden box. Half egg measures approximately 3 3/4″ L x 2 1/2″ W x 1 1/2″ D. 1 – 4.85 oz Non Dairy Solid Easter Bunny. Solid, organic dark chocolate bunny sitting pretty in a colorful paper tulip cup, decorated with a lavender ribbon and gift tag. Each bunny weighs app. 4.8 oz, and measures 2 1/2″ L (at base) x 4″ Tall x 1 5/8″ W (at base).

Lake Champlain Solid Vegan Organic Dark Chocolate Carrot, 2 Ounces (Pack of 4) Give out this bunch of 4 dark chocolate carrots at your family Easter gathering, stuff them into Easter baskets for the kids, or hide them for a treasure hunt! However you choose to share or enjoy them, these rich, organic 57% cocoa content chocolate carrots are an Easter treat everyone will love! Individually wrapped in purple and green foils and approximately 6.25 inches long. Certified USDA organic by QAI, Star-D Kosher certified, and made in Vermont. Vegan friendly.
Vegan Easter gift guide under 20$

Creek House Chocolate Organic Vegan Truffle Easter Eggs 2 lovely and delicious half Easter Eggs nestled together. Packaged in a clear plastic box decorated with Easter eggs, and tied with a gold stretch loop and gift tag. Enrobed in organic, couverture, non GMO dark chocolate. Silky Vegan filling is made with organic dark chocolate, organic coconut milk and organic coconut oil. The coconut acts as a very subtle and creamy background for the high quality chocolate. A fine Easter gift or addition to an Easter basket. Total weight of eggs are approximately 7.90 oz. Each half egg measures approximately 3 3/4L x 2 1/2 W x 1 1/2D.

Creek House Solid Dark Chocolate Small (4.65 oz) Easter Bunny, Organic & Vegan Adorable organic, solid chocolate Easter Bunny! Wrapped in a clear cello bag with colorful paper cup, and tied with a lavender ribbon and gift tag. Fine addition to an Easter basket, or a wonderful Easter gift by itself.

Moo Free Easter Dairy Free Sea Salt & Caramel Egg 160g This Easter egg was lovingly made by Moo Free who are an ethical, family-owned UK manufacturer. They only use natural, high quality ingredients including single origin, organic cocoa from plantations in the Dominican Republic.

Amore di Mona Vegan Chocolate Crispy Caramela Easter Bunny Gift Box – Free of Gluten, Soy, Dairy, Tree Nuts, Peanuts. 3 delightfully packaged 1 ounce Dark Chocolate and Crispy Caramela Easter bunnies nestled on a bed of natural Easter grass with hand tied ribbon. Created using ingredients that are vegan, organic, kosher, non-GMO, and common allergen free.

No Whey Easter Eggs (2 Pack) Vegan Chocolate Candy Filled Eggs – Dairy Free Chocolate Candy Surprise Eggs – Milk, Nut, Soy and Gluten Free Chocolate – Choco Nonos and Peanot Cups These amazing chocolate No No's were inspired by your favorite M&M's TM and made from creamy milk free chocolate! They also took your favorite Reeses TM peanut butter cups and created a 100% peanut free chocolate alternative! These vegan candy is strictly crafted in a dedicated facility WITHOUT ANY of the common eight food allergens, meaning these vegan chocolates are safe for almost anyone to consume and worry-free for food allergies!

Plamil So free Organic White Chocolate Alternative Easter Egg This organic dairy free white chocolate alternative hollow Easter egg and bunny bar is made in a factory which never uses dairy or gluten. Made from a blend of cocoa butter, sugar and rice. Tastes just like white chocolate made with milk but with no milk! Vegan & Gluten free.
Vegan Easter gift guide under 10$

So Free Organic Dairy Free Milk Chocolate Alternative Mini Half Eggs 55g This Bow-Tie Bunny includes a pack of organic dairy free milk chocolate alternative mini half eggs. All the taste of dairy milk without dairy. Made in a factory which never uses milk, wheat or gluten. Organic and vegan.
ps: if you want to make your own Easter eggs instead, go for Egg Shape Silicone Molds like these. Simply melt some dark chocolate, coat the mold, let cool down and then fill with peanut butter. Then cover with more dark chocolate and let cool down again before removing them ;)