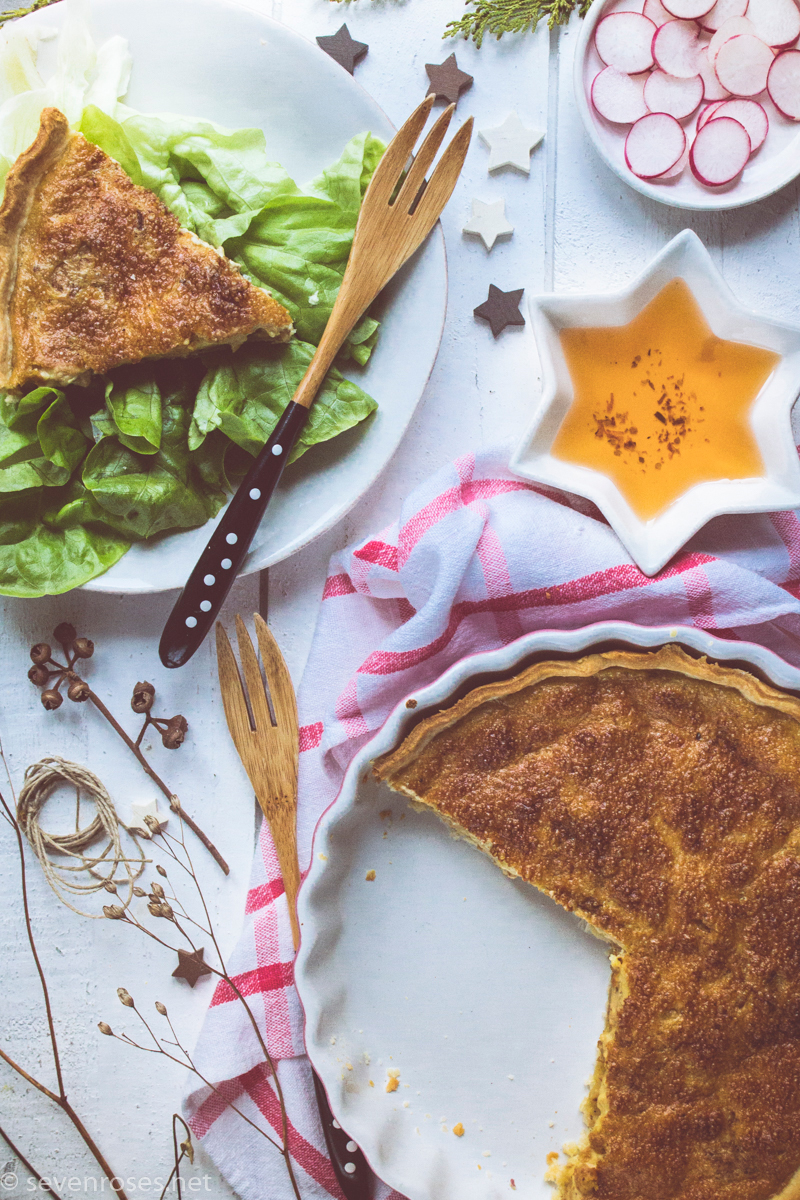 Hello my beautiful friends!
If you've been here before, you know how much I love to recreate classic recipes from both my husband's and my own country of origin only with plant-based ingredients – a couple of examples are the Vegan Cherry Clafoutis and my Easy Vegan lasagna. This is why I can't wait to share with you this marvelous new adaptation of a French classic, a Vegan Quiche Lorraine.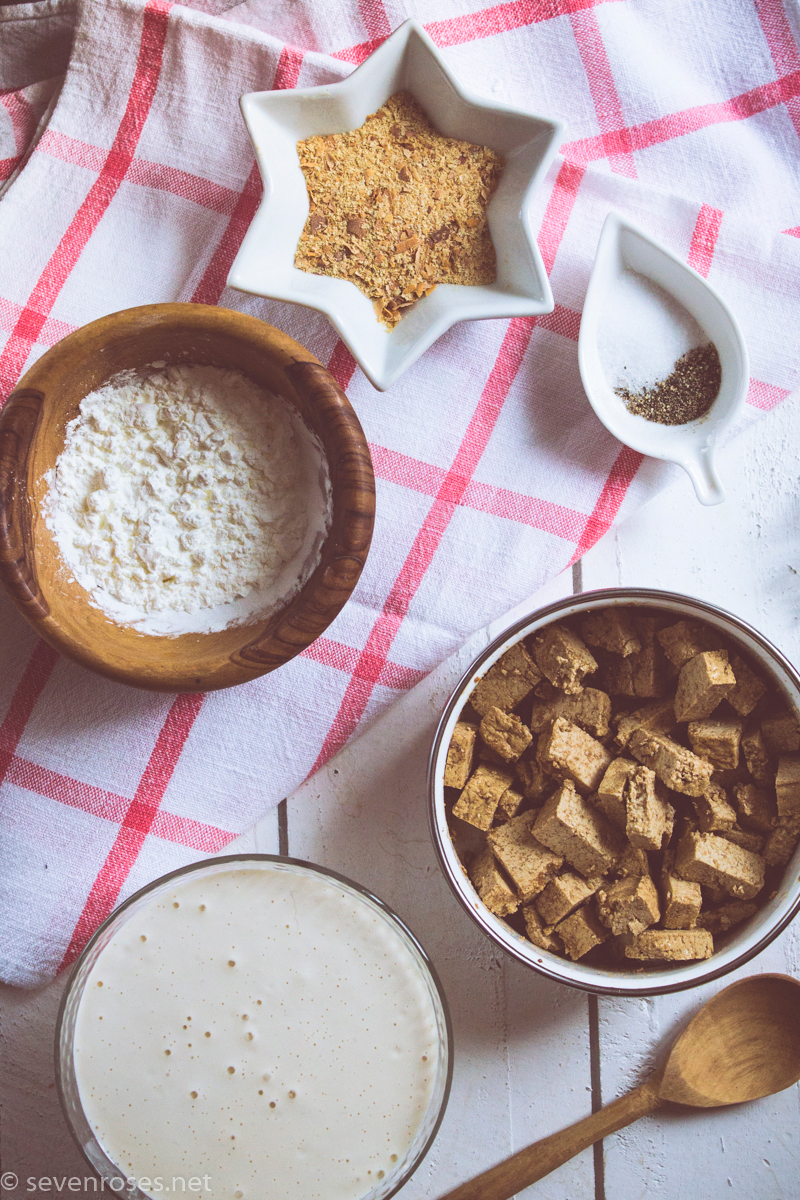 As my husband is not only French but actually born & raised in the Lorraine region, I count him as an expert of the famous Quiche Lorraine, which used to be one of his favorite dishes. So I knew I had to give it a try, tweak it a bit, and make my own Vegan version :-) Fabien said this Vegan Quiche Lorraine checks all the boxes in terms of texture, taste and pleasure – without using any bacon bits, eggs, butter, milk nor cream – I consider this a success!
This will be from now on my go-to Holiday entertaining dish. Its' easy to make, doesn't require crazy prepping, it can be eaten warm out of the oven or cold (the purists will tell you it must be eaten still warm, but you do you!), it's easy to bring to a party and fun to slice and share with friends and family.
I really hope you give this recipe a try, and if you do, please let me know in the comments :-)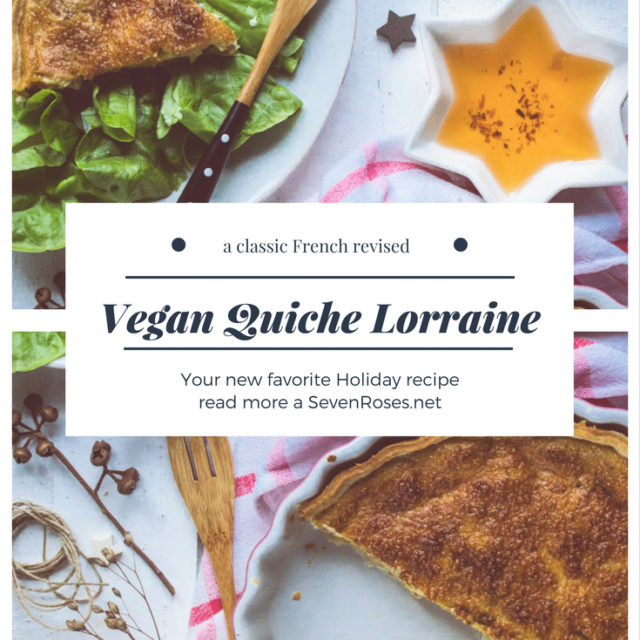 Vegan Quiche Lorraine
This egg-free, dairy-free, all Vegan Quiche Lorraine is a revised version of a French classic. Easy to make and fun to share, I'm sure it will become your new favorite Holiday recipe :-) Eat it warm or cold, it's super good both ways!
Ingredients
1

disk

pâte brisée

or Pie Crust (see notes to make your own)

200

gr

tofu

(or smoked tofu to skip a step)

400

ml

non-dairy cream

I used soy cream

2

tbsp

cornstarch

2

tbsp

nutritional yeast

a.k.a. "nooch" :D

1

tsp

turmeric

1

pinch

salt and pepper
Marinade for the tofu (skip if using smoked tofu)
2

tbsp

soy sauce

low sodium or tamari

1

tbsp

liquid smoke

1

tsp

garlic powder
Instructions
Start by marinating your tofu (skip this step of you're using smoked tofu). Whisk together the soy sauce, liquid smoke and garlic powder and pour over the cubed tofu. Let it rest while we proceed with the other steps (the more you let marinate, the more intense the flavor will be). Turn on your oven at 180°C / 350°F.

Start by unrolling your pâte brisée, and carefully press into the base and sides of your pie dish, trim any excess with a sharp knife and, using a fork, randomly make holes in the pastry. Leave it aside as we prepare the mixture.

In a bowl, gather the cornstarch, the nutritional yeast, the pinch of turmeric, the salt and pepper. Add a bit of the soy cream and whisk well before adding the rest of the cream.

Pour the cream+cornstarch mixture over the pâte brisée, and then scatter the cubes of tofu all over.

Now place your pie dish in the oven, let cook at 180°C / 350°F for 45 minutes (start checking around the 40th minute) and remove from the oven when the top is golden. Serve right away with a fresh salad, or let cool and pack for your gathering, picnic, party... It makes a great "next day" left-over meal.
—-
Did you enjoy this post? I would love for you to pin it! Thank you! ♥
Also, do let me know in the comments which is your favorite holiday dish and did you veganize it? Or shall I veganize it for you? :)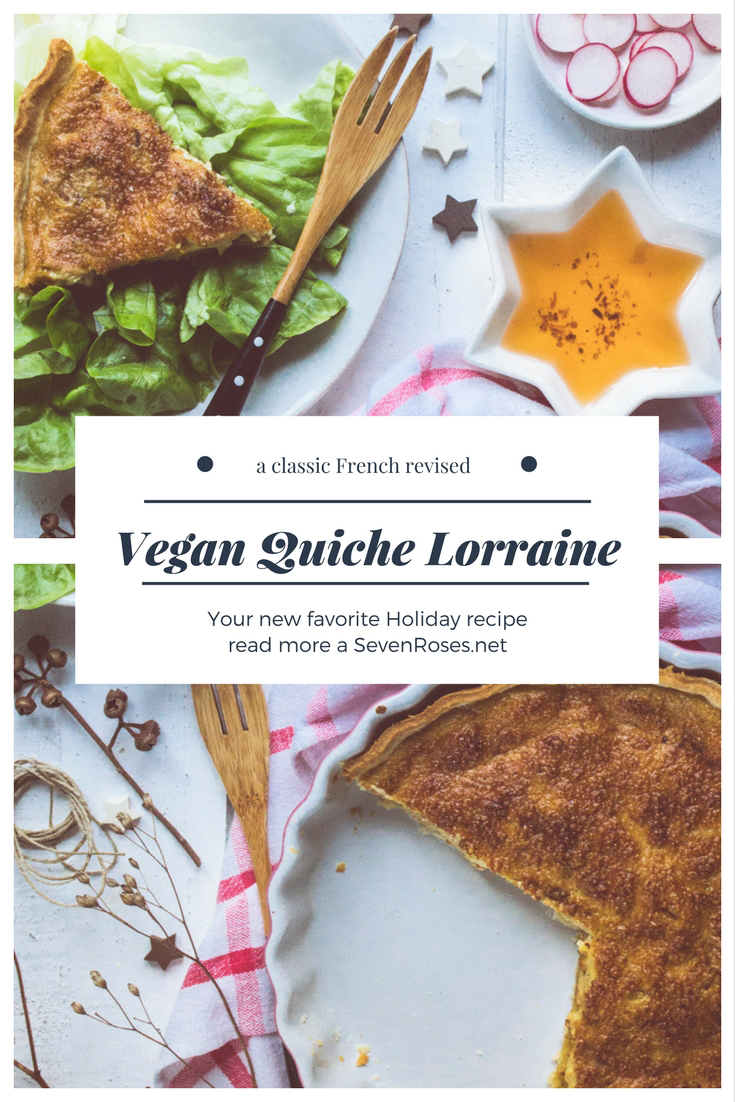 Styling:
❥ Star-shaped little dish: SOCOSY Star-shaped Multipurpose Ceramic Sauce Dish
❥ Polka-dot wooden fors: similar to these Stamped Wooden Disposable Forks
❥ Quiche Pan: Patisse Extra Deep Round Quiche Pan with Removable Bottom