Disclosure: this post may contain affiliate links, which means we may receive a commission if you click a link and purchase something that we have loved & recommended. While clicking these links won't cost you any extra money, they will help us keep this site up and running! Please check out our disclosure policy for more details. Thank you for your support!
It's time to rethink your SPF routine: this is the BEST sunscreen with no white residue to make sure your skin is protected, hydrated, and looking glowy without any white cast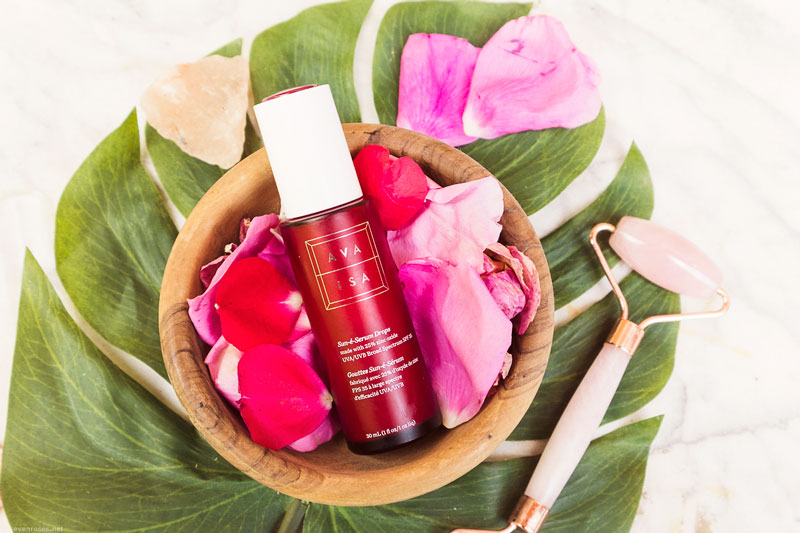 Hello my beautiful friends!
As I'm writing this, summer is officially in full swing …and it's time to rethink your sunscreen routine to make sure your skin is protected, hydrated, and still looking glowy without any nasties and toxic ingredients. So today I'm going to share with you what I'm using and loving at the moment – but since SPF is a year-long necessity, this is new skincare favorite of mine will accompany me long after summer has gone.
So yes, first and foremost: the most important part of your skincare routine is… sunscreen. It doesn't matter whether you're doing an extensive Korean 10-step skincare routine or if you prefer to just gently wash & moisturize and you're done. SPF must always, always be part of your skincare routine to make sure you're protecting your skin from harmful sun rays,  slowing the aging process and most importantly preventing skin melanoma.
Too many people still only associate sunscreen with summer and being at the beach, but SPF should be worn all year long, even on days you're staying indoors. And although I perfectly know this, even I have been guilty of not using sunscreen all year long because I just never found a good SPF that was Vegan, cruelty-free, but also gentle on the skin, didn't leave a white cast, didn't break me out, didn't feel heavy, only had great ingredients and that was actually pleasant to use on a daily basis. Yes, I said it.
So I had quite a list of requirements… but I've finally found the BEST sunscreen with no white residue that I feel comfortable (and happy) to wear every single day. And I just have to share this discovery with you. Now that I've been introduced to Ava Isa Sun-è-Serum Drops SPF 35 I feel my life has forever changed! – but you already know that, if you follow me on Instagram ;)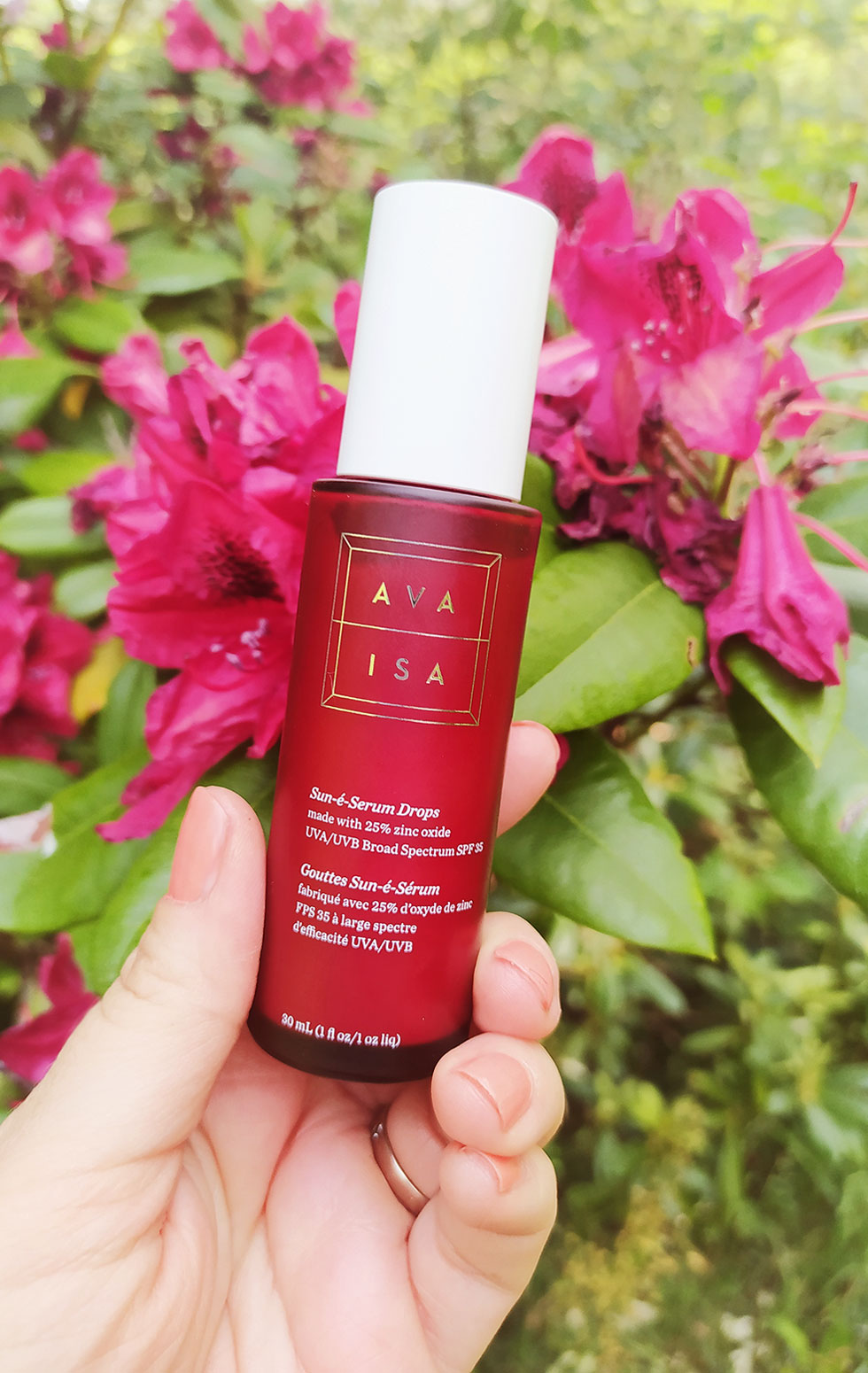 Why Ava Isa Sun-è-Serum Drops SPF 35 is the best sunscreen with no white residue?
This lightweight sunscreen is perfect for daily protection because of its serum-like application and texture: it's one if not the most wearable formula I've ever encounterd. It leaves no white cast whatsoever, the formula is so weightless, sheer and liquid that it actually gives the skin a luminous "your skin but better" finish that is especially noticeable on days when I'm wearing no makeup.
But is also sits very well under makeup, acting almost as a primer because of its silky touch.
This is truly a non-invasive sunscreen, and this such an important factor if we want to wear sunscreen all year long and protect our skin 365 days a year. It blends so beautifully and it will control any extra shine on your skin, so there's a velvety finish which is not drying – this SPF will impart a glowy radiance.
 Ava Isa Sun-è-Serum Drops SPF 35 innovative mineral sunscreen is so freaking good, for multiple reasons.
❥ First, it's powered by zinc oxide, a great and safe option when it comes to SPF and yet it blends in all skin tones fast without leaving a white cast and without making you feel like a sticky ghost.
❥ Second, it absorbs into the skin so nicely: its water-like consistency has a silky touch and feather-weight application with a soft, dewy finish.
❥ Third: not only it's Vegan and cruelty-free, but it's also coral reef-safe.
❥ Moreover, it comes in a recyclable glass jar with a dropper.
❥ And last but not least, it has an awesome ingredient list that makes this SPF function more like a serum. Among the ingredients you'll find the powerful antioxidant Micah® for gentle correction of the appearance of the signs of aging.  Micah® (not to be mistaken fwith mica!) has been clinically proven to reduce the negative effects of Blue Light and has shown to prevent free radicals before they are created.
Micah® is an anti-aging anteoxidant — the first and only product on the market proven to stop sun aging before it begins. Using a patented discovery in fused-ring cyanoacrylates, Micah® returns UV-excited photosensitizers to the ground state, safely stopping damaging reactive oxygen species (ROS) and free radicals from forming. Micah® offers a strong proof of concept: independent testing using ex vivo female human skin implants has shown that it effectively prevents UVA-induced ROS as well as several markers associated with inflammation, photoaging, redness and irritation. (…) Better than an antioxidant and more complete then a sunscreen filter, Micah® can give a range of sun and skin care products a commanding lead by more effectively preventing visible signs of aging, including loss of skin elasticity and fine lines and wrinkles. [source]
For daily use, just shake well and apply two droppers in the palm of your hand. Warm it up and spread it all over your face (don't forget your ears!) and neck. Apply one more dropper on your decollete and back of your hands. I find it weightlessly hydrates & locks in moisture for a soft, smooth & healthy-looking glow.
This would be the final step in your skin routine in the morning, before applying makeup.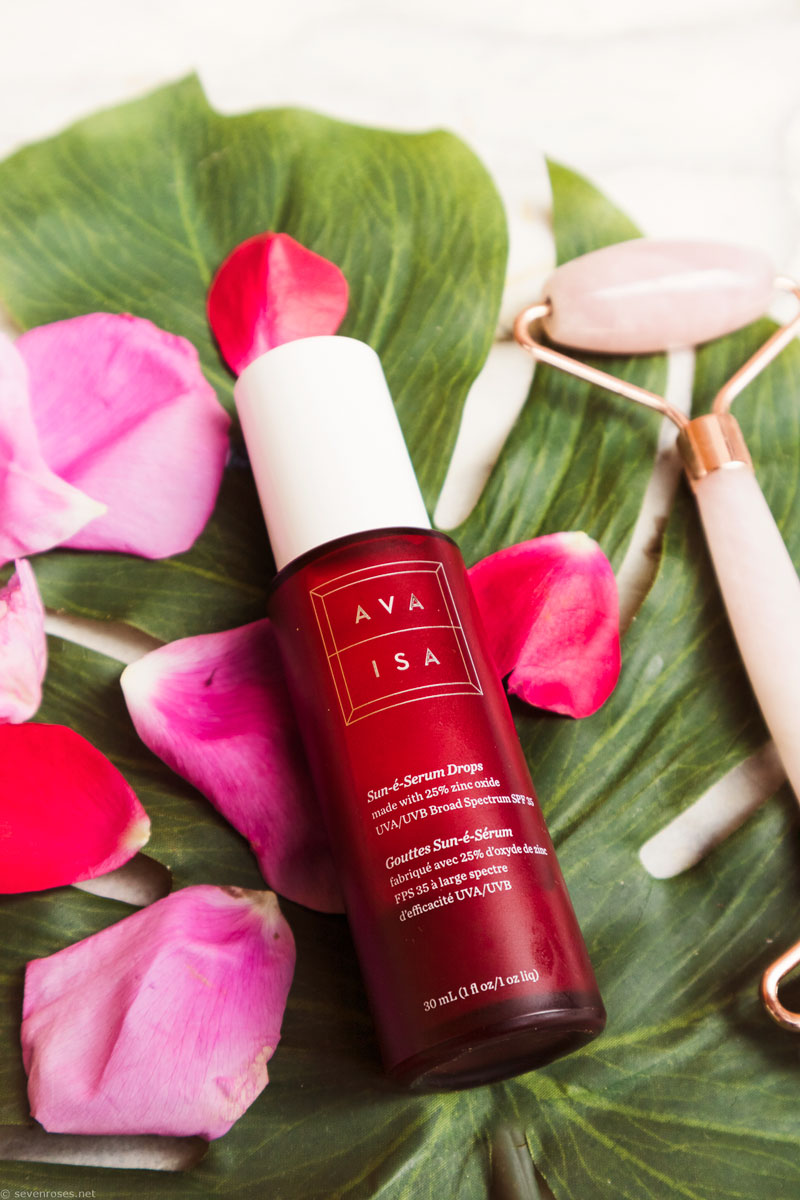 Quick Product Notes
✧ Paraben-Free
✧ Sulfate-Free
✧ Alcohol-Free
✧ Silicone-Free
✧ EU Allergen-Free
✧ Minimal Ingredient list
✧ Vegan ♥
✧ Cruelty-free ♥
✧ Ecocert Certified
✧ Dewy finish
✧ Not greasy
✧ Skin Protectant
✧ Anti-radical properties
✧ Best sunscreen with no white residue IMHO :)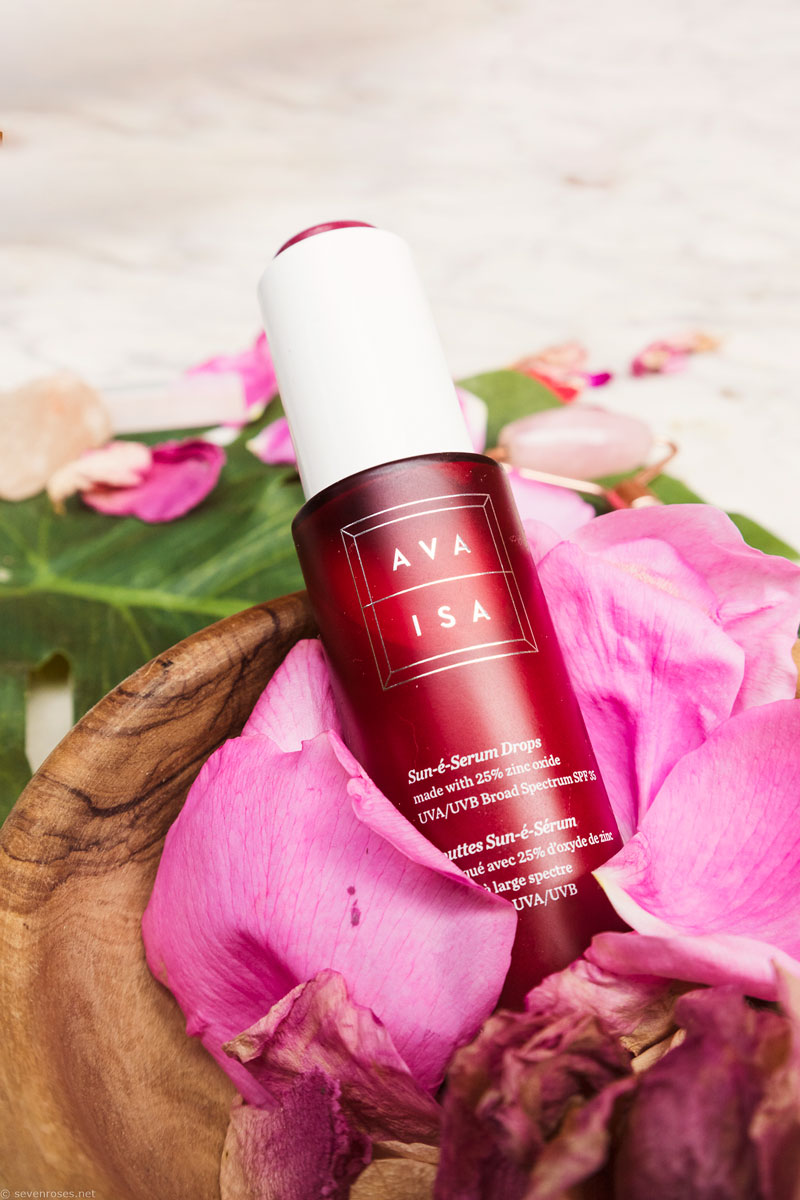 Ingredient list
Medicinal Ingredients: 25% Zinc Oxide
Non-Medicinal Ingredients: Caprylic/Capric Triglyceride, Glyceryl Isostearate, Polyhydroxystearic Acid, Polylactic Acid, Coconut Alkanes, Coco-Caprylate/Caprate, Carthamus Tinctorius Oleosomes, Aqua, Cellulose, Sorbitan Oleate, Bis Cyano Butylacetate Anthracenediylidene (Micah)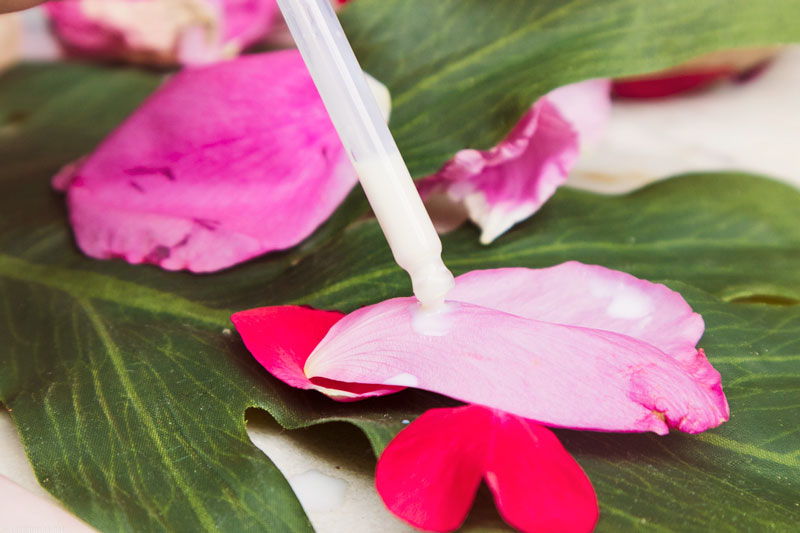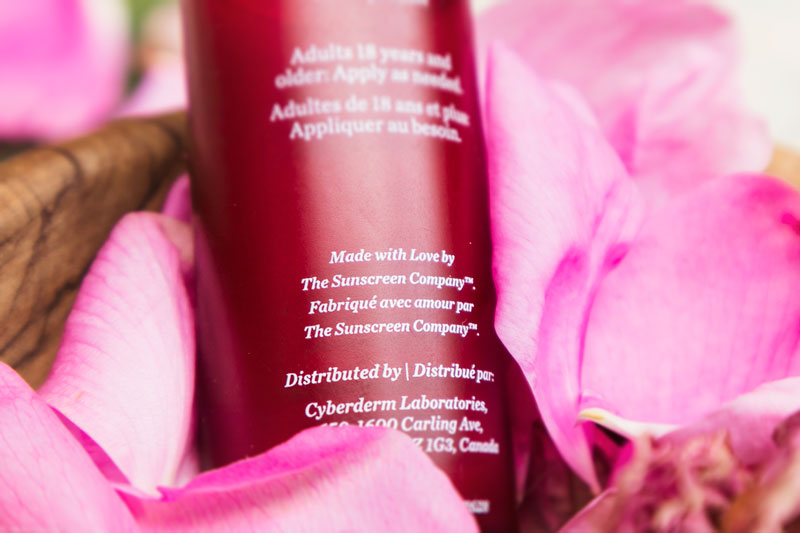 I confidently recommend Ava Isa Sun-è-Serum Drops SPF 35 luminizing sunscreen with antioxidant benefits for everyone, no matter what skin tone you are: this sunscreen will not leave a white cast and will protect your skin beautifully while at the same time having an almost blurring effect, not shiny at all, but glowy instead. Plus, its revolutionary ante-oxidant ingredient Micah®, is an anti-aging ingredient that prevents free radicals before they are even created.
I can tell you with confidence: investing in the right sunscreen for your skin will pay off :)
The dropper bottle includes 30 ml / 1 fl oz and retails for $50CAD. If you want to check out Ava Isa Sun-è-Serum Drops SPF 35 by The Sunscreen Company, click here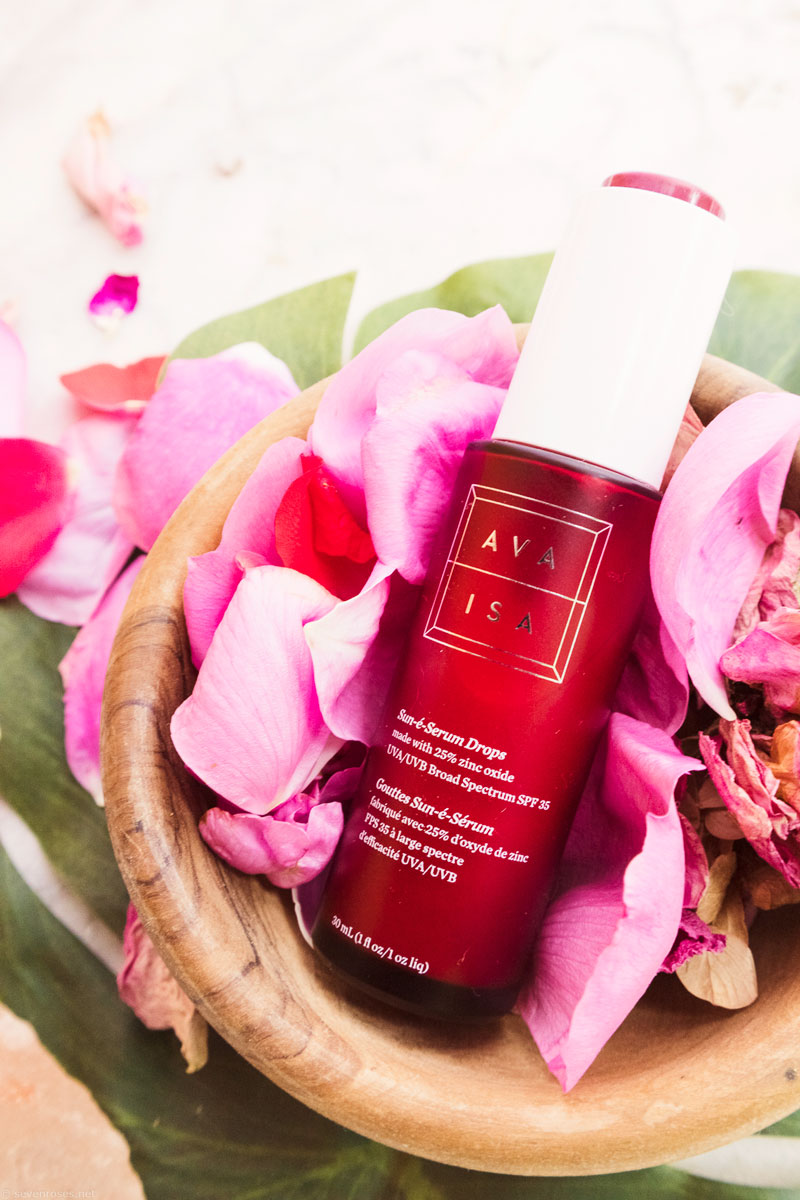 But now I would like to know: do you wear sunscreen all year long? Even indoors? Don't worry, this is a judgement-free zone :)
Let me know in the comments down below.
And don't forget to pin this to share the love ♥
I wish you a love-filled day xoxo
Disclaimer: I've been fortunate enough to receive some of the above mentioned products for free to try, but opinions and the choice to review are 100% my own. This post contains affiliate links.