Disclosure: this post may contain affiliate links, which means we may receive a commission if you click a link and purchase something that we have loved & recommended. While clicking these links won't cost you any extra money, they will help us keep this site up and running! Please check out our disclosure policy for more details. Thank you for your support!
Hello my beautiful friends, welcome back to SevenRoses, I hope you're having a fantastic day!
Today we're going to chat about some of my Summer Essentials… it's already mid-June, I can hardly believe it, and Summer is basically here :)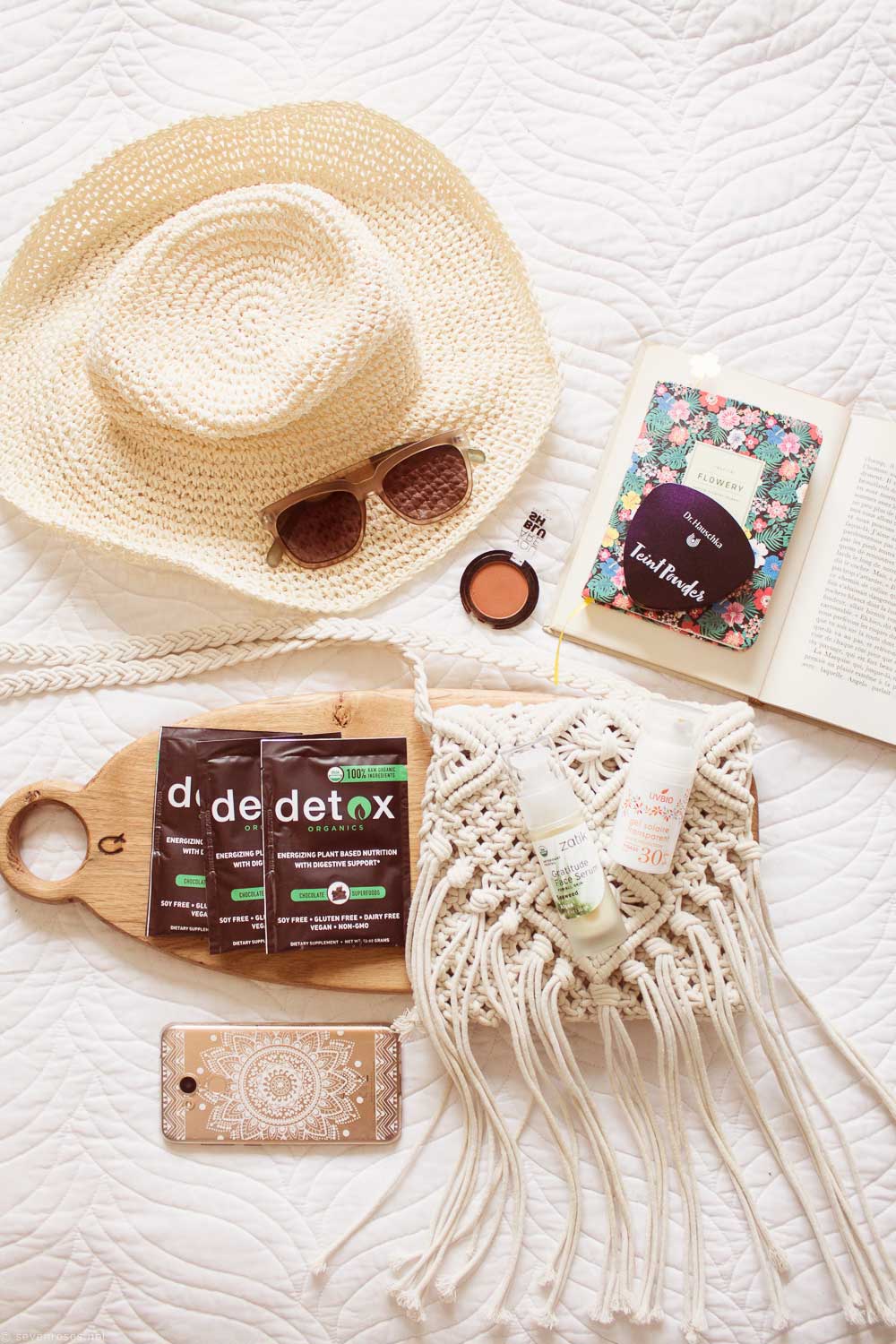 These are the things I can't live without during the Summer months, when we are outdoors most of the time, hiking, running, having picnics, riding our bikes, visiting & sightseeing, going to the lake, reading a book under a tree, you name it.
So let me tell you about my Summer Essentials but I would actually love to hear what are some of the things that are essential for *your summertime*, so leave me a comment – it might be something I haven't thought about yet! :)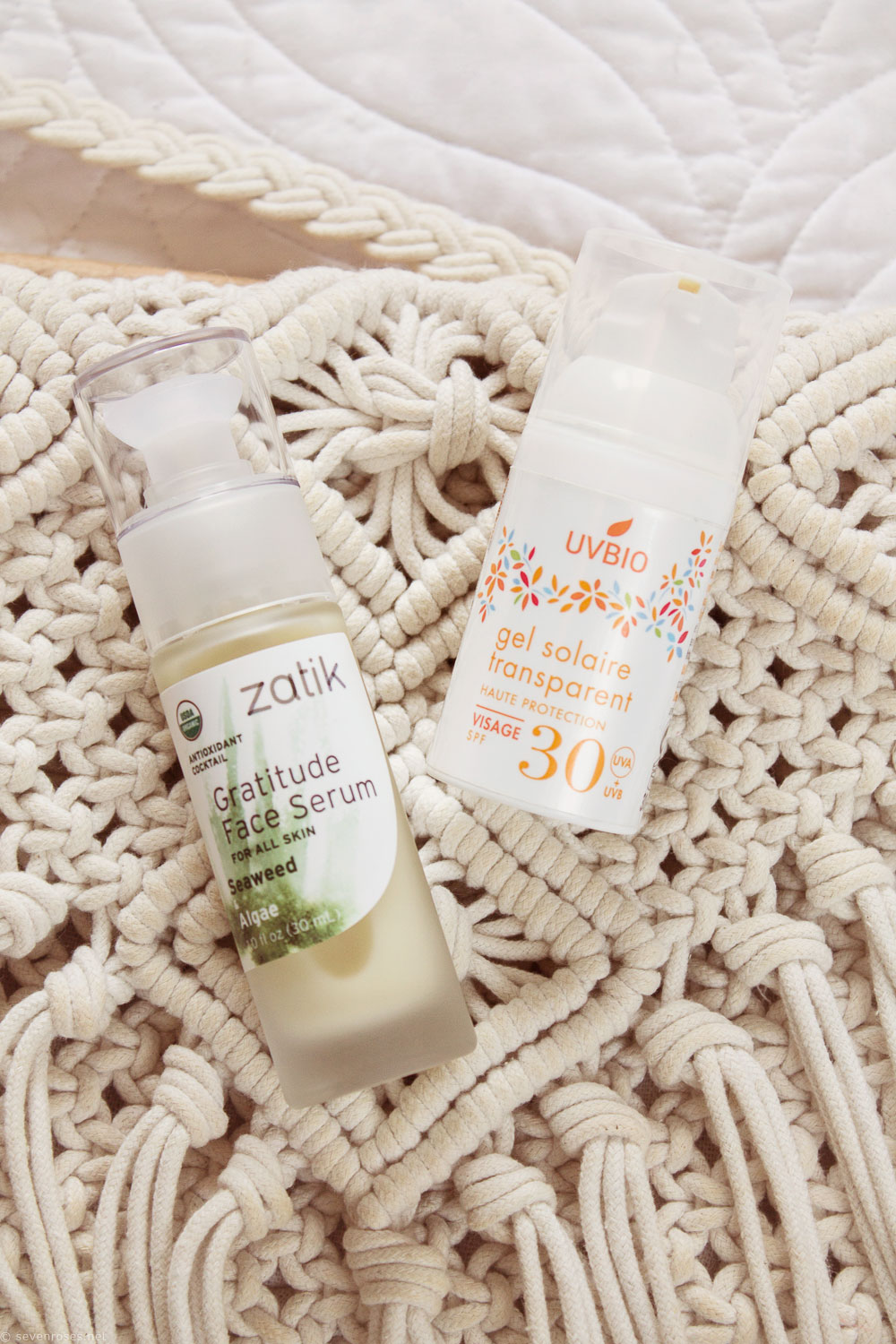 The first and most obvious essential is going to be sunscreen. This year I've found a great, Vegan, organic, cruelty-free brand Made in France that I just love: UV Bio – but you already know that, if you follow me on Instagram.
All their products are created with organic, natural ingredients including Karanja and Jojoba oil, Goji berry extract, and many others, to associate the antioxidant benefits of skincare with a mineral sunscreen. I've been loving their innovative Transparent gel SPF 30 which gives a very good, lasting protection without any of the usual sunscreen downsides – being completely transparent not only it dries quickly but it doesn't leave a white cast behind.
I've been wearing it daily under makeup during out road trip to Italy (and temperatures in Rome were in full-blast Summer mode!) and I must say the combo gel SPF+mineral makeup has been perfect. It almost acted as a primer! It has a pleasant floral smell and a delicate texture. It comes out yellowish but doesn't remain yellow on the skin, if anything it gives a nice glow.
This is definitely my favorite SPF of all those I've ever used, one that not only looks & feels good on the skin, but also doesn't contain dubious and harmful ingredients. Moreover, it's not even expensive!
Hand in hand with SPF, another Summer Essential is good skincare. A new entry in my beauty routine (you might have seen this in my Insta Stories) is Zatik Inc.'s Gratitude Face Serum. Talking about love at first sight, with a name like that! I'm all about Gratitude, and adding this serum to my daily skincare routine has made it a lot more like a self-care ritual.
Please make the time to do your skincare with intention, not judging your problematic face or your signs of aging; instead, being thankful for the day that is about to start or that just ended (this serum can be used both in the AM and PM) and how many smiles or tears or emotions your face lived with you.
Its ingredients list is wonderful – a blend of organic marine algae & seaweed, herbs, essential fatty acids from raw flower and vegetable seed oils and the whole philosophy of the brand is amazing. Love!!
When it comes to makeup, Summer months are all about being minimal and let the skin breathe and glow. The only two products I will take with me are the Purple Light powder foundation by Dr. Haushka and a very "sun-kissed-skin" blush from You Are Cosmetics, another very recent discovery in the world of Vegan & Cruelty-free beauty.
The Purple Light powder foundation is a miracle powder that instantly gives me a fresh, flawless complexion by evening out the skin's appearance. And this thanks to its balanced color combination but especially thanks to the nourishing mineral pigments and nurturing plant extracts, that impart a nice glow to the skin without drying it out. I just lightly brush it on my face, mostly on the cheeks, chin and nose and I'm ready to go.
Well no, actually before heading out the door, a touch of You Are Cosmetics Blush Essential – from what I can see You Are Cosmetics has been created by the same people at E.L.F. so you can expect the same Vegan philosophy made of fun colors and small price tags :)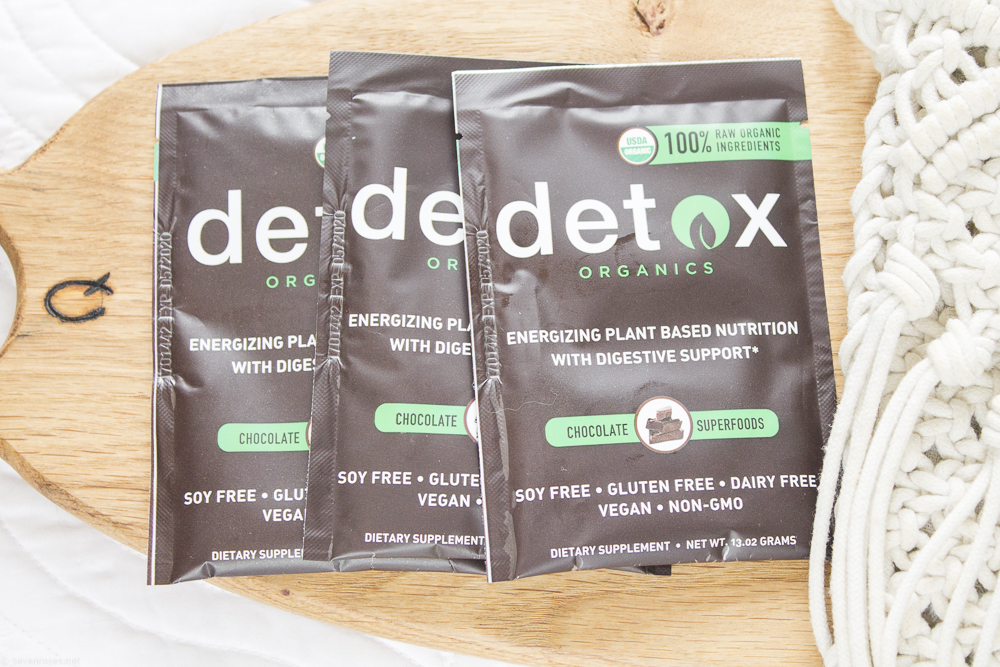 The beginning of Summer and warm weather months in general are for me the perfect time to do a little Detox cure. It's normal for our bodies to crave fresh fruit, healthy salads and light meals as a response to the heat outside. You don't want to load your digestive system with lots of condiments and fats.
Each year I will look for a detox cure and this time I found a very yummy one – it comes from Detox Organics and it's their 15 Travel Pack which promotes fat loss, eliminates bloat, and eases digestion. It was perfect to carry with me even while traveling through Italy in single-portion sized sachet. This all-in-one formula is a daily plant based supplement that alkalizes, detoxifies, and energizes – all the things that I'm looking for when the temperatures rise and my blood pressure drops.
One look at the ingredient list and you will understand how there can be so many benefits in these packets:
Organic Carrot Root, Organic Beet Root, Organic Dandelion Root, Organic Ginger Root, Organic Lemon Balm Leaf, Organic Fennel Seed, Organic Turmeric Root, Organic Pineapple Fruit, Organic Acai Berry, Organic Aloe Vera, Organic Cayenne Pepper and Organic Goji.
These are all amazing ingredients with proven benefits for our bodies!

A misconception about Detox powders is that they don't taste so great. But these Daily Superfoods not only have many healthy ingredients, but instead, thanks to the cacao, vanilla and maca powder, this blend is chocolatey and rich, and doesn't taste like "grass" like many other similar products :P

In the photo above you can see how rich and chocolatey one packet of Detox Organics Daily Superfoods is, simply blended with soy milk. It's a healthy, yummy milkshake :) And when served with mango, banana slices and fresh strawberries over the beautiful wooden serving tray from fellow Vegan wood artist Brad Quarless, Summer breakfast is a real feast ♥ (you can see another of his creations in action in my How to Make a Vegan Antipasto platter)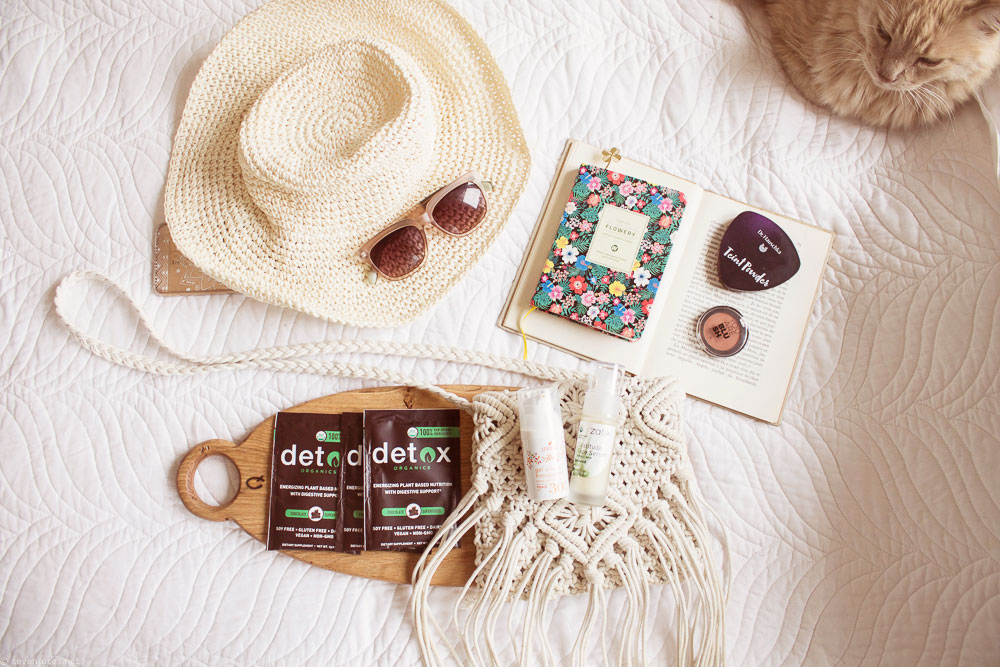 Finally, a few more random things I always have to have on hand are: a boho handbag (Summer is the season to be as Bohemian as you want, no cold-weather restrictions); a hat (this particular one is a few years old, I bought it before moving to Mauritius); a bunch of sunglasses (I will have a pair in my handbag, one in the car, one at the entrance close to my keys… these are a gift from my sister Monica that's why I particularly like them) and a book and notebook always with me :)
What about you? What are some of your Summer Essentials?
Don't hesitate to let me know in the comments. Also don't forget to pin this post and share the love ♥
I wish you a love-filled day xoxo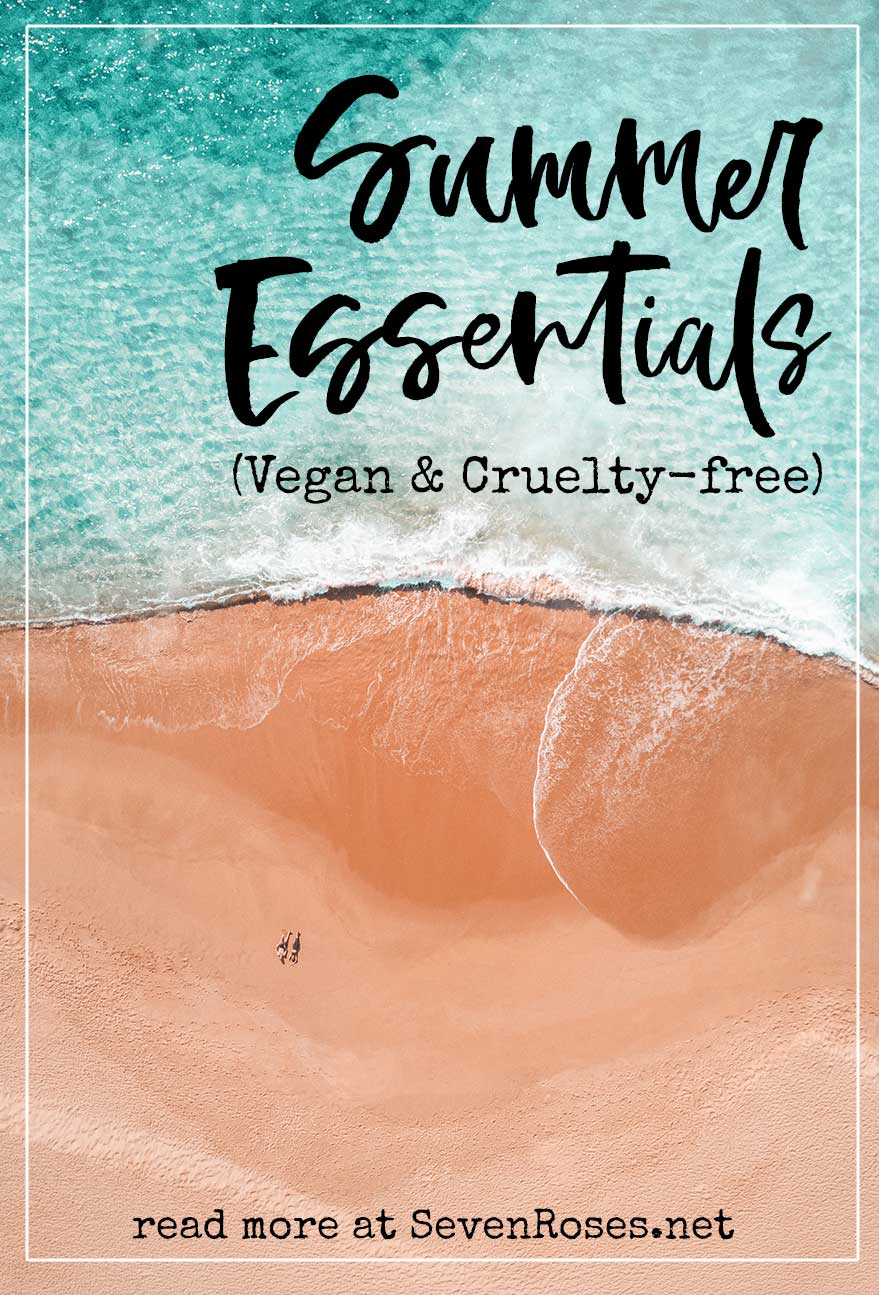 Disclaimer: I've been fortunate enough to receive some of the above mentioned products for free to try, but opinions and the choice to review are 100% my own. This post contains affiliate links.