Whether you'll be spending your summer on a tropical island, by the pool in the backyard or, alas, working as usual in the city, chances are your hair will need some extra TLC during the warmer months.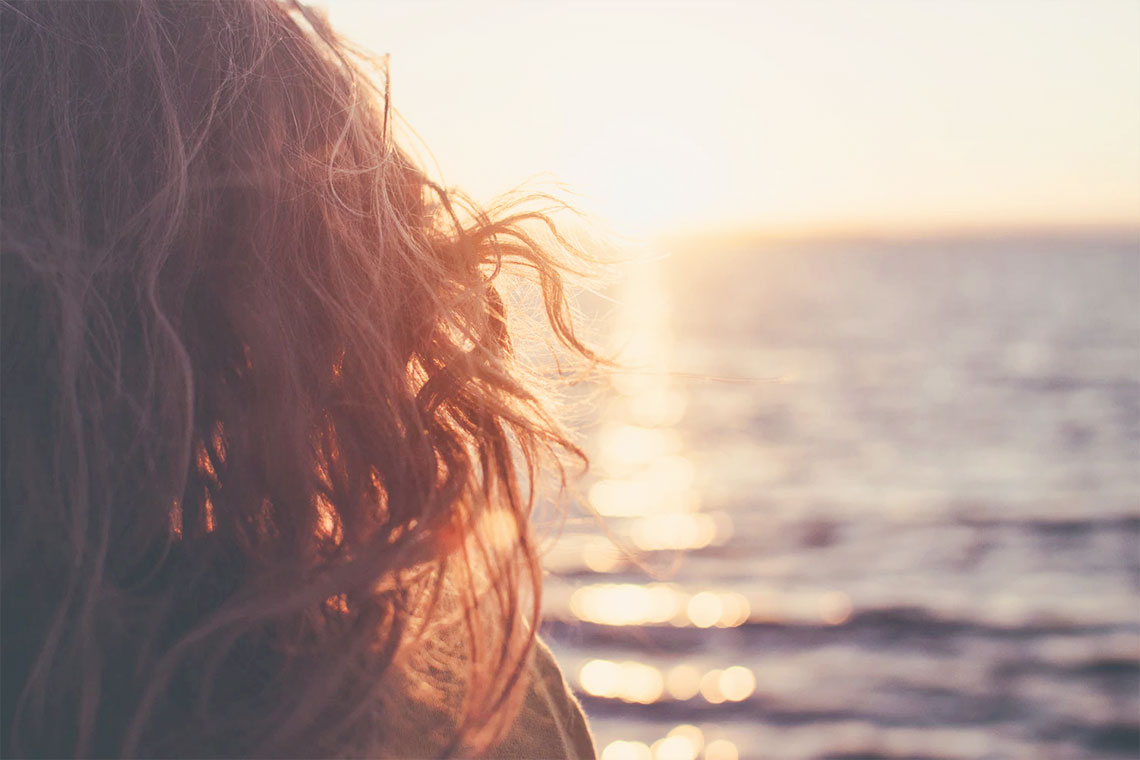 Hello my beautiful friends! When I think of "Summer hair", I imagine wild, healthy, natural hair that flows in the seaside breeze. By the way, did you know that the Vitamin D naturally contained in sunlight makes your hair grow faster?
When summer comes around, I try to minimize my hair care routine using only natural products that are not only effective but also Vegan and cruelty-free in order to get get the results that I'm looking for while still being able to live green and leave a minimal footprint.
So for today I've got my top 5 products to share with you, and they're all natural, minimalistic and easy to use!
My minimalist summer hair care routine:

Coconut Oil – if you don't know how amazing coconut oil is for your hair, facial and body care you've been living under a rock! You can find all the info you need in my Pinterest board devoted to all things Coconut Oil.
The way I use it is as a super-nutrient hair mask. No need to add any other ingredients. Just melt a bit of coconut oil in the palm of your hands and work it on your scalp and locks. Let it rest minimum 30 minutes (or the whole day/night) and then wash as usual. According to me the best coconut oil for hair is Garden of Life's Value Size Organic Extra Virgin Coconut Oil Liquid in Glass Jar – I like that it comes in a glass jar and not plastic for better product conservation, and it's super hydrating and moisturizing. It also smells great!
But if you don't like the classic coconut smell, or just to jazz up things a bit, try this heavenly scented Organic Fiji's Lemongrass & Tangerine Organic Virgin Coconut Oil. It will be like traveling in a far away land.
Either way, use it before taking a shower, or better yet, use it to prevent damage while you're in the sun – if you head to the beach or the swimming pool, make sure to massage your hair in coconut oil before!

Ghassoul cleansing gel or powder – this ready-made mineral-rich clay cleansing gel by Logona smells divine thanks to patchouli (and no, you won't smell like an incense stick afterwards!). Because of its extraordinary absorption qualities it's a detoxifying shampoo, it can also be used as a body mask.
After a coconut oil hair mask, washing hair with this gel leaves it bouncy and voluminous. BUT, there's a but: I have a problem with this product in the sense that I believe it would better fit an oily/greasy hair type. My hair is the opposite of oily, so for now I will finish this tube but I doubt I will repurchase: even with a coconut oil mask before, and a nourishing hair mask after, my hair remains very dry to the touch.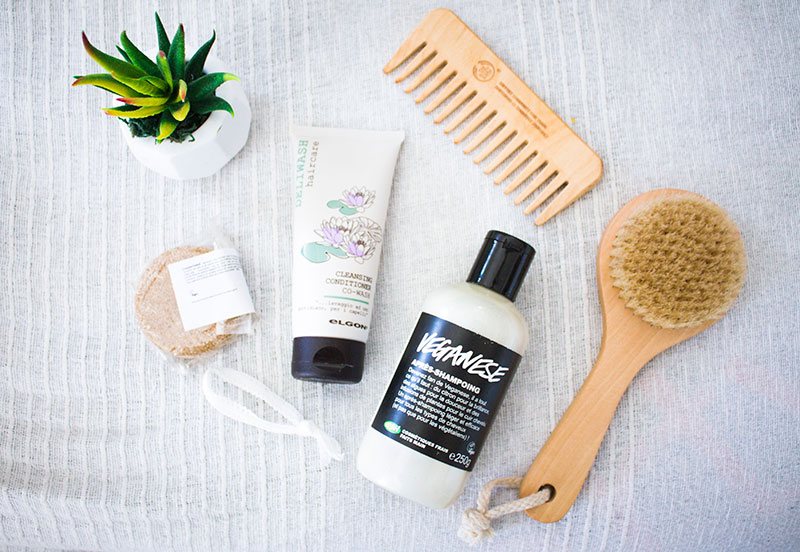 Hair treatment – This Weleda Oat Replenishing Hair Treatment, For Dry and Damaged Hair is a purely, intensely nourishing hair treatment rich in organic shea butter and oats.
I love to soak every strand of my hair in this and let it be absorbed. This is supposed to be a weekly treatment, but when summer comes around and the hair tends to be dry or even sun-damaged, I use it every time I wash my hair as it doesn't weigh my hair down like many other products do: my hair is simply manageable and smooth.

Wooden comb – In order to spread the oat hair treatment, I like to use a wide-toothed wooden comb – mine if from The Body Shop. I've tried the Tangle Teezer but my hair didn't really love it :-(
So I'd better stick with what I like – plus wood feels much better (& more natural) than plastic in my hair! I love how the wooden teeth gently massage the scalp while detangling in all safety.
Next time, I would love to try this Wooden Paddle Hair Brush and it's the one I will get when I need a new one. I think it will also sound fantastic, ASMR alert! :)

Aloe vera gel – last but not least: styling time. Aloe vera gel is probably as dear to my heart as coconut oil. I don't know which face/body/hair/skin problem I cannot solve with aloe vera. For a minimal and natural styling, all you need is aloe vera gel on humid hair (mine is from Lily of the Desert at Amazon). Finger comb and let hair dry: tadaam, the ultimate naturally wavy hair as if you've spent the day at the beach!
Plus all the amazing benefits of aloe vera: moisture, nourishment, shine. You can try this one out, it's my absolute favorite: Lily of the Desert 99% Aloe Vera Gelly

That was it, this is my minimalist summer hair care routine. As always – I am loving your suggestions, so what are some of your go-to natural beauty items? Please let me know in the comments below!
Did you like this post? I would love for you to pin it! Also don't forget to follow me on Instagram, that's where the party's at :D
Don't hesitate to leave a comment and to pin this post to share the love ♥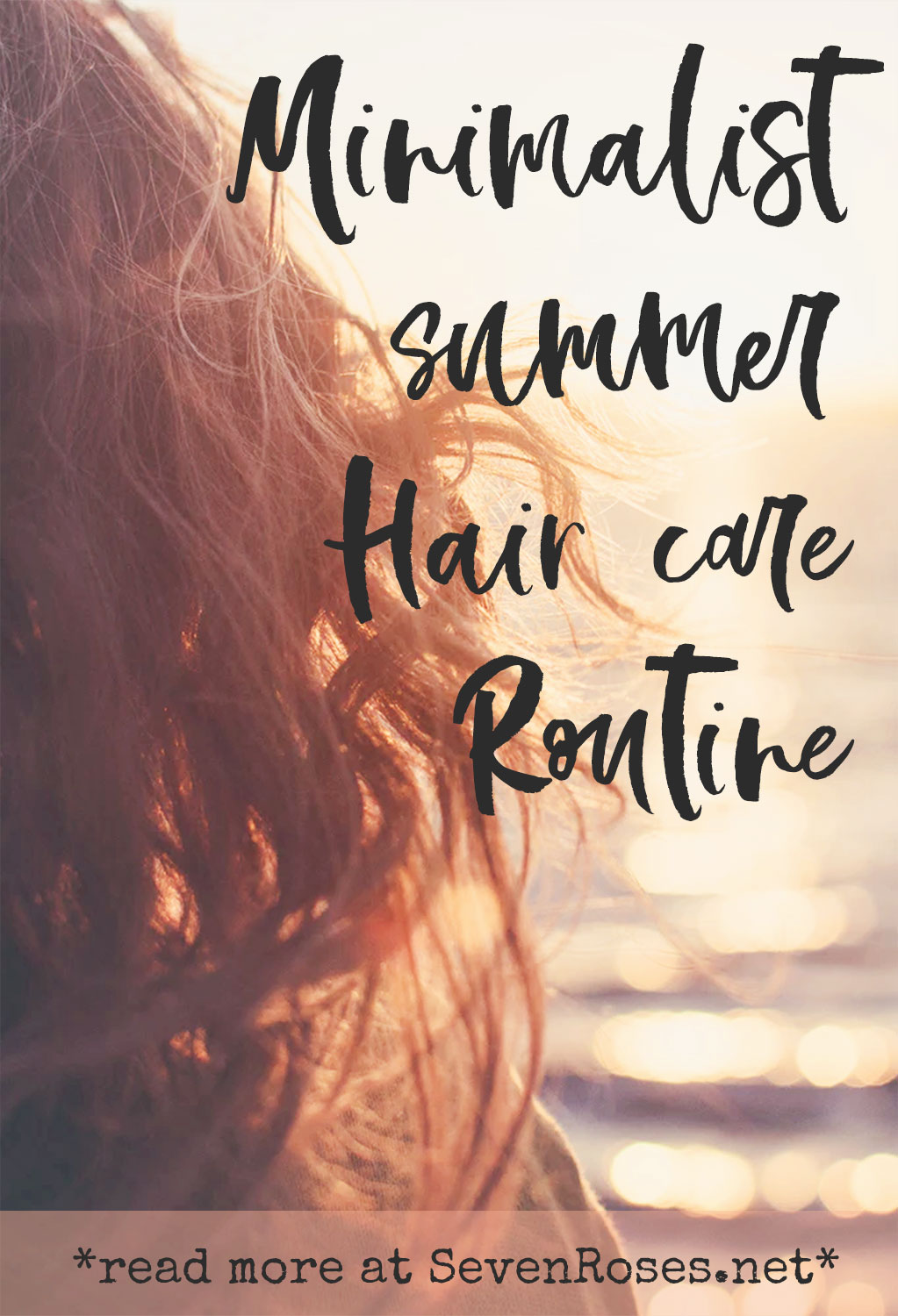 Disclaimer: I've been fortunate enough to receive some of the above mentioned products for free to try, but opinions and the choice to review are 100% my own. This post contains affiliate links.