Disclosure: this post may contain affiliate links, which means we may receive a commission if you click a link and purchase something that we have loved & recommended. While clicking these links won't cost you any extra money, they will help us keep this site up and running! Please check out our disclosure policy for more details. Thank you for your support!
From organic formulas to Vegan brands, 2020 is the year to switch to green beauty products. Here are the 20 must-have natural Classic Blue green beauty products for 2020
Hello my beautiful friends!
When a couple of weeks ago Pantone revelead their color of the year for 2020 I was a bit… underwhelmed. As mush as I loved Living Coral for 2019, this Classic Blue just doesn't resonate with me. But I will try to embrace it starting with a few must-have Classic Blue beauty products from Vegan, organic brands. And the more I'm searching high and low for the best Classic Blue green beauty products to bring to you, I must say I'm starting to understand its calming quality and perhaps, blue is growing on me, for the first time in my life :)
Do you like blue? It's supposed to be universally loved, so let me know in the comments.
To me, it mostly brings back memories of the school uniform I so hated to wear in my early teen, rebellious years.
So what's Pantone reasoning behind making this the color of the year? Let's find out:
Imprinted in our psyches as a restful color, PANTONE 19-4052 Classic Blue brings a sense of peace and tranquility to the human spirit, offering refuge. Aiding concentration and bringing laser like clarity, PANTONE 19-4052 Classic Blue re-centers our thoughts. A reflective blue tone, Classic Blue fosters resilience. (source)
If you want to find out which are the 20 must-have natural beauty Classic Blue beauty products for your beauty bag in 2020, read on :)
20 must-have Classic Blue green beauty products for 2020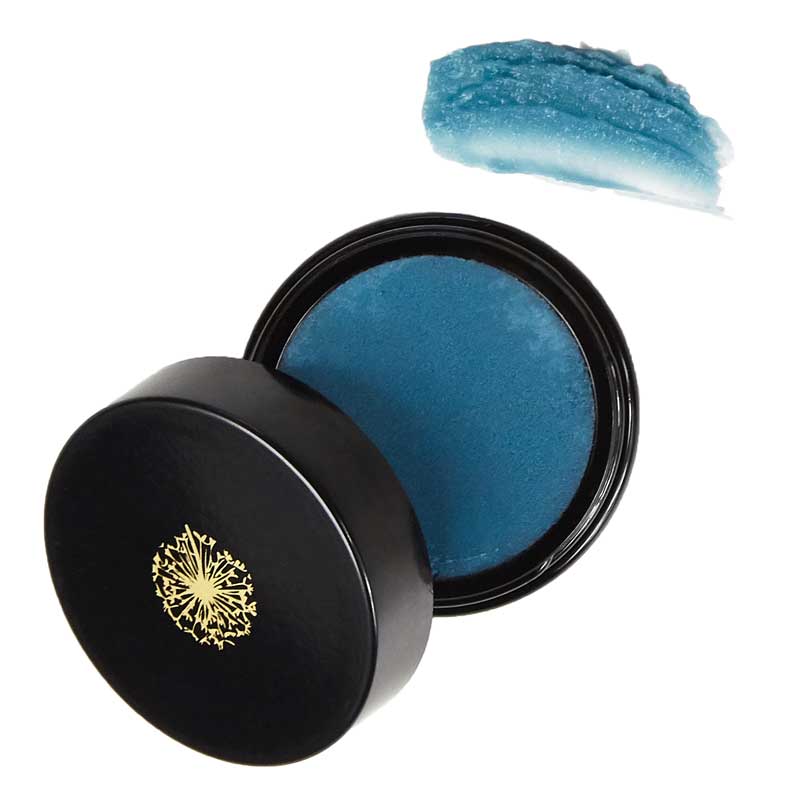 The Blue Cocoon provides the targeted benefits of a skin-transforming facial oil in the form of a unique waterless balm. The lush blue balm melts on touch into a fluid potion that coddles skin in a layer of warming hydration. Designed to provide deep nourishment to all skin types—particularly dry, sensitive and irritated—the formula is infused with ultra-soothing plant oils like lavender, geranium and blue tansy, which support a calm complexion and a relaxed state of mind. This concentrated beauty can be used as a daily moisturizer, a troubled skin treatment or as a tranquil moment of stress-relieving self-care.
Price: 180$ at The Detox Market – Get 10% off your first order at The Detox Market!
---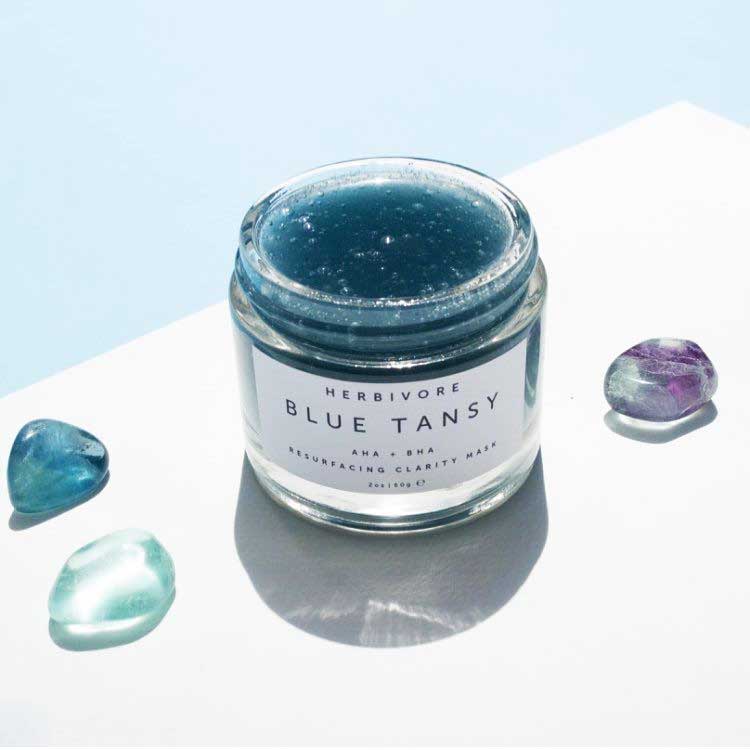 Herbivore
Blue Tansy AHA + BHA Resurfacing Clarity Mask
The Herbivore Blue Tansy AHA + BHA Resurfacing Clarity Mask is a natural clarifying and cooling gel mask that helps to smooth the complexion making it ideal for acne-prone skin types. The star ingredient, blue tansy extract, is powered by azulene, a powerful anti-inflammatory and antibacterial agent. White willow bark and aloe leaf, blended with potent fruit enzymes, gently exfoliate and decongest pores for clearer, softer skin.
Price: $48 at Credo Beauty
---
This brilliant blue mask features four types of acids—as well as enzymes and hydrators—that synergistically work together to polish, brighten and moisturize the skin. Concentrated and ultra-effective, while still being gentle, the minty gel treatment transforms the appearance of dull, lackluster complexions in minutes, leaving skin feeling impossibly clean, soft, and smooth.
Price: $68 at Maya Chia
---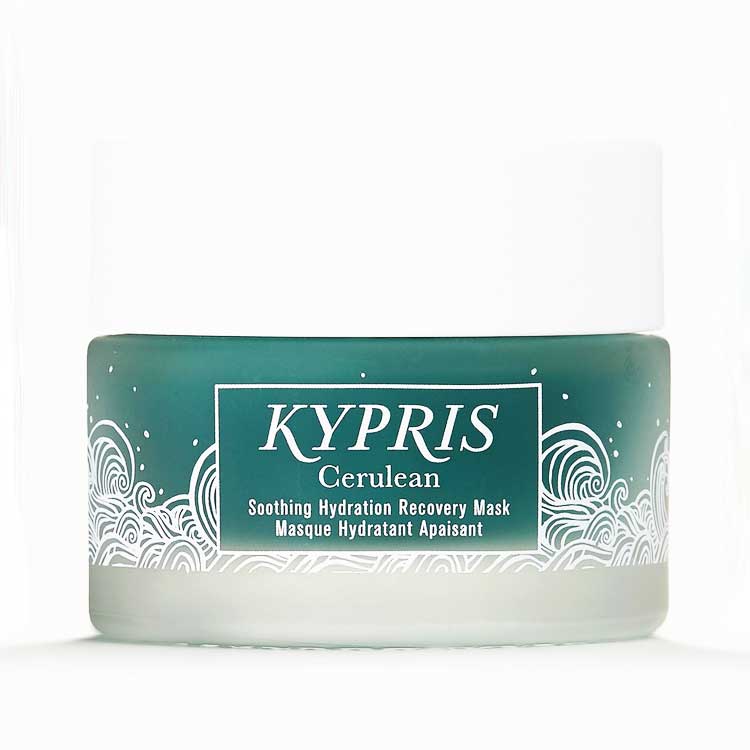 KYPRIS Beauty
Cerulean Soothing Hydration Recovery Mask
Cerulean is botanical succor for your senses and skin, your liminal envelope. Thalassic treasures soothe, soften, and hydrate skin's appearance with a collection of botanicals and actives evolved from Nature's intelligent design. This mighty pot of blue is a hydration mask, a sleeping mask, and an after sun treat to soothe the appearance of stress and dehydration.
Price: $210 at The Detox Market – Get 10% off your first order at The Detox Market!
---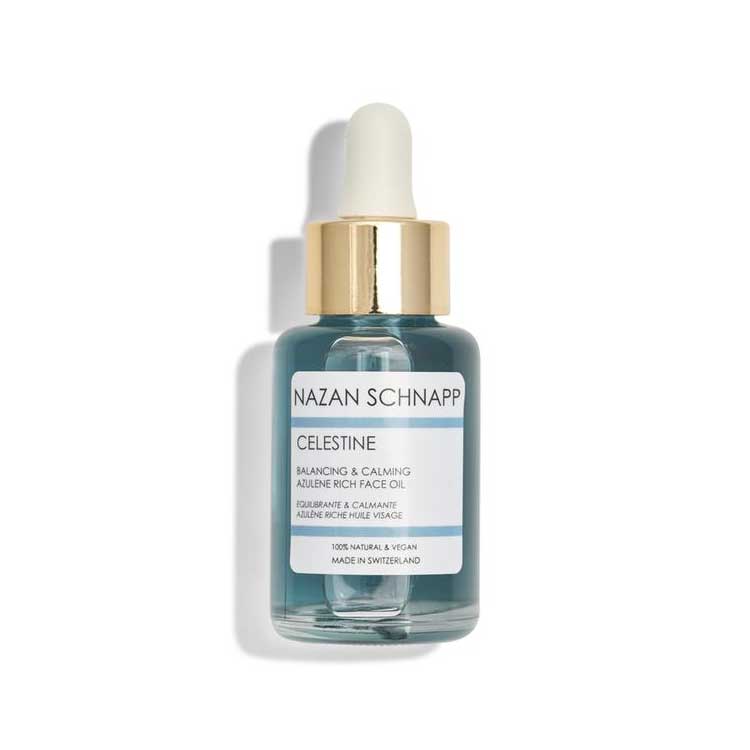 Nazan Schnapp
Celestine Balancing & Calming Azulene Rich Face Oil
Celestine Face Oil is a balancing and calming face oil serum and moisturizer in one. Made with 100% natural and pure plant ingredients. Azulene rich with organic and wild-crafted Blue Tansy, organic oils and extracts of Yarrow, Camellia, Rice, Rose Otto and Chamomile.
Great for all skin types, especially good for acne-prone, oily and combination skin.
Price: $112 at The Detox Market – Get 10% off your first order at The Detox Market!
---
The Herbivore Lapis Facial Oil is crafted to balance oily and combination skin types, provide relief from irritation, and support clearer skin year round. The star ingredient, blue tansy extract, is powered by azulene, a powerful anti-inflammatory and antibacterial agent. Kukui nut oil harmonizes oil production, while jojoba oil, squalane, and jasmine sambac oil deeply nourish skin and lock in moisture for an even complexion. You can also try using on the shoulders, back, or anywhere you are blemish-prone.
Price: $72 at The Detox Market – Get 10% off your first order at The Detox Market!
---
What skin dreams are made of—this nourishing potion features vitamin C, copper, moth bean extract, jasmine, bergamot, pineapple, and coffee to feed your skin the nutrients it needs to look youthful, supple, and radiant. Infused with malachite, a crystal believed to support healing, this soothing elixir is wonderful for all skin types.
Price: $87 at The Detox Market – Get 10% off your first order at The Detox Market!
---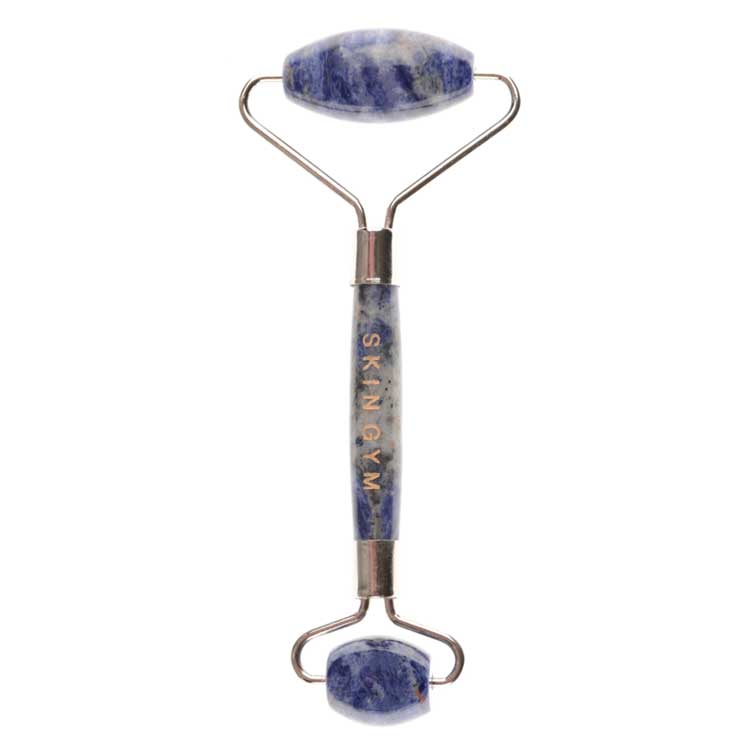 Skin Gym
The Bluey

A natural crystal roller with both large and small stones for easy, effortless movements all over the face that provides a beautiful glow to skin.
Price: $32 at The Detox Market – Get 10% off your first order at The Detox Market!
---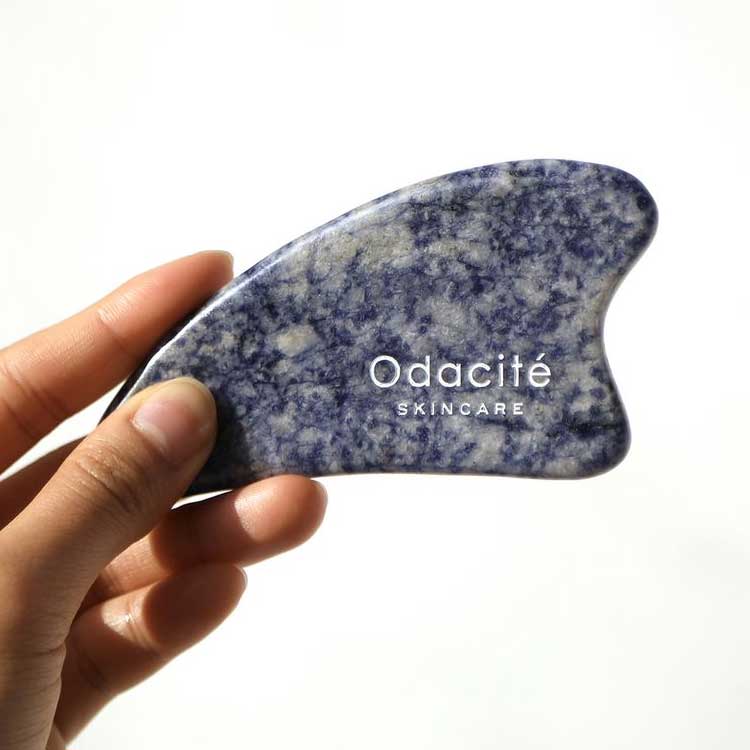 Odacite
Crystal Contour Gua Sha Blue Sodalite

The Crystal Contour is hand carved specially for the face, making your Gua Sha facial massage ultra-effective. Exceptional quality Blue Sodalite makes this treatment even more luxurious and high vibrational. Blue Sodalite is a stone that encourages harmony and restores peace and inner tranquility, releasing fears and tensions. Use its grounding energy to strengthen bonds with others, build self confidence and inspiration, and bring balance into every aspect of your life.
Price: $45 at The Detox Market – Get 10% off your first order at The Detox Market!
---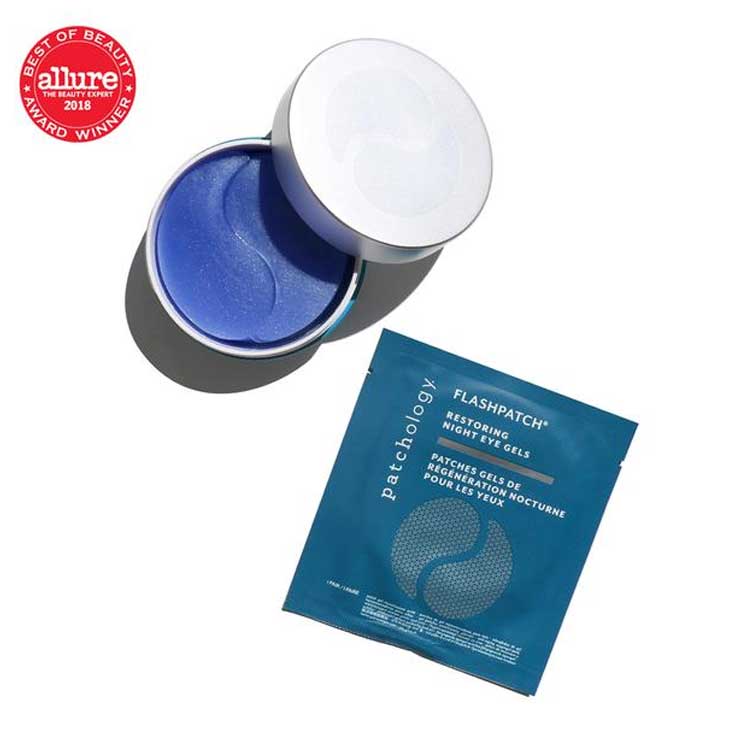 FlashPatch®
Restoring Night Eye Gels
Did you know the hours between 10pm and 12am are the best time to repair skin? Put fine lines to bed with a powerful nightly dose of anti-aging Retinol and Peptides. Cedrus atlantica Bark brightens and reduces dark circles. Arnica extract soothes tired eyes to sleep. These hydrogels work in just 5 minutes to restore a brighter, youthful appearance to overworked, under-rested eyes.
Price: $ 60.00 at Patchology – Use code PATCH15 at checkout for 15% off your purchase!
---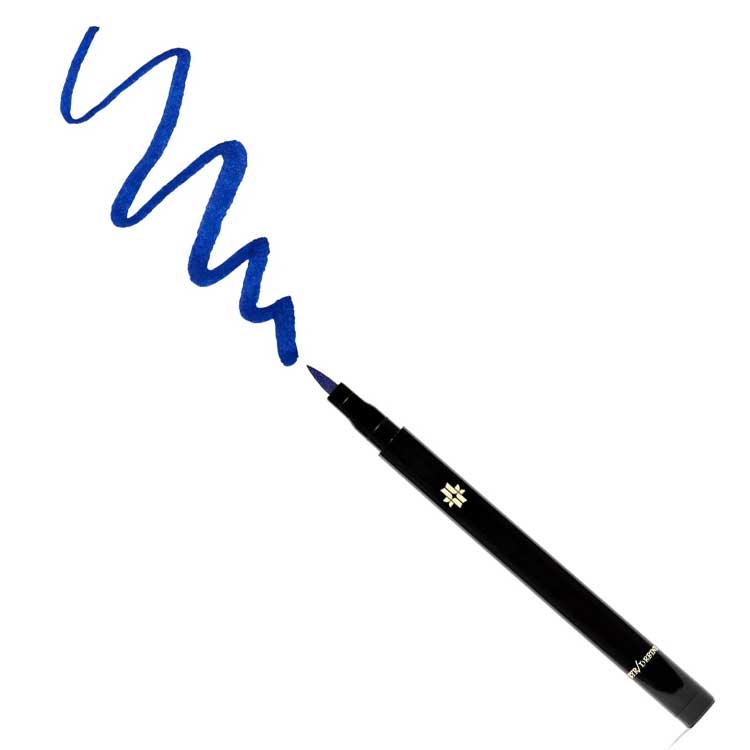 Joséphine Cosmetics
Eye / Define Natural Waterproof Graphic Eyeliner in Bibi
Defining. Enhancing. Tenacious. A high definition, natural and vegan, waterproof liquid eyeliner that defines & creates bold, beautiful eyes.
Highly-pigmented and completely waterproof, Eye/Define is a smooth & smudge proof formula – even in the most humid of conditions. This precious ink contains Shea Butter, Vegetable oils, Vitamin E & C to keep the skin conditioned without causing eye irritations. A precise felt tip applicator allows easy & effortless movement for a smooth application to achieve the ultimate cat eye.
Price: $ 25.00 at Petit Vour
---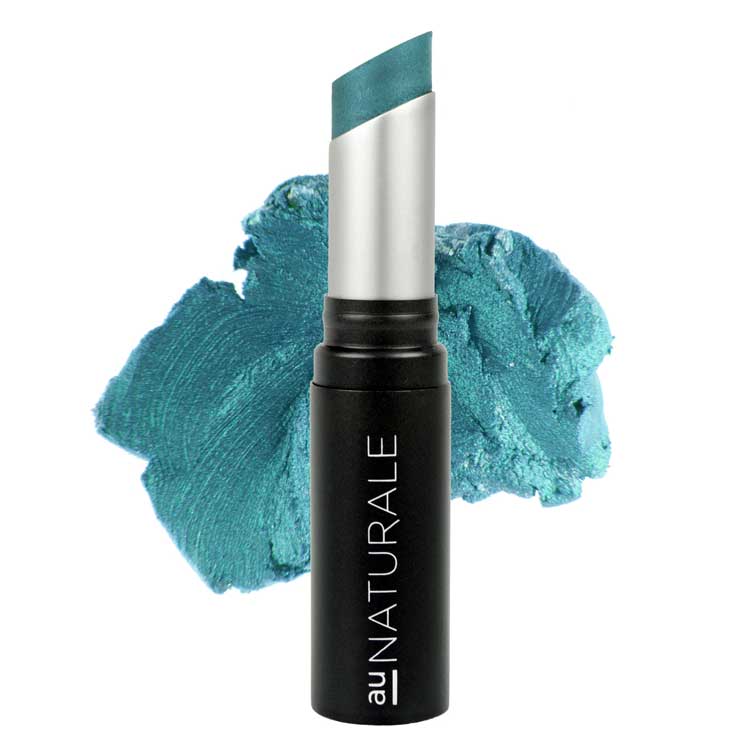 Au Naturale
Créme de la Creme Shadow in Bora Bora
The best of the best in terms of both texture and color, our Créme de la Creme Shadow delivers striking pigmentation and nourishment. Use as a stand-alone shadow or eye liner. Bora Bora is a a bright aquamarine blue formulated without animal bi-products, synthetic preservatives, nano particles, gluten, parabens or toxins, our Créme de la Creme Shadow is 100% natural, cruelty-free, vegan and made in the USA.
Price: $24 at Au Naturale Cosmetics – & get Free Shipping over $50
---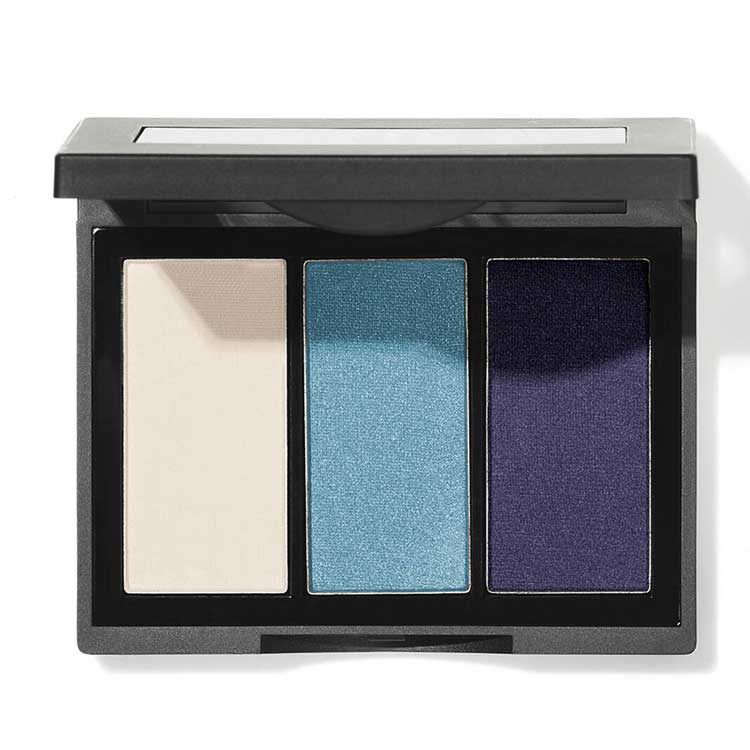 e.l.f.
Sculpting Silk Eyeshadow in Fierce Blue
These trio powder eyeshadows are perfect to sculpt, brighten, and define the eye. The gorgeous blend of matte and shimmer finishes expertly contour the eye. Vegan & Cruelty-Free
Price: $5.00 Sale Price $2.00 at e.l.f.
---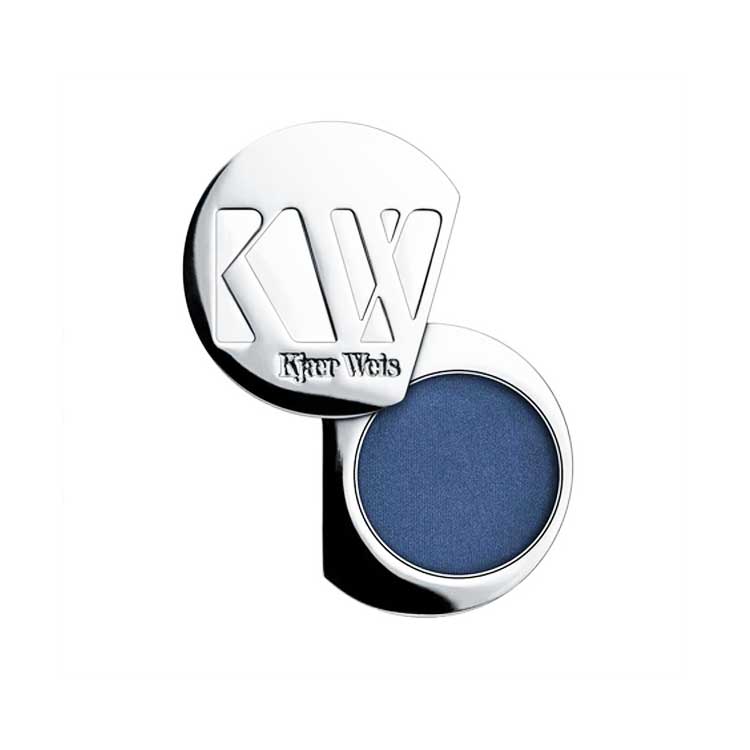 Kjaer Weis
Eye Shadow in Blue Wonder
Luxurious, organic ingredients help enhance your natural beauty: Bamboo is rich in natural silicone which is extremely important in the synthesis of collagen in the connective tissue, Honeysuckle extract is antibacterial, while Gardenia Florida Fruit Extract is a powerful antioxidant that works as a natural preservative.
Price: 45$ at The Detox Market – Get 10% off your first order at The Detox Market!
---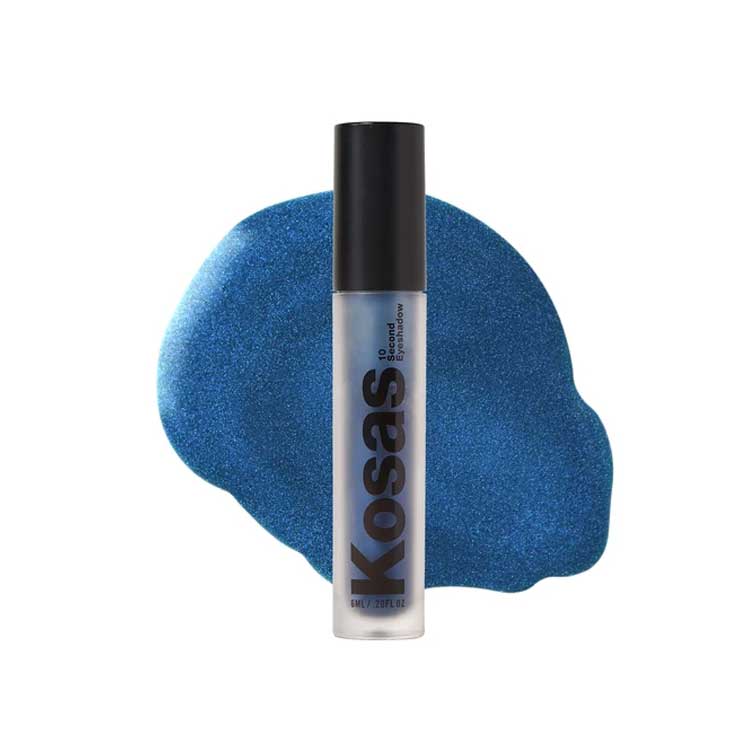 Kosas
10-Second Liquid Eyeshadow in Nitrogen
Kosas 10-Second Liquid Eyeshadow is water-based, fast-drying and crease-resistant color that stays all day. This clean eye shadow is formulated with skin benefiting ingredients to help smooth and tone the gentle eyelids, including soothing jojoba oil and orange flower water to help brighten the skin.
Price: $ 28.00 at Credo Beauty
---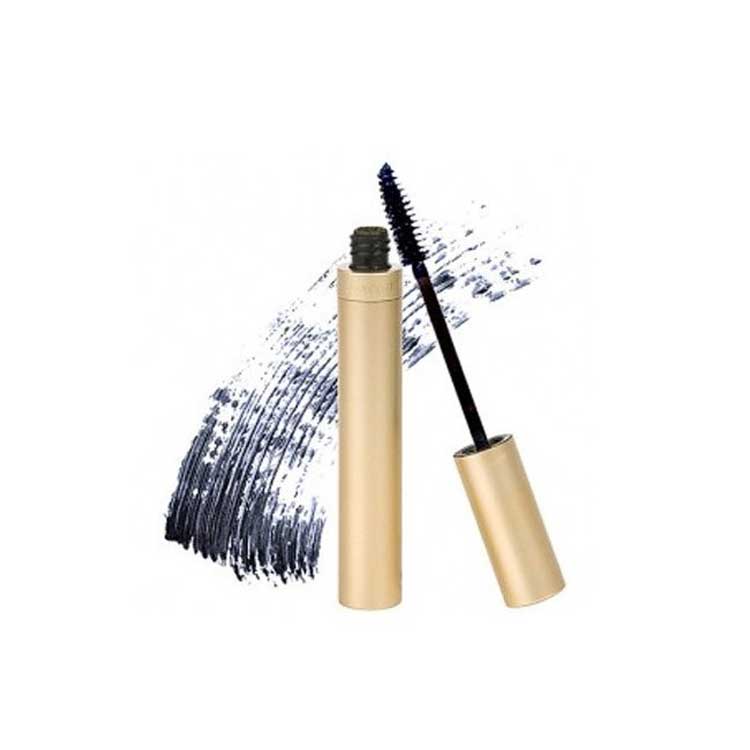 Jane Iredale
PURELASH® LENGTHENING MASCARA in Navy
Get natural-looking, extra-long lashes that are thick and feathery. Jane's proprietary formula conditions and strengthens while the dual-edged brush makes it easy to maximize lashes top and bottom. New dual-sided brush creates longer, fuller looking lashes. Developed with a proprietary blend of Seaweed Lipids and Wheat Protein that thicken, curl and strengthen lashes. Triple-length Cellulose Fibers add extra length and thickness. Formulated with Panthenol to condition lashes. Created to protect lashes in order to reduce splitting and breaking. Free of lacquers, shellac, and petroleum-based ingredients.
Price: $26.00 at Citrine Natural Beauty
---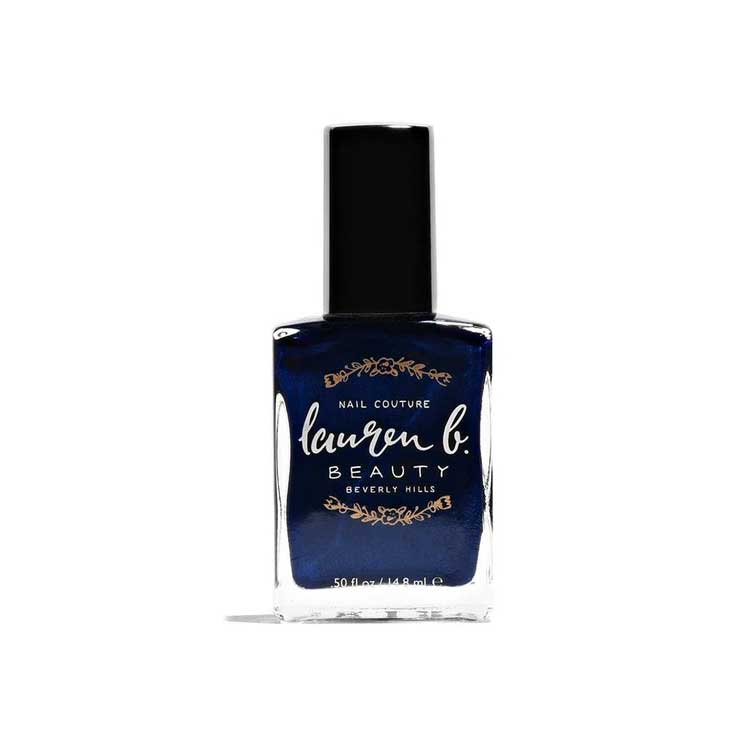 Lauren B. Beauty
Nail Polish House of Blues
This advanced, quick-drying nail enamels deliver a chip-resistant, long-lasting, mirror-like finish.
The brush is packed with twice the standard amount of bristles, all pre-lacquered so your polish glides on smoothly and streak-free. The bottle has a special over-cap, so you can use a square or cylindrical handle for more control.
7-free, always vegan with no formaldehyde, formaldehyde resin, DBP, toluene or camphor, xylene, and TPHP free.
Almost black and just as edgy. One swipe of the dark midnight navy blue leaves nails looking drop-dead gorgeous in a subversive yet sophisticated way.
Price: $ 18.00 at Petit Vour
---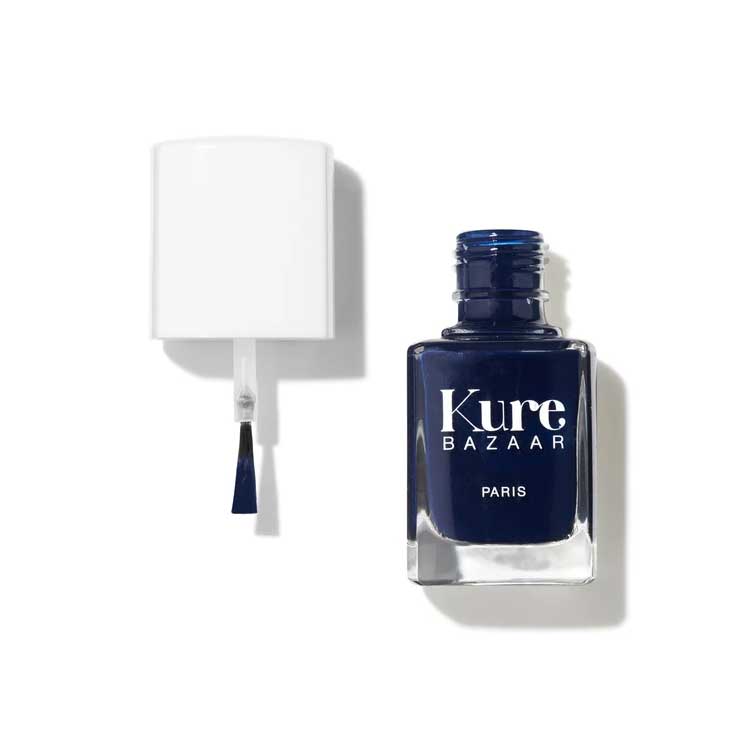 Kure Bazaar
Navy
Kure Bazaar is the leading nail varnish of a new generation; combining the ethics of a new, environmentally friendly formula with the vibrant colors of Paris fashion. Several years of research have led to a technological innovation that allows for a significant reduction in chemical substances, without compromising quality: the durability, gloss and shine of the colours are as exceptional as ever. The exclusive Kure Bazaar formula – 10 Free – up to 90% of which is of natural origin based on wood pulp, cotton, maize, potato and wheat – maintains the vitality of nails by respecting their natural regenerative cycle.
Price: $16 at The Detox Market – Get 10% off your first order at The Detox Market!
---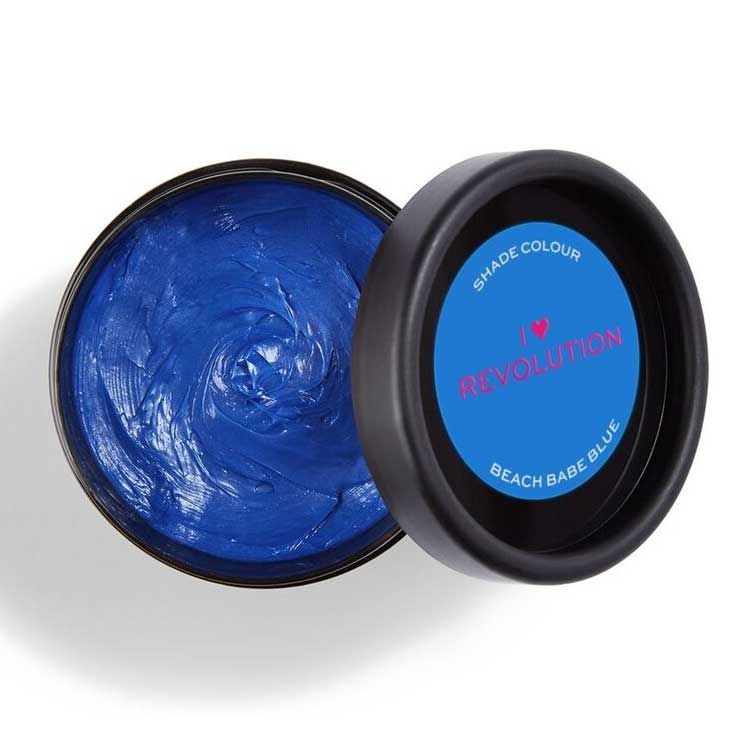 Revolution Beauty
Rainbow Paste Beach Babe Blue
Instant hair colour and styling paste that is removable with one wash. A revolutionary product that is Vegan, Cruelty Free, ammonia-free and peroxide-free. Suitable for all hair types including blonde, light brown, dark brown, black and curly hair.
Price: $ 6.99 at Revolution Beauty
---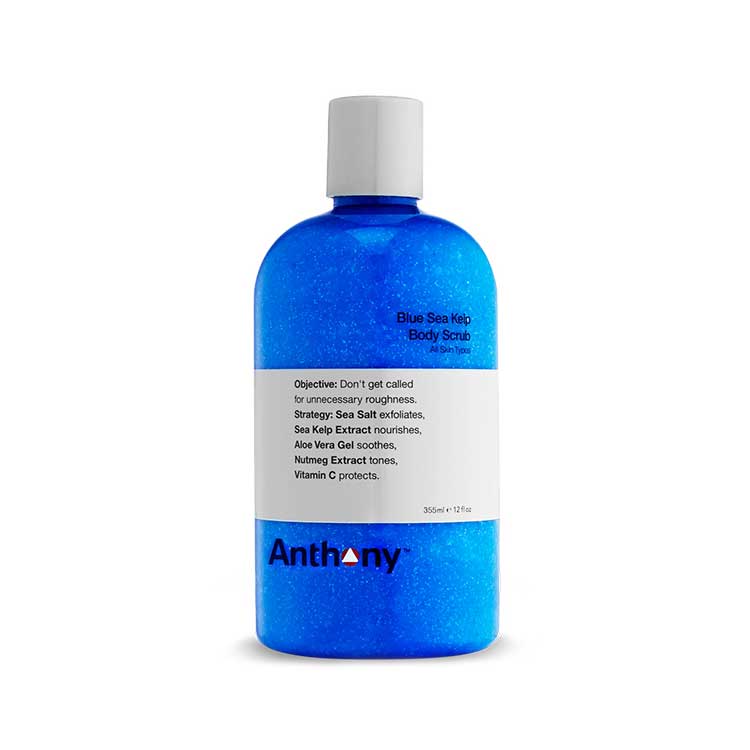 Anthony
Blue Sea Kelp Body Scrub
Deep cleaning formula that will rejuvenate your skin and prepare it to absorb moisture. Eliminates rough, flaky patches and polishes your body, leaving a smooth and even surface. Use 2-3 times a week for best results.
Recommended for normal to dry skin.
Free Of : Paraben free. Allergy & Dermatologist tested. Vegan
Price: $28.00 at SmallFlower

And there you have it, the 20 must-have Classic Blue green beauty products for 2020!
I hope you've enjoyed this post, and please don't hesitate to let me know in the comments if you like this color for make-up or decor, or clothing. Also don't forget to pin this post to share the love ♥
I wish you all a love-filled day xoxo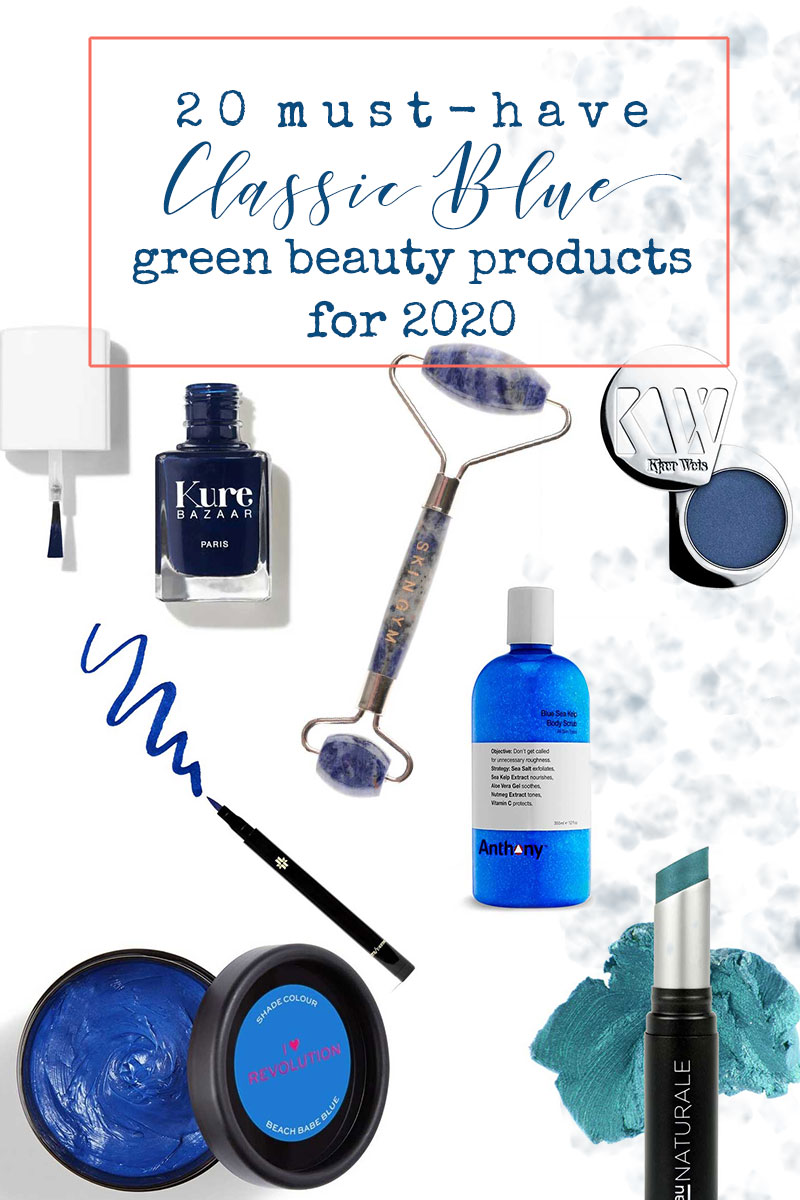 Disclaimer: I've been fortunate enough to receive some of the above mentioned products for free to try, but opinions and the choice to review are 100% my own. This post contains affiliate links.