These Vegan Chocolate chip cookies are a chocolate-chip cookie lover's dream-come-true: soft and chewy, with loads of dark chocolate chunks and the perfect texture to be dunked in some cold plant-based milk for the ultimate comfort food ♡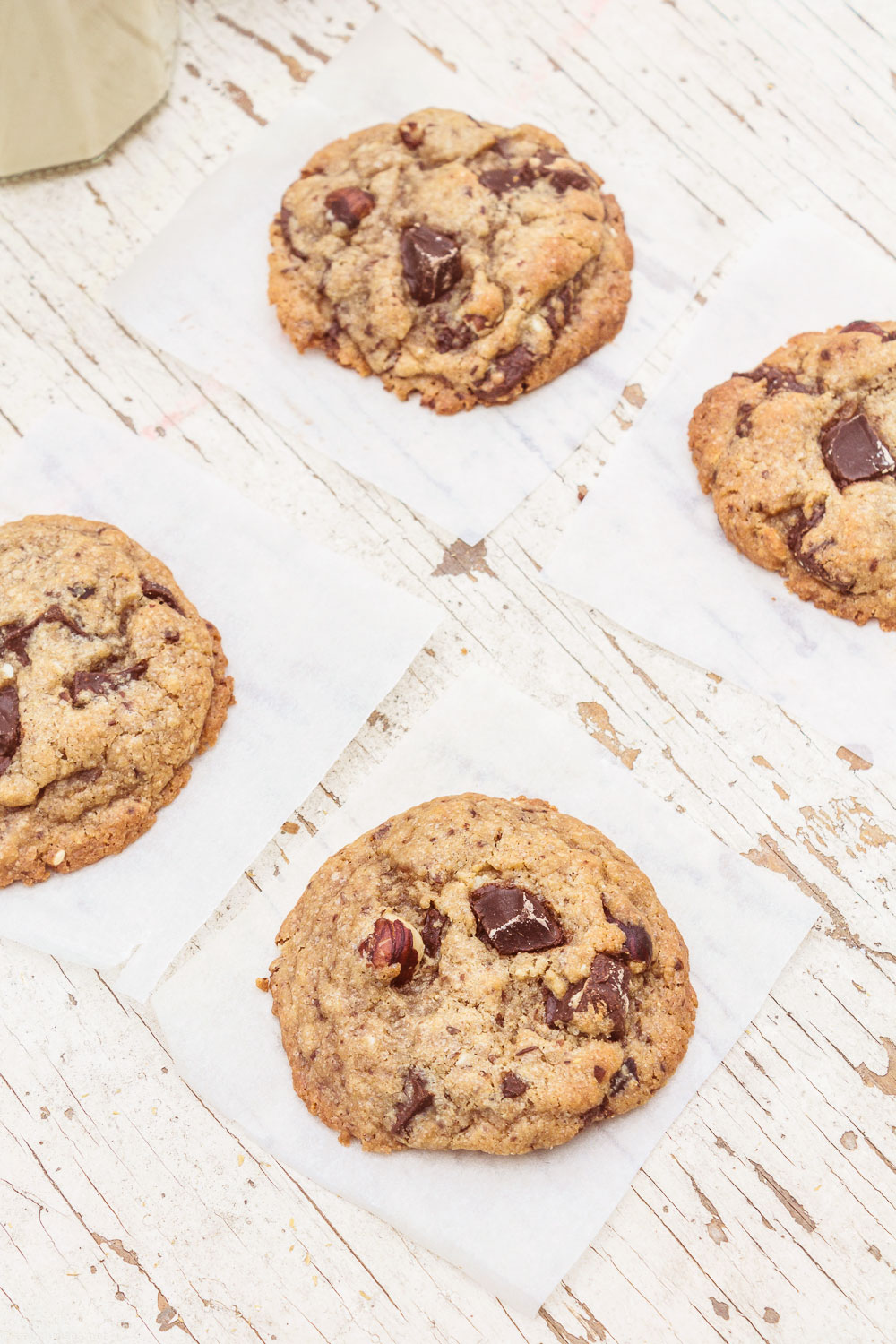 Hello my beautiful friends!
As a food lover and recipe developer, I always try to come up with new recipes, but many times I realize that what you really want, is to go back to the basics. Especially when they're new to the Vegan lifestyle or simply Veg-curious, my readers write me telling they would want to eat the foods they already love but in a plant-based version.
And that's why today I'm giving you the ultimate Chocolate-chip Cookies, so soft and chewy you won't even notice you're missing all the "usual" ingredients. These cookies are so delicious, I dare you to try them and not fall in love with them.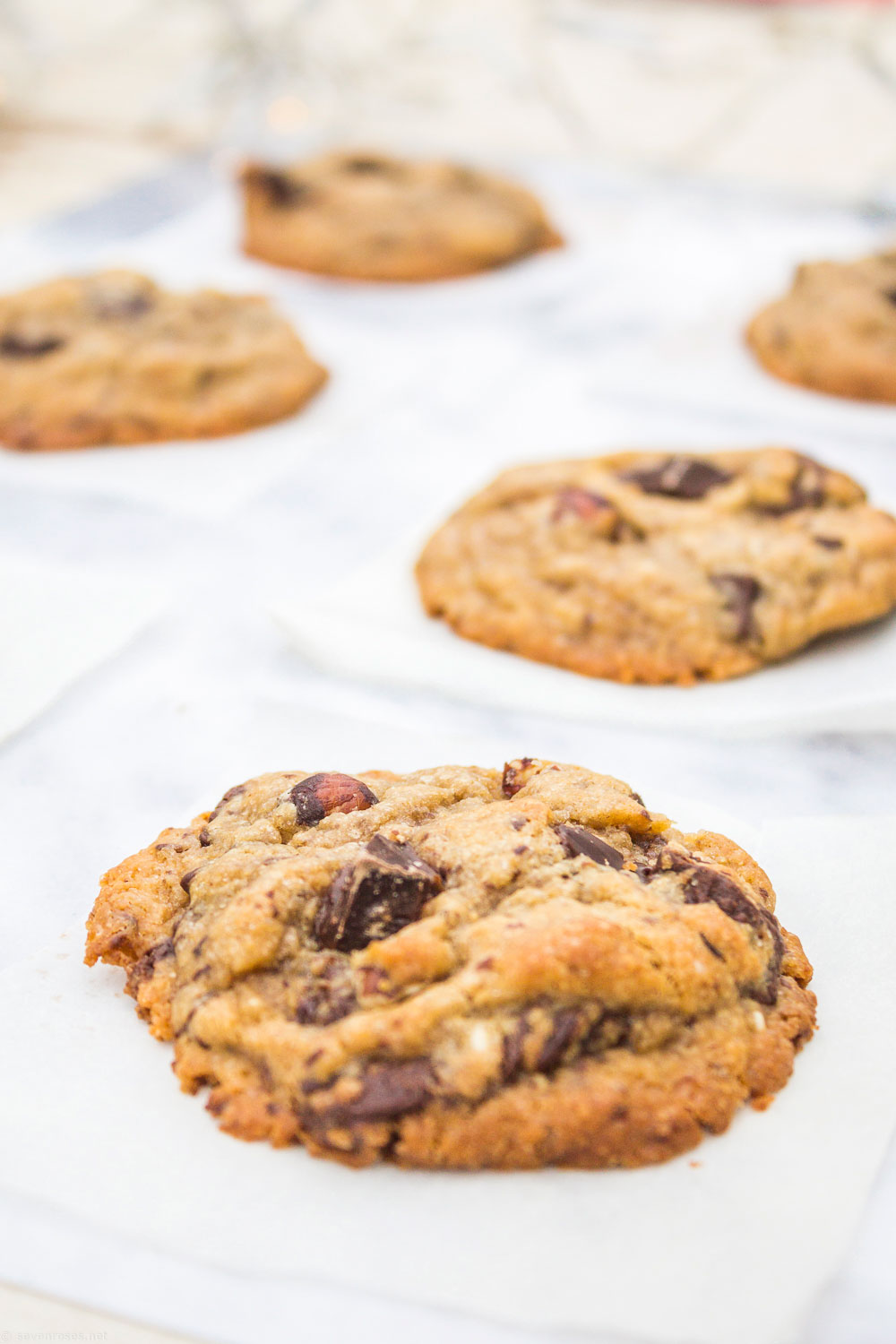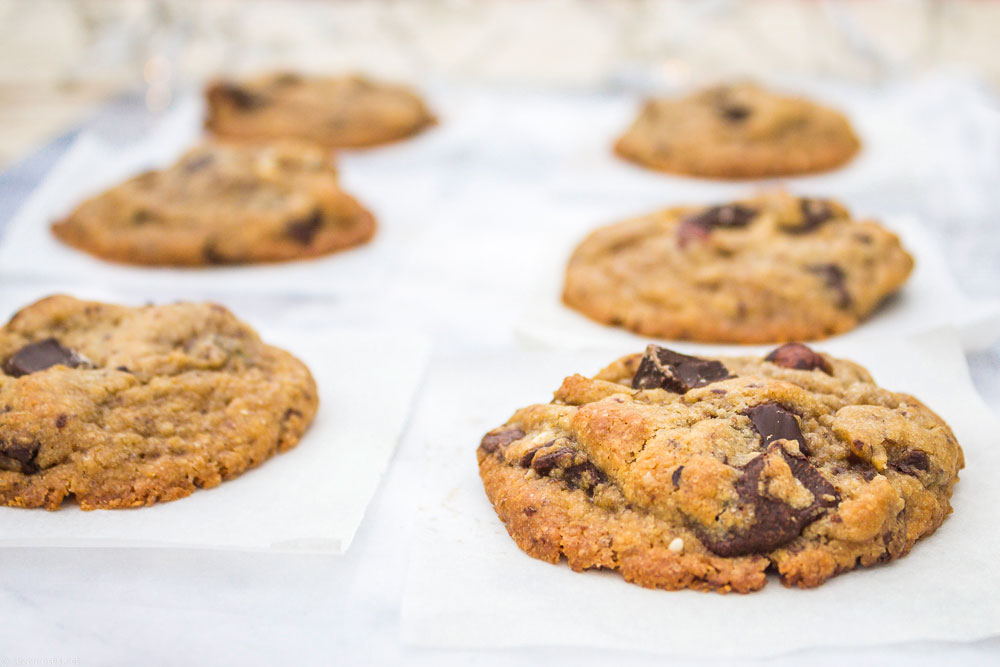 You must know, that this type of soft & chewy cookie is not what I grew up with. I didn't know the ultimate pleasure of biting into one of these American-style cookies until one day with my sister Monica, we were in Miami and bought 2 giant cookies, one each.
That was, my friends, an epiphany.
Until then, the cookies I knew were "just" the traditional hard biscuit, and I never even knew that such a thing existed. Since that day, long ago, my life has changed and I become a chocolate-chip cookie lover. It was only natural that I made my own Vegan version!
And let me tell you, these Vegan Chocolate chip cookies are super rich, ultra fudgey, and so, so chewy!
❥ Adding a little bit of peanut butter makes them moist and soft
❥ the coconut oil first melts then retains its shape and buttery richness
❥ the dark chocolate chunks and hazelnut contrast beautifully with the soft texture…
❥ Also the pinch of salt really brings out the chocolate flavor and is the perfect addition.
These cookies are best served still slightly warm with a tall glass of soy or almond milk! They will absolutely just melt in your mouth when they're fresh out of the oven…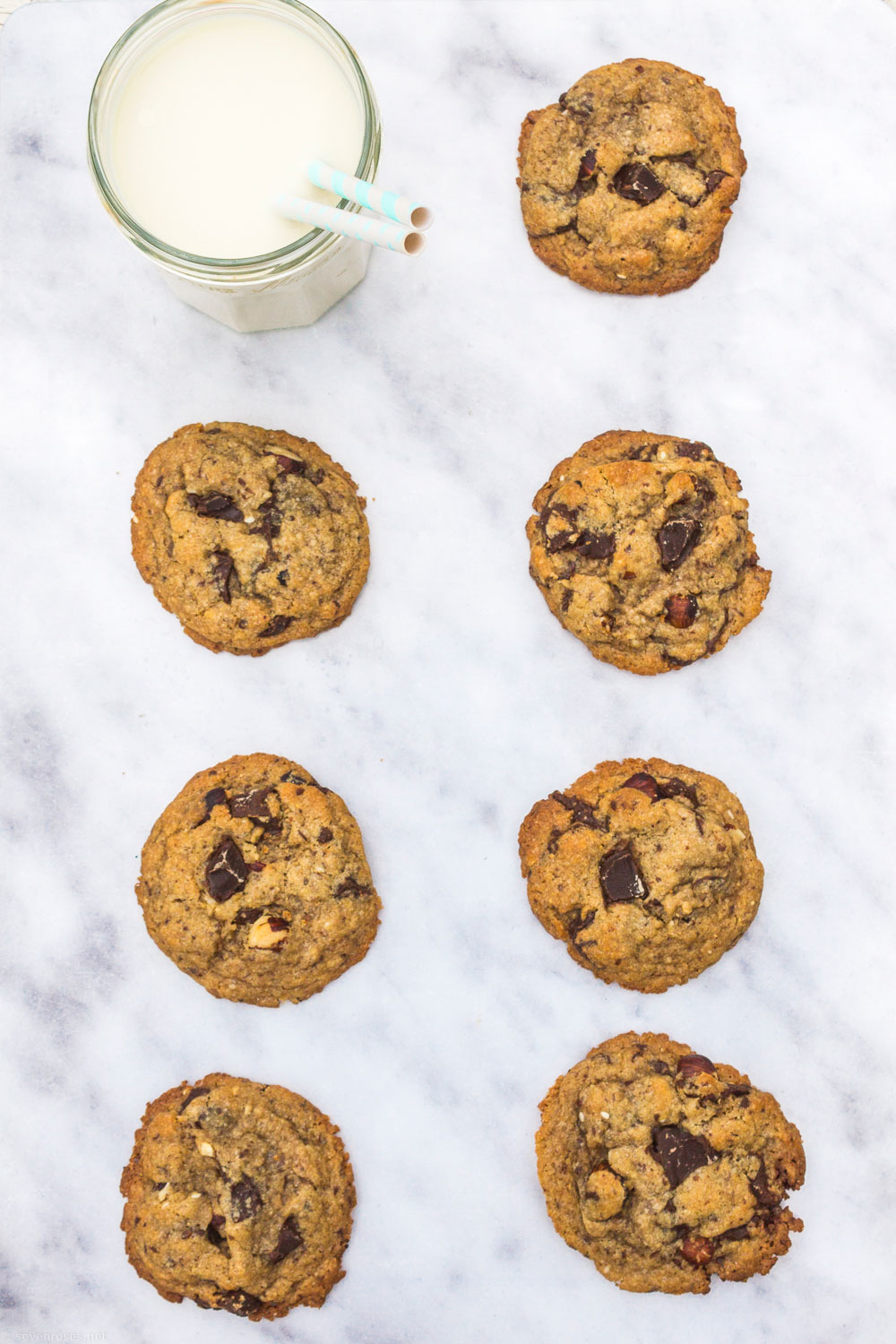 And I guess health is not what you're concerned about when going for chocolate chip cookies, but trust me when I tell you that these are on the healthier side of the spectrum – not only they have no cholesterol as there's no butter nor eggs, but they do include healthy ingredients like flax seed, coconut oil, peanut butter and hazelnut… I don't recommend eating them by the dozen every day, but as a special treat, they are a not too bad ;-)
To make these cookies simply cream the coconut oil and brown sugar. Add in the flax-egg, vanilla and peanut butter and mix until combined. Fold in your dry ingredients and chocolate chunks and your done!
So, even though everyone out there probably already has their own favorite recipe for how to make their favorite chocolate chip cookies… Please do try this one, you won't regret it! :)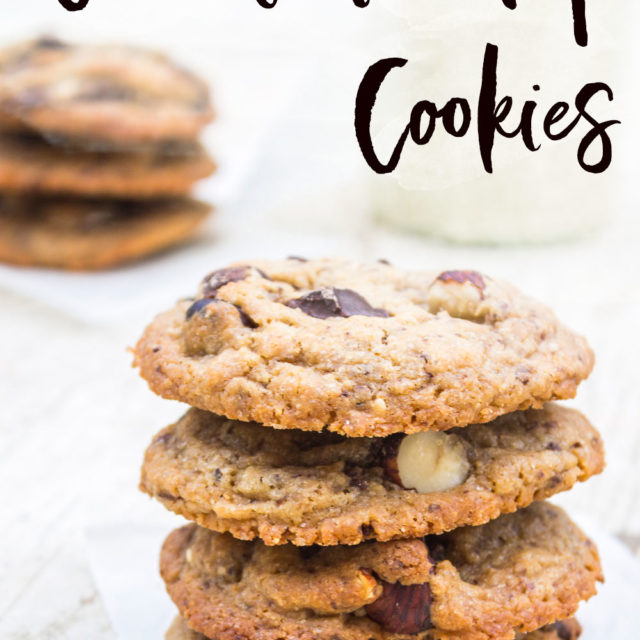 The ultimate Vegan Chocolate-chip Cookies
Soft & chewy Vegan chocolate chip cookies. Made with coconut oil, dark chocolate chunks and hazelnuts. These cookies take only 25 minutes to make start to finish!
Ingredients
Wet ingredients
1/3

cup

coconut oil

at room temperature

1

tsp

vanilla extract

2

tbsp

peanut butter

3

tbsp

water
Dry Ingredients
1

cup

flour

1

tsp

baking powder

1

pinch

salt

1/2

cup

brown sugar

1

tbsp

ground flax seed

3/4

cup

dark chocolate chunks

or chips

1/3

cup

hazelnuts

(optional)
Instructions
Start by combining the ground flax seeds and water, to create a flax egg. Let rest for 5/10 minutes while you prepare the other ingredients, it will become gelatinous, and here you have a healthy, 0-grams of cholesterol substitute for eggs in all your baking recipes!

Preheat oven to 175°C / 350°F degrees. Line a baking sheet with a silicone baking mat or parchment paper.

In a big bowl, cream coconut oil and brown sugar until light and fluffy. Add in the vanilla and peanut butter and mix to combine. Add the flax-egg.

Now sift the dry ingredients onto the wet: flour and baking powder. Mix until combined. Try not to over mix.

Fold in the chocolate chunks (reserve a dozen) and the hazelnut chunks. Now form into a big ball of dough, and leave covered in the refrigerator anywhere from 5 minutes to 24 hours. (you can prepare the dough the day before to have freshly baked, warm cookies for a special day)

When you're ready to bake, portion out cookies into rounded tablespoons and place on the prepared baking sheet. Flatten the tops slightly, add the last few chocolate chunks and sprinkle a little bit of salt on top. Bake for 9/10 minutes.

They will totally look undercooked and soft but don't worry they will continue to cook as they cool. Allow the cookies to cool for 5 minutes on the baking sheet before transferring them to a wire rack to cool completely.

You can store the cookies in an airtight container at room temperature for about 3 days but I bet they won't last that long :D
I hope you will love them as much as I do! If you give this Vegan Chocolate-chip Cookies a try, please let me know in the comments' section below!
You can also find me on social media. Be sure to tag @francesca_sevenroses on Instagram or @sevenrosesblog on Twitter and Facebook, and use #sevenroses so I'm sure to see it.
And don't forget to pin this recipe to spread the love ♥
I wish you a love-filled day!