This delicious Vegan Frangipani tart or "Galette des Rois" (King cake) is an almond frangipani and puff pastry delight. Who will be the king/queen for the day? ♕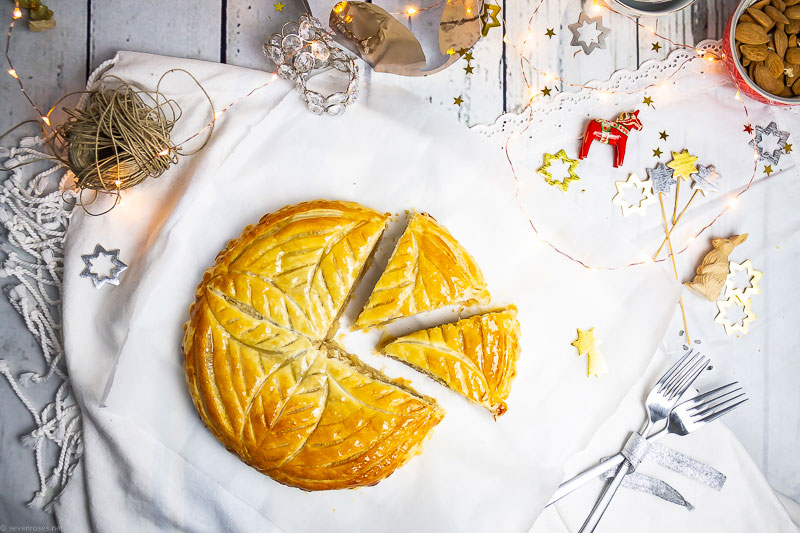 Hello my beautiful friends!
I'm back with another Vegan version of a classic French recipe. It's been around 4 years that I make this for Epiphany or Three Kings' Day, and I finally perfected the recipe so that I can share it with you all.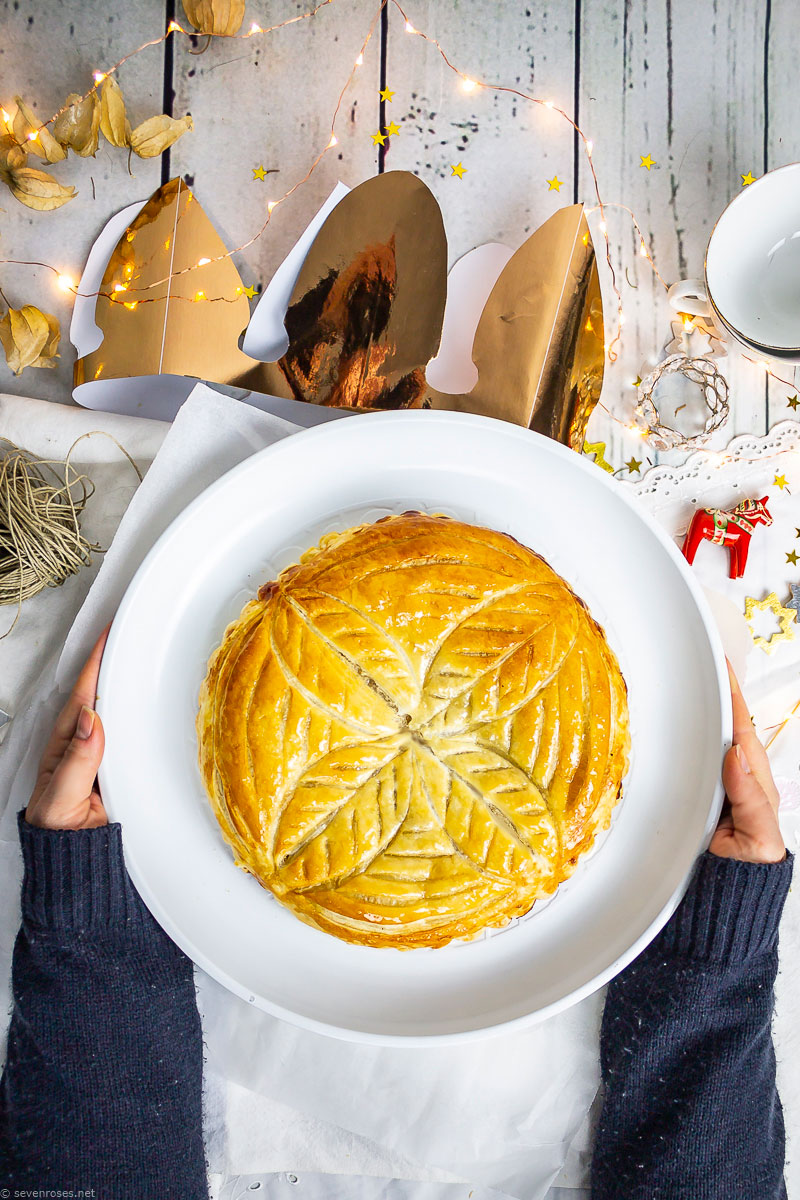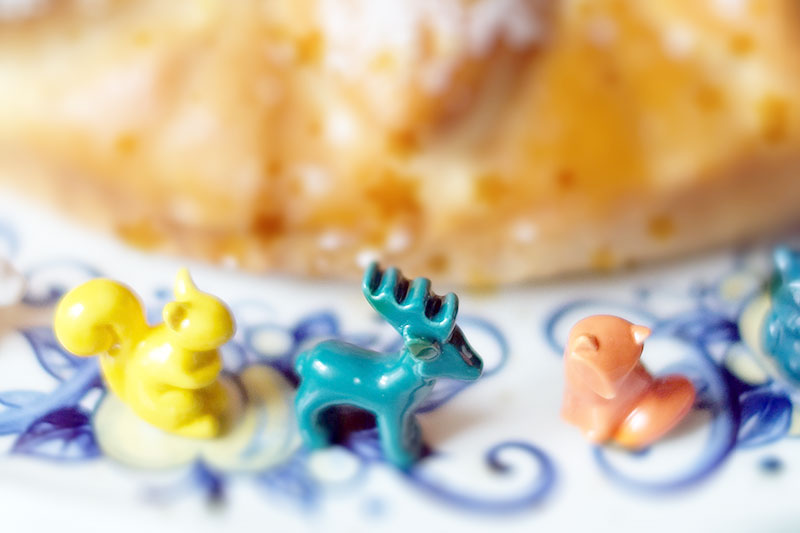 On January the 6th, in France the tradition wants you to eat a special tart with a little figurine inside, and whoever finds it will be the king (or queen) for the day:
In the northern half of France and Belgium the cake is called a galette des Rois, and is a round, flat, and golden cake made with flake pastry and often filled with frangipane (…) the cake contains a charm, usually a porcelain figurine, called a fève (broad bean in French).
The cake is cut by the youngest (and therefore most innocent) person at the table to assure that the recipient of the bean is random. The person who gets the piece of cake with the trinket becomes "king" or "queen" and wears a paper crown provided with the cake.
In some regions this person has a choice between offering a beverage to everyone around the table (usually a sparkling wine or champagne), or volunteering to host the next king cake at their home. This can extend the festivities through all of January (source)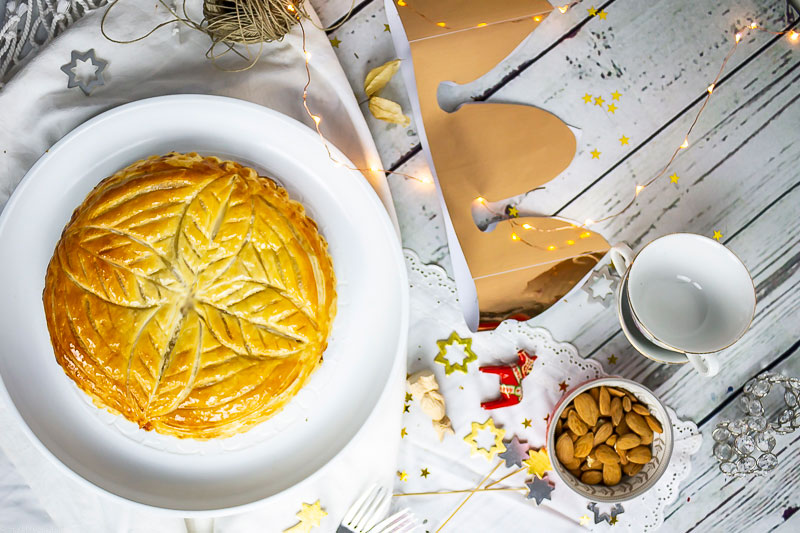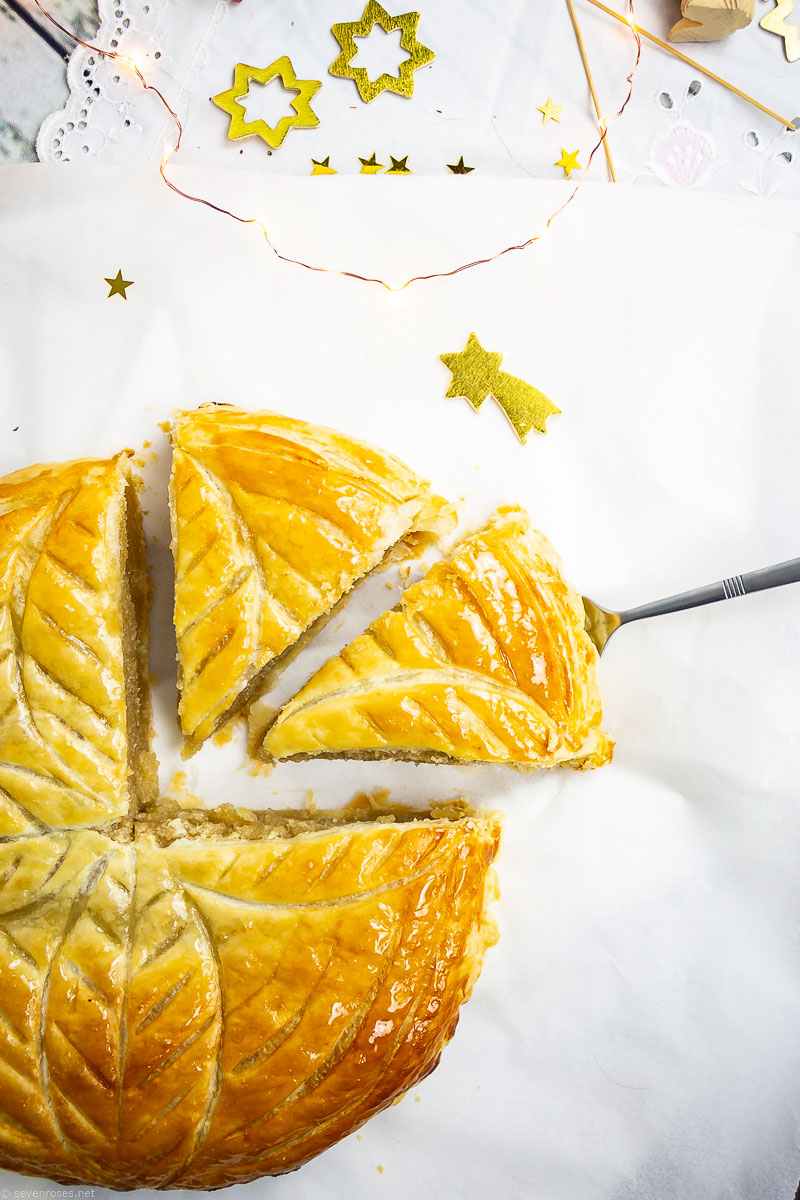 I think this is such a lovely tradition, and I'm glad it's now part of our household because Vegan frangipani tart is so easy to make! All you really need is almond flour, almond extract, (lots of) sugar, and some sort of binder – in my case I opted for almond cream and cornstarch. It works like magic!
The whole "king for a day" kind of makes me think of the Mad Hatter tea party, and that's the ambience I went for this year.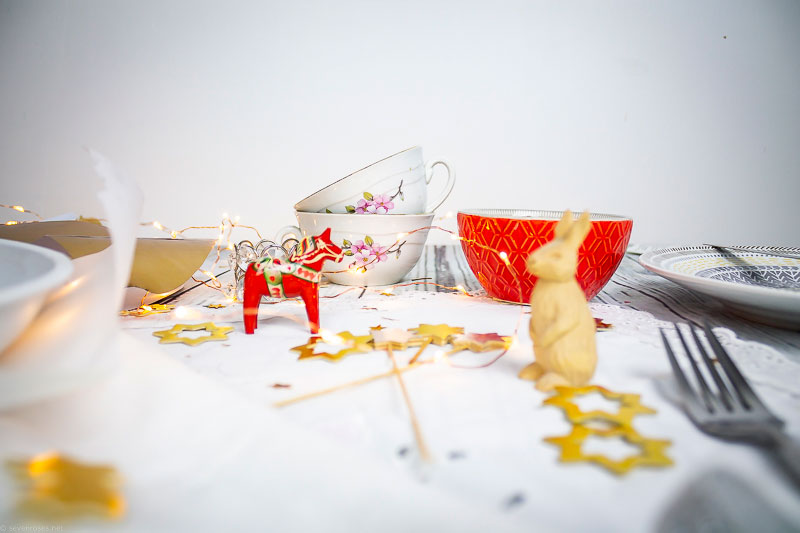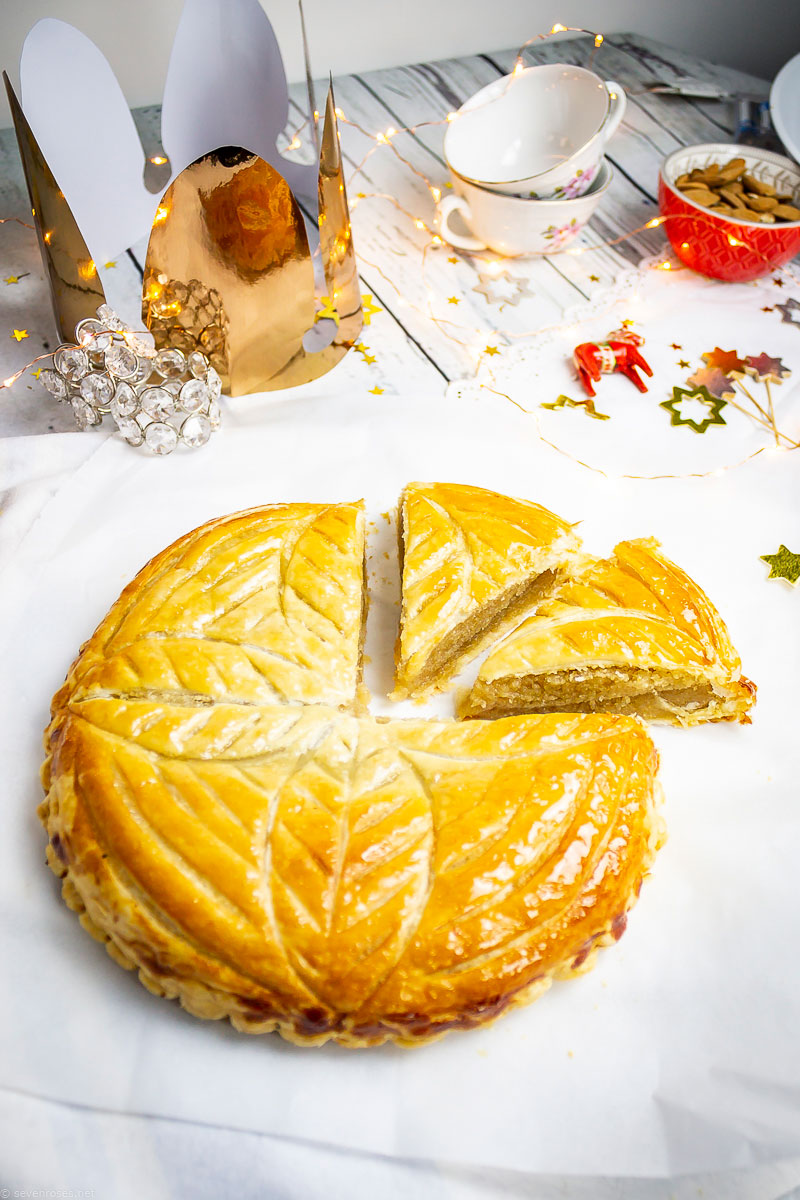 Just so you know, back in Italy we have an equally charming – although completely different tradition for this day, and it involves a character that looks 100% like a witch, how cool is that?! :D
In Italy, Epiphany is a national holiday and is associated with the figure of the Befana (the name being a corruption of the word Epifania), a broomstick-riding old woman who, in the night between January 5 and 6, brings gifts to children or a lump of "coal" (really black candy) for the times they have not been good during the year. The legend told of her is that, having missed her opportunity to bring a gift to the child Jesus together with the Three Wise Men, she now brings gifts to other children on that night (source)
As a child I used to leave out cookies and milk for her, not for Santa, and it was always amazing to find only a few crumbles in the morning, meaning she stopped to eat the cookies.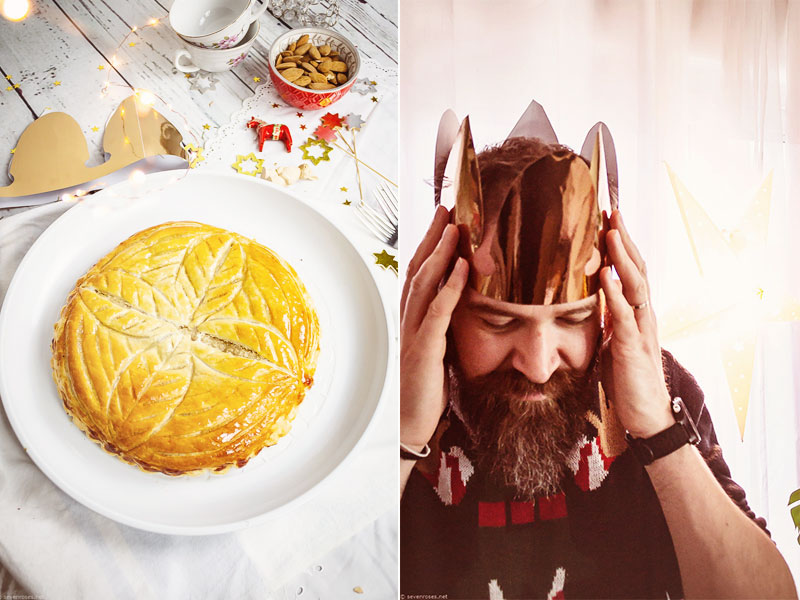 Do you have a special tradition for Epiphany? If so, I'd like to know, leave me a comment down below.
Ok now back to this delicious tart: an almond frangipani filling in a flaky crust pastry case. In France you start eating this January 6th, and go on until the end of the month. But most of the time, people simply buy the Galette des Rois either in a supermarket or at the boulangerie/patisserie. I still haven't found someone else other than me that makes it at home.
But you'll see that my Vegan frangipani tart is so easy to make, anyone can do it!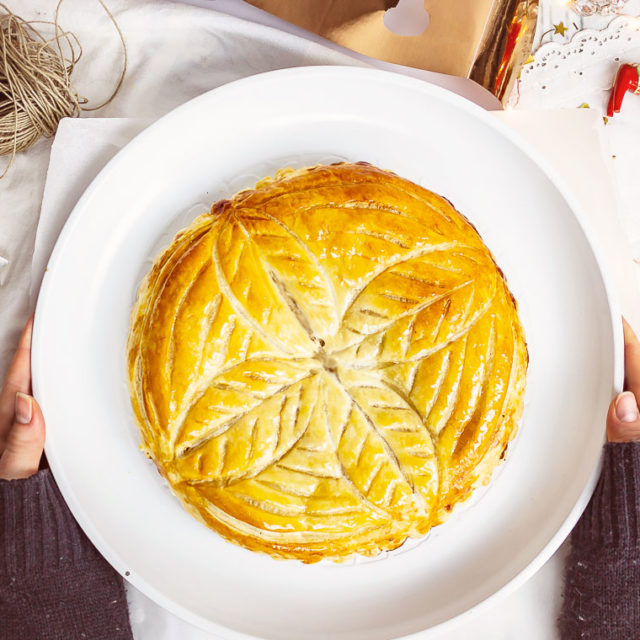 Vegan Frangipani tart: Galette des Rois ♕
This easy, delicious Vegan Frangipani tart or "Galette des Rois" is made with an almond frangipani filling in a flaky crust pastry case. Don't forget to add the "fève".... who finds it in their slice will be the king or queen for the day ♕:)
Ingredients
2

disks

puff pastry

just make sure it's Vegan by reading the ingredients

250

gr

almond flour

100

gr

brown sugar

7.5

gr

vanilla sugar

3

tbsp

apple sauce

2

tsp

almond extract

(or vanilla)

50

gr

cornstarch

200

ml

almond cream

you can substitute with soy cream

2

tbsp

non-dairy milk

I used almond but soy or rice will work just as fine

2

tbsp

agave syrup
Instructions
Preheat the oven to 180ºC / 350ºF.

First, let's make the frangipane filling: in a large bowl, cream the brown sugar, vanilla sugar, almond cream and apple sauce until smooth and fluffy. Scrape down the sides of the bowl with a spatula. Then gently incorporate the cornstarch, almond flour and almond extract and mix again until well incorporated.

You can just leave this mixture in the fridge until later, or put this in a piping bag and keep in the fridge to firm up a bit while we prepare the puff pastry base.

Roll out the chilled puff pastry and use a fork to prick the base. Use the lid from a big pot to get a perfect round shape, and using a sharp knife trim the excess pastry off.

Pipe the cooled frangipani paste in the center of the puff pastry and spread out using a small fork to distribute evenly until about 2 cm from the edges. Place the fève (not in the center, so there's less chances to hit it while cutting the parts). Moisten the edges with a little water.

Unroll the second puff pastry, cut at the same size as the first, using the lid as a giant "cookie cutter" and gently place it on top of the first. Weld the edges by pressing with your finger first, and with the back of a knife after. This seals the borders and also creates a little decoration.

With a knife, gently draw a leaf/diamond pattern on the surface. Finally, brush a little non-dairy milk over the entire surface of the tart.

Bake the tart in the preheated oven for 25-30 minutes, or until the filling has risen, is cooked through and the surface is pale golden-brown. Gently brush with a little agave syrup for the final translucid touch.
Notes
This is a great tart to serve for a party.
Fully made and baked, the tart can be kept in the fridge, covered in foil, for 2 days and reheated in a low oven before serving. Always serve it warm!
Serving ideas: you can pour some almond cream, add non-dairy icecream, dust some icing sugar or sprinkle some almond flakes. None of these add-ons are included in the "original version" which I've veganized here, but you are more than welcome to try them, according to your taste.
If you are so inclined, you can make your own Vegan Puff Pastry by following these instructions.
I really hope you're going to try this Vegan Frangipani tart – it's SO good! If you give it a try, please let me know in the comments' section below.
And don't forget to pin this recipe to spread the love ♥
I wish you a love-filled day xoxo