Disclosure: This post may contain affiliate links. As an Amazon Associate I earn from qualifying purchases. Thank you for your support!
This family-friendly Italian classic recipe gets a Vegan makeover in Kathy Hester's brand new cookbook: The Revised Vegan Slow Cooker. Make this dish in the slow cooker for a convenient weeknight dinner.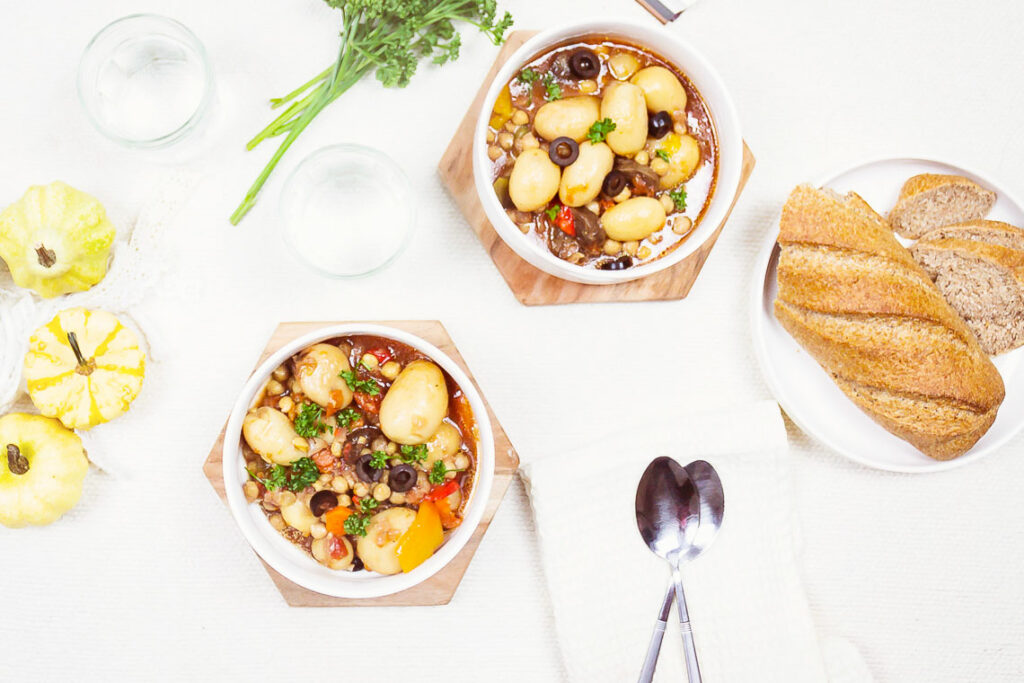 Hello my beautiful friends! Today I'm super excited to share with you a recipe from an amazing new cookbook that just recently came out. The book is called The Revised Vegan Slow Cooker and it's from the lovely Kathy Hester.
As the title says, this book includes more than 160 recipes for intensely flavorful, fuss-free dishes that can be made conveniently either in a slow cooker or an Instant Pot®.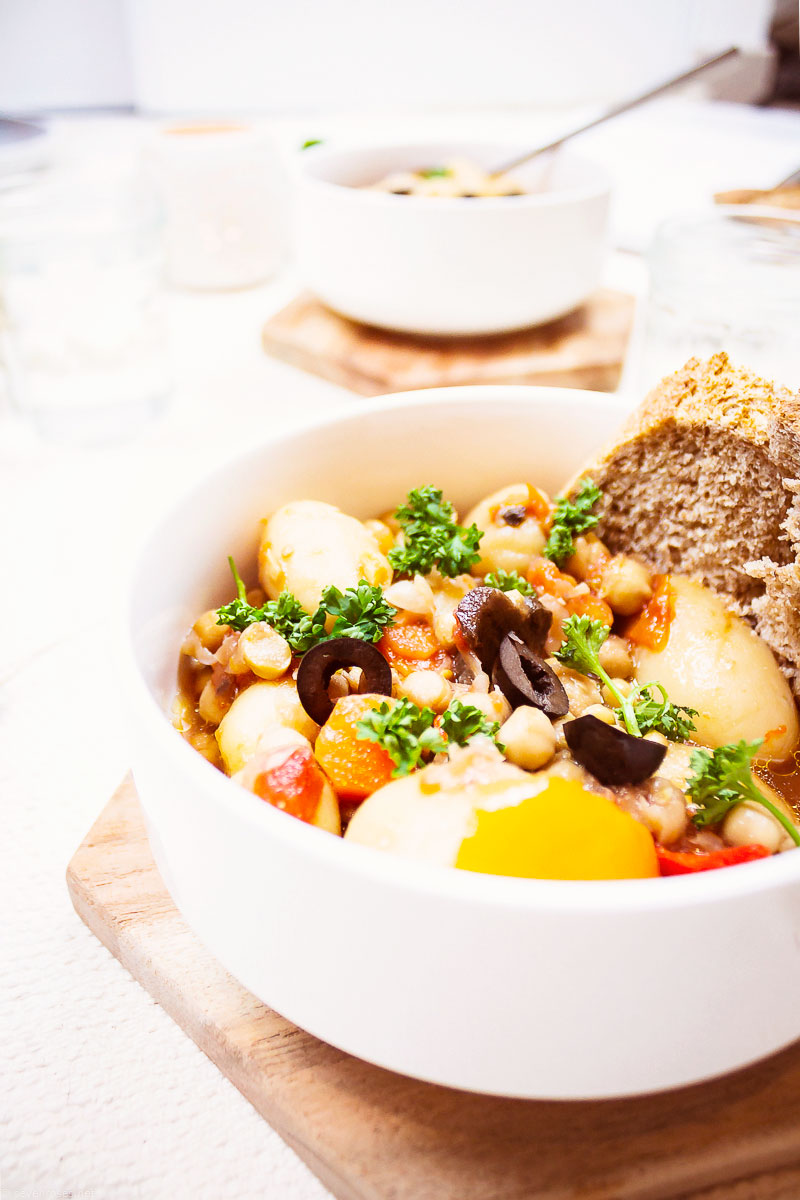 I've been following Kathy for many years, as I love her approach to cooking: healthy, hearty, easy dishes is what she likes to share, and that's exactly what I love to cook as well.
Kathy's revised edition of The Vegan Slow Cooker comes almost ten years after the first one, and features more than 20 new and updated recipes (more than 160 recipes in all), new tricks for streamlining recipes, and all-new stunning photography. Recipes also include gluten-free, soy-free, and no oil added options.
It comes in both Paperback and Kindle versions and I recommend you get if you want to explore more delicious and comforting meals that all the members of your family – even non-vegans – will love to eat. And as you certainly know, slow cooker recipes are so easy to make! You just dump all the ingredients together and let the slow cooker work its magic while you're at work, out on an adventure or simply sleeping ;D
In this book you'll find recipes that cover every meal of the day and every type of cuisine, from your favorite comforting stews, to fresh and exciting new takes on breakfast and desserts—all deliciously plant-based and easy to make.
Some of my favorite recipes from the book include:
❥ Asian Tofu Soup
❥ White Bean and Kale Stew
❥ Mashed Potato and Edamame Burrito Filling
❥ Tempeh Tornado
❥ Meatless Sausage-Mushroom Ragu
❥ Foolproof Focaccia
❥ Mango Coconut Rice Pudding
❥ Scrambled Tofu with Peppers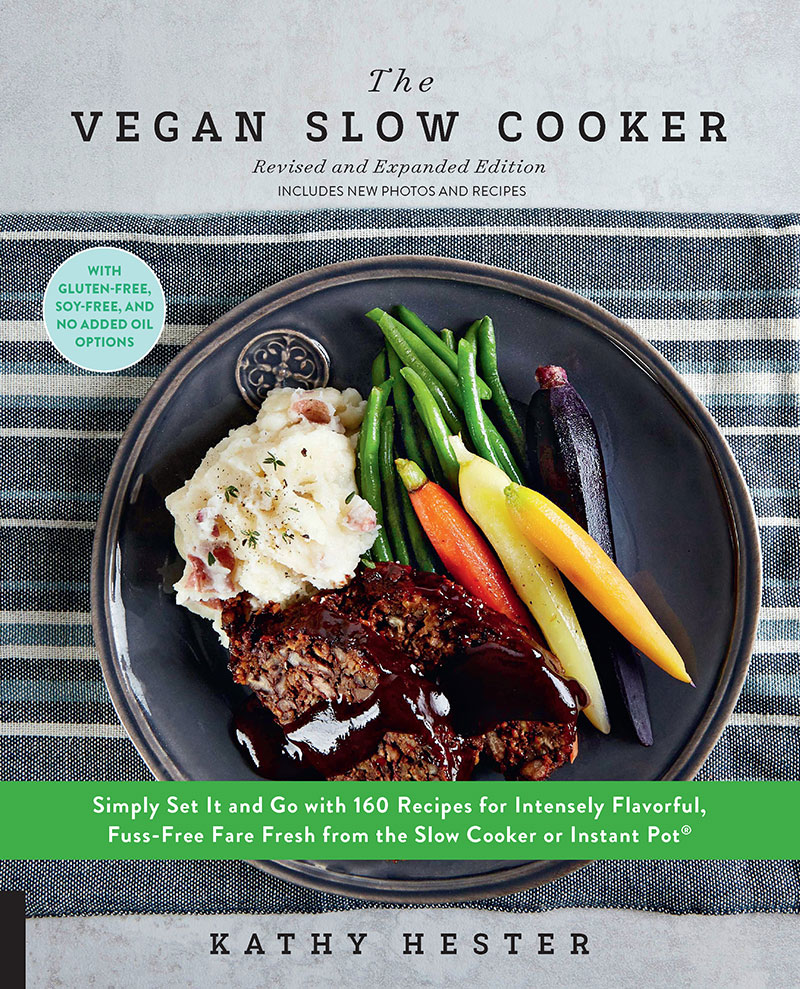 But to introduce you to Kathy's style of hearty, comforting recipes bursting with flavors, today I'll be sharing with you a Vegan version of a classic Italian recipe: the Slow cooker Chickpea Cacciatore with potatoes – just a few simple ingredients that come together beautifully all simmered down in a weeknight dinner that basically cooks itself!
Cooking it on low for many hours while you're busy with your life, helps to create that amazingly rich and flavorful broth.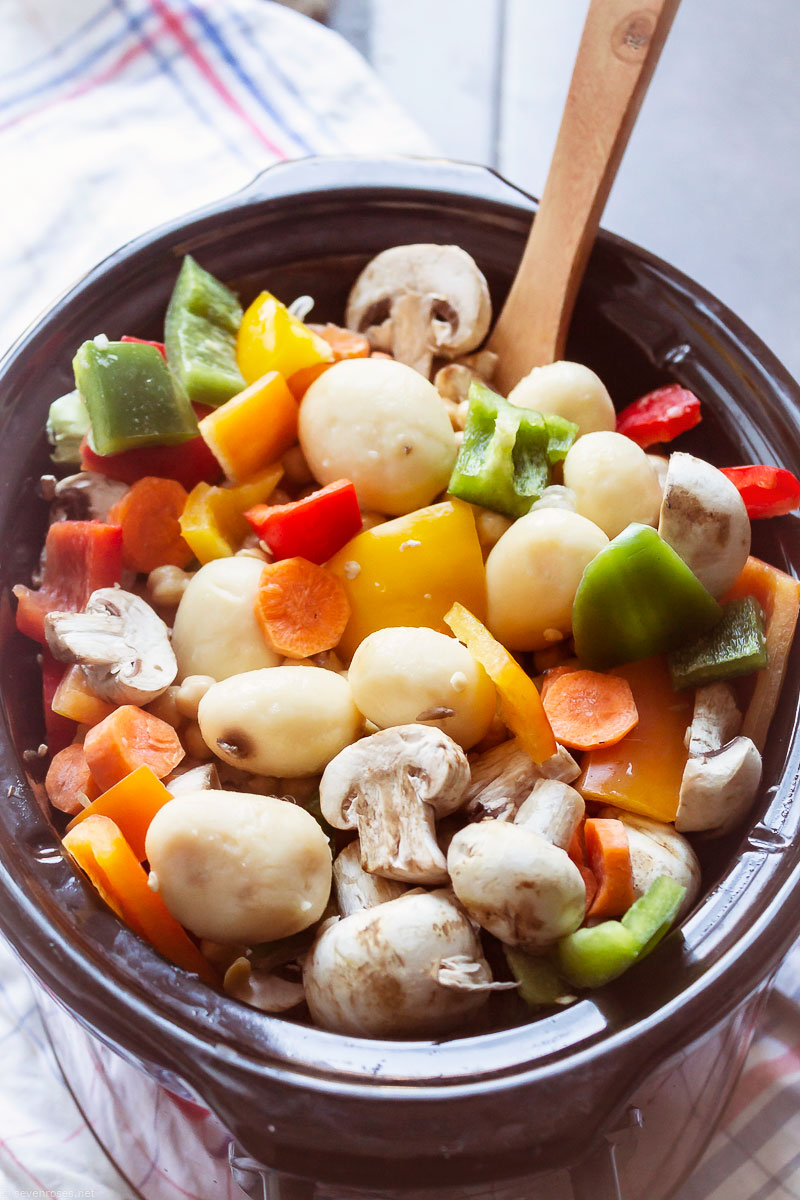 The traditional Italian dish "alla cacciatora" actually means "hunter style" (alas!) and it usually includes a rich sauce made with
onions, herbs, usually tomatoes, often bell peppers, and sometimes wine. (source)
This amazing recipe is the Vegan answer to all the hunter's style dishes out there. No need to harm any animals in order to have a healthy & delicious stew. This Italian-inspired meatless slow cooker Chickpea Cacciatore with potatoes is comfort food at its best!
With the cooler evenings and snowy weeks/months ahead of us, I'm sure I'm not the only one that's been craving all kinds of comfort food. So this Slow Cooker Chickpea Cacciatore, so warm and comforting, is just perfect for this time of year.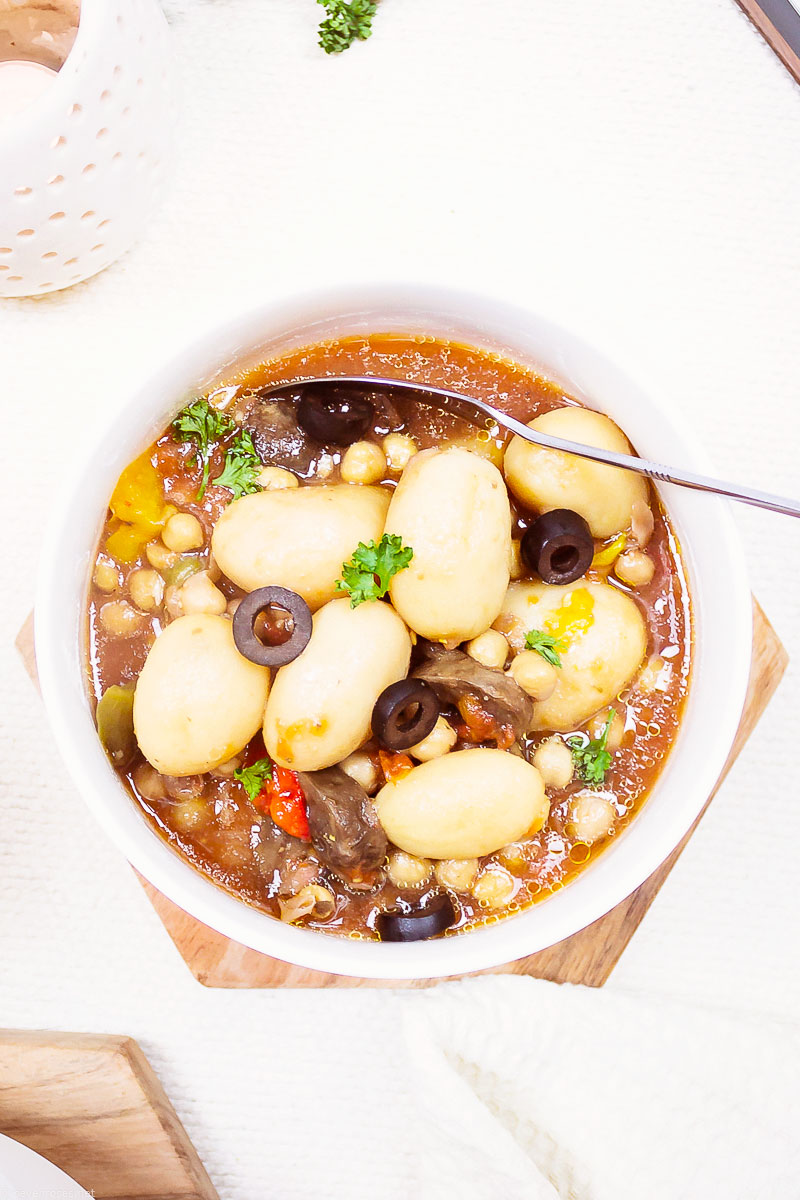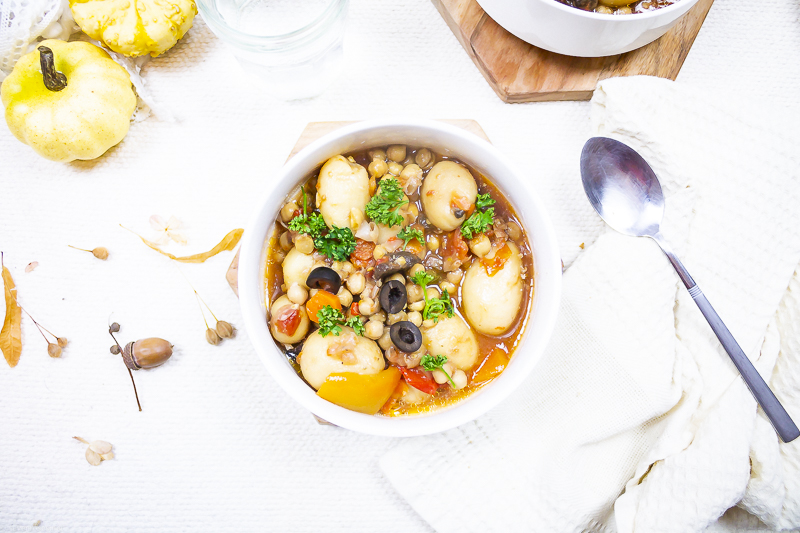 Just read on, if you want to make it, too. ;)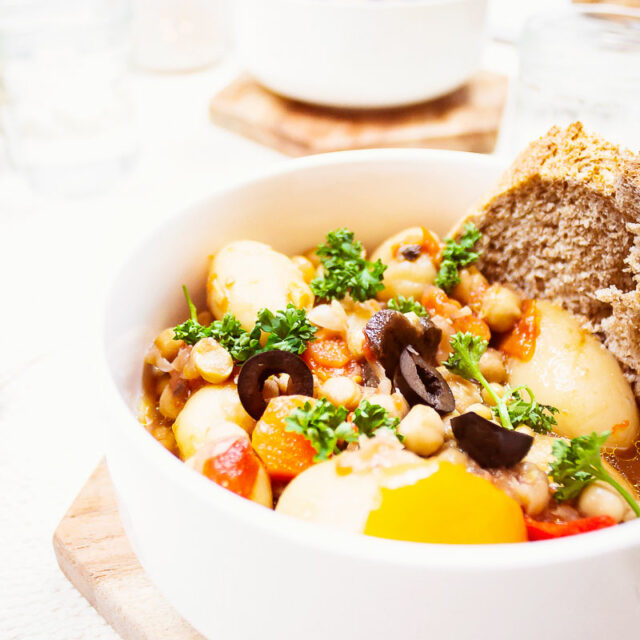 Slow Cooker Chickpea Cacciatore with Potatoes
Here's a completely plant-based one-pot meal that will satisfy the hungriest at your table. The potatoes and chickpeas are filling and full of nutrients. The sauce and the rest of the veggies make a sauce that packs a flavor punch - gluten-free soy-free no oil added
Ingredients
24

ounces

baby potatoes

quartered

2

cans

chickpeas

drained -save liquid to use as aquafaba in other recipes

1

pound

mushrooms

sliced - can use all white, baby bella, or a combo

2

cups

chopped bell peppers

use multiple colors if you can

3

carrots

cut into coins
Sauce Ingredients
1

can

crushed tomatoes

1/4

cup

red wine

or 2 tablespoons (30 ml) balsamic vinegar

1

tsp

garlic

minced

1

tsp

marjoram

dried

1/2

tsp

salt

1/4

tsp

rosemary

ground
Serving Ingredients
1/2

cup

black olives

pitted and sliced
Instructions
For this recipe you will need a 5- to 6-quart slow cooker. The night before: cut up the veggies. Add veggies and drained chickpeas to a sealable container, and mix. You can mix all the sauce ingredients together now, or wait until morning. Store everything in the fridge.

In the morning: mix the sauce and veggie-chickpea mixture together in your slow cooker. Cook on low 7 to 9 hours. Garnish with pitted black olives, if desired.
» Get Kathy's cookbook on Amazon: The Vegan Slow Cooker, Revised and Expanded: Simply Set It and Go with 160 Recipes for Intensely Flavorful, Fuss-Free Fare Fresh from the Slow Cooker or Instant Pot® «
Did you enjoy this recipe? Then don't hesitate to leave a message down below or visit Kathy's website healthyslowcooking.com to discover how many amazing slow cooker recipes you can make.
Also don't forget to pin this post to share the love! ♥
I wish you a love-filled day xoxo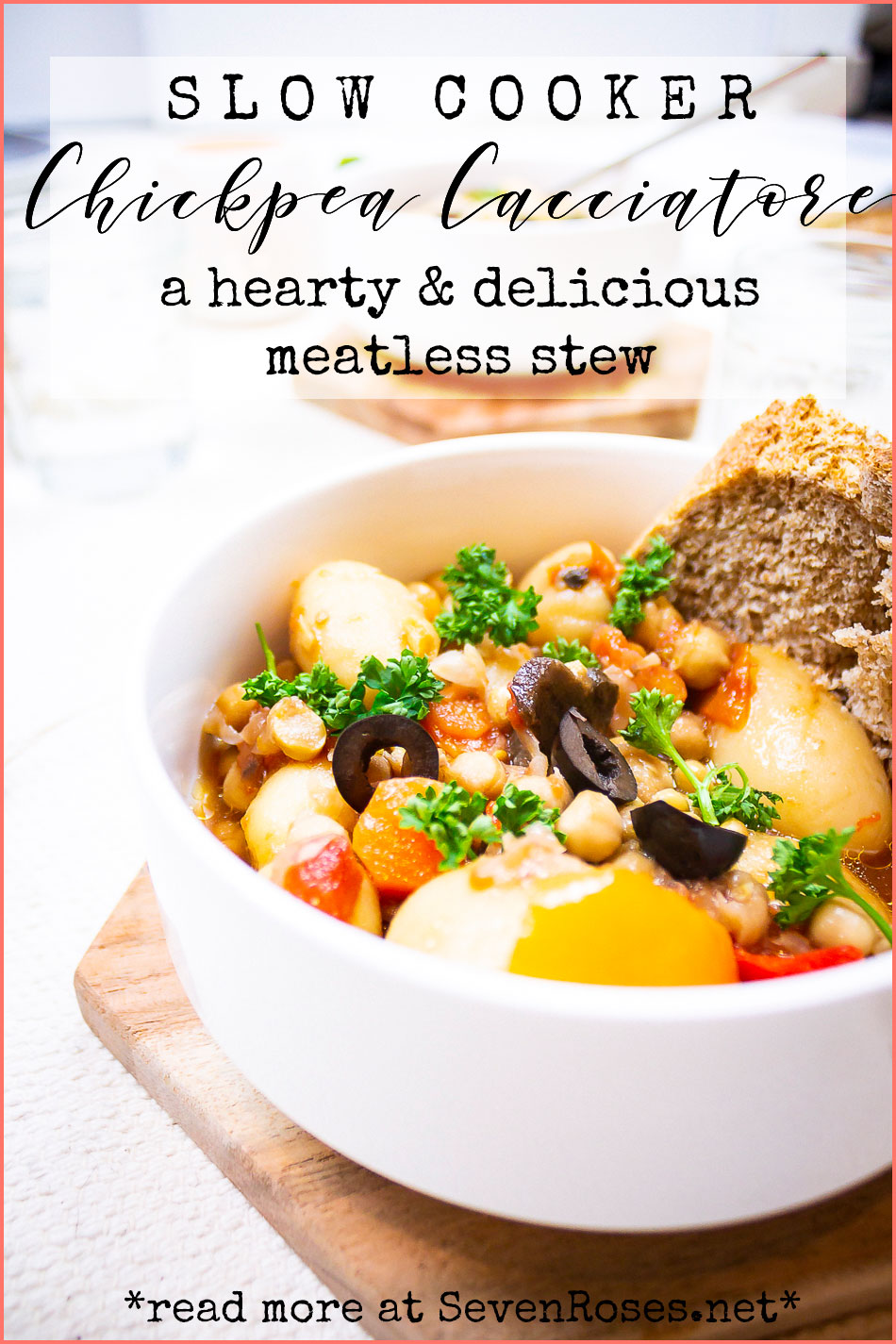 Styling:
❥ Pentagon Wood Boards: The Rustic Dish
❥ Modern Bowls: Nova Styl
Disclaimer: I got a free copy of the book to be reviewed, but all opinions are my own. Some of the above links may be affiliate links.