This creamy Split Pea and Spinach soup is an easy Vegan, healthy, yummy and comforting food with so many health benefits!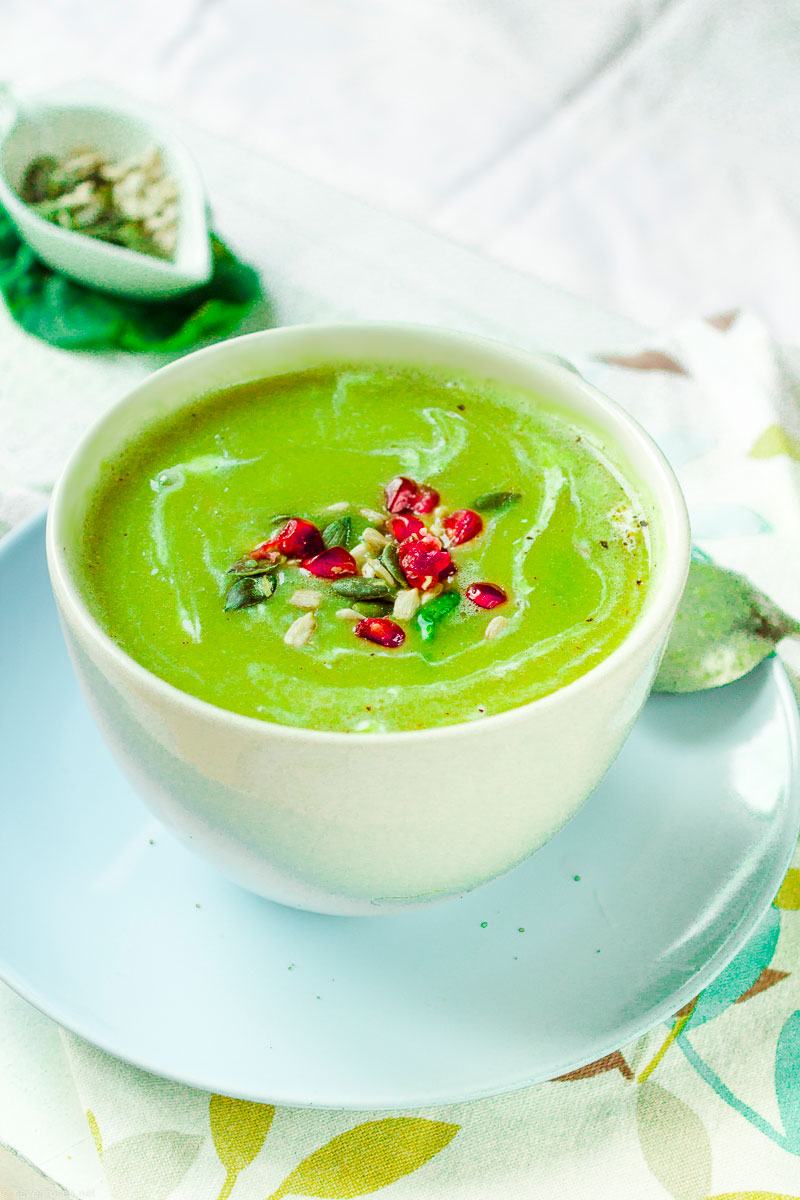 Hello my beautiful friends!
The first time I shared with you a soup recipe I told you how I usually make my own soups: I through in the pot a bunch of good ingredients that according to me go well together, without really following recipes or rules. But when I revealed that we have soups at least once every week, all year long, more and more people have started asking for more soup recipes that are Vegan, healthy, yummy, easy and comforting. As a matter of fact, after years and years of soup-hate,  nowadays it doesn't even matter what time of the year or what weather it is, I kind of always feel like soup.
Indeed, simple soups are not only great for the Winter months, but all year long. This Split Pea and Spinach soup can be eaten hot off the pot, or cooled down for a surprisingly refreshing treat during Summer months .
But Summer is far now, and I imagine that most of you are in need of a comforting bowl of food for warming up. This hearty and filling Split Pea and Spinach soup will do the job: make a batch and keep it in your fridge, ready to heat up for an easy meal all week long. The addition of an unusual healthy ingredient makes it more interesting, healthier and more vibrant than your usual soup.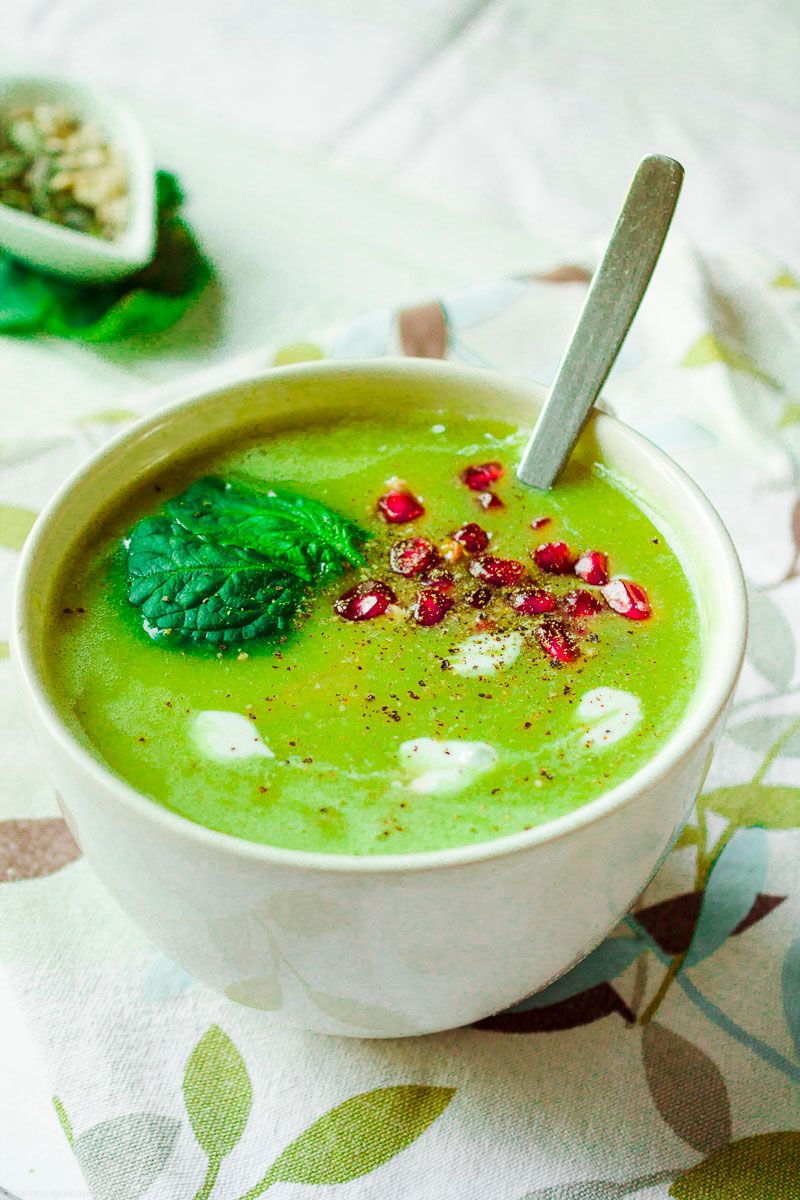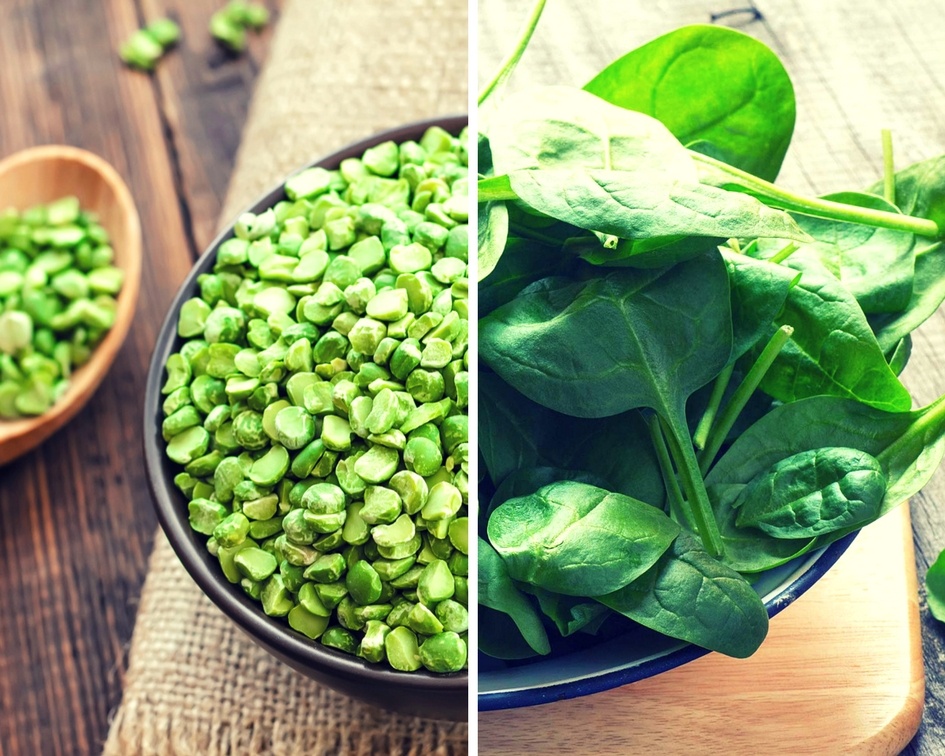 But to load this creamy soup with even more vibrant, green, healthy ingredients, I've added a few more ingredients that make this creamy soup both delicious and filling. Some interesting facts about this soup:
• Split peas are a nutrient-dense food, which means they contain a large amount of nutrients but are low in calories. Split peas are a good source of vitamins A and B, potassium and magnesium. Vitamin A supports immune health and is necessary for eyesight. The B vitamins assist red blood cell production and also help make energy from the food you eat. You need potassium to build muscle and to break down carbohydrates into energy. Magnesium is also necessary for energy production and to keep your teeth and bones healthy and strong.
• Split peas are very low in fat and a good source of protein. A 1/2-cup cooked serving contains less than 1 gram of total fat and 8 grams of protein. Pea protein is highly digestible by the human organism, but has the added benefit of being the most hypoallergenic source of protein. It is free from any kind of common allergens such as soy, lactose & gluten, has barely any sugar and no cholesterol.
• Split peas are also a good source of fiber. A 1/2-cup serving contains 8 grams. Fiber is a type of carbohydrate your body cannot digest. Getting more fiber in your diet helps lower blood cholesterol levels and may reduce your risk of heart disease.
(source)
• Raw spinach is an excellent source of vitamin K, vitamin A, manganese, folate, magnesium, iron, copper, vitamin B2, vitamin B6, vitamin E, calcium, potassium and vitamin C. It is a very good source of dietary fiber, phosphorus, vitamin B1, zinc, protein and choline. (source)
• And the unusual ingredient in this soup is Spirulina, aka "Most Nutrient Dense Food On the Planet": a complete source of high-quality protein, Spirulina contains vitamins B-1(thiamine), B-2 (riboflavin), B-3(nicotinamide), B-6 (pyridoxine), B-9 (folic acid), vitamin C, vitamin D, vitamin A and vitamin E. It is also a source of potassium, calcium, chromium, copper, iron, magnesium, manganese, phosphorus, selenium, sodium and zinc. Spirulina contains many pigments which may be beneficial and bioavailable (source)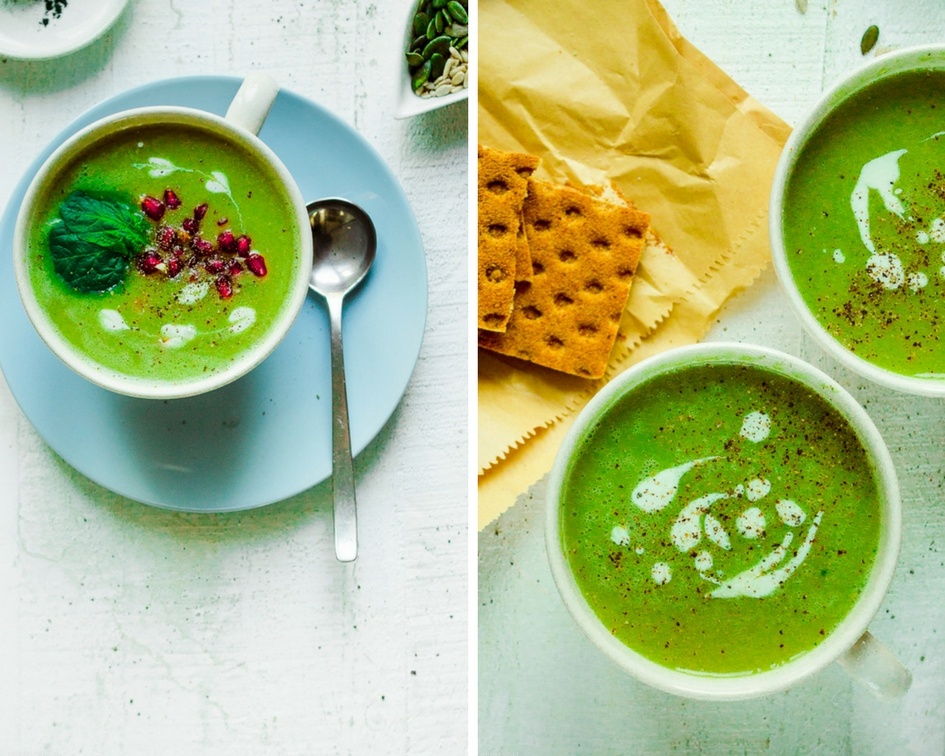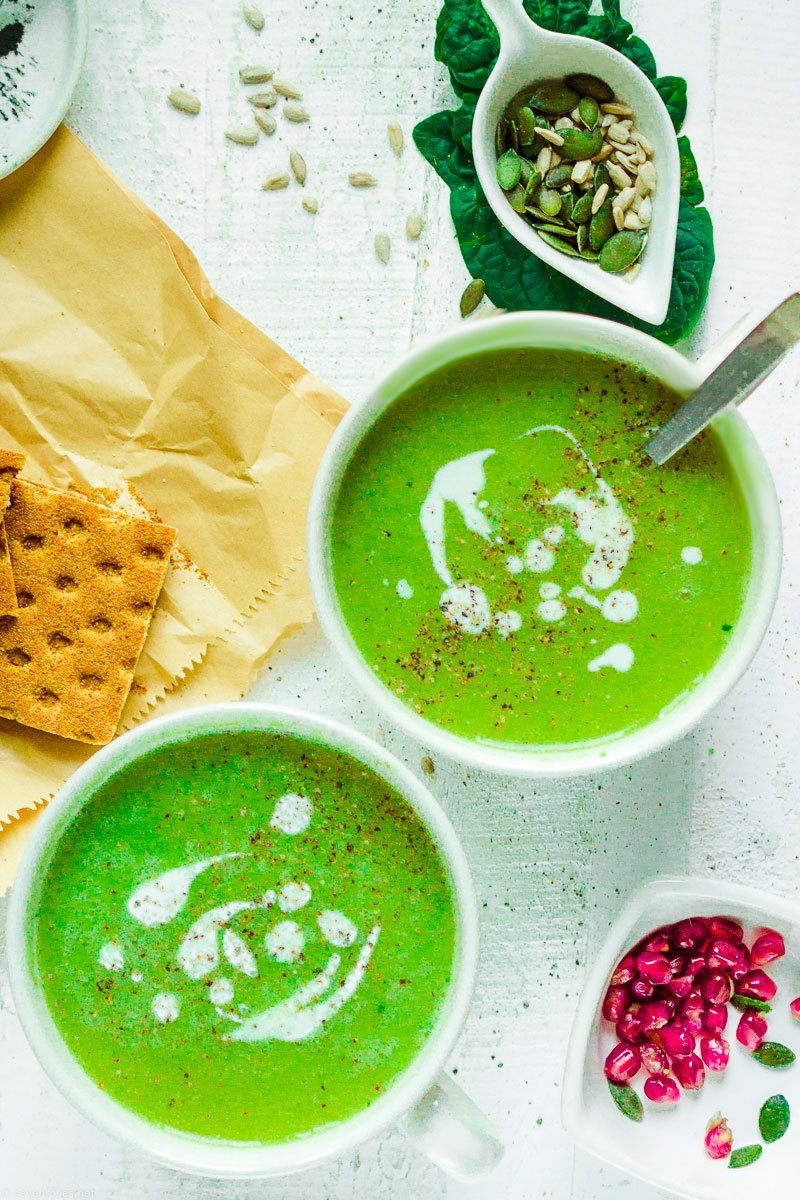 But enough talking, let's get cooking!
Split Pea and Spinach soup
This easy, hearty, creamy Split Pea and Spinach
soup
is rich in filling and vibrant veggies. It can be eaten hot for a warming bowl of
soup
in Winter, or cooled down for a refreshing treat in Summer. The addition of an unusual ingredient makes this a "superfood"
soup
;-)
Ingredients
500

gr

green split peas

soaked for 1 hour

2

large potatoes

roughly chopped

3

cups

baby spinach leaves

1

yellow onion

chopped

4

cloves

garlic

finely minced

6

cups

water

or vegetable stock

1

bouillon cube

optional

1

pinch

salt and pepper

3

tsp

spirulina powder
Instructions
In a large cooking pot, add a dash of water or vegetable stock on a medium heat. When hot, add the onions and garlic. Water sauté for a couple of minutes to soften, stirring often to keep the garlic from sticking to the pot.

Add the split peas, potatoes, water/stock and bouillon cube if using. Cover and let simmer for 45-50 minutes or until the split peas become tender.

Remove the pot from the heat. Add the raw spinach leaves, the salt and pepper and the spirulina powder. Using an immersion blender, process until you reach your desired creamy consistency.

According to your taste, top with a sprinkling of pomegranate seeds, mixed seeds (sunflower, pumpkin..), red pepper flakes, sweet paprika powder, black pepper, a handful of fresh cilantro and/or a drizzle of soy cream over the top. For an added cheesy flavor add a teaspoon of nutritional yeast.
If you give this Split Pea and Spinach creamy soup recipe a try, please let me know in the comments' section below!
You can also find me on social media. Be sure to tag @francesca_sevenroses on Instagram or @sevenrosesblog on Twitter and Facebook, and use #sevenroses so I'm sure to see it.
And don't forget to pin this recipe to spread the love ♥