Disclosure: this post may contain affiliate links, which means we may receive a commission if you click a link and purchase something that we have loved & recommended. While clicking these links won't cost you any extra money, they will help us keep this site up and running! Please check out our disclosure policy for more details. Thank you for your support!
These zero-waste, portable Instant Smoothies by Kencko are a smoothie-obsessed person dream come true. They encourage healthy habits, don't require a blender and are perfect for when you're on the go and have no time to assemble a smoothie.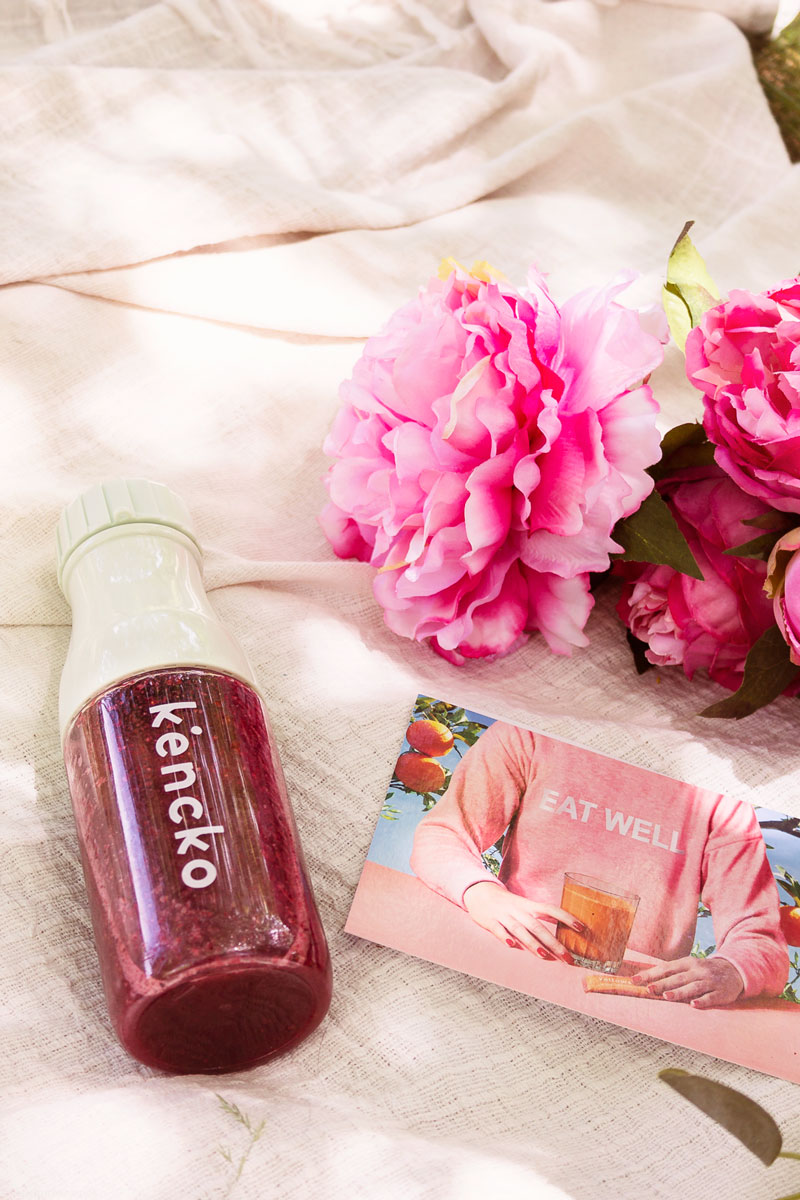 Hello my beautiful friends!
If you're a smoothie-obsessed person like me, or if you're striving to eat in a healthier way, you will love today's unboxing: these single-serving, portable instant smoothies by kencko are a really clever and unique concept. If it's true that one of the hardest parts of eating a healthy diet is finding the time, these little, nutrient-packed instant smoothie powders can fit into any kind of crazy-busy schedule.
With only organic fruits, veggies and superfoods, these instant smoothie mixes aim to change the way you have your breakfast or grab a snack each day. No more excuses like "I don't have time to prep, wash, cut up all the ingredients for a smoothie – not to mention the washing up of blender and all its nooks and crannies afterwards". With these organic smoothie mixes, we get all the nourishment we need in 60 seconds or less. Pretty cool, uh?
And if the thought of plastic waste put me off from getting similar products in the past, what's totally unique here is that each and every instant smoothie mix comes in an environmentally-friendly, compostable pack.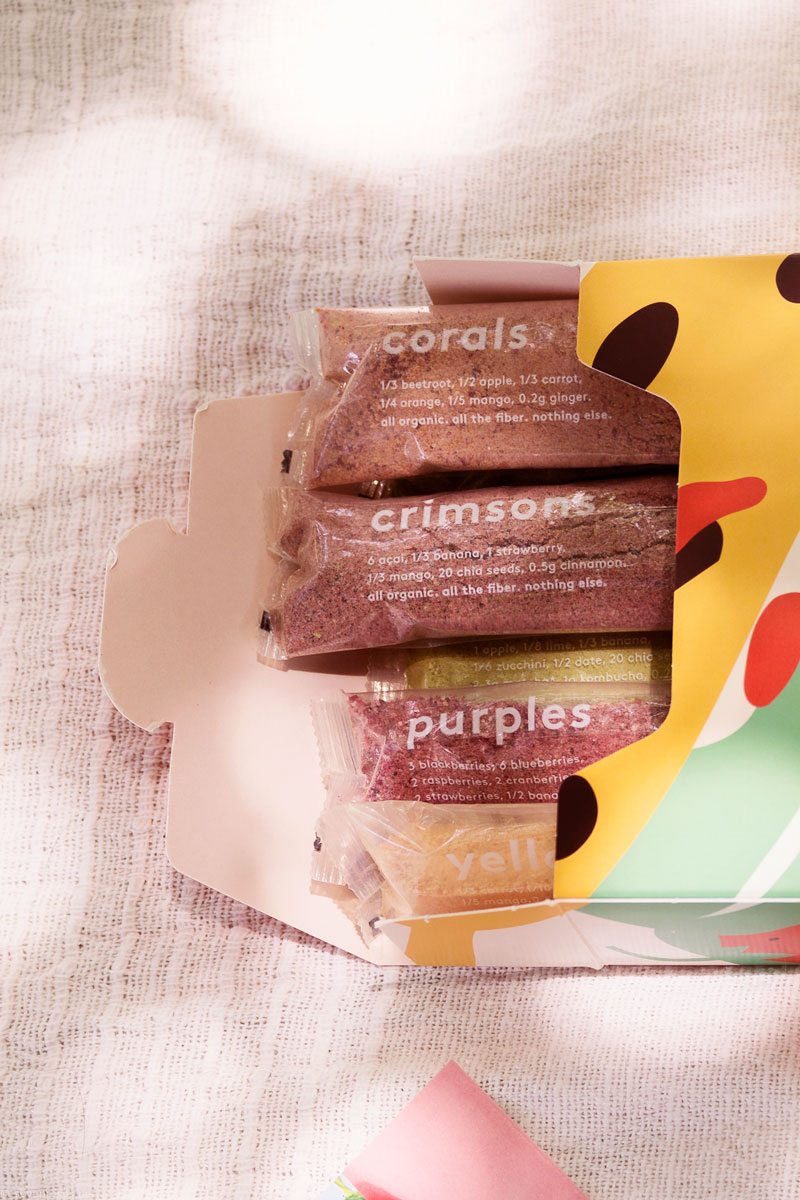 How to make kencko instant smoothies
❥ You go to kencko and pick a plan –  20 or 60 smoothies, every 2 or 4 weeks (you can cancel any time) plus you get a cute, BPA-free FREE shaker bottle with your first order!
❥ When it's time for breakfast/snack, choose what you're in the mood for that day (corals? yellows? purples? greens? there's a total of 12 to choose from). Each compostable packet has the ingredients written on it, so you get a clear idea of what the flavor will be like.
❥ Add water or your favorite plant-based milk up to the line on the bottle, add the powder, shake shake shake for 45 seconds, let rest for 15 seconds and your nutrient-packed smoothie is ready.
…and enjoy! Sooo easy.
Each packet contains 2 of your 5 daily servings of fruits & veggies. A really great way to take control of what you're eating and start making better choices, wouldn't you say?
And for an added bonus, they now offer every member access to a dedicated nutritionist by phone, text or email whenever you need advice or support from a healthy eating expert. This really shows this company is committed to help you become a healthier version of yourself.
Needless to say, all Kencko products are organic, Vegan, non-GMo, gluten & allergen free, with no added sugars, no colorants and totally packed with nutritious ingredients. Every ingredient used is natural, which leaves you to benefit from the fibers, vitamins and enzymes left behind.
If this is something you're interested in, you can click here to go their website, put your zip code in to check if they deliver to your area (they do have international shipping, yay!) and start your healthy journey.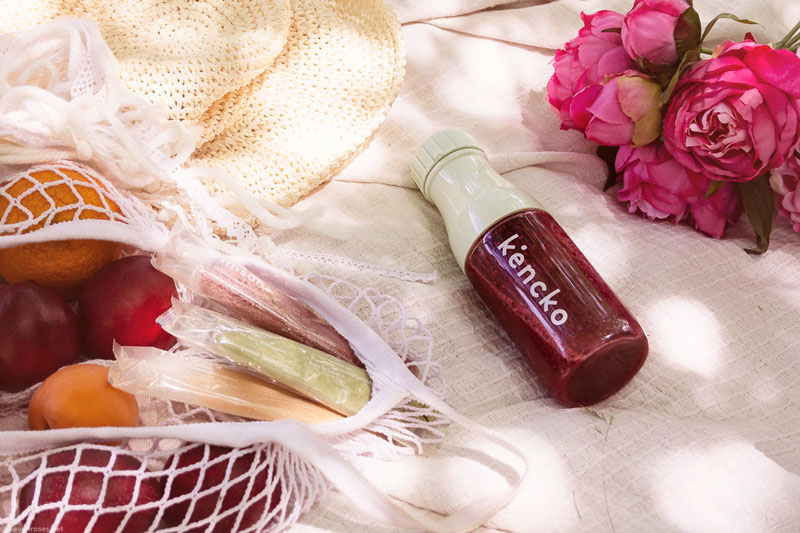 Now that it's summer, we've been loving taking a packet or two along on our outdoor adventures (you might have seen me sip on this in my Instagram stories) especially on picnics or when we're shooting new videos for The Windy Burrow.
But I also perfectly see this as the ideal instant smoothie mix to take along when you're really short on time, in your backpack for school or in your purse on the way out the door.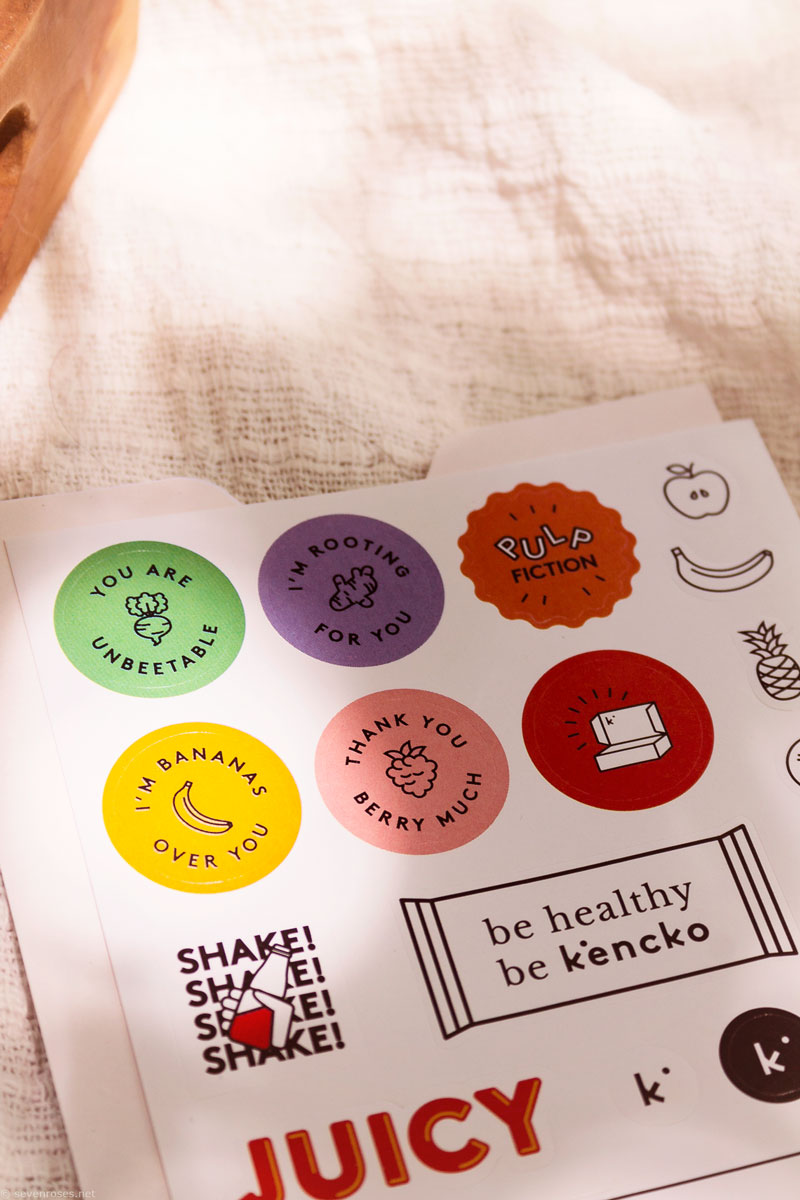 What flavors are available?
I love their colorful names that give you a hint of what's in each packet:
☆ ambers: passion fruit banana dates apple baobab yellow beetroot chia seeds turmeric
☆ acquamarines: passion fruit banana dates apple baobab yellow beetroot chia seeds turmeric
☆ corals: beetroot apple carrot orange mango ginger
☆ crimsons: açai banana strawberry mango cinnamon chia seeds
☆ golds: banana strawberry goji berries cacao beans pea protein hemp protein dates flax seeds
☆ greens: spinach leaves kale leaves kiwi pineapple apple banana ginger
☆ jades:  apple lime banana zucchini dates chia seeds matcha kombucha spirulina
☆ purples (in these photos):  blackberry blueberry raspberry cranberry banana strawberry dates
☆ reds: strawberry raspberry banana apple dates ginger chia seeds
☆ rubies: raspberries sweet potato apple goji berries orange dates pumpkin red pepper maca
☆ scarlets: tomato apple banana spinach leaves chia seeds dates kombucha cayenne pepper
☆ yellows: carrot pineapple banana mango cinnamon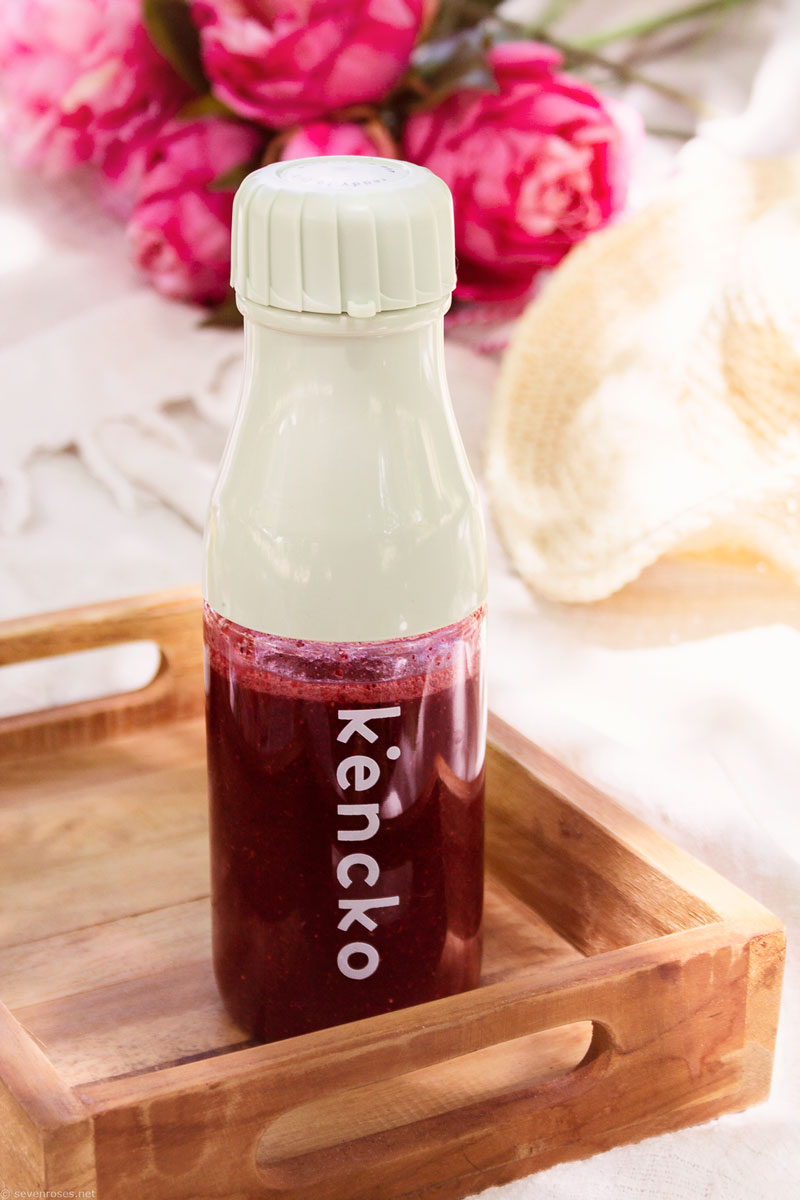 Even more ways to enjoy these instant smoothie mixes
✼ You can choose for the smoothie to be thinner or thicker, depending on how you like it. Use only water for a thin consistency, add a plant-based milk for a milkshake consistency, or 50/50 for a medium one.
✼ Add a dash of vanilla extract and extra ice cubes for a summer smoothie that is basically a vacation in a bottle.
✼ Add soy or coconut yogurt to your plant-based smoothie, pour everything into a nice bowl, add some toppings and you have a smoothie bowl.
✼ Add to your overnight oats for a filling, colorful and nutritious breakfast.
✼ Add 2 tbsp of chia seeds and 1 tsp of agave, let rest between 10 and 60 minutes, and turn your smoothie into a chia pudding for a guilt-free dessert.
✼ Add 1 scoop of plant-based protein powder for a more filling result.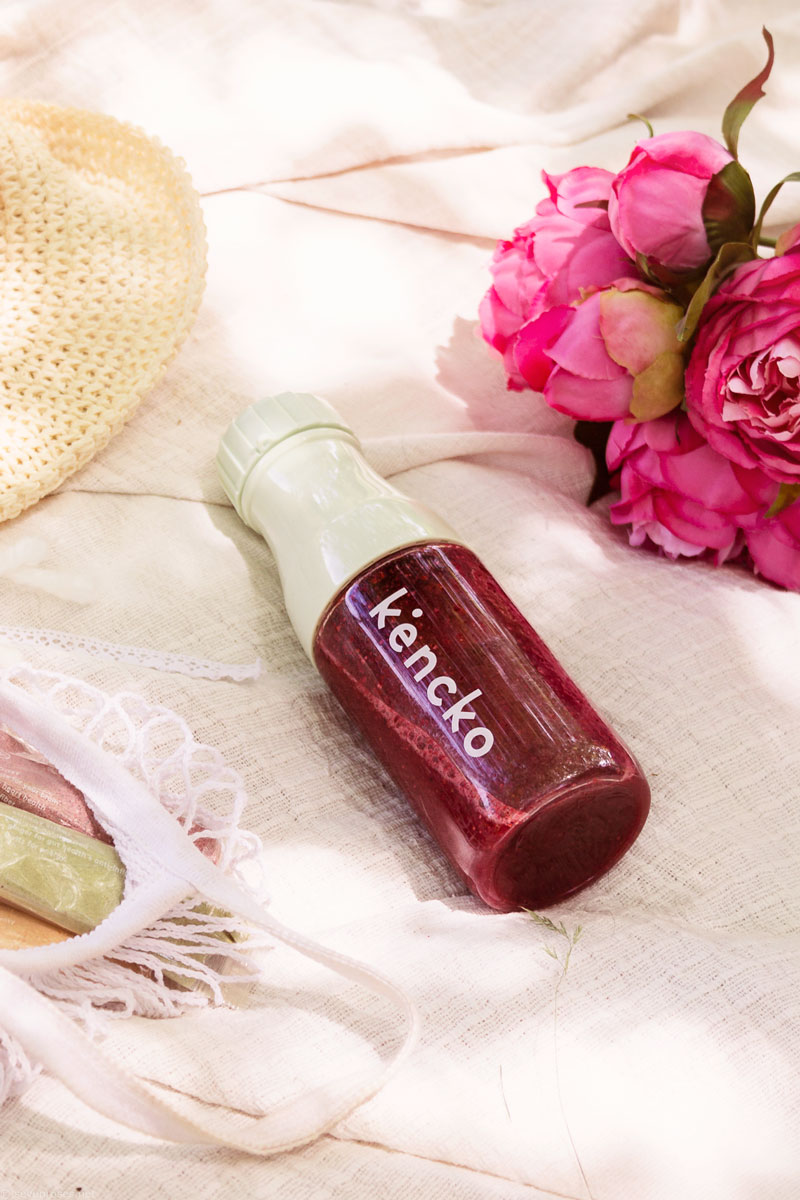 So why am I so crazy about these instant smoothie mixes? Because of their 100% natural ingredients, the variety in flavors and their zero-waste approach to single-serving products. I'm giving these 2 thumbs up ♥
If you want to know more click here for kencko's 100% organic smoothies.

I hope you enjoyed this post about these amazing instant smoothies by Kencko. Do you like smoothies? How do you incorporate them into your days? Let me know in the comments below.
And don't forget to pin this post to share the love ♥
I wish you a love-filled day xoxo
Disclaimer: I've been fortunate enough to receive some of the above mentioned products for free to try, but opinions and the choice to review are 100% my own. This post contains affiliate links.