Some of my most highly requested posts are cruelty-free pampering routines – I'm glad more and more people are interested in Vegan & Cruelty-free beauty.
So now it's the perfect time to do a new one as Spring is here and I've changed quite a few of the products I love & use (also thanks to some massive hauls in the past few weeks). Today I'll be pairing some old favorites with some newly found absolute must-haves.
I try to do this pamper routine once a week, mostly on Sundays when I'm back from trail running. Usually I'm not this high-maintenance, I even have simple minimalist routines during the week. Hopefully you guys will enjoy this, so let's jump right in!
Spring Pamper Routine – plan ahead
As always for me, a pamper routine has to start with a shower or a bath.  There's something about feeling the water on your bodies that both cleanses and restores you. Don't you agree? But even before that, if I plan on treating myself, I will usually start the actual treat by soaking my hair in oil (coconut or my new find Khadi Natural Herbal Ayurvedic Vitalizing Hair Oil) before going for a run (or overnight). When I come back, that's when the real at-home SPA experience begins. So I advice you to plan ahead and begin your Spring Pamper Routine the day before by treating your hair.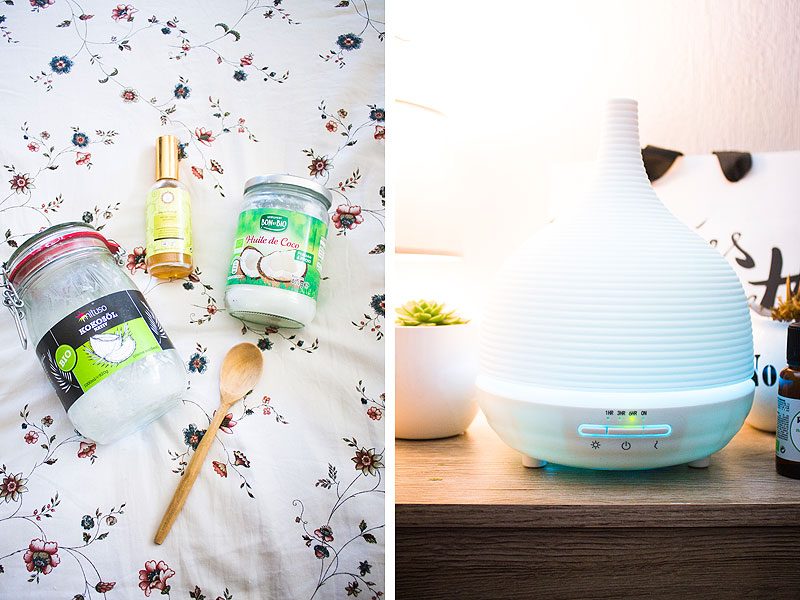 Before jumping in the shower, I add some Sweet Orange essential oil or a mix of the Relax and Sensual blends to my beloved diffuser (best gift ever! ♥ ) and turn it on. The soothing scents immediately fill the bathroom, and you already feel like in a SPA.

Spring Pamper Routine – hair & body
And one more step before hitting the water, is to dry brush. This is so healthy for your body, your circulatory system, your skin… if you're interested in knowing more, comment down below and I'll make a post about all the benefits of dry brushing – such a cheap way to improve your overall health! Once you've got your blood flowing by brushing towards your heart, it's finally time to let the water caress your body.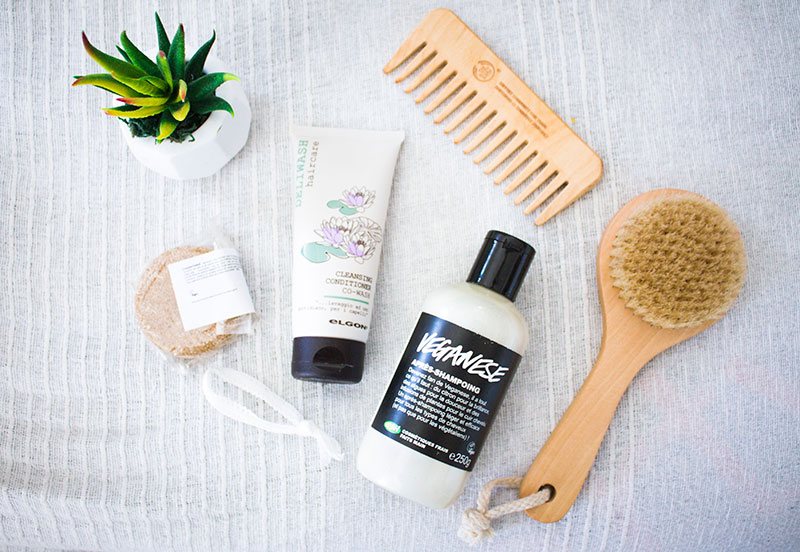 First things first, wet your hair very well. There's nothing more horrible than using shampoo on half-dry hair. Lately, I've been going back and forth between these 2 products: the cruelty-free Cleansing Conditioner Co-wash by Elgon that I discovered thanks to Glossy Box and the Lush Copperhead solid shampoo. I tend to use the Lush on days when I really want to clean my hair (for example if I've done an oil bath).
Either way, after I'll be using the Lush Veganese, and I leave it on my hair as a deep conditioning mask for a few minutes to really reap the benefits. So while that's in my hair I proceed to wash & scrub my body.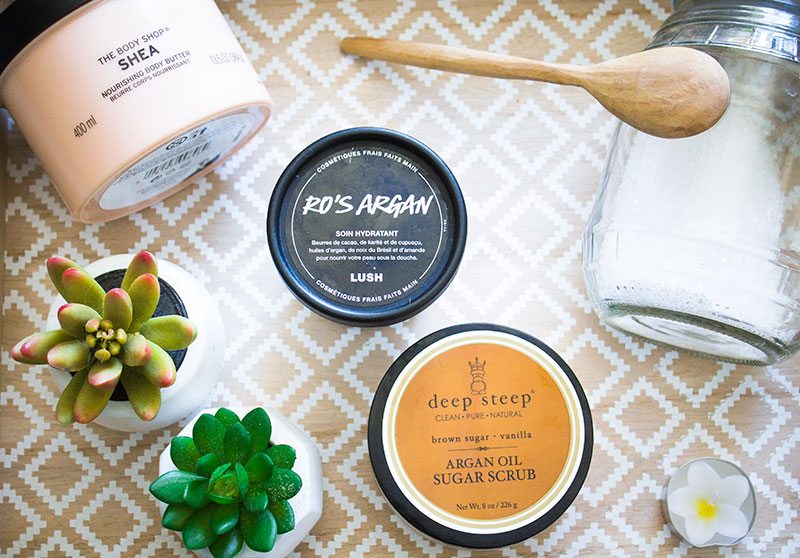 If I'm actually taking the time for a bath, I love to soak in Epsom salts – they have been a savior during the Winter months for my sensitive skin, especially coming back home after running in the snow or with negative temperatures. Does your skin react to cold by getting all red, burning hot and itchy, too? In that case, soaking in warm water with epsom salt will save you!
Now that the weather is not cold any more, I still love the way these salts soothe the muscles and relax me after a run or a long day. When it comes to scrubbing (which I am totally addicted to) I have a new favorite, the amazing Deep Steep Argan Oil Sugar Scrub. Like, OMG. It leaves the skin so smooth and so hydrated you don't really need to apply anything else afterwards. Plus the smell is just heavenly and I think it has a great quality-price ratio.
For days when I'm in a bit of a hurry and I don't use this scrub, I use Lush Ro's Argan instead, which is a quick way to moisturize while still in the shower (pay attention as it can make the shower or bathtub veeeery slippery!). I might or might not need to add some Shea Butter from The Body Shop afterwards, depending how my skin feels. Whatever products I might be using, I need them to be rich and luxurious, as I have dry skin on my body and it really drinks up whatever I put on it.

Spring Pamper Routine – face and skincare
Moving to my face, I'm still using and enjoying Argilets white clay mask but I alternate it with My Cosmetik Purple Clay. I will let it sit on my skin and clean out my pores while the bathroom is still filled with vapors and essential oils. Once it's dry, I wash it off with lukewarm water, and then I love to use floral waters (aka hydrosols) or a tonic. I have 4 that I'm currently testing right now (by Florance Nature, Sanoflore, Revelessence and Lush) but the one I prefer among them must be Lush Breath of Fresh Air. When reading the ingredient list (that includes sea water and seaweed) you are left wondering if you'll be smelling like algae and as dry as after soaking in salty water, but instead this is a beautiful product that I'll be repurchasing. Especially now that I live so far from the sea it really is a treat!
While my face is still wet with the floral water, I mix some Aloe Vera gel and some oil (jojoba or argan are the two I'm using at the moment) in the palm of my hand, and create a serum for my face that leaves the skin feel plumped and revitalized. Another combo I'm enjoying is the InstaNatural Vitamin C serum + Derma-E DMAE firming cream to support the skin's protective barrier.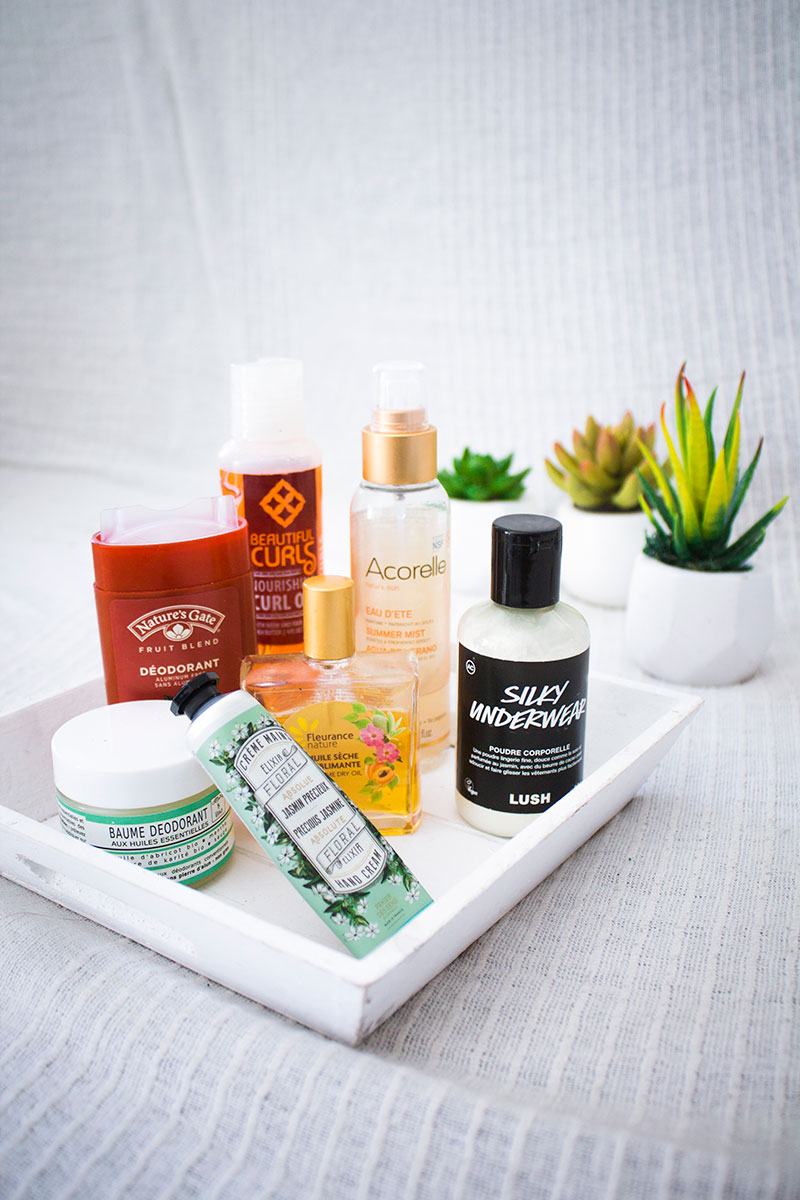 Spring Pamper Routine – final touches
A few last touches… obviously deodorant!
The 3 natural deodorants I'm trying at the moment are Primal Pit Paste All Natural Lavender Deodorant – Aluminum Free, Paraben Free, Non-GMO* which smells really good and seems to be the best of the 3 in terms of odour control, Clémence & Vivian – which does contain bicarbonate and therefore can be irritating especially after shaving  – and the milder Organics Deodorant Mandarin Orange Patchouli (which I actually got for my husband but I love the smell!). 
I will also spread some Silky Underwear by Lush on areas that might get sweaty (no worries, despite the name no silkworms were harmed to make it!).
Hair doesn't get touched any more in order to leave my natural curls and waves do their crazy thing, I might just add a drop or two of ALAFFIA Shea Butter & Neem Beautiful Curls Nourishing Oil on the ends to add some shine.
Before going out, a little bit of dry oil, both for the smell and the glowy effect especially if I'm going to wear something strapless or at least not up to my chin! And at the end of it all, a little flowery hand cream and Summer mist or any other light alcohol-free perfume. After all these steps, I definitely smell really good and feel very pampered.
My oh my, this was longer than I expected it to be. But I have one last tip for you.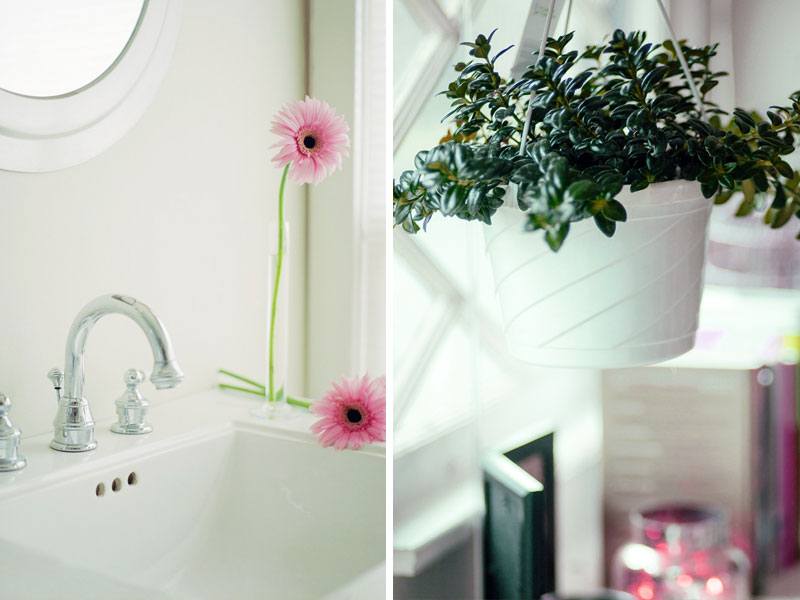 Extra tip:
in order to make this experience really unique, if you, like me, never go to an actual SPA or never get a massage, set the mood of your bathroom first! Remove any laundry that needs to be folded, add flowers, plants and candles, prepare a herbal tea to sip while you soak in the bathtube…
make it as relaxing as it can be, and enjoy this moment all to yourself.
What are some of your favorite pamper routine products and habits? I'd love to know! Leave a comment below so we can discuss about it some more together
♥
Did you enjoy this post? I would love for you to pin it or share it on your social media to spread the good vibes! Thank you!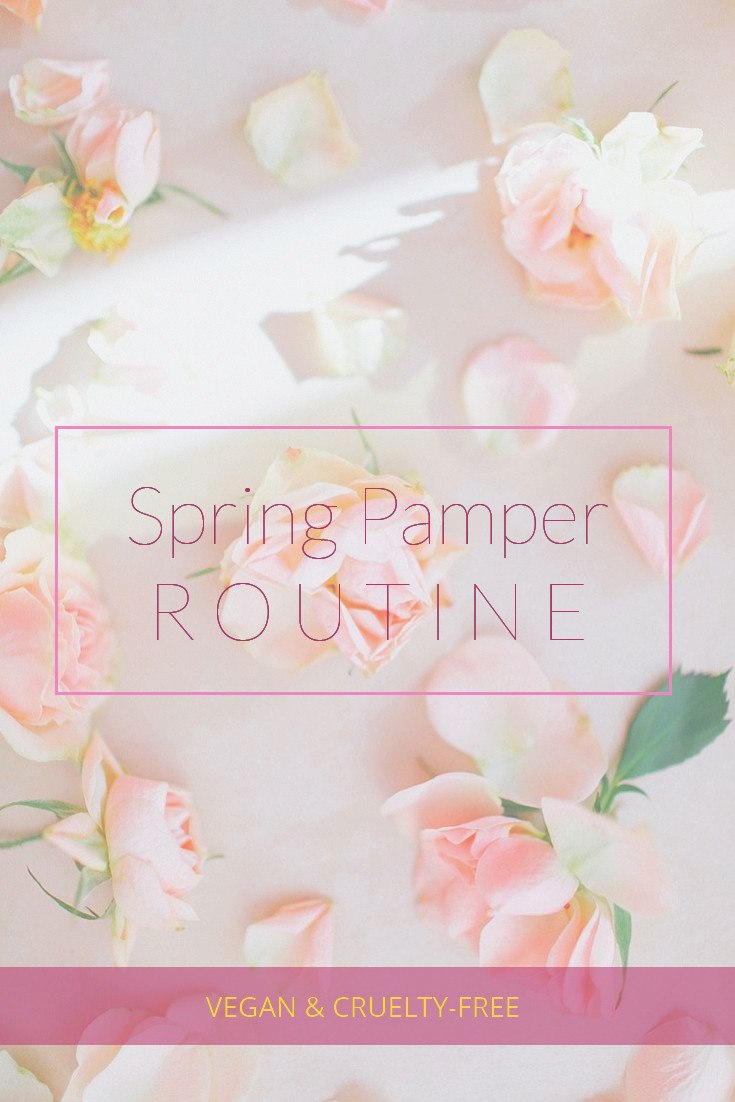 Save