Vibrant and colorful, edible flower recipes are an antioxidant powerhouse. Find out how to include them for colorful and tasty savory dishes, cakes & desserts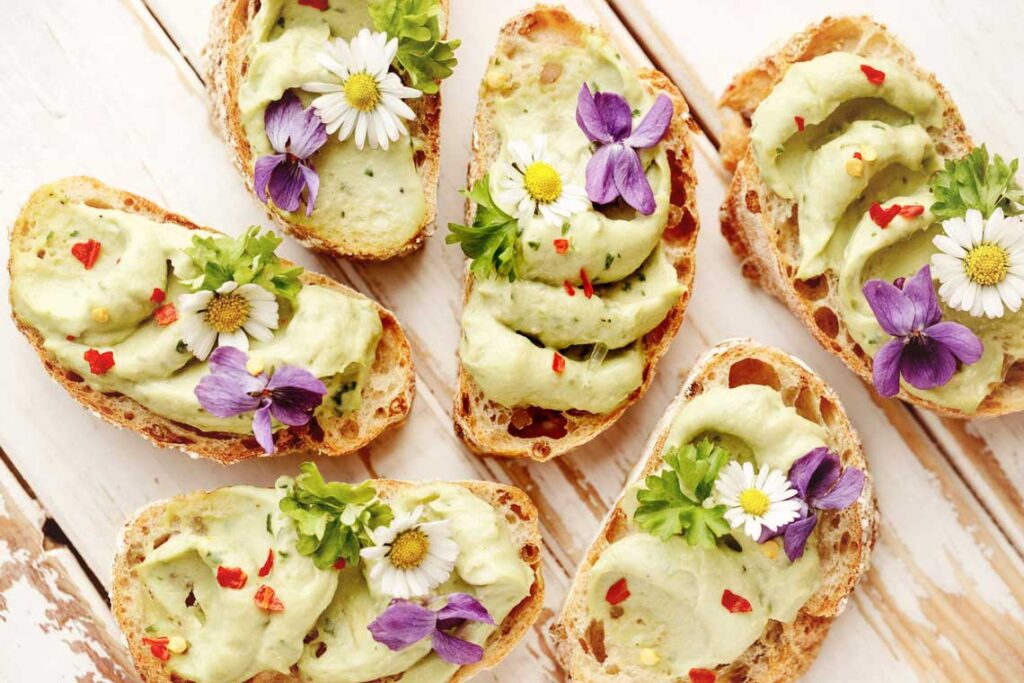 Hello my beautiful friends!
Yep, it's the end of August, yep, summer seems to be flying by…. So if you're not ready to let it go yet and you're trying to extend Summer just a little bit more, other than having frequent picnics with delicious food, have you thought of adorning your dishes, not only your table, with flowers?
Flowers can be used in many different recipes as they do not have only enchanting scents and beautiful colors, they also have quite unique flavors.
Many flowers are edible, but they must have been grown especially for food without any harmful/chemical treatments. You might find  zucchini flowers, nasturtium, borage, pansies or even violets at your local farmers' market or grocery store.
And in your garden or on your balcony, chances are most blooms are edible, as long as you go the organic route: as a rule of thumb, remember that all the flowers of culinary herbs such as thyme, lavender, chives and basil are always edible. But also roses, dandelions, daisies … pick them early in the morning, when the essential oils are the most intense and not altered by intense sunlight, and enjoy them fresh during the day.
But beware: never eat wild flowers you're not familiar with.
Also avoid picking flowers by the road and in city parks: these places are too polluted.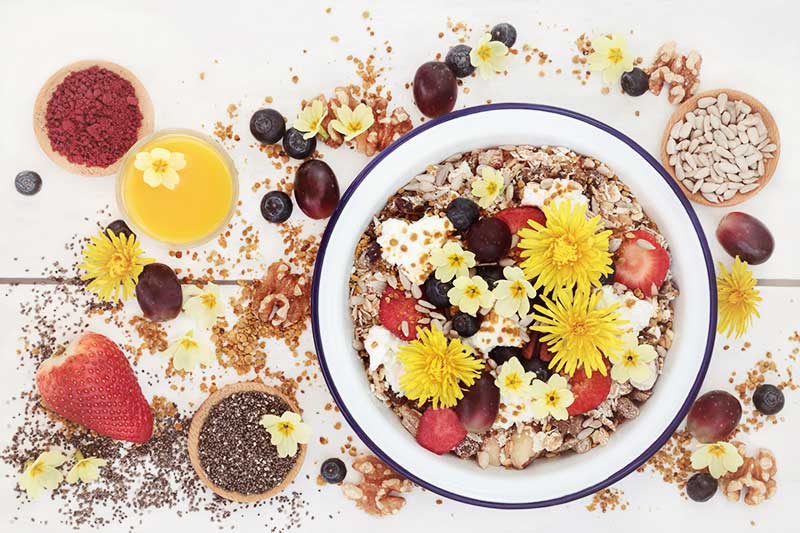 Edible flowers: how to prepare them?
The secret relies in the amount to use: most flowers have a very pronounced taste, so you have to learn how to dose them. Use them preferably whole, to avoid fading and deterioration (and therefore an unpleasant taste). And be uncompromising on the freshness: they must be beautiful, colorful and fragrant (unless you're using the dry version).
To become familiar with edible flowers, the easiest way is to add some colorful petals to your salads, infuse some water with fresh lavender and lemon slices, or make ice cubes out of little blooms.
To prepare them, soak them in fresh water to remove any dirt. Also remove the stamens, which can have a strong, unpleasant taste. We're really aiming for the beautiful, delicate petals here. Carefully dry and wrap the flowers in paper towels, and keep in an airtight container to maintain their freshness.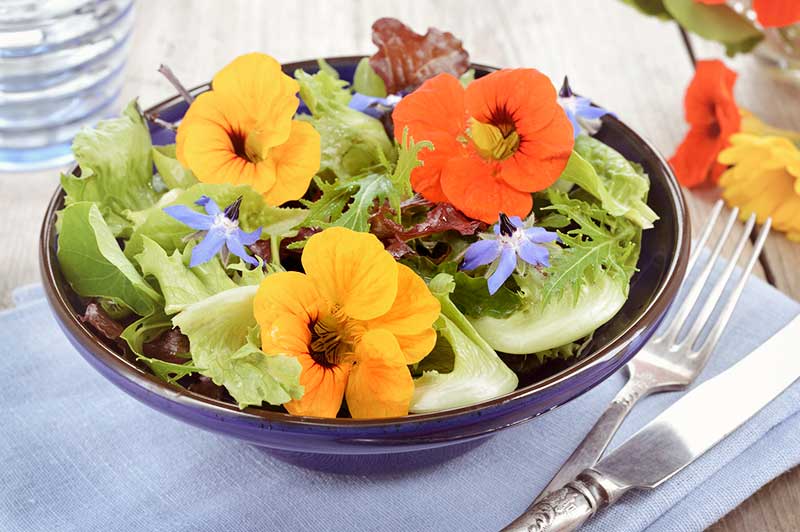 Edible flowers: are they healthy?
Not only flowers have anti-inflammatory properties, but they are excellent sources of vitamin A, vitamin C and carotene. Their natural pigments are mostly polyphenols, which, like their plant essences, have protective effects at the cellular level.
Such concentrated nutrients, naturally present in raw plants & veggies, stimulate the immune system, promote iron absorption and help to slow down cellular aging. This means that eating flowers is the prettiest way to minimize the effects of aging ;-)
-Please keep in mind edible flower recipes are not recommended for people allergic to pollen–
To learn more about cooking with flowers, read this edible flower guide: Edible Flowers 101: How to Cook with Hibiscus, Nasturtium, Marigold and More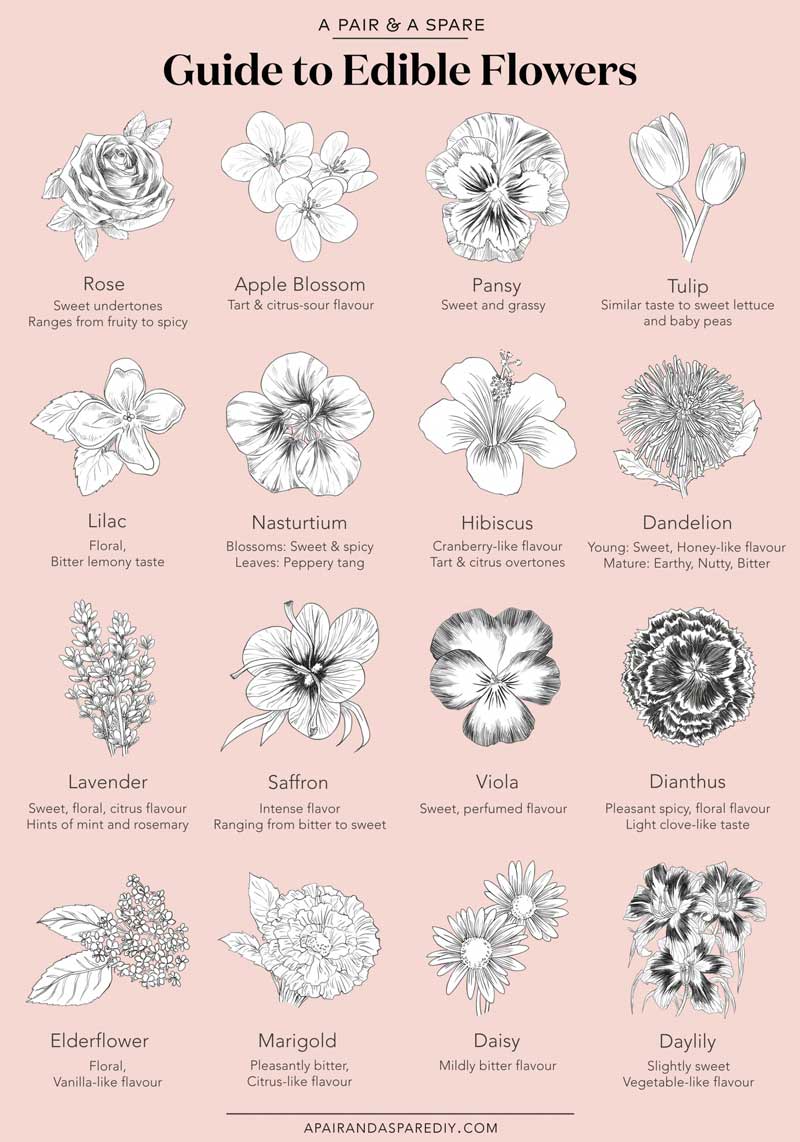 Edible Flower Recipes
If at this point you are asking yourself "how to cook with flowers?" , I've gathered for you the most colorful, most enchanting and seriously-good edible flower recipes that you will ever encounter, with the help of some talented fellow bloggers. All these recipes are Vegan, and some are even gluten-free or whole30, so that no one will feel left out ♥ All that is left for you to do, is to be creative & start using edible flowers in your starters, main dishes, desserts and drinks.
Copyright of the images used belong to their owners and are linked with each recipe: I invite you to visit their sites, leave a comment and give these recipes a try. Be sure to scroll all the way to the end so you don't miss any of these great recipes. And don't forget to pin your favorites as you go!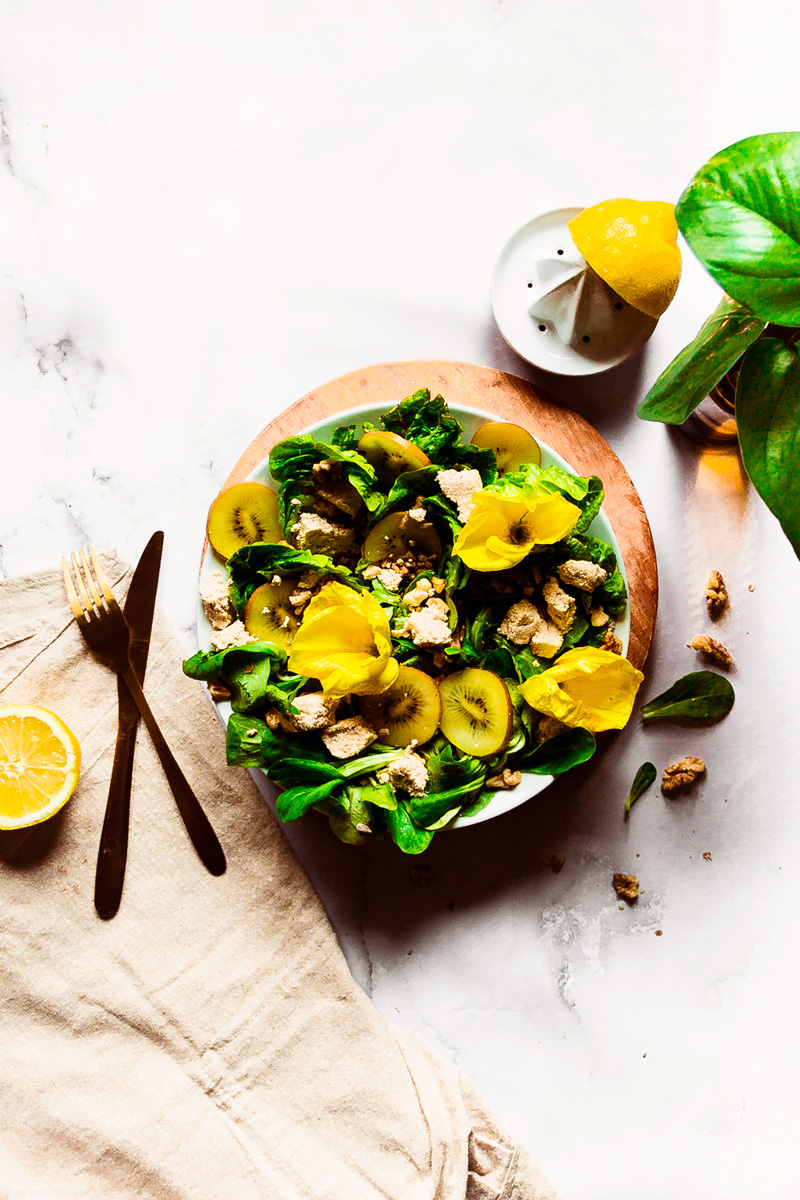 Summer salad with tofu feta, golden kiwis and edible flowers by yours truly: for a lighter meal on sunny days, a work-from-home lunch or an al fresco dinner side dish, bite into this dreamy summer salad with tofu feta, fork-fulls of fresh golden kiwis, inviting edible flowers, crispy lettuce, and crunchy wholenuts. So refreshing and full of good-for-you ingredients.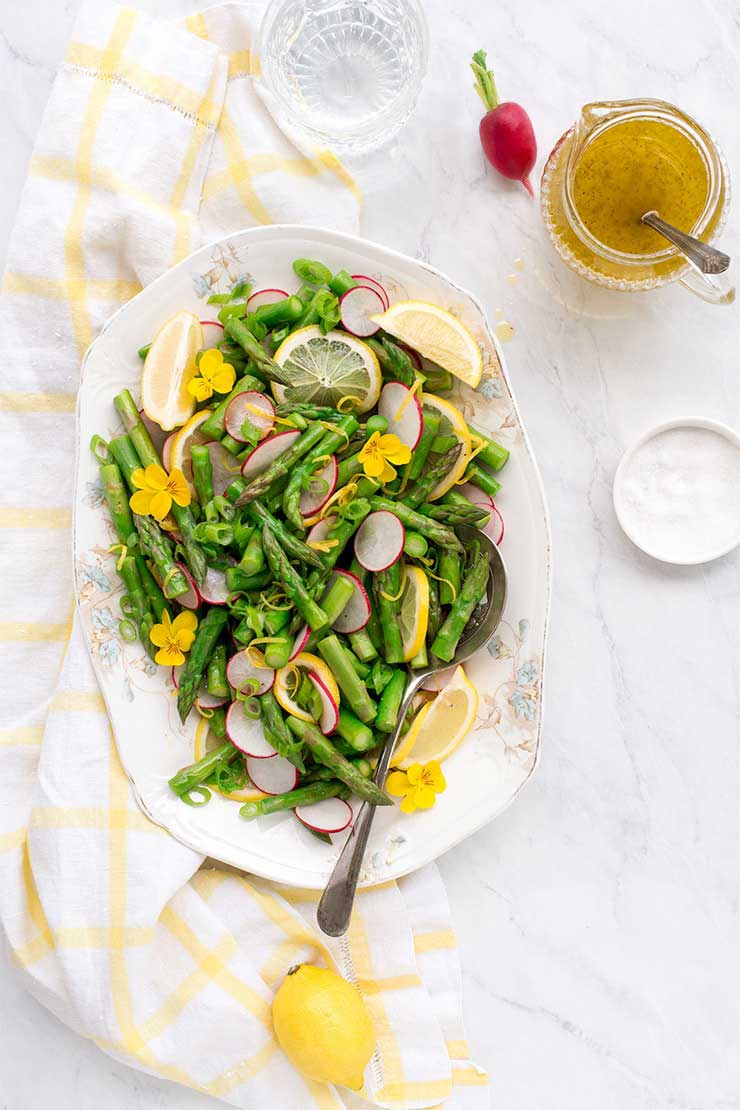 Asparagus Salad with Lemon Vinaigrette at Vintage Kitty: this asparagus salad features crunchy radish slices and a homemade lemon vinaigrette. It's an easy side dish for any occasion, from busy weeknight dinners to spring and summer barbecues.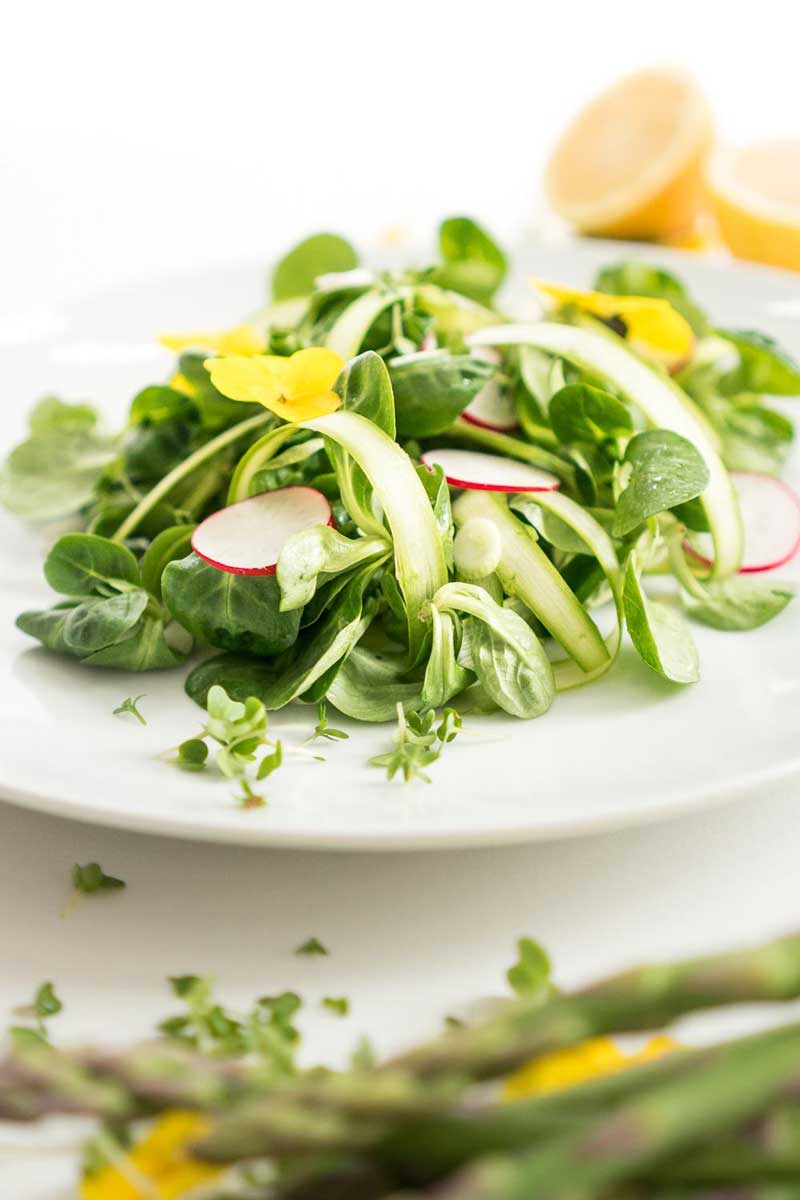 Super Spring salad at Gathering Dreams: a raw vegan super Spring salad full of fresh Spring ingredients, perfect to brighten up your day.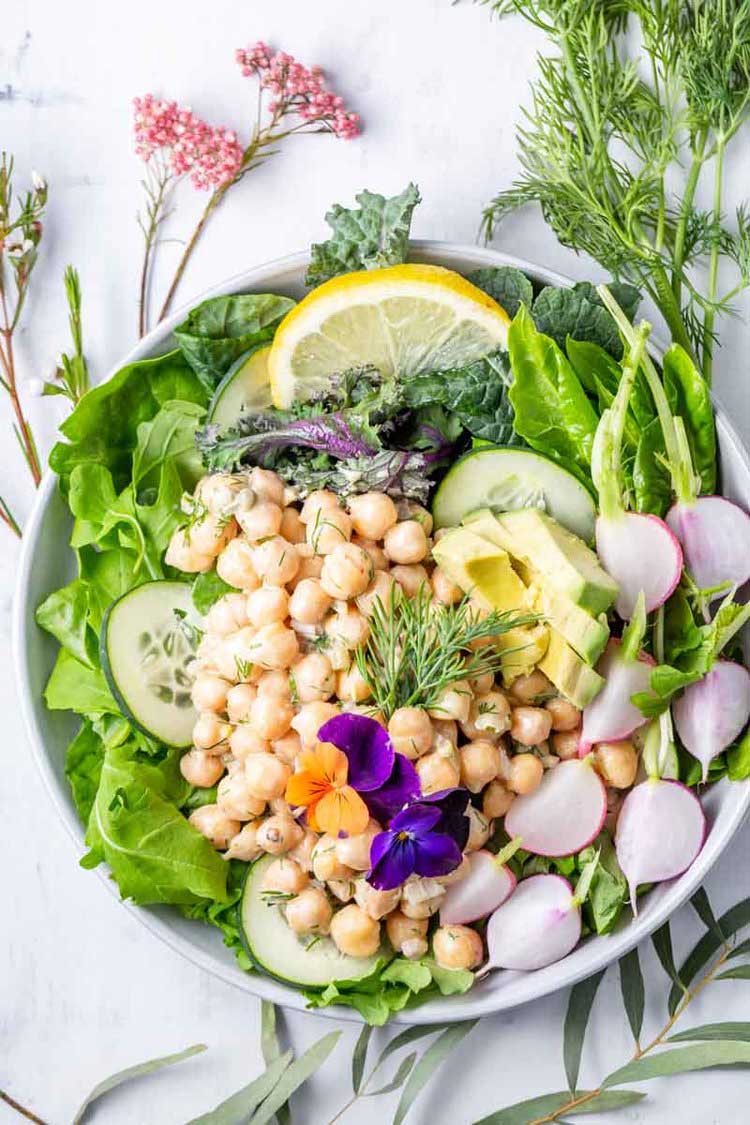 Vegan chickpea salad with lemon, dill, and jalapeño relish at Beautiful Ingredient: this salad includes arugula, spinach, kale, and mixed lettuces with cucumber, pink and purple radishes, and avocado and it's garnished with edible flowers (pansies).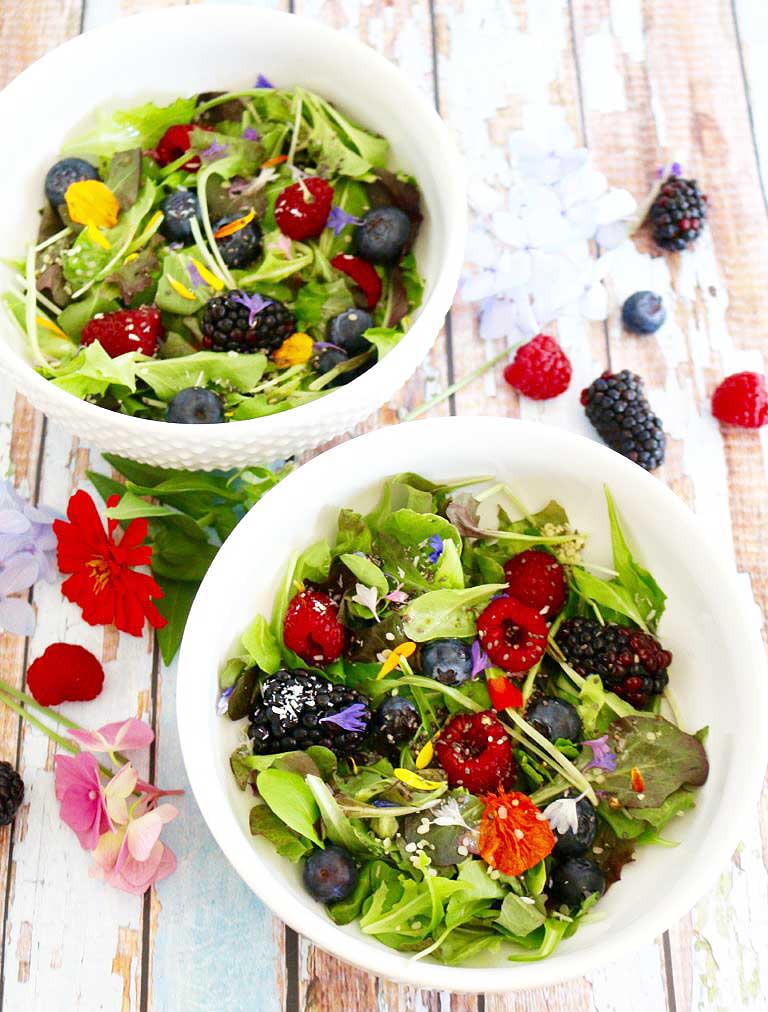 Flower Power Salad with Rose Vinaigrette by Sharon Palmer: tossed with fresh berries, hemp seeds, shredded coconut, chia seeds, and a rose tea infused dressing, this pretty salad is much more than meets the eye—it's packed with powerful nutrition, too.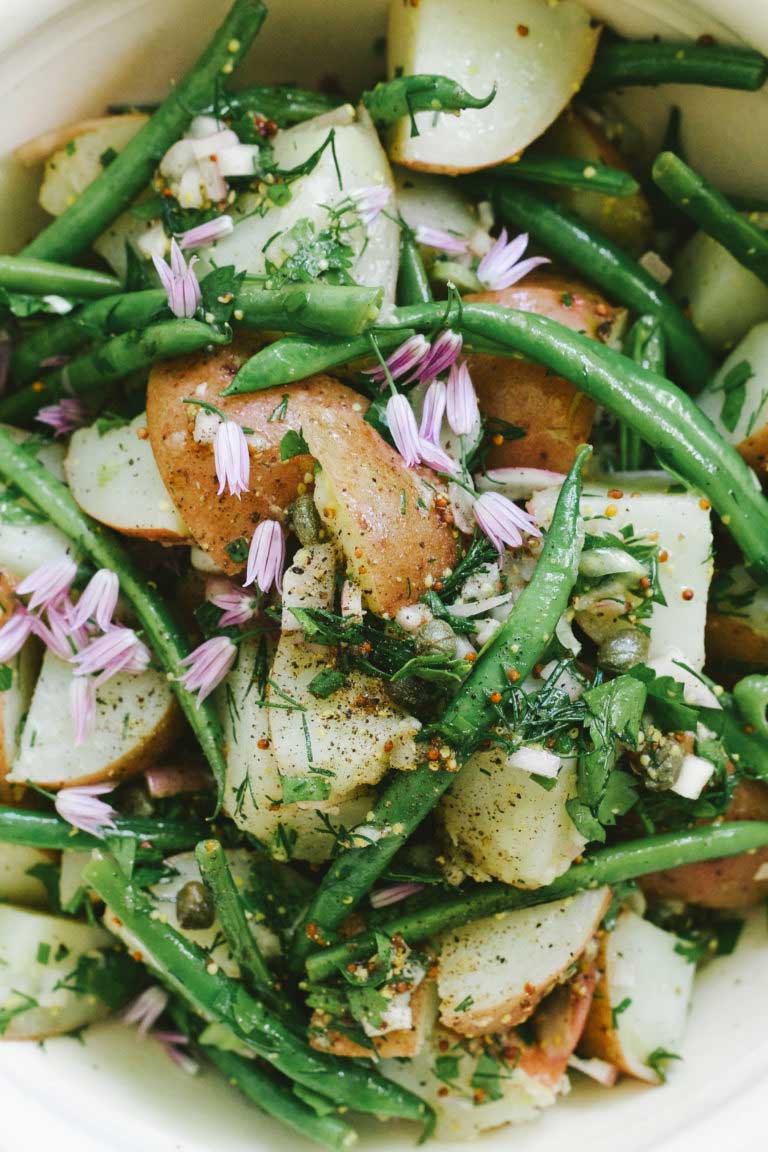 Warm potato salad with herbs at Whole Hearted Eats: ready in under 15 minutes, good hot, cold, or room temp, and unlike other potato salads that are loaded up with mayo, you don't have to worry about it sitting in the sun nearly as much.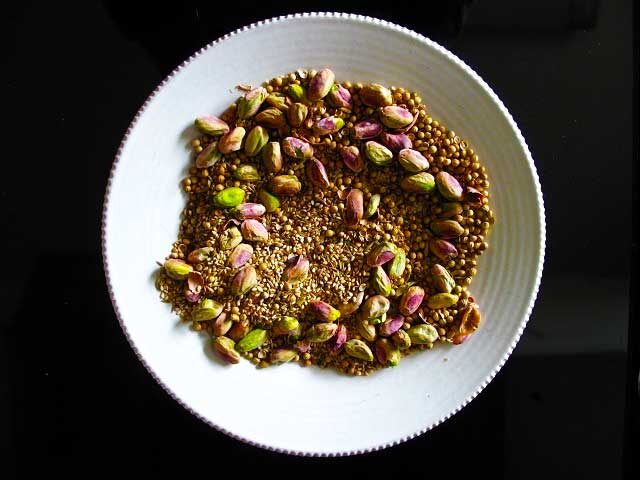 Pistachio and flower dukkah at Eggplant and Olive: dukkah is an Egyptian seed/spice blend that packs a lot of flavor that you can keep a jar in the fridge to spoon atop sandwiches, toast, pasta, grain salads, or the like.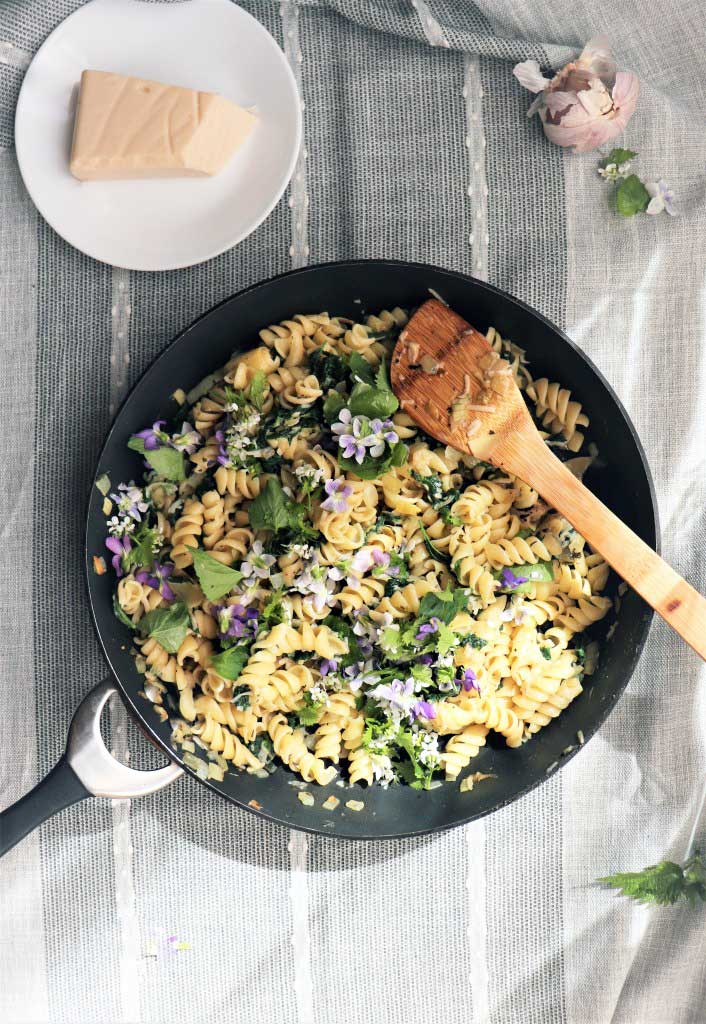 Spring stinging nettle pasta at Very Vegan Val: garlicky flavor, along with onions, nettles, marinated artichoke hearts, vegan parmesan, and a beautiful garnish of violets and garlic mustard flowers will make this dish not only delicious, but the prettiest noodles around.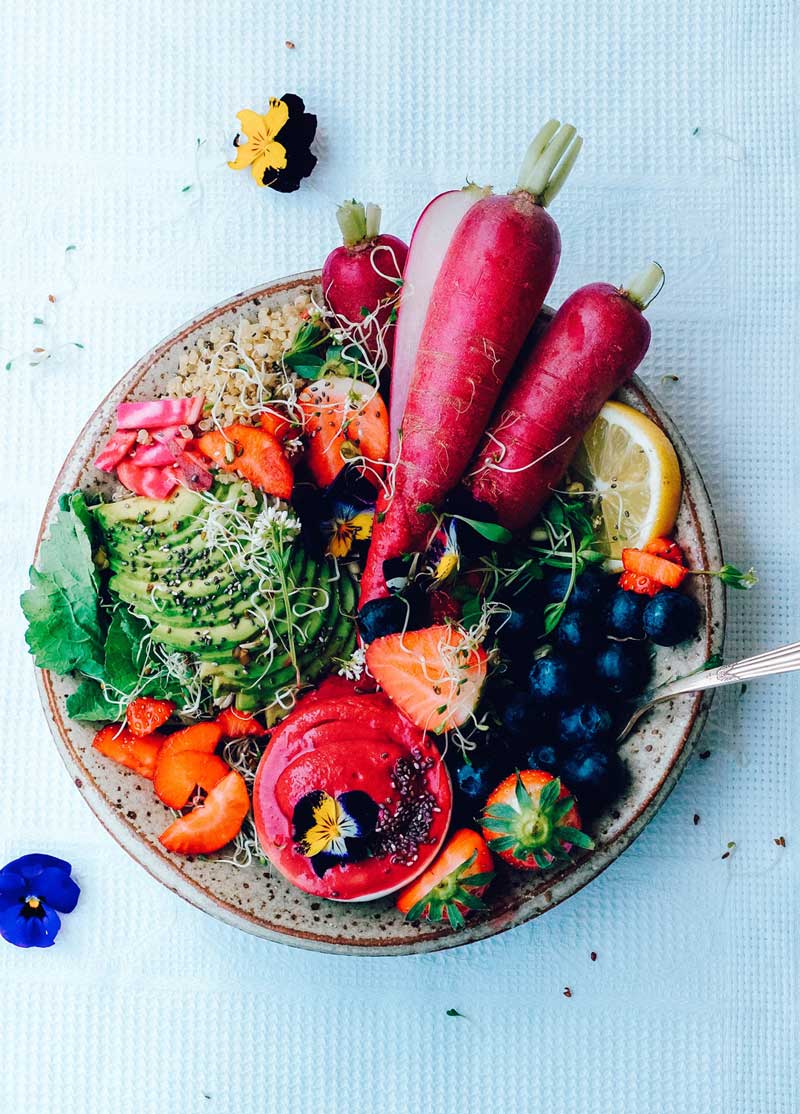 Spring Buddha Bowl at When Sweet Becomes Healthy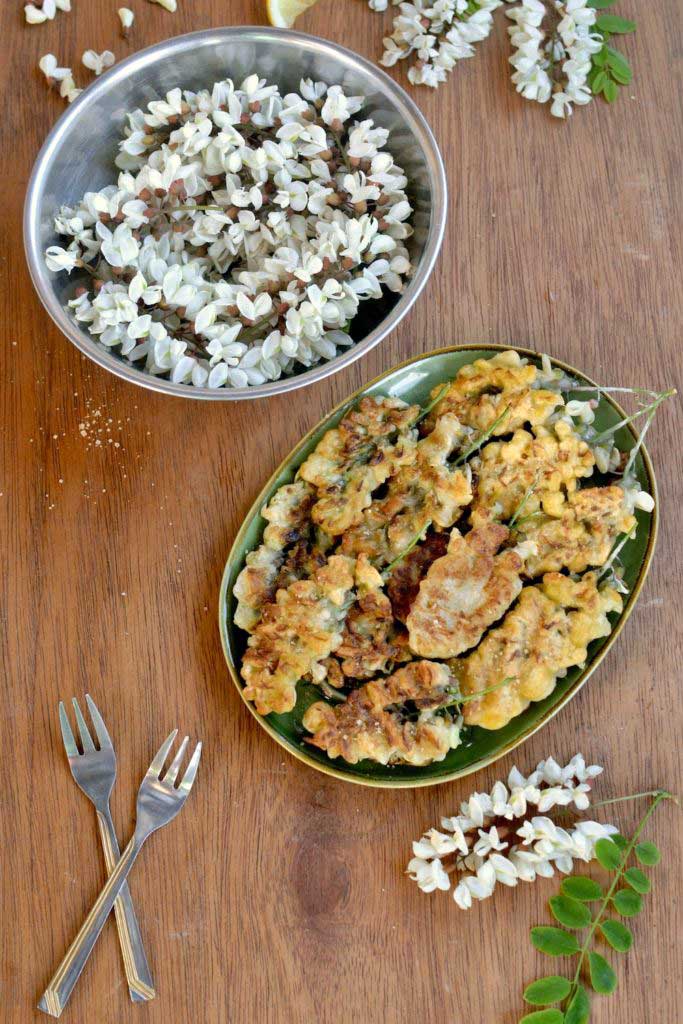 Acacia Flower Fritters at Vegan on board: easy and quick to make and super indulgent, acacia flower fritters are a perfect reason to spend some time outside foraging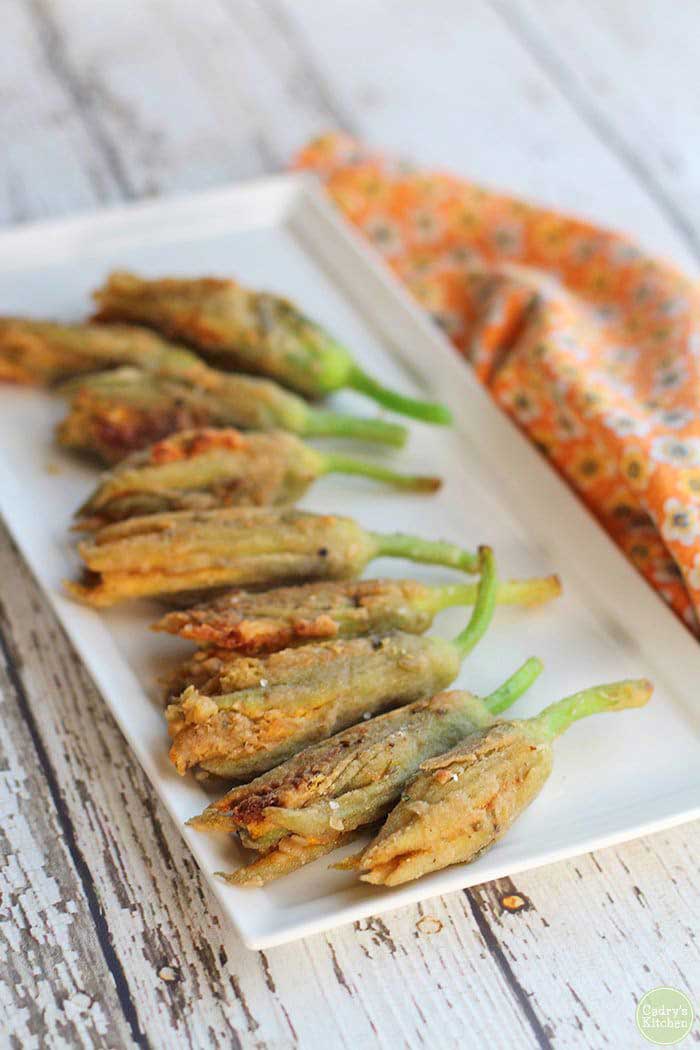 Fried squash blossoms with cashew cheese at Cadry's Kitchen: Zucchini blossoms are stuffed with cashew cheese, dredged in flour and spices, and shallow fried. You'll be thinking about this appetizer all year long, until squash blossom season comes around again.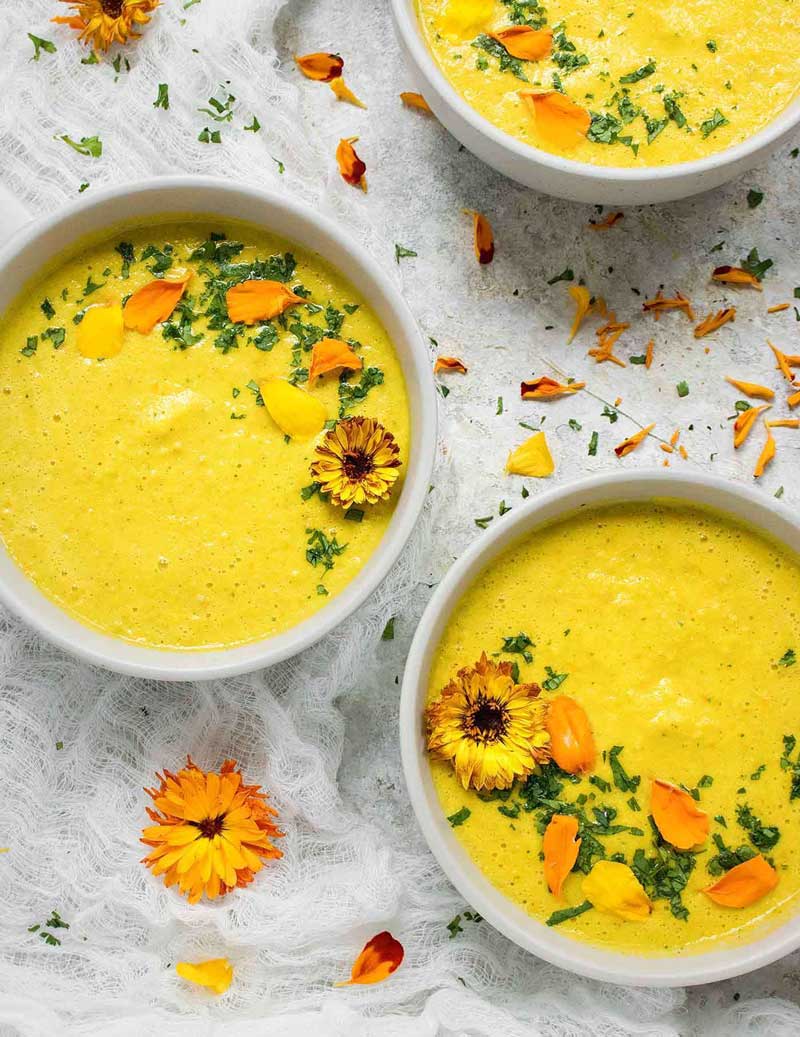 Yellow Gazpacho at Soup Addict: a gorgeous, vibrant summer soup, full of bright and sunny flavors, chilled Yellow Gazpacho will become your very favorite summer gazpacho.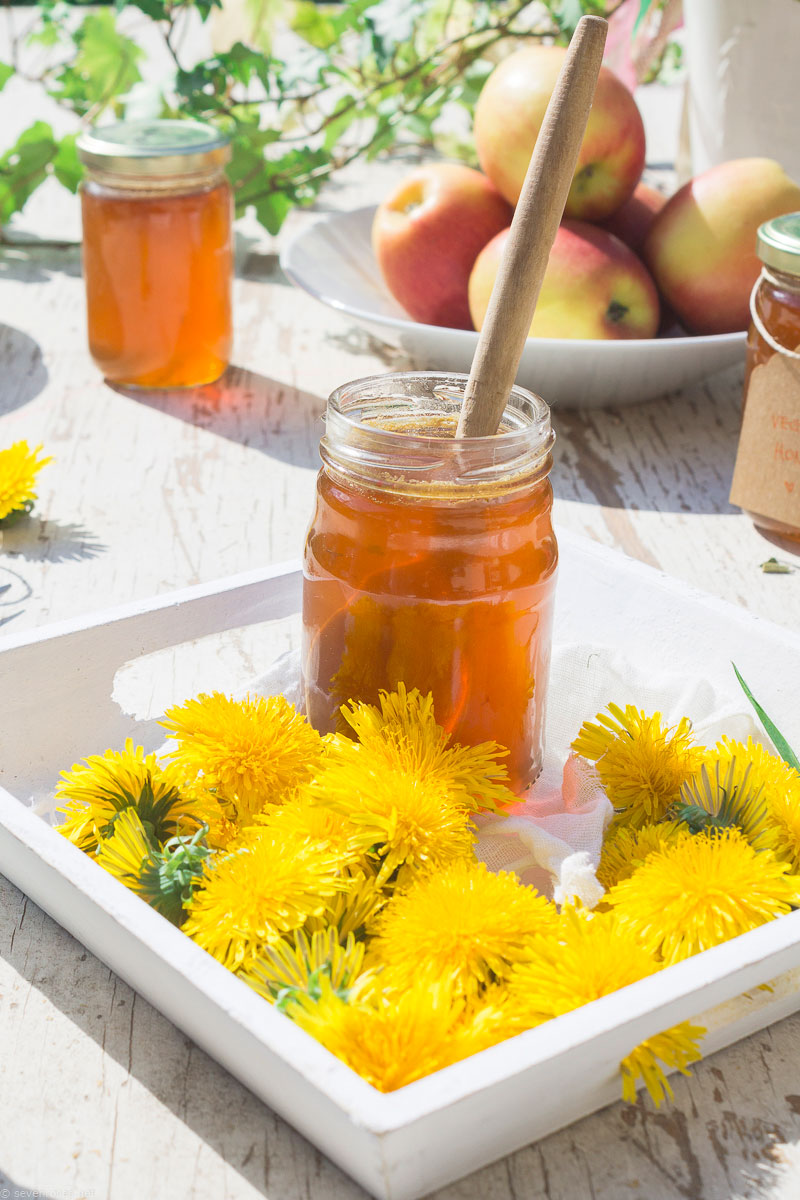 Make your own Vegan Honey at Seven Roses, by yours, truly: this plant-based, Vegan honey is made with just a few natural ingredients and wild flowers you can pick up while taking a walk this Spring. Gather some Dandelions and Rose buds and make the most amazing homemade Vegan honey ever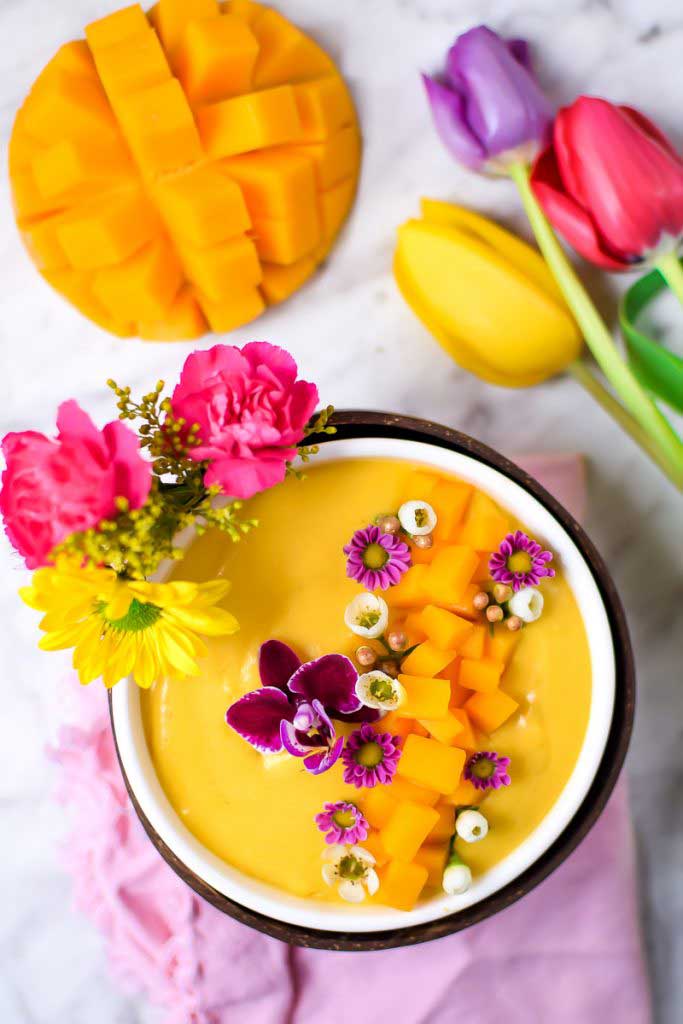 Springtime Mango Smoothie Bowl with Edible Flowers at Emily Kyle Nutrition: this delicious smoothie bowl is a plant-based, nutrient dense, gluten-free meal that can be completely customized with edible flowers or other nutritious garnishes like nuts, seeds, and fruit.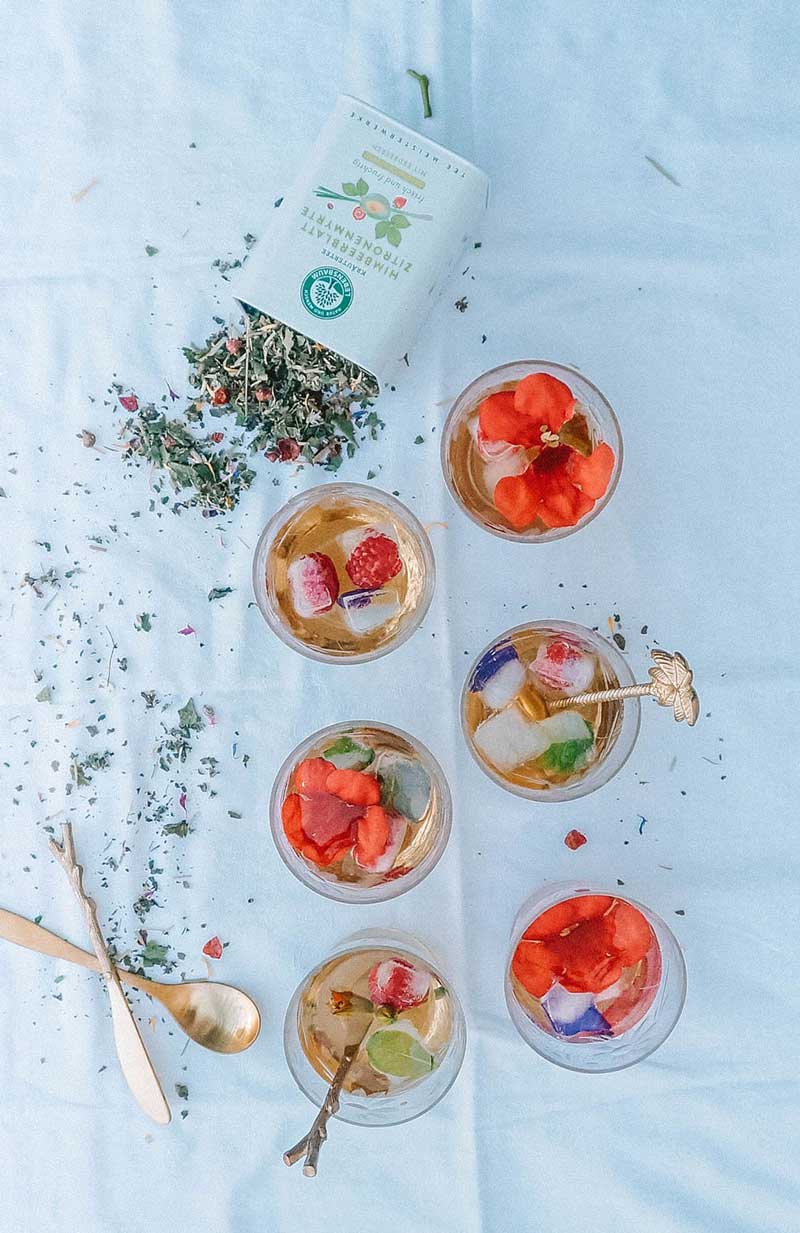 Flower Iced Tea at When Sweet becomes Healthy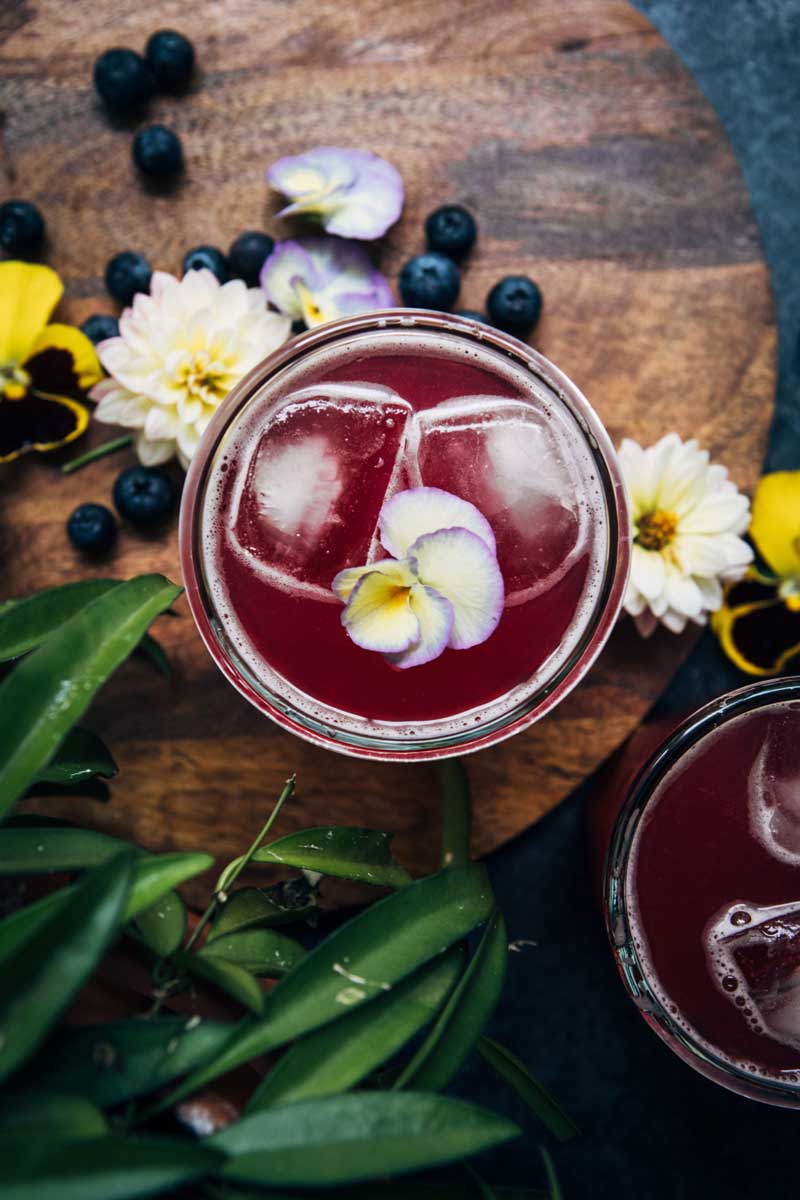 Blueberry Violet Lemonade at Well and Full: the perfect refreshing botanical drink! Made with fresh lemons and maple syrup (omit the honey to make it Vegan or use my Vegan version).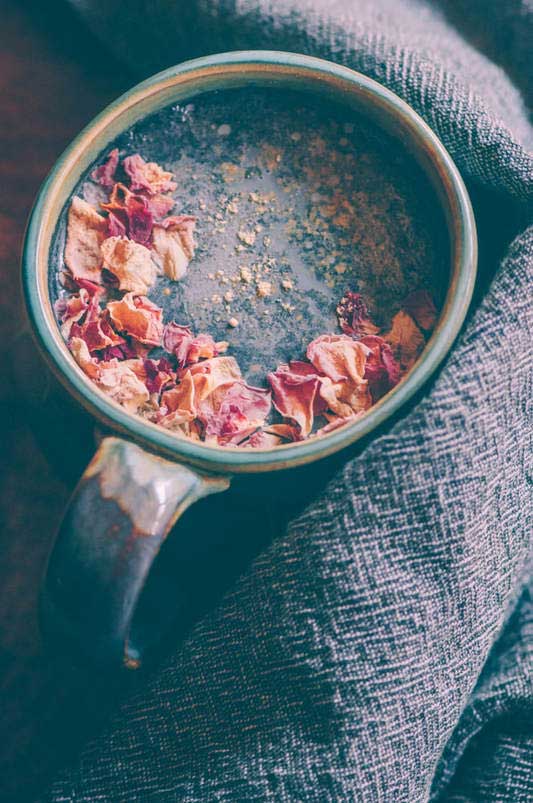 Cosmic Ginger Rose Activated Charcoal Latte at MOON and spoon and yum: slightly spicy, slightly sweet, this beautiful detoxifying vegan brew is full of healthful properties, and delicious flavors!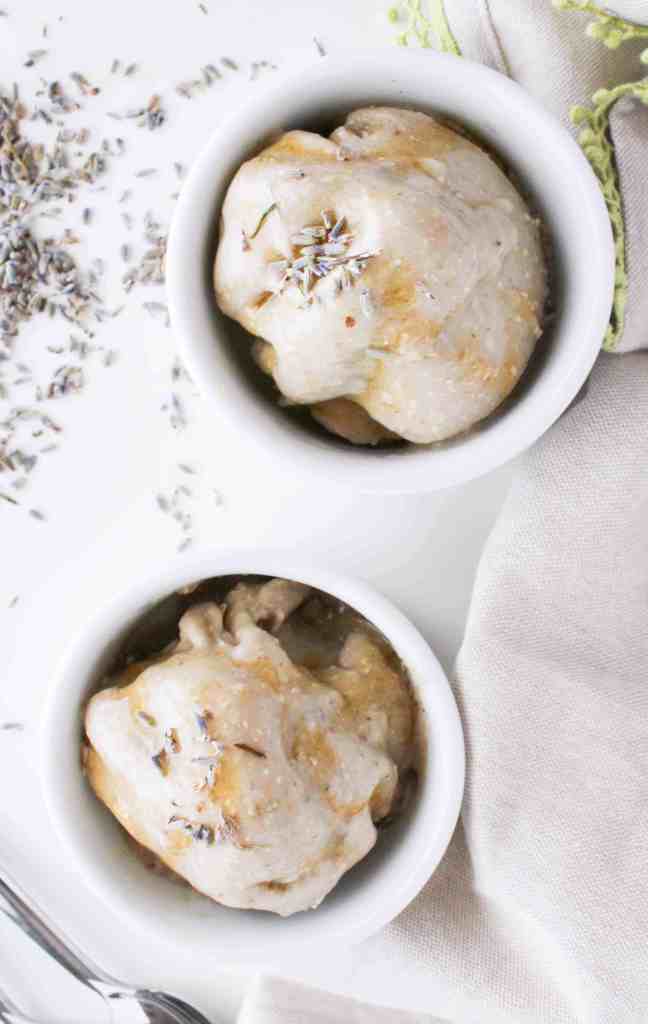 Relaxing Lavender Oat Banana Ice Cream at Grateful Grazer: Ice cream that helps you sleep! This healthy frozen treat is made with bananas, oats, and lavender to promote relaxation and proper sleep.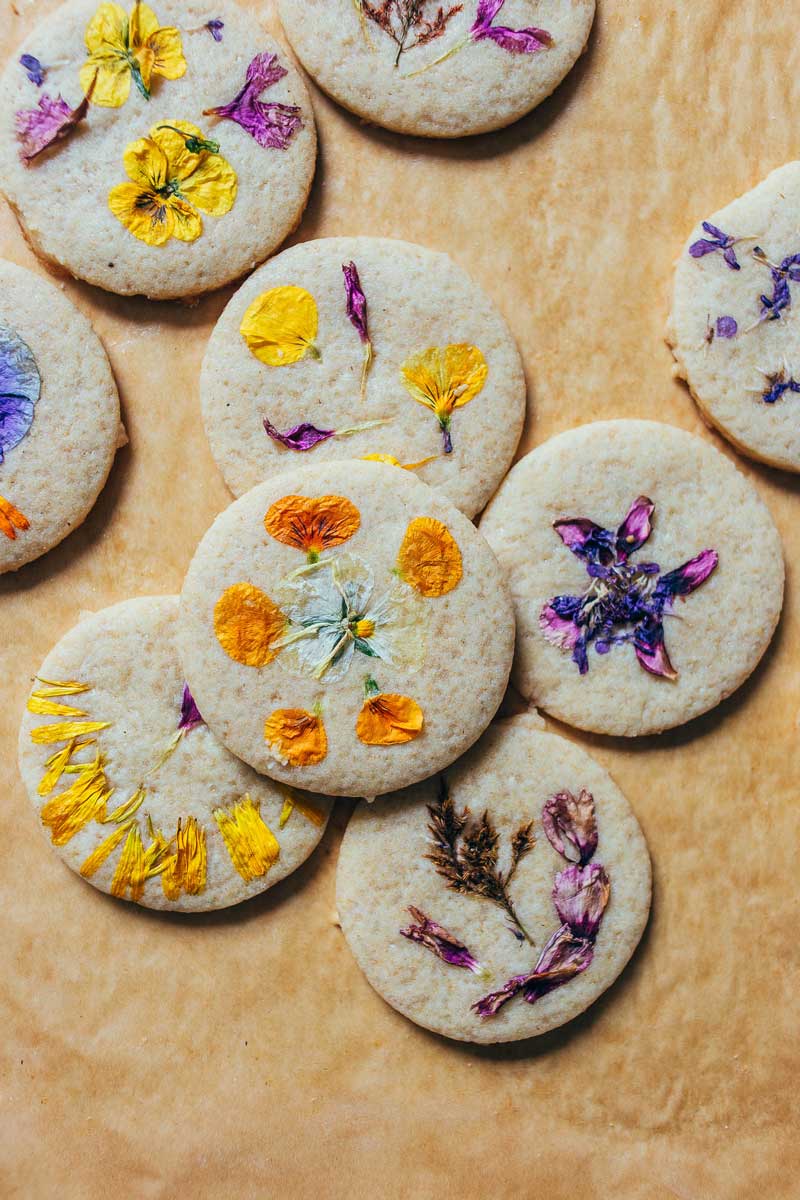 Floral Vegan Shortbread at BAKED the blog: These four ingredient vegan shortbread cookies are topped with edible flowers for a beautiful floral touch that's surprisingly simple to do. Try these simple cookies with flowers from your garden or the market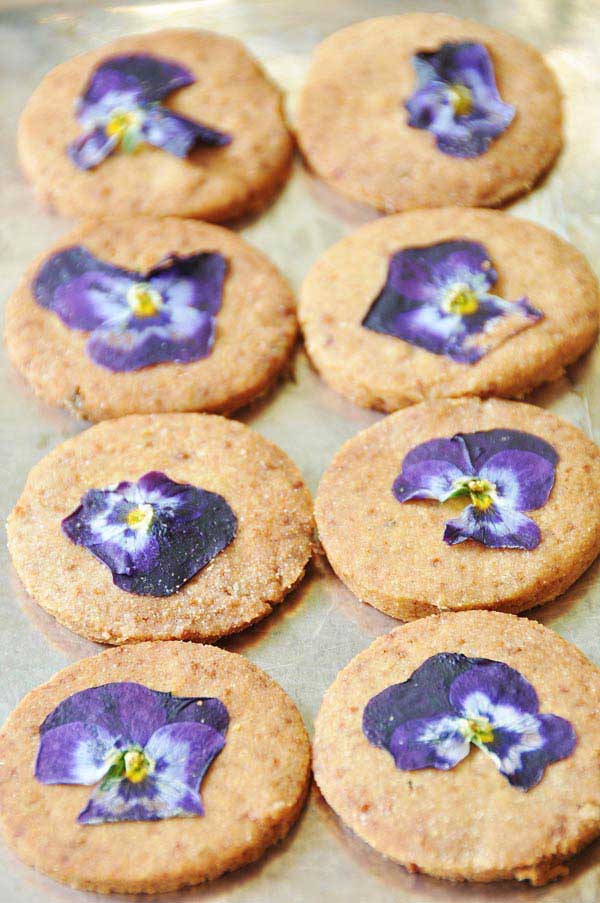 Lavender and Vanilla Bean Shortbread Cookies at Veganosity: a delicate, flavorful, summer shortbread cookie, made with lavender flower seeds, Madagascar vanilla bean and pansies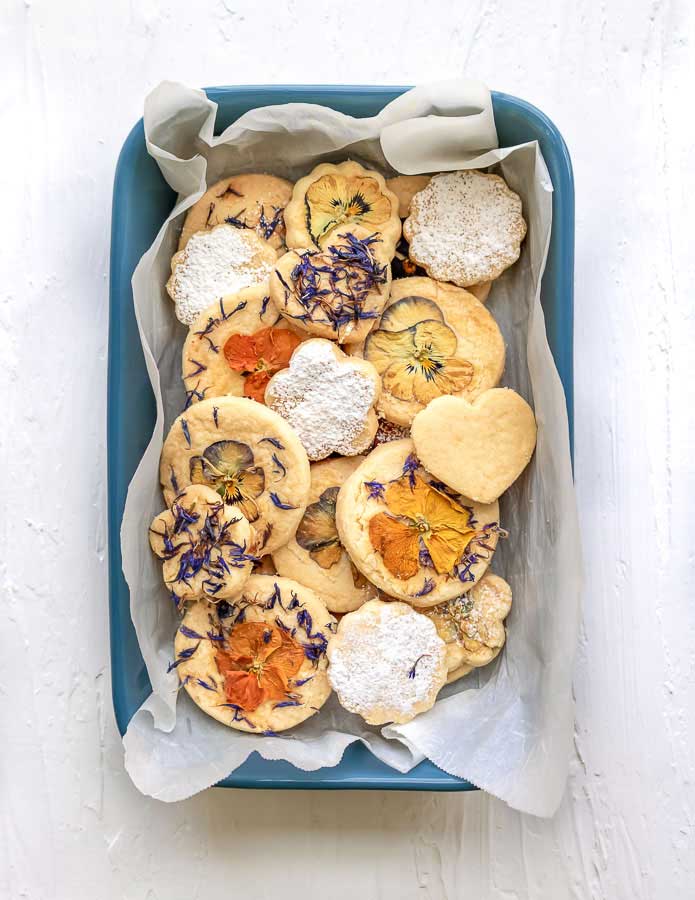 Shortbread Cookies With Edible Flowers at The Plant Riot: This recipe makes delicate, melt-in-your mouth shortbread cookies, with the added "wow" factor of edible flowers.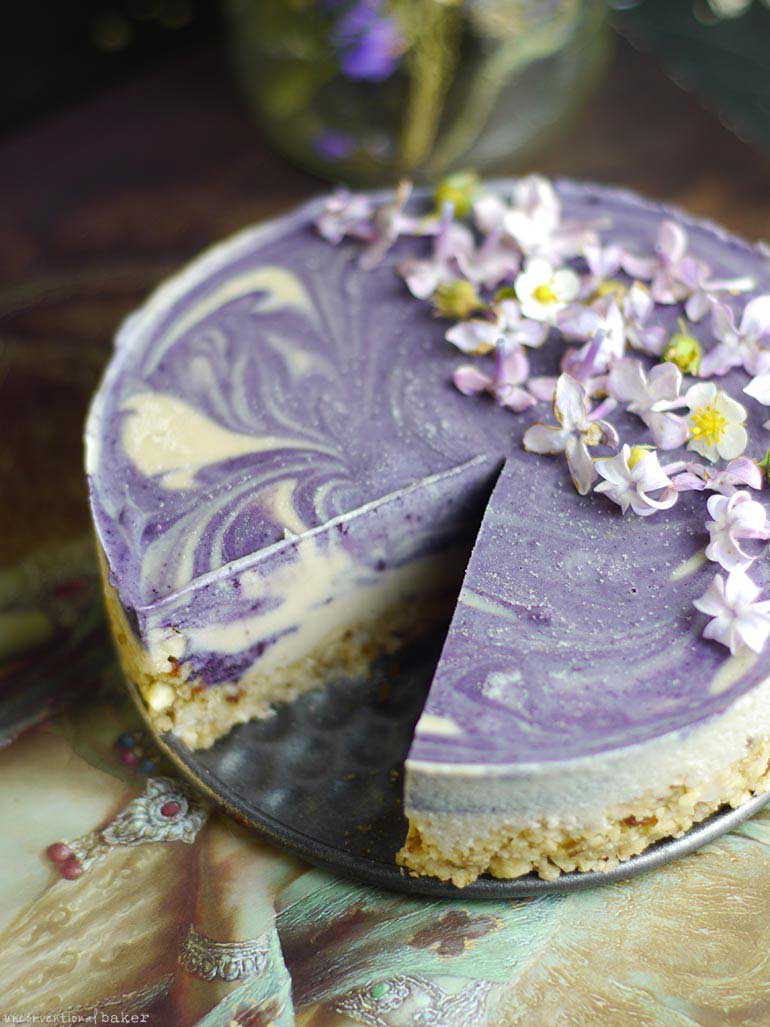 Lilac Dream Cheesecake at Unconventional Baker: a delicate raw vegan cheesecake with beautiful floral accents and gorgeous purple maqui berry swirls. Gluten-free, grain-free and refined sugar-free.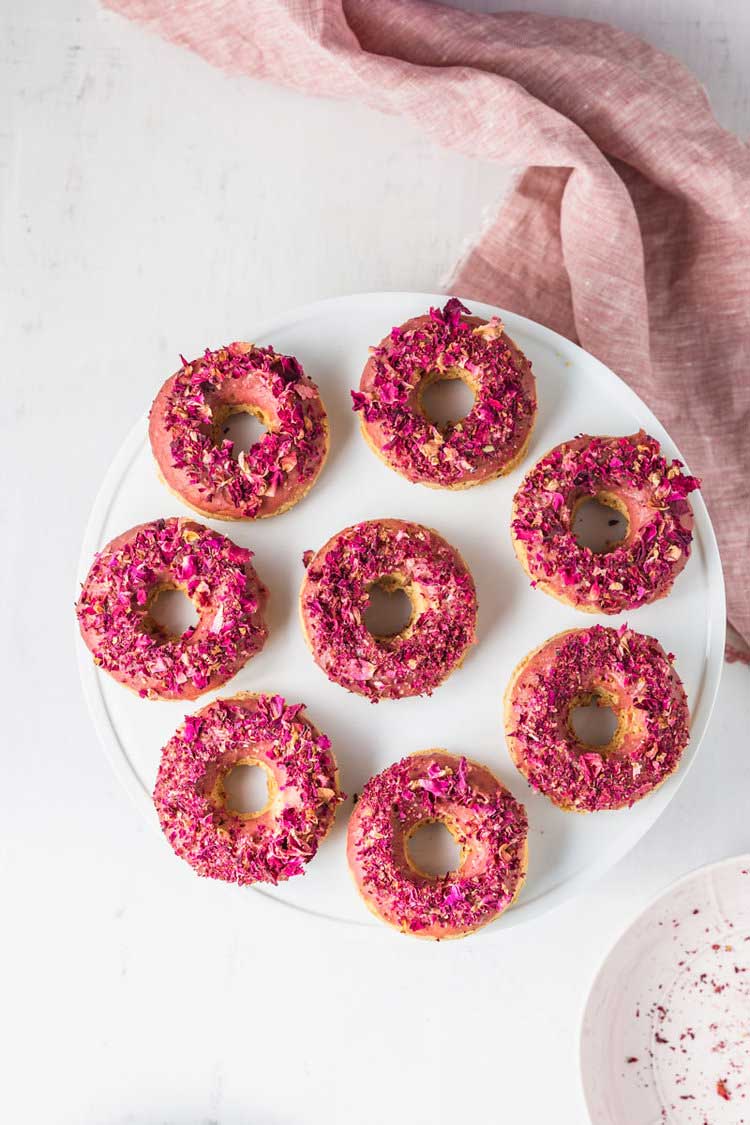 Gluten-Free Lemon Chia Donuts With Rose Frosting at Beautiful Ingredient: these lemon chia donuts are fluffy, lemony, and satisfying.

Vegan Elderflower Fritters at Vegan on Board: sweet blossoms in a crisp batter, these vegan elderflower fritters are a real spring treat.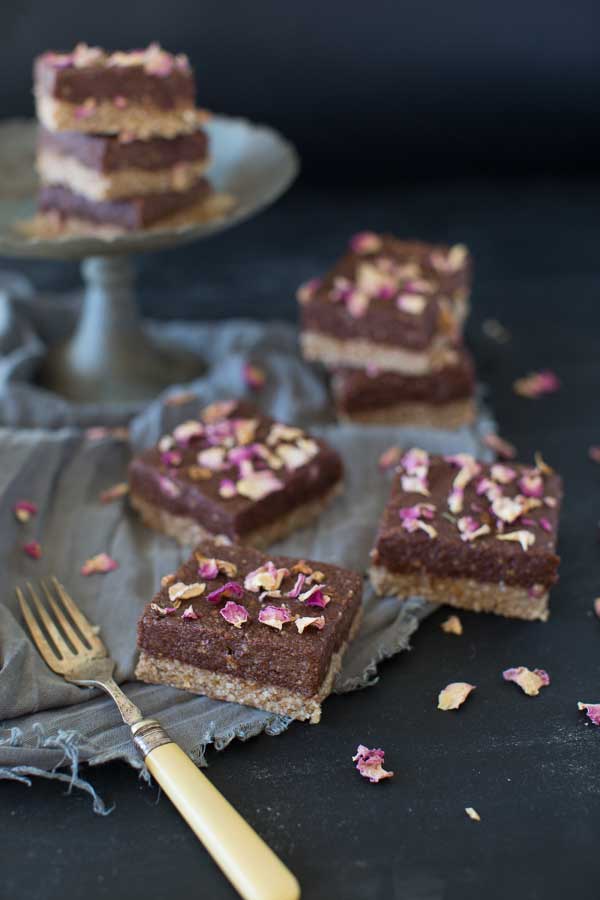 Rose And Chocolate Raw Slice at The Minimalist Vegan: you can't go wrong with roses & chocolate :)

So, how did you like these Edible Flower recipes? Are you feeling inspired?
Thanks to all the bloggers that submitted their amazing recipes.
I hope you all enjoyed this post, and if you did, don't forget to pin it and spread the love ♥
I wish you a love-filled day xoxo