Guest post by Susan Conley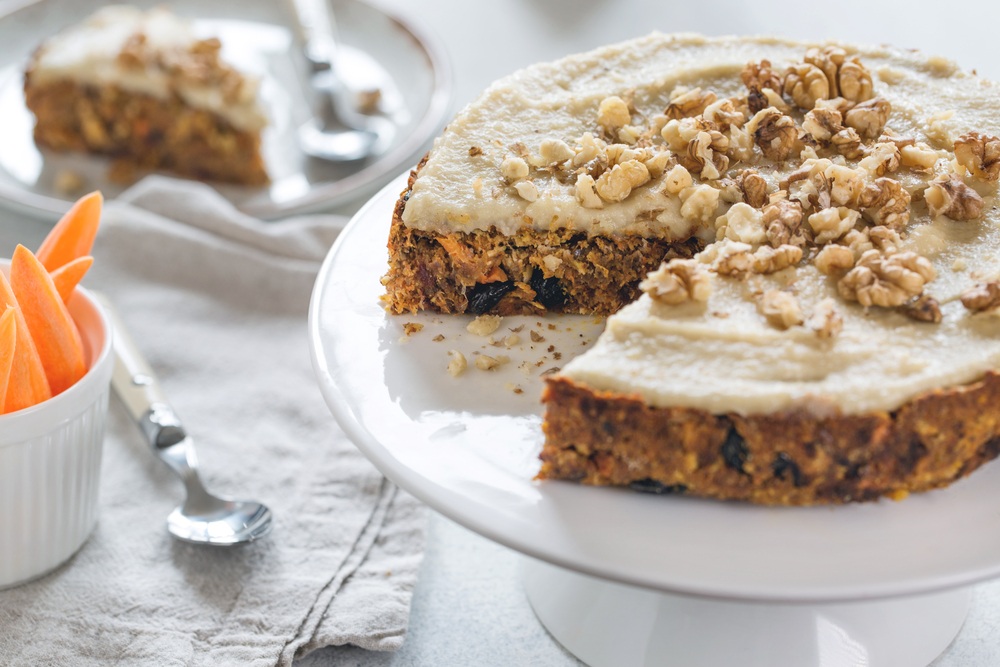 Today I have a special guest post by Susan Conley, the creator of cookthestone.com, sharing with SevenRoses' readers an amazing recipe which is not only Vegan but also Gluten-free. Now, please welcome Susan as she shares her Carrot Cake with Cashew Frosting and Walnuts step-by-step recipe with us!
Following a Vegan diet can be quite challenging. What more if you have celiac disease? I have a friend who follows a vegan and celiac diet, and I know the sacrifices he had to endure. When she was diagnosed with celiac disease, she had to avoid foods that used to be part of her diet like bread, pasta and cake.
Avoiding cake, in particular, was a big deal for her because she has a sweet tooth. She mentioned how it was hard for her to adjust her diet at first.
The good thing is that vegan and gluten free cakes have become aplenty in the past few years. Just like this carrot cake with cashew frosting and walnuts recipe that I am to share with you.
You will take about an hour to finish this recipe—about 40 minutes of preparation and 20 minutes of cooking. You'll end up with a rectangle cake measuring 9 x 13 inches.
The cake itself is moist and flavorful. It also has a vegan frosting made of soy-free cream cheese that makes the cake even more appetizing.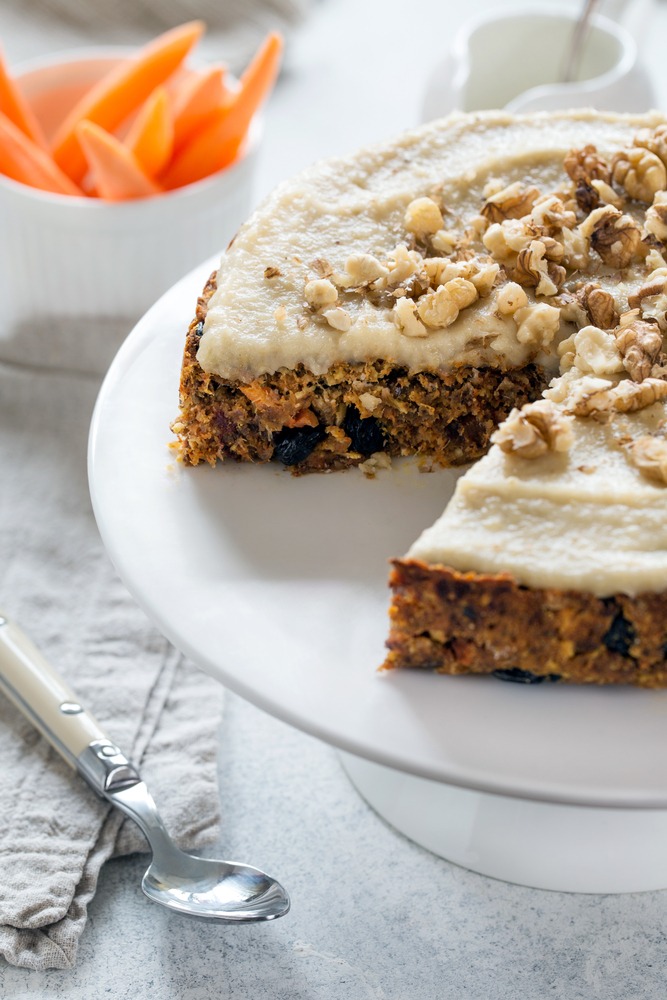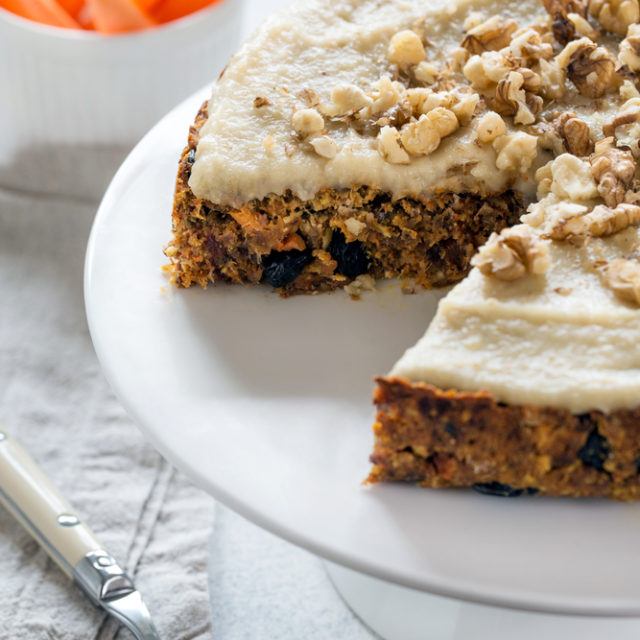 Vegan Gluten-free Carrot Cake
Ingredients
2.5

cups

gluten-free all-purpose flour bend

with extra flour for dusting the pans

1 1/4

tsp

baking powder

1 1/4

tsp

baking soda

1

tsp

salt

1

tbsp

cinnamon

ground

Half

tsp

nutmeg

ground

1

pinch

cloves

ground

1

pinch

ginger

ground

1

pound

carrots

peeled

1

cup

granulated sugar

1

cup

light brown sugar

1/4

cup

ground flax seed

with ¾ cup water (refrigerate 15 minutes till thick and sticky)

3/4

cup

vegetable oil

1

cup

chopped walnuts

that will serve as toppings
Cream Cheese Frosting
8

cups

gluten-free powdered sugar

1 1/2

cups

Vegan butter/margarine

1

tsp

lemon juice

2

tsp

vanilla extract

1

tsp

apple cider vinegar

3

tbsp

plant-based milk

1

pinch

salt
Instructions
Prepare the oven to set the temperature at 350 degrees Fahrenheit. Place the oven rack in the middle. Grease the baking pan with cooking spray or butter.

Whisk together the baking powder, gluten-free flour blend, baking soda, nutmeg, cinnamon, cloves, salt and ginger in a separate bowl. Mix well until well combined. Tip 1: Gluten-free flour is heavier than wheat flour. It also tends to get more moisture. So it is important to add baking soda and baking powder so that the cake batter will have an extra lift needed for an acceptable and tender crumb.

Shred the carrots in a food processor with a large shredding disk. After shredding, transfer the carrots to the bowl containing the flour blend. After wiping the food processor bowl, fit it with metal blade instead of the shredding disk. Tip 2: No carrots in the fridge? You can use zucchini instead. Zucchini is considered the best carrot substitute. But the flavor of this cake will be different a little bit.

Add the brown sugar, granulated sugar, and flax eggs to the food processor bowl. Process it until all ingredients are thoroughly combined, and the mixture becomes frothy. This should take around 20 seconds. Tip 3: The use of brown sugar will make the cake crumb moist and tender, because it has more moisture compared to white sugar.

While the processor is still running, add oil. Continue to process until the egg mixture is well emulsified. This should take another 20 seconds.

Move this mixture to the bowl containing the carrots and flour blend mixture. With a rubber spatula, stir well the mixture until everything is well combined. You may also add nuts to the mixture.

Pour the batter into the prepared pan. Bake it until the toothpick you placed in the center of the cake comes out clean. For a 9x13 inch baking pan, baking time should take around 30 to 35 minutes.

Allow the cake to completely cool in the pan for about an hour. Then run a knife around its edges to loosen. Remove the cake and transfer to a serving platter. You can also frost it if you want. Top with walnuts.
Cream Cheese Frosting
Combine all the ingredients in a bowl of food processor. Mix until all the ingredients are well combined and smooth.

You can add in some milk to thin the frosting if you find it too thick. More powdered sugar, on the other hand, is needed if you find the frosting too thin.

Refrigerate the mixture for 15 to 20 minutes. Remove from the bowl then whisk again so that it will be thick and sticky.
Notes
This looks pretty easy, right? Now, why don't you try it and see for yourself how delicious and satisfying this vegan and gluten-free cake is. I'm sure you won't regret trying the recipe.
But before you try this, please share this article first. I bet your friends will be thankful to you for doing so.
Please make sure to visit Susan at Cook The Stone, also visit her social media for many more recipes: Facebook | Twitter | Instagram