Hey you, good morning! Today, did you already stop to consider how lucky you are to be alive? How cool is that we both live on a small blue planet rotating in the universe? If that's not a miracle, I don't know what is.
Today I'm sharing with you my "feel good" Summer Morning Routine that will hopefully make you want to get out of bed every morning and face the day mindfully.
I've been doing this for the past 2 months, and I can't believe August is already upon us. Without some proper holidays, summer seems to come and go, but taking some slow time every morning feels like a mini-holiday each day. Try to carve out a few minutes for yourself every day, even if you have a busy schedule. And let me know how it goes. If you already have a routine instead, tell me about it in the comments :-) I'd love to know!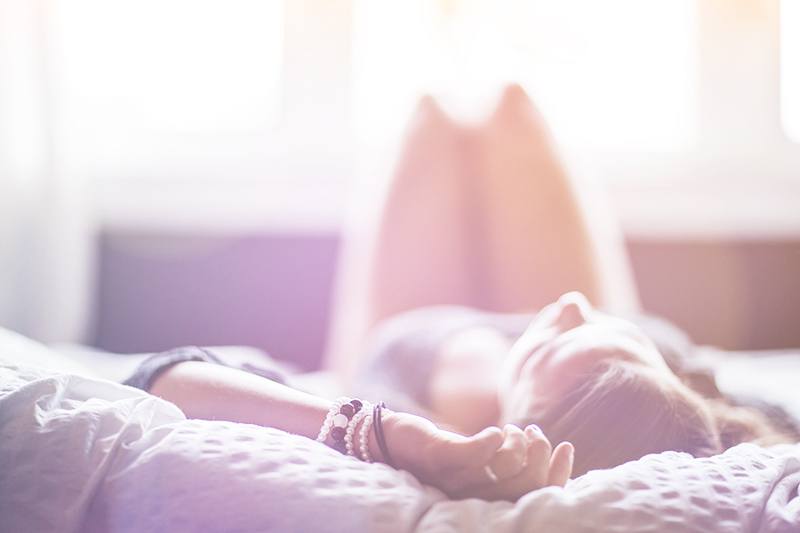 Summer morning routine: Stretching and Gratitude
My mornings have started pretty much the same way for a long time now: we sleep with the windows open, so especially during spring and summer it's wonderful to be able to catch a bit of the sunrise from the bed, and fully wake up in a room that is softly brightened by natural light. I encourage all of you to leave your windows open, at least partially, in order to breathe in fresh air and let your body get awakened naturally.
First things first, every morning I try to enjoy 5 or 10 minutes of basic yoga stretches in bed, while also deep breathing and take a moment to practice gratitude – if you're interested, I can write a specific post about gentle yoga asanas and stretches you can do directly into your bed first thing in the morning, that will kindly wake your body up and get you going. At first it only started as a way to incorporate more yoga into my days, but I slowly started adding simple gratitude affirmations and mantras while breathing deeply. When you get out of bed, you feel blessed and ready to face the day.
I'll be rehydrating at this point, by drinking some plain water from a bottle I always have to have close to my bed, and then head to the bathroom, leaving the bed undone (yes I know, I go against the rules!) and all the windows open, so that the bed sheets get freshened up with the cool morning air and sunlight.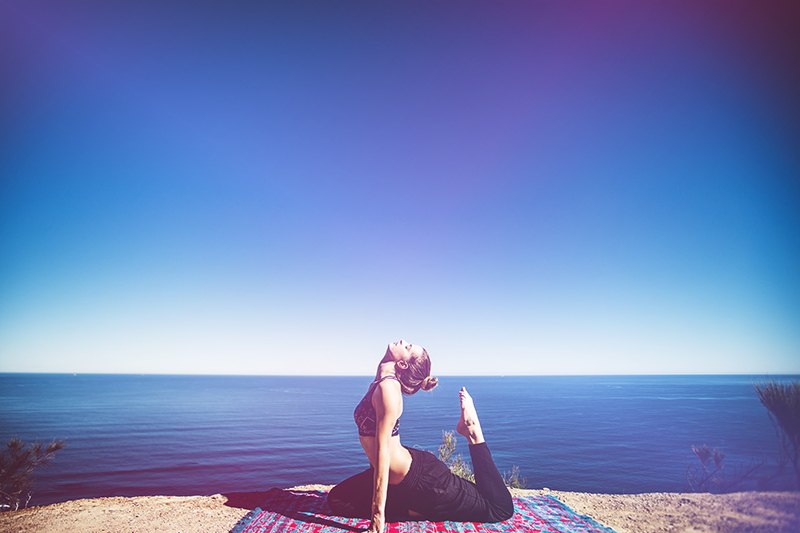 Summer morning routine: Yoga-inspired Fitness
At this point I'll brew some tea while I head onto the yoga mat. I don't know about you, but I'm one of those people that installs all the possible apps (motivation, meditation, yoga, fitness, organization) only to uninstall them after a few days/weeks for lack of interest/use.
Well there's one that's sticking around more than any other before and I'm recommending it to everyone I know – Asana Rebel. It combines Yoga and fitness in quick, doable exercises. They can be as short as 5 minutes (and who doesn't have 5 minutes? I'm sure we can all fit that out in our schedules). The yoga practice makes you calm, while the fitness exercises give you strength (and also make you sweat!). What a great way to start each day, empowered, detoxified, balanced.
This particular app like many others has both free exercise and paying programs, I'm very happy to stick with the free exercises for now :-)
Mind you, you don't need an app to do any type of exercise! You might choose to take a walk, or stretch, or do something else. I like the accountability, the celebration of each workout day, but it is in no way needed, just a pleasant reminder to do something good for yourself.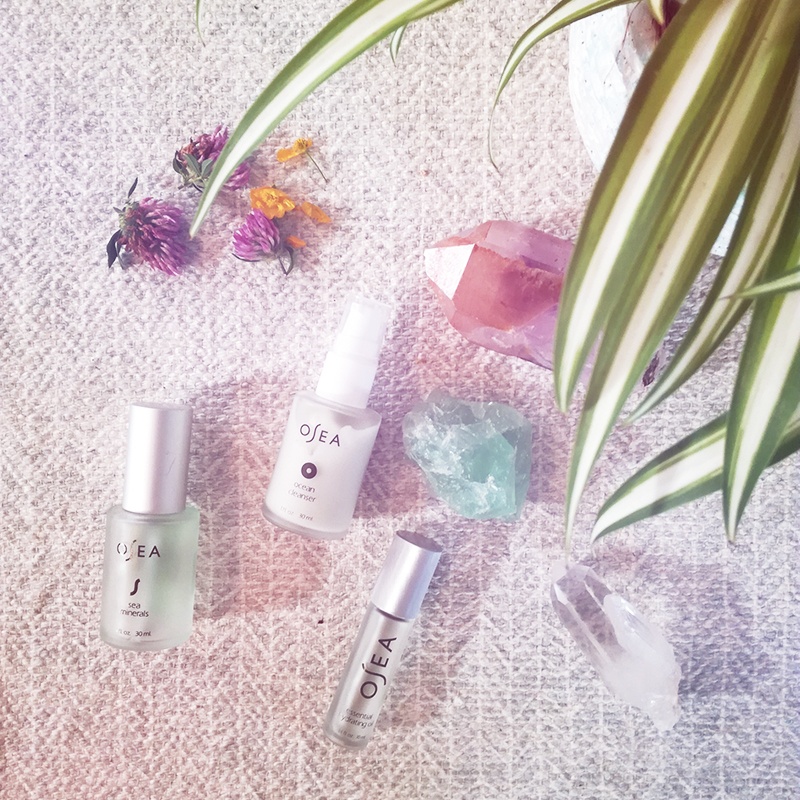 Summer morning routine: Gentle Skincare
After sweating on the yoga mat, back to the bathroom. From my experience, healthy skin starts from the inside out, so if you want to have truly glowing skin you have to pay attention to what you put inside your body as well as what creams you use. We are what we eat after all! I won't get deep into this subject now – let me know if you want more posts about this – but I can tell you that what made the biggest difference in the way my skin looks is eating a (mostly) balanced, plant-based diet. That said, for the past couple of months I've been using and loving the all-natural, Vegan, cruelty-free skincare line OSEA Malibu. These products have been able to keep my skin at its best – I start my morning skincare routine with the Ocean Cleanser for a very gentle cleansing that balances the skin after a warm summer's night: this mineral-rich Organic Seaweed gel cleanser effectively removes excess oil and surface impurities from skin while maintaining a hydrated, healthy looking complexion; sometimes I leave it on as a mask while I brush my teeth, to let all the ingredients really penetrate my skin and cleanse it. then I wash it off with fresh water, pat it dry and then – my favorite step – I spritz some Sea Mineral Spray on my face: this nourishing elixir feels like being on the seashore and getting salt water on your face ♥ while it balances, tones and soothes my complexion.
I wait about a minute and then I add on top the Atmosphere Protection Cream, which conains USDA certified Organic Algae, Shea Butter and Avocado Oil to moisturize and firm skin leaving a matte, silky finish. Next step: your favorite SPF; but as I work from home most morning I don't need to use any. Instead, for an instant surge of hydration for a beautiful, radiant glow, I might use some of the Essential Hydrating Oil only on some dry patches throughout the day: the precious blend of pure Lavender, Rosewood and Geranium essential oils provide a dewy, illuminated complexion and create a gorgeous aromatic allure.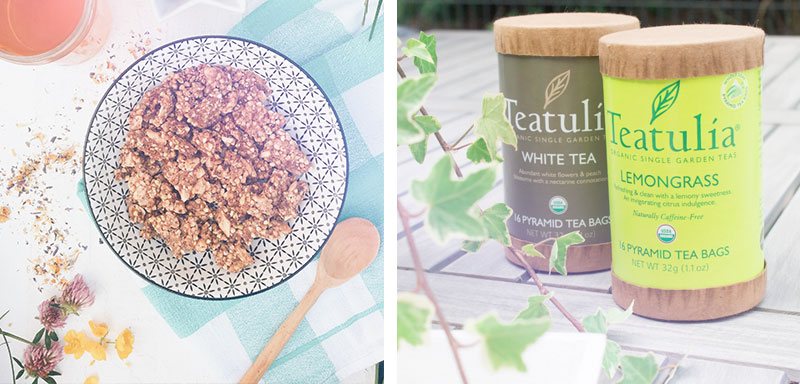 Summer morning routine: Replenish your body
And finally, it's time to drink that amazing tea that has been brewing and eat something nutritious and consistent. More in detail, I'm totally obsessed with both the Teatulia Organic White Tea and the Teatulia Organic Lemongrass Herbal Infusion from Teatulia, they wake up my whole body right away. Teatulia teas are responsibly sourced from their own USDA-certified organic tea garden in Northern Bangladesh. They're not just sustainable—they're regenerative. By using only natural farming methods, they're improving the soil and rejuvenating the land for future generations. Their tea garden was a social enterprise designed to create jobs in a remote and impoverished region of Bangladesh. All tea sales support Teatulia's farming cooperative, which introduced a revolutionary new economic model to the region. More than 1,700 co-op members working in Teatulia's garden and surrounding communities now benefit from innovative education, health, and cattle-lending programs that help families out of the cycle of poverty. There is so much that goes into our cups of tea, it feels so good to know we're not sipping a healthy drink for our bodies, but empowering farmers on the other side of the world, in a less fortunate country.
By the way, right now you can get a FREE stainless steel tea Infuser with any Teatulia purchase! No coupon necessary. ;-)
Together with my cup of tea, I'm also indulging in the best granola I've had since.. I can remember. This amazing discovery comes from a small French company, Les Fruits Détendus (which is a pun on the "Forbidden Fruit" and roughly translates to "The Laid-back Fruits"), whose recipes are developed by a raw chef with only natural and raw ingredients – no added sugar, no syrups of any kind, no oils. And to top it off, the granola is not cooked but simply dehydrated at a low temperature in order to preserve all the nutritional benefits of the fruits, nuts and seeds.
This Cacao – Cajou Granola is made especially for cacao lovers like me – it combines raw cacao, dates, cinnamon and cashew nuts. Sometimes I will add a dash of soy or oat milk, but many times I just bring a bowl of this to my desk and nibble away while I sip some tea and start working in a good mood. Isn't it amazing to eat and drink yummy foods while also making healthy choices? It feels like I'm cheating the system ;-D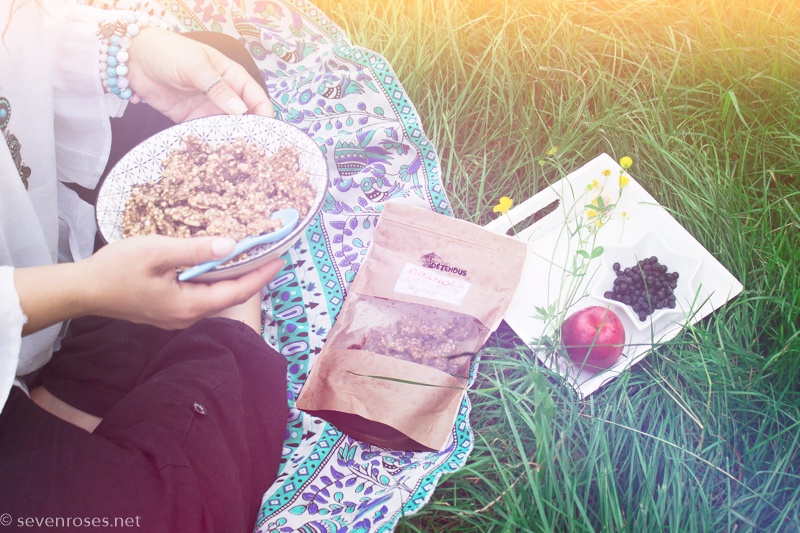 So this was my "Feel Good" Summer morning routine… Some days I am able to take only 5 minutes, some other mornings I can take 30 minutes, but no matter how long it is, it's a time to build the foundations of the day in order to be more present, more balanced and peaceful throughout whatever the day might throw at me.
What do you make of it? I hope you'll try some incorporate some of the steps into your mornings, especially if you feel you're overwhelmed. Just set the alarm clock 5 minutes earlier, and try to make something special out of those 5 minutes starting tomorrow. Let me know how it goes :-)
I wish you all a great day! ♥
Disclaimer: I've been fortunate enough to receive some of the above mentioned products for free to try, but opinions and the choice to review are 100% my own. This post contains affiliate links.
Save
Save
Save
Save
Save
Save