An inexpensive, 1-ingredient WFPB Vegan Holiday Roast that will please Vegans and meat-lovers alike. Just add a little magic blend of herbs and condiments… The smell of this Vegan Holiday Roast will make everybody rush to your holiday table =)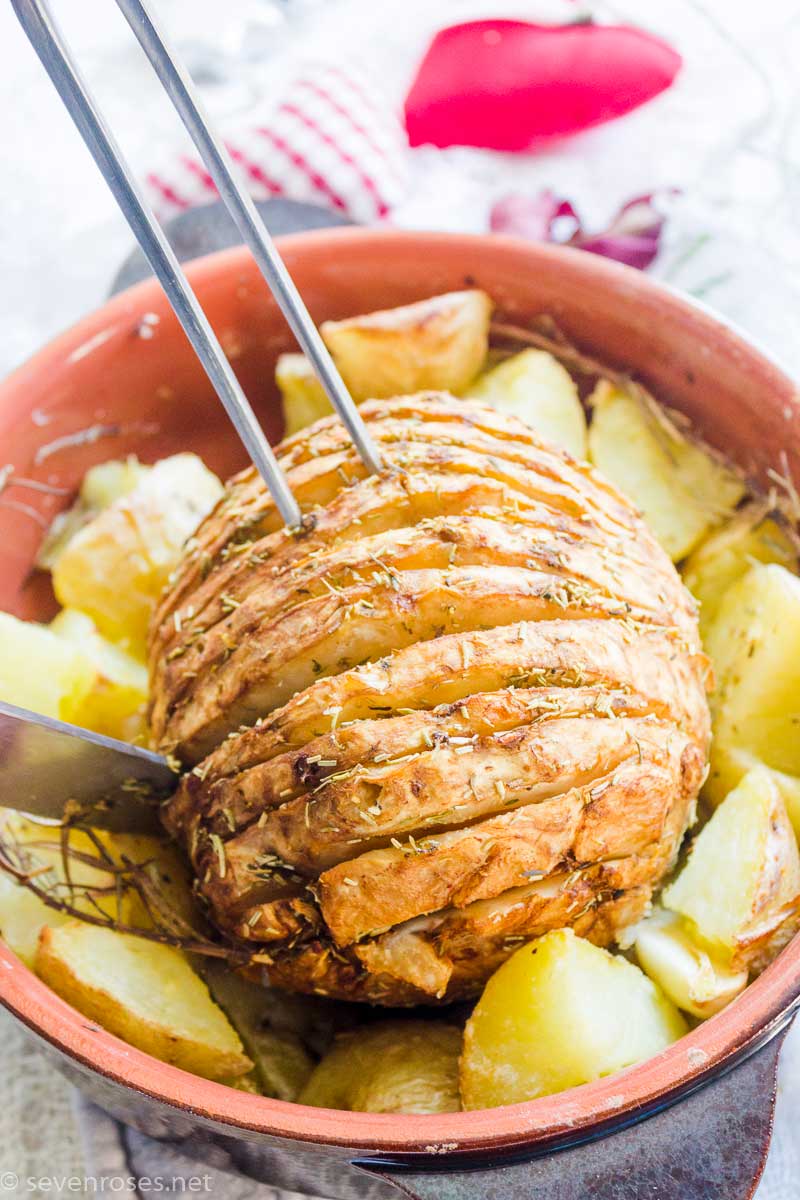 Hello my beautiful friends!
Are you still wondering what to serve to your vegan guests this holiday season? Relax! I have the best recipe for a succulent Vegan Holiday Roast that will please Vegan and meat-lovers just the same, and that really embodies the traditional meals. I know, nothing says "Holiday table" like a roasted, consistent dish that you can slice up and serve with your favorite gravy surrounded by yummy potatoes and vegetables. And this one doesn't come out of a box from the frozen section :)
Well, this incredibly festive, succulent Vegan holiday roast is so much more than just "something extra" you have to make so your vegan friends have something to eat other than… salad. The flavors, texture and smell in this roast could easily go head to head with any of the holiday classics. Just look at it! Can you guess what the 1 inexpensive ingredient is?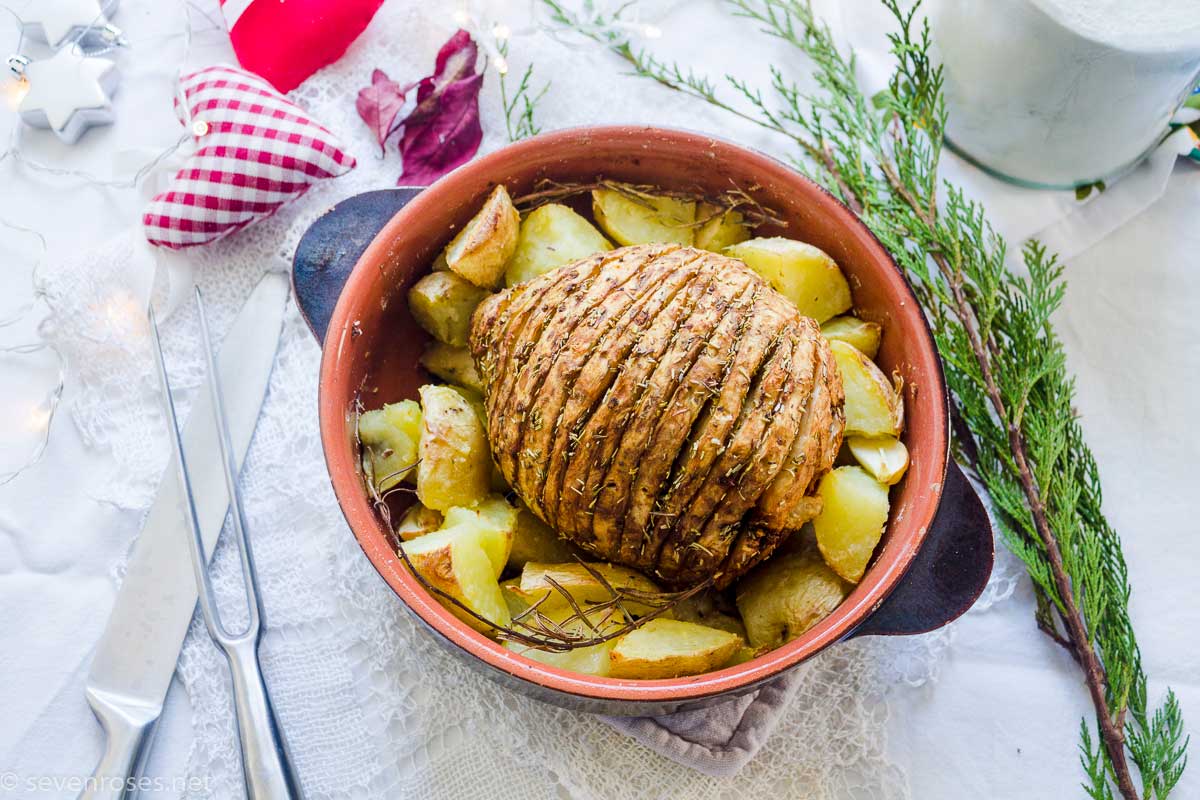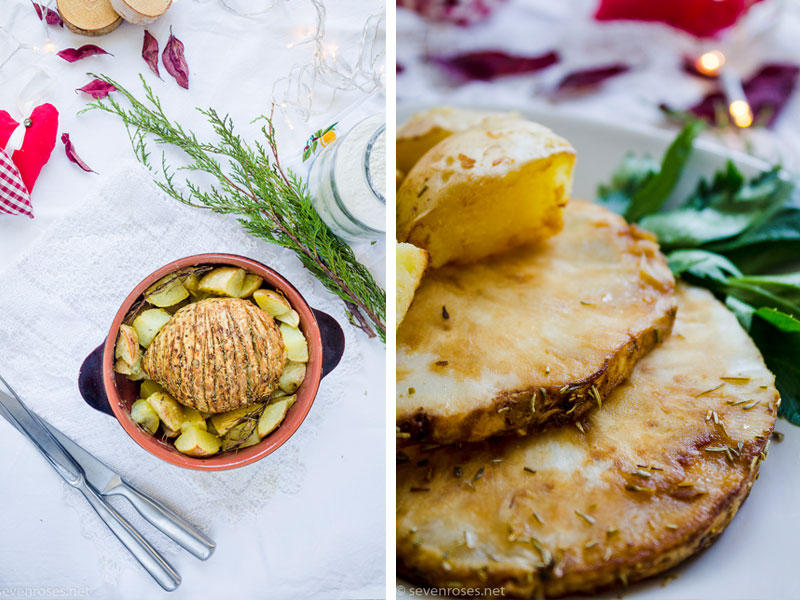 … It's a 1-ingredient roast that humbly waits for you in your produce section. Just like the more "traditional" roasts, with this highly underrated vegetable the magic happens when you add the right amount and the right blend of herbs and condiments!
If you want to find out how to make this Vegan Holiday roast, scroll down to read the recipe! =)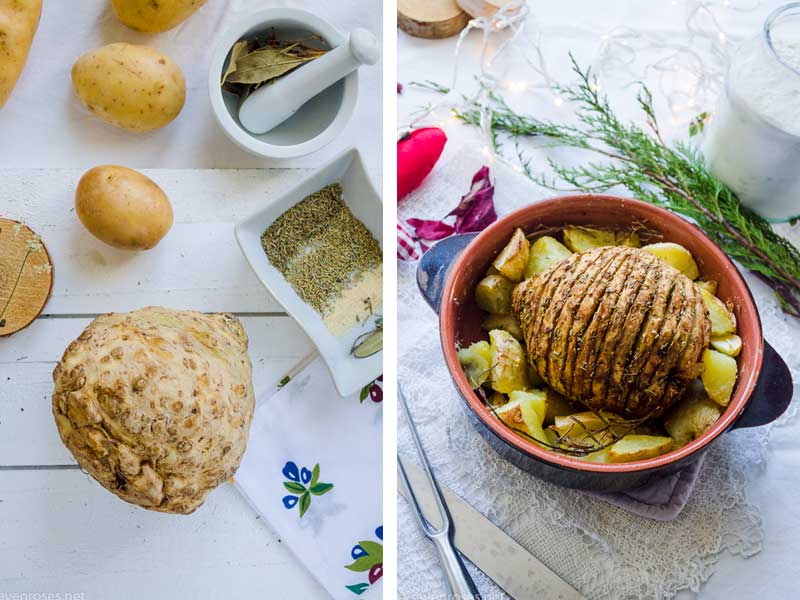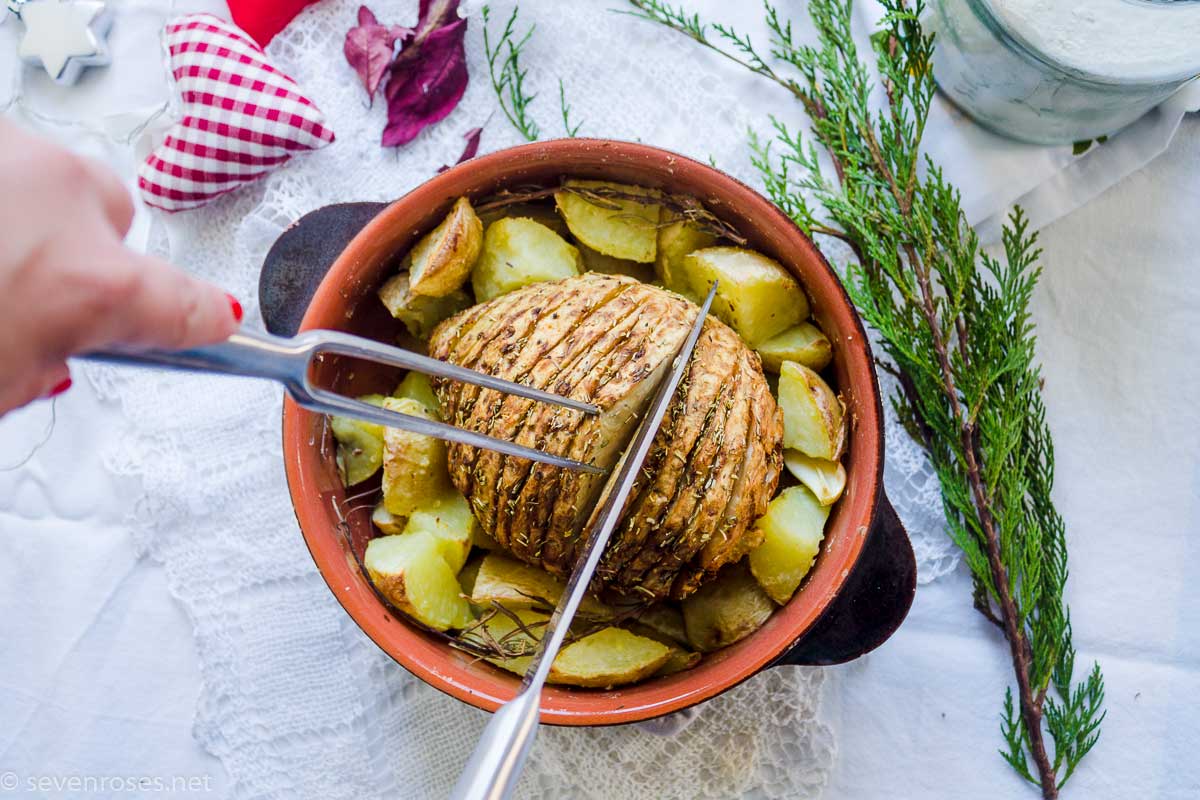 ….Also check out my Vegan Holiday Lentil Loaf for another holiday dish :-) and these amazing looking Vegan Yorkshire Puddings from Vegan Punks to complete your roast dinner, oh my!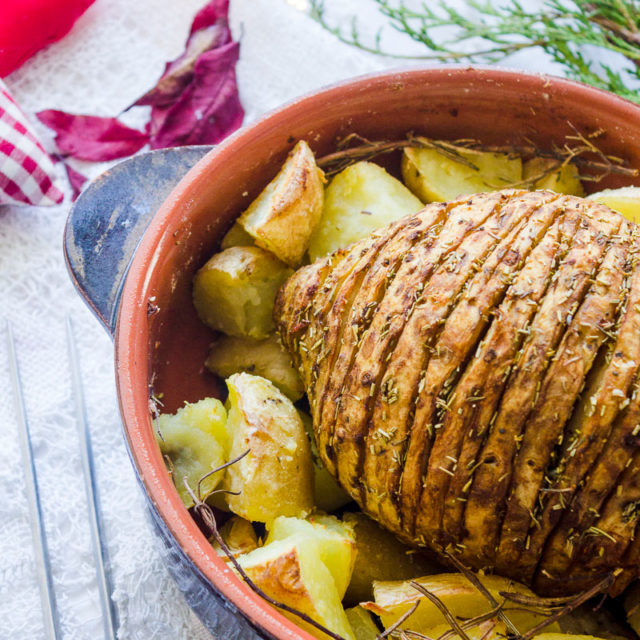 Vegan Holiday roast - cheap, succulent and festive!
A no-oil, WFPB inexpensive 1-ingredient Vegan Holiday Roast that will please Vegans and meat-lovers alike. Just add a little magic blend of herbs and condiments... The smell of this Vegan Holiday Roast will make everybody rush to your holiday table =) perfect for the Starch Solution as well!
Ingredients
1

celeriac

- organic if possible

12

potatoes

4

cloves

garlic

finely minced

2

branches

rosemary

5

bay leaves

1

pinch

salt and pepper
Instructions
Turn on your oven at 200°C/400°F. To make this roast you are going to start by carefully washing every nook and cranny of the celeriac. We're not going to peel it, so soak it in warm water & bicarbonate and go at it with a sponge or a Veggie Scub.

Next, create your magic blend of herbs and condiments: in a little bowl mix your rosemary, minced garlic, bay leaves, salt and pepper.

Pat dry your celeriac, and cut thick slices until the middle on the top part. Now place it in your baking dish, and massage it with the herbs, making sure some go in between the slices, spreading them evenly over the celeriac and in between each slice. * update: If you are not oil-free, you could add a tbsp of oil here, which will help to make the herbs stick to the roast. However, I've done this both ways and now that I'm cooking oil-free I taste no difference whatsoever. It's delicious! *

Cover with some aluminum foil and place in the oven for 1 hour. In the meantime wash, dry and cut your potatoes in big quarters.

After 1 hour, take the celeriac roast out of the oven, spread the potatoes around it and put it back in the oven uncovered. Depending on your oven, at the 2-hour mark, test the roast: if a fork goes through it smoothly and the top is golden brown, it's ready!
Notes
Serve with steamed broccoli, a fresh salad, your favorite Vegan gravy and whatever else your fancy at your Sunday, Thanksgiving, Holiday or Christmas table. Enjoy!
Did you know that celeriac "was mentioned in Homer's Odyssey as selinon"? (source)
So, did you enjoy this recipe? Will you make this Vegan Holiday Roast for your family and loved ones? Let me know in the comments, and don't forget to pin this post to share the love ♥
I wish you a love-filled day xoxo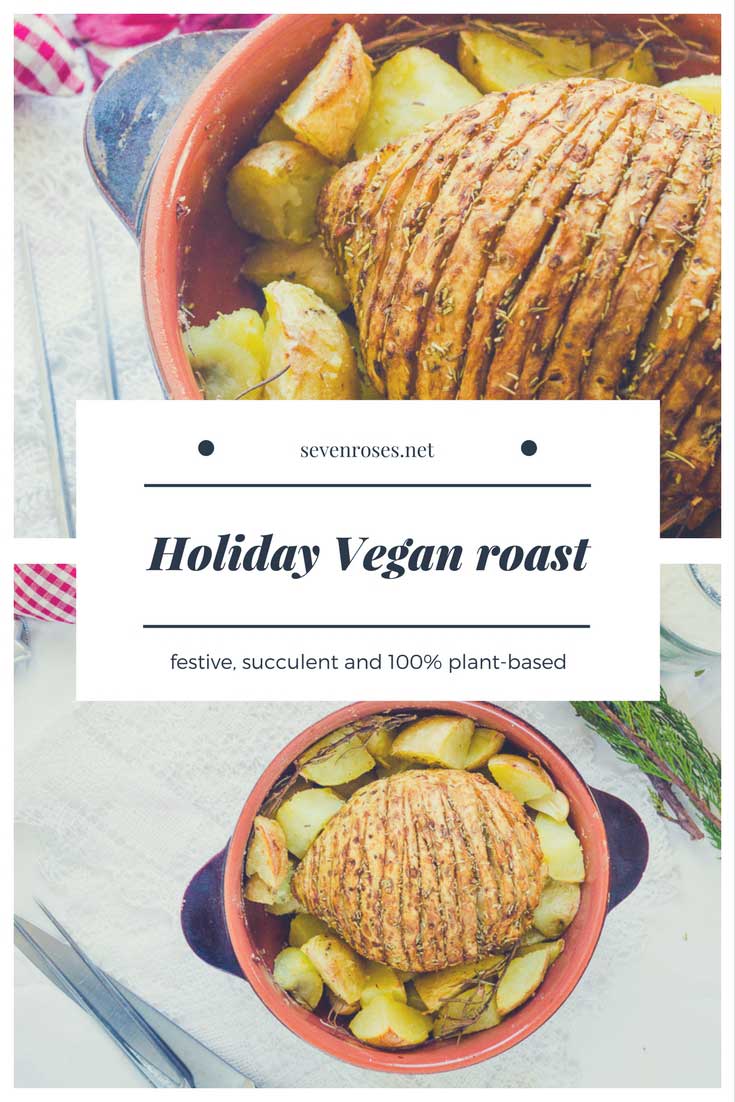 Also don't forget to follow my Pinterest Holiday board for hundreds more Vegan Holiday recipes!