Disclosure: This post may contain affiliate links. As an Amazon Associate I earn from qualifying purchases. Thank you for your support!
Make some of these Fudgy double chocolate brownies for the ultimate comfort food. They happen to be Vegan and no, they don't contain any weird "secret ingredient" that you wouldn't want in your dessert :D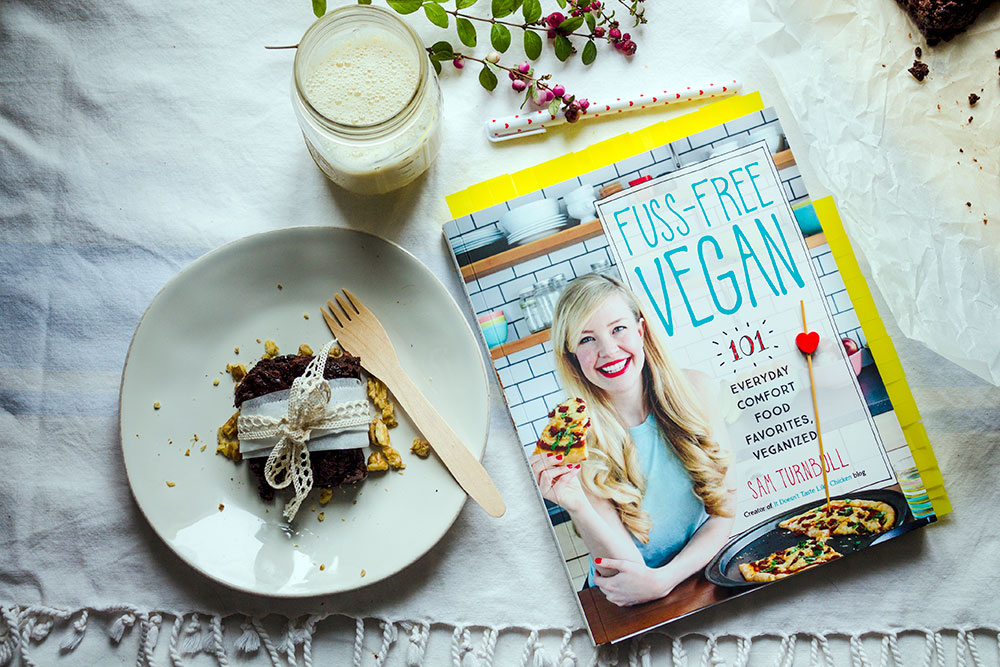 For a self-proclaimed foodie, nothing compares to opening the mail box only to see a brand new exciting cookbook waiting for you to dig in. But if that book turns out to be Sam Turnbull's "Fuss-Free Vegan: 101 Everyday Comfort Food Favorites, Veganized" you are in for a really special treat. Sam is the warm and enchanting blogger behind It doesn't taste like chicken, which is known for her easy, yummy, inventive yet down-to-earth 100% Vegan recipes. As soon as I opened the book and flipped through the pages I was in awe. All, and I mean ALL the recipes are drool-worthy. You will want to cook them all, and in as little time as possible.
I loved to read about how Sam became Vegan, and her approach to cooking and food is the same that I have – being Vegan is a pleasure for the palate, and we use delicious everyday foods to have people ask questions about Veganism and jump on the V bandwagon :-)
You see, being Vegan doesn't meant to give up anything, you can go on eating the recipes you've grown with and loved all your life, just made with different ingredients which are kinder to the planet, to your health and especially to the Animals. If you could live a happy and healthy life without hurting others, why wouldn't you?
The book is divided in 7 main sections (that offer anything from brunch to party recipes) and then a few useful additional sections with staples, menu plans, conversion tables, etc.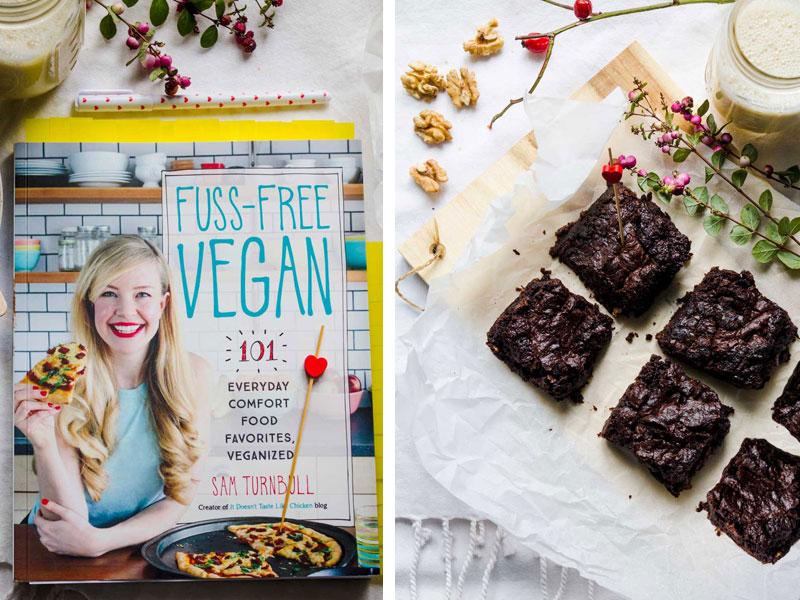 To name just a few of my favorite recipes from Fuss-Free Vegan:
❥ Pillowy Pancakes (p 16)
❥ Easy (but fancy looking) Tofu Frittata (p 23)
❥ Insanely good rice paper bacon (p 26)
❥ Perfect Pizza Pockets (p 64)
❥ Get Well Soon noodle soup (p 78)
❥ 15-Minute Peanut Noodles (p 110)
❥ BBQ Cauliflower Steaks (p 132)
❥ Glorious Chewy Chocolate Chip Cookies (p 161)
…but the list goes on and on.
As I said, you'll want to make each and every recipe out of this book because they all fall under the "comfort food" category . I also LOVED how at the end of the book she gives ideas for menu planning: Vegan recipes for holiday gatherings, movie nights, brunch, etc. etc.
This book will be perfect (and would also make the perfect Christmas gift!) for new Vegans who are looking for ways to translate their favorite foods into their new lifestyle while trying to keep it simple; flexitarians and Vegan-curious who want some extra-yummy recipes for those meatless days; anybody who wonders "But what do Vegans eat? Salad and grass?" but also "seasoned" Vegans like me, who rejoice in preparing comfort food for their loved ones.
This book is a bible of goodness. You have to trust me :-)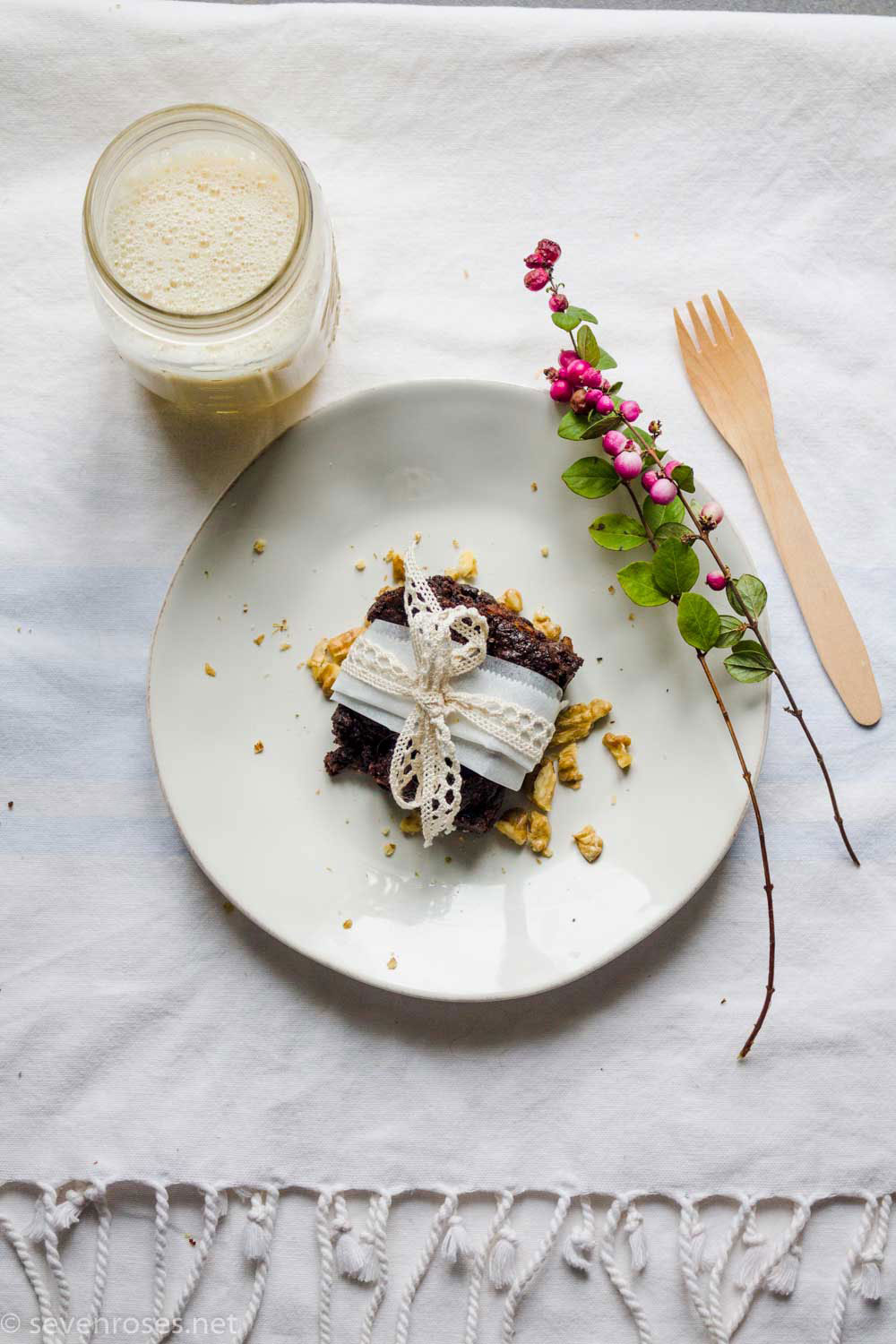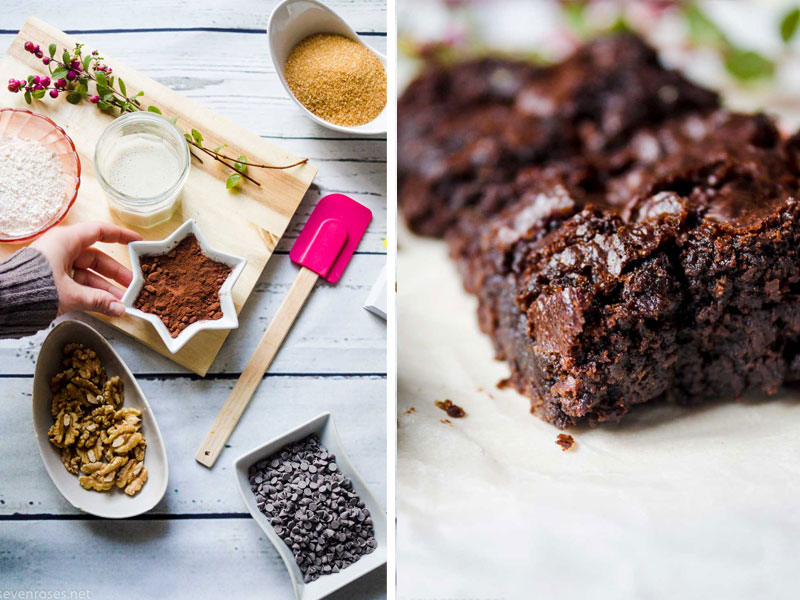 Which brings me to today's recipe. Fudgy (oh yes) Double Chocolate (OMG) Brownies by Sam Turnbull.
Simply put, the most delicious, yummiest, fudgiest brownies I've ever had (and I've had *many*). This is an easy 1-2-3 recipe, the hardest part…? Waiting 24 hours before cutting them for optimal fudgyness. (Is that even a word?)
But enough already, here's the recipe you came here for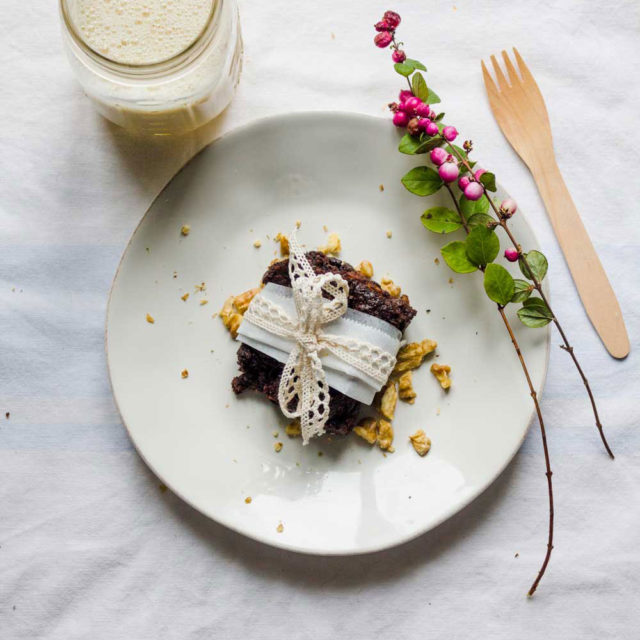 Fudgy double chocolate brownies
These brownies are every bit as fudgy and chocolatey as a good brownie should be. The edges are lightly crisp and the center is chewy and full of rich chocolatey goodness. My sneaky-deaky trick to making perfect fudgy brownies is to let them rest overnight. But if you can't wait to dig in, go for it; the brownies will just be soft and crumbly—perfect for crumbling them over top of Instant Vanilla Ice Cream for a real treat. If you're having a wicked chocolate craving, these will be your new best friend!
Ingredients
1

cup

vegan chocolate chips

½

cup

vegan butter

1

cup

white sugar

½

cup

non-dairy milk

such as soy or almond

1

tsp

vanilla extract

½

cup

all-purpose flour

¼

cup

cocoa powder

1 ½

tsp

baking powder

¼

tsp

salt

½

cup

chopped walnuts

(optional)
Instructions
Preheat your oven to 350°F (180°C). Grease an 8- x 8-inch baking pan.

In a small saucepan, melt together the chocolate chips and butter, making sure to remove the saucepan from the heat just as it's finished melting to ensure you don't burn the chocolate.

Pour the melted chocolate into a mixing bowl. Add the sugar, non-dairy milk, and vanilla and mix well. Now add the flour, cocoa, baking powder, and salt and mix until combined. Finally, add the walnuts (if using).

Pour the batter into the prepared baking pan and bake for 30–35 minutes, until the brownies are pulling away from the sides of the pan and a toothpick inserted in the center comes out with just a few moist crumbs on it. Let the brownies cool and set overnight. This is the key to perfect gooey brownies.

To store, let the brownies cool completely, then cover with foil or plastic wrap and keep at room temperature for the best texture. For longer storage put in an airtight container and store in the fridge
Notes
Excerpted from Fuss Free Vegan: 101 Everyday comfort food Favorites, Veganized.
Copyright © 2017 Samantha Turnbull.
Published by Appetite by Random House®, a division of Penguin Random House Canada Limited.
Reproduced by arrangement with the Publisher. All rights reserved.
Did you enjoy this recipe? I suggest you pin it for later because you'll want to make it ASAP. Also remember to visit Sam' website at It doesn't taste like chicken.
Thank you Sam for letting me review your book, I loved it ♥