Hello my beautiful friends! Do you love or loathe Winter? I personally love this time of year: the first snow, the gray skies, the early sunsets and the desire to be stay warm and cozy – and if all this makes you think of Hygge, you're right!
I know some of you dream of a perennial summer and palm trees all year long, but trust me, after spending one whole year with only one extremely hot & humid season on a little island lost in the ocean, I can tell you the arrival of Winter is one of my favorite moments of the year.
So here's my Winter moodboard that sums up all the lovely things to experience this Winter and the beautiful energy it has to offer.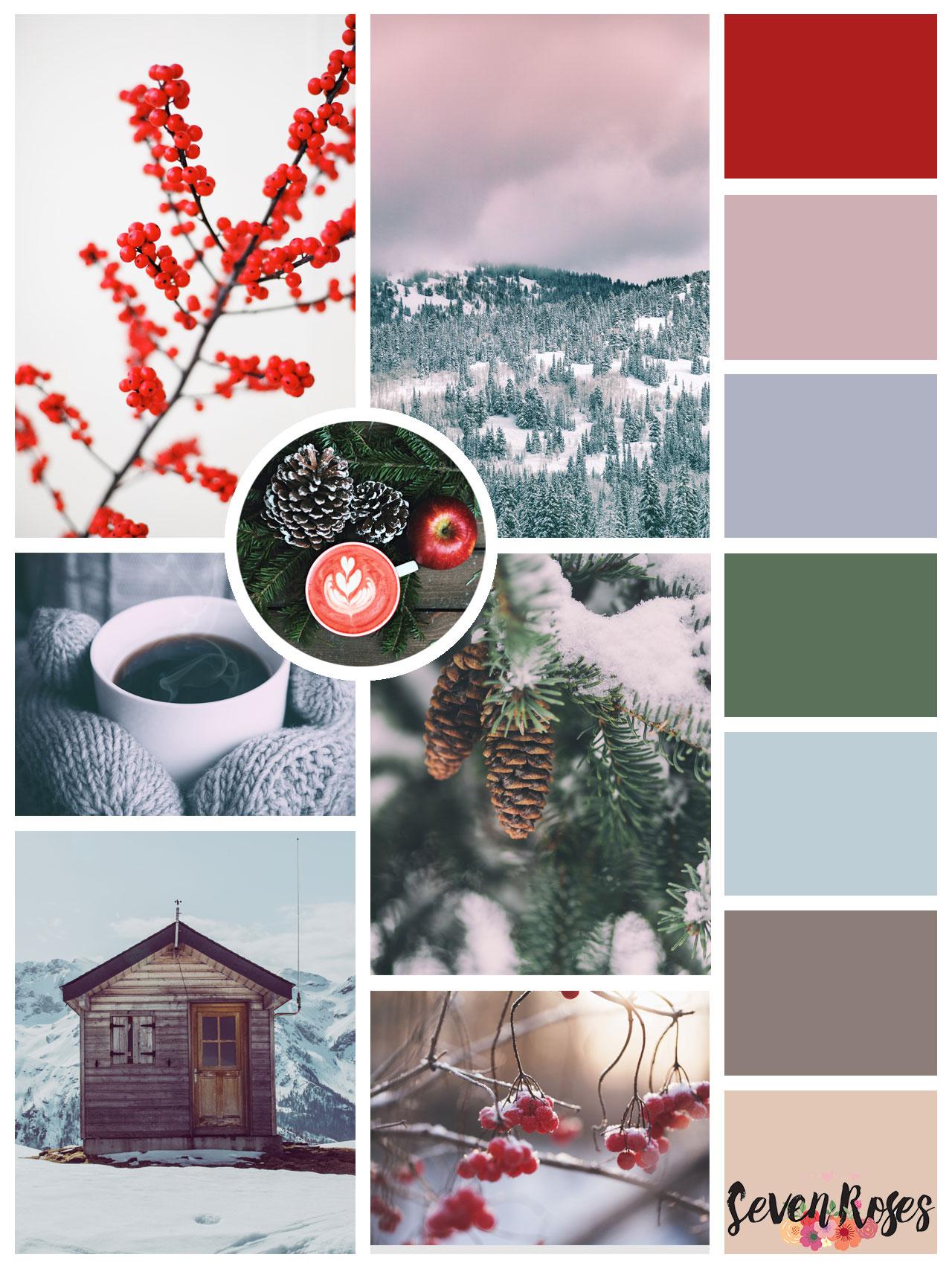 Since Winter has more dark hours than light, I feel it's Nature's invitation to rest and be more introspective. We can take this opportunity to plan for the year that's head of us, and to recharge so that we'll be ready to accomplish all of our dreams and goals.
And for all you Winter lovers (or haters!) out there, here's my Winter essential kit to survive the cold weather and actually enjoy it: little items that will help you embrace the Winter months even with the colder days and longer nights.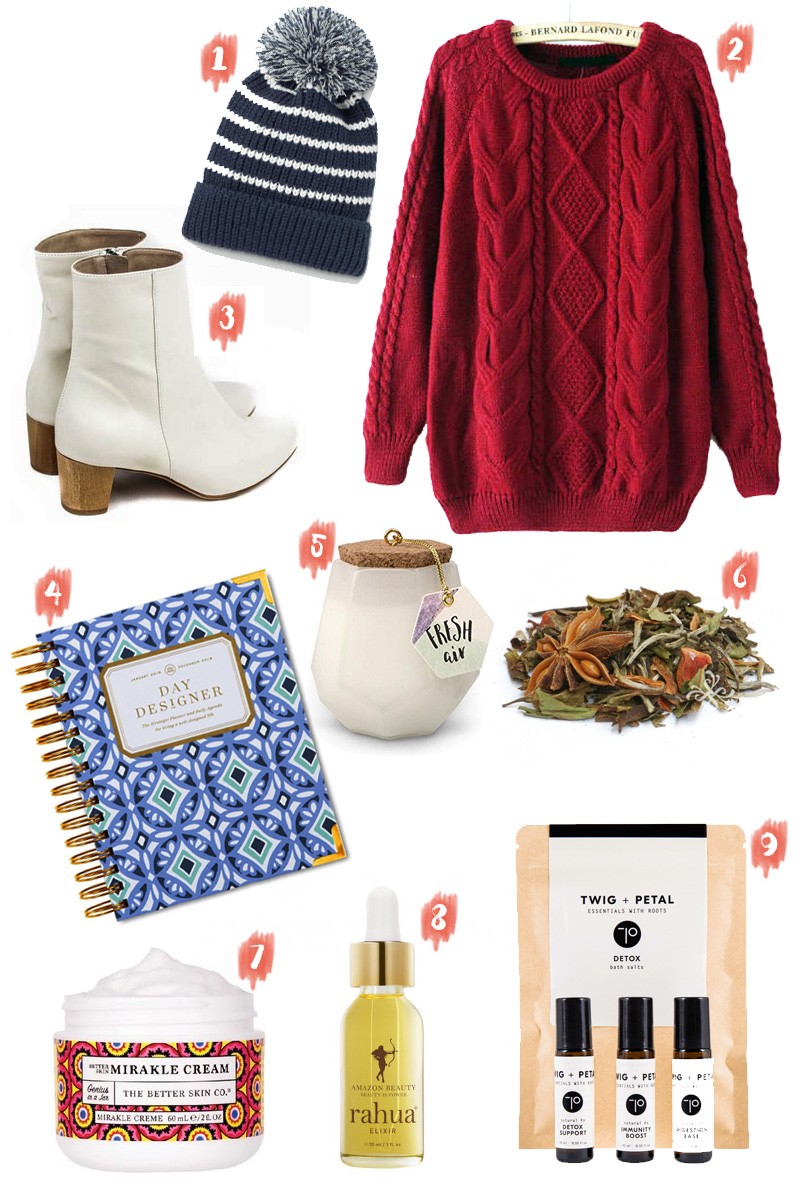 1. This Navy/White Stripe Pom Pom Hat by Stella&Dot has been keeping me warm since the first snows. I love that it's 100% acrylic (learn more about the wool industry here) and the "Brrrrrrrrrr" embroidery on the inside for a touch of whimsy!
2. Totally obsessed with this Red Long Sleeve Cable Knit Loose Sweater, I ordered one size up so that it's ultra cozy and feels like a warm embrace ♥
3. The EDITOR ANKLE BOOTIE in Ivory from BHAVA are an absolute gem: not only they look exquisite, but the cork insole and shock-absorb sole duo make these such comfortable booties! Handcrafted in Spain with beautiful Italian Vegan leather, these booties are the proof that even shoe fanatics can wear luxurious and ethical footwear.
4. The best way to start off a new productive year: the Day Designer – Daily Planner is a simple and easy system created to help you find balance, focus and productivity whether you are a working professional, full-time mom, student or content creator. I've been loving it so far! #girlboss
5. This gem-inspired Fresh Air Prism Soy Wax Candle smells exactly like when you breathe in the fresh air of the mountains. And if you don't exactly happen to live in an isolated cabin surrounded by snow-covered mountains, this is the next best thing ;-)
6. White Winter Chai tea from Art of Tea: this limited-edition spicy white tea infusion is perfect to cozy up this winter. With each flavorful sip, allow the sweet, comforting aroma of exotic chai spices to swirl under your nose and rest delicately on your palate. The perfect companion to a good read under and a plaid :-)
7. Cold weather, wind and snow call for extra moisture no matter your skin type. The Better Skin Co Mirakle Cream with Coconut Oil, Sea Butkthorn, Shea Butter, Cocoa Butter, Aloe and Soothing Algae is helping me to moisturize, soften, balance and brighten my skin this winter.
8. The Rahua Hair Elixir is a luxurious hair and scalp treatment derived from 100% Amazonian symbiotic® rahua oil that restores hair and scalp health. I'm currently testing their hair care line and I'm in love! (More about them to come later). I love this brand because it's only made with Vegan, organic, non-toxic, natural, pure plant-derived ingredients. It's also Symbiotic ® meaning, among other things, that all the ingredients are harvested and prepared using indigenous knowledge by people indigenous to the virgin forest environment.
9. If after the holidays you like to start the new year with many good intentions, detoxing will certainly be on your list, n'est-ce pas? This Detox Kit from Twig + Petal comes with everything you need to support the entire body in eliminating toxins during this time of the year: Detox Support Roller, Immunity Boost Roller and Digestion Ease Roller to be used topically for maximum benefits, and the Detox Bath Salts for a soothing spa-like experience at home.

There you have it! The Winter lover's essentials kit to keep your Winter cozy and warm! Now, go pour yourself that hot cup of tea and enjoy the weather!
Disclosure: SevenRoses.net is a participant of several affiliate programs. If you click on any of those links, which are known as "affiliate links", and make a purchase within a certain time frame, SevenRoses.net will get a small commission. The commission is paid by the third parties, not by you! By purchasing an item through one of our links you are supporting our efforts here at SevenRoses which we are so grateful for. All opinions and ideas are my own. I am very selective about the brands I promote and endorse. I only promote items that I personally use, genuinely love and want you to know about too! Thank you!