Disclosure: This post may contain affiliate links. As an Amazon Associate I earn from qualifying purchases. Thank you for your support!
This dairy-free Hungarian red lentil soup from The Vegan 8 cookbook has minimal ingredients but lots of deep flavors: it gets a hit of protein from hearty red lentils, while the Hungarian paprika, dry mustard, and tomato paste give an extra boost of flavor to every spoonful.
And best of all, it's quick and easy to prepare.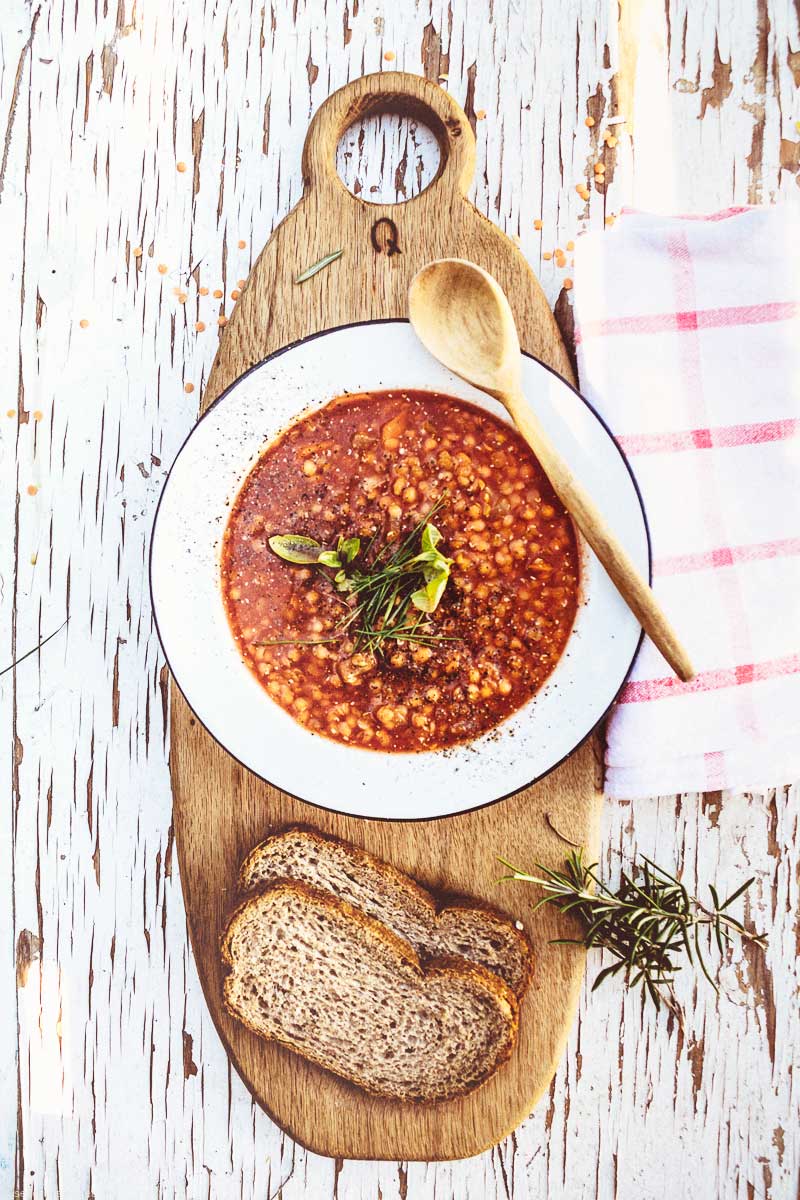 Hello my beautiful friends!
Today I'm excited to present you a delicious recipe from Brandi Doming's new cookbook that gets released today! Yay!
If you don't know Brandi already, she's the wonderful creator of the blog TheVegan8.com, where she shares delicious and easy Vegan recipes that require 8 ingredients or less. Her mouth-watering Vegan recipes are proof that you don't need to spend hours locked away in your kitchen with many costly ingredients to cook yummy meals for your family and loved ones.
Brandi became Vegan for health reasons, and her plant-based diet reversed severe health conditions for both her and her husband all while eating delicious, healthy foods.
The simplified, wholesome, family-friendly recipes she was cooking for her family became a popular blog which gained much attention.
I've been a fan of Brandi for many years now, and her philosophy is just like mine: cooking should be a pleasure and it shouldn't be complicated.
So when I first heard that she was releasing her own cookbook, I jumped at the opportunity to be part of her virtual book tour, together with a few other lucky bloggers.
Brandi's The Vegan 8: 100 Simple, Delicious Recipes Made With 8 Ingredients or Less is jam-packed with such amazing recipes and gorgeous photos that will just make you want to cook all the dishes in the book, and I mean ALL of them, especially when you see such short ingredient lists!
It comes in both Paperback and Kindle versions and I obviously recommend you get if you want to explore 100 satisfying, comforting meals from breakfast to dessert that your family – even non-vegans – will love. Each recipe has its own nutrition stats, they are all oil-free, gluten-free (except 2) and measurements  are given in both cups and weight/grams.
To introduce you to her style of simple yet delicious, hearty, home-cooked dishes, today I'll be sharing with you the soup that has now become our favorite: the Hungarian Red Lentil soup from page 155 of her book: just a few simple ingredients that come together beautifully in the perfect comfort food dish for this fall & winter months.
Have I awakened your curiosity? Then read on ;-)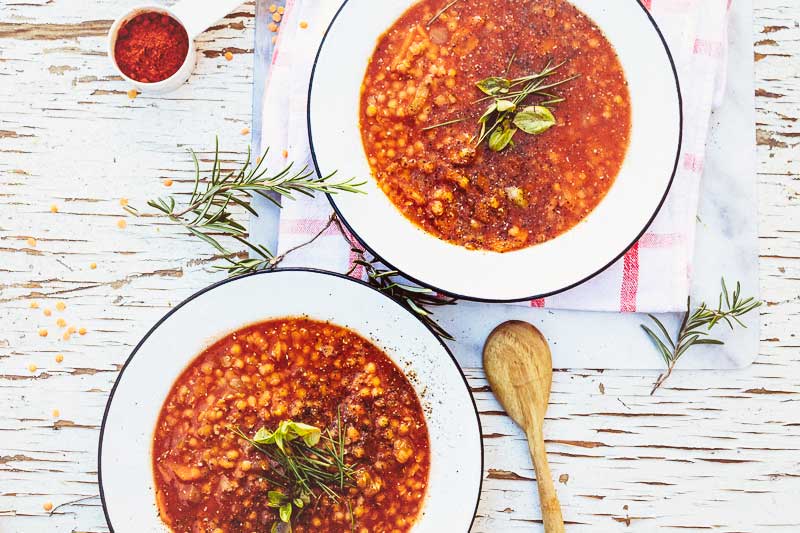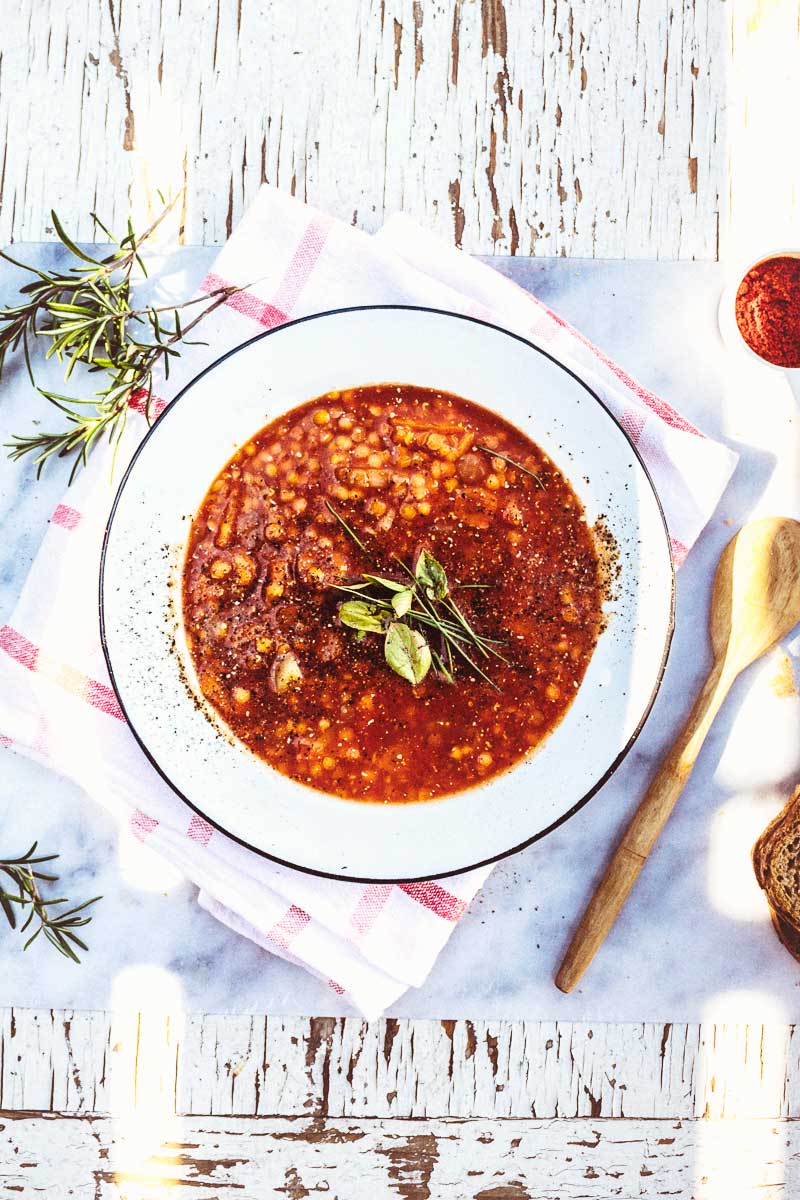 The book is divided in 10 chapters:
❥Kitchen Pantry
❥Breakfast

❥Appetizers & Dips

❥Time-Crunch Lunches

❥Sauces and Dressings
❥Easy Entrees
❥Comforting Soups & Stews
❥Scrumptious Snacks & Sides
❥Crowd-Pleasing Desserts
❥Vegan 8 Staples
and today's stunning Hungarian Red Lentil soup obviously comes from the Comforting Soups & Stews' chapter :)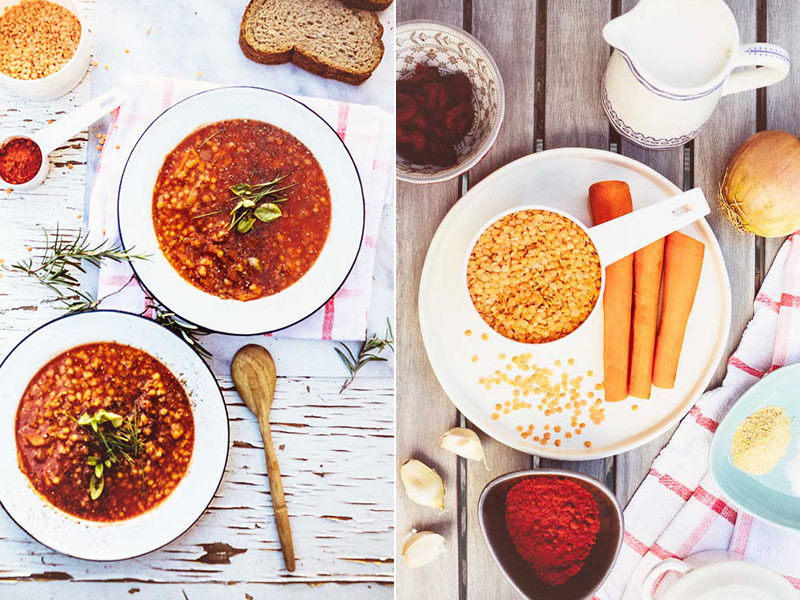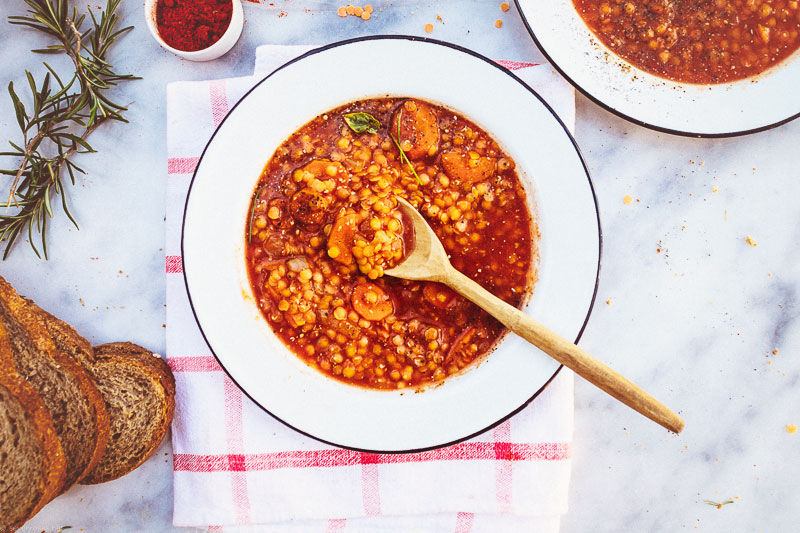 The star of this soup are the red lentils and the Hungarian sweet paprika, which impart a unique flavor to the dish.  But to tell the truth, when a recipe has such few, clean ingredients, each one has been carefully selected to play a main role in the dish.
My love story with Hungarian paprika started when we visited Budapest: until that trip, I didn't really know how Hungarian paprika differed from "sweet paprika" – the Hungarian variety has a rich but delicate flavor that enriches every dish. It's not meant to add pungency to your recipes, but rather a mild, "round" aftertaste. I truly love it, it must be one of my favorite spices. What is yours?
Well, I think it's time to dive into the recipe, after all I'm sure that's why you're here.
This recipe is from The Vegan 8: 100 Simple, Delicious Recipes Made With 8 Ingredients or Less. Reprinted with permission from Oxmoor House, copyright 2018, Brandi Doming.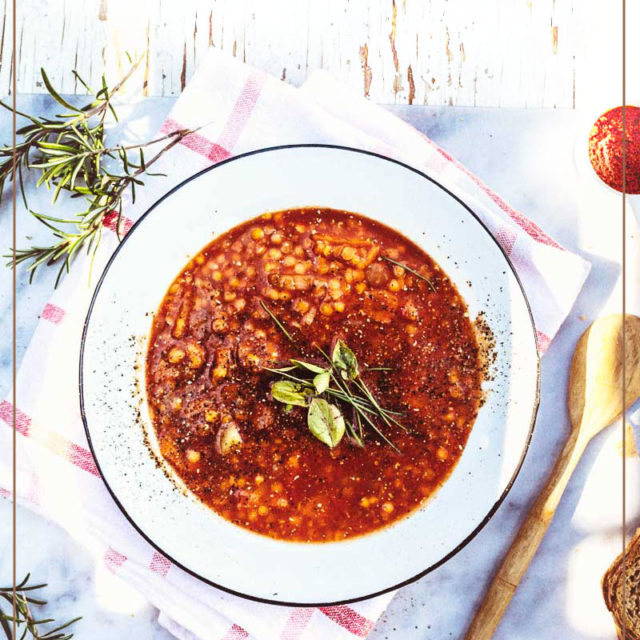 Hungarian red lentil soup
Author: Brandi Doming / The Vegan 8 - This amazing
soup
from The Vegan 8 cookbook is proof that dinner doesn't have to take forever. This recipe comes together fast, thanks to red lentils and a few other easy ingredients. The Hungarian paprika, dry mustard, and tomato paste give this simple dish a wonderful depth of flavor.
Ingredients
1

cup

yellow onion

diced

3

carrots

cut into 1⁄4-inch-thick slices

3

cloves

garlic

minced

1

cup

dry red lentils

rinsed well with cold water

6

tbsp

tomato paste

2

tbsp

Hungarian sweet paprika

1

tsp

dry mustard

1 1⁄2

tsp

fine salt

1⁄4

tsp

ground black pepper

1

cup

canned "lite" coconut milk

well shaken
Instructions
Add the onion, carrots, garlic, and 1 cup (240g) water to a medium pot over medium heat. Bring to a simmer, and cook for 8 minutes, stirring a couple of times during, or until the veggies are tender but not overly so. Remove the pan from the heat, and add the lentils, 2 1⁄2 cups (600g) water, tomato paste, paprika, dry mustard, salt, and pepper. Stir well, and bring to a boil over high heat. Cover, reduce the heat to low, and simmer for 10 minutes.

Add the milk, and increase the heat to medium-low; cook 5 to 10 minutes or until the lentils are tender yet still firm, and the

soup

thickens some. Stir often, and do not overcook, as you don't want the lentils to become mushy. Taste and add more salt, if desired. Serve immediately.
Notes
Make sure the paprika you are using is not hot paprika. For the milk, it is important to use a creamy milk like cashew or "lite" coconut milk here for best results. The "lite" coconut milk is very creamy but yields no coconut taste. Almond and rice milks don't do well, and definitely don't use full-fat coconut, as it is too rich and thick and will ruin the flavor.
■
■
■
■
■
■
Nutrition per serving: 223 calories | 4.6g fat | 12g protein | 37.3g carbs | 7.9g fiber |  5.9g sugar | 878mg sodium
» Get Brandi's cookbook on Amazon: The Vegan 8: 100 Simple, Delicious Recipes Made With 8 Ingredients or Less «
Did you enjoy this recipe? Then don't hesitate to go visit the The Vegan 8 website to discover how all your favorite comfort foods can be made with 8 ingredients or less and be gluten-free, oil-free, soy-free, dairy-free, and free from other common allergens, directly from Brandi ♥
Also don't forget to pin this post to share the love! ♥
I wish you a love-filled day xoxo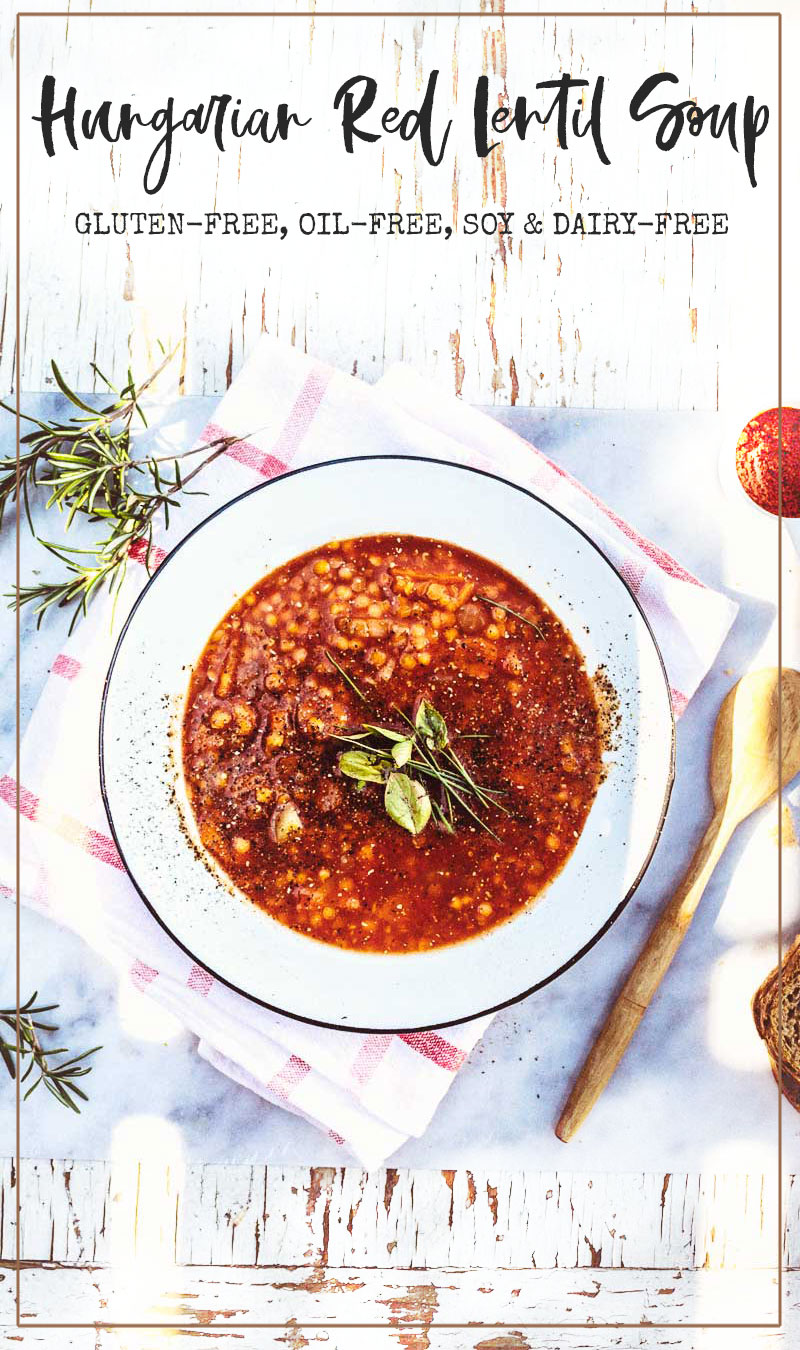 You can also check out this other amazing recipe from a fellow blogger, you will love it!
THAI RED CURRY SWEET POTATO DIP + THE VEGAN 8 COOKBOOK REVIEW at Very Vegan Val 
Styling:
❥Wood serving platter in Oak by Brad Quarless Furniture
❥Enamel soup plates by Rue de la Déco
Disclaimer: I got a free copy of the book to be reviewed, but all opinions are my own. Some of the above links may be affiliate links.