Whether you're a new Vegan, a committed activist or just Veg-curious, here's my All Around Vegan Box review, a carefully curated mix of food, lifestyle, beauty AND activism items unlike any other box you've seen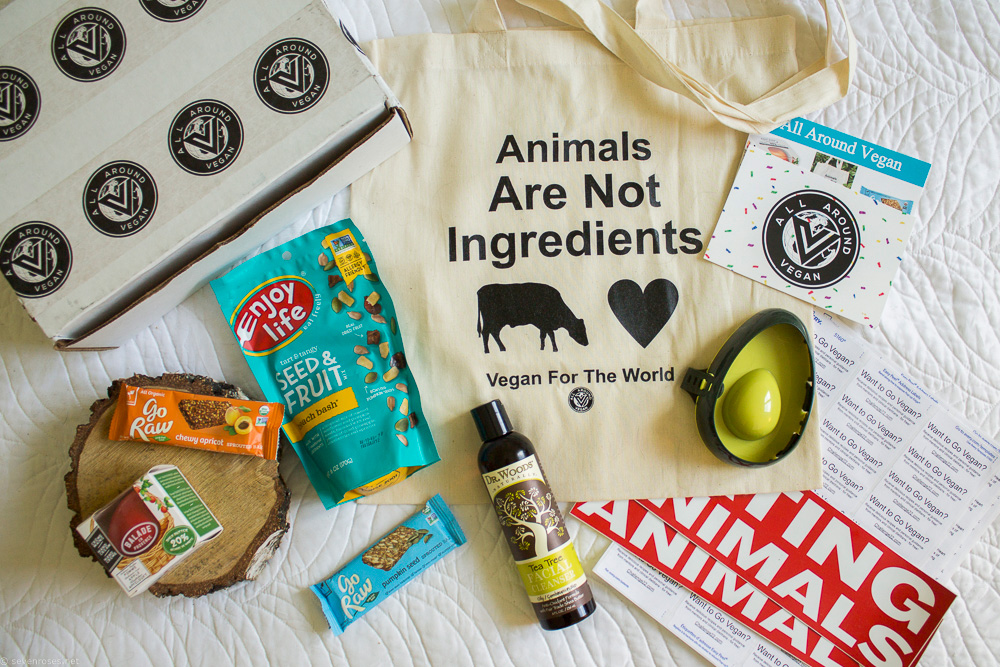 Hello my beautiful friends!
If I said "please raise your hand if you're a fan of subscription boxes" chances are, 98% of the people reading this would raise their hand. And how to blame you, subscription boxes are so irresistible :)
They definitely are the most convenient way to explore and discover a wide array of products and brands according to your interests and taste, each month delivered to your doorstep at no extra-cost.
I'm not sure who invented this concept (I remember a first beauty-themed box many years ago when I was working in the beauty industry) but s/he is a genius. Who doesn't like to open up gifts as if it's Christmas day, 12 times a year? I know I do …
But as hedonistic as most subscription boxes are, I have found a real gem with the All Around Vegan Box:
not only it contains yummy snacks, full-size beauty & skincare products and cool lifestyle items – but it also comes with its own kit of "kind activism" items such as stickers, flyers, etc. to kindly spread the Vegan message. Because being Vegan is cool, but telling others how easy and important it is to go Vegan, well that's even better.
The All Around Vegan Box is the perfect combination of pleasure and commitment and it describes its namesake as the box to "Enhance Your Vegan Lifestyle: Receive everything you need to support, promote, and enhance veganism ". It contains Certified Vegan products from 4 categories – an exciting collection of Vegan and cruelty-free Food, Bath & Body, Lifestyle, and Activism items.
Price: $34.95/mo for the Month-To-Month Recurring Subscription, $32.95/mo for the Month Prepay Subscription, $31.95 for the 6 Month Prepay Subscription or finally $36.95 for the Single Box / Gift Box
Shipping: Boxes ship between the 1st and the 5th of every month.
Read on to see in detail what's inside the last box (this is based on May 2018 box, so that this month's is still a surprise in case you decide to get one for yourself)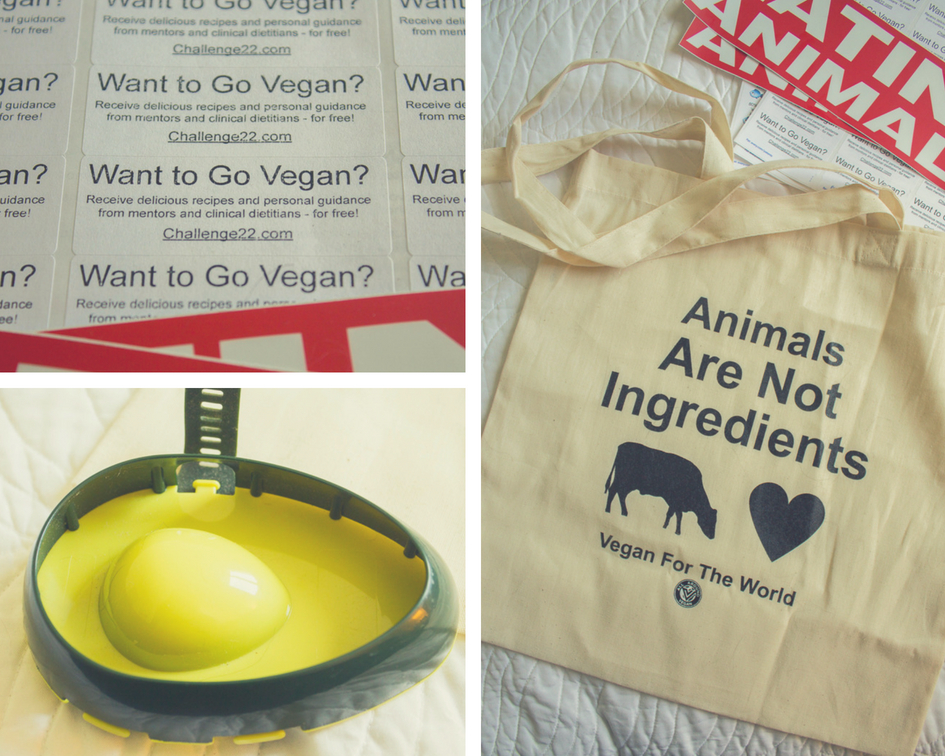 The box comes with a nice card which explains in detail everything that is included and the reasons why that particular item is in the box. For example, the reusable canvas tote bag is both a way to reduce plastic use, but also an easy way to spread the Vegan message (I have been using this a lot both for my grocery shopping at the supermarket, and also during our recent trip to Italy).
I was super curious when I first saw the Avocado hugger, and I put it to the test that same evening: it works perfectly, the half that was not used didn't go brown and I could use it the following day! Yay!
And Vegans are known to be avid avocado lovers, so this one will get a lot of use in our household. I love cute & useful kitchen gadgets if you didn't know by now ;)
The box also includes sticker sheets that invite Veg-curious people to visit the Challenge22.com website in order to get more info and join a 22-day Vegan challenge. I think such challenges are a great way for people to see how easy it really is to change their habits and make a positive impact in this world.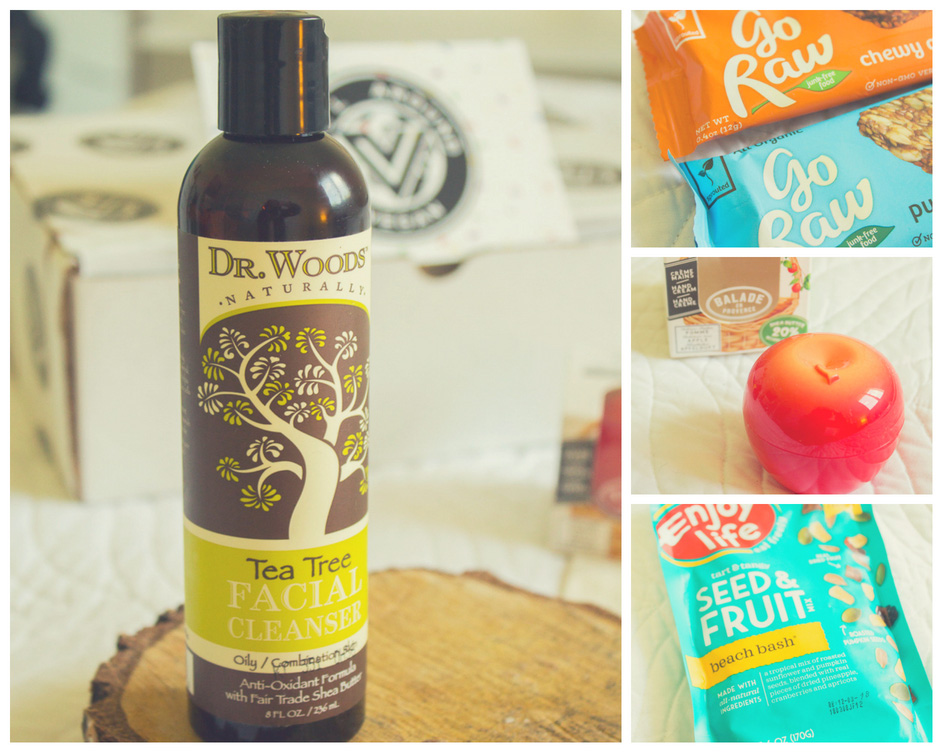 Onto the bath & body, beauty and food items, I've fallen in love with the Tea Tree Facial Cleanser from Dr. Woods Naturally. It has an impeccable ingredient list and even though it's for oily/combination skin, it's delicate enough to be used even my sensitive skin like mine. I've also enjoyed the Balade en Provence Apple Hand Cream, it's moisturizing and it smells divine, but it's almost too pretty to use :)
The food part included Go Raw Bars and allergen-friendly Enjoy life seed & fruit beach bash mix. Both are healthy & satisfying snacks at the same time, and are made of nuts, seeds and superfoods. I think Fabien will especially enjoy the Go Raw Bars during his trail running sessions for all the health benefits as they are a great source of iron, zinc, manganese and more.
Overall, I'd definitely be interested to see what they'll include in future boxes. The variety of items and eclectic mix makes it such an interesting and unique box, perfect for both newbie and experienced Vegans that want not only the yummy snacks and cool gadgets, but also things to help with activism and expand your knowledge of the Vegan lifestyle. I do believe the collective value of the box is well over its price. Hint: this box would also make a great gift for that Vegan on your gift list that you think is so hard to buy for ;)
Want to receive your own All Around Vegan monthly subscription box? Take 10% off your first box with code TAKE10 at checkout – click here to visit their site.
This is a selection of All Around Vegan boxes from the past few months, so you can see the variety of items included:
And what about you, do you like subscription boxes? Would you try this one? Or do you have any good ones you want to suggest? Let me know in the comments! I wish you all a great day xoxo
Disclaimer: I've been fortunate enough to receive some of the above mentioned products for free to try, but opinions and the choice to review are 100% my own. This post contains affiliate links.