This seriously-good Black Bean Salsa Burgers recipe from Melissa Copeland's brand new 30-Minute Frugal Vegan Recipes cookbook is the one recipe you need to shake up your weeknight meals – whether you're Vegan or just want to incorporate more meatless meals into your weekly menu. Top with juicy tomato slices, creamy avocado, crunchy red onion and fresh lettuce for the ultimate healthy baked burger recipe that's perfect for summer nights!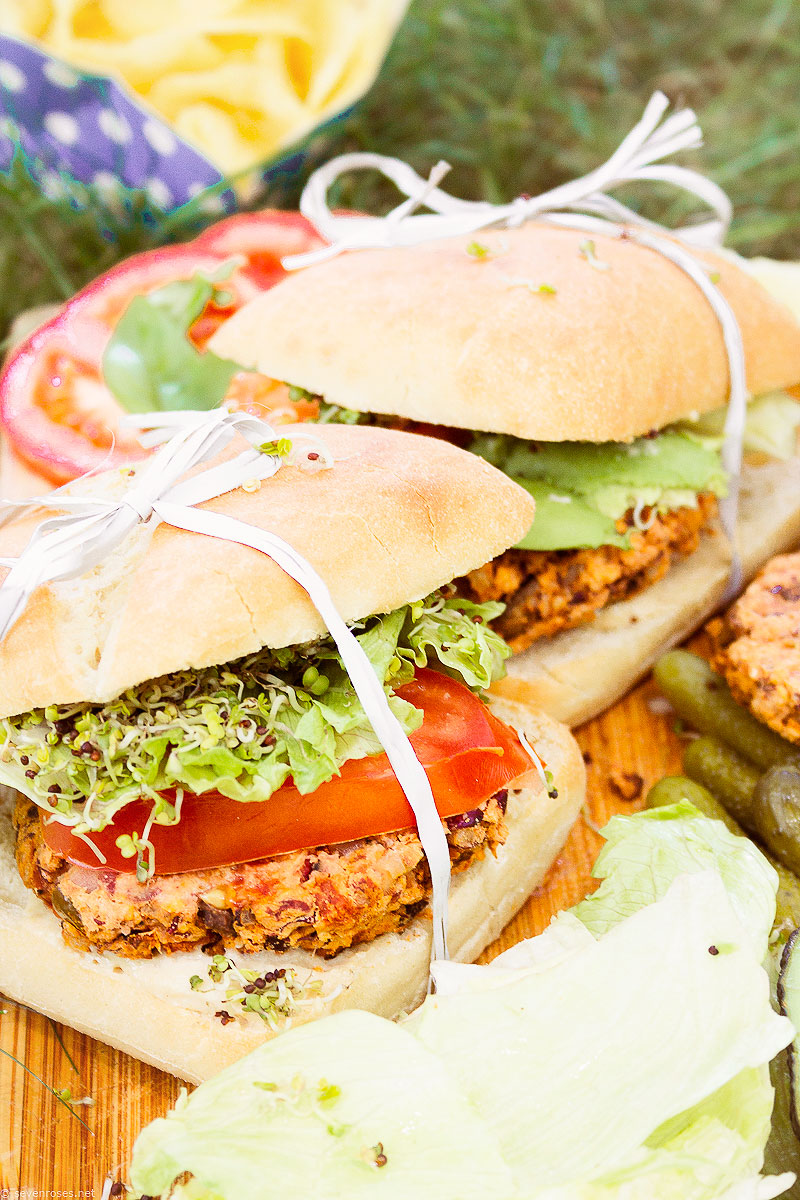 Hello my beautiful friends, and welcome (back) to SevenRoses.net.
Today we're cooking a very special recipe, one that will shake up your weeknight meals when you're pressed for time, craving something good but just don't know what to make: Black Bean Salsa Burgers.
Whether you're a newbie Vegan or a veteran in meatless Mondays, chances are you're always on the lookout for the best bean recipe out there, and you've found it! This amazing recipe comes from Melissa Copeland's brand new cookbook: 30-Minute Frugal Vegan Recipes: Fast, Flavorful Plant-Based Meals on a Budget. Let me tell you, if you are looking for a Vegan cookbook for yourself or someone you love, this is the book to get. I was SO excited to finally taste-test some of Melissa's new cookbook's recipes because I've been following and loving her blog TheStingyVegan.com for so long, and I was sure the cookbook would be stellar. And it is!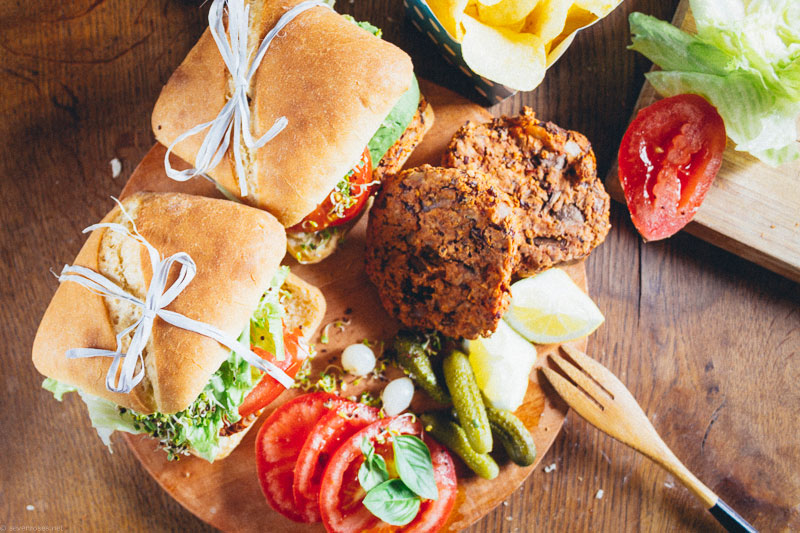 I love Melissa's fresh and honest writing style, both quirky and funny and yet so knowledgeable at the same time. This is one of those cookbooks you want to read cover to cover, without skipping any introductory pages. She has a simple and effective way to tell her story, and I found myselg giggling at her jokes or nodding in approval. Melissa's approach to Veganism is the same as mine, and as a veteran Vegan she has many useful tips for anyone who wishes to know more about Veganism but doesn't really know where to start.
In 30-Minute Frugal Vegan Recipes she shares a ton of wallet-friendly, mouth-watering, easy-to-make Vegan versions of ALL your favorite foods. This book will show you how easy it is to eat well and be Vegan without spending a ton of money.
Also let me add that this book is beautifully laid out and the photos are just perfect. From Smoky Mushroom Fajitas to Peanut Butter Pretzel Truffles, from the Easy American Goulash to 5 Minute Granola, you will learn how to skip the expensive vegan substitutes and pricey health food stores, all while enjoying nourishing meals that are as pleasing to your palate as they are to your bank account.
Some of my favorite recipes in the book are:
❥Easy Orange and Ginger Veggie Stir-Fry
❥Spicy Thai-Style Buddha Bowl
❥Quicker-Than-Takeout Chow Mein
❥Creamy Sesame Ramen
❥Summery Peach and Tomato Panzanella
❥10-Minute Curried Chickpea Wraps
❥Mini Quiche Cups
❥Fruity Granola Yogurt Parfait
❥Effortless Chocolate-Covered Stuffed Dates
….just to name a few.
The common denominator among all these recipes and the rest of "30-Minute Frugal Vegan" is they all require 30 minutes or less, are made with simple, everyday ingredients and they show you how to make Vegan food easy, accessible, and most of all, affordable.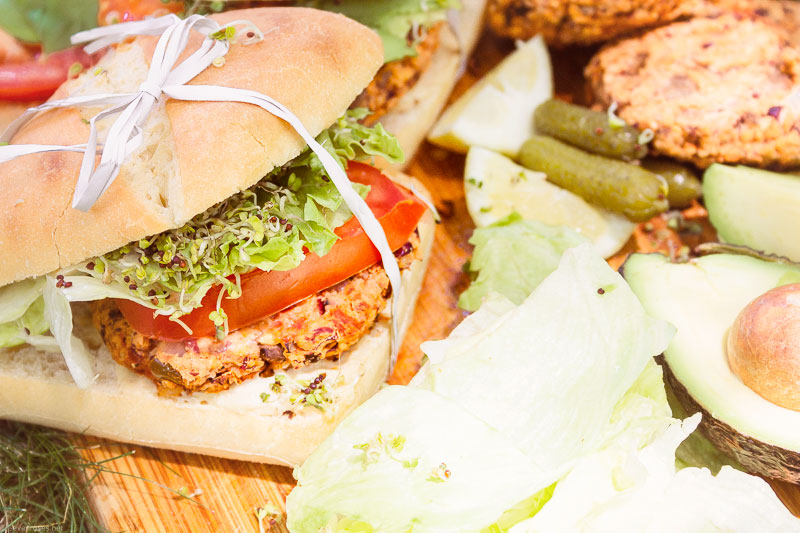 Melissa's cookbook is divided into eight, intuitive chapters:
❥Cheap as Chips Main Meals
❥Quick-Fix Pasta and Noodles
❥Speedy Soups and Stews
❥Plant-Powered Salads
❥Irresistible Vegan Sandwiches, Wraps, and Burgers
❥Savory Small Bites
❥Quick and Easy Morning Munchies
❥Snappy Sweet Treats
So to give you an example, in this book you will learn how to transform simple ingredients like a cup of beans, a cup of oats and a handful of mushrooms…..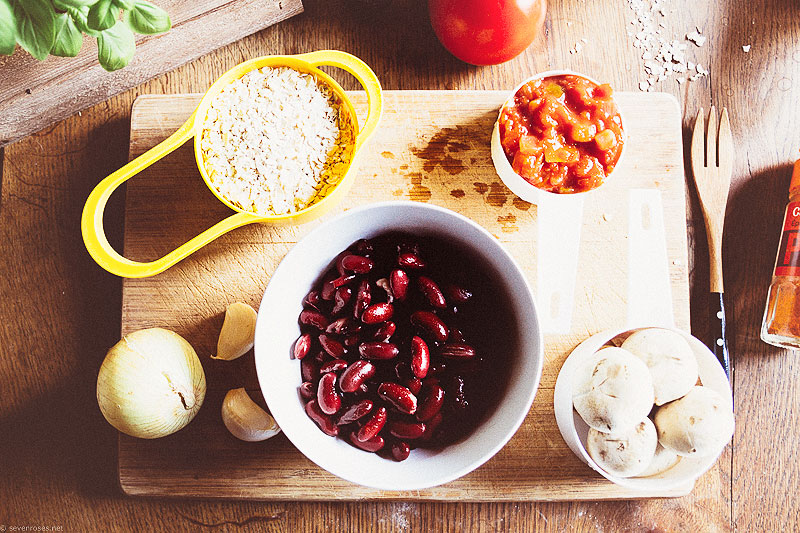 ….into the yummiest, most vibrant, most succulent burger beans you've ever had, crispy on the outside with the perfectly satisfying texture to bite into: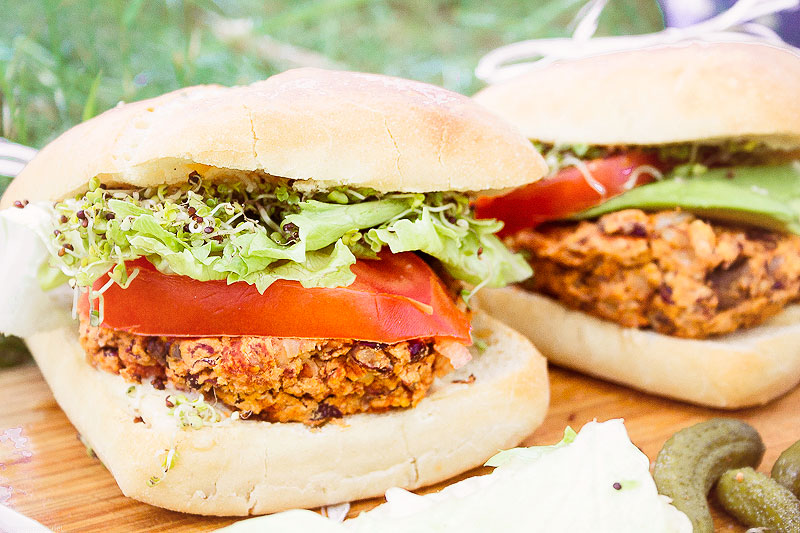 Such an easy recipe to make, you can also choose whether to prepare them in a frying pan with a little bit of oil or bake them in the oven (or even in an air fryer!) like I did.
I will also add that this Black Bean Salsa Burger recipe is healthy and high in protein: beans, oats and mushrooms are all very nutrient-rich foods that get combined in a seriously-good burger. Perfect for hectic mid-week dinners, al fresco casual parties and picnics as well.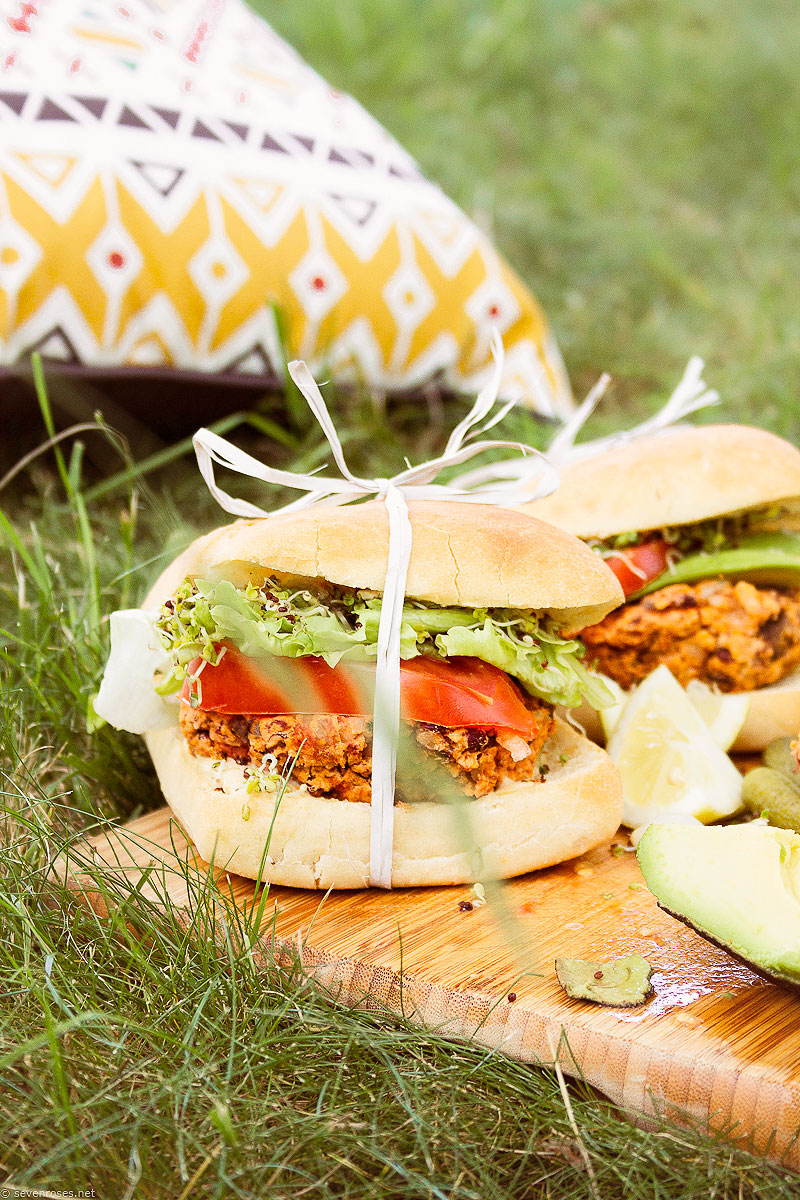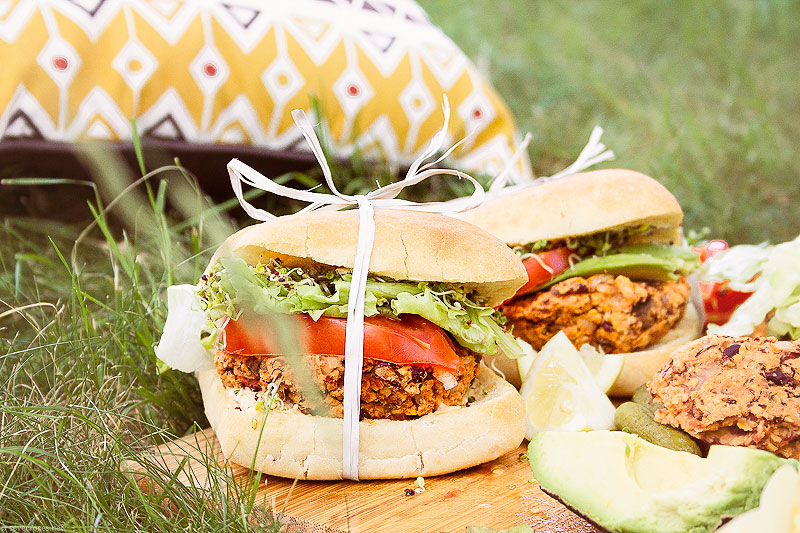 I think it's time to get cooking, so let's dive right into the recipe, shall we?
:)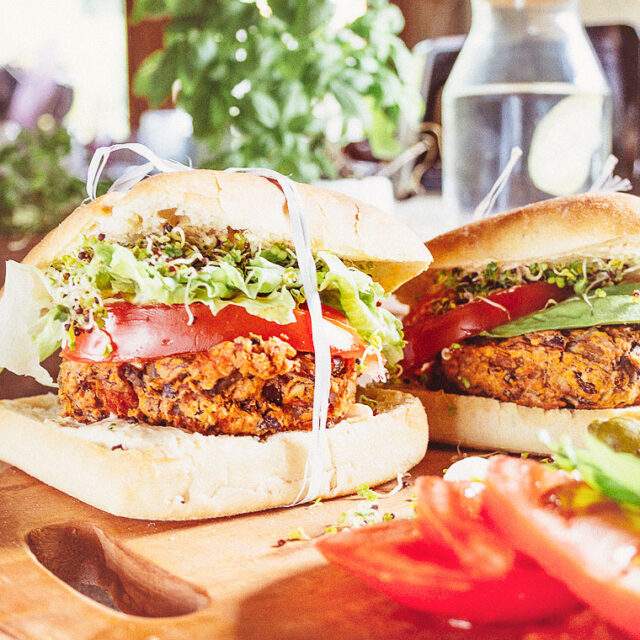 Black Bean Salsa Burgers
author: Melissa Copeland | Reprinted with permission from 30-Minute Frugal Vegan Recipes by Melissa Copeland, Page Street Publishing Co. 2019 | Salsa goes right in the burger patties rather than on top, to bring loads of flavor and texture to these plant-based burgers. Choose your favorite salsa; just be sure that it's really chunky. Straining the salsa to get just the flavorsome chunks prevents the burgers from being too wet and falling apart.
Ingredients
2

tbsp

vegetable oil

for pan, plus more for cooking burgers (30 ml)

1

onion (small)

diced

2

large cloves garlic

finely chopped

1

cup

mushrooms

chopped (70 g) can be chunky as they will reduce when browned

1

cup

oats

(80 g)

1½

cup

black beans

cooked (258 g), or 1 (15.5-oz [439-g]) can, drained and rinsed

1

cup

chunky salsa

(260 g)

1

tsp

Hungarian sweet paprika

1

tsp

salt and pepper

5

hamburger buns

your favorite hamburger fixings
Instructions
If you're baking the burgers like I did, preheat the oven to 375°F (190°C). In a skillet, heat 1 tablespoon (15 ml) of the oil over medium-high heat. Add the onion and fry, stirring from time to time, for 5 to 7 minutes, or until soft and translucent, then add the garlic and fry for another 30 seconds, or until fragrant. Transfer to a large bowl.

Heat the remaining tablespoon (15 ml) of oil in the same skillet. Add the mushrooms and leave them for a minute to brown on one side before stirring and continuing to fry. Once browned all over, transfer to the bowl with the onion

In a food processor, pulse the oats until you have mostly oat flour with some whole oats remaining, for texture. Transfer to the bowl. Put the black beans in the food processor and blend until mostly pureed with some whole beans remaining, also for texture. Transfer to the bowl.

Put the salsa in a strainer and stir to remove the excess tomato sauce, until you have mostly chunks remaining. Measure ½ cup (130 g) of this super chunky salsa and add it to the bowl along with the paprika, salt and pepper. Mix well to incorporate everything.

Form the mixture into 4 or 5 patties, depending on the size of your buns. The mix is a bit wet but should not be unmanageable. I take a ball in my hands, flatten it out into a patty on a plate, then use a spatula to transfer it to a baking pan or skillet when ready to cook. They may need a bit of reshaping once in the pan. If you're having trouble, you can add a bit more oat flour so that they hold together better.

To bake, lightly oil a baking pan, transfer the patties to the pan and bake for 20 minutes, flipping at 10 minutes. To fry, heat a large skillet over medium heat and add a tablespoon (15 ml) of oil. Fry the patties for 3 to 4 minutes per side, or until browned. Once cooked, transfer the patties to a wire rack and let cool for a few minutes. They will firm up a bit as they cool. Serve on the buns with your favorite hamburger fixings.
Notes
I've tried this recipe both on the oven, as originally in the book, and also in the air fryer with equally great results.
» Get Melissa's cookbook on Amazon: 30-Minute Frugal Vegan Recipes: Fast, Flavorful Plant-Based Meals on a Budgets «
Did you enjoy this recipe? Then don't hesitate to go visit the The Stingy Vegan website to discover how all your favorite foods can be made with the most basic of ingredients, can be ready in 30 minutes or less, and are cheap!
I've served my Black Bean Salsa Burgers with slices of tomatoes, avocados, lettuce, broccoli sprouts and a thin layer of hummus spread. What are some of your favorite burger fixings? Let me know in the comments down below, I love to exchange with you guys!
Also don't forget to pin this post to share the love! ♥
I wish you a love-filled day xoxo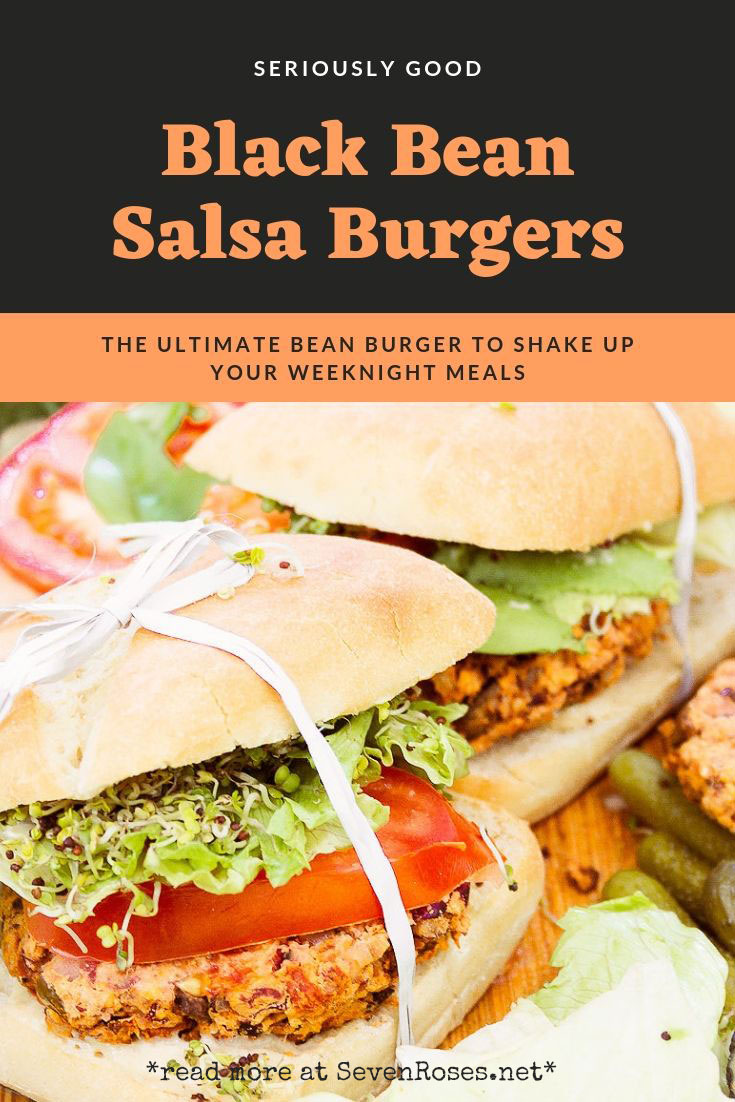 Disclaimer: I got a free copy of the book to be reviewed, but all opinions are my own. Some of the above links may be affiliate links.