Lots of yummy sandwiches, fresh salads and colorful veggies, fruity & chocolatey desserts: everyone will love these Vegan & gluten-free picnic recipes!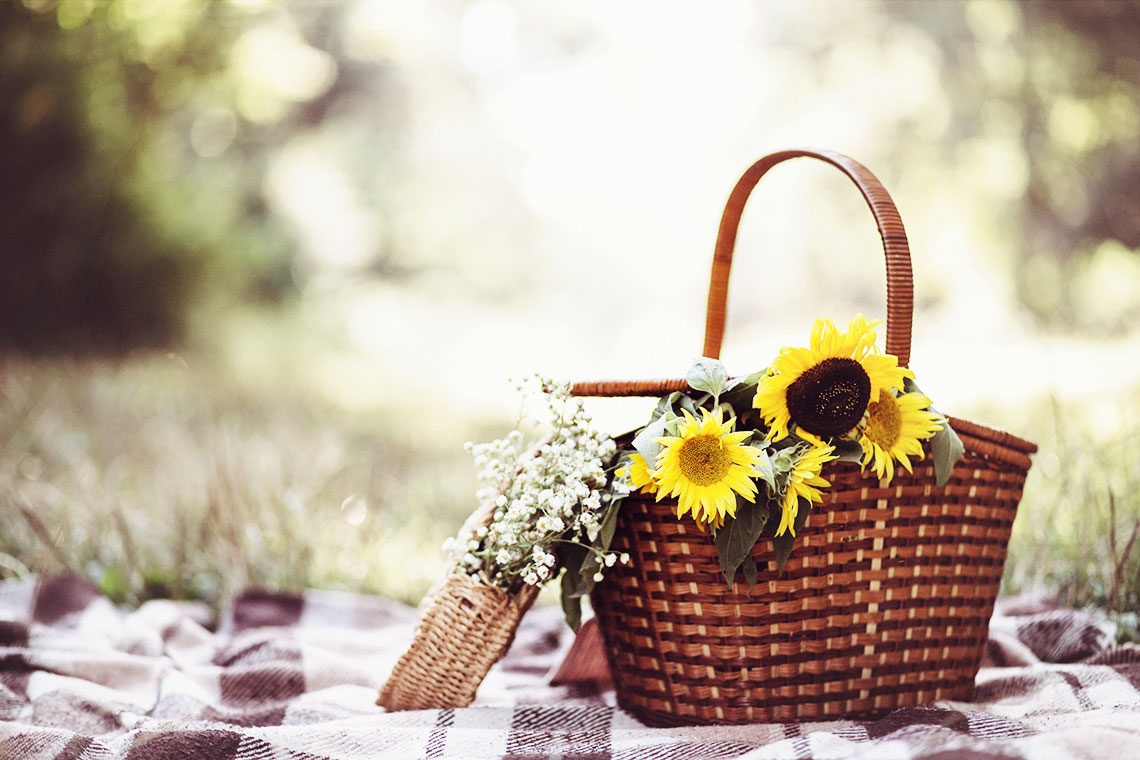 Summertime, and the living is easy…. Hello my beautiful friends!
I don't know about you, but when Summer comes around I have this urgent desire to go on a picnic.
What's not to love about them? Great food, informal atmosphere, wonderful outdoor location, great company.
If you've been here before, you probably already know that my favorite type of gathering is a very casual one, like the Apèro Dinatoire that we host all through the summer, even more-so now that we bought our own cabin in the woods. The garden in the back is the perfect place for dinners based on an antipasto platter that everybody will enjoy. And you must also know by now that I am a firm believer that warmer months are for taking it easy in the kitchen, with quick and easy Vegan summer lunch ideas that can be ready in under 10 minutes.
But for me, it's not a proper "Summer" if we don't pay tribute to Édouard Manet at least once, and have "luncheon on the grass" (Déjeuner sur l'herbe, but most probably we'd all be fully dressed! ;D ).
So, with the help of some talented FindingVegan fellow bloggers, I've gathered the freshest, yummiest, most colorful, and seriously-good picnic recipes that exist. All of them are Vegan & gluten-free, some are even paleo or whole30, so that no one will feel left out ♥
"There are few things so pleasant as a picnic eaten in perfect comfort."
W. Somerset Maugham
But before diving in the recipes, do you even know what "picnic" means, and where does the word come from?
"Picnic was borrowed from French piquenique, a word which seems to have originated around the end of the 17th century. It is not clear where it came from, but one theory is that it was based on the verb piquer 'pick, peck' (source of English pick), with the rhyming nique perhaps added in half reminiscence of the obsolete nique 'trifle.' Originally the word denoted a sort of party to which everyone brought along some food; the notion of an 'outdoor meal' did not emerge until the 19th century." (source)
Whether you're at the seaside, the lake, in a park or even in your backyard, whether you opt for a romantic picnic with your significant other, one with your family or lots of friends and their kids, too, to boost your next picnic and make it the most memorable ever, here are the best Vegan & gluten-free picnic recipes everyone will love.
Easy to prepare and seriously good, they are sure to bring that wow! effect to your next gathering. Between yummy sandwiches, fresh salads and colorful veggies, and fruity & chocolatey desserts, no doubt that both young and old will feast at this picnic, green mode.
Copyright of the images used belong to their owners and are linked with each recipe: I invite you to visit their sites, leave a comment and give these recipes a try. Be sure to scroll all the way to the end so you don't miss any of these great recipes. And don't forget to pin your favorites as you go!
Vegan & gluten-free picnic recipes: colorful veggies & beans salads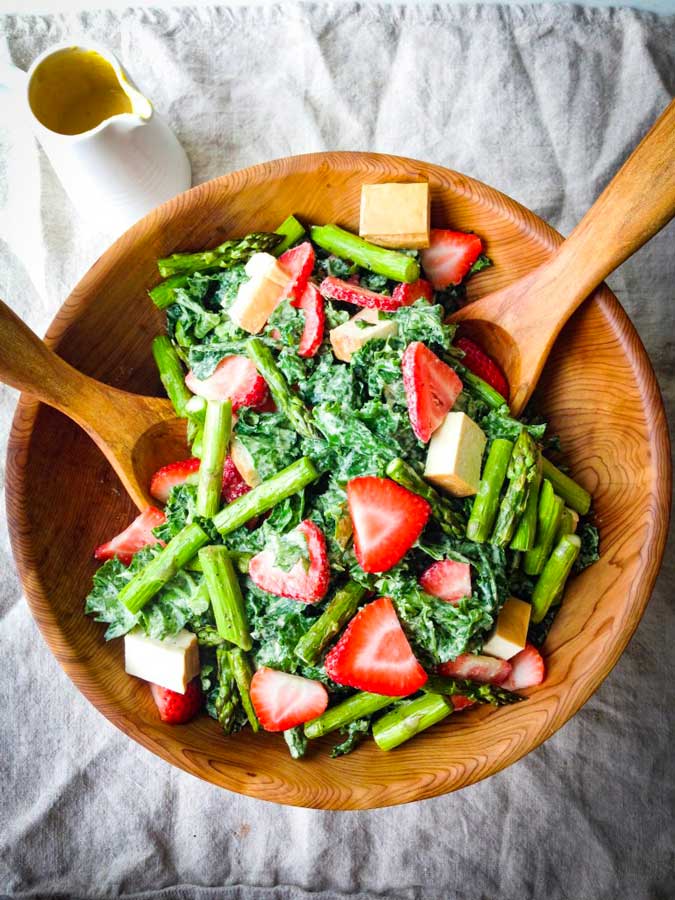 Smoked tofu, strawberry, and asparagus kale salad with creamy tahini dressing at Upbeet Kitchen
A divine salad packed with seasonal strawberries, asparagus, kale, smoked tofu, and a lemony creamy tahini dressing.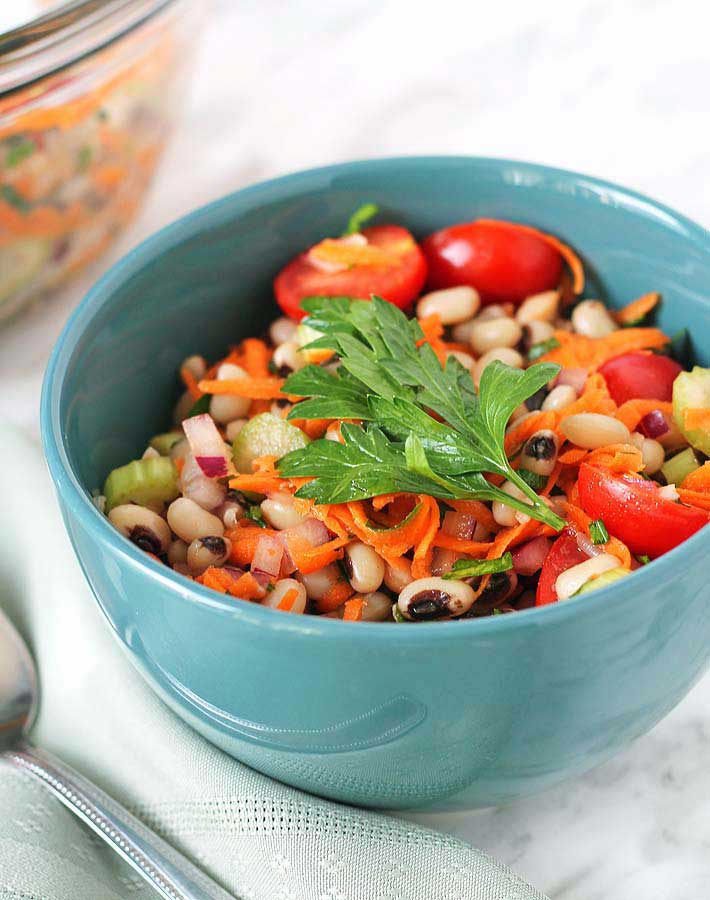 Simple Black-Eyed Pea Salad at Delightfuladventures
Perfect for lunch, a side dish, or even a light supper, you're going to love this Simple Black-Eyed Pea Salad because it's delicious and so easy to make.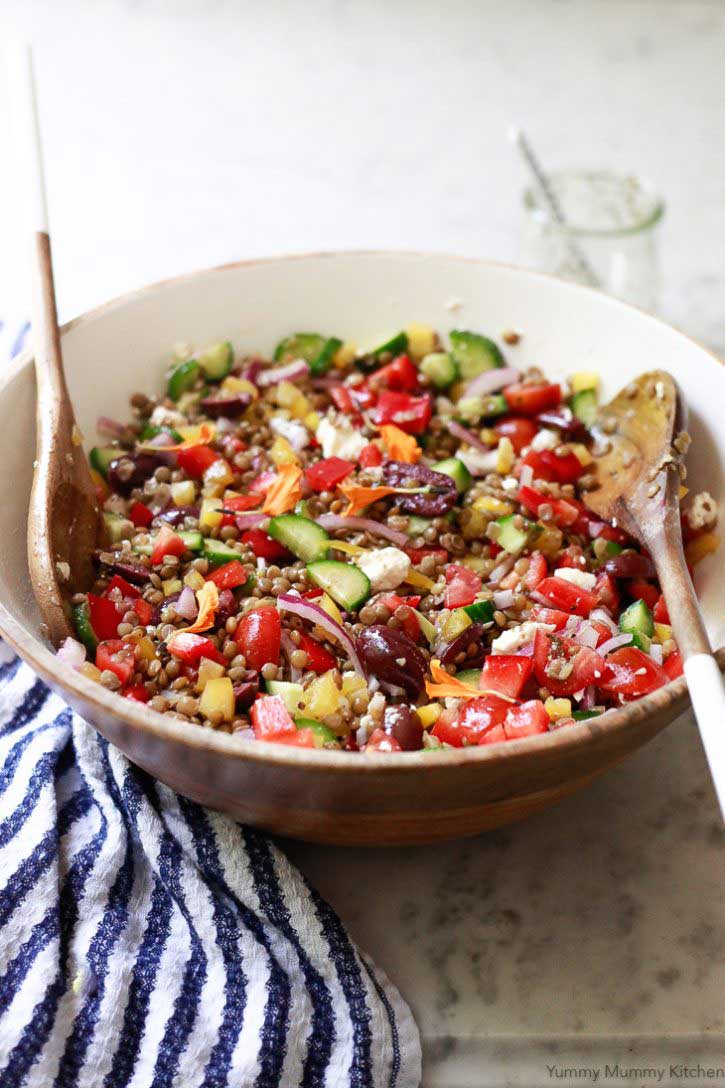 Mediterranean lentil salad at Yummy Mummy Kitchen
A hearty Mediterranean lentil salad loaded with flavor. This cold lentil salad is perfect as a summer dinner or work lunch.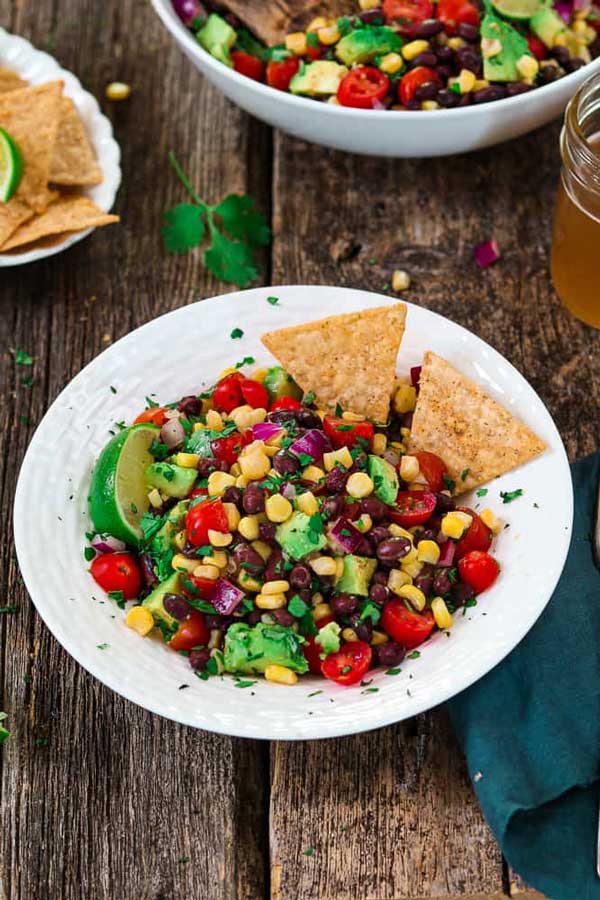 Avocado Black Bean Corn Salad at Vegan Huggs
Avocado Black Bean Corn Salad ~ fast, easy, fresh and colorful! No cooking required – just chop the veggies and toss with a zesty Cilantro Lime Dressing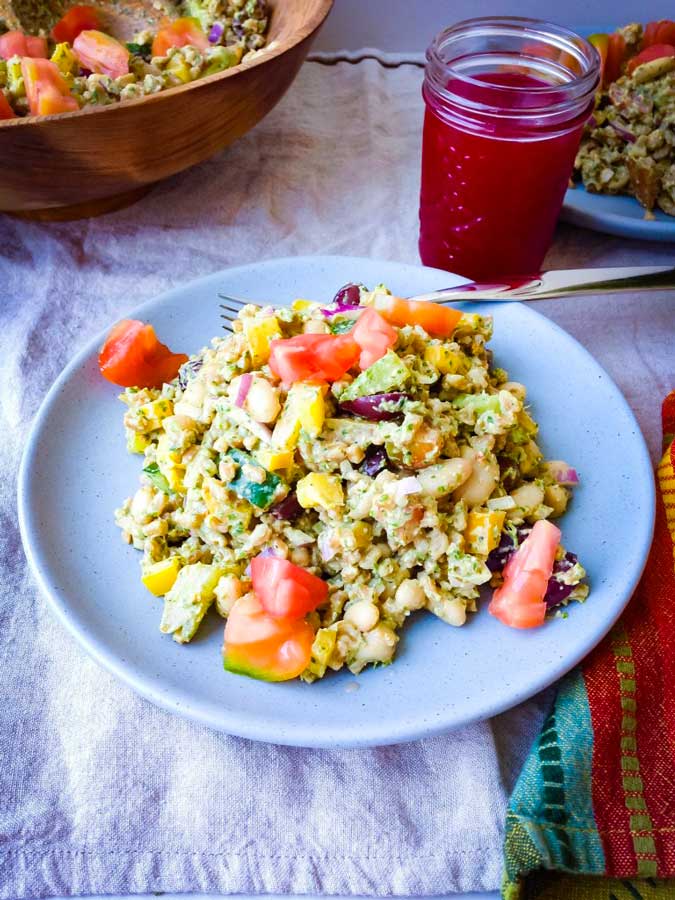 Farro Pesto White Bean Salad at UpBeet Kitchen
This salad is the perfect recipe to have in your back pocket in the summer heat, as it requires no oven and minimal cooking.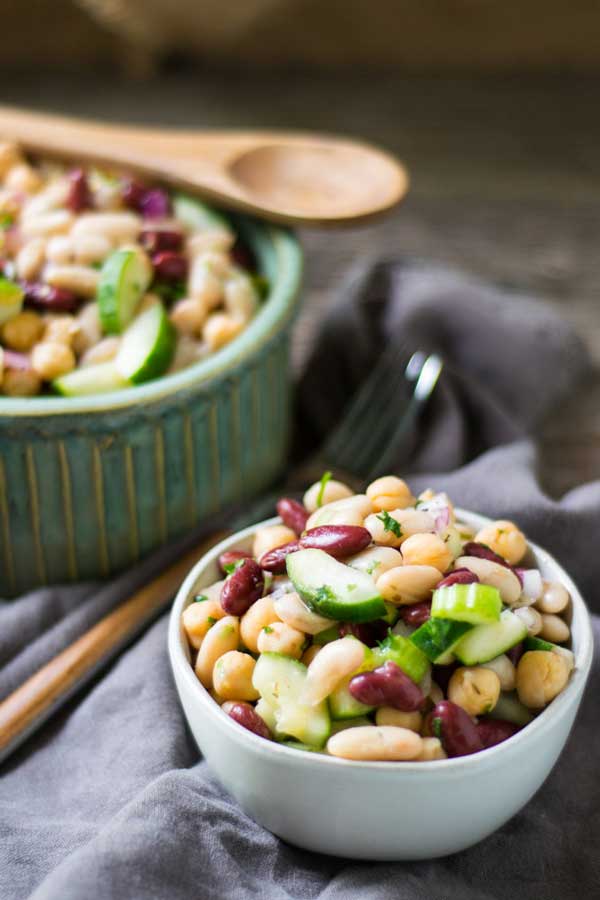 Three Bean Protein Summer Salad at Shane & Simple
Summer is here and man, it's hot! You need something quick, simple, refreshing and loaded with nutrients. You need Three Bean Protein Summer Salad.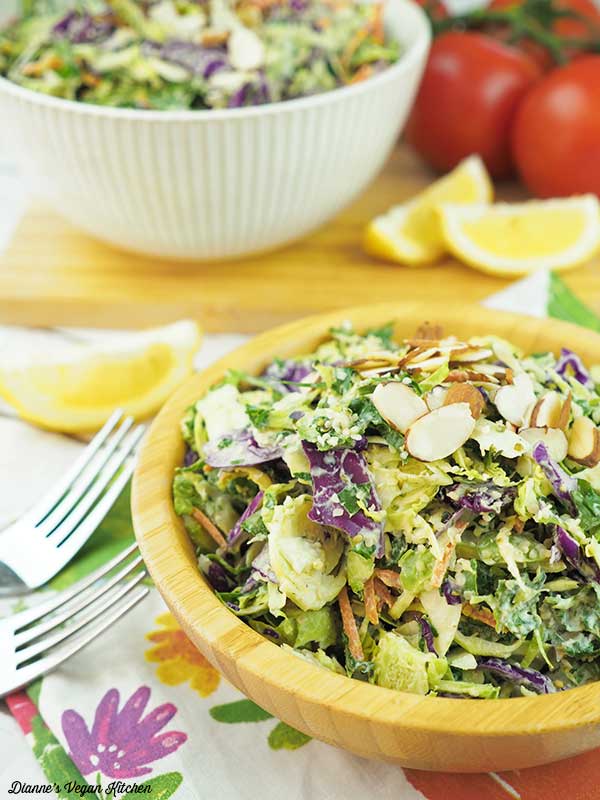 Cruciferous Crunch Salad at Dianne's Vegan Kitchen
Move over coleslaw! Cruciferous Crunch Salad is destined to become everyone's favorite cookout side dish!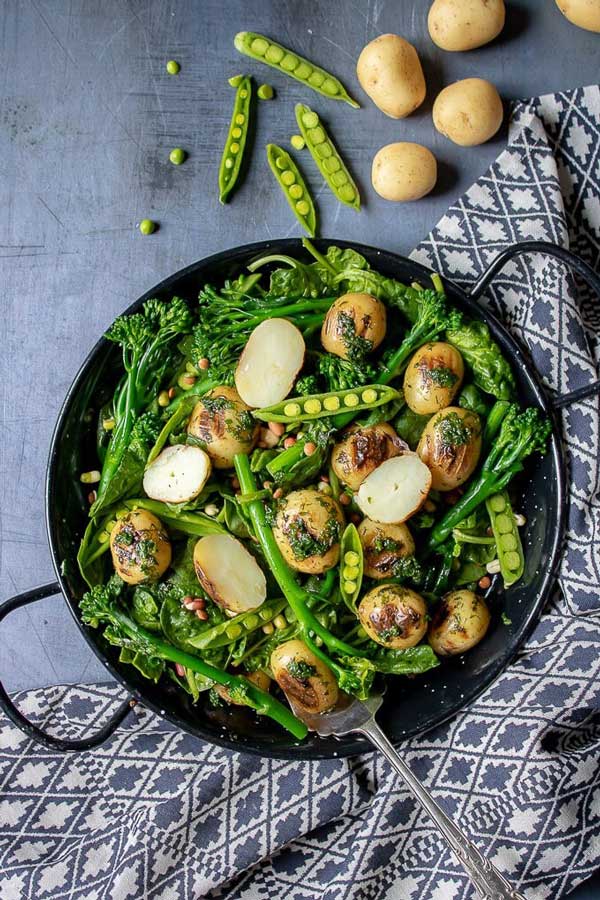 Broccoli salad with potatoes and herbs at Veggie Desserts
Tuck into this healthy and delicious broccoli salad with potatoes, peas, spinach and fresh herbs. It's vegan, gluten free, dairy free and sooo easy and tasty. This salad is a great barbecue side dish or main meal. Ready in just 15 minutes.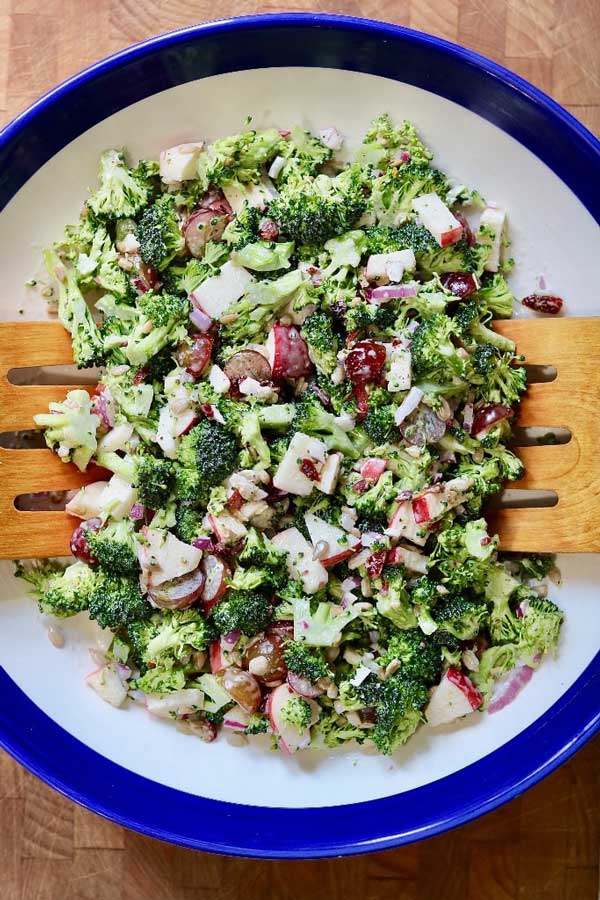 BEST And Easiest Vegan Broccoli Salad at The cheeky chickpea
With apples, dried cranberries, crisp grapes, red onions, sunflower seeds and a deliciously creamy, sweet and tangy mayonnaise based dressing. Perfect summer potluck recipe!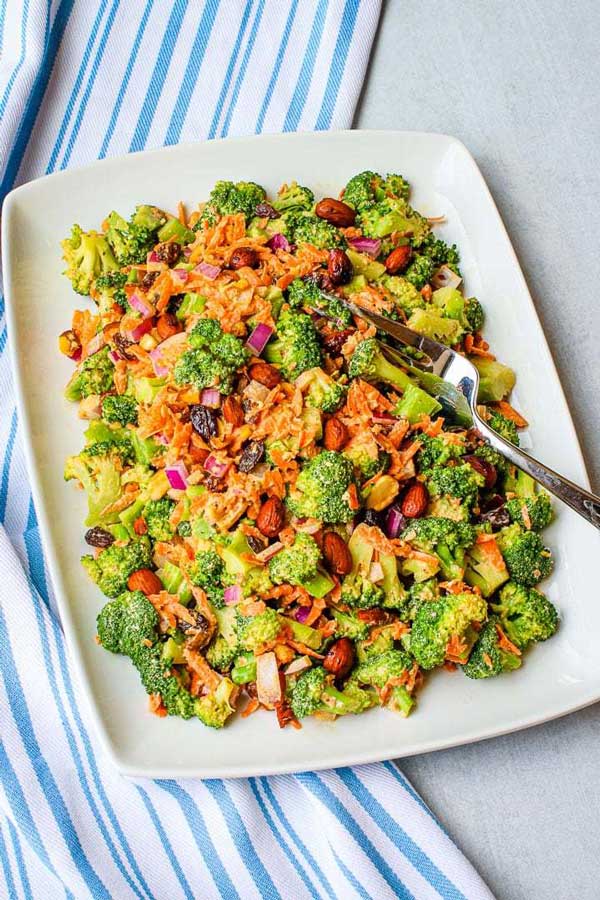 Broccoli Salad with Smoky Almonds & Raisins at Healthy Midwestern Girl
A healthy vegan broccoli salad with sweet & savory flavors, and a creamy cashew (or low fat tofu) dressing. Whole food plant-based, oil free & gluten free.
Vegan & gluten-free picnic recipes: GF pasta, quinoa & rice salads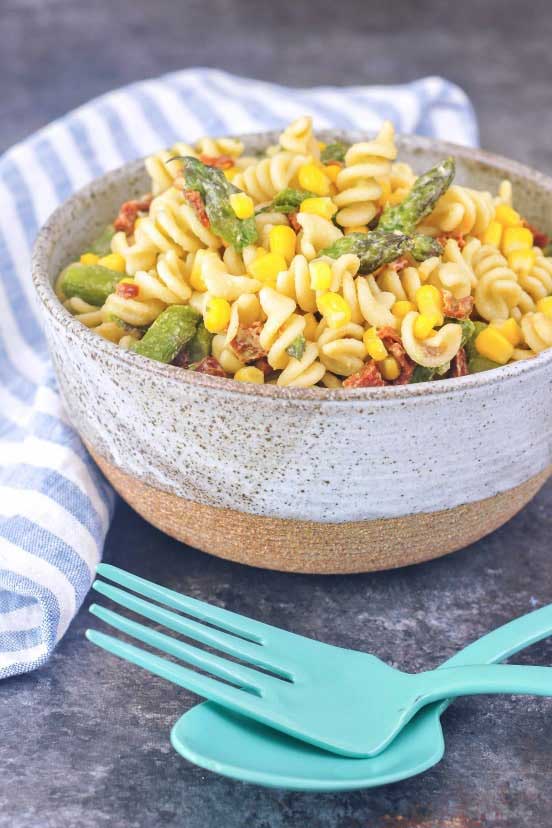 Perfect Picnic Pasta Salad at Spa Bettie
A fresh, flavorful mix of veggies and curly pasta take a tumble in a bright avocado dressing.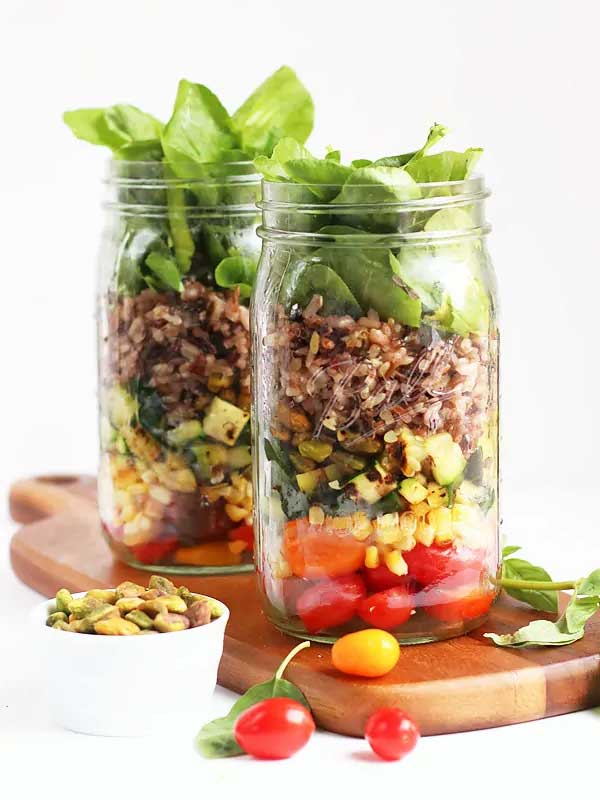 Wild rice Mason jar salads at My Darling Vegan
Make lunch easy with these wild rice Mason jar salads, made with late summer vegetables, wild rice, and basil pesto for a delicious and healthy meal.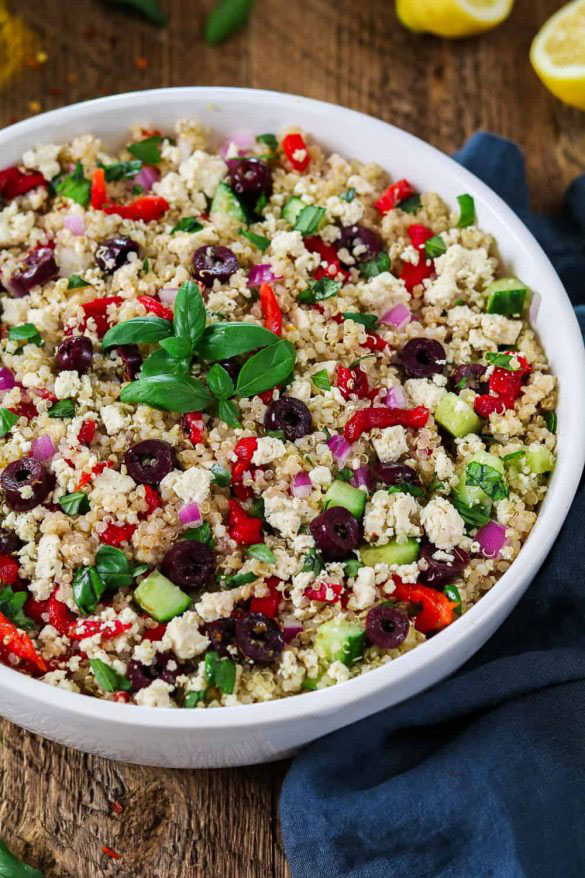 Mediterranean Quinoa Salad at Vegan Huggs
The perfect summery dish! It's fresh, satisfying and takes less than 30 minutes to make too.

Provencal Pasta Salad at Green Scheme
This pasta salad is super easy, ready in less than 30 minutes, and features a perfect combination of pasta, green beans, red pepper, artichokes, olives, zucchini, red onion and cherry tomatoes.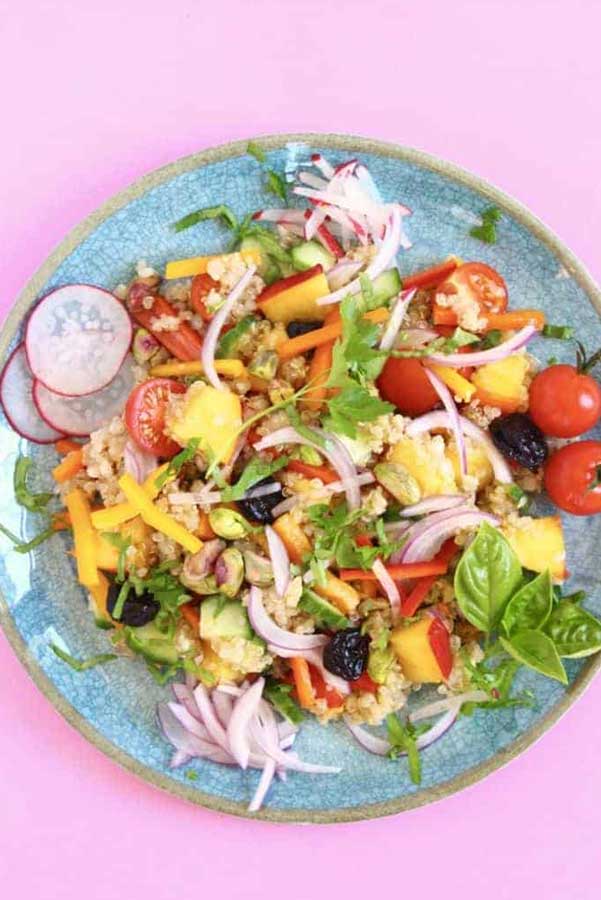 Nectarine Quinoa Buckwheat Tabbouleh at Rhian's Recipes
Easy to make, really nutritious and perfect for summer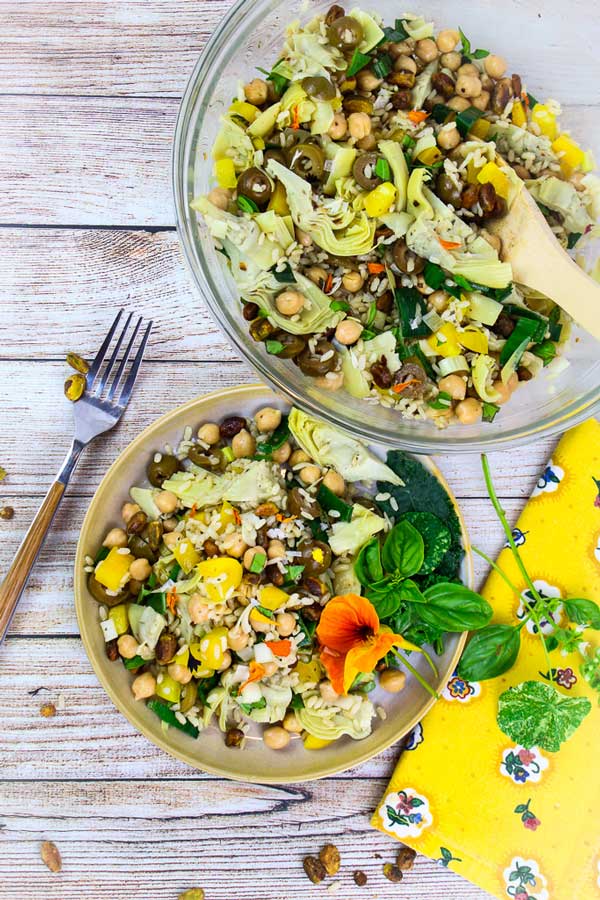 Green and Gold Brown Rice Salad by Sharon Palmer
The contrast of green, verdant colors and sunny, golden shades—as well as vibrant flavors and textures—of this easy plant-based salad really shine.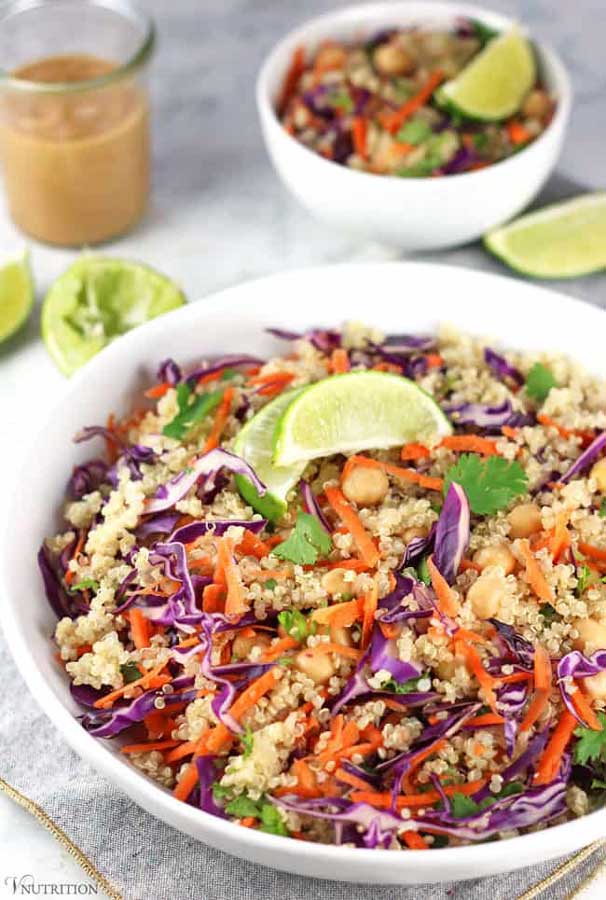 Chickpea Thai Quinoa Salad at VNutrition and Wellness
This Chickpea Thai Quinoa Salad is gluten-free, easy to make, and deliciously healthy. This salad combines quinoa, chickpeas, carrots, cabbage and cilantro is is topped with a creamy peanut sauce for a quick meal.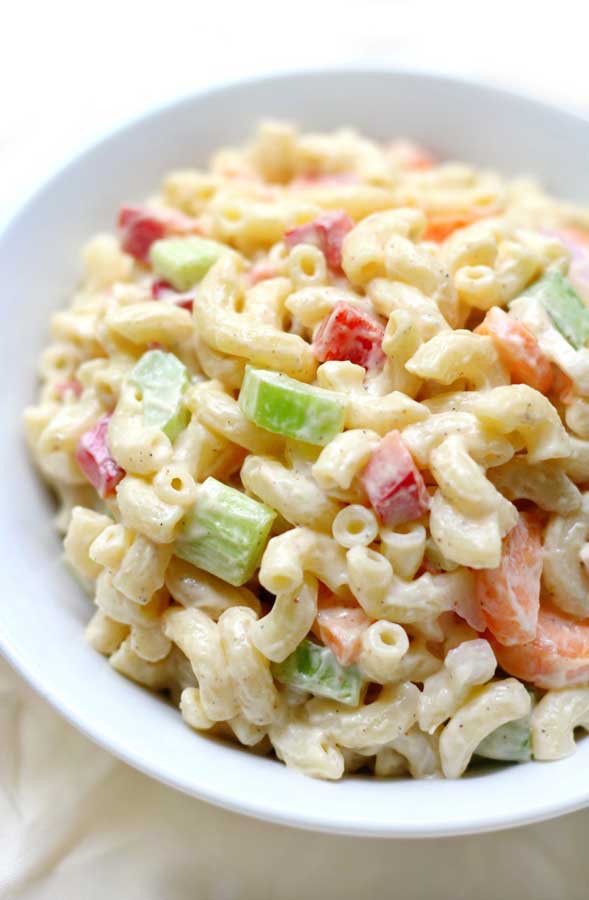 Classic American Macaroni Salad at Strength and Sunshine
The best Classic American Macaroni Salad now with a perfectly gluten-free, vegan, and top 8 allergy-free recipe! Summer isn't complete without this traditional BBQ and grilling cookout essential pasta side dish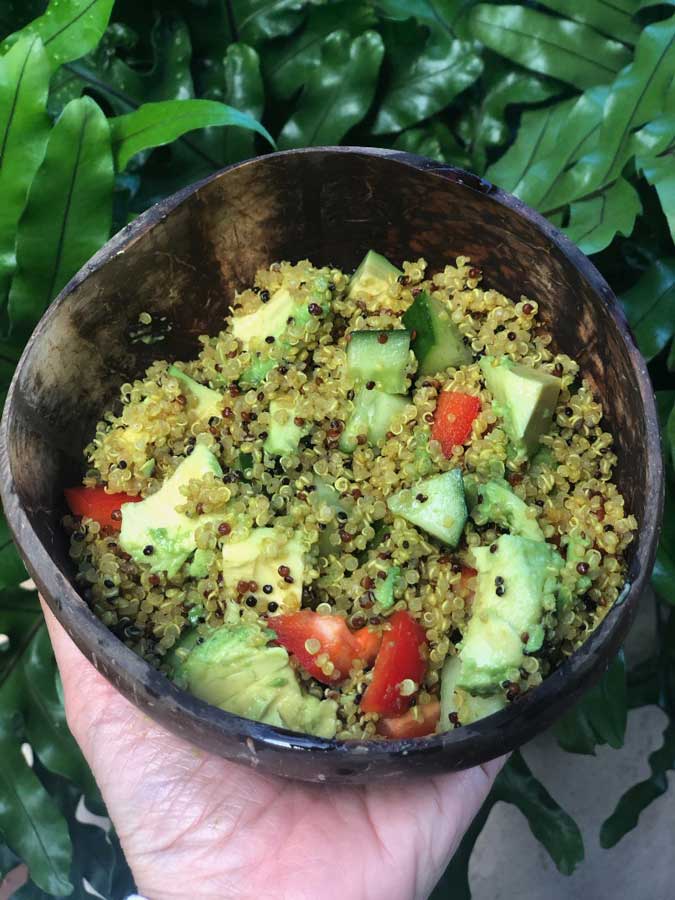 Easy Curry Quinoa Salad at The Fabzilla
Easy to prepare and the exotic taste impress even those who are unfamiliar with this protein-rich beautiful grain
Vegan & gluten-free picnic recipes: Summer rolls & wraps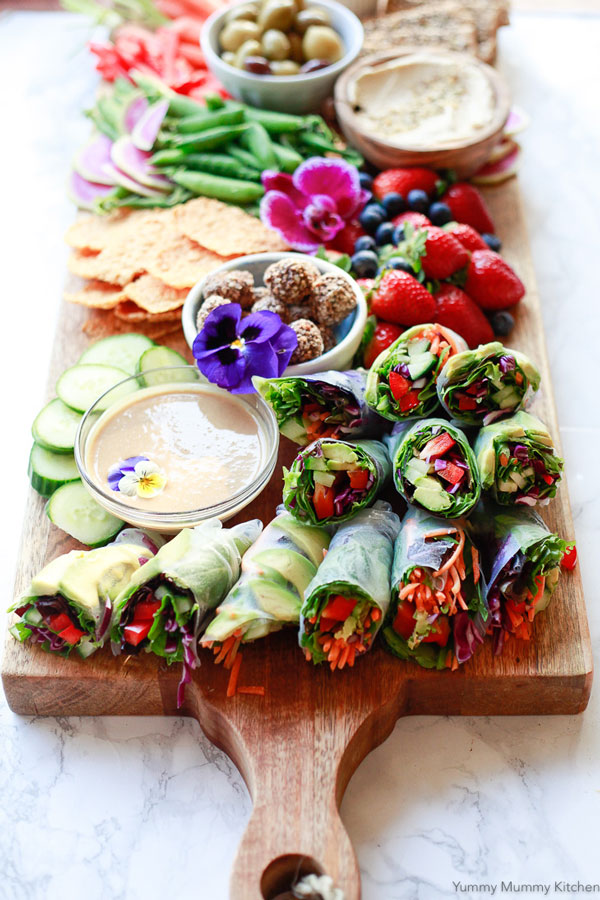 Spring or summer rolls at Yummy Mummy Kitchen
Fresh spring rolls are a simply delicious combination of fresh vegetables, herbs, rice paper, and a flavorful peanut sauce for dipping.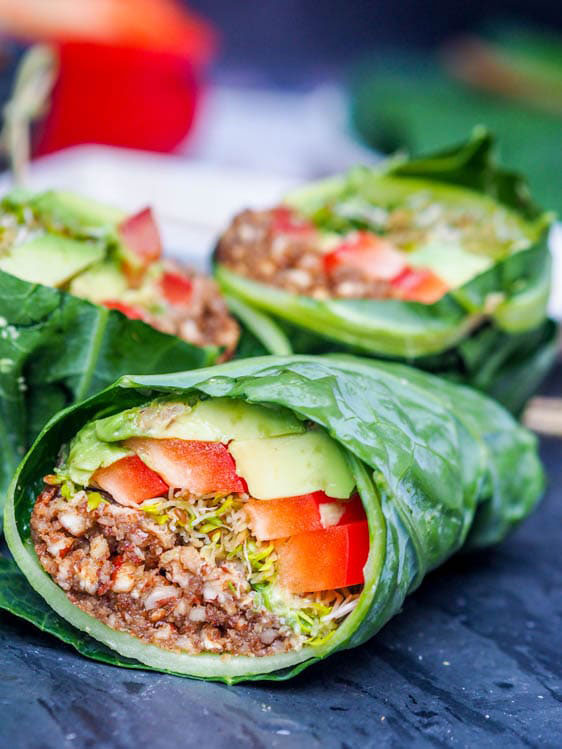 Raw Vegan collard wraps at Avocado Pesto
These collard wraps are going to be your new favorite healthy lunch. Ready in minutes and bursting with flavors from the avocados, red pepper, alfalfa, pecans and tamari mix. Gluten Free & Paleo too.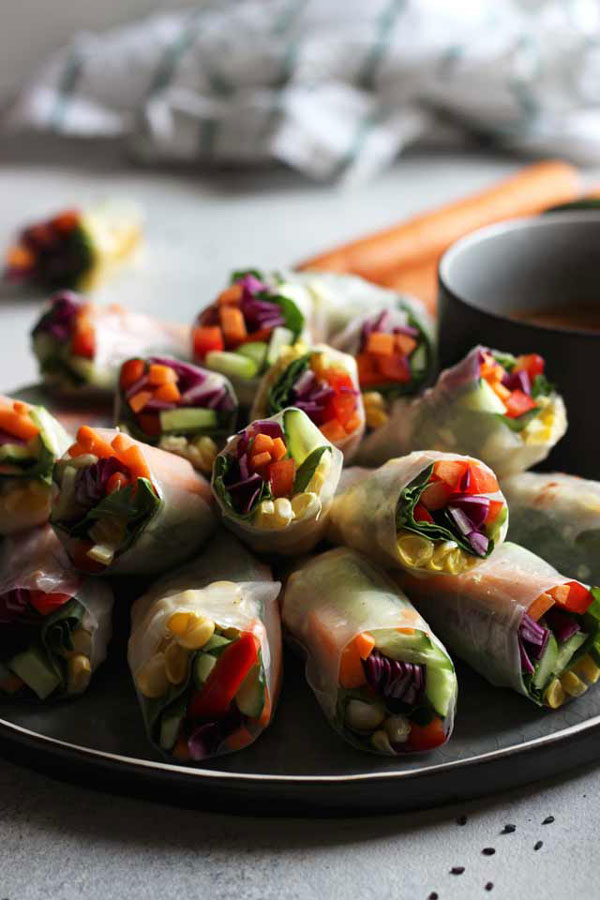 Fresh Rainbow Vegan Spring Rolls at Happy Kitchen.Rocks
Satisfying, colorful and versatile snack loaded with veggies and dipped in delicious peanut sauce with ginger and garlic. Perfect healthy mess-free portable snack or appetizer everybody will love!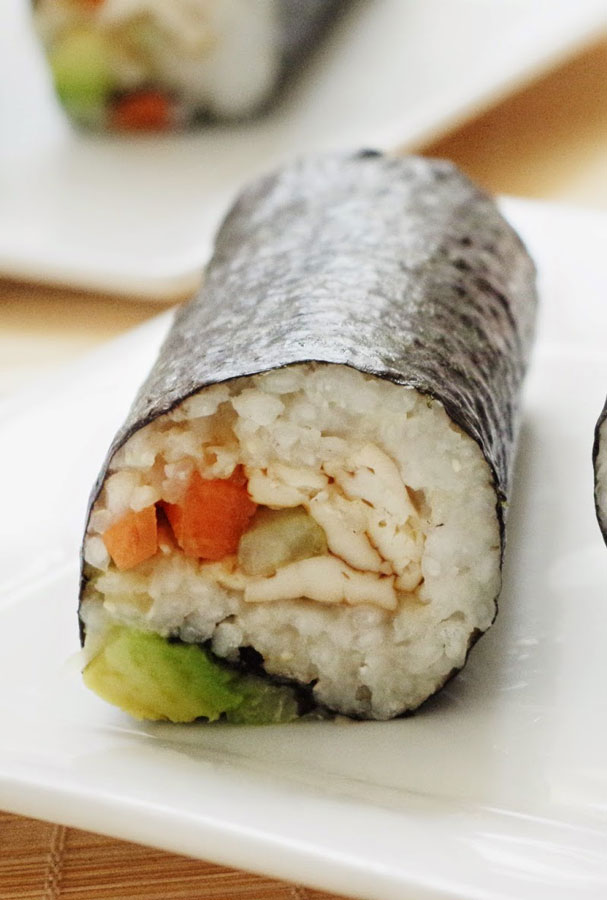 Vegan Sushi Rolls at Euphoric Vegan
These rolls are a great lunch alternative to tortilla wraps or a sandwich and are completely customizable to your own taste
Vegan & gluten-free picnic recipes: Mouthwatering Sandwiches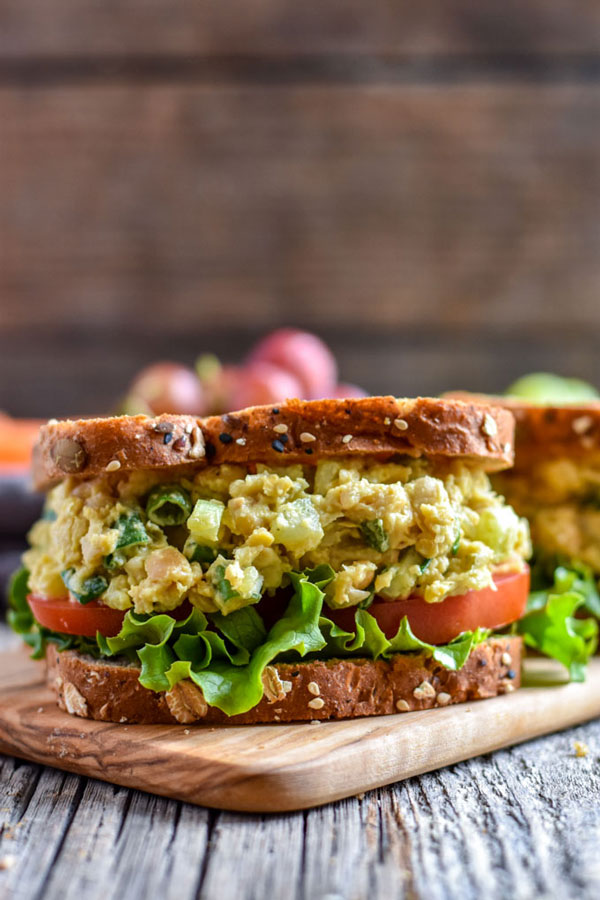 Chickpea Salad Sandwich by Shane & Simple
A delicious Chickpea Salad Sandwich. It's loaded with protein; full of fiber; and, super hearty! No cooking and takes less than 10-minutes to prepare.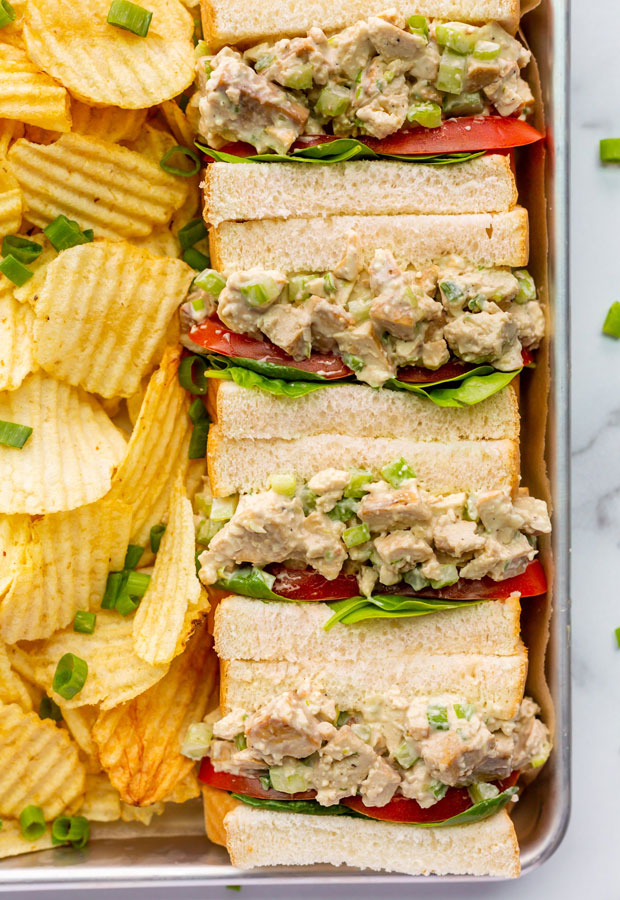 Vegan Chick'n Salad Sandwiches at Vegan Travel Eats
This warmer weather has got me all hyped up for some refreshing but satisfying food and what says Spring/Summer like chicken salad sandwiches? The flavorful marinated and baked tofu has the perfect texture and it is so delicious.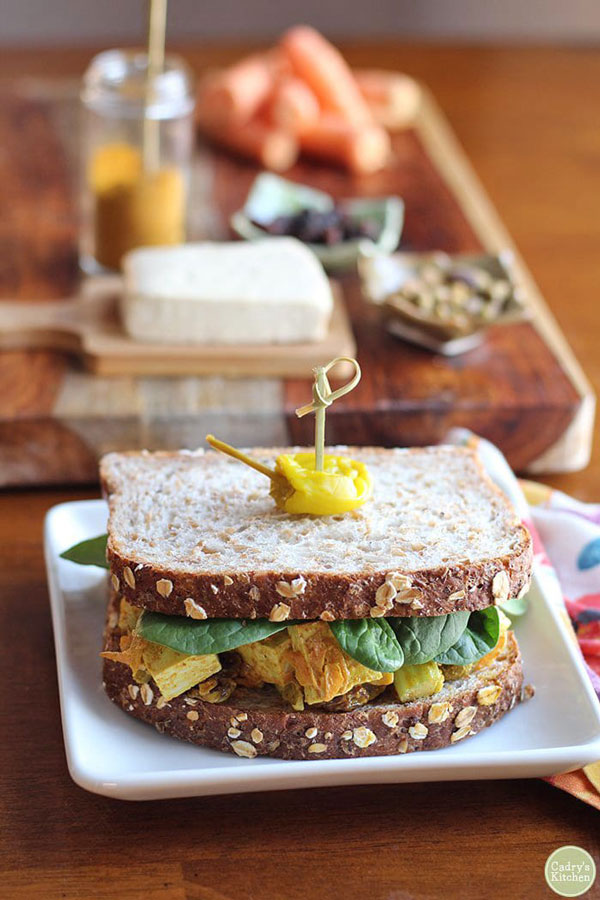 Curried tofu salad sandwich at Cadry's Kitchen
Curried tofu salad comes together in just 10 minutes. It's filled with raisins, shredded carrot, and nutty pistachios for crunch. Serve it on its own, in a sandwich, or wrap.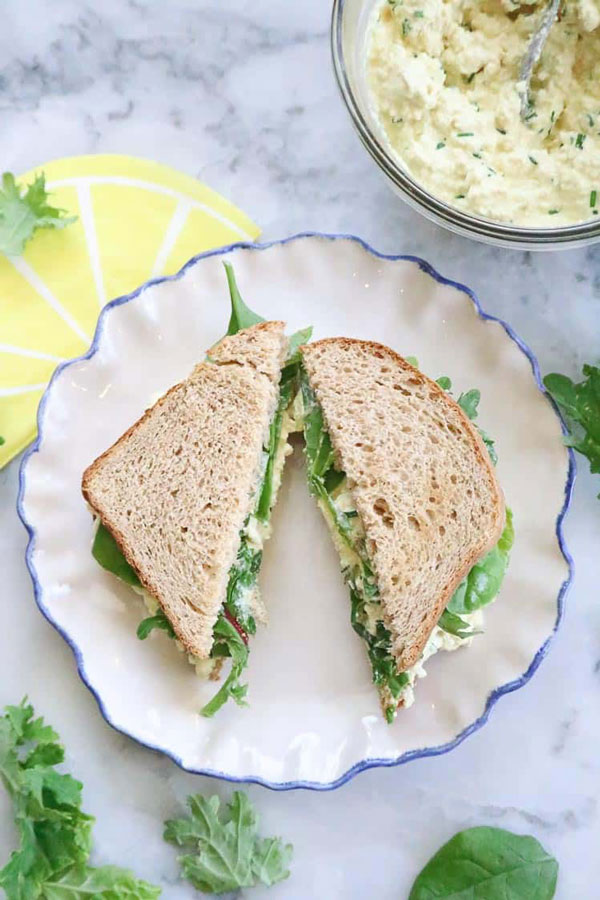 Best Vegan Egg Salad Sandwich at Vegan Blueberry
This Vegan Egg Salad might actually fool you into thinking you are eating REAL Egg Salad! Himalayan Black salt is the secret ingredient that adds that sulphur 'eggy' flavor! Delicious and simple, it's ready in five minutes or less!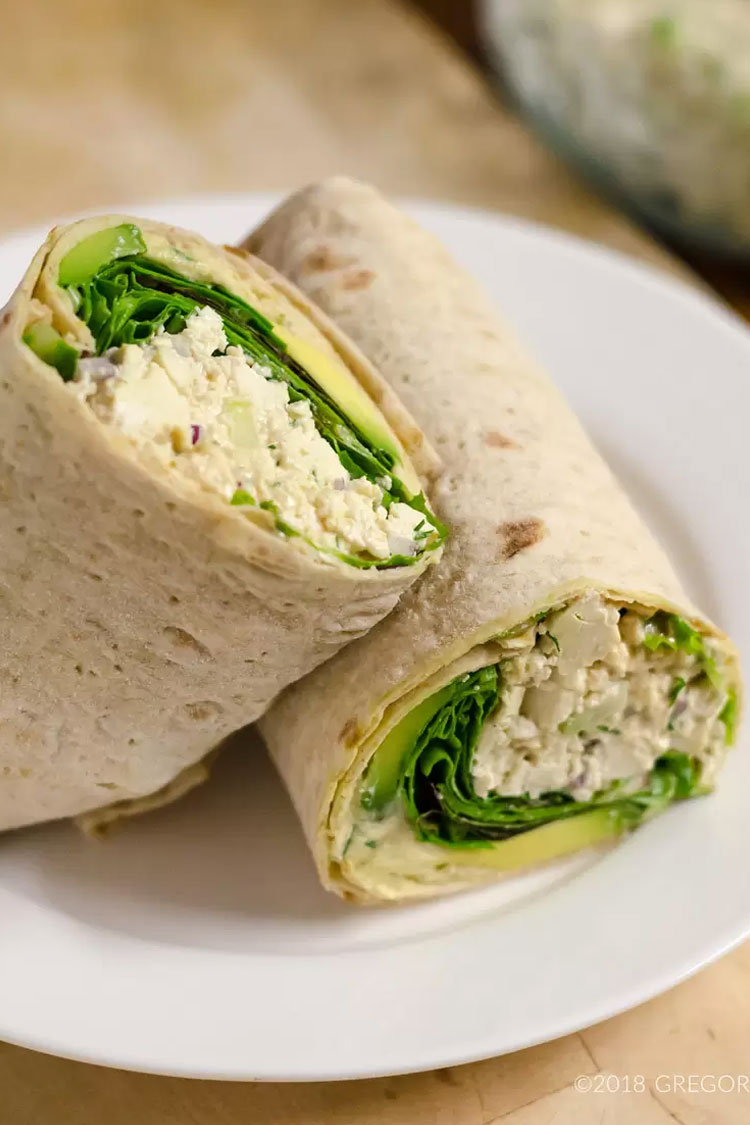 Tofu Dill Salad wraps at Full of Beans
Delicious Tofu Dill Salad is a great sandwich filler or salad topper. Cool and light, it has enough flavor to stand out in any dish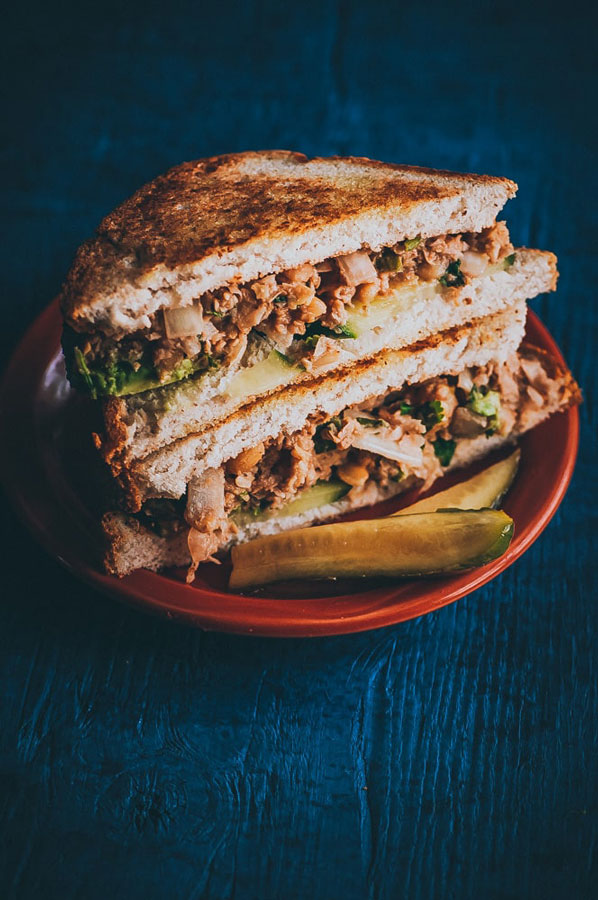 Zesty Smashed Chickpea Salad Sandwich at Moon and Spoon and Yum
This makes for one high-protein + high-fiber meal that is gluten-free, dairy-free, vegan, refined sugar-free, soy-free and DELICIOUS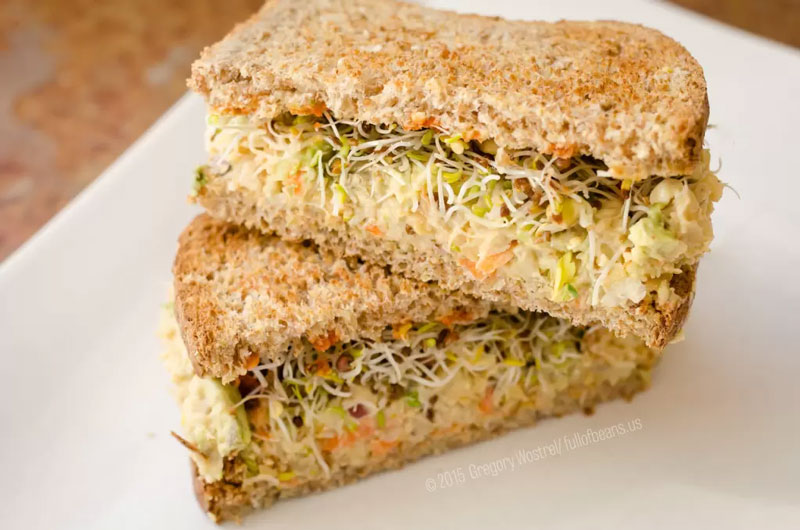 Better than Tuna: Vegan Tuna Salad sandwich at Full of Beans
Portable and easy meals, like the classic tuna salad sandwich, are an essential. This chickpea vegan tuna salad is a delicious vegan alternative. Try it!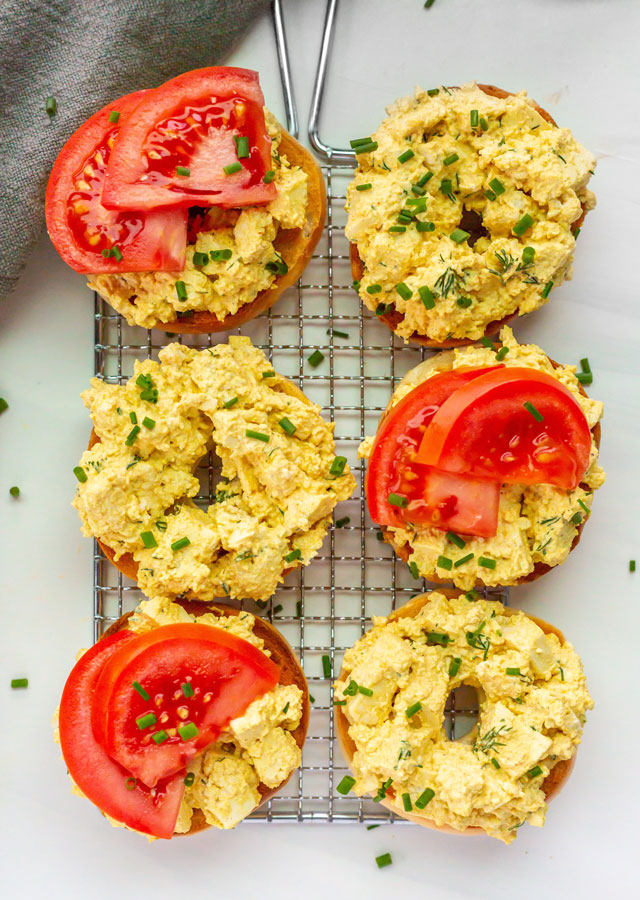 Vegan Egg Salad Bagels at Vegan Travel Eats
This a great dish to bring to any summer bbq's or for brunch with the girls, and it also tastes great the next few days so feel free to make extra.
Vegan & gluten-free picnic recipes: yummy dips & chips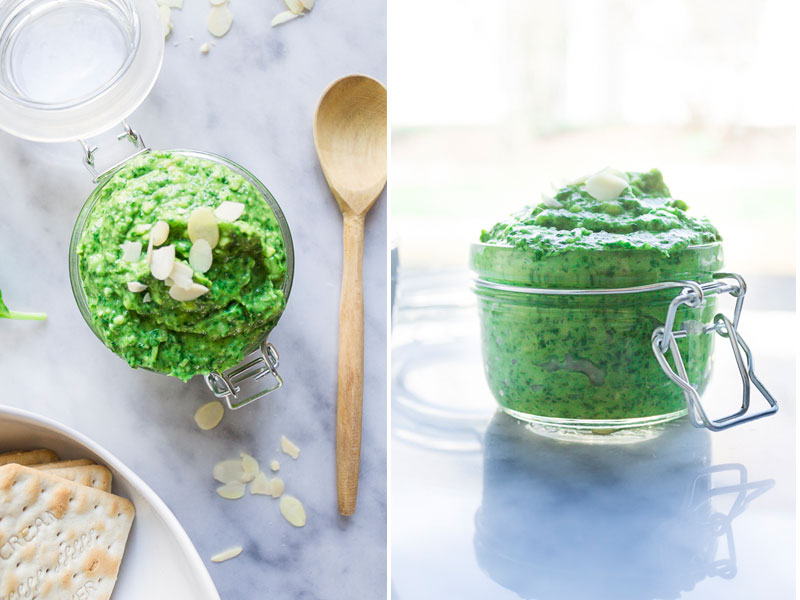 Green Goddess Spinach Pesto at Seven Roses, by yours truly ;-)
Takes less than 5 minutes and goes well with just about everything: pasta, of course, but also rice, zoodles, potatoes, soups, and it's also perfect in sandwiches for picnic season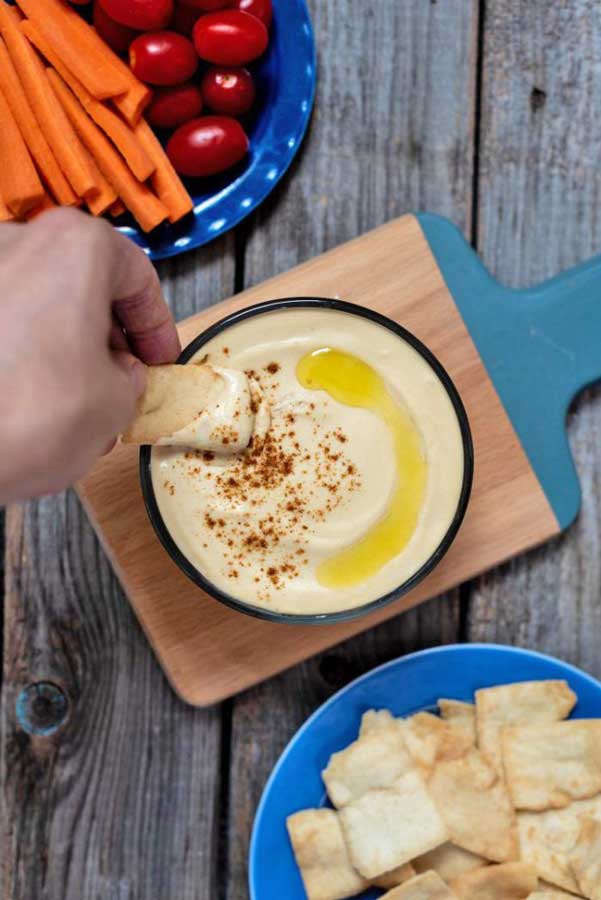 Red Lentil Hummus at The nut-free Vegan
This simple hummus recipe replaces chickpeas with red lentils for a unique taste that is both flavorful and low on calories.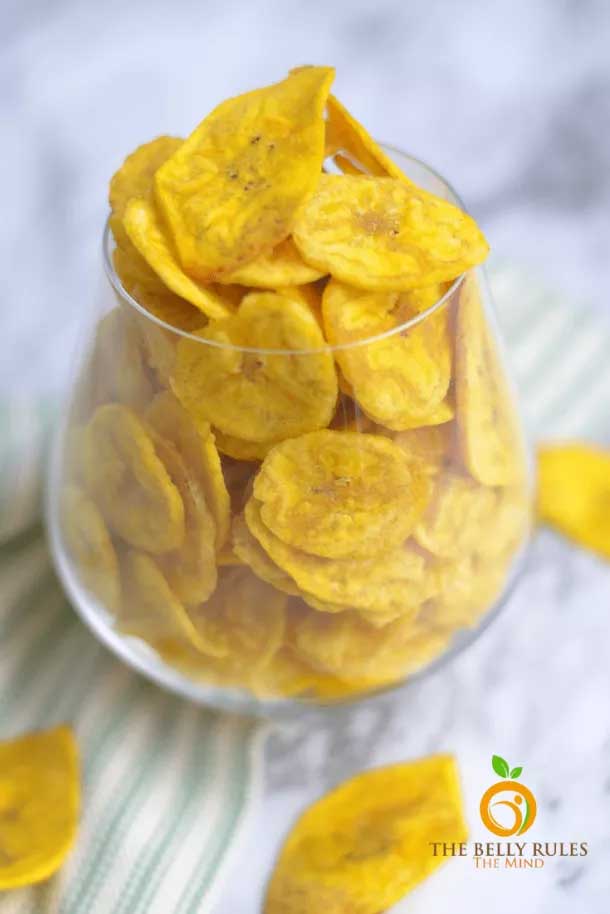 Crispy homemade Healthy Plantain chips / Healthy Banana chips at The Belly Rules the Mind
Enjoy these crispy and crunchy banana chips, air- fried for a healthier experience, as a snack right out of the bag.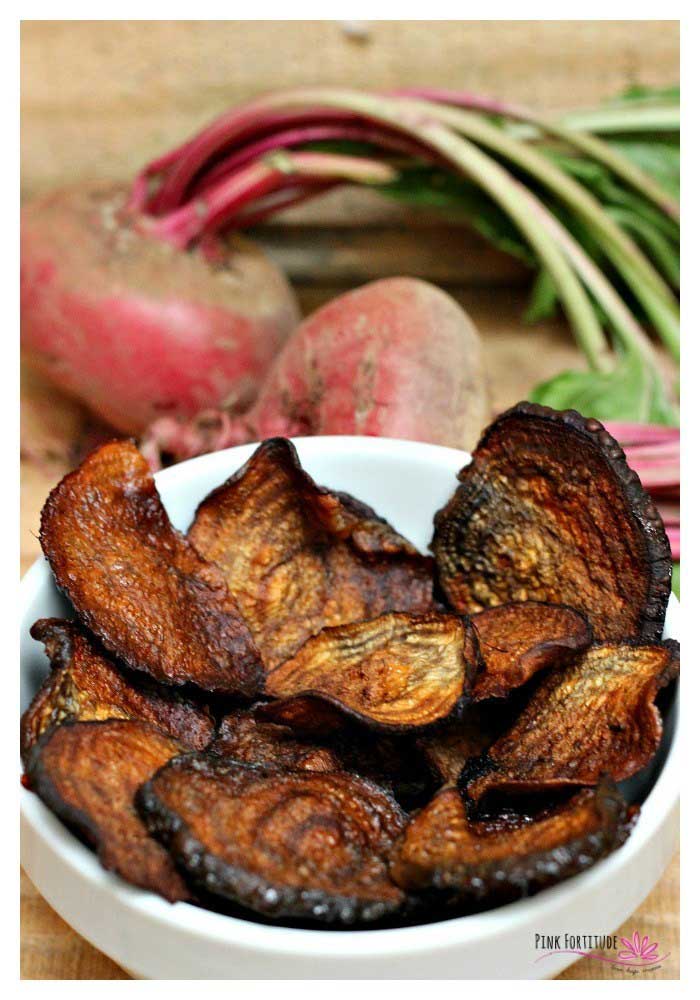 Oven Baked Beet Chips Recipe at Pink Fortitude
Paleo, Whole30, and Keto approved!
Vegan & gluten-free picnic recipes: picnic essentials aka Potato salad & Coleslaw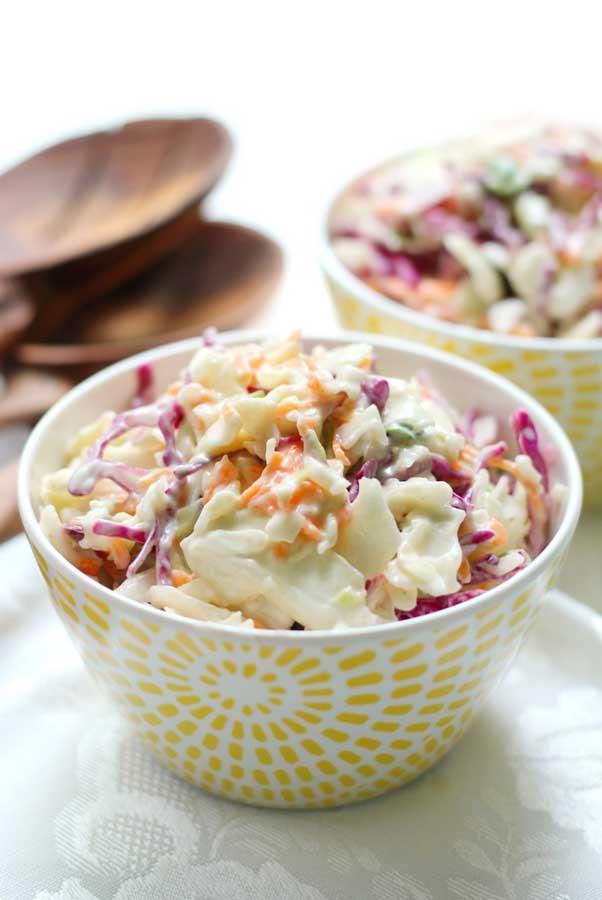 Classic american coleslaw at Strength and Sunshine
A favorite side dish at any summer bbq or cookout: a super easy recipe to whip up ahead of time, served chilled as is, or even use it as a topping in a sandwich

Red Cabbage Raisin Slaw with Cumin Vinaigrette by Sharon Palmer
Pack it up for your lunchbox the day after you serve it, and you'll be pleasantly surprised at lunch time at how well it keeps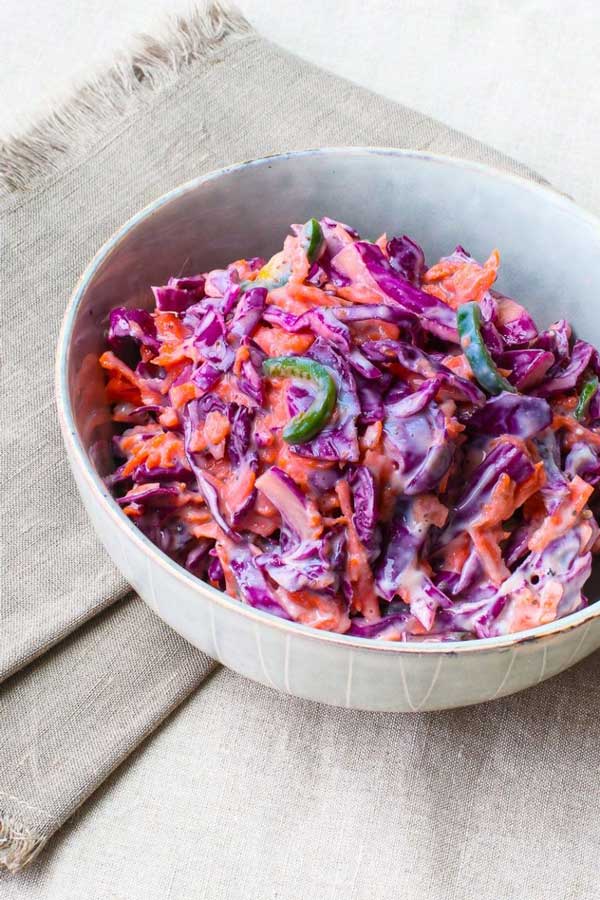 Purple Cabbage Slaw at Healthy Midwestern Girl
A bright and healthy side dish or a tangy, crunchy topping for BBQ sandwiches, tacos and salads.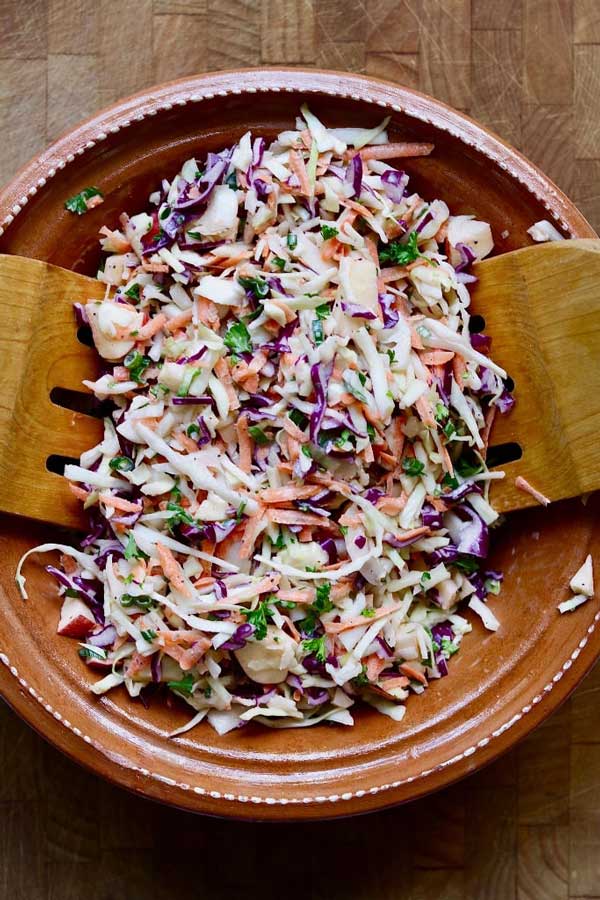 Classic Vegan Coleslaw at The Cheeky Chickpea
A quick and easy vegan coleslaw full of crunchy cabbage, apples and the best creamy, tangy dressing. Perfect for your next Bbq or potluck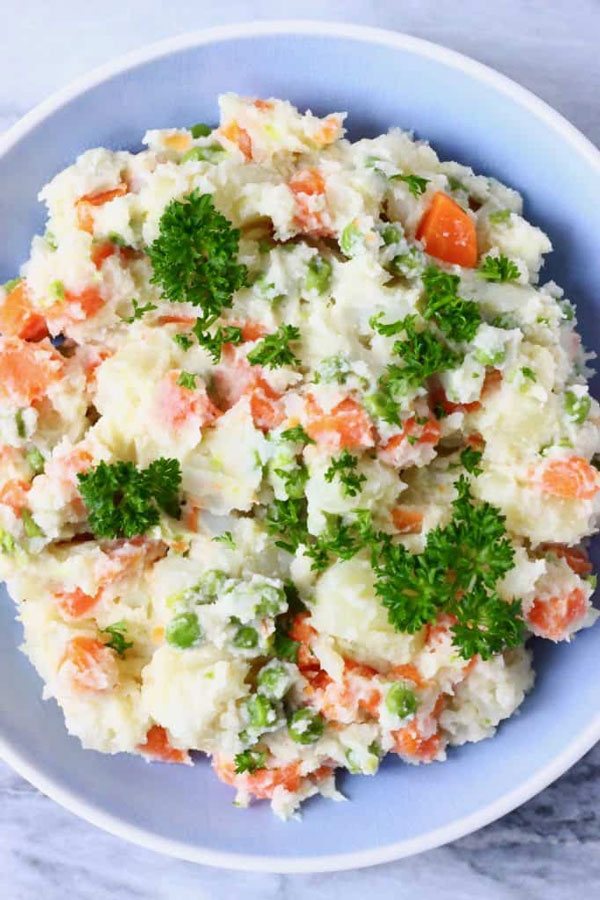 Vegan Potato Salad at Rhian's Recipes
This Vegan Potato Salad is a great make-ahead side dish – it's easy to make, irresistibly creamy, and healthier than the traditional version!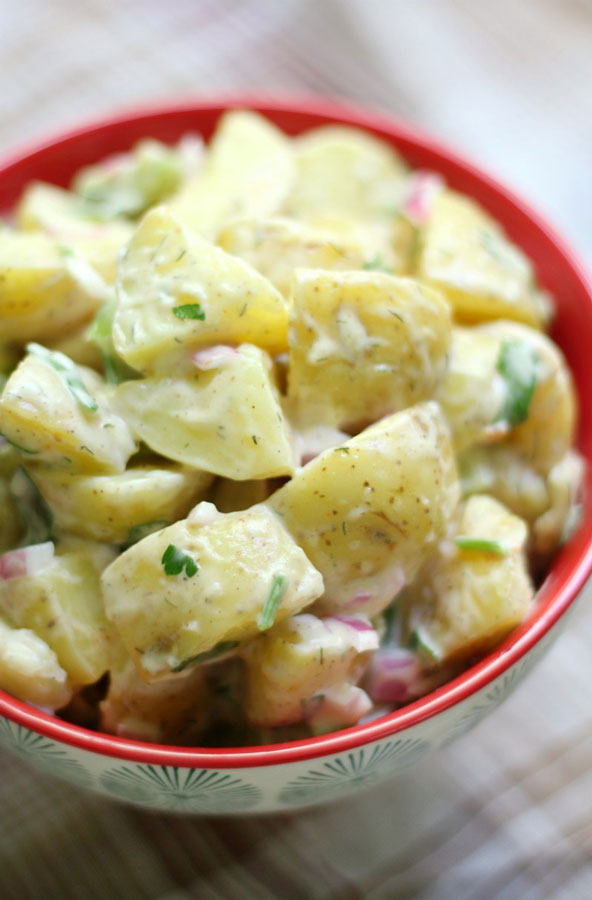 Classic american potato salad at Strength and Sunshine
An essential to any summer bbq or cookout: super easy to whip up and serve to your guests. You'll be turning everyone into a potato salad fan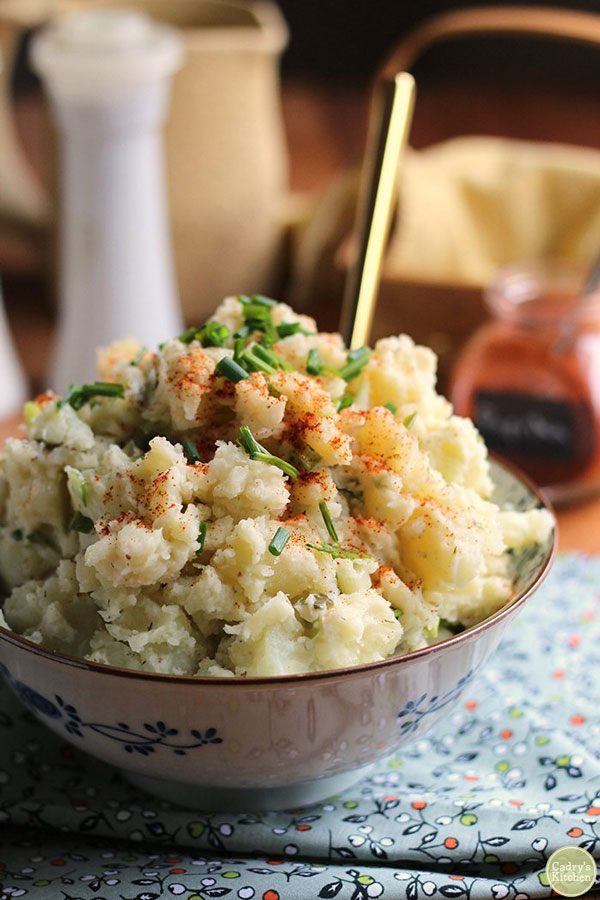 The best vegan potato salad at Cadry's Kitchen
Bring this classic side dish to your summer picnics, potlucks, and any event that is improved by potatoes (i.e. all of them).
Vegan & gluten-free picnic recipes: Desserts on the go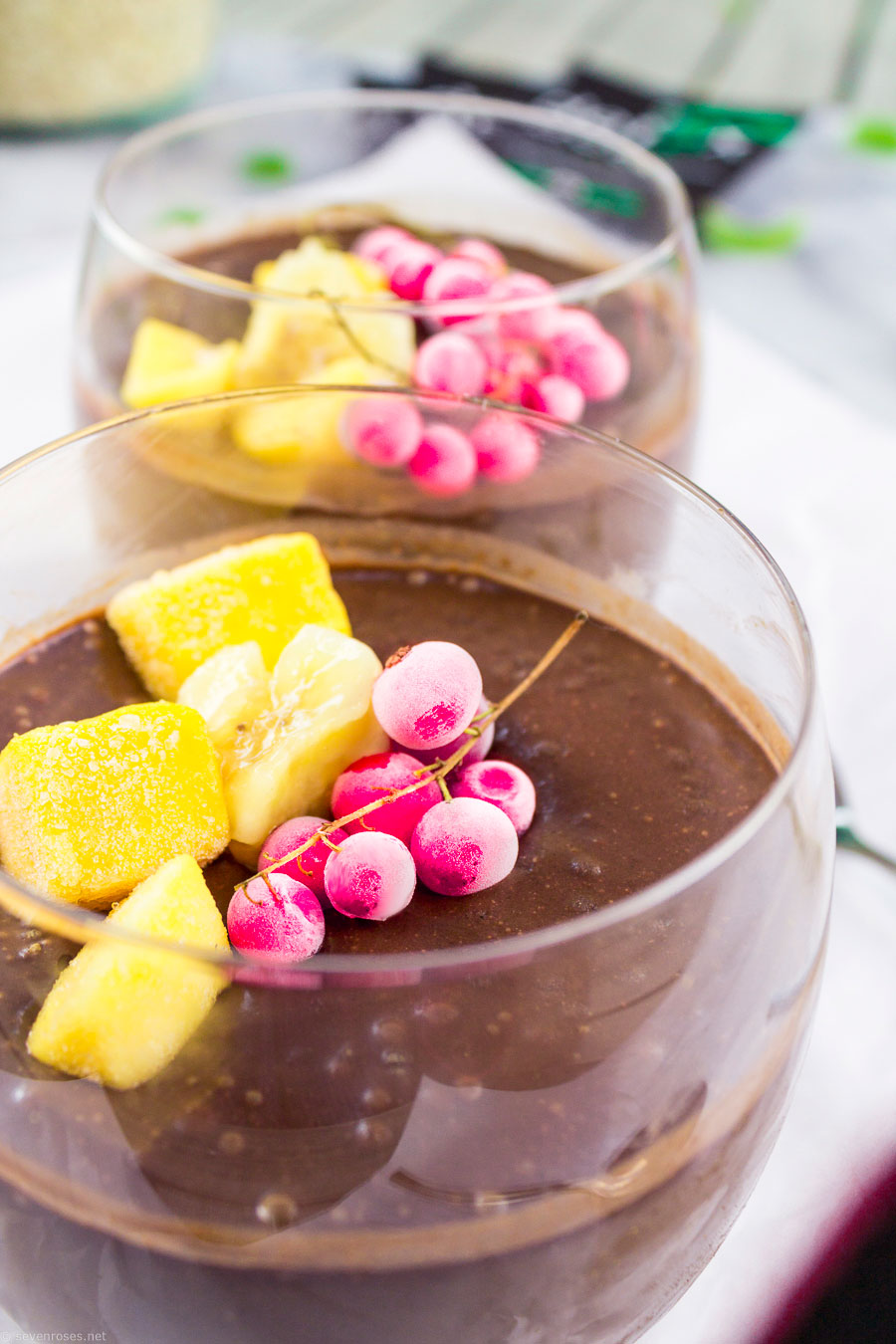 Chocolate-chia puddings at Seven Roses, by yours truly ;)
This satisfying and easy-to-make Superfood Chocolate-chia pudding is filled with proteins, fibers, antioxidants, chlorophyll and essential minerals – everything your body needs, and cacao, too.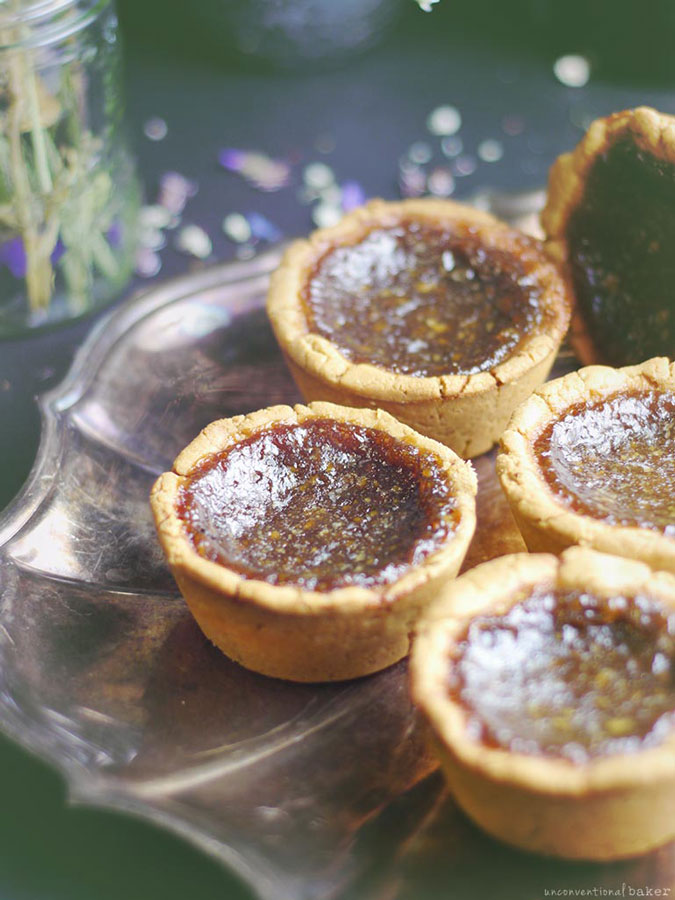 Butter tarts at Unconventional Baker
Delicious gluten-free vegan butter tarts, filled with pecans and made without corn syrup. A Canadian classic made dairy-free!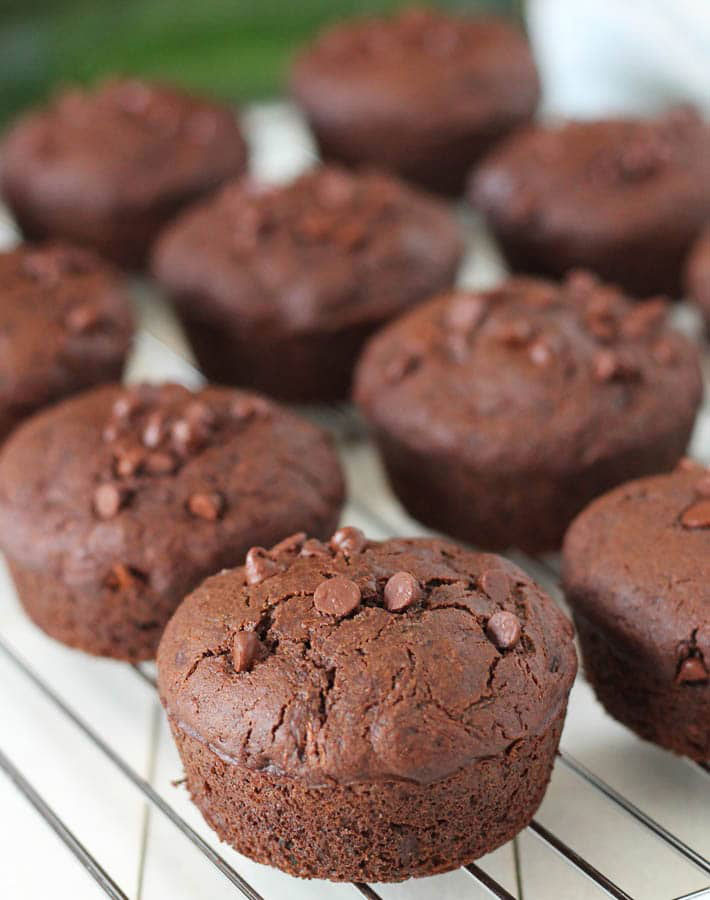 Vegan Gluten Free Chocolate Zucchini Muffins at Delightful Adventures
Soft, fluffy, Vegan Gluten-Free Chocolate Zucchini Muffins that taste like rich chocolate cake! These easy-to-make dark chocolate zucchini muffin treats will satisfy all of your chocolate cravings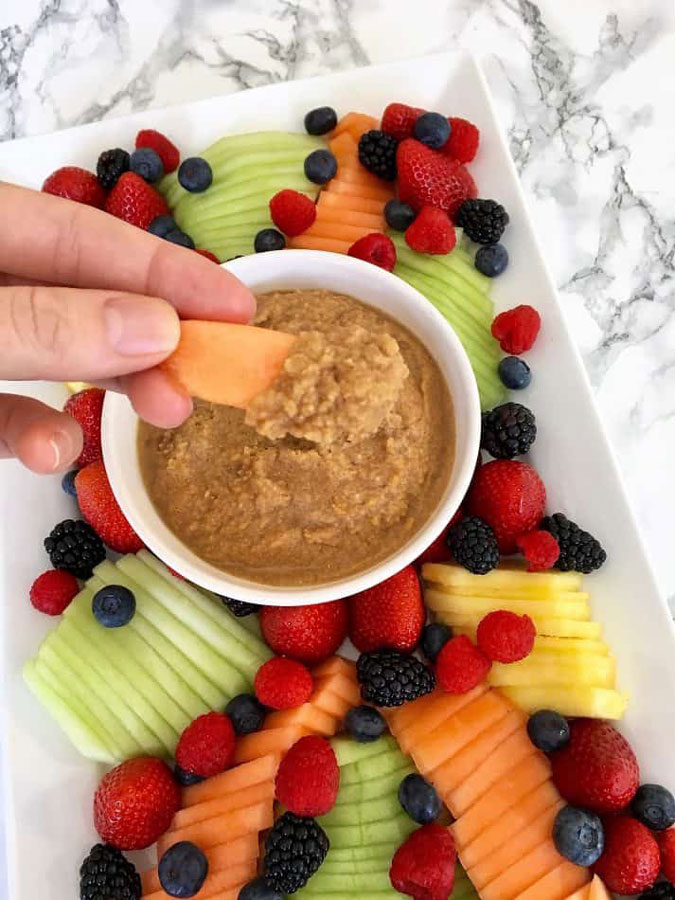 Sweet Hummus Fruit Dip at This Healthy Kitchen
Perfect for breakfast or dessert, this healthy fruit dip made using wholesome ingredients will satisfy your sweet craving and leave you feeling guilt free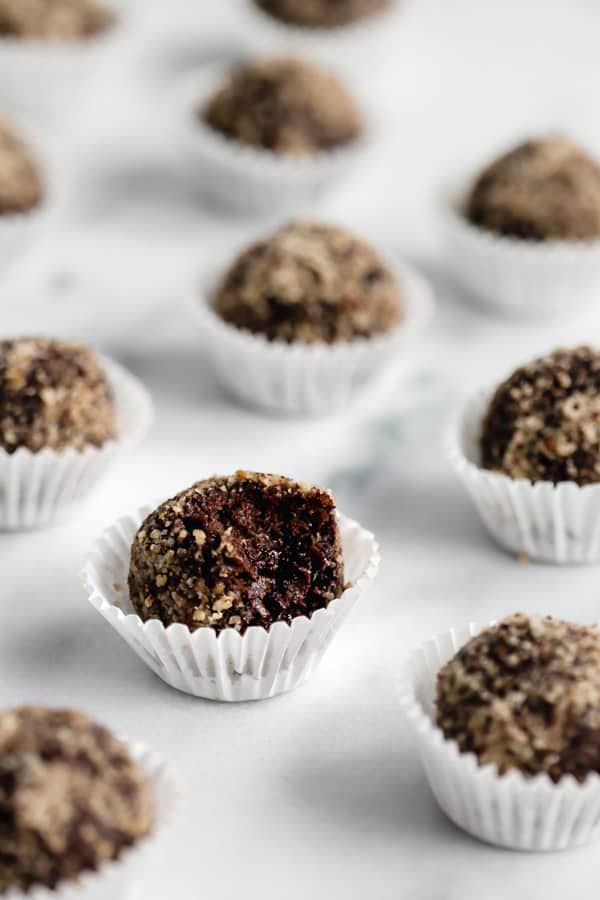 5 ingredient chocolate energy balls at Choosing Chia
All you need is 5 ingredients and 15 minutes to make this delicious snack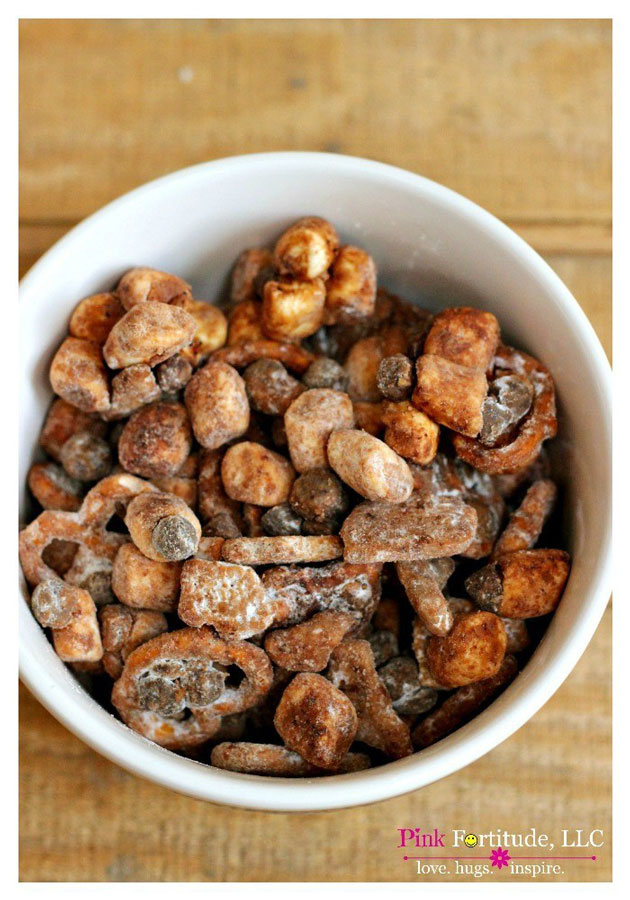 S'mores Muddy Buddies at Pink Fortitude
Whether you want your snacks to be a little healthier, or you want an alternative for your summer BBQ's, these are sure to be a huge hit!

So, how did you like these picnic recipes? I'm sure that by now you can't wait for the next time you can go on a picnic. Let me know down in the comments what you like to prepare for your picnics :)
I hope you enjoyed this post, and if you did, don't forget to pin it and spread the love ♥
I wish you a love-filled day xoxo