Hello my beautiful friends!
As the end of the year and of the decade is fast approaching, we're at a moment in time when more people than ever are luckily turning towards meatless days and Veganism – for ethical, environmental and/or health reasons. ↠ Read: Why Vegan?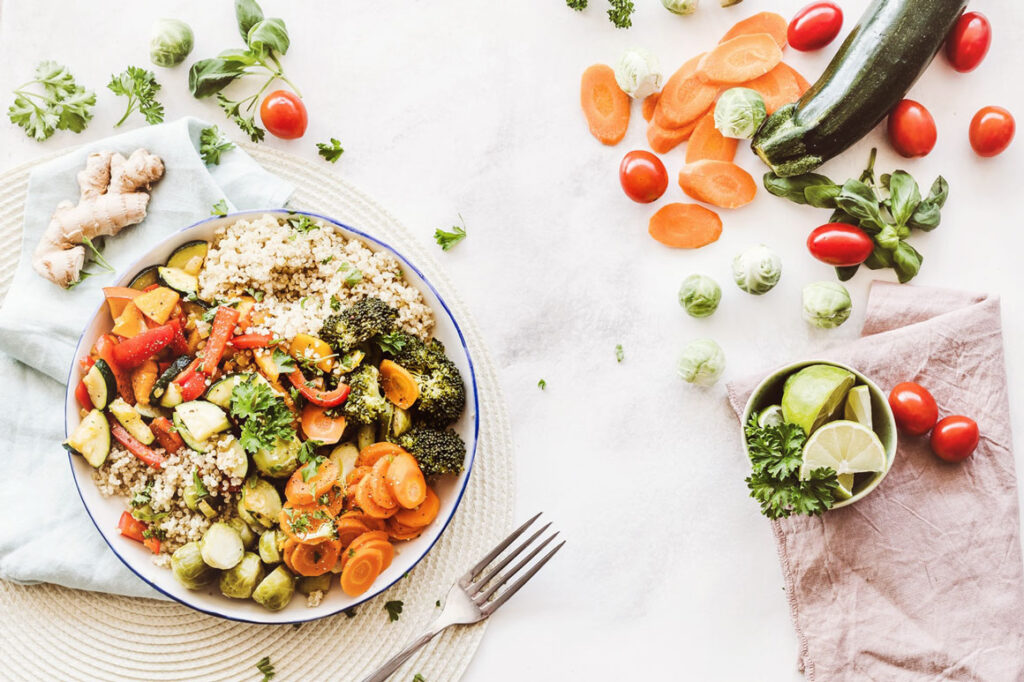 And since for most of us, the word "cooking" means effortless, family-friendly weeknight cooking, these are exactly the kind of recipes that made it into the ultimate list of the 80 best Vegan recipes of 2019: recipes that are fast and easy to make, without sacrificing flavor and taste, and that will keep everyone at your table happy, well-nourished and satisfied.
As I often do, in order to compile this ultimate list of the 80 best Vegan recipes of 2019, I've asked the help of the most talented fellow bloggers out there. Copyright of the images used belong to their owners and are linked with each recipe: I invite you to visit their sites, leave a comment and give these recipes a try. Be sure to scroll all the way to the end so you don't miss any of the great ideas. And don't forget to pin your favorites as you go!
Let me know which are your favorites from this list, and which ones you'll be trying next.
❥ The best Vegan recipes: Breakfast & Brunch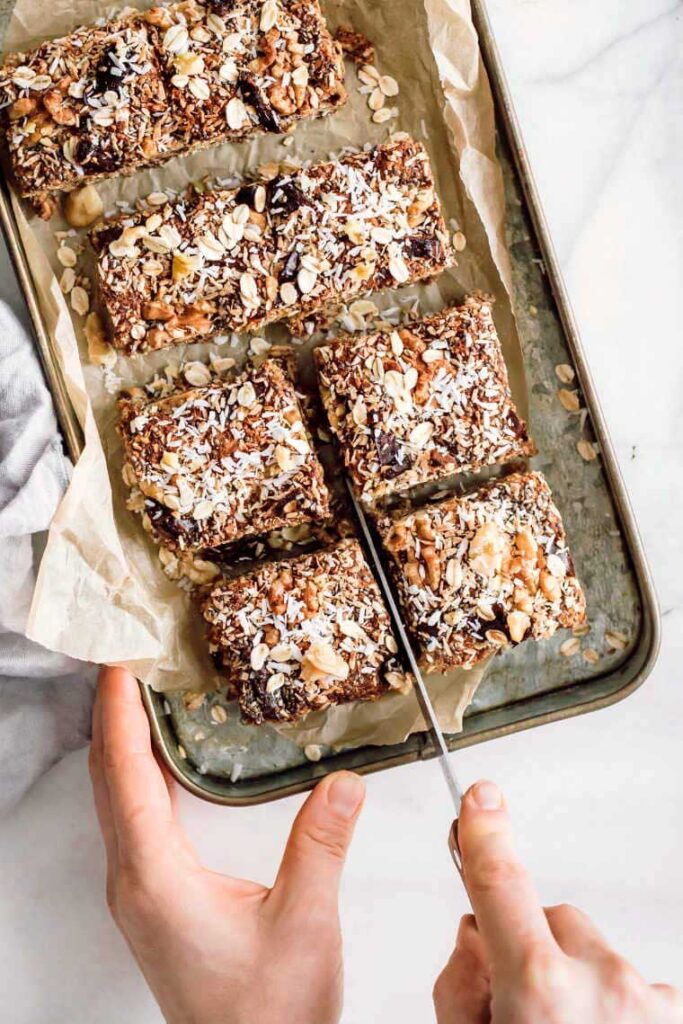 Healthy Vegan Oat Bar Recipe at Nutriciously (pictured above) – These easy Vegan Oat Bars are made with just a handful of simple and wholesome ingredients, naturally gluten-free – no oil, no refined sugar, just 100% satisfying
Easy zucchini bread at My Darling Vegan A simple and delicious vegan zucchini bread that is filled with zucchini and walnuts in every bite. Spiced with cinnamon, nutmeg, and cardamom, you're going to love the flavors in this classic bread.
Vegan Banana Bread at Shane & Simple A Vegan Banana Bread recipe that is healthy, delicious and super easy to make. Free of any dairy, processed oils, butter, and refined sugar.
Walnut banana bread at PlantBasedRecipe This low fat and vegan banana bread was inspired by several different sources in order to make it low fat and retain that moist banana bread feel we remember from youth.
Vegan Breakfast Sausage at Bohemian Vegan Kitchen Naturally healthy, cruelty-free, nut-free, and gluten-free.
Vegan Breakfast Sausage Links at A plantiful path These Vegan Breakfast Sausage Links are amazing! Full of flavor and oil-free, smokey, spicy, and slightly sweet, they're a perfect addition to your vegan breakfast!
Easy Chia Seed Pudding at The Hidden Veggies Make vanilla, berry, peanut butter, and chocolate chia pudding in minutes and store them in little mason jars for grab and go breakfasts and snacks for the whole week.
Vegan Oatmeal Pancakes at NutriPlanet – Those light and fluffy vegan oatmeal pancakes excel in simplicity as well as delightful taste. They are perfect blender pancakes for those lazy and mindful weekend/day mornings.
Baked Blackberry Donuts at Allergylicious – topped with a simple, yet amazing lemon glaze. Donuts are incredibly easy to make and perfect for breakfast! Gluten-free & Nut-free too with options.
❥ The best Vegan recipes: Cookies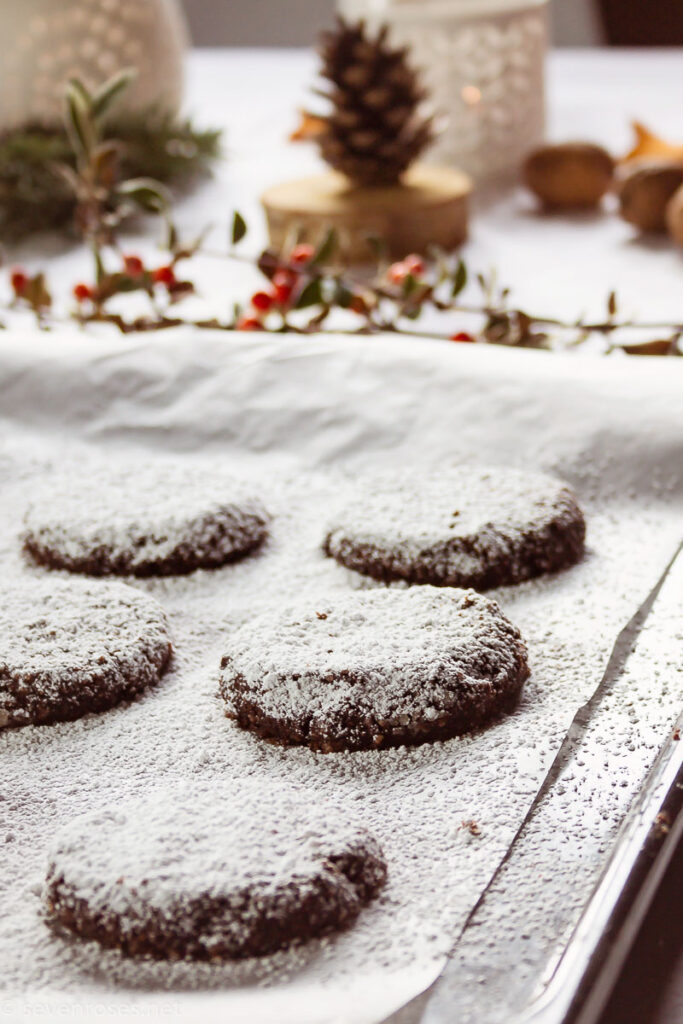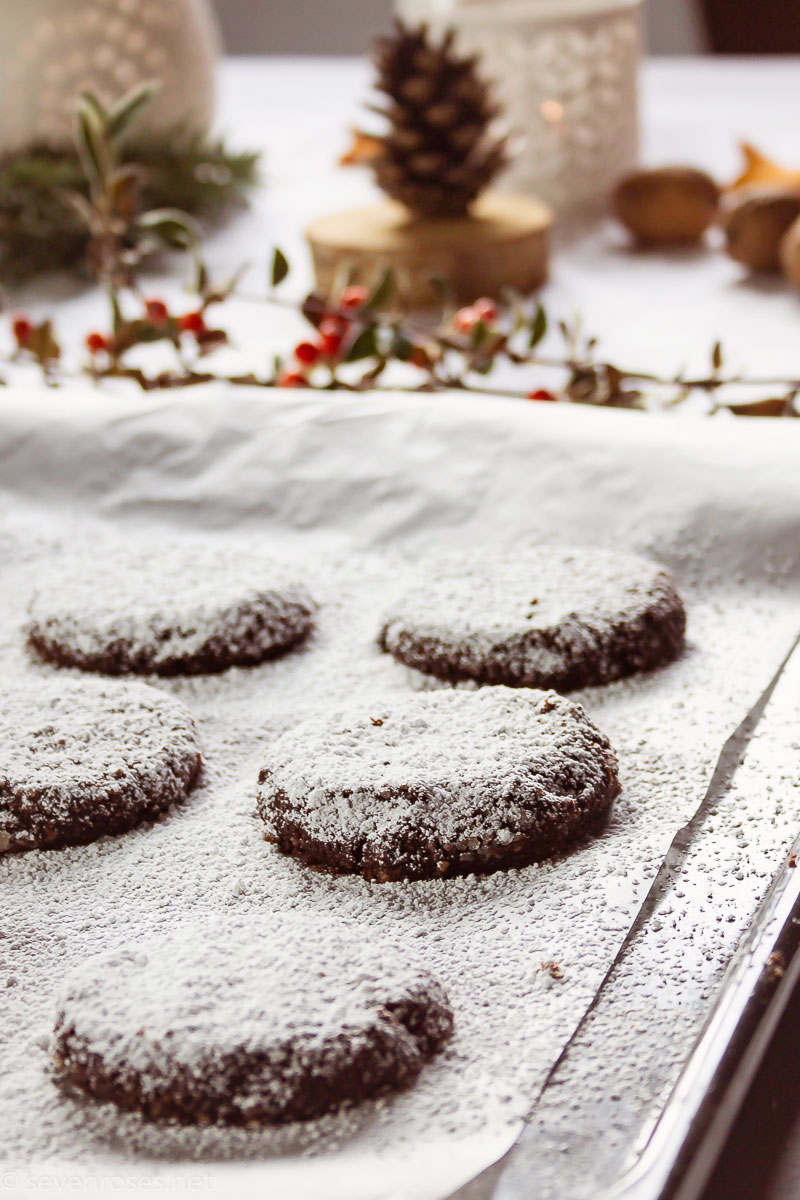 Almond & Hazelnut Snow Cookies by yours, truly (pictured above) gluten-free, oil-free, egg-free, dairy-free but oh! so chocolatey & delicious, and perfect for the holidays
Vegan Oatmeal Cookies at My Darling Vegan Chewy cookies with the perfect crispy outside and melt-in-your-mouth caramel-y center. Ready in just 20 minutes for a quick and delicious sweet treat.
Skinny Chocolate Chip Cookies at Vegannie The perfect, healthy treat: vegan, gluten-free, sugar-free, keto, low-carb, and super low-calorie – only 25 calories each.
Peanut butter chocolate chip cookies at Bear Plate These soft mouthwatering vegan cookies are packed with creamy peanut butter and rich dairy-free chocolate chips.
Maple cream cookies at Unconventional Baker Delicious deep maple flavored gluten-free vegan maple cream cookies with a natural maple butter filling. Oil-free and refined sugar-free
Sugar-free Banana Cookies at Elephantastic Vegan You only need 4 basic ingredients to make them, and they are also vegan and oil-free. They are the lightest and fluffiest cookies ever
Classic Vegan Chocolate Chip Cookies at Sweet Simple Vegan Learn how to make the best chocolate chip cookies that just so happen to be vegan. They're perfectly chocolatey, soft & chewy, easy to make and don't require any funky ingredients.
Fluffy Frosted Eggnog Sugar Cookies at Vegan Guide to the Galaxy – Guaranteed to be a hit at your next holiday party, cookie exchange or when you just want some festive sweets to eat while you watch Christmas movies
❥ The best Vegan recipes: Desserts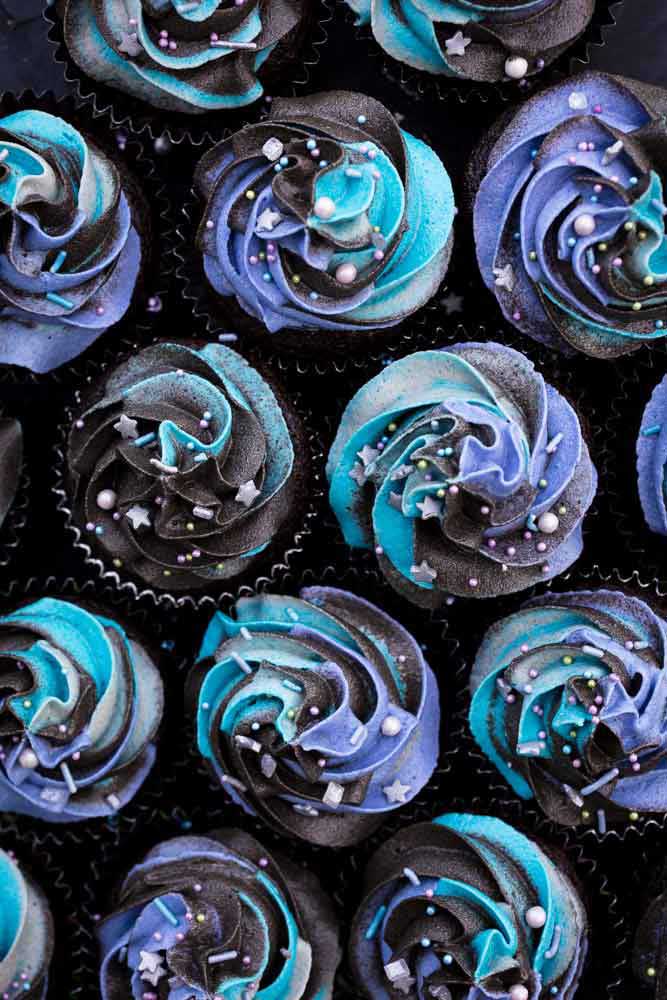 Milky Way Galaxy Cupcakes at Vegan Dollhouse (pictured above)
Blackberry Poppy Seed Crumb Cake at Veeat Cook Bake healthy version of a classic crumble cake with a wholegrain shortbread made from spelt, nutmeg, an addictive poppy-seed filling, refreshingly sweet blackberries and covered with cinnamon
Almond Butter Cookie Dough Bites at Watch Learn Eat These no-bake, gluten-free, vegan Almond Butter Cookie Dough Bites are filled with dark chocolate chips and covered in shredded coconut.
Vegan Cookiedough Buttercream Frosting Recipe at Any Reason Vegans easy & delicious
Churros Bites at The Belly Rules the Mind – These mini homemade churros bites are coated in cinnamon sugar and are kind of like a cross between a muffin and a donut hole.
Strawberry Coconut Tofu Ice Cream Cake at Phruitful Dish – A creamy plant-based, dairy-free tofu ice cream cake made from only 6 ingredients!
Vegan Apricot Cake or Marillenkuchen at Vegan on Board – This vegan take on a traditional Austrian apricot 'sheet cake' (a flat sponge cake baked on a sheet rather than in a tin) features double apricot power: Apricots on top as well as blended into the batter
Vegan Stollen with Marzipan Filling at Seitan Beats Your Meat – Dairy-free and vegan stollen filled with marzipan, dried fruit, and nuts.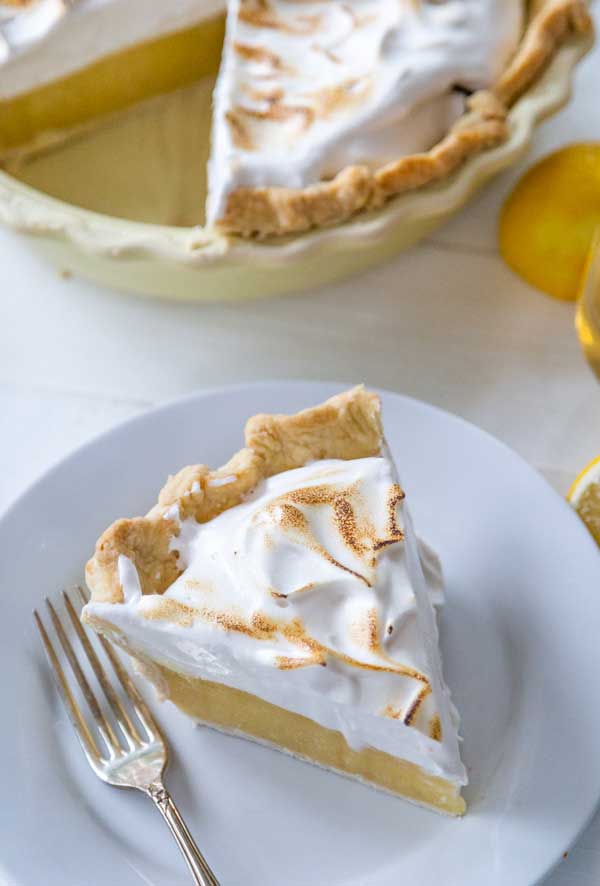 Lemon Meringue Pie at Veganosity (pictured above) – Homemade vegan lemon meringue pie that tastes exactly like the pie we used to make with eggs! Try it and you'll fall in love
Vegan German Chocolate Cake at Healthy Helper Blog – Gluten-free, and full of sweetness from medjool dates, this dessert will be a hit with the whole family whether they're vegan or not. It's also oil-free and filled with nutty goodness!
Vegan Peanut Butter Magnum at When Sweet Becomes Healthy –  almost raw and refined sugar free
Bakery-Style Vegan White Cake at Yup… It's Vegan! – The vegan cake of your dreams, made fluffy and tender with some surprisingly simple tricks. Not-too-sweet and great for layering. Makes two 9-inch vegan cake layers.
Vegan Creamy Coconut Popsicles at Resplendent Kitchen – the perfect treat to help you cool off in the summer heat! Creamy and refreshing, they are free of dairy and refined sugar. These popsicles can be whipped up in ten minutes or less.
Vegan Chocolate Layer Cake with Vanilla Mousse at Vegan Yack Attack – Decadent, dreamy, and absolutely delicious! This vegan chocolate layer cake is perfect for sharing with loved ones, on special occasions.
Espresso Salted Caramel Raw Cheesecake at Unconventional Baker – A deliciously creamy vegan cheesecake with layers of chocolate, espresso, and salted caramel. Also gluten-free, paleo, and refined sugar-free.
Vegan Caramel Twix Cookie Bars at Spa Bettie – A gluten free vegan Twix is easier than you think! homemade Twix candy bars are buttery shortbread cookies, caramel or peanut butter, dipped in chocolate.
❥ The best Vegan recipes: Drinks & Smoothies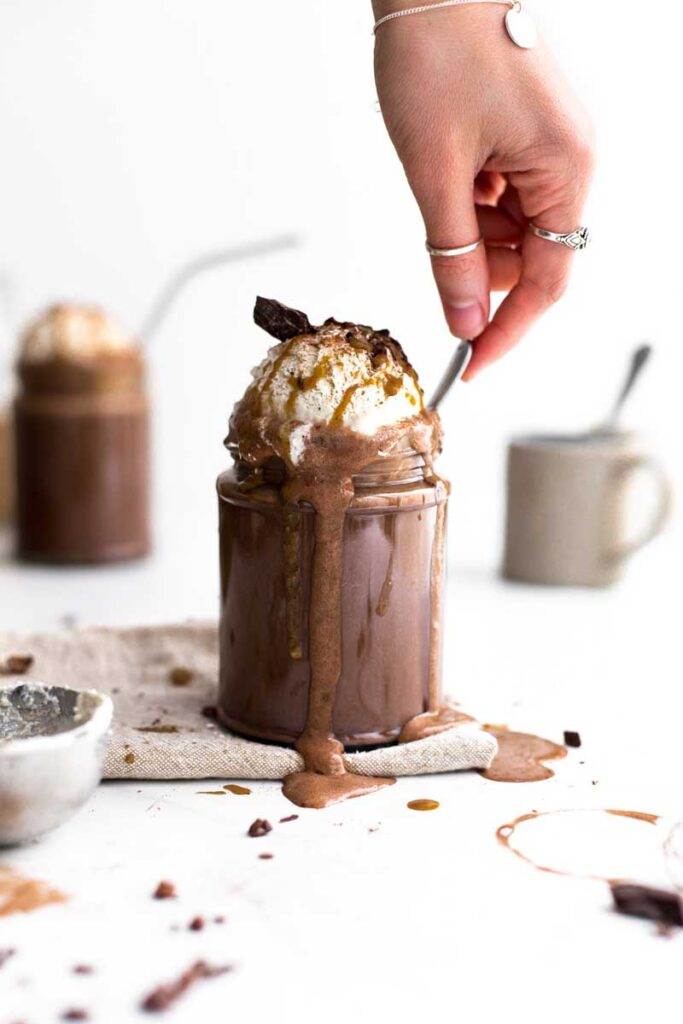 Peanut butter chocolate milkshake at My Vegan Minimalist (pictured above) – Bubbly, refreshing, creamy and ready in no time: the perfect dairy-free milkshake option for allergy sufferers or vegans in need of an indulgent treat!
Seed Cycling Moon Milk at Moon and Spoon and Yum a perfectly healthy, easy and delicious way to balance your hormones with the use of seed cycling for hormone balance
Green avocado smoothie at Vibrant Plate – This Vegan Green Avocado Smoothie uses just 5 ingredients and is delicious & easy to make, with healthy fats and greens. Plus, it's Vegan & Gluten-Free
❥ The best Vegan recipes: Main dishes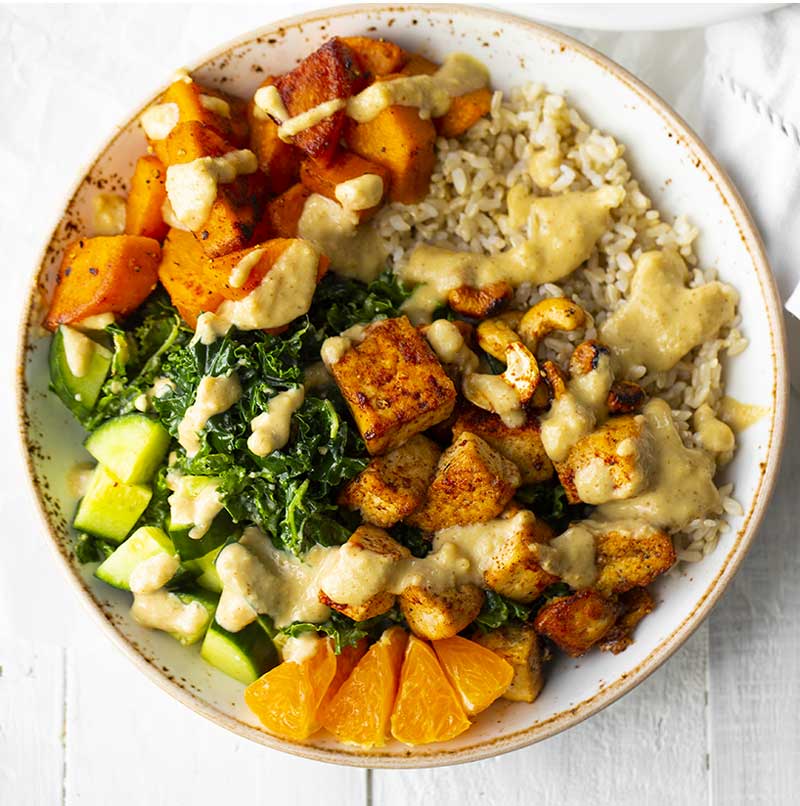 Vegan Buddha Bowl at Healthy Happy Life (pictured above) – flavorful, plant-filled Buddha Bowl that is easy to make for a healthy meal.
Air Fryer Buffalo Cauliflower at Spa Bettie – tangy and spicy, this quick and easy recipe is essential to any game day, happy hour party, or random Thursday.
Healthy Vegan Chile Relleno at Healthy Midwestern Girl – A light and healthy chile relleno recipe with nutritious beans and quinoa, loads of veggies, and a drizzle of vegan cheddar cheese sauce.
Vegan Meatballs (beanballs) at 2 Share My Joy – with black beans, chickpeas, vegan marinara sauce. Frugal dinner recipe for a plant based diet that is also oil free and gluten free.
Crunchy Baked Black Bean Mini Tacos at Veggie Inspired – with creamy avocado, tangy pickled red onions, juicy diced tomatoes, and a sprinkle of fresh cilantro. Perfect for appetizers, party snacks, or dinner
Sticky Sesame Chickpeas at Eat With Clarity – Easy, flavorful, and packed with plant protein, this easy sesame chickpea recipe is a quick and healthy dinner the whole family will love. It's ready in just 15 minutes and is great to meal prep for the week.
Firecracker Tofu at Vegan Travel Eats – These slightly spicy, slighty sweet, glazed tofu pieces are going to be your new fav. The spice level is pretty mild so feel free to double or even triple the red pepper flakes if you like heat.
Vegan Cajun Roasted Cauliflower "Steaks" with Chimichurri Sauce at Vegan Richa – Slice into thick slices or just chop into florets to make this delicious Cajun Cauliflower. Serve with chimichurri or a cooling dressing.
Vegan Seitan Tenders at It Doesn't Taste Like Chicken – easy to make, just 8 ingredients, can be made ahead of time, and once prepared can be used any way that you might have cooked chicken- marinate, bread, fry, crust, bake, grill, BBQ, the options are endless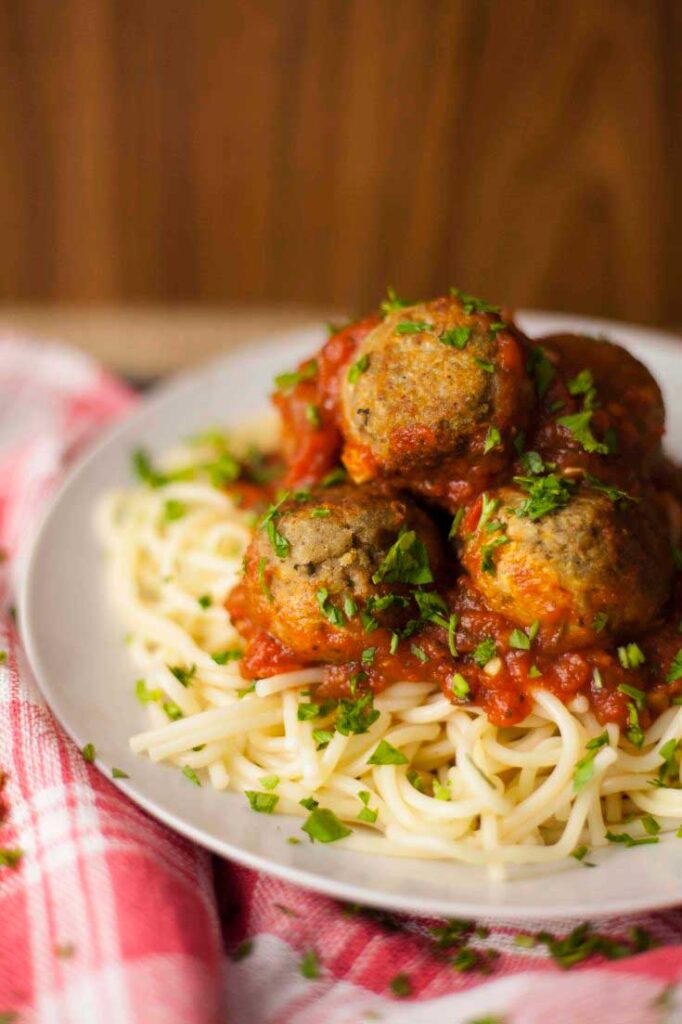 Easy Vegan Eggplant Meatballs at My Pure Plants (pictured above) – 5-ingredient simple, healthy and gluten-free meatless meatballs recipe with eggplants. Great with marinara sauce and spaghetti.
Homemade 'beyond meat' burger at Upbeet Kitchen – Meaty beet, tempeh, and chickpea burgers that come together quickly. Delicious on their own or on a bun with all the fixings. Best accompanied by sweet potato fries and craft beer!
Instant Pot vegetarian cacciatore with white beans at Rhubarbarians – This delicious pressure cooker vegan cacciatore is made with white beans and ready in under an hour.
Vegan Reuben Jackfruit sandwich at Cadry's Kitchen – Filled with tangy jackfruit, crunchy sauerkraut, and a drizzling of vegan Thousand Island, it's the kind of flavor-packed sandwich that doesn't hold back.
Lentil Koftas with Tomato Curry Coconut Sauce at The Vegan Larder – The mixed lentils give a range of textures to the koftas, which are full of flavour from the spices. The tomato curry is creamy from the coconut, with its spices contrasting beautifully with the koftas.
Vegan Sausage Recipe at Sunnyside Hanne – A delicious and easy to make alternative to store bought vegan sausages.
Baked Lentil Veggie Nuggets at This Healthy Kitchen – These vegan veggie nuggets will please the entire family, from picky toddlers to picky spouses.
Vegan Chili Sin Carne at Nutriciously – This hearty and super simple chili will be your next favorite go-to! Using only convenient staple foods and some seasonal veg, this meal is whipped up in just 10 minutes and very nutrient-dense.
Tofu Egg Salad Sandwich – Three Ways at Vegan Yack Attack – Protein-rich, easy, and flavorful, everyone needs a classic tofu egg salad sandwich in their lives! Here are 3 ways to make the perfect, quick lunch
Grilled Carrot Hot Dogs at EatPlant-Based
❥ The best Vegan recipes: Pasta, Rice & Noodles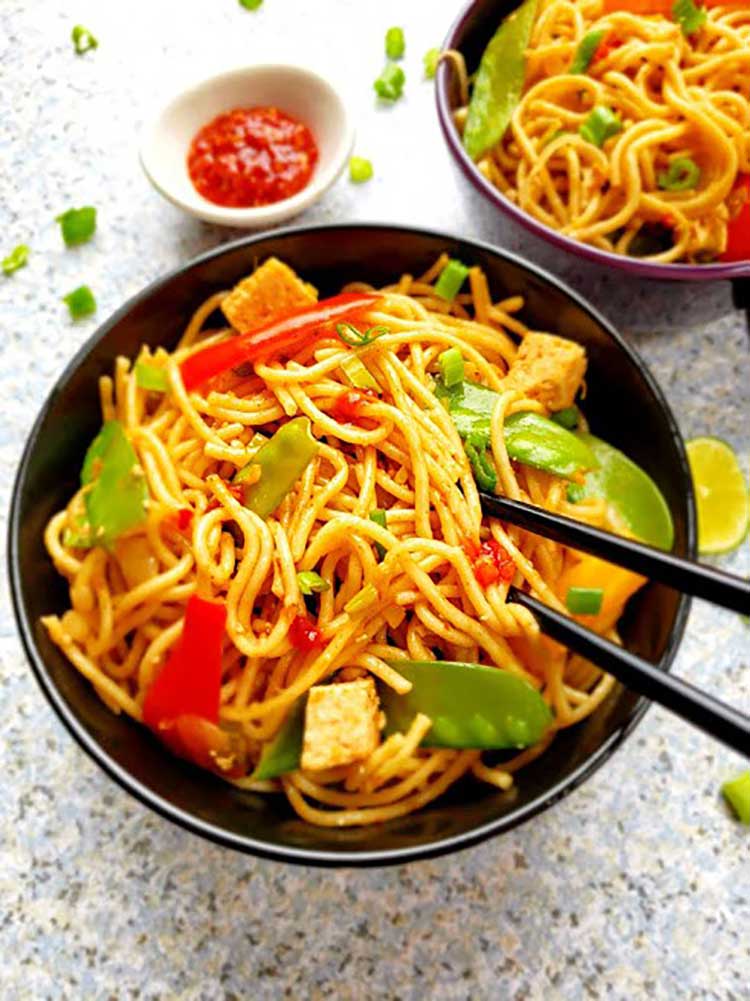 Chili Garlic Chinese Noodles at Profusion Curry (pictured above) – Delicious Chili Garlic Chinese noodles with colorful veggies and tofu are drenched in spicy sambal oelek sauce and Chinese 5 spice to create amazingly flavourful meal. These vegan noodles are perfect for Asian inspired weeknight dinner.
Easy Homemade Pasta Recipe at Healthy Slow Cooking – If you want some homemade fettuccine tonight and aren't in Italy and don't have a pasta machine, here's the recipe for you. Start to finish, it's a 30-minute dish, including about 15 minutes of rest time
Vegan Lasagna Roll Ups at Dianne's Vegan Kitchen – so easy to make, and they're a terrific dinner dish for date night.
Spicy green rice at Soup Addict – Boost your rice dishes with this super-simple but super-flavorful spicy green rice sauce. Blends up in 5 minutes and goes great with Mexican and Thai dishes … or when you just need a little extra tasty carby comfort.
Vegan Paella Recipe at Veggie Society – with mushrooms, artichokes, roasted peppers, plant based sausage and brown rice cooked in a flavorful Spanish saffron and white wine broth.
Thai Tofu Veggie Noodle Bowl by Sharon Palmer – boasts a rich Thai flavor profile, thanks to hearty additions of red curry, coconut, and peanut butter.
Vegan Mongolian noodles and veggies stir fry in spicy soy ginger sauce at Carve Your Craving – This quick and easy vegan stir fry makes an ideal meal option for busy days.
Beyond Burger Dirty Rice at The Nut-Free Vegan –  Bring a little bit of New Orleans to your dinner table with this delicious Creole Dirty Rice, made with the amazing Beyond Burger!
Instant Pot Vegetable Chow Mein at The Belly Rules The Mind – better than takeout: flavorful, tasty and cannot get simpler than this
Vegan Gluten-Free Lasagna at Full of Beans – a healthier and lighter alternative to pasta, and it is a meal you can enjoy hot or cold.
❥ The best Vegan recipes: Snacks & Appetizers
Scottish Oatcake Recipe at Kind Earth (pictured above) A delicious Scottish Oatcake recipe with oats and sunflower seeds. Easy and very popular with soup, dips and snack time.
Healthy Homemade Vegan Doritos "Nacho Cheese" Flavor at Strength and Sunshine – An easy and healthy copycat recipe for your favorite bold-flavored tortilla chip snack that is gluten-free, allergy-free, and baked instead of fried
Spinach Artichoke Dip with Garlic Cashew Cream at Glue and Glitter – This dip recipe doesn't use any mayo, cheese, cream cheese, or sour cream, but it's just as decadent.
Homemade Vegan Caviar at Very Vegan Val – This stunning creation will wow you with both it's looks and the taste- and serves as a great reminder that you can make anything vegan
Hemp and Sunflower Seed Vegan Pâté at The Conscious Dietitian – This easy, healthy and delicious Hemp and Sunflower Seed Vegan Pâté is naturally gluten-free, free of processed ingredients, and contains 13 grams of protein per serving
Vegan Smoked Salmon at When Sweet Becomes Healthy – Make your own easy overnight vegan smoked salmon!
❥ The best Vegan recipes: Salads & Condiments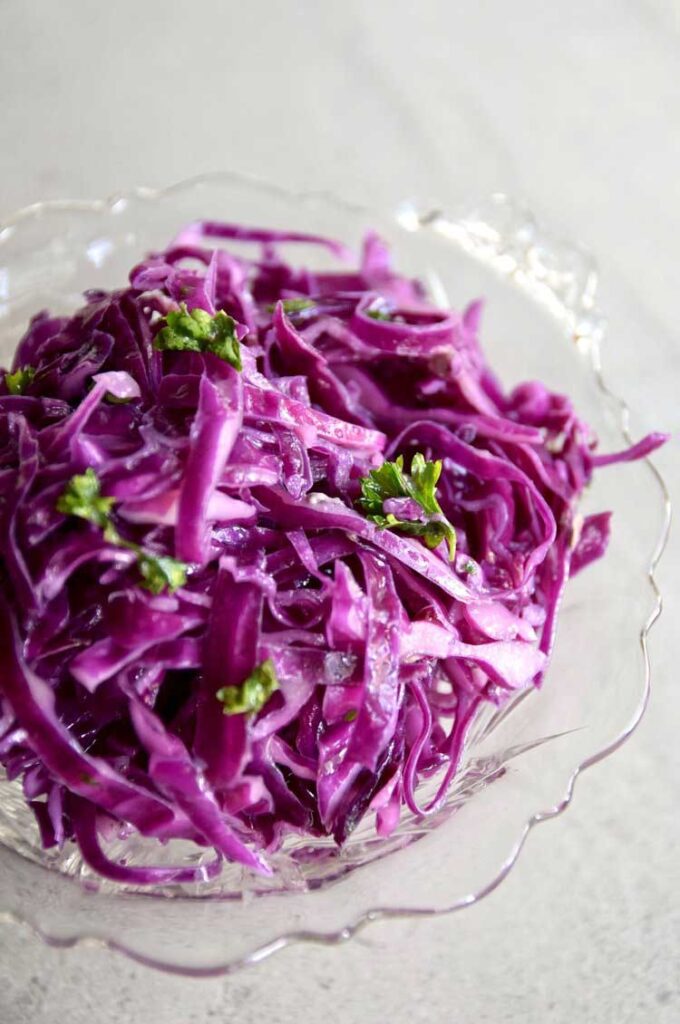 Easy Red Cabbage Salad at Tasting Page (pictured above) – Add some more color to your diet with this easy, raw, red cabbage salad. This salad recipe only gets better with more time in the fridge so you can make it once, and enjoy it all week long.
Lentil Salad Recipe with a Mustard Vinaigrette at The Conscious Dietitian – This Lentil Salad Recipe with a Mustard Vinaigrette is a winner and uses pantry staple ingredients that are always on hand.
Chickpea Taco Salad at The Urben Life – an easy vegan dish that comes together with seasoned garbanzo beans and your favorite taco toppings piled high on a bed of lettuce
Mediterranean Orzo Salad at Veggies Save The Day – Loaded with tofu feta, chickpeas, tomatoes, olives, and a tangy dressing, this recipe is vegan with a gluten-free option.
Creamy Vegan Buddha Bowl Dressing at Happy Kitchen – This vegan tahini dressing is the sauce you've been waiting for to drizzle over your vegan bowl to make it even more delicious. You can also use it on falafel, salads, or anything else you want a delightfully sweet and tart creamy vegan dressing for.
The best Vegan recipes: Soups, Curries & Stews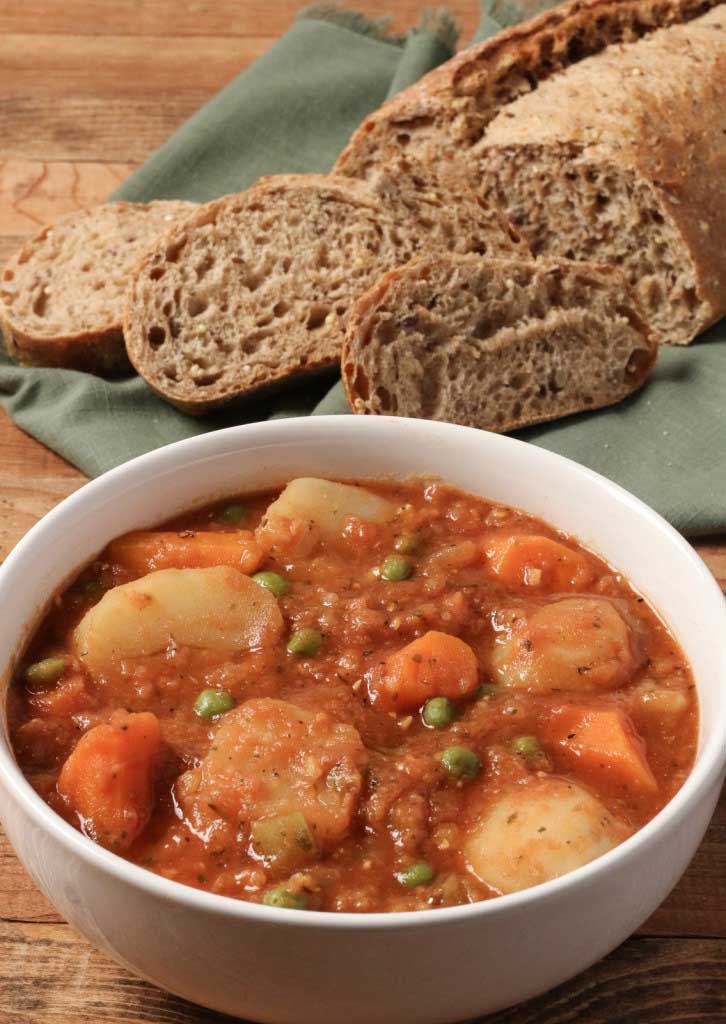 Instant Pot Vegetable Stew at A Plantiful Path (pictured above) – the ultimate vegan comfort food. The potatoes, carrots, celery, onion, and peas are cooked in a thick, savory tomato broth to keep you warm and cozy during these cold fall and winter months.
Black Bean Soup at Intentionally Eat – This soup can be on your dinner table in less than 20 minutes! Simply puree the ingredients, heat and eat. Your family will love the heartiness of this satisfying soup and best of all, its good for them.
Vegan Thai Red Curry with Cauliflower and Potatoes at From a Chef's Kitchen – spicy and delicious with a side of healthy!  It's the perfect satisfying veggie-packed meal!
Chickpea Spinach Curry (Chana Palak Masala) at The Fiery Vegetarian – a tasty healthy chickpea spinach curry, with a tomato and onion spiced gravy and a touch of coconut milk for richness
Red Lentil Curry or Masoor Dal at Piping Pot Curry – This super delicious, healthy and budget friendly vegan meal can be made in less than 30 minutes!
Cream of Spinach Soup at My Pure Plants – Ridiculously easy and quick vegan spinach soup. 5-ingredients, but nothing fancy or hard to get. Creamy, healthy, not to mention kid-friendly.

And it's a wrap! I bet by now you're feeling inspired to add more Vegan, plant-based, nutritious and delicious meals to your weekly menu. Which recipe will you try first? Let me know in the comments.
A big thank you to all the bloggers that submitted their amazing recipes.
I hope you all enjoyed this post, and if you did, don't forget to pin it and spread the love ♥
I wish you a love-filled day xoxo